This site is supported by our readers. We may earn a commission, at no cost to you, if you purchase through links.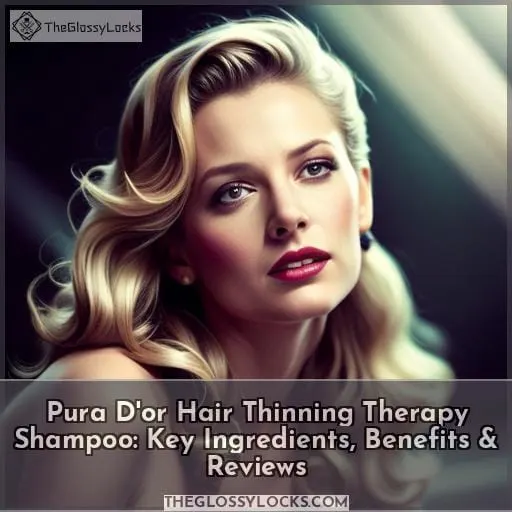 Are you looking to achieve thicker, healthier hair? Pura D'or Hair Thinning Therapy Shampoo could be your knight in shining armor! This revolutionary product is packed with natural ingredients that work together to nourish and protect your scalp while promoting thicker hair growth.
Let's take a look at the key ingredients of this powerful shampoo, how it can benefit you specifically, and what real users are saying about their experience with the product.
Key Takeaways
Promotes thicker, healthier hair
Contains key ingredients like certified organic aloe vera, tea tree oil, and more
Supports hair health with ingredients such as aloe vera juice, argan kernel oil, and biotin
Reduces hair thinning, nourishes the scalp, and helps reduce dandruff and irritation
Key Ingredients of Pura D'or Hair Thinning Therapy Shampoo

Experience the benefits of certified organic aloe vera, tea tree oil, and more with Pura D'or Hair Thinning Therapy Shampoo. This shampoo is formulated to help reduce hair thinning while nourishing your scalp.
Its key ingredients include decolorized aloe barbadensis (aloe vera) leaf juice for hydration and sodium laurylglucosides for effective cleansing. Hydroxypropyl bis-hydroxyethyldimonium chloride helps promote healthy hair, while cocamidopropyl hydroxysine provides gentle yet thorough cleansing action.
Cocamidopropyl betaine provides mild cleaning power, balanced by sodium cocoamphoacetate which supports a healthy balance between oils on the scalp surface.
Polyquaternium-80 enhances effectiveness, as does coconut-derived ingredient – cocamide mipa – plus other beneficial components like argania spinosa (argan) kernel oil for nourishment; biotin to support hair health; nigella sativa seed oil with its potent properties; phyllanthus emblica fruit oil; saw palmetto extract that contributes to overall scalp health; citrus limon peel & hibiscus flower extracts providing additional benefits along with melaleuca alternifolia leaf and cedarwood bark oils giving it a natural scent boost!
With this combination of powerful ingredients plus vitamin E & zinc pyrithione, you can trust in Pura D'or Hair Thinning Therapy Shampoo's ability to deliver outstanding results every time!
How to Use Pura D'or Hair Thinning Therapy Shampoo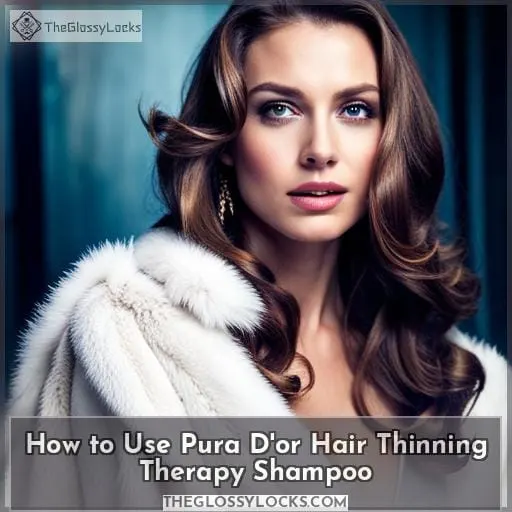 To get the best results from this hair care regimen, simply follow these easy steps:
Apply a generous amount of shampoo to wet hair.
Massage it into the scalp and work through your strands.
Leave it on for a few minutes so the ingredients can take effect.
Rinse thoroughly with warm water.
But why stop there? For optimum customer satisfaction when using Pura D'or Hair Thinning Therapy Shampoo:
Start by applying generously to wet hair.
Massage in and work through your strands for maximum absorption.
Allow time for all organic ingredients such as aloe vera juice, tea tree oil, and argan kernel oil to nourish your scalp while herbal extracts promote healthy growth.
Rinse off with warm water, then use regularly as part of an overall haircare routine.
Enjoy thicker-looking locks that are more manageable!
The combination of certified organic decolorized aloe barbadensis leaf juice along with sodium laurylglucosides hydroxypropyl bis-hydroxyethyldimonium chloride cocamidopropyl hydroxysine cocamidopropyl betaine sodium cocoamphoacetate polyquaternium-80 melaleuca alternifolia (tea tree) leaf oil Argania Spinosa (argan) kernel oil biotin nigella sativa (black cumin) seed Urtica dioica (nettle) extract serenoa serrulata fruit extract cedrus atlantica bark Rosmarinus officinalis (rosemary), salvia sclarea clary Polygonum multiflorum root Citrus limon peel Hibiscus sabdariffa flower niacin zinc pyrithione Tocopherol soy isoflavones Beta-sitosterol Camellia sinensis green tea Potassium sorbate Sodium benzoate citric acid makes it one of the most powerful natural formulas out there today!
So whether you're dealing with sudden or gradual thinning due to stress or hormonal changes – enjoy fuller-looking locks without fear of harsh chemicals found in other products on the market today!
Benefits of Using Pura D'or Hair Thinning Therapy Shampoo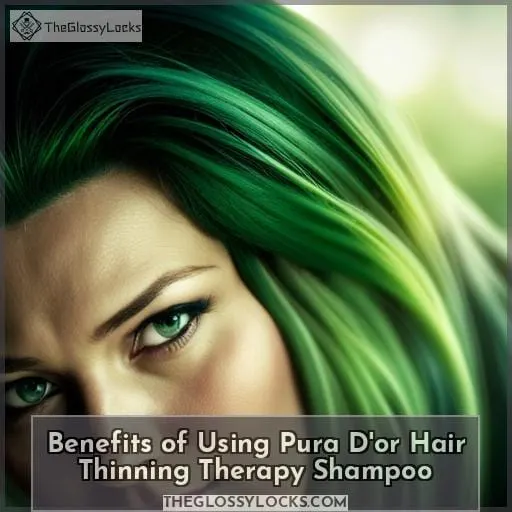 Pura D'or Hair Thinning Therapy Shampoo is an effective hair care solution for those struggling with thinning hair, seeking to improve their scalp health and nourish their locks. Its certified organic ingredients include tea tree oil, argan kernel oil, biotin, and black cumin seed oil that work together to strengthen the strands of your mane while soothing the scalp.
Hair Health and Nourishment
By utilizing certified organic ingredients like Argania Spinosa (Argan) Kernel Oil and Melaleuca Alternifolia (Tea Tree) Leaf Oil, Pura D'or Hair Thinning Therapy Shampoo helps nurture your hair for healthy growth.
It also contains other natural oils such as black cumin seed oil and rosemary leaf oil that provide nourishing benefits while maintaining a healthy scalp.
The shampoo is enriched with essential vitamins, minerals, antioxidants, and fatty acids, which help support strong hair follicles from root to tip.
Scalp Health
Feel the stimulating effects of Niacin and Zinc Pyrithione on your scalp as you use Pura D'or Hair Thinning Therapy Shampoo. This shampoo helps to keep a healthy scalp with its natural ingredients. It contains Cedarwood Bark Oil, Saw Palmetto Fruit Extract, and nourishing oils like Argan Kernel Oil and Black Cumin Seed oil.
This specially formulated shampoo can help reduce dandruff and aid in hair growth. It strengthens hair follicles for longer-lasting strands. The gentle yet effective cleansing agents work together harmoniously to keep itchy scalps at bay.
They do not strip away essential oils from the skin or hair shafts. Additionally, the shampoo naturally soothes irritation caused by flaking or dryness.
With continued use, you'll enjoy healthier locks and an invigorated scalp that feels fresh all day long!
Thinning Hair
You can benefit from Pura D'or's Hair Thinning Therapy Shampoo, which is formulated with a powerful blend of ingredients that promote healthy hair growth. It contains green tea extract, argan oil, biotin, and other natural remedies to help strengthen thinning and brittle hair.
With regular use, it helps to reduce shedding while increasing volume for fuller-looking locks. The shampoo also provides essential nutrients for scalp health to prevent further damage from occurring.
Additionally, styling options are available so you can keep your tresses looking their best without causing any additional strain or breakage on the strands.
Contains green tea extract & natural remedies
Reduces shedding & increases volume
Essential nutrients for scalp health
Styling options available
Customer Reviews and Testimonials for Pura D'or Hair Thinning Therapy Shampoo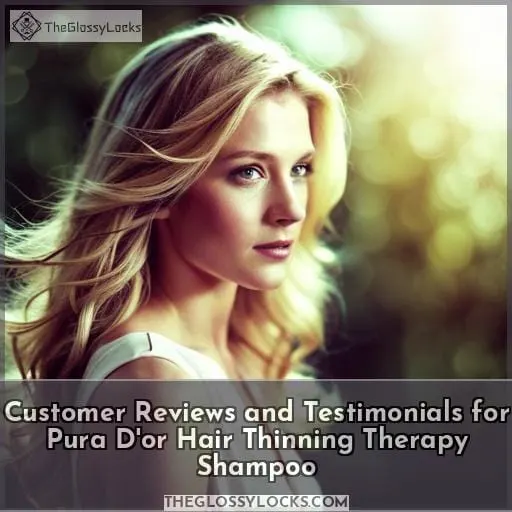 Hear what customers are saying about Pura D'or Hair Thinning Therapy Shampoo – one customer reported that they saw significant improvements in thinning hair after just two weeks of consistent use. Users have found this shampoo to be highly effective, leaving their scalps feeling refreshed and nourished with each wash.
Many users also noted the pleasant scent the product has, which is a blend of natural oils and botanicals including Tea Tree Leaf Oil, Argan Kernel Oil, Black Cumin Seed Oil, and Hibiscus Flower Extract.
The reviews for this shampoo are overwhelmingly positive across multiple platforms with an average rating of 4 stars or higher on Amazon & Walmart alike! The majority of people who tried it praised its effectiveness in strengthening hair while reducing breakage and split ends due to its unique combination of ingredients like Biotin & Niacinamide as well as naturally derived extracts & essential oils such as Amla Fruit oil & Saw Palmetto extract.
In addition to these benefits, many people also commented on how little product was needed per wash – a small amount goes a long way!
User Experiences Satisfaction Ratings Testimonial Highlights
Average Rating: 4 Stars+ Improved Strength + Reduced Breakage + Split Ends Small Amount Goes A Long Way
Conclusion
Wrapping up, Pura D'or Hair Thinning Therapy Shampoo offers an invigorating blend of certified organic ingredients, ensuring that your scalp and hair receive the nourishment it needs to stay healthy. With the combination of Sodium Laurylglucosides, Hydroxypropyl Bis-Hydroxyethyldimonium Chloride, Cocamidopropyl Hydroxysine, Cocamidopropyl Betaine, and many more, this shampoo is sure to leave your hair feeling vibrant and restored.