This site is supported by our readers. We may earn a commission, at no cost to you, if you purchase through links.
If you are serious about wet shaving and get the most even, smoothest shave, you need the best shaving brush.
I think you agree that a quality shaving brush is an essential tool for an optimal shave, but it is a difficult task to determine which shaving brush suits you best.
There are too many benefits to using a shaving brush to consider adding one to your own men's care set.
The best shave brush is a backbone or a classic wet shave.
You may have the right blade and the right razor.
You may have something in your favorite soap and shaving cream; however, without a shaving brush to foam that soap and a frothy foam to protect your face, you won't get the benefits you want from a wet shaving experience.
More and more men are discovering the pure, masculine pleasure of traditional wet shaving, and if you read this, you are probably one of them.
You may have already completed the first part of your wet shave – choosing a right blade – but after you've already upgraded your routine with a two-edged safety razor, your next step is to find the best shave brush.
Traditional shaving is not as painful as you think when you have the right tools. By the way, you can do it from your home! Far from a hassle, it's more convenient than always going to the hairdresser, and it only takes a small investment to get started.
In this manual, I will help you choose the best shaving brush that fits your hand size, budget, and other preferences that you may have.
Things To Take Into Mind For Getting Best Shaving Brush
Now that you are ready to buy the best shave brush – whether it is your first or one of many – here are some things to take into account before you make your purchase.
Remember them, and they will help you find the best budget shaving brush to meet your needs, as each function will be more or less important depending on what you are looking for in the brush to clean your precious little face.
1. Size
The first consideration must be the size of the brush.
When it comes to shaving brushes, four sizes are essential.
1. Total length
Total length speaks for itself, right?
It is the length of the entire brush, including the handle and the hair.
Most brushes will be around five to six inches as an average.
2. Loft length
The loft length is much more a brush-specific measurement.
Usually, it will be at least 2 inches and up to 3.5 or 4 inches on the longer side.
But what does this mean for you?
Well, in practical terms, it just means that if you have facial hair that you maintain and want to shave, go for a brush with smaller head size.
That gives you useful accuracy to place the shaving soap where you need it.
If you need a shave every morning, then a brush a larger head size would be ideal for you.
You offer the accuracy you don't need and instead get speed, with the more massive brush head so that you can apply your shaving soap and foam much faster.
3. Knot or collar diameter
The knot diameter is the diameter of the base of the bristles where they are tied together.
The diameter depends on the actual amount of bristles in the brush, but this is not always entirely consistent because the density (i.e., how tightly they are tied together) can vary from brush to brush and from manufacturer to manufacturer.
The button diameter can vary from 19 – 30 mm, but the majority of the shaving brushes are between 20 – 24 mm, ensure a sufficient amount of bristles.
4. Handle length
The length of the handle does not have a concern, but some people with unusually large hands may prefer a more extended handle.
2. Type
One of the most important criteria when choosing a shaving brush is the type of hair in the bush. And most types of shaving brushes come in four different types of hair: badger hair, boar hair, horsehair, or synthetic hair.
We will discuss the pros and cons or any hair later in this post. In general, boar's hair is the type of brush that you will find in many supermarkets and drug stores, while horses come from the tail of the horse or mane and make a comeback or shaving brush.
Just a note: harvesting badgers and boar bristles means killing the animal. If that's a personal concern, it's better to choose a synthetic or horsehair brush.
3. Form
There are several tips for brush Form.
Traditionally, a fan or spherical style is most familiar with natural brushes, and the hybrid tip is standard with plastics.
I have a lot of differences in the ability to work up a beautiful deep foaming agent or the effectiveness of applying the soap or cream on my face.
4. Handle
The handle is, of course, not the essential part of the brush, if the most crucial part is, well … it is the brush.
That being said, don't get yourself stuck with a weak quality handle if you want to enjoy your shave.
From a material point of view, you have everything from bone, fake bone, ABS plastic, acrylic, and wood.
5. Price
The great thing about shaving brushes is that you can find the best budget shaving brush that suits every budget. A first-class Silvertip badger hair brush may cost as much as $ 150, while you can grab a good brush for only $ 10. Synthetic versions of quality can vary in price from $ 30 to $ 150.

10 Best Shaving Brushes Of 2023
Shaving brushes come in all shapes, colors, sizes, and hair types, so finding the perfect fit can be a challenge.
But don't be afraid! Others have already gone before you on this road. These are the ten best shaving brushes that are loved by our customers. (We have shaving brushes of all price categories, hair types, sizes, and colors.)
we will now conduct an in-depth evaluation of the best shaving brushes out there and help you find the best shave brush for you with our easy-to-follow step-by-step guide and reviews for buyers.
1. Edwin Jagger Best Badger Shaving Brush With Drip Stand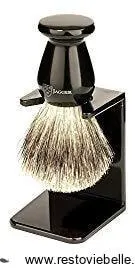 View On Amazon
Edwin Jagger has been a world leader and distributor of luxury wet shaving products in the Sheffield region of England since 1988.
The secret and attraction of the Edwin Jagger line is the owner and founder, Neil Jagger.
Neil designs every law shaving with meticulous attention to detail, blending the manufacture of traditional English style with the most sophisticated design.
His family owned and operated business integrity and Sheffield craftsmanship.
Edwin Jagger Silvertip's broad shaving brush is a general leader in the wide variety of badger hair brushes that the company produces.
The quality of this specific brush lies in its silver-colored badger hair and its faux ebony handle.
Natural, superior, fine, yet flexible badger hair is the key to this brush because it absorbs well hot water, drains it even with the face as it gets softer, and ensures consistent foam and shave results.
Silvertip is weird, soft, and luxurious and is perfect for people with sensitive skin who want a mild experience with mild and mild exfoliation.
This brush comes with a plastic infusion stand, elegantly packaged in an Edwin Jagger box with tips and instructions for care of the brush.
Ideal dimension and bodyweight
Buttery-soft bristles good in absorbing water, soap, and warmth
Easy, fast, total, evenly-distributed lather formation
Softens and lifts your beard's hair for closer longer-lasting shave
No break-in shedding time period like other brushes
With proper care, it can last a lifetime
Zero odor out of the box
Drip Stand Included
A bit small for some individuals
Relatively short manage
Fairly expensive
2. Omega Professional Boar Bristle Shaving Brush
View On AmazonFounded in 1931, Omega is one of the most popular shaving brush manufacturers in the world, and their brushes are not only high quality but reasonably priced (and worth every penny at any price).
Made from natural boar bristles, the professional boar bristle shaving brush comes with a black resin handle that is nearly the size of the hutch, making it one of the larger handles out there. It is like a wooden handle.
provides superior grip, unlike other models that feel too rough or too slippery.
But more about the bristles.
As with many other boar brushes, the Omega Professional takes some time to break in. But, like most boar brushes, the more you use the bristles, the better they get.
The bristles of the Omega Professional are softer out of the box than most other boar brushes.
If you're looking for a brush that gives you a rich lather that covers your entire shaving area, the Omega Professional is for you.
The bristles are great for exfoliating: it removes dead skin cells from your shave, and your face feels smooth and refreshed when you're done.
Again, the Omega Professional Boar Bristle Shaving Brush is very affordable, and there are many more expensive brushes available that are not of the same quality as the Omega.
We would avoid our duties if we didn't touch each other's scent from the Omega Professional Brush. The fact is that the brush has a strong scent when you first open the package and during the break-in period.
Don't worry as the smell will dissipate the more you use the brush, and it will be made more bearable at the beginning due to the thick lather the bristles provide from the start.

Builds up an excellent foam.
Quality handle with good grip
Bristles get even better with time
The strong scent in the beginning
3. Parker Safety Razor 100% Silvertip Badger Bristle Shaving Brush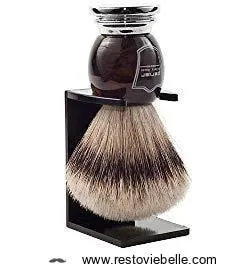 View On Amazon
The people at Parker have succeeded in making only the best products for wet shavers, and their Silvertip brush is as good as possible.
Made of pure silver hair from Silvertip – perhaps the best material for bristles in the world – this brush is incredibly soft and better than many brushes with a higher price tag (although it is in no way cheap). The bristles can hold large amounts of water, making it easier to work up a gentle foam.
The hairs at the top are lighter in color and have a bright black band, and they require little break-in time compared to other children or brushes. They are soft but adamant, and you can expect years of service with this brush before it's time to buy a new one.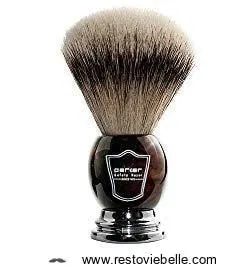 Like most of the top shaving brushes on the market, the Parker Silvertip has excellent exfoliating properties. It is also a good option if you have sensitive skin because of the soft hair.
The brush also has a low sanding speed, and you will experience minimal loss or hair loss after your first few uses.
The Parker Silvertip Badger brush is proof of craftsmanship because it is handmade, and you feel the quality when you hold it in your palm.
The handle has a comfortable length that is not too long or too short.
Another reason for appreciating this brush is that it comes with a chrome shaving brush that ensures proper drying and storage.
Some reviewers suggest that Parker Silvertip's bun is a little "looser," that is, higher on the handle than other shaving brushes, making it less suitable for aerosol creams. Why? Because part of the aerosol cream gets stuck in the bristles and never reaches your face.
Silvertip badger hair bristles
Durability
Multiple length attachments that suit whatever part of your face, head, and physique that you're trimming.
Comes with a shave brush stand
4. Vikings Blade Luxury Synthetic Silvertip Brush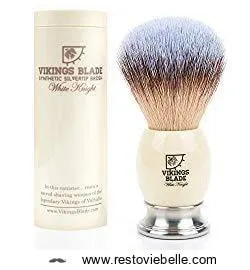 View On Amazon
It tries to exploit all the benefits of Silvertip badger hair – a premium material – and offers all these benefits through a synthetic copy.
Silvertip badger hair is not only a premium material when it comes to shaving brushes – it is the premium material, the king of shaving brushes. – But that's how life is, when you look at premium materials, you also look at excellent price tags.
But that's where Vikings Blade enters.
They have produced a high-quality shaving brush that tries to make a synthetic version of Silvertip hair.
This means that you don't just have a brush that looks, but it also plays a role.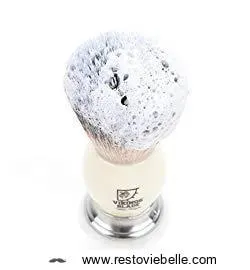 First, it is remarkably soft for a synthetic material.
It doesn't have heat and water retention or real Silvertip, but frankly, it's not far away, and that's no more than a synthetic brush.
It also looks great. They did very well or modeled the appearance of Silvertip.
The handle is also a traditional style, while it is made from solid but dull acrylic that the tip of a Swedish alloy looks excellent and adds stability to the brush while resting on the countertops.
So what we were looking at when we started reviewing this brush or it could be a substitute for a Silvertip brush.
The truth is that it's not as good as a real, utterly natural brush.
However, it's not too far away, and with a price tag that's probably about half of what you would expect for a natural brush, this is certainly a very intriguing option.
Leading-end synthetic fibers that rival badger hair
Higher water retention
Hefty-duty stainless steel base
Synthetic hair is not to everyone's taste
5. Semogue 620 Superior Boar Bristle Shaving Brush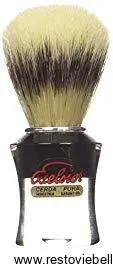 View On Amazon
You may have never heard of Semogue, but the Portugal-based company has long been a leader in the brush industry. With more than 60 years of experience, it is no surprise that his Semist 620 Superior boar brush with a shaving brush is a valued possession in many men's care kits.
If you are a part of the trend or prefer a law shaving experience, the Semogue 620 will help you make the best of it. It is a handmade brush that looks great and delivers superior performance with every shave.
We like it for many reasons, including making a considerable amount of foam without lesser irritation or shaving brushes. Boar's hair bristles are more numerous than many brushes, and you get the kind of foam you want, whether you use shaving cream or soap.
Like other boar brush brushes, there is some running-in time with Semogue 620, but not that long. If it is completely broken in, you only need to heat it in hot water 10 to 15 minutes before shaving. The ends of the brush become very soft and retained water, unlike some other brushes.
The Semogue 620 also has sturdy construction with a strong backbone. The handle, made of acrylic, has a good balance and easily fits in your hand. In the meantime, the full pig boar is a hero in place with a sterling ring – which adds to the overall attractiveness of the brush.

It does not result in skin irritations
It forms a nice lather
Excellent craftsmanship
Some reviewers don't like the handle
6. Proraso Professional Shaving Brush
View On Amazon
Proraso is a legendary Italian shaving company, and their shaving brush is just as good as you'd expect from such a brand.
Made from premium boar bristles whose length and stiffness have been carefully calibrated to create a beautiful soapy lather, this is a shaving brush for anyone who wants to know what real quality feels like.
It's exceptionally strong and durable, and most reviewers report there's almost no shedding: a real problem with far less well-made brushes.
Still, the bristles are soft enough to cover the beard to massage without itching or scratching.
And it can load a huge amount of soap and has a very large coverage area, making it easy to use even on the biggest beards.
The handle is exceptionally thick, which will split men: some will appreciate the weight, while others will find it less comfortable than other brushes on this list.
Takes a few times to break-in, the Proraso shaving brush is faster than most and, as we've said, is extremely durable.
Some notice a slightly unpleasant odor on the brush when it first arrives: although not everyone agrees that the odor wears off quite quickly.

Difficult and sturdy bristles without having turning out to be harsh on the skin
Wonderful coverage area
Outstanding craftsmanship
Some note an odd odor to commence with
7. Kent Bk8 Silvertip Badger Shaving Brush
View On Amazon
Known for their well-respected combs and brushes, Kent has been a fixture in the men's grooming category for nearly 250 years, and with such a rich history, they have helped countless men rediscover the lost art of traditional wet shaving. An elegant brush that tops the considerations list for many.
Here's why:
Unlike a boar bristle brush that exfoliates deep into your skin pores, the Kent BK8 does the exact opposite. The moppy silvertip bristles are very lightweight of weight and glide over the surface of your face when applied. This is a polarizing property of this particular shaving brush, and some men will love or hate it.
One aspect of this brush that we loved was the leather storage case provided. Lined with soft red velvet and secured with single snap closure, it will keep your prized shaving brush safe in transit, a perfect addition for business travelers or those looking for a beautiful shaving brush as a gift.
While the Kent BK8 is one of the most expensive shaving brushes we've reviewed, the hidden cost of this brush is the amount of shaving cream it takes to generate a rich lather. Much more shaving cream should be used. While many men may not mind this as the cost is negligible for most, it can add up over time if you use some high-quality shaving cream.
Kent BK2 vs. BK4 vs. BK8: what's the difference between the two?
If you research Kent shaving brushes, you will see that there are three models available: BK2, BK4, and BK8, the main difference between the two is the type of badger hair used in the brush and the length of the bristles.

The soft and moppy head will really feel wonderful towards your skin
The travel/storage case is effectively made
Uncompromising parts throughout the brush
Ergonomic control offers lots of control
8. Escali 100% Pure Badger Shaving Brush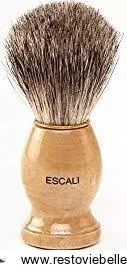 View On Amazon
As the name suggests, there is no synthetic brush in this brush; instead, you get 100% pure badger hair that is excellent for exfoliating your skin and preventing skin irritation.
If you have sensitive skin, use this brush with the right shaving cream, soap, and razor, all but an irritation-free shave.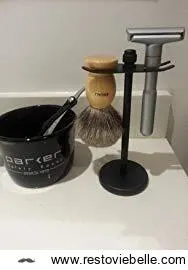 Not that all synthetic hairs are bad for your skin, mind you, but often weaker than tie and boar brushes and break easier.
Badger hair – exceptionally pure badger hair – is also hard to beat when it comes to producing a rich, creamy foam.
This brush has many other attributes that are worth mentioning, such as the price for a wallet.
Can pay much more for a shaving brush that is not as good as Escali's 100% Pure Badger shaving brush (and you shouldn't).
You will enjoy the foam that you get from the Escali Pure Badger shaving brush, and it doesn't take much effort to produce it.
You can build a thick foam while the hairs quickly spread your favorite shaving cream or soap over your face, and the bristles do an excellent job of exfoliating the skin while releasing it from dead skin cells.
Like all quality badger hair brushes, the hairs of the Escali Pure Badger shaving brush hold and retain super water; they are not only super absorbent but also easy to rinse after your shave.
Another thing we like about this brush is the solid construction, and It has a natural wooden handle that fits comfortably in hand. You will also see how few bristles you lose over time, and It is a brush that lasts a long time.
Most purchased shaving brush on the market
Popular with newbies
The superb worth of efficiency for the price
Produced with 100% pure badger hair
Functions shave soap/cream into a great lather
Sturdy building
The manage is on the smaller sized side
Loses some bristles over time
9. GBS Premium Men's Shaving Brush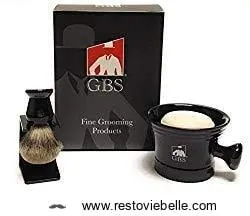 View On Amazon
The first thing you notice about this product is, of course, the fact that it is a kit.
With the amount of equipment in this set, you get value for money.
So before we start looking at the brush (what do we stand for, what are we all for?)
What do we have?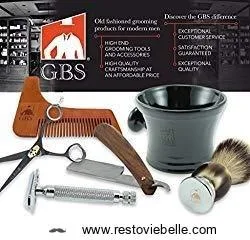 Well, a badger hair brush with a stand, a ceramic soap cup, and a 4 oz. Block of shaving soap.
Let's start with the shaving soap bowl because we are honestly like it.
It is a traditional design with a horizontal side-mounted handle and a sturdy and attractive ceramic construction.
It is the type of accessory that can offer years of useful service, making it worth the money.
The soap that comes with it is at least a 7 out of 10. It's okay, but there are certainly better soaps.
Don't worry, though; you don't buy this kit for the soap.
Use it once or twice and then replace it with a better soap for a few dollars.
The brush is, of course, what we are here for, and it is worth it.
It is badger hair, which is always great to see.
It is lower quality or brush, probably a pure hair grade.
That said, Pure quality badger hair is still a better material for shaving brushes than what you'll find in many other rival brushes.
Add to the high-quality cup and a convenient small storage standard, and you have a premium shaving brush set that also represents extraordinary good value.
10. Haircut Shave Co. Synthetic Shaving Brush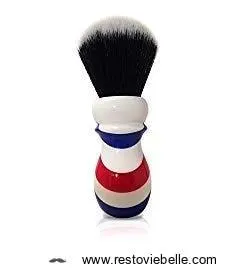 View On Amazon
Just because a product is introduced as an entry-level model does not mean that it is of lesser quality than premium models, at least in terms of design.
Yes, some compromises have been made to lower the price.
For example, the brush material here is not the high-quality plastic we saw on the Vikings Blade product, we have looked above.
That said, it's still a working brush head material.
It is beautiful and soft with good water and heat retention.
It's not quite in competition or, for example, a Silvertip badger brush, but then not the price tag either.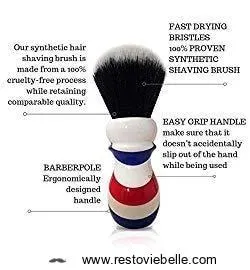 What you do get is a simple but effective brush.
We especially liked the handle.
It not only has a simple and attractive Barber-inspired design, but it also works well.
Ergonomic and comfortable, designed to feel good in the hand.
Also, so much more significant than many other handles, so if you have larger hands or feel more comfortable with a full-size grip, that can undoubtedly make this shaving brush more attractive.
It makes no sense that this is a premium product; the price tag only shows that it cannot be accurate.
But when we talk about that price tag, this is still a perfect brush that delivers an excellent foam for a very, very reasonable price.
If you are looking for a new shaving brush with a limited budget, this is one of the best shaving brush there is.
How To Use A Shaving Brush
A shaving brush is a great first step to an excellent shave.
But just like with any other tool, you need to know how to use it correctly to get the best results.
Fortunately, it's straightforward to get everything out of your brush, especially if you follow us handily.

1. Use the Right Shaving brush
The first phase is to make sure you have the best shaving brush for you.
If you read this guide and your brush holder is empty, we recommend that you go back and start over and use our product manual to choose the best shave brush for you.
2. Make the brush wet
Once you have your brush, the next step is the same as the end or date night with your other half – you need to get it wet.
This is because the amount of moisture on the brush is not an art, and some people prefer a dry brush; others prefer slightly more humidity.
Let it run under hot running water or soak it in a shaving bowl to soften the hair.
Both methods are fine.
Keep in mind that at this stage, the wetter is the brush, the more foam you will create in your shaving bowl, so it comes down to personal preference.
3. Building up a foam
If your brush has the moisture content you like, it's time to bring your favorite shaving soap or shaving cream.
In our humble opinion, the best way to work up a luxurious and luxurious foam is to use a shaving bowl.
Do not try to do it on your face with a soap paste on the hair that is a way to irritated skin.
Shaving bowls have always been around because they are the best way to build that foam.
If it's not broken, do it, so take your shaving bowl out now.
View our article and our video on how to make foam for more detailed instructions.
4. Apply foam to your face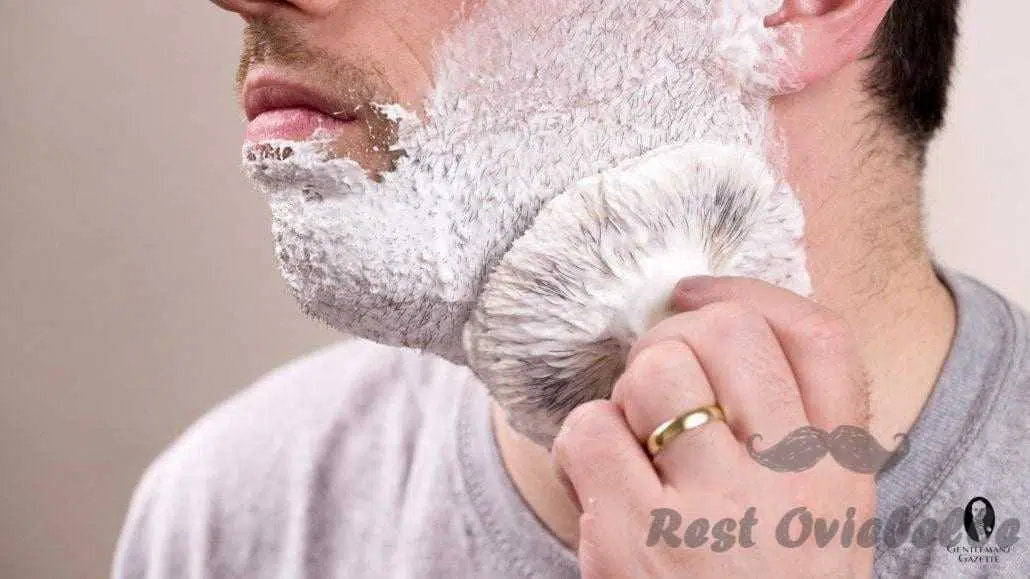 Once your foam well, work in your shaving area (also known as your face).
Use circular movements so that you apply a nice layer of foam and lift hair and stubble.
This helps the razor to glide smoothly over your skin and also makes your hair and stubble easier for the knife to cut.
5. Shave and reapply
As soon as you have been applied, it's time to shave. – Reapply as needed to get over the areas of your face with different angles to achieve that smooth shave for the baby.
6. Clean and maintain your brush
if your look is clean or hair, it's time to finish the cleaning routine by taking care of your brush.
Fortunately, our next section is about doing it correctly, so read how to clean and maintain your shaving brush.
Take A Closer Look At The Types Of Shaving Brushes
We are lucky that we are living in an era where there are more options for shaving brushes than ever before. Synthetic materials are a big reason why, but hairbrushes are just as dominant as ever (and the choice of many, many wet shavers).
Let's discuss the different types of material used to make the bristles or a shaving brush:
1. Boar Hair Brushes
Boar brushes are the least expensive and most common type of shaving brush today.
Also known as "Pure Bristle" or "Natural Bristle," hairbrushes are comparable in price to synthetic brushes and offer a foam that you probably won't get with a non-animal hairbrush.
There are several disadvantages with boar brushes
the bristles are harder and more prone to breakage than badger or horsehair brushes.
They don't retain water like other brushes.
However, it is worth noting that the brushes or a brush become softer during use.
2. Badger Hair Brushes
Badger hair brushes are not only the oldest type of shaving brush – you have enough options if you are looking for an antique shaving brush that you want to repair – but also as the best option for wet hair shaving.
They are excellent for sensitive skin, they produce superior foam, and you have four types of badger hair brushes to choose from:
1. Pure badger hair
A pure badger hair brush is the lowest quality and least expensive brush of its kind. The bristles have a dark brown color and come from the belly of the tie.
However, cheaper means no less, because many wet-shavers prefer this type or wave other hairs. The bristles are soft but not too sweet.
2. Best badger hair
The next step up is the best badger hairbrush. The brush is a bit larger, and the brush has a lighter color (than pure badger hair), while the softness is excellent.
3. Super badger hair
The bristles are even softer on a super badger hairbrush than the previous two types, and quality is almost as good as it gets.
4. Silvertip badger hair
Silvertip bristles are as good as it gets when it comes to badger hair. It comes from the neck of the tie, where the hair is incredibly soft and harder to find because it is only obtained during the winter when the nose has a silver shade. Most Silvertip shaving brushes are handmade and can cost $ 100 – and more.
3. Horse Brushes
Horse brushes are harder to find than other types but are preferred by many wet shavers in Spain – which produce the best scrubs of this type.
Horsehair is softer than wild hair but not as smooth as badger hair. Although the majority of horsehair bristles are stiffer than other types, the ends are pleasantly mild.
4.. Synthetic Brushes
Synthetic shaving brushes have come a long way, honey, and made from synthetic materials (think of nylon). Although many of the kinks associated with synthetic brushes have been worked out over the years, users still complain that they do not retain water as well as brushes made from animal hair.
Synthetic hairs are also often stiffer than other types and can peck and poke your skin.
Conclusion
If you want to go through the traditional barber-like experience from your home, you need to collect a few tools.
A shaving brush is an important part here, and there are few concepts you need to understand, such as stiffness or material of the hair, but it's relatively simple if you have the basics.
We hope you have found the best shaving brush. After all, an informed shopper is the best shopper. And as always, we are happy with your comments, suggestions, and general feedback.
References
baldingbeards.com
luxuryshavingrazors.com
toolsofmen.com