This site is supported by our readers. We may earn a commission, at no cost to you, if you purchase through links.
Searching for the best safety razor blades for sensitive skin is not an easy task. It is similar to locating the Holy Grail.
Moreover, there are no exact criteria that we can use to distinguish the best razor blades that work well on all our skin type.
While the weight, size, and exposure of the safety razor can all have a major impact on blade performance: by far, the biggest determinant of whether a shave is close and comfortable comes down to the best safety razor blades that complement your hardware, regimen, skin, and whiskers.
Many men have no idea how to shave with safety razors or think it's old-fashioned.
Despite all the advances in disposable razors, everyone has become accustomed to the fact that shaving with safety razors has found a way to come back and is now becoming a top-rated men's shaving option!
In this post, we will look at what we think are the ten best safety razor blades for sensitive skin, while also providing you with information that will help you choose the right one for you and how you can safely place it in your shaver.
Things To Consider For Getting Best Razor Blades
Before we discuss our best safety razor blades for sensitive skin, in this first part, we will list the features that you should keep in mind when buying safety razor blades.
1. Hair type
What you should pay attention to when picking your best safety razors blades is how thick your hair is.
If you have very thick or rough hair, you may need a more aggressive shaving head.
A sharper blade is probably the only style that gives you a good feeling about this kind of facial hair.
Also, consider how often you shave.
If you leave it for a few days between shaves, you may need a more aggressive blade, because you may need that extra sharpness to handle long hair.
On the other hand, if you don't have thick or coarse facial hair, a soft blade might be all you need.
2. Skill Level
Although the learning curve for a safety razor is not as steep as with a razor, it takes some getting used to if you are used to shaving with a blade, or are entirely new to shaving.
That said, it's best safety razor blades for beginner to start with less aggressive blades while you've mastered the shave. It takes time to learn how much pressure you can put on the shaving head without irritating, cutting, or irritating your skin.
3. Shaves with a blade
The only thing we are talking about here is the total lifespan of the best razor blades.
Some are frankly more difficult than others, with a few blades on our list that are good for up to ten shaves.
Others are worn out after two or three.
This can also influence the value of the blade.
If you drop 30 cents on a blade, you have the right to expect that it will take a few more shaves than a cent of 15 cents.

10 Best Safety Razor Blades For Sensitive Skin Of 2023
If you are like many men, you will have to deal with shaving bumps and their effects every time you shave.
Sensitive skin makes for a problematic shave, but buying best razor blades for sensitive skincan save your pain and shame (no more red bumps!).
To solve this problem, it is essential to find the right tools for skincare and shaving. Different types of razor blades function differently, and each brand offers various functions. Selecting the best that works for you can be difficult, and for many men choosing the right blade can be a big job.
It is important to remember that no two blades are the same; it's about finding the right blade for your skin, and this review helps you with that. These are some of the best safety razor blades for sensitive skin currently on the market.
1. Feather Hi-stainless Platinum Double Edge Razor Blades – Best Double Edge Razor Blades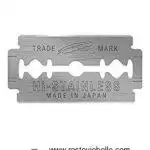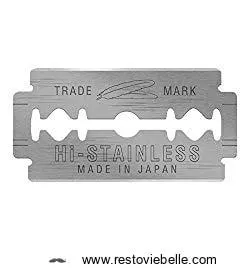 View On Amazon
These were made in Japan by The Feather Company, with enormous precision. They do everything to make these blades as sharp as possible. They are one of the best sharpest blades on the market for a smooth shave.
The same process and technology used to make the surgical blades are used to make feather blades. Professional surgeons rely on these blades daily with the lives of people during the operation and have to tell you about the quality of the blade and the confidence.
These blades also fit into any double edge safety razor. What makes the DE-blades among the top performers is that they are halo-stainless with platinum covered to a fraction of a millimeter for a smooth shave. A little practice may be necessary if you are not used to this way of shaving.
Feather Blades Are My Favorite
So, if you come from cheap plastic disposable razors or even from another De-brand springs, you'll find a pleasant surprise when using these blades when you're super smooth shave.
Since these bad guys like to, I'll throw away a warning for your new razors. I found this very aggressive with my packer 99r, which has a full blade opening.
It is a heavyweight safety razor with a handle. So I pressed the same pressure that I used with my brand elongated shaver. That ended in a few more nicks that I wanted. Yes, beginners, even the experienced boys, are crazy. ?
Anyway, I had to relieve my stroke and change my technique a bit on the jawline, so that the blade angle was not so aggressive to prevent it. However, I do not have this problem with my Merkur handle with a long handle.
Extremely sharp
The blade is perfect for thicker hair
Platinum Coating extends the life of each blade
2. Astra Platinum Double Edge Safety Razor Blades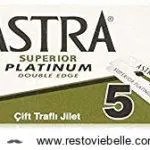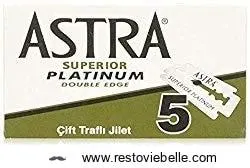 View On Amazon
Quality is king, but what does it matter if it does not last long? Certainly not as good as it could be, and the question is relevant for our discussion of best blade razors.
A high-quality razor blade is just that high quality, but if you have to change it every few days, the condition can be exacerbated.
This does not apply to Astra Platinum blades with a double border.
Astra Platinum is not just at the top of the list when it comes to the best razor blades in any category, and they are also incredibly durable. There is no reason why you can not get ten shaves from each blade, although the thickness of your facial hair affects the durability. When it comes to safety shavers, it is difficult to beat the team of Astra Platinum.
The Astra Platinum blades have initially been made in the Czech Republic before being purchased by Gillette in 1996. Gillette moved the Astra production to Russia, where they have been made. They have also been the subject of thousands of comments about Amazon while maintaining an almost 5-star rating. Gillette is doing something right with this product.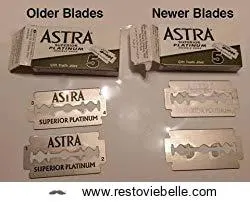 Let's look at some of the reasons why Astra Platinum magazines produce so many positive reviews:
Sharpness
These are some of the sharpest safety razor blades you will find. As said, their sharpness lasts long before it gets boring, and you have to jump into another blade. Some reviewers even talked about the fact that the edge was still as sharp on the seventh or eighth shave as in the first.
Smooth Shave
Many reviewers commented on the superior smoothness of shaving with Astra Platinum blades compared to other double-sided razors. Although the edges are sharp and can cause scratches and cuts if you are not careful (again, which leaves do not), they also offer a clean shave with less irritation than other blades. Some even claim that they are the best safety razor blades for sensitive skin.
Price
Astra Platinum DE safety shavers are surprisingly cheap for how good they are. They only cost about a dime per blade when you buy the 100-pack, which is a great bargain that keeps you in edges far into the near future.
The standard package comes with five blades. Each blade is packaged in greaseproof paper.
Extremely long-lasting
Excellent value for money
Sharp enough to handle a wide range of hair types
3. Shark Safety Razor Blades – Best Safety Razor Blades For Beginner

View On Amazon
Then we have a high all-around blade. It gives a much softer cut, which means it is excellent for both beginners and men who want an edge with versatility.
After a few blades that were sanded by samurai warriors, it is helpful to bring an edge with a mild cut.
Do not think that mild means that this razor is not sharp, as if it was made from Play-Dough or something.
It's still pretty sharp.
But it's not as sharp as a blade with an aggressive cut.
This is very useful for a few reasons.
First of all, this is a top-quality blade that is the best safety razor blades for the beginner who has no experience with the use of a safety razor.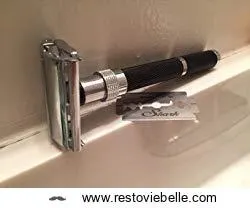 This is still a razor, so you still have to be careful.
But it will still be much more forgiving of technological mistakes.
That means that if you've just picked up your first razor blade, combing like Shark's can help keep dents and cuts under control while you learn your technique.
Because it is mild, it is also great for use on the rest of your body.
For example, if you shave your head in the shower, it is good to know that the blade is milder, so you can shave with less fear of cuts.
Without a platinum coating, these blades will not last as long as some others on our list.
They are cheap, so they are unlikely to put a big dent in your wallet by buying a few extra blades.
Mild Cut is great for head, body, and face
Crazy cheap price
Also great for starting shave
Not the sharpest blade in the world
4. Wilkinson Sword Classic Double Edge Razor Blades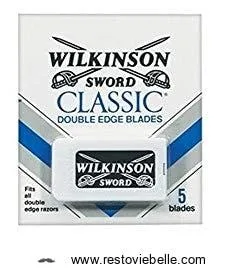 View On Amazon
Wilkinson Sword originated in the late 1950s in the United States. They started with a classic stainless steel blade that became a huge success. Over the years, they have improved the edges with new technology.
The blades are triple-coated with chromium to resist corrosion, they have added ceramics for increased durability and PTFE for reduced skin irritation. Thanks to this new combination, the new blades last longer than the original stainless steel blades.
They are made to fit any two-edged safety razor and can be cut in half and used in a battered throat razor. These blades have an excellent price-quality ratio and are good for a smooth shave.
Like other companies mentioned in this review, Wilkinson has been in the game for a long time as it was founded in England in 1772 to make swords, blades, and daggers, stealing their first line some 190 years later double-edged razor produced blades.
Today all Wilkinson blades are manufactured in Germany (which brings us back to our earlier point on German craftsmanship).
Interestingly enough, a knife with (sword) in its name is not so sharp like others: At least that's what some reviewers say.
Don't worry, you'll still get a close shave, and you'll experience less friction compared to other blades. The blade moves smoothly across your face and works especially well good if your facial hair has a medium texture.
Another reviewer said he preferred Wilkinson's Classic Double Edge blades over premium blades like those from Merkur, Derby, and even Astras.
(-At about 20 cents a blade, the Wilkinson Classic Des are in line with other comparable blades on the market and very affordable, and it's entirely possible to get a full week of shaves before you need a new blade.
Made with the triple coating process
Great for inexperienced double-sided shavers
Durable
Not so good with coarse facial hair
5. Gillette 7 O'clock Super Stainless Razor Blades
How do you know that Gillette knows a thing or two about safety shavers with a double edge? Well, they have the original patent to start with.
The fact is, Gillette is one of the giants of the razor industry unless you all your life have lived in a cave, you've heard of it. Admittedly, just because a company is iconic does not mean that it produces excellent products. Gillette, however, has achieved more than just successes.
And the seven Clock Super Stainless qualifies as one of those successes.
There is much to be said about the Super Stainless blades that, like Gillette's Astra Premium blades, are manufactured in Russia.
First, the blade is not as aggressively sharp as other blades with a double edge, but it still offers a smooth, clean shaved skin that is among the best razor blades.
Yet they are sharp enough so that you do not have to exert excessive pressure to get a clean shave.
Maybe not as durable as other sided blades mentioned in this review, giving the 7 Clock Super Stainless blades you still up to five shaves before they become dull. You can even shave for a week if your facial hair is not so coarse.
Last but not least, these blades are affordable, with a cost reduction of around 16 cents per module.
However, there is some confusion when it comes to the 7 Oa Clock Super Stainless blades. In particular, the location of the production facility for the edges, says experts, makes a big difference.
Above all, these blades are of high quality and fit on most safety razors. Each package contains five blades and can easily be purchased online when you have used your last blade.
Mid-Range Between Mild and Aggressive Cut
Mid-Range Product Life Span
Guaranteed quality from the market leader
Middle of the Road option
6. Derby Extra Double Edge Razor Blades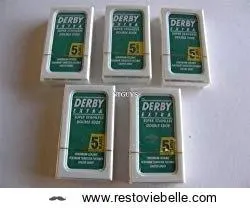 View On Amazon
Then we have the Derby Extra Blades. These two-edged blades come from Sweden, where they are made of stainless steel and to place all safety razors. But do you want to know the secret of how they were made?
They are hardened and ground using state-of-the-art cutting edge equipment, trimmed with chrome-ceramic, tungsten, and platinum. That should give the Derby Extra a few extra points. (You see, what have we done there?)
The Derby DEs fit almost any double-sided razor on the market and come individually packaged in a pack of five.
But here's another cool thing: there's a thin web between the two blades that lets you split them in half break for use with a single-sided razor. We like that.
What else do we love? We've mentioned Derby's durability, but it's worth repeating. Some reviewers say they shave up to 10 times before it's time to change the blade.
And again, we love the (process) that involves strict quality controls at every stage of production.
In the end, they both keep the lead and have a longer shelf life. Did we mention that these blades are also reasonably priced?
Very mild cut
Nice and cheap
Excellent coating for shaving with low friction
7. Polsilver Super Iridium Razor Blades
View On Amazon
Where do we start with the Super Iridium Blade? When it came out a few years ago, many men were enthusiastic about how good they were.
And then they were gone.
Road, that is, you could no longer find them on the shelves.
Unfortunately, their sudden disappearance turned out to be a change in distributors. And here they are back on the market, and they get the same kind of reviews as before.
The Super Iridium blades are mainly produced in Russia, but they are also provided in Poland and the Czech Republic (and those in Poland are of the highest quality). Have we also mentioned that the company – known as Wizamet – has been purchased by Gillette? Oh, the mystery.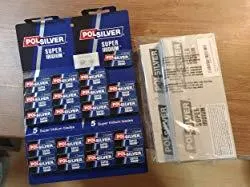 With 35 cents per blade, they are more expensive than others, but because of their quality, they are more than worth the investment.
What's about it?
The Super Iridium blades have an excellent balance between sharp and soft. Their sharpness compares most favorably with the other blades on our 2023 list and will cut through thick hair without the pain in the butt (not to mention, face) pulling and pulling.
They are covered with iridium, a robust metal from the platinum group. It is the second closest element after osmium – which is useful information when the conversation goes down during your next social outing. But it does not matter, and Iridium provides an excellent blade.
They are not only as sharp as most other blades, but they are also considered more durable than edges that are known for their superior sharpness.
You get Super Iridium blades with every package, although you can order a package of 100 with a price of $ 17 to $ 35, depending on where you buy it.
8. Personna Stainless Steel Razor Blades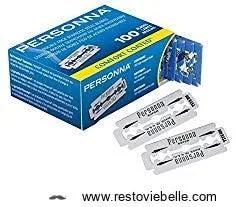 View On Amazon
Do you have thick hair? Personna Stainless Steel should be your best blade.
This sheet effortlessly slides through any problematic hair. If you are a newbie or have skin problems (sensitive skin), you may want to try other alternatives. Persona is a bit aggressive for people with sensitive skin.
The blades come in two primary colors, red and blue. They are cheap and last a long time if you buy in bulk.

Product features from Razor Blade
Stainless steel surface
Each package consists of 100 blades.
Each blade is packed in a light paper sleeve.
Compatible with DE-razor modules
Made in the US
It's reasonably priced.
It is manufactured by a company that is highly appreciated for producing safe shaving products.
Platinum and chrome plated.
Ensures a very smooth shave
Not as aggressive as some aggressive blades
Short service life per blade
9. KAI Stainless Steel Double Edge Safety Razor Blades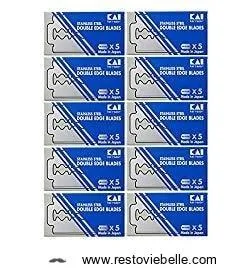 View On Amazon
The KAI Double Edge Safety Razor Blades is made in Japan and is an extremely expensive blade of around $ 0.46 per blade, which is considerably higher than the Astra blade spring price of $ 0.10 and even the much-appreciated spring for $ 0.30.
This blade exceeds a generally higher price tag compared to the other best razor blades for sensitive skin on the market – KAI stainless steel blades are made from one of the best Japanese cutlery manufacturers.
What is essential about the KAI blade is that many men who may want the sharpness of the feather blade but find the standard chips or general irritation probably prefer the stainless steel blade from KAI because it is slightly smoother as the blade tends.
Although this blade may not be suitable for extremely thick whiskers, due to the pronounced pulling and pulling of the root when it's over, many men should notice that this blade performs well on their hair.
In general, it is a significant investment for razor blades and is ideal for enthusiasts who want to try something new.

Long-life blades
Suitable for use on sensitive skin
For a close, consistent shave
Not so good on thicker beard hair
10. Double Edge Razor Blade Sample Pack
View On Amazon
We are happy to share our opinion on a vast range of shaving products and help you find the right one.
But sometimes we wish there was a more practical way for you to make your journey of discovery.
We want to see how you spread your wings and fly away on your shaving and grooming adventures, a tear in our eyes as you drift away in the setting sun.
That is not always possible because many personal care products are quite expensive, so you must read reviews to refine the desired outcomes.
Razor blades, on the other hand, are cheap.
That's why you can get great products like this!
View the blades you can try here.
We have seen a lot today.
Hello Gillette, hello Shark, oh hello Astra, you're here too, huh? That is amazing.
But even better than that?
There is also a series of great products from people that we could not put on our list. For example
Wilkinson Sword and Bic.
Two giant razor blades that we could not reach because the list was already full of quality blades.
No, this is not a cheap way to buy blades.
It is even one of the most expensive ways to buy them.
But this package offers you the possibility to try out a large number of blades, and that is pretty cool.

Try a range of blades.
Great selection of quality products
Would be a great gift for someone new to safety razors
Type of safety razor that you can use
1. Aggressiveness
As I just gave an example of how the safety razor can make a difference in which blade you buy, let's expand it further. Different DE razors have blade spaces that expose more or less of the blade to your skin.
This is where people who are new to the art of manual shaving are guided in the wrong way. If you buy an aggressive shaver, such as the Muhle R41, with an open comb or more of an opening to expose the blade, you can put yourself in trouble by using it directly from the fence.
Your technique will be wrong, and you will probably steal yourself. They would be better off with a well-sealed comb razor, such as the Merkur long handle or Edwing Jagger DE89LBl.
2. Weight of the shaver
Okay, how in the world helps to determine the importance of the razor with the blade I buy. Well, if you get a heavy razor, you don't usually have to press hard on your face to shave well. This is where technology comes in again. When I go to a heavier DE razor, I use a blade that I know is not as sharp as I would personally think.
If I now use one of my lighter models for shaving protection, I will use my sharpest shaver because I know I can get away with it. I also know that I can also press a bit hard and get no scratches or cuts on my face.
FAQs About Best Razor Blades For Sensitive Skin
How often do you have to replace your razor blades?
In general, a shaver should keep you somewhere between 3 and 5 shaves.
When testing a new box of shavers, some shavers may tend to check a new blade before each shave, so that they can study how their skin works.
This exercise, although a bit expensive, offers you the possibility to measure the aggressiveness of the blade.
How do I save my blades?
As we mentioned above, when to replace your blades, safety blades are surprisingly fragile.
Their fragility lies in the edge of the blade, which is so thin that it can easily be damaged by your beard hair, making it dull.
Another thing that can easily damage it is moisture.
Even stainless steel blades, also if they have a super active coating such as platinum, are still vulnerable to water damage.
Yet you will still find men who store their razors without drying it and store it in a damp environment such as a bathroom.
We propose two things to combat this.
You must wipe your blades dry after you have rinsed them.
Use a towel or cloth or kitchen towel, or whatever you won't – do it, be careful not to cut your fingers.
The other thing is to dry the replacement slats somewhere like your bedroom.
Store the razor in the bathroom because, given the life of the blade, it has no time to damage water due to moisture in the air.
But place your replacements somewhere else to protect them.
How To Get The Best Shave With Double Edge Razor Blades
Unless you're a newbie, I believe you've used a razor before. There is nothing new.
Because of first-year students, I will discuss some of the steps you can take to get a close shave with the most razor blades with a double edge.
What you need:
Your favorite razor
Daily face wash
Aftershave Balm
Shaving process:
Prepare your beard – your beard should be soft before removing it. Use a warm towel on your beard for about 30 seconds or take a shower to make them soft and hydrated.
Foam – Apply your entire shaving region with enough shaving cream. Use a shaving brush to spread the cream through swirling movements.
Shaving – You need the necessary skills to use the safety razor. Once you have your favorite razor and best double edge razor blades, it takes a few minutes before you cut your hair.
Conclusion
So, have you already decided?
I'm just kidding! This can be a lot of information that you have only registered as the first buyer of a safety razor. So I hope this has helped you to understand precisely what helps you to deal with your sensitive skin while shaving.
As soon as you start using the best safety razor blades for sensitive skin, you will learn to appreciate the special care your skin gets. Even for people without skin sensitivity problems, shaving can make our skin dry and irritable.
I advise you to go for one of the best double edge razor blades; hopefully, this review has done justice to the high-quality razor blades, and soon thank you skin for that!
So go for all the different looks you wanted and get rid of unwanted hair without worrying about damaging your sensitive skin with one of these safety razors.
Enjoy a nice clean shave, and stay happy!
[/Conclusion]