This site is supported by our readers. We may earn a commission, at no cost to you, if you purchase through links.
What is the best safety razor for sensitive skin?
Are you allergic to shaving and have infections?
Does the beard cause you allergies and need a safe and effective shave?
Does your profession require shaving daily like military service, and you can not because of sensitive skin?
I think you'll agree with me if I say: It's hard to find the best adjustable safety razor for sensitive skin.
There are many options and tools available in the market, but none of these options are suitable for your own needs and meets your desires, and cheaper and less expensive than others without wasting time, effort, and money searching for them.
Do you believe it's difficult?
After hours of searching for the best adjustable safety razor for sensitive skin inside the market and seeing the best and most beautiful, we came across the ten best safety razors for sensitive skin that you can buy.
It will not cause any irritation; you can use them all on sensitive skin or any skin type. Thus, if you want to get a close and smooth shave but do not want to pay a lot of money, you come to the right place.
Let's get started:
Before You Buy Safety Razor For Sensitive Skin
You have to ask yourself some questions you need to answer before making any purchase:
1. Open Comb or Comb Closed Safety Razor
Which one is best for your sensitive skin, and what is the most effective? Yes, there are two types of Open comb and closed comb safety razor :
Open comb razor designs are more aggressive, while most closed combs are suitable for various skin sensitivities.
While the best shaving experience is achieved with open combs, you should always use a closed comb safety razor if you have sensitive skin.
These designs have a protective metal layer that prevents direct contact with the skin and the blade. Also, some comb designs are closed and adjustable head angles that can work better on delicate skin.
2. Types of Safety Razors Edges
There are two types of edges for safety razors. Before you choose one of the two types, you must know them. The two types are:
1) Razor blades with a single blade
2) Razor blades for the double edge.
Single Edge Safety Razors
Single blade safety razors have become rarer nowadays. It is not surprising that these safety razors have one advantage of shaving. It is more of a vintage collectible nowadays.
Due to the smooth transition to standard shavers, the SE has fallen in demand for manufacturers' products. SE razors use a more massive blade than a safety razor with a double edge and offer a much more aggressive and closer shave. Therefore, it must be used with caution.
Double Edge Safety Razors
As the name suggests, Double Edge Safety Razors use both sides of the blade. You will be able to use both hands for your shave, but unlike that, there is no real difference.
Although it is not as sharp as SE, it is much safer because it leaves the other side of the blade free.
Most SE shavers now use the same blade as DE razors, so today's most practical choice is the DE for the best, fastest, and cleanest shave.
3. Handle length
This is one of those areas where it is a matter of personal preference because it depends on which type of handle fits more comfortably in your hand.
If you have larger hands or feel that you need a little more control, we recommend using a longer handle, also known as a barber's safety razor.
Yet, some people find the longer handle more awkward to use.
4. Adjustable
best adjustable safety razors are a great option if you want a product that can adapt to your skin or that you can calibrate for certain parts of your face.
I personally love them. They usually cost more, but the consideration is that you will use them regardless of your face's sensitivity.
For example, many men have sensitive necks, but their cheeks are right. So you can shave your neck with higher sensitivity and then recalibrate for your cheeks.
4. Easy to Use
On it, you do not want something that is not easy to use. Secure handling is essential for razor blades meant for sensitive skin. Most of this is guaranteed if you get one of the genuinely balanced best safety razors for sensitive skin.
The direct result of superior geometry in shaving blades is an impeccable balance. Good razor blades are balanced so that you do not exert excessive pressure to get a close shave.
10 Best Safety Razors For Sensitive Skin Of 2023
Sensitive skin is something completely different. If you have it, there are plenty of times when you want to flee from it. For example, during shaving.
I know that everyone has a different experience level, budget, size and weight preferences, need for an aggressive razor, etc.
That is why I have given you a list of the best safety razors that meet everyone's specific needs so that you will undoubtedly find the best safety razor sensitive skin.
1. Merkur 34c Classic Double Edge Safety Razor
View On Amazon
Merkur, a subsidiary of DOVO, is one of the most coveted names in the world for designing safety razors.
They have an excellent line of best double edge razor for sensitive skin produced where the company was founded in 1906, Solingen, Germany.
Made from the world-famous Solingen steel and produced according to the highest German production standards (Solingen regulation), you can be sure which Merkur shaver you are purchasing; You receive a produwell constructed product that lasts a long time. Life. Lifetime.
The Merkur 34C is a clean and straightforward two-piece safety razor with a closed bar that is on the heavier side about its length.
There is no doubt that the extra weight ensures that this razor glides effortlessly over the face, reducing the amount of pressure you need to apply to get a smooth shave.
It is heavy to handle, so you can hold it practically anywhere on the handle while maintaining excellent control and balance.
The handle has an excellent grainy metal texture that retains its grip, even if you immerse it in shaving cream or soap.
The Merkur 34C has a very mild aggressiveness, which makes it easy to prevent cuts but cancan scanllprovfficient, smooth shave.

Great shaves for all levels
Excellent build quality
Solid grip
Maybe not ideal for very thick and coarse facial hair
2. Feather All-Stainless Steel Double-edge RazorModel As-D2
View On Amazon
The Feather stainless steel double-edge razor is handmade in Seki, Japan, also the samurai sword's birthplace. So at least you know the blades are sharp.
But there is much more to this razor than to the blades: enough to make it the best razor for sensitive skin. Admittedly, it's expensive compared to most other shavers, but it's worth the price. And there is a lot of pleasure in that.
First, it is made of stainless steel, as the name suggests, and it was one of the first safety razors made of the material. One of the many beautiful things about stainless steel is that it will never compromise or lose its appearance, making it suitable for the price.
It's also made to last a lifetime: replace the blades when they get boring: and that makes it a long-term investment that, again, justifies its price.
Although the blades are sharp, the Feather AS Double Edge razor is considered less (aggressive) than many other shavers, meaning that you can apply some pressure while shaving without worrying about wounds, cuts, and skin irritation. If you are a man with sensitive skin, that is all you can ask for.
Your Feather AS Double Edge comes in a wooden or velvet box, depending on where you live. The package comes with five Feather stainless steel blades that, again, are one of the sharpest you can find anywhere.
Beautiful, stainless steel design
Suitable for newcomers in a safety razor
Must last a lifetime
More expensive than most safety shavers
3. Edwin Jagger Double Edge Safety Razor, Chrome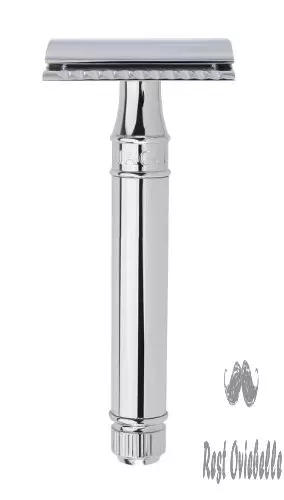 View On Amazon
Edwin Jagger is from Sheffield, England. A quiet city is known for its hardworking artisans and quality products. They started in 1988 and are a family business dedicated to English traditions, quality, and style.
And they make significant shavers. The style of their double-sided safety razor impressed me the moment I opened the box. I love the heavy chrome finish that they foam over the blade.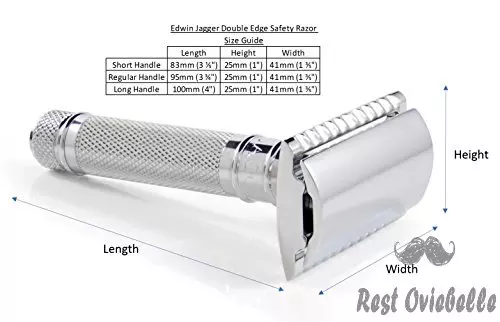 It shimmers in my hand, and the bathroom lighting bounces off the surface. It is a complete chrome task, and Edwin Jagger must be proud of their work.
This is a three-part, closed comb razor. You take the head off, and it falls apart into two leaders and a handle. The handle is not slippery; even a wet hand can hold it securely. Moreover, it is made of solid brass so that it does not crack or break.
If I hold it by my hand, I can see that the most weight is in the head. The razor leans in your face while shaving. That's not a bad thing, but keep that in mind; otherwise, you run the risk of going down too quickly.
Shaving with the Edwin Jagger safety razor impressed me. It is not an aggressive razor. I would rate it as mild, coming closer to medium. I think it's one of the best double edge razors for beginners and perfect for sensitive skin.
The smart-looking package includes a package of five Derby safety blades and shaving instructions.

The closed comb safety razor head ensures an excellent shave.
The fully chromed finish is flashy without being over the top.
Well-built, solid brass pieces will not easily be damaged.
Loading the classic three-part system is dummy-proof.
Mild aggressiveness means it's perfect for sensitive skin…
Users may need to adjust to the heavy head during shaving.
Although I like chrome, some people can deduce it.
4. Merkur 37C Slant Bar Safety Razor
View On Amazon
If you have extra thick or coarse facial hair or are looking for a razor that is a bit more aggressive, we can recommend the Merkur 37C.
It is chromed, although the building material is unknown.
But judging by its moderate weight, even though it is a shorter handle razor, I am pretty sure it contains some steel.
Precision engineering makes this a quality razor, with an intuitive design that I will discuss shortly.
It is stable, robust, and reliable — almost the slogan for everything built in Germany.
Thanks to that slanted blade, the 37c needs almost zero pressure to reach one of the closest shaves.
If you know how to handle an aggressive shaver, you will enjoy the quality of shaving it offers.
It is not recommended for beginners, but any experienced shaver who knows the right technique and is willing to invest time must enjoy the quality of shaving the 37C offers.

Slant design cuts through thick, coarse hair
Solid construction
Very efficient shave
The handle may feel too short for large hands
5. Gillette Mach3 Men's Disposable Razor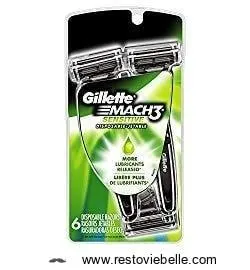 View On Amazon
We have talked about Gillette's tradition in previous posts, but it is worth mentioning. After all, there are not many companies with more than 100 years of experience and a name that has become synonymous with shaving.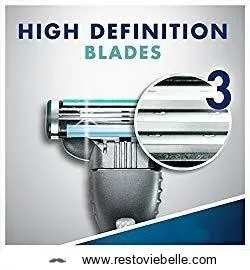 We mention Gillette's history once more to emphasize that it tells us that they know what the hell they are doing. Are they perfect? Of course, that is not a company or individual, but you do not build a name and remain active as long as Gillette has acted without doing anything right.
It also comes with protective micro fins that stretch and smooth the skin before your blade goes over it.
The Mach3 blades have a patented Diamond-Like Coated sharpness, which some users say are the sharpest on disposable blades on the market.
Mach3 line shavers come with an adhesive strip that offers an extra layer of protection when combating dry, sensitive skin that quickly becomes irritated. The lubra strip contains natural oils and turns white when it is time to replace the blade.
The blades' construction makes it easy to rinse facial hair, shaving cream, shaving gel, and another slurry that builds up and between the modules during and during the regular shave.
The Mach3 also has an ergonomically designed handle that provides a comfortable grip. You do not have to worry that the razor slips out of your razor during shaving.

Rotatable head
Protective micro fins
Superior blades
More expensive than other disposable razors
6. Viking Blade The Chieftan Double Edge Safety Razor
View On Amazon
Viking Blades cares about your shave. They are a family business that started in 1985 in Victoria, Australia. They believe that you need quality products to shave and those of your grandfather.
Chieftan's safety razor is their flagship. It is also the only butterfly head system on my list.
Like a one-piece razor, turn the handle and open the razor's head, like a swing gate. Then place the blade and close the head.
A safety razor for butterflies eliminates the stress of handling multiple safety razors and the blade simultaneously. This makes it an excellent choice for users with pyrophobia, i.e., the fear of blades.
The Chieftan is sprayed with chrome. On the heavier side, it balances near the head. In combination with the weight distribution, I would classify it as a mediocre aggressive safety razor.
With a light touch, this razor would be suitable for sensitive skin. It has a closed comb base plate that extends a reasonable distance from the blade.
But it may take a while to adjust to the weight. The trick with this razor is not to put pressure on the handle. Let the razor do the work.
The safety razor comes in a felt-covered cover with a small mirror on the inside, a thoughtful touch. Also included is a 5-pack blade made by Viking Blades.

On average aggressive, the razor reaches BBS proximity in two passages.
The fully chromed finish is rare at the price level.
Even with wet hands, the notches of the handle reduce slippage.
Made from high-quality materials, the razor should last for years.
Cannot adjust the efficiency of the razor.
Top heavy, so it can be difficult for some users to learn.
7. Schick RazorHydro 5 Sensitive Skin Razor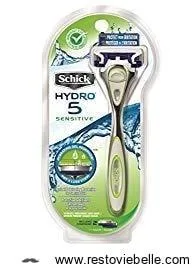 View On Amazon
The unique hydrating gel reservoir of the Schick razor for Sensitive Skin keeps your skin hydrated for up to an hour after every shave and protects it against irritation.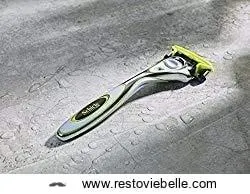 You can say that the manufacturer is groundbreaking when it comes to this feature because none of the competitors has anything similar.
For the best shaving experienceever, there are five ultra-shiny razor blades with skin protection. The flip trimmer offers a handy design that helps you with those hard-to-reach places.
With a simple thumb wrap, the hydrating gel reservoir folds back so that you can use all five blades while trimming.
Ergonomically designed, premium, high-gloss colored chrome and soft-feeling rubber handle ensure that this razor fits perfectly and naturally in your hand.
Hydrating Gel Reservoir
Flip Trimmer for hard-to-reach places
Top-class schick razors
The handle is good, but perhaps not as good as on other cartridge shavers
8. Rockwell 6C Adjustable Safety Razor
View On Amazon
This relatively new adjustable safety razor has made a splash in the wet shaving community. It can compete with many big players such as Merkur, Edwin Jagger, and the like.
This is one of the best de razors for sensitive skin with high-quality products here in the US.
It is made of chromed zinc alloy, which is very durable, meaning that you will get it for decades if you take good care of it.
The use of chrome zinc alloy also places this safety razor in a slightly less expensive bracket than stainless steel.
The Rockwell safety razors are the first cast, and then each piece is finished separately.
So when it comes to the quality of the build, you get a level of intimate craftsmanship that you may have thought was long gone.
The closed-comb razor makes this a good option for beginners, just like the weight, which means that you don't have to pressure it to make a sound, smooth shave.
As discussed, you have six levels of aggression.
So the performance is almost up to you! From our experience, however, this is a brilliantly efficient shaver.
The Rockwell razor 6c is incredibly smooth and comfortable, even in the most aggressive environments.
Weight and great control make shaving almost effortless, even for the less experienced in wet shaving.

Adjust between 6 levels of aggressiveness
Great price for an adjustable razor
High-quality production in the US
9. Parker Variant Adjustable Double Edge Safety Razor
View On Amazon
Parker has been active in the double edge of safety shavers since 1973. They swear by their shavers and use them every day, just like their customers.
I think that Parker safety razors are an excellent middle ground between quality and price. And I'm not the only one. Online customers collect this razor with thousands of five-star reviews.
With 110 grams, the Variant weighs more than most shavers on my list. But the weight distribution is just above the center of the handle, closer to the head. At the right angle, this shaver should not irritate.
The total length of the razor is four centimeters. That is more than your average height but still short enough for most men.
Parker plated the copper handle in chrome. It's not shiny chrome-like in some of my other picks. The Variant has a modest, practical appearance. Your business types that want precision without all the glamor would love this razor.
Because it is a two-part razor, removing and loading the Variant is easy. You unscrew the bottom rotary knob until you hear the connection in the handle come loose. Then remove the upper part of the head and install your razor.
This is an adjustable razor. You can calibrate the aggressiveness of the blade from 1 to 5. If you have susceptible skin or have not shaved before, I recommend trying one and going up from there if you feel for the blade.
The variant contains a 5-pack of their stellar blades and a card with details about their favorite shaving method.

It is an adjustable safety razor that you can calibrate for the perfect shave.
The Variant is excellent for those who press too hard while they shave.
Built with solid brass, you can't damage this if you try.
Slides comfortably over your face so that you don't get a shaving fire.
The two-part design ensures quick loading and ejecting of the blade.
You can install the head in the wrong way if you don't pay attention.
It may be too heavy for some users if they are used to lightweight shavers.
10. Feather Popular Twist-To-Open Safety Razor
View On Amazon
The Japanese manufacturer Feather is one of the leading names in the safety razor game, at least as far as it goes (read our report on Feather blades to see how incredible they are).
Although Feather (famous) the company's reputation 'for excellence, it has more to do with how excellent their other products are than anything else.
Partially made of plastic and metal, and despite the low price, the Feather Popular is still one of the best safety razors for butterflies that we encounter. Unfortunately, most twist-to-razor don't work as well as it should.
It is incredibly light, which means that it is difficult (almost impossible) to get a smooth shave, and the butterfly release mechanism does not fill you with confidence.
This razor uses a traditional design with a thicker head that reduces the blade's steepness, making it incredibly mild and perfect for people with sensitive skin.
It is, as said, incredibly light thanks to the inexpensive materials from which it is constructed.
This makes working hard for a smooth shave and requires a lot of pressure.
But for the price, the Feather Popular Twist offers a good shave.
As mentioned, look at the reviews, and many people are pleased with the performance it offers.
It is a moderately aggressive razor, so if you know how to handle a safety razor and control to operate such a light razor, you can shave well.

Affordably priced
Easy to replace razor blades with butterfly design
Great for beginners
Insufficient weight
No premium build quality
Are Safety Razors Better for Sensitive Skin or Cartridge Razor?
Safety razors
Safety razors are another beast when it comes to comfortable skin. The most significant factor to consider with a safety razor is your level of experience when using it.
Understanding how to properly adjust and hold the shaver is vital for the desired results against sensitive skin. Some razor blades may be more aggressive in their position and, therefore, not suitable for this application.
If you want to use a razor with sensitive skin, it is best to use a razor similar to the one you are currently using.
For example, if you are replacing a cartridge, you must find a safety razor that feels the same way as your old cartridge razor.
Cartridge Razors
These razors are perhaps the most used in men. With that in mind, more research has been done into the best cartridge razors and sensitive skin than any other type.
This category's biggest downfall is weeding the seemingly countless brands and models to find the right product for you.
Every man's skin is different, so you have to experiment with different ones until you find the right one.
An important point to consider is that just because a specific model is the newest does not mean that this is the best!
Some men swear by cartridge models that have been on the market for almost 20 years.
FAQs About Safety Razor for Sensitive Skin
What Types of Materials Are Used in a Safety Razor?
There are not many options when it comes to handling material. The most used metal is most available in chrome or silver color. The metal handles are rough to grip. There are also metal handles with rubber lining for a better grip.
Other materials such as wood or animal horns are for enthusiasts for a stylish look. These types of materials are best as a gift.
Does a Safety Razor Cause Less Irritation?
Shaving with a safety razor reduces skin irritation, shaving bumps, and ingrown hairs that often occur with a cartridge or electric shaver. The most important reason is that with a safety razor, you only have one blade against your skin at a time.
The fewer times you cut your face with a blade, the happier it gets
How to Clean Your Safety Razor?
The best way to clean your shaver is to use sanitizing alcohol to sterilize the shaver. Otherwise, soap and water are sufficient.
Remember to lubricate the razor again to do this. Rubbing alcohol, in particular, dries out the shaver.
Do not forget to apply shaving oil to the shaver to lubricate the blades and prevent dehydration.
How Can You Properly Maintain Your Safety Shaver?
Safety razors are not maintenance tools. They do not require extensive cleaning or safe storage. Wash after use, and for the best result, keep dry so that no rust occurs. Most famous brands make sturdy safety razors that will last you a lifetime.
A good safety razor can easily last a long time without real maintenance problems.
Final Thoughts
As soon as you start using the best safety razor for sensitive skin, you will learn to appreciate the special care that your skin receives.
Even for people without skin sensitivity problems, shaving can make our skin dry and irritable.
I recommend choosing one of these excellent safety razors, which is my choice for the best safety razors for sensitive skin.
Hopefully, this review has done justice to the high-quality razors, and soon thanks to your skin for that!
References
baldingbeards.com
primandprep.com
getarazor.com
allaboutrazor.com