This site is supported by our readers. We may earn a commission, at no cost to you, if you purchase through links.
When it comes to shaving, you may feel that you have exhausted every one of the options and read all the online guides to discover what best men's razors for sensitive skin.
The word 'sensitive' is often used to refer to men who do not like to express their inner feelings. On the other hand, it is also used to describe men who cry when watching emotional movies.
Regardless of how you define it, you do not have to be ashamed of sensitivity; many women prefer sensitive men.
Sensitive skin is a very different thing. If you have it, there are plenty of times when you want to run away from it. For example, when you shave.
That said, having the best razor for men that is efficient and reliable is a must. It must withstand everyday use.
But there is one more thing to consider for your razor blade, whether it will work for sensitive skin.
Although we will do our best to talk about the best shaving razor for sensitive skin, we also want to explain why your current shaver will not help you if you have to invest in the best electric razor for men with sensitive skin (after all, they are convenient), with a few very secret shave tips that men rely on for an extremely comfortable shave.
Things to Consider for Getting the Best Razor for Sensitive Skin Men's
Buying a five or six-blade razor may not be your best option, even if manufacturers say otherwise.
These five blades cut tight but run the risk of irritation and shaving burn, razor bumps. Buying the best men's razor for sensitive skin from a reputable brand is crucial.
Yes, this is not the time to try on cheap knock-offs of inferior quality; you will thank me for it later.
Here are a few things to consider when buying arazor for men with sensitive skin.
Cartridge or Safety Razor
Cartridge razors are the standard option for most men (and women) because it is available in just about every supermarket, gas station, or pharmacy.
Yes, it is still a good option for men with sensitive skin because it has a very shallow learning curve.
Safety razors require more skill because it has a fixed angular head with a single blade razor.
There are no-slip strips, so you must use some lubrication, such as shaving cream or soap.
Another disadvantage of using a safety razor is the time it takes to shave correctly. It can take at least 10 minutes if you have the technique less and longer if you are still learning.
But the results are worth it because it carefully closes the shave without irritation, ingrown hairs. After all, only one blade is used.
Costs are another advantage of using a safety razor because the razor itself lasts for years.
The only thing you need to replace is the blade, and it costs pennies of the dollar if you compare it to cartridge refills.
Handle
The handle is another essential feature to look at because this is where you hold the razor.
Find something with an ergonomic design that is good enough and does not slip but still feels comfortable in hand.
Number of Blades
In this case, you have to practice the principle (less is best). Using a 5 or 6 blade razor may not be the best idea if you have sensitive skin.
A good compromise uses the best 3 blade razor that has more space between the blades, making it easier to clean. Fewer blades also mean less irritation.
If you are willing to learn wet shaving, it is best to use a safety razor with only one blade.

10 Best Men's Razors For Sensitive Skin Of 2023
Fortunately, we live in a modern world where technology can help us struggle with sensitive skin by entering the best razor for sensitive skin men.
These new shaving aids are (mostly) specially designed for use on sensitive skin, such as shaving gels and shaving cream, and shaving soap to get a smooth shave and comfortable shave without burning.
Here are the ten best razors for sensitive skin men.
1. Merkur Mk34c Double Edge Razor for Sensitive Skin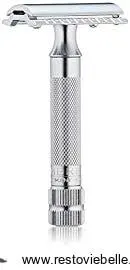 View On Amazon
Without a doubt, the Merkur mk34c or the classic 2-piece razor is one of the best men's razors for sensitive skin you can buy, whether you have sensitive skin or not. The beauty of this razor is the versatility it brings to the table.
For years, men have been shaving with MERKUR Razor because of the effectiveness of shaving, better and more comfortable shaving compared to other brands.
The first thing you probably notice is the massive head, the stem, and an extra thick handle. That ensures easy holding and maneuvering so that you get a perfectly smooth and safe shave every time.
When you start shaving with this razor, you can say goodbye to ingrown hairs and skin irritations that usually occur after razor blades with multiple blades thanks to the two-edged edges that are durable and of high quality.
Place a sharp blade like a feather, and you have a beard mower that can easily cut troublesome beards.
If you load it as a Personna with a smooth but sharp blade, you can use it on sensitive skin.
Another reason I like this product is the price, it's not the cheapest available, but the build quality is great.
The two-part design makes it easy to clean and assemble compared to a best 3 blade razor. The blade's alignment is reasonably consistent, which is very important when shaving sensitive skin because your margin of error is less.
Use only one blade so that it does not irritate the skin.
The 2-part design makes it easy to clean.
Not very aggressive so that beginners can use it
It takes a little longer to shave well.
Steep learning process
2. Gillette Mach3 Men's Disposable Razor
Gillette Mach3 is designed with sharp blades that cut close together and are the best disposable razor to always shave smooth and smooth in fewer movements.
When you start shaving, you experience a perfectly smooth motion offered by the Lubra trip.
The soft and protective micro fins can also gently smooth out the skin so that the blades can shave evenly and smoothly.
Three gradually aligned Gillette mach3 blades: every stroke you take requires three. And fewer strokes means less irritation
Blades coated in patented DLC (Diamond Like Coating) for strong, sharp blades that cut tight
Open Architecture System makes blades easy to rinse. Spring-mounted pressure control system adapts to different skin types
Lubrastrip for a smooth gliding effect
Soft, protective Micro fins gently smooth the skin so that your Mach3 Disposable can shave evenly and effortlessly
You will find that this is extremely easy to rinse this shaver after use due to the open architectural design. Moreover, it can easily be adapted to your skin type thanks to the spring pressure control design.
After some time of use, you will realize that it is very soft on sensitive skin and does not cause irritation.

Lubrastrip for smooth gliding
Sharp blades ensure a smooth shave
Open architecture system makes rinsing easy
Blades may lose their sharp edge after long use.
3. Feather All-Stainless Steel Double Edge Razor Model As-D2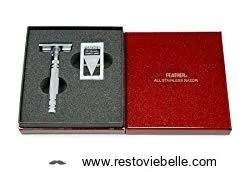 View On Amazon
The Feather stainless steel safety razor is handmade in Seki, Japan, which happens to be the samurai sword's birthplace. So at least you know that the blades are sharp.
But there's a lot more to this shaver than his blades – enough to make it one of the best razors for sensitive skin. Admittedly, it is expensive compared to most other single safety razors, but it is worth the price, and there is a lot of fun to be found.
First, it is made of stainless steel, as the name suggests, and it was one of the first safety razors made of the material. One of the many beautiful things about stainless steel is that it will never tarnish or lose its appearance, making it suitable for the price.
It is also made to last you a lifetime – replace the blades when they become dull – and that makes it a long-term investment that, once again, justifies the price.

Although the blades are sharp, the Feather AS Double Edge Razor is considered less aggressive than many other razors, and you can apply some pressure while shaving without worrying about nothing, cuts, and skin irritation. If you are a man with sensitive skin, then that is all you can ask for.
This is what we love about this shaver:
Design: We have already mentioned the beautiful stainless steel case, but the Feather AS also uses a three-part design with a short comb; we also like the overall balance of the shaver, which weighs about 3.25 grams.
Shaving head: The shaving head tilts at a 45-degree angle – most razors are at 30 – allowing the blade to be easily aligned. It also helps make it a good shaver for beginners because there is minimal exposure of the blade to your skin. Some reviewers say that you hardly feel the edge.
Packaging: Your AS Double Edge feather will be delivered in a wooden or velvet box, depending on where you live. The package comes with five springs of stainless steel blades, which again are one of the sharpest you will find anywhere.
Stainless steel finish lasts a lifetime
Spring blades that accompany this are sharp and close to shaving.
The grip is excellent – (it won't slip away)
4. Merkur Progress Safety Razor For Sensitive Skin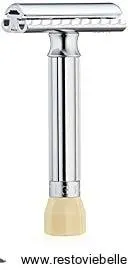 View On Amazon
Merkur's progress combines old school and new school technology. It is one of the few adjustable razors that look like a traditional razor. One thing that separates this from the other two options above is the flexible function. You can adjust the exposure of the sheet depending on how mild your aggressive sound is.
Let's say your neck area is the most sensitive. Use the more aggressive setting on your cheek and lip area and lower the environment when you shave your neck.
This is the beauty of being adaptable – you do not need two separate razors to do the job.
But there is a learning curve when using an adjustable system, especially in terms of mounting and grip.
After learning the basics, this may be the only razor you need. All you have to do is find the right blade that suits you.
The adjustable function makes this very versatile
You can go as aggressive or mild as necessary
The steep learning curve for beginners
5. Braun Series 9-9095cc Wet and Dry Foil Shaver for Men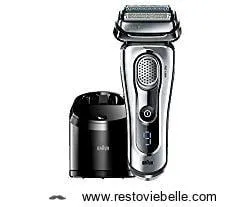 View On Amazon
When it comes to finding the best electric razor for men with sensitive skin, the Braun Series 9 (especially the 9095cc) is undeniably a razor of high quality and a great choice for you.
This is why:
not only will this foil head offer a much closer shave that looks like a cartridge or safety razor, but it can also perform in a wet environment as well.
This will help keep your hair follicles soft during your shave when a thick and creamy foam of shave cream is applied.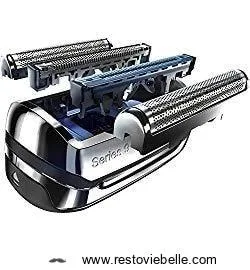 While shaving in a wet environment is crucial for any electric shaver to do wonders to a man with sensitive skin, the Braun Series 9 in which he is housed is also a self-cleaning system.
Therefore, if you suffer from irritation after shaving, this shaver's cleaning system will ensure that it is free from residues from the previous days.
Finally, given the portable nature of electric shavers, a single charge of this device should cost you 50 minutes – enough to go on a whole vacation probably!
The most efficient and comfortable shaver from Braun for the skin. It was proven on the beards of 3 days.
Intelligent SyncroSonic technology: the synergy of 4 specific cutting elements and smart Sonic technology with 40,000 transversal actions per minute, designed to capture different hair types.
Quadruple cutting system for maximum action adaptability of the face.
OptiFoil for perfect proximity that lasts longer. The most advanced foil structure from Braun.
The only CleanandCharge station in the world with five operations: cleans hygienically, charges, lubricates, selects a cleaning program, and dries at the touch of a button. Fast charge for one shave in just 5 minutes
Battery indicator LED for battery status, hygiene indicator travel lock indicator.
2-year warranty
6. Schick Hydro 5 Sensitive Skin Razor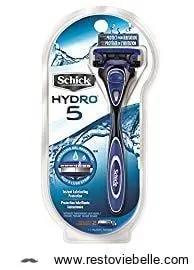 View On Amazon
Moisture is an essential ally in the fight against sensitive and irritated skin. Humidity put is your friend.
Skin that is properly hydrated and lubricated is not only a skin that lends itself to a better shave but a skin that has less friction when razor blades go over it.
The Schick Hydro 5 Razor – the best cartridge shaver for sensitive skin – is all about moisture and lubrication. On the other hand, every shaver that contains a Hydrating Gel Reservoir, as only the Schick Hydro 5 does, guarantees a well-lubricated shaving result.
Schick showed that his exclusive Hydrating Gel Reservoir delivers 40% less friction than a standard club strip and increases the lubricant's surface by 80%. The SHC receives the invoice to hydrate your skin for up to an hour after your shave. And it contains aloe and vitamin E, which nourish and supplement the skin.
The Hydro 5 also comes out above other razors for other reasons.
To begin with, it comes with skin protectors – placed at the top of the Ultra Glide blades – that regulate skin flow and reduce friction during shaving. Also, it comes with a protective bar that helps stretch the skin for a smoother shave.
Note: The current Hydro 5 control bar has been redesigned and more significant than previous models.
The Schick Hydro 5 comes with two replacement blades, and refills are available at most stores selling shaving supplies. Schick recommends using the Hydro 5 with Schick Hydro Sensitive Shave Gel and Schick Hydro Moisturizing Shave Gel for best results.
Moisturizing gel reservoir
Flip Trimmer for hard to reach areas
High-quality bar blades
The handle is good, but maybe not as good as with other pattern razors
7. Bic Twin Select Disposable Razor for Sensitive Skin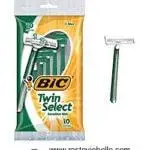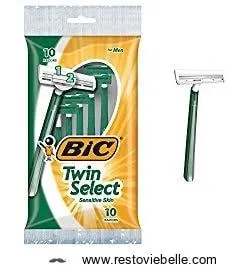 View On Amazon
Many razors claim to be the best men's razors for sensitive skin; many of them cost a lot of money.
The bic sensitive single blade shaver not only claims it inhibits sensitive skin irritation, but it is also true. And it's one of the best cheap razors for sensitive skin, not about design and durability, note, but about low costs. You can get the 10-digit package Twin Select razor blades for less than $ 10.
As the name suggests, the BIC Twin Select is disposable; that is, when the blade becomes blunt, you throw the razor handle and everything away and get a new one out of your package of 10.
Interestingly, the bic twin select disposable razor does not come with a moisturizing club strip like many other razors that claim to be ideal for sensitive skin but still get the job done.
It has a slimmer shaving head than other blades, making it easier to shave tight and hard to reach areas and shaves to reduce notches and indentations.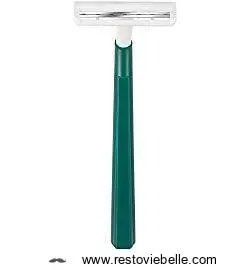 The bic twin select disposable razor also has a tapered handle that provides additional shaving control and, at the same time, comfortably fits your hand. The overall operation of the Twin Select makes it an ideal shaver for starting shavers with an increased sense of paranoia over notches and notches.
Also, it weighs less than many other disposable products.
This shaver comes with two-quality blades to help you get a better shave. Users have praised the durability of the blades, which makes a modest investment even more budget-friendly.
As we said earlier, throw it in the trash can when your current shaver gets tired and tired, and you grab a new one in your package.
Excellent quality for the price
Easy to operate
Durable blades
No club strip like many disposable products
8. Schick Hydro Silk Sensitive Care Razor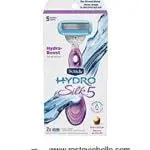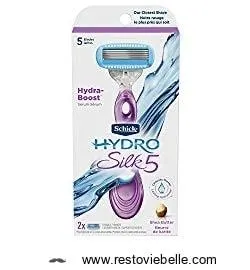 View On Amazon
Leg shaving is not one of the favorite tasks of a woman's care routine. There are many curves and contours to deal with, plus a more substantial area to shave than a man's face. That is why finding a razor that fulfills the task is crucial for women, especially women with sensitive skin.
Fortunately, shavers such as Schick s Hydro Silk are available to make work easier.
The Hydro Silk is, in our opinion, the razor of the best shaver woman for sensitive skin for various reasons. Let's see:
This shaver comes with a water-activated Hydra Boost serum formulated with shea butter (an excellent ingredient found in many skincare products). The serum is hypoallergenic and helps to hydrate the skin and continues to hydrate two hours after shaving.
The Hydro Silk has five curve-detecting blades that follow your body's natural contours and provide an incredibly smooth shave. The shaving pattern now has a smaller, oval shape that is ideal for access to hard-to-reach areas.
Each blade comes with skin protectors that smooth the skin during shaving and provide further protection against irritation.
The Hydro Silk handle is ergonomically designed and has a comfortable rubber grip for easy handling.
Provides excellent hydration
Serum lasts up to two hours after shaving
Blades adjust to the contours of your skin
Some reviewers say the blades are not as long to go along as others.
9. Merkur Adjustable Double Edge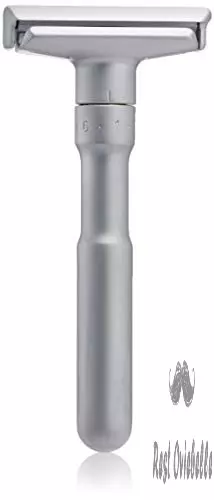 View On Amazon
There is no doubt about it. Merkur double-edge safety razor is designed and made like a man's tool. All the excellent features are included to handle the very masculine task of shaving. But however it may be, it is still gentle enough to work its magic on troubled skin.
This may come as a shock to many, but it's the truth. Most wet shaving experts and aficionados can attest to this.
This product is made in Germany. If you've been researching for a while, you must have come across a phrase like (German craftsmanship. The quality, features, and performance are matched by very little (if any) in The Beauty of this razor is its versatility. It can handle tasks ranging from mild to close shaves.
While most types of razors that can vary the setting have not been available for long, the Merkur is the exception. The debut was in the early '80s, and they have been in the game for quite some time. The company has honed its skills and has a solid understanding of what men with sensitive skin are looking for.
Razor adjustable. It is designed with six impressive For a not-so-aggressive shave, one that is best for sensitive skin, the No.1 setting works great. Suppose you are looking for an aggressive shave instead of a shave. After a close and close shave, I prefer setting # 6. Be careful not to apply intense force on the last step. If you are aggressive, any excessive force can cause a little blood to seep from your skin after a nick.
If you're wondering why this feature is so important, consider this. Getting the shave you want doesn't require investing in multiple razors. Merkur's classic double edge safety razor is everything you need for any shave style that needs you to have in mind; that's why the Merkur razor is also an excellent choice.

Evenly distributed weight
The matte finish extends the life of the shaver
Features 6 settings
The head is bulky and can be a problem for some time when shaving around the lips and close to the nose
10. Schick Slim Triple Disposable Razors
View On AmazonOne of the first things you notice with the Schick Slim Triple Disposable Razors is how you can close your shave thanks to the three precision blades they have. Extremely smooth and seamless.
The blades are perfectly spaced from each other so that they don't get clogged while shaving, so that cut hair and lotion can come off quickly.
Considering that you get eight razors in the package, these items will last for at least three months with proper care.
The handle is slightly longer and wider, which ensures a good grip and prevents slipping. The knife attachment is also wall-mounted and will never fall off the handle.

Three precision blades for a very smooth shaving result
Rotating shaving head
Lubricating strip with aloe and vitamin E for a smooth shaving result
Lower costs for eight shavers
The handle is made of plastic.
Not too sharp, so you have to go over specific areas a few times
How to Shaving if You Have Sensitive Skin
View On Amazon
There are a few things to keep in mind when shaving sensitive skin. How you apply the razor and how you move it over the skin is an essential factor.
In addition to these, you should also consider other factors such as pre-shave oils and other skin preparations.
Here is a step-by-step guide to help you:
1. Prepare your skin
Whatever razor you use, you want to make sure your skin pores are beautiful and open.
The best way to do this is to shave after taking a hot shower (a gentle scrub cleaner is the best face wash for men) or by applying a warm towel to the area for a few minutes to open the pores.
You will find that shaving is smoother and less stressful for your skin.
2. Use a Pre-shave Application
Pre-shave applications, such as shaving oil, work great to protect your skin during the shaving process. Pre-shave oils are also one of the best beard-moisturizing creams.
3. Use the Correct Stroke Pattern
There are three line patterns that you should use during shaving, and these should be in the following order :
Shave with the grain
Shaving across the grain
Shave against the grain
Are Electric Shavers Good for Sensitive Skin?
From the start, when you hear other men talking about their electric razors, it is always a push of a button – they love them or disgust them.
There is absolutely no in-between.
But here are the secret guys:
You may consider the best electric razor for sensitive skin men as a catch if you have susceptible skin.
In general, we found from our experience that foil-based electric shavers tend to perform much better for men with sensitive skin than their rotating counterparts.
One of the most important reasons is the cutting movement of each device.
I rotate shaving heads cut around the way (think of a weed picker) while the foil heads cut in a back-and-forth motion (such as an oscillating fan ).
Even though people tend to be cleaner on hair follicles than a rotating shaving head, there are a few things to remember before you buy one of these shavers:
Make at this moment You better shave your abrasions and neck, and they often have trouble with the contours of your face (such as the nose, chin).
Quality foil shavers often have a much higher price than a rotating electric shaver.
Replacement heads also cost a bit more (but are replaced less frequently than rotating heads: 18 months versus 12 months)
Price points and In addition to cutting movements, an essential aspect of being aware of when selecting the best electric razor for men with sensitive skin is the ability to perform a wet shave.
What does this mean?
Simply that, you can use the electric shaver with your favorite shaving foam.
This not only provides a better shave, but the addition of cream can reduce the irritation that men with sensitive skin often encounter when shaving.
Get a shaving cream with an unscented profile. When it comes to ingredients, less is needed for men with sensitive skin.
FAQs About Best Shaving Razor for Sensitive Skin
Are Single Blade Razors Better for Sensitive Skin?
A single blade razor designed for sensitive skin is great, but you run the risk of damaging the skin if you don't shave properly while shaving. One blade is better than multi-blade razors because they reduce razor bumps and ingrown hairs.
How Do Men With Sensitive Skin Shave?
Men with sensitive skin use high-quality shaving creams and gels, starting with light strokes along the hair's grain and then working against the hair for a close and close shave. The last round of the neck shaving is the result. The shaving cream/gel has more time to soften the hair.
How to Get a Close Shave Without Irritation?
Assess your skin condition. Avoid shaving areas affected by red, irritated bumps from a previous session …
Give it time …
Clearest as little as possible…
Treat irritated skin …
Prevent ingrown hairs with benzoyl peroxide…
Do not pick at ingrown hairs or scabs from nicks and bumps…
Consider laser hair removal.
Are Safety Razors Good for Sensitive Skin?
Some safety shaving devices are better for sensitive skin than others. Several factors come into play when dealing with sensitive skin, including; the shaving head, moisturizing functions, dealing design, and price. Usually, expensive razor blades are often of high quality and worth the price.
How We Know the Best Men's Razor for Sensitive Skin
OK, (inside story) suggests a juicy story full of never-revealed secrets, while the selection process we use has won for all of our reviews.
Always we are using useful strategies such as personal experience, research, review by other experts, and what customers say about each product.
Even though we do not have the time to judge every available sensitive skin razor.
We believe we've come up with a method that covers a wide range of products and styles, from the products that have been produced by manufacturers to lesser-known brands.
We are also convinced that we have developed a list of the best men's razors for sensitive skin to help you have sensitive skin.
References
beardoholic.com
groomingessentialsblog.com
toolsofmen.com
youtube.com