This site is supported by our readers. We may earn a commission, at no cost to you, if you purchase through links.
By integrating one of the best men's face scrubs in your skincare program, not only will dead skin cells be removed, but it will also maximize the effect of the products you already use by ensuring that you do not apply new moisturizers to dirty skin.
During the day, your face collects much of the dirt, oil, and debris that you encounter, leaving things in your pores and resulting in what can be formed blackheads, ingrown hairs, or acne, and even wrinkles. It is utterly disgusting to think about it, but it is a fact in life.
Using the best face scrub for men can help your skin absorb nutrients that promote blood circulation: your face takes on a radiant, healthy glow.
According to Birch Box, exfoliation can also facilitate the shaving process, reduce wrinkles, and remove rough, dry areas.
Men have to exfoliate twice a week, preferably before shaving. First, apply the best exfoliating scrub for men of your choice to your wet face, then scrub.
Bear in mind that you should not clean too hard or too rough and that you should use lukewarm water.
Following an exfoliant with a moisturizing face cream or mask will help restore the moisture you used up in the process.
When it comes to finding the best face exfoliator for men, there is a lot to consider, from the exfoliator's ingredient composition to your specific skin type.
In this guide, we'll take you through an exploration of the best face scrubs for men when it comes to changing your skin forever.
Why Should Use Face Scrubs for Men
The top layer of your skin, also called the epidermis, has many critical goals: to protect what is underneath and to produce new skin cells. But as you grow older, this unique skin cell regeneration slows. This leads to accumulation and accumulation, resulting in clogged pores, dull skin, and a rough texture.
The best exfoliating face wash can help to smooth and improve the skin texture, unclog pores, and even help with acne.
In general, good facial scrubs can give the skin a more polished appearance and reveal a radiant glow.
Although an excellent exfoliant can help clear away many skin problems, another significant advantage is that the smoother skin accelerates everything (think of serums, moisturizers, even acne treatments) and absorbs deeper.
What should you pay attention to when shopping for a good face scrub? Although fragrance and type of scrub are entirely up to you, you want to find a formula with exfoliating grains such as sugar, salt, fruit, grain, or nuts.
How do I exfoliate?
As mentioned above, you want to be kind to your face when you scrub. This means that you must prepare your skin under warm water and then carefully apply the product in a circular motion. The coarser elements of scrub are specifically designed to remove dead skin, so there is no need to scrub away as if you were trying to sand a wooden bench.
10 Best Men's Face Scrubs of 2023
Here are our reviews of face scrubs for men that are simple enough to change your skin forever.
1. Brickell Men's Renewing Face Scrub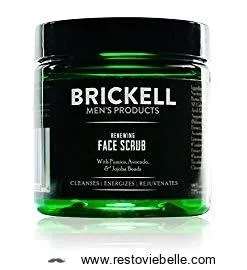 View On Amazon
Brickell men's renewing face scrub is a high-quality facial treatment with different functions, not the least that exfoliates the skin. Of course, a best daily face scrub must remove dirt and excess oil, but it must also remove dead skin cells – and that is one of the primary goals of Brickell's Renewing Face Scrub for men.
Why is the Brickell renewing face scrub for men such an excellent exfoliator? Perhaps the main reason the ingredients are pumice is that an abrasive is often used in soaps and detergents. We place the quotes around coarse because pumice – a naturally occurring stone – is very soft, not hard, and great for removing dirt and dirt from the skin and, yes, for exfoliating it.
Pumice is soft but firm; many people use it in its natural rock formations to wear calluses and remove dead skin from feet and hands. But it is also a popular lightweight building material used in concrete blocks, while it is used for grinding and polishing glass – under some other applications.
Brickell renewing face scrub for men does not contain pumice in its pure rock but uses it as a finely ground ingredient that exfoliates the skin like few other products. It also reveals the pores and scrubs the surface thoroughly to make your skin soft, clean, and fresh (and ready for your morning shave).
Jojoba pearls strengthen the Brickell men's renewing face scrub for scrubbing men and remove dirt and other impurities from skin cells.
Very nice texture
Works quickly
It has a refreshing feeling after the scrub is applied
Hydrates and exfoliates
A small amount of product when purchasing
Fairly high price
2. Dove Men+Care Face Scrub
View On Amazon
Here's another sample of the best exfoliating scrub for men.
This physical scrub uses pumice as the main ingredient.
It also uses a handful of other ingredients to help remove oil, dirt, and grime from your pores.
It is one of the most effective face scrubs for men we have found.
This can make it an excellent choice if you are a man with thick or deep pores that often have a lot of dust and dirt. Of your daily activities.
Deep pores can easily lead to a lot of acne or generally oily skin, so you definitely need something heavy to handle the exfoliation needed to get a good looking and feeling skin.
Despite pumice stone's addition, a few other chemical ingredients are also included to keep your skin from drying out while the scrub is being applied.
This allows it to remove dirt or grime from your pores without stripping your skin or removing liquid.
This will help your skin to fight the effects of dryness and look and feel healthier over time.
It also feels softer right after application.
However, due to the intensity of this facial scrub's effects, we cannot recommend it if you are a man with more sensitive skin than usual.
You will likely get a little irritated if you scrub this on your face.
But if you don't have sensitive skin, you'll find it very affordable and get enough scrub for a meager price.
It's a great budget choice and a great choice for men in the industry. I want to use a lot of exfoliators shortly.
Economical price for us to purchase
Hydrates and exfoliates at the same time
Cleanses very deep into the pores
The skin feels softer after application
May cause irritation on sensitive skin
3. Jack Black Face Buff Energizing Scrub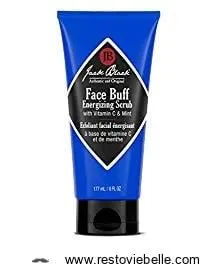 View On Amazon
You will often see the PureScience label with the skincare products from Jack Black. It is a label with many positive connotations, i.e., natural and organic ingredients without parabens, dyes, or fragrances, and approval by the dermatologist.
PureScience offers an excellent base for jack black face scrub, which meets the best face scrub standards for men in 2018.
It is an excellent total product suitable for most skin types, including oily and sensitive skin, even the best men's face scrub for oily skin available today.
It contains small scrub particles that effectively remove dirt and dead skin cells. That makes it an excellent scrub for preparing your skin for an irritation-free shave, and it prevents ingrown hairs by removing clogged pores.
It has enough of an abrasive quality, but not too rough, that it scrubs the most deep-seated dirt off your face. You do not have to apply pressure during the bushes, just enough to make your skin feel (and look good).
You get a lot of scrub in every bottle – enough to last a few months, even if you use it several times a week. It also makes it an excellent value for its price.
The scrub beads are 100% biodegradable and environmentally friendly. They break down quickly and do not contaminate the water system.
Many users are enthusiastic about the smell of Face Buff Energizing Scrub from Jack Black. It is minty but masculine and leaves your skin feeling cool and fresh. The smell resembles that of a male cologne but is not overwhelming.
It gives the face an invigorated and refreshed feeling.
Provides a deep scrub to remove dirt and grime
Invigorating scent
Some find the scent too strong.
4. Derma-nu Exfoliating Facial Scrub for Men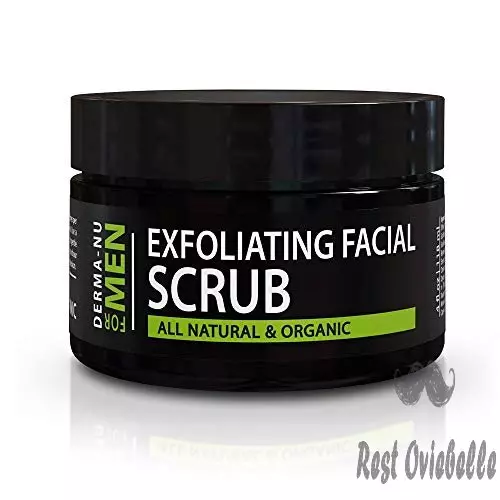 View On AmazonThis mixture of pumice and jojoba beads comes in a sturdy 120ml container and is 71% organic, and will exfoliate your face excellently.
Pumice, if you don't know, comes from a volcanic activity where an aerated rock is formed on the lava surface.
The pumice stone used by Derma-nu in this product has been ground into an excellent powder that will do all the heavy lifting when it comes to the exfoliation process.
To take a step back, when we discussed how to apply an exfoliator to your face above, we strongly urged men to be incredibly gentle.
Pumice powder as an ingredient is a good example; explain why you don't want to be too vigorous with the application (i.e., it's a rock). If you apply too much pressure, you will cause severe irritation to the surface of your skin, likely to cause redness.
But don't worry …
Many exfoliators contain some abrasive ingredient, so any redness or irritation is likely due to improper application.
To support this ingredient, Derma-now also includes jojoba beads. Jojoba comes in so many great natural products like beard oil, and it's great for naturally moisturizing your skin.
Jojoba oil really mimics the natural sebum oil produced by your sebaceous glands.
Even if you have acne, jojoba oil usually doesn't clog your pores and shouldn't cause serious side effects.
Ingredients aside, this product will perform exceptionally well for men of all skin types and almost any age.
Of all the best exfoliators for men mentioned in this article, this is by far one of the most affordable options on the market, making it ideal for men on a tight budget.
For men looking for a more natural solution that is not only paraben-free but also not tested on animals and made here in the USA, this exfoliating face scrub from Derma-Now is perfect for you.

Great for fighting acne
Suitable for sensitive skin despite pearls
Breaks down future ingrown hairs
Very good at reducing skin inflammation
Does not help with dry skin
5. Kyoku For Men Exfoliating Facial Scrub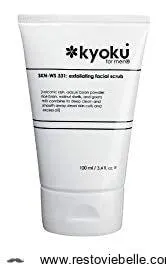 View On Amazon
Kyoku sets the pace when it comes to ingredients that you will not find anywhere else. Look at it: volcanic ash, Japanese adzuki bean powder, and rice bran – all important ingredients in Kyoku for men exfoliate with an exfoliating facial treatment.
Of course, 'exotic' ingredients are only great when they work. And they indeed work in this case because Kyoku's Exfoliating Facial Scrub is the best exfoliating scrub for men available.
So, what about the Kyoku ingredients? Volcanic ash? Yes, volcanic ash is an essential ingredient in all Kyoku products, and it is excellent for removing excess oil and dirt from the skin. It makes your face smooth, not grainy.
Meanwhile, Japanese adzuki bean powder provides the exfoliating power that removes dead skin cells, while rice bran is widely used in Japan to smooth the skin. Adzuki bean powder also offers a moisturizing component that moisturizes the skin.
Kyoku's Exfoliating Facial Scrub also contains vitamin A and vitamin E, which help balance the skin's pH while promoting elasticity and revitalizing blotchy skin. All Kyoku skin care products are free of parabens and free from harsh chemicals.
Something else to love with this exfoliating facial scrub, the best men's face scrub for acne, deeply cleanse pores to remove blackheads and restore the skin to make it look smooth, clean, and fresh; regardless of your skin type, it is a facial scrub that has benefits for men of all skin types. The chemical-free ingredients help you balance your skin with a pH value that is not greasy or dry.
Excellent for treating acne blackheads and blemishes
Combines ancient herbal therapy with modern science
Good for all skin types
Includes sunblock
6. Rugged Dapper Daily Power Scrub Facial Cleanser for Men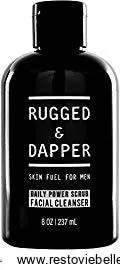 View On Amazon
Just like Jack Black Face Buff Energizing Scrub, the Rugged Cleanser for Men is a sturdy product that is suitable for most skin types. But it is also the best exfoliator for sensitive skin and the best men's face scrub.
As mentioned, men with sensitive skin should be careful when choosing a skincare product. A product with harder ingredients, suitable for men of other skin types, can aggravate sensitive skin symptoms. Rugged Dapper treats the problem of sensitive skin with a long list of natural ingredients that remove the skin from stubborn dirt and exfoliate deep pores without the hardness of other products.
Rugged Dapper's facial cleanser for men is even strong enough to fight acne-causing bacteria and the overproduction of sebum, many of which think it leads to acne.
The active ingredients Rugged Dapper's facial cleanser is aloe vera – known for its skin-soothing properties – and willow bark, rich in antioxidants and has anti-inflammatory properties. Other parts are burdock root, tea tree oil, and vitamin C. Tea oil can be used in various skin care products for men because it also acts as an anti-inflammatory agent and helps to treat skin conditions such as acne.
All in all, Rugged offers you a multitude of benefits for your skin because it works as a revitalizing face wash and an exfoliator that removes dirt, excess oil, and dirt without releasing your skin from moisture. Men of all ages and skin types benefit from the facial cleanser from RD.
The Rugged Dapper facial cleanser has a thick, creamy texture that is still light enough for sensitive skin men.
Lots of product with the purchase
Great for exfoliating without losing moisture
Dissolves dirt quickly
Can tighten skin to look better
Not great for men with sensitive skin
7. M3 Naturals Premium Activated Charcoal Scrub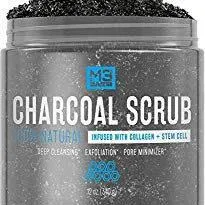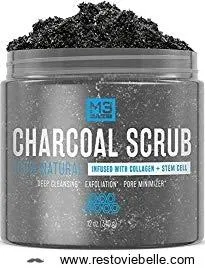 View On AmazonCharcoal? Of course, joke!
We are dead serious. Charcoal – that stuff that sets you on fire and cooks meat stands on the list of favorite ingredients for the care product. You can find it in soap and even toothpaste. And the use as a cleaner goes far back in time (like the old human way back).
Charcoal certainly also works as an ingredient in facial scrubs, and the premium-activated charcoal scrub from M3 Naturals scores high everywhere. Charcoal, also known as active charcoal for marketing purposes, has a porous structure that naturally removes dirt, oil, and stains from the skin while also draining water. Attracts for superior hydration.
In other words, it acts as a vacuum for the skin and gives it a nice dose of moisture. What should not be fun?
The people of M3 Naturals combine charcoal with dead sea salts to produce a powerful cleanser for your skin. It combats acne and helps to remove blackheads while detoxifying and rejuvenating skin. Your skin looks brighter and feels tighter without losing weight. Older men also appreciate how it reduces wrinkles and other signs of aging.
Perhaps the best thing is that charcoal is natural, safe, and effective, and you use it as a body scrub.
Activated charcoal removes impurities from the skin
Safe and effective
Also useful as a body scrub
May leave a dark residue that you should wash off
8. Thrive All Natural Men's Face Scrub
View On Amazon
This facial scrub combines coffee grounds and vegetable oils to revitalize your skin and stimulate your day while scrubbing at the same time.
The coffee grounds have an interesting side effect; because they are absorbed into your skin, you get a slight boost of caffeine, making this exfoliator both good for your skin and your daily energy.
It is an excellent scrub to be the first to wake up in the morning to wake up while you wake up and use a little energy boost.
The coffee grounds also help give the scrub a pleasant aroma, and it combines very quickly with the plant-based ingredients.
The other plant-based ingredients are responsible for dissolving dead skin or dirt deep in your pores.
In combination with coffee grounds, they create a tingling sensation on your skin that feels very pleasant and refreshing.
Applying this scrub to your skin is a great way to start the day.
Because of the grounds and the unique plant-based ingredients, this facial scrub is an excellent choice if you usually have more sensitive skin.
You will not encounter any real irritation or sensitivity after the application.
Like all Thrive products, it also contains two super plants from Costa Rica, Juanilama and Fierrillo, which offer men excellent skin recovery and protective benefits.
This is not a very moisturizing facial scrub, partly because the coffee grounds are very good at absorbing liquid.
Although you only get a few grams of product, the asking price is very reasonable, and we are confident that it is recommended as a face scrub for every man who likes to go to his skincare in the morning.

Reasonable asking price
Very easy to apply / not sensitive
Coffee grounds give you an energy boost
Penetrates deep to exfoliate effectively
Can dry out the skin
Only a few grams for sale
9. Biotherm Homme Facial Exfoliator for Men
View On Amazon
This scrub is a gel that foams quickly while rubbed into the skin and removes dirt and debris in an incredibly soft experience.
Finally, this chemical scrub is another great, unique option that perfectly fits men who don't like the feeling of traditional scrubbing.
This scrub uses the foaming gel as a primary washing process instead of physical components or a purely chemical solution.
In short, you rub the gel in your skin, and it will eventually foam.
This foam then pushes into your pores and lifts and removes dirt and debris so that it can be washed away with the foam itself.
This is an extremely gentle and effective way to cleanse your skin without scrubbing or destroying anything.
Simultaneously, the foam can penetrate deep into your pores without many problems, so it can work on skin that also has deep pores.
Also, the use of this scrub will prepare your skin for a smoother and more comfortable shave due to the opening and widening of your pores.
It allows you to trim your facial hair closer to the root, giving you better shaving and more time to enjoy your new, smooth skin.
This feels pretty tickling and weird so that it can get used to it in the beginning.
It is also a bit pricey, given that you only get 5 of our products for your purchase.
But it is undeniable that it is an excellent solution. The solution is to have too sensitive skin and not tolerate it because traditional scrub feels when you rub it.

Very good for sensitive skin
Exfoliates without rubbing or breaking things
Penetrates deep into pores
Provides a smoother shave
The feeling is strange; it can take some getting used to
10. Viking Revolution Microdermabrasion Face Scrub for Men
View On Amazon
This facial scrub makes extensive use of natural oils to exfoliate and hydrate the exfoliators of other competitors.
This is another chemical-based exfoliator and uses natural oils as primary exfoliating agents.
Yet you shouldn't think that the solution is incredibly thick or that you can use it if you have acne-prone skin.
The oils used in this formula are not thick enough to cover your pores to hide your skin or get a greasy shine.
The oils used here are completely natural and offer strength, cleanse your pores, and improve your skin's overall health.
Some of the oils shown are sunflower oil, sweet almond oil, and coconut oil.
In addition to the health and cleanliness benefits, you will also find that the moisturizer has a pleasant aroma that is not too feminine, so even men who give priority to their scent will find this facial scrub acceptable.
In addition to all these benefits, this exfoliator also hydrates your skin.
This means that it is the right choice if you naturally have dry skin. Or a surface that often bursts.
Vitamin E is also included in the formula to nourish your skin and repair cell damage over time.
The face wash revitalizes your skin naturally and makes it less sensitive to possible shaving burns or minor cuts that can be obtained during shaving.
That is why we would easily recommend this exfoliator to any man who shaves often and likes a flexible jaw; this scrub helps you shave your daily routine and also makes your skin look and feel much better.

Suitable for men who shave frequently
Revitalizes the skin
Very good at exfoliating and moisturizing
Repairs damage to skin cells
Not super good for sensitive skin, despite lack of physical ingredients
FAQs About FaceScrubs for Men
Do I Have to Exfoliate in the Morning or Evening?
Exfoliation can be done in the morning or at night; however, it is usually better at night as the exfoliation process opens your pores and opens them again for a short while late.
This makes you more vulnerable to UV damage from the sun and also environmental pollutants. But exfoliating in the morning can have its benefits, such as a fresher, more radiant look for the day ahead.
How Often Can I Use a Facial Scrub?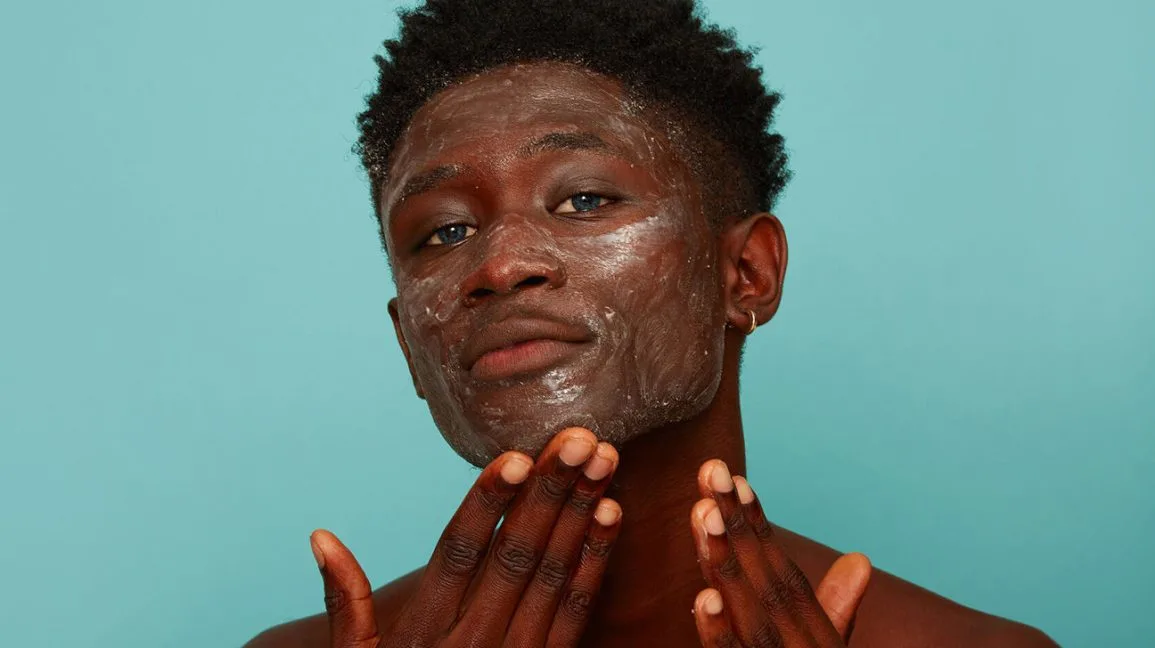 You do not have to use a face scrub every day. If you do so, you can dry out your skin by removing too much of the natural oils while disturbing the natural pH balance. Usually, you should use your exfoliator once or twice a week or a little more if you have healthy skin.
If you have healthy, oily, or combination skin (a combination of healthy and buttery), you can use your facial scrub one to three times per week. Scrubbing helps prevent oil from accumulating in your pores.
If your skin is sensitive, dry, or susceptible to acne, do not use your facial scrub twice a week. It is best not to use face care when you use your exfoliator because you dry out the skin too much.
Perhaps the best advice is to determine how often you should use a facial scrub. You can find the way your face looks, and after a shell, it feels so bad that you are tempted to do it again tomorrow … and the next day. But excessive use will dry out your skin and free natural oils that help to maintain elasticity.
Can Exfoliators Help to Reduce Acne?
Exfoliators can absolutely help to reduce acne.
They remove dead skin and debris and ensure that your skin produces less oil, one of the main causes. Is from excessive acne.
Although exfoliators have a good place in the fight against acne, you also need to take other steps to really maximize your chances of making your skin a lot better.
This includes taking a daily shower and thoroughly cleansing your face, as well as eating certain healthy foods that promote a good lifestyle and healthy body chemistry.
Can I Use a Face Exfoliator on My Body?
Some of these are good for body exfoliation, although their primary purpose is to use the face.
For good body lotions, check out our in-depth guide with the best body lotions for men!
Can I Use More Than One Exfoliating Product?
Yes, you can, but be careful; this increases the risk of skin irritation. If you want to use more than one scrub, it is recommended to start with one scrub and several weeks before incorporating another exfoliating product into your routine.
If you want to use both a mechanical and chemical exfoliator, try the mechanical in the morning and the chemical at night.
How We Chose the Best Exfoliating Scrub for Men
A lot of research is needed to choose the best products of any type; that is obvious. We also consider many different factors, as was certainly the case in our search for the best face scrub for men.
For example, many top quality scrubs are suitable for all skin types, but we wanted to include scrubs covering all bases – from dry to oily to normal to sensitive skin.
We have also reviewed the ingredient list for each product – we prefer daily exfoliating scrub with natural ingredients, although not exclusive, and their reviews and ratings from both users and experts.
Price is always a consideration, and we strive to list products that suit every budget. Finally, we only select those that we think are the most robust options, the products we believe will help you the most.
Conclusion
And as always, we are happy with your feedback and suggestions.
Do you have a favorite face scrub? Do you have a favorite that is not on our list, or have you used one of our favorites? We would like to hear from you!
References
baldingbeards.com
primandprep.com
toolsofmen.com