This site is supported by our readers. We may earn a commission, at no cost to you, if you purchase through links.
When it comes to products for men, shaving soap has been around for as long as the idea of shaving itself.
Best shaving soap is an old-school care tooland has been around for hundreds of years (and shaving cream only since the 1940s). Canned shaving cream usually has its place on the shelves in the convenience store.
But who values tradition, quality, and luxury, still using the best shave soap when it's time to get their whiskers in order.
Although it takes a little more time and effort, these products are perfect for those who value class, grandeur, and timelessness, or shaving quality.
Quality soap is an essential part of your shave, as it lubricates your face and whiskers so that your blade can move neatly over your back for a smooth-shaven skin with minimal irritation.
A good soap will also retain moisture from your skin instead of drying it out and giving your face that unpleasant "tight" feeling.
If you feel a bit nostalgic and want a shaved face, give it a try with shaving soap.
In this post, we offer what we think is the best shaving soaps on the market; we have tested and researched practically every shaving soaps.
All you have to do is choose the best shave soap that is right for you based on your specific needs and preferences.
Consider When Buying the Best Shaving Soap for You
When choosing the best shaving soap for you, these are the couple of things you should consider
1. Ingredients: Tallow vs Oil vs Glycerin
The first thing to consider when deciding on the best shaving soap is the actual ingredients themselves.
For old-school shaving purists, tallow-based shaving soaps are the only way to go, as these are about as traditional as it gets.
Nonetheless, nowadays, several excellent products are made using oils (such as olive, coconut, palm, or argan oil), some of which work smoothly as well as tallow-based products.
Not only that, but some men find the idea of using an animal-fat based shaving soap (tallow is rendered animal fat) slightly off-putting, which also helps to explain the popularity of oil-based cleansers.
Finally, many newer soaps are now being made using glycerin.
While glycerin may be the right choice for lotion or regular soap, most people find the majority of glycerin-based soaps to be inferior to those made of tallow or oil.
That being said, this isn't always the case, as some oil-based soaps are downright terrible, while there are at least a few decent glycerin-based shaving soaps on the market today.
2. Triple-Milled, Croap, or Semi-Hard?
Croap: A croap is a soft or creamy soap (hence, (croap)) that is softer than other shaving soaps because of the amount of moisture added to it during the manufacturing process.
Triple-Milled: Triple grinding is a process of soap making in which the finished soap is grated, melted, and then pressed into a new puck or bar. If you want to do it yourself, you can use a cheese grater, but soap manufacturers use specialized triple grinders.
Semi-hard: The semi-hard shaving soaps are exactly as the name suggests: softer than triple-milled soap, but harder than croaps: that's one type we'll be discussing shortly. Semi-hard soaps have less density than harder soaps and probably won't last as long.
4. Easy to use
A professional quality professional shave can last as long or as long as you have left. For perfection lovers who shave, the entire process can take an hour or more.
Unfortunately, not everyone has so much time to spend their morning shave. Which soap you select is partly determined by the amount of time and effort that you are willing to invest in.
Harder soaps require more time to soften before use, while croaps are generally ready faster.
If you print entirely on time, you might consider entirely skipping a shaving soap in favor of a less luxurious but more convenient canned cream.
5. Odor
A good shaving soap must leave a clean, pleasant scent. Ideally, you want a cleanser with an odor that is not overwhelming.
Usually, scented soaps contain citrus-like hints or musky, masculine hues. Anyway, the scent of a shaving soap should be light at best.
Ultimately, you must concentrate on a good cologne or one of these best aftershaves for your scent.

12 Best Shaving Soaps Of 2023
If you are interested in a good, comfortable shave, pay close attention to the products you use.
Not only do you need to find the best shaver razor, but you also need a quality shaving brush and the best shaving soap.
The difference between a decent shave and a great shave often comes down to the shaving soap you use.
If the idea of using soap as part of your shaving ritual is new to you, take the time to learn more about this essential shaving product.
Shaving soap/lotion differed from regular soap and was first made in the 1800s. Various moisturizing ingredients are added nowadays, soften the hair and exfoliate the skin before shaving, making it more comfortable and forming a protective cushion against the blade, protecting the skin.
We have assessed and ranked the shaving soap based on these four criteria:
Performance
Softenability
Longevity
Scent
Whether you have sensitive skin, use a shaver straight razor or safety razor, or have an unusually thick hair, we have you covered.
1. Taylor Of Old Bond Street Sandalwood Shaving Soap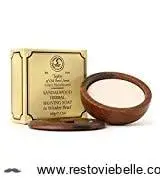 View On Amazon
Taylor of the old bond street was founded in London in 1854 and has since built a reputation for providing top quality.
Their natural sandalwood shaving soap sets a standard that most other shaving soap and creams cannot match.
The Sandalwood Shaving Soap has consistency and feels reminiscent of lotion. Although other shaving soap is a bit thin, this soap is thick and provides an excellent basis for letting your razor glide smoothly over your face.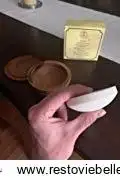 What you will also like about this soap is that it comes out softer than almost any other shaving soap.
It is packed with essential oils that soften your skin and beard and provides excellent lubrication.
Sandalwood has the reputation of being a "masculine" fragrance with earthy notes with a hint of cedar.
Our friends at Taylor or Old Bond Street also blended in a touch of rosemary, jasmine rose, and lavender to give it a unique, refreshing scent.
It is not a shaving soap that you can share with your wife or girlfriend, but you will appreciate the masculine qualities.
One of the essential ingredients in the Sandalwood shaving soap is glycerine, a naturally-derived sugar alcohol that is used in many moisturizing lotions.
Combined with palm oil, this makes the classic shave soap from Taylor or Old Bond Street an excellent source or skin and beard lubrication.
Your Sandalwood shaving soap is packaged in a reusable wooden shaving bowl that helps you save water.
Although the Sandalwood shaving soap is more expensive than some soap operas, you not only pay for a quality product, but you also make a good long-term investment.

Superior lubricating properties
Masculine scent
Rich, lotion-like foam
Not much, slightly more expensive than some shaving soap
2. Proraso Shaving Soap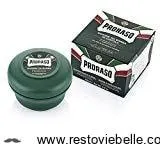 View On Amazon
Made with a special hot soap technique, Proraso shaving soap creates a thick foam and softens your skin and beard for a smooth and smooth shave without causing cramps and wounds.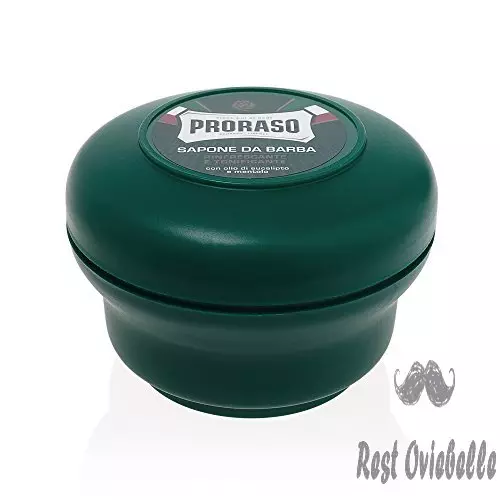 As soon as you start shaving with it, you notice the subtle, pleasant scent that is formed by a combination of menthol, eucalyptus oil, and high-quality soap.
The eucalyptus oil in the eucalyptus helps to care for and purify your skin while menthol is meant to give you a refreshing and cooling feeling.
Unlike other shaving soap operas, this one is a whipped soap, which means that you will use it exceptionally easy. There is also no need or use of a separate mixing cup because you can put it in the bath.
Less expensive compared to creams and gels, only one barrel of this product can last longer than multiple cans of shaving gels and creams.
Gives a smoother, smoother shave and softens the beard
Cheaper and more durable
Pleasant, not overwhelming odor
Eucalyptus oil can irritate the skin of some men
3. Mitchell's wool fat shaving soap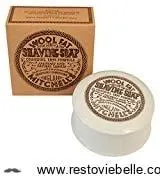 View On Amazon
Mitchell's Wool Fat offers exceptional skincare, lubricates, and shaves while being soft to the skin, making it the gold standard for wet and new shavers.
A few selected shaving soaps can be considered "gold standard" options that every man should try, and one example is Mitchell's wool grease, which has a wet shaving nip for almost a century. It has set the bar for what a good shaving soap should be.
True to its name, Mitchell's wool fat shaving soap is made from the greasy substance secreted by woolly animals. In this case, it is tame sheep, but you can be sure that no animals are killed to collect this fat. Wool grease contains large amounts of lanolin, a waxy material that acts primarily as a skin lubricant and moisturizer, so it's easy to see why it's ideal for use in shaving soap.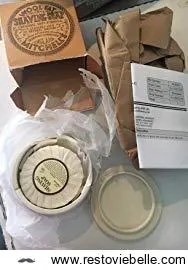 Mitchell started making his wool grease soap in England in the 1930s and has since exported it all over the world. Although the regular wool grease remains in high demand, the shaving soap, in particular, has achieved almost legendary status with wet shavers due to the excellent lubrication and foaming properties.
The all-natural ingredients are gentle on the face, and the wool grease is also perfect for soothing and preventing irritation on sensitive skin.
If there is a downside to Mitchell's wool grease soap, it can be stubborn to foam until you develop a good routine. A stiffer brush with boar or horse will help, and some boys choose to soak the soap in a little hot water for a few minutes – a process known as "blooming" – to soften it and make it easier to load your brush.

Forms a thick foam to lubricate the blade for a smooth shave
Has a pleasant odor
Prevents skin irritation
Takes a lot of water to foam
4. Sir Hare Old Fashioned Shaving Soap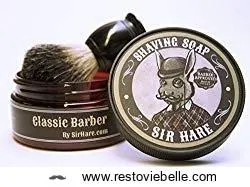 View On Amazon
I must admit that until recently, I didn't know anything about Sir Hare's products. Still, I was recently encouraged to try their old-fashioned shaving soap with a traditional Barbershop scent, and I was impressed by the boy!
How this soap slid under my eyes radar for so long, I don't know, but I'm fluent; I've now discovered it and can share my impressions with you.
First of all, I have to mention the surf because I enjoy the disguised brain that looks like an old-fashioned barber.
The packaging as a whole has an old classic feeling that I am proud to have a display in my bathroom.
Anyway, on the essential things.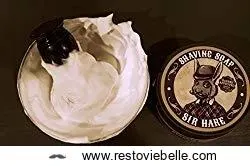 This shaving soap provides a wonderfully creamy foam that feels good on my face.
The smell of the barbershop is fresh and clean and is very pleasant for the nostrils, but is not overwhelming.
The sebum-based soap made for a great shave that was smooth and irritation-free.
Another thing I liked about this soap is that it didn't dry out my skin.
I have sensitive skin and some soap, but Sir Hare shaving soap is enriched with Shea and Mango butter, which makes my skin feel fresh and hydrated.
Finally, as you know, I love products that use natural ingredients, and Sir Hare does indeed use all-natural ingredients without synthetic preservatives.
In general, this is just a high-quality shaving soap for a reasonable price, which I really can't fault.
Offers the best shave
Reduces friction to prevent rashes
Kind on sensitive skin
The smell is not strong enough.
5. Colonel Conk World Famous Shaving Soap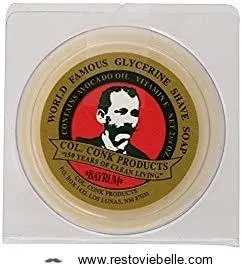 View On Amazon
First, let's talk about the scent of Bay Rum. After all, it was an excellent shaving soap for men; well, it seems forever. History tells us that the leaves of the West Indian bay tree have been used for their scent since sailors rubbed in the 16th century to mask the smell that comes from spending months in the open sea.
The scent of the Bay Rum is a beautiful and used substance that dates back a few centuries ago and is made possible by laurel leaves. It's a masculine scent that's spicy, but with a hint of citrus and vanilla.
The scent stays with you all day, but without overwhelming your friends, family, and colleagues. You will like it; they will love it, and – not to mention – ladies will like it.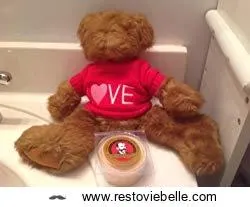 It's also a favorite scent or barbershop everywhere, so choosing Colonel Conk's soap will enable you to keep a shaving tradition alive.
But a sweet scent is not what separates a quality shaving soap from others. It is essential, yes, but should not be the only selling point if you decide which shaving soap is right for you. It should have many other positive qualities, which is a reason to consider Colonel Conk's world-famous shaving soap.
Worth mentioning is the ingredient list of Colonel Conk shaving soap, which contains avocado oil, vitamin E, and a glycerin base.
Avocado oil is a natural moisturizer that softens and soothes your skin. It is an essential ingredient in many moisturizing products and effective in combating acne, blackheads, and inflammation that often occurs.
Vitamin E also has moisturizing properties but is an antioxidant that protects your skin. Just like avocado oil, it is an anti-inflammatory that reduces redness and inflammation and is great for men with sensitive skin.

Vibrant foam
Very moisturizing
Vegan-friendly
It can be difficult to soak up good foam if you are new to shaving soap. However, experienced wet shavers will not have such a problem
6. Henry Cavendish Himalaya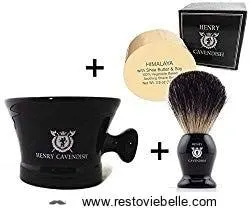 View On Amazon
Complete with a special formula consisting of pure natural ingredients, Henry Cavendish Himalayan shaving soap is well adapted to offer you the best shaving experience.
The moment you start shaving, you will realize how effective it is to create a creamy foam that lubricates your razor to give a smooth and comfortable shave.
Unlike other average shaving soap that is sold on the market, it has a long shelf life, mainly because it is more extensive, and you can use it for around six months.
Given the skin-friendly composition of natural ingredients without added fragrance, you can use this product with confidence without skin irritation.
Forms rich foam that lubricates the shaver for a comfortable shave
Consists of skin-friendly, natural ingredients
Larger in size and long-lasting
Forms rich foam that lubricates razor for a comfortable shave
Consists of skin-friendly, natural ingredients
Larger in size and long-lasting
Causes a little drag while shaving
7. The Blades Grim Gold Luxury Shaving Soap
View On AmazonDon't be fooled by the grim reaper logo on the can: the Blades Grim Gold Luxury shaving soap gives your shave life. Besides, it's a cool logo. What about the mower that holds a scythe to which a razor blade is attached.
That said, the cover does not make the book, and a well-designed package does not make the shaving soap. In this case, however, the Blades Grim Gold luxury shaving soap is much more than its striking appearance (which, by the way, is thin and offers excellent portability).
The luxury shaving soap from Blades Grim Gold has a softer texture than other products and is precisely what you are looking for if you want something different from the ubiquitous hard puck that comes with most soaps.
Blades Grim Gold Luxury Shaving Soap is handmade in America. Many men prefer handmade soap because they have an individual feel and quality that you don't always get in factory-produced products.
Ah, the smell. Again, although most shaving soaps will not overwhelm you with scent (and some do not have that at all), it is often lovely to leave a little odor after you have finished shaving.
The ingredient list of the Grim Gold Luxury Shaving Soap blades contains coconut oil, which is excellent for your skin. It moisturizes and cleans at the same time for a smooth shave. Another essential ingredient is vegetable glycerin, while stearic acid: a saturated fatty acid: provides moisture and aids the foaming process.
This soap is known for the thickness and smoothness of the foam. You will find it easy to absorb a good foam quickly, thanks to the softer texture.

Striking scent
Handmade
Perfect for men who prefer softer shaving soap
The overall consistency of the foam from one shave to the next
8. Men's Soap Company
View On Amazon
Men's Soap Company Shaving Soap is made with high-quality, naturally derived, vegan vegetable ingredients and gave you a silky feel. It has no toxins, dyes, sulfates, or parabens and is therefore safe for your skin.
Preparing your skin and hair for shaving is incredibly fast with this soap. This is because it takes just 15 seconds to form a thick and creamy foam that gives a coating that leads to a smooth shave.
With excellent moisturizing properties and without drying out the skin, this item is infused with glycerine base and shea butter, making your skin feel soft and silky.
A smooth shave is essential for many men, but often shaving soaps do not give enough foam or are too hard for the skin. This completely natural shaving soap from The Men's Soap Company tries to change those problems. This soap is perfect for all skin types, as it contains no harsh chemicals or parabens, so it can even be used on sensitive skin. The thick, creamy foam soothes the skin and ensures a smoother shave than when using other shaving soaps or creams.
This soap has other additional benefits besides being luxurious to shave with. The natural ingredients all contribute to the overall health of your skin; the addition of shea butter and soy is excellent for softening your skin, making it firm but soft. The natural vegetable ingredients also bring much-needed vitamins back into your skin, such as vitamins A and E. The result is such a smooth shave that you have to touch it to believe it.
After a few uses, you will find that it is very forgiving for the sensitive parts of your skin.

Makes the skin much softer
Forms a creamy foam and gives a smooth shave
Non-overwhelming, pleasant scent
The smell is too light for some men.
9. Van Der Hagen Men's Luxury Scented Soap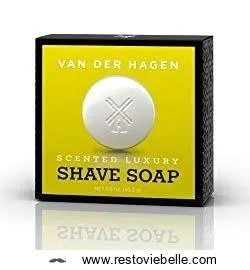 View On Amazon
The scent is not the most important quality of shaving soap. Foam, lubrication, how your skin feels after your shave – yes, those are important.
A shaving soap that can do all of these things and also has a great scent is worth a look. Van Der Hagen Men's luxury scented soap falls into the "worth a look" category.
Van der Hagen has – thanks to the combination of cocoa butter, mango butter, and shea butter – found the right mix of appealing scent and quality in his scented soap. The soap also contains glycerin, which has nothing to do with the odor but has everything to do with a lubricating and hydrating shave. In turn, it helps make the luxury scented soap suitable for people with dry or sensitive skin (and it is also hypo-allergenic, which is another skin-friendly characteristic).
However, there is more to appreciate about this soap.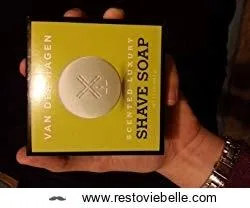 One of the first things you notice about the Luxury Scented Soap is how quickly and easily it foams. Your brush will be fully locked and placed in less than a minute after the mixture of soap and water has spun into your shaving bowl.
The foam also tends to stay in your face longer, especially when compared to other soft shaving soaps – and that's the other thing: you can buy Van Der Hagen's luxury scented soap for less than $ 10 or its quality. It is worth noting that the foam is not as thick as other shaving creams, but it does ensure a clean, smooth shave.
Moreover, the luxurious scented soap from Van Der Hagen is vegan and has never been tested on animals.

Budget-friendly
Excellent scent
Learns quickly
The overall smoothness of the cream leaves a bit to be desired
10. Tabac Original by Maurer and Wirtz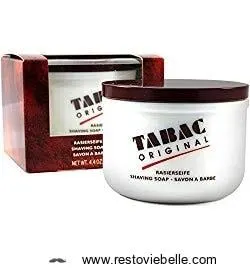 View On Amazon
English shaving products are so good that Tabac Original by Mauer and Wirtz is one of only two non-English products to make our list.
Still, there's nothing to complain about, except maybe it's a misleading name – it doesn't smell like tobacco, but instead has pleasant citrus, floral, and yet masculine scent.
Still, some people find it a bit disappointing, but we think it's a nice change from others.
Like Mitchell's Wool Fat, this is another traditional sebum-based shaving soap that works like a charm.
Nevertheless, many people find it a bit harder to get a decent foam first, but you have to master it quickly.
Puck or soap sells typically for around $ 20, or you could get it with a hard plastic dish for another $ 10.
In reality, we recommend that you buy a separate bowl if you are deciding to go with this soap, as the plastic bowl that comes with seems fairly cheap.
Lubricates the blade for perfect gliding action and skin protection
Smells great
Can be used on sensitive skin
Some users may not like the smell
11. Lather Wood Shaving Soap
View On Amazon
Wood shaving soap has been specially developed to get your daily shave without causing cuts.
For great results, use it with your favorite shaving brush, safety razor, razor, or multi-blade razor.
When you start shaving, you will notice that it forms a foam that does not disappear even after an hour in your shaving bowl.
The foam formed is moisturizing and protects your skin against shaving burns and irritation. Do not touch this product after a while, because your skin feels fresh, cool, and clean.
It also gives you an earthy, natural sandalwood scent that is not overwhelming and shaves after a while.

Forms a thick foam for comfortable shaving
Protects the skin against irritations, nicks, and cuts
Gives a pleasant, natural scent
Can be slippery, especially if you hold it with wet hands
12. Williams Mug Shaving Soap
View On AmazonThe best thing about Williams Mug Shaving Soap is the fact that it is designed to give you a long-lasting foam and leave your skin feeling soft and supple all day long.
You only have to wait a few seconds before the foam is formed to give your favorite razor a perfect glide for a smooth and smooth shaving experience.
While shaving with this soap, you will realize that it prevents burns and other skin irritations associated with long curls.
Also, it does not dry out your face and instead gives excellent lubrication and soft whiskers. The scent is also good and ensures that you can smell fresh for the rest of the day.

Forms a long-lasting foam
Protects the skin against burns and skin irritation
Smells pleasant
Is Shave Soap Better Than Cream? Shaving Cream Vs Shaving Soap
There are a few basic things to remember when discussing the differences between shaving soap and shaving cream:
Shaving soap has been around for a long time – much longer.
Although shaving foam was introduced in the 20th century, shaving soap has been around for hundreds of years.
We are talking about an old, old school when it comes to shaving soap. Your grandfather and great-grandfather used it, just like their grandfather and great-grandfather used it before (and therefore inline).
Shaving soap almost always comes in a hard puck, unlike shaving cream. A little foaming with shaving soap takes a bit of effort, although the results are usually excellent.
But let's dig a little deeper:
Shaving Soap
As mentioned earlier, there is a wide variety of shaving soap: triple-milled, semi-hard, croap, etc.
Triple-milling is the most expensive, but much wet. Shaver says it produces a dense foam that you cannot get with other types of shaving soap.
Triple milling soaps are also harder than others, which means they can last longer.
Making foam with shaving soap usually means adding water first, at least in most cases. You also need a shaving brush to build up and apply the foam to your face.
Although there is more a learning curve for making a shaving soap foam, the quality of the foam – as well as the lubrication it offers – is unparalleled.
If you want to go old-fashioned, use a shave soap with a razor. That's how it was done a hundred years ago (and more), my friends.
In terms of price, shaving soap is often more expensive than shaving cream, but your initial investment is a soap dish that will last for four months.
You can always find cheaper shaving soaps, although you gamble with quality.
About odor, shaving soap operas usually do not have the persistent odor that shaving creams have in common.
Many shaving soaps have a subtle scent – such as those with sandalwood – but you can always use an aftershave balm or oil that spreads ascent throughout the day. The myth that shaving soap has no odor is not valid.
Shaving Cream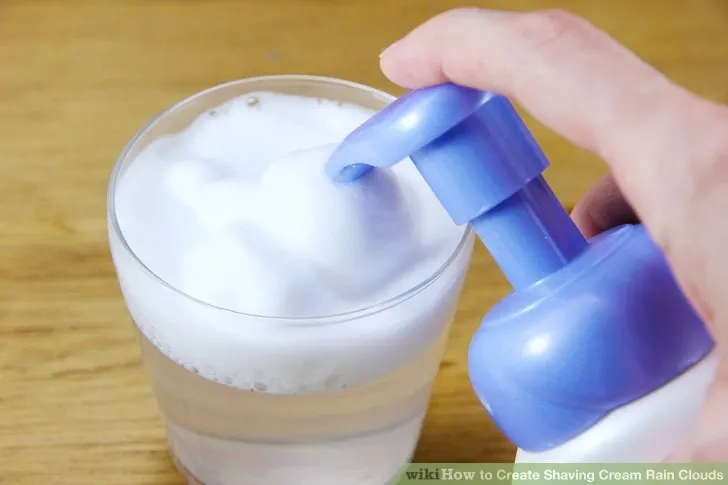 When most people think of shaving foam, they think of the child who comes in spray cans.
You know: the child with whom you press on the top and the top comes the shaving cream.
Shaving cream has been around since the 1940s and can be found in almost every supermarket, pharmacy, or supermarket that you can name.
They are formulated to give you a flexible foam that is often applied directly to your face.
For that reason alone, shaving cream is usually better for anyone who has just started shaving.
The foam that you make from shaving soap is, as said, unparalleled, especially if you can mix it better on a bowl or your face – but top quality shaving creams also generate the type of foam that provides excellent lubrication and a beautiful cushion.
Shaving cream comes in many different scents, although you have a cream that has no odor if you have sensitive skin.
How To Use and apply shaving soap?
To get professionally shave and feeling with shaving soap, you need a shaving brush, a shaving bowl, and a little patience.
Although it is possible to leave the shaving bowl and apply shaving soap to your face, it is not nearly as effective.
We assume that you' here because you' are looking for a classic, high-quality shave, so we' 'll get started right away and give you the step-by-step instructions for shaving with a bowl.
Step 1: Preparation
Before you use your razor and get started, make an excellent foam. One of the most critical components of an A-quality shave with soap is the temperature of the foam.
Fill your shaving bowl with hot water and spray some warm water onto your soapbox. Then soak your shaving brush for a few minutes.
Step 2: Prepare the foam
Empty the bowl and leave about a teaspoon of liquid.
When the soap is soft, you want your wet brush to tap lightly on the surface of the bar.
Ideally, this causes a thick, creamy foam. The perfect foam will have a velvety, whipped texture instead of thin or bubbling.
Step 3: Apply
When your foam has reached the desired thickness and texture, you are ready to apply it.
Apply light circular soap with the firm, continuous brush strokes. Then use your standard method for a clean, smooth shave.
FAQs About Shaving Soap
Why buy high-quality shaving soap?
First, why is shaving soap so important? As with all your shaving material, the soap you select can have a significant impact on your shave. In combination with a high-quality shaving brush, the best shaving soaps prepare your skin for the razor.
The soap helps hydrate your skin. This is done by removing oil from your whiskers so that water can reach your stubble. This results in a smoother shave. You are less likely to experience irritation and reduce the number of shaving burns, ingrown hairs, and bumps.
How much shaving soap should you use?
There is just no way to say you should use X ounces shaving soap. The amount will differ depending on the type of foam you want (thin or thick), how thick your beard is, and most importantly, how much you give a nice, comfortable shave that you can only determine by trial and error.
Final Words
To get a high-quality, old-fashioned shave, you need to invest in quality products, and unlike the razor itself (view our list of best safety razors), there is no other product where this is better than choosing a shaving soap.
We have previously discussed the differences between shaving soap and shaving cream and have also given you instructions on how to use shaving soap.
We hope you found this review useful and informative. As always, we encourage your feedback – through comments or questions – and look forward to hearing from you if you have tried one of the products listed above or if you have a personal favorite that is not listed here. Stay in contact!
References
baldingbeards.com
primandprep.com
theguysshavingclub.com
beardoholic.com
toolsofmen.com