This site is supported by our readers. We may earn a commission, at no cost to you, if you purchase through links.
Struggling to achieve the perfect ashy blonde hair? Trying toner after toner, only for it to end in a brassy orange disaster? Don't worry – you don't need an expensive visit to a salon! With the right knowledge and some careful trial and error, you can find your ideal blue-based color or ash-toned toners that will transform your orange hair into something truly spectacular.
In this article, we'll discuss eleven of the best options on offer when looking for top-notch toners for orange hair – plus our expert tips so you get amazing results every time! So if you're ready, let's dive straight in and discover exactly what makes these products stand out from all other available choices.
Key Takeaways
Blue toners deposit pigments to counteract brassiness and cancel orange.
Ash blue additives provide a subtle, cool result to neutralize warmth.
Purple shampoos target yellow/orange hues and should be used regularly between salon visits to maintain tone.
Alternating between blue and purple shampoos and using quality products can help neutralize brassiness and restore shine and vibrancy.
Top 11 Best Toners for Orange Hair
Looking for the best toner to neutralize orange hair? Look no further and check out Pravana Ash Blue Hair Corrector, Pureology Hair Toner Glaze, L'Oreal Paris Hair Toner Pearl Blonde, MANIC PANIC Blonde Toner, Fanola No Orange Shampoo, Matrix BrassOff Shampoo, and more! These top 11 toners are specifically designed to target yellow or orange tones in lightened blonde or highlighted brunette hair.
Get ready for beautifully cool tones that will last up to 3 weeks with just one application.
Pravana Ash Blue Hair Corrector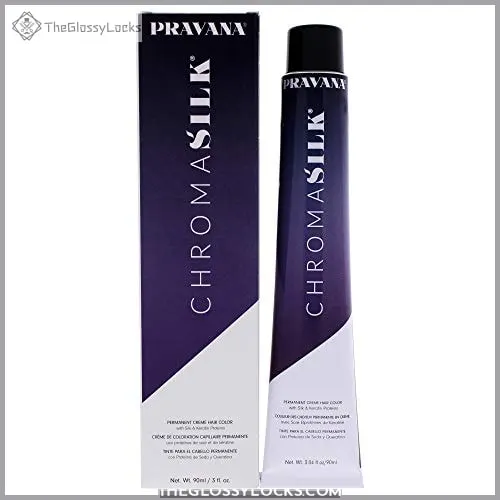 View On Amazon
Achieve vibrant reds, cool violets, and stunning gold tones with Pravana Ash Blue Hair Corrector's award-winning creme color that covers up to 100% of gray hair. Enriched with silk and keratin, this toner can create a versatile range of colors in six different tonal families.
It's perfect for both achieving your desired look or simply refreshing existing highlights or lowlights.
The application process is quick and easy – you'll have beautiful results in just five minutes! Not only does it provide an amazing finish, but it also repairs surface damage while increasing shine and color retention – leaving your hair feeling healthier than ever before!
Award-winning formula
Covers up to 100% of grey hair
Versatile range of colors
Quick & easy application process
Expensive compared to other brands
Pureology Hair Toner Glaze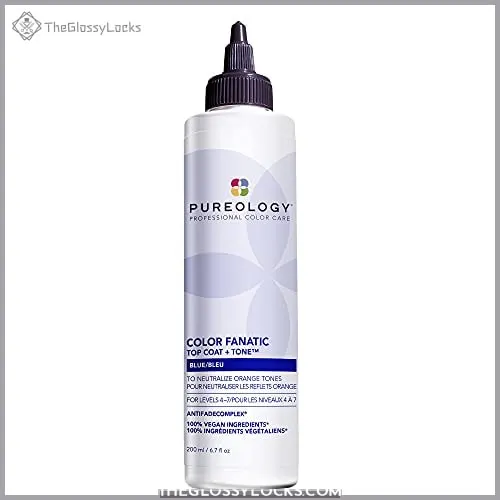 View On Amazon
Treat your locks to a luxurious toning experience with Pureology Hair Toner Glaze, enriched with nourishing oat milk and camellia oil for softness. Envelope yourself in the calming scent of roses, ginger, and cedarwood as you neutralize brassiness from blonde to brown hair.
This vegan-friendly formula is ammonia-free and PPD-free, so it won't damage color-treated or natural hair.
Follow up with Purple Shampoo for optimal results – just be sure not to get any into your eyes!
Vegan-friendly & paraben-free
Ammonia & PPD-free; will not damage color-treated or natural hair
Advanced conditioning polymers lock in moisture while repairing surface damage
Pleasant scent from rose, ginger, & cedarwood oils
Avoid contact with eyes
Temporary toning effect
Loreal Paris Hair Toner Pearl Blonde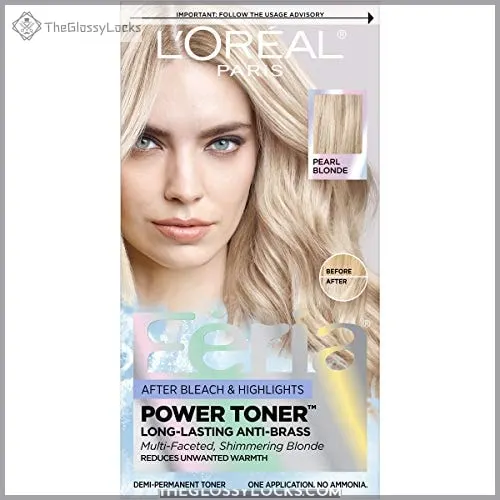 View On Amazon
L'Oreal Paris Hair Toner Pearl Blonde instantly neutralizes brassiness and adds a cool tone, so you can rock your blonde with confidence. This demi-permanent hair toner is formulated without ammonia to help maintain multi-faceted blonde color.
It features built-in conditioning polymers for nourishing results that last up to 3 weeks.
Plus, the high-speed technology allows for an easy 5-minute application process – ideal for busy schedules! With this product, you'll get reliable coverage of unwanted warmth and protection from fading due to sun exposure or styling products like heat tools – all while helping restore shine too!
And because it's part of L'Oreal's hair care lineup, which includes treatments, masks, serums, and more, you know your tresses are in good hands!
Ammonia-free
Built-in conditioning polymers
High-speed technology
Does not lift or shift color
Does not cover grays
MANIC PANIC Blonde Toner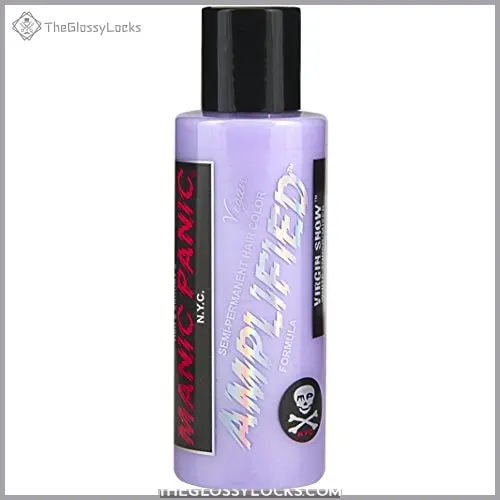 View On Amazon
Manic Panic Blonde Toner is a vegan-friendly formula that neutralizes brassiness and turns lightest 10 blonde hair white for vivid colors – all without PPD or ammonia. It doubles as both a toner to eliminate yellow tones and a deep conditioning mask during dyeing.
With key ingredients like blue tint, coconut oil, and paraben-free, gluten-free, and resorcinol-free formulas, Manic Panic Blue Steel Hair Toner helps you achieve the perfect color while nourishing your hair.
For optimal results, it's best used with their Flash Lightning bleach kits, which will lighten the hair to level 9 or 10 platinum blonde before applying this toner.
This product can be applied every two weeks to ensure vibrant, long-lasting cool tones on your locks!
Neutralizes brassy yellow tones
Contains blue tint for desired color
Doubles as a deep conditioning mask
Vegan-friendly & PPD/ammonia-free formula
Best used with other products from the same brand
Only works on prelightened blondes (level 9/10)
Requires frequent application (every 2 weeks)
Fanola No Orange Shampoo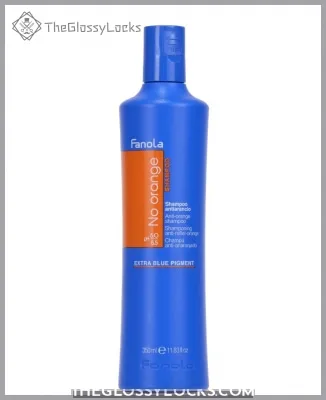 View On Amazon
Fanola No Orange Shampoo is a gentle yet effective way to neutralize brassiness and restore cool tones in color-treated blonde, grey, or lightened hair. It is made with a hypoallergenic formula enriched with coconut oil. This shampoo helps tone down yellow and orange hues while sealing the cuticles for added shine.
It also prevents fading of your beautiful new shade. Just apply it to wet hair 1-2 times per week for up to 5 minutes before rinsing out.
While Fanola No Orange Shampoo is an excellent choice for achieving desired results, be sure to wear gloves when using it as it can stain skin upon contact. Additionally, overuse may cause dryness, so follow up with conditioner after every wash.
All in all, though, this product offers great value thanks to its large size, providing plenty of uses at an affordable price point!
Hypoallergenic formula enriched with coconut oil
Tones down yellow and orange hues
Seals the cuticles and adds shine
Prevents color from fading
Large size provides multiple uses
Affordable price point
Can stain hands without gloves
Overuse can lead to dryness
Not everyone gets desired results
Matrix BrassOff Shampoo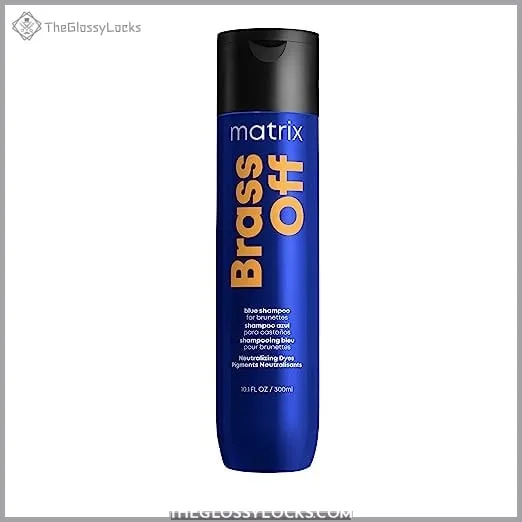 View On Amazon
Matrix BrassOff Shampoo is perfect for targeting brassiness and restoring cool tones to dark blondes and brunettes. This anti-brass toning blue shampoo by Matrix neutralizes unwanted orange undertones, depositing blue-violet pigments to reduce brassiness without stripping color.
It hydrates and nourishes the hair, enhances its shine, and boosts cool tones while lightening in a single wash when used with the Brass Off mask.
Plus, this salon-quality product comes in a 10.93 oz bottle that fits easily into any beauty bag!
Neutralizes orange undertones
Deposits blue-violet pigments
Enhances shine & boosts cool tones
Lightens & tones in one wash
Suitable for all hair types/textures
Not a dramatic change
Needs other products from the collection
Smaller bottle than expected
Color Balance Shampoo Set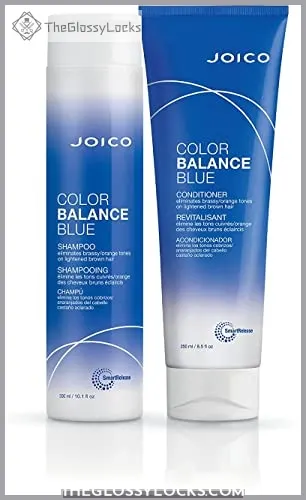 View On Amazon
The Joico Color Balance Blue Shampoo and Conditioner Set tones down unwanted orange tones in lightened brown hair, leaving you with sleek, vibrant locks. Formulated with a Multi-Spectrum Defense Complex to protect color from fading and Bio-Advanced Peptide Complex to repair hair strands, this sulfate-free shampoo set preserves 89% of your color for up to 18 washes.
Ideal for highlighted or balayaged brunettes looking to reduce brassiness without damaging their dyed base colors or dulling blue-colored hues. However, it is not recommended for yellow or white hair as the results may vary depending on the shade of orange present in your tresses.
This salon-grade product will keep your light browns looking bright by neutralizing any warm undertones while deeply hydrating each strand – perfect if you want that just-out-of-the-salon look! The 10oz bottles are also great value compared to other brands on offer, allowing you more bang for your buck when it comes time to restock shampoo supplies!
Neutralizes brassy/orange tones
Preserves 89% of color up to 18 washes
Deeply hydrates & repairs damaged strands
Not suitable for yellow/white shades
Results can vary between shades
Oligo Professionnel Blacklight Blue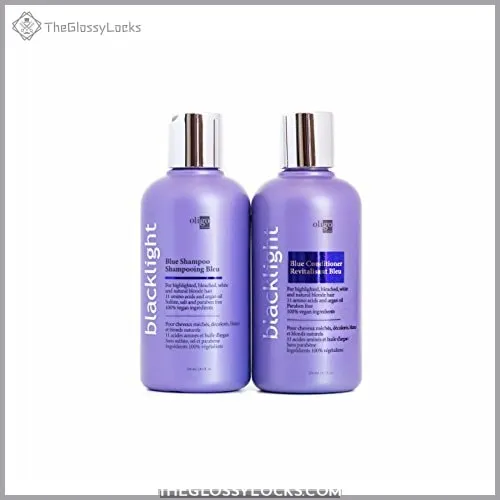 View On Amazon
Oligo Professionnel's Blacklight Blue is a professional-grade toner that works quickly to neutralize brassy, orange tones and restore your hair's vibrancy. It is formulated with a Multi-Spectrum Defense Complex to protect color from fading.
Additionally, it features the Bio-Advanced Peptide Complex for repairing damaged hair.
It instantly eliminates yellow/brassiness in blondes while providing softening benefits for all types of texture.
Eliminates brassiness tones
Refreshes faded highlights
Moisturizes & strengthens hair structure
Repairs surface damage, increases shine & color retention
Hypoallergenic properties – safe even on sensitive scalp
Expensive compared to other products
Thick texture like acrylic paint
Does not condition very well
Redken Color Extend Brownlights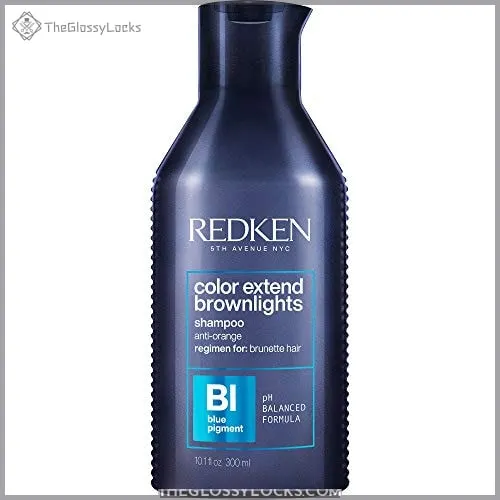 View On Amazon
Redken Color Extend Brownlights is a professional salon-grade toner that helps neutralize brassy orange tones in brunettes without drying out your hair. It is formulated with blue pigments, and it gently cleanses while preventing brassiness and removing warmth from brown tresses.
This progressive deposit system keeps cool brunette color intact for longer periods of time, leaving your locks looking bright and healthy.
With its color correcting abilities, Redken Color Extend Brownlights effectively removes any undesired orange undertones so you can achieve the perfect shade of brunette no matter how many times you dye it! Plus, this shampoo makes sure to keep strands hydrated as well as protected against fading due to sun exposure or other environmental damage – now that's a win-win!
Neutralizes brassy orange tones in brunettes
Gently cleanses without stripping color
Prolongs cool Brunette color
Prevents brassiness & removes warmth from brown hair
Expensive compared to other products
Makes shower walls slightly blue
Can be drying if overused
BRAGG Organic Apple Cider Vinegar

View On Amazon
You can reap the digestion and health benefits of BRAGG Organic Apple Cider Vinegar – certified organic, raw, unfiltered, unheated, unpasteurized with 5% acidity containing the Mother of Vinegar – by using it for salads and seasoning or drinking directly in water.
But why stop there? This product is also great for lightening brown hair to reduce orange tones. With its thick consistency compared to other food colorings available on the market, plus a low price tag, it makes this a must-have item.
Plus, you'll get an added bonus with Bragg's subscription discounts! Customers love how well it works at eliminating brassiness while keeping their hair looking healthy and vibrant. However, some customers have noted issues such as broken lids resulting in leaks during shipping, which can be off-putting, especially when purchasing online.
Certified organic per California Organic Foods Act
Kosher certified
Gluten-free & Non-GMO certified
Thick consistency compared to other food colorings on the market
Low price tag
Broken lid resulted in leaking during shipping sometimes
Strong vinegar scent
DyeCraft Blue Food Coloring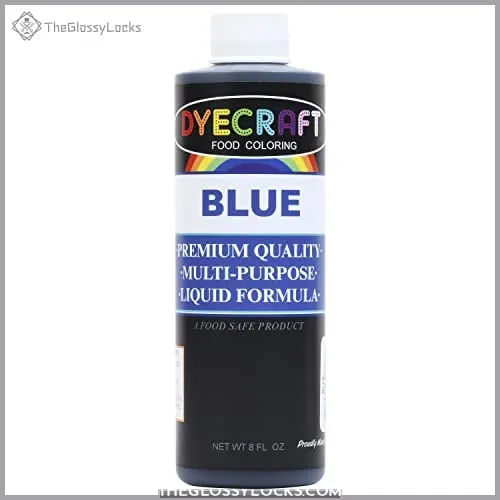 View On Amazon
DyeCraft Blue Food Coloring is an odorless, tasteless liquid formula that provides a bold and consistent blue hue for art and culinary creations. This product offers food safety with its vegan-friendly ingredients, allowing you to achieve unique colors without the worry of negative side effects.
With only a few drops needed to color various foods and drinks, this 8-ounce bottle will last you through multiple projects! It has a thicker consistency than watery food coloring, which ensures your work won't be diluted or washed away easily.
Odorless & tasteless liquid formula
Vegan-friendly & food safe
Only need a few drops per project
Not effective as a selective herbicide marking dye
Made white chocolate harden
How Does Blue Toner Correct Yellow & Orange?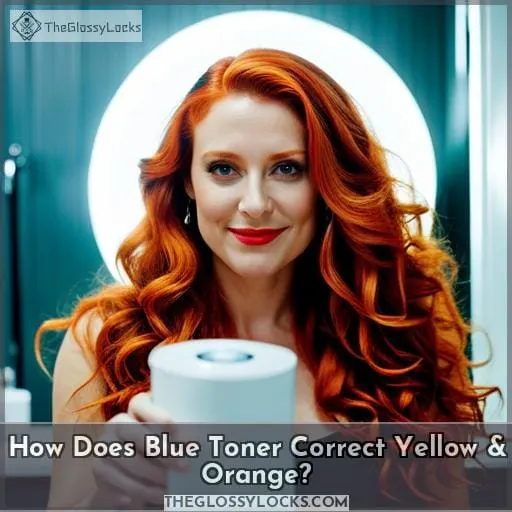 By utilizing blue toner, you can effectively neutralize yellow and orange tones in your hair. Blue toners deposit blue-violet pigments to counteract brassiness or unwanted warmth in the hair, canceling out orange while purple works on yellows.
To get the best results:
Use a lot of shampoo and rub it into strands thoroughly for maximum tone control.
Apply heat to help activate ingredients and penetrate deeper into hair's cuticles for better color correction.
Alternate between using blue shampoos with ashy shades like Wella T18 or Pravana Chromasilk and purple shampoos targeting both warm tones simultaneously if needed.
The right combination of products will restore coolness throughout blonde locks, leaving them looking brighter, healthier with vibrant shine!
Pre-Mixed Blue Based Ash Blonde Colors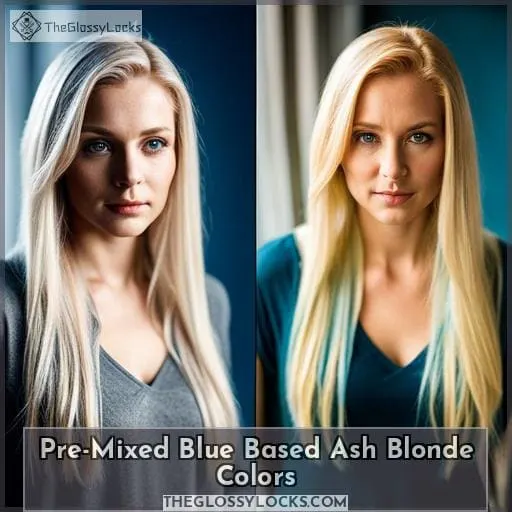 For a pre-mixed blue-based ash blonde color, try DyeCraft Blue Food Coloring to neutralize yellow or orange tones in your hair. This odorless and tasteless food-safe liquid formula provides a consistent and bold blue hue.
It can be used to target warm pigments after bleaching, resulting in an ash-toned finish with brass removal.
With only a few drops needed to color foods and drinks, it is also great for fountain pen ink or waterfall creation. To enhance the results of this product, pair it with purple shampoo like Fanola No Orange Shampoo.
This shampoo helps tone down unwanted yellow hues while providing nourishment, shine, and preventing color fading.
For an extra brass kicker, use Matrix BrassOff Shampoo. This shampoo neutralizes red tones in dark blondes and brunettes, giving you cool hair that looks healthier than ever!
Ash Blue Additive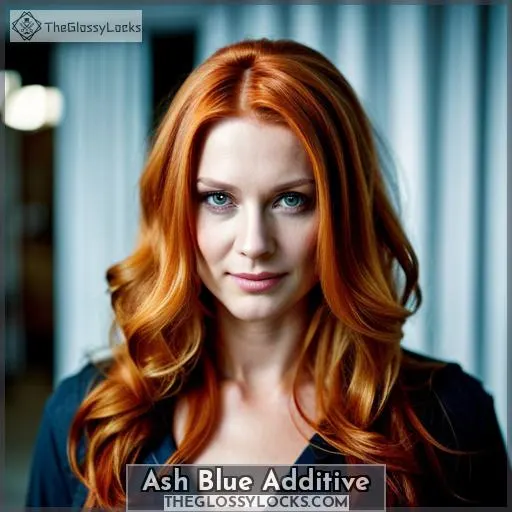 Add a touch of Ash Blue to your hair routine for a cool, subtle result that'll neutralize the warmth. For those with blonde or brown-toned locks looking to get rid of orange and yellow undertones, this is the perfect fix.
Whether you're trying to tone down brassiness in already lightened hair or just want an ash finish on your natural color, adding an Ash Blue additive can be mixed with toner for extra blue hues and improved results.
To target both warm pigments like orange and yellow at once, alternate between blue shampoos/conditioners and purple ones while rubbing in thoroughly—heat will help too!
Go further by using products such as Pravana Ash Blue Hair Corrector, which uses a silk & keratin enriched creme formula that offers tones from six families of colors, effectively covering up grayness.
Get ready for significant improvements after applying Manic Panic's vegan-friendly toner, followed by Pureology's conditioning glaze made specifically designed for blondes & brunettes alike!
Brilliant Blonde Shampoo & Mask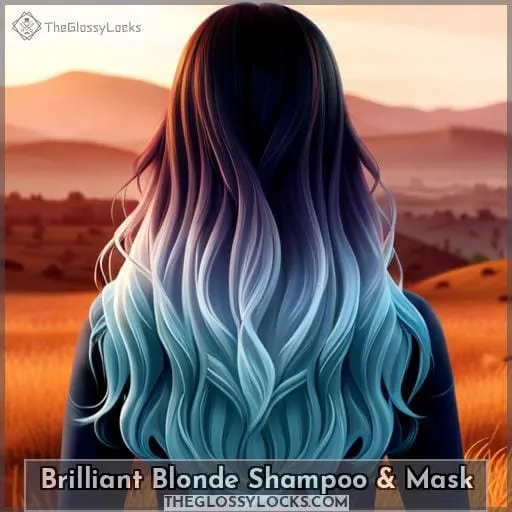 Try Brilliance Blonde shampoo and mask to neutralize brassy tones for a refreshed look! This blue toning duo is specifically designed to reduce brassiness while cooling down hair. It's enriched with blue pigments that help maintain blonde color, adding luminous shine and depth of tone.
The conditioning mask helps protect the hair from damage while also restoring moisture levels for soft, healthy-looking locks.
With regular use, it will keep your color looking fresh longer by helping retain vibrancy and preventing fading due to environmental factors such as sun exposure or pool water chlorination.
Blue Vs. Purple Shampoo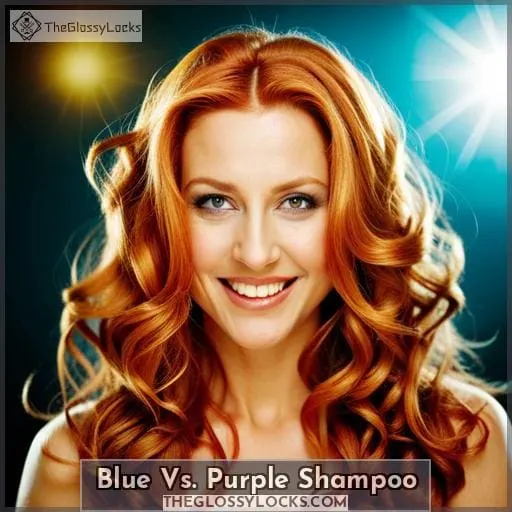 Discover the difference between blue and purple shampoos to target both yellow and orange undertones in your hair with a dynamic duo. Blue dyes are used to neutralize warm pigments while adding coolant tones for a gentle ash result.
Purple toning is best suited for those who want an extra kick of cooler hues, leaving behind a subtle violet-tinted hue or lasting blue tint.
To maintain tone, alternate between these two colors every other shampoo session; this will help keep brassiness at bay! If you're looking for more of an ashy color payoff, try adding some drops of blue food coloring into your shampoo bottle before lathering up – it'll give off bright blues without any additional harshness on strands.
For maximum benefits from either shade option, make sure you leave the product in longer than usual before rinsing out thoroughly – that way it can fully penetrate through layers to achieve optimal results each time!
Blue Toning for Orange Hair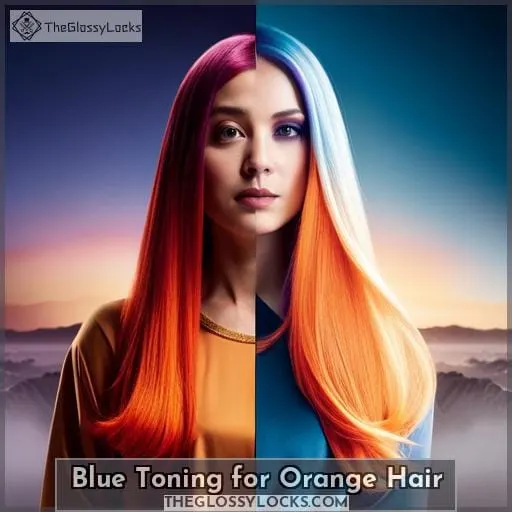 If you're looking to neutralize orange tones in your light blonde or highlighted brunette hair, pre-toning with blue is a great option. Blue helps to counteract brassiness by adding cool tones and can be used as an additive when coloring for extra tone control.
To maintain color correction, use a blue-toned shampoo regularly. Heat styling tools such as curling irons and blow dryers will help the effect last longer. Color correcting doesn't end there, though. You'll need to condition frequently and invest in deep treatments every few weeks for long-lasting results.
Don't forget that toner should always be applied to damp hair. Leave it on for 20-40 minutes before rinsing out thoroughly, then repeat if necessary! For best results, choose one of our recommended products like Pravana Ash Blue Hair Corrector or L'Oreal Paris Hair Toner Pearl Blonde, which are designed specifically for removing orange tones from lighter shades of blondes.
What is Purple Shampoo and When Do You Use It?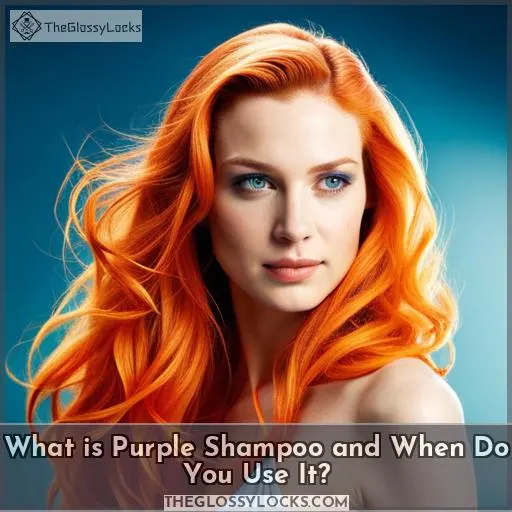 Purple shampoo is a must-have for those looking to keep their blonde or brown hair cool toned. Use it regularly to counteract yellow and orange tones. The unique blend of blue and violet pigments in purple shampoos corrects the warm shades, leaving you with an ashy blonde that maintains its tone between salon visits.
If you're dealing with brassiness from highlights or bleaching your brunette locks, using a purple conditioner can help cancel out the unwanted orange hues that come along with it.
When used correctly in combination with other toning techniques like at-home toners or professional color services, there are numerous benefits including long-lasting results without regular maintenance needed to maintain cool tones.
How to Use Blue Toner on Orange Hair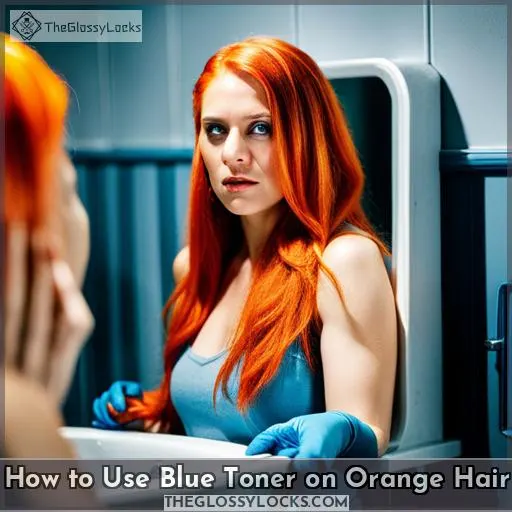 To neutralize brassiness and restore cool tones to orange hair, use a blue-based toner such as Wella's 10.1b, 8.1b, or 7.1b on damp strands for 20-40 minutes before rinsing and repeating the process if necessary.
For best results, carefully apply the toner with an applicator brush. Target brassiness in bleached blonde or highlighted brunettes.
Maintain cool tone by alternating between blue and purple shampoos to remove yellow tones while also addressing any brassy/orange ones.
Incorporate heat when using toners as it helps them work better.
Neutralizing yellow undertones is key for correcting overly warm orange hues while adding a lightened ash tone that will look stunningly beautiful against your skin complexion – perfect for those looking to achieve salon quality color at home without spending too much money!
Keep in mind that purple shampoo can be used alongside this method of maintaining cool tones & neutralizing yellows/oranges from lightened hair – just make sure not to overdo it so you won't end up with overly warm brass tones instead of achieving your desired result!
Pros and Cons of Using Blue Toner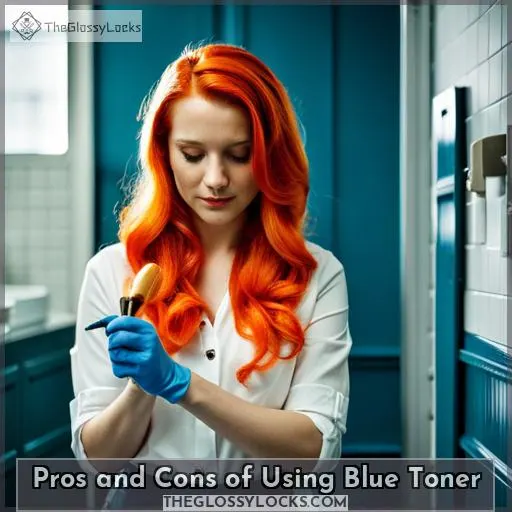 Using blue toner can bring out cool tones in your hair, but it also has some potential drawbacks. Bleaching effects on the hair can impact its health and longevity, so you need to be mindful of product quality.
Color accuracy is important as well – if the wrong shade of blue toner is used or too much tone is added at once, unwanted orange tones may remain visible after color correction.
If done correctly though, a cool-toned canvas will be created that helps hide any remaining brassiness and creates a more natural look when styling with heat tools or products afterward. To ensure success with this process, make sure to choose high-quality products like Pravana Ash Blue Hair Corrector for optimal results without damaging your strands further.
Tone should always be applied cautiously and monitored frequently for best results while maintaining healthy locks!
DIY Blue Toner for Orange Hair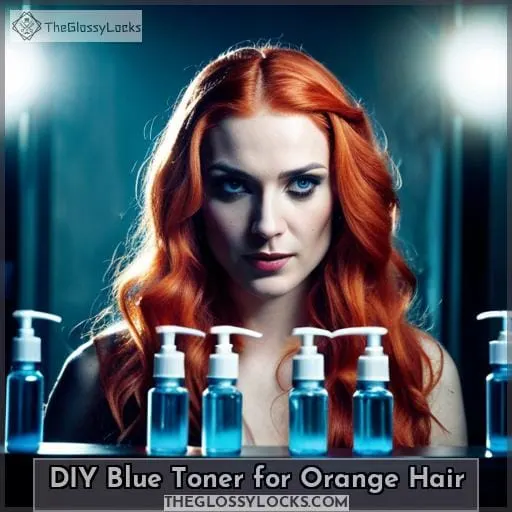 If you're looking to cool down your orange hair, making a DIY blue toner is an easy way to get the job done. Start by mixing ash blue additive with color for extra tone, then apply all over damp strands.
To maintain level 10 blonde tones or target brassiness in lighter levels of brunette hair, use purple shampoo as well. Rub it in thoroughly and heat helps it work better! Warm pigments remain after bleaching, so alternate between blue and purple shampoos to cancel out both yellow/orange hues from 8-10 levels of lightening or double process blondes.
For maximum effect, choose products like Wella T18, Pravana Chromasilk's 7-1b Color Corrector, and L'Oreal Pearl Blonde Toners, which come highly recommended by pros!
Frequently Asked Questions (FAQs)
What are the best toners for orange hair?
Transform your orange hair with the best toners around! From Pureology's Hair Toner Glaze to Manic Panic's Blue Steel, these products take brassiness out and leave you with stunningly cool tones.
How long should I leave blue toner on my orange hair?
For optimal results, leave your blue toner on damp hair for 20-40 minutes. Heat helps the toner work better; use a lot and rub it in thoroughly to target brassiness.
Can I use purple shampoo on my orange hair?
Yes, purple shampoo can be used on orange hair to neutralize yellow tones and restore coolness. It's best to alternate between blue and purple shampoos for maximum toning results.
What are the benefits of using blue toner on orange hair?
Blue toners neutralize orange tones, restoring shine and vibrancy to your hair. They deposit blue-violet pigments, canceling out brassiness.
Is it safe to make my own blue toner for orange hair?
Making your own blue toner for orange hair can be a great way to achieve the exact tone you desire. It's safe, but use caution when mixing colors and keep in mind that results may vary depending on the products used.
Conclusion
If you have orange hair, you know the struggle of trying to neutralize brassiness and maintain cool tones.
From Pravana Ash Blue Hair Corrector to Matrix BrassOff Shampoo, the best toners for orange hair can help you reduce the yellow and orange tones, while adding shine and conditioning your hair.
You can also use a combination of blue-based ash blonde colors, ash blue additives, and blue and purple shampoos to neutralize brassiness and keep your hair looking vibrant.
DIY blue toner is also an option, but be sure to use it carefully.
With the right toner and a little bit of patience, you can have the color you want in no time.