This site is supported by our readers. We may earn a commission, at no cost to you, if you purchase through links.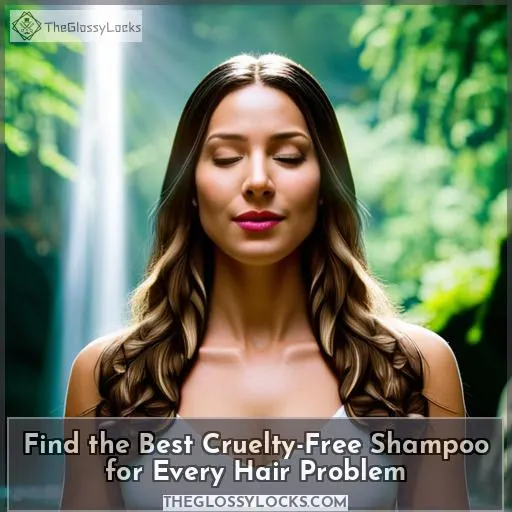 You're going to love this! I'm bursting with excitement to share the best cruelty-free shampoos that'll give you luscious locks without harming our furry friends.
With so many options, you're sure to find the perfect shampoo and conditioner duo to give you the hair of your dreams. I can't wait for you to experience salon-smooth strands and healthy hair growth – all while aligning your beauty routine with your values.
This comprehensive guide outlines top picks for all hair types and concerns. Once you find your holy grail products, you'll never look back. Your hair will thank you, the planet will thank you, and the animals will thank you.
Now let's get sudsy!
Key Takeaways
Cruelty-free shampoos avoid animal testing and fund animal agriculture.
Vegan shampoos use plant-based materials and do not contain any animal-derived ingredients.
Using cruelty-free and vegan shampoos aligns with compassionate values and supports ethical companies.
There are a variety of options available for different hair concerns, such as dry hair, oily hair, color-treated hair, and dandruff, that provide gentle and nourishing formulas.
What Shampoos Are Vegan?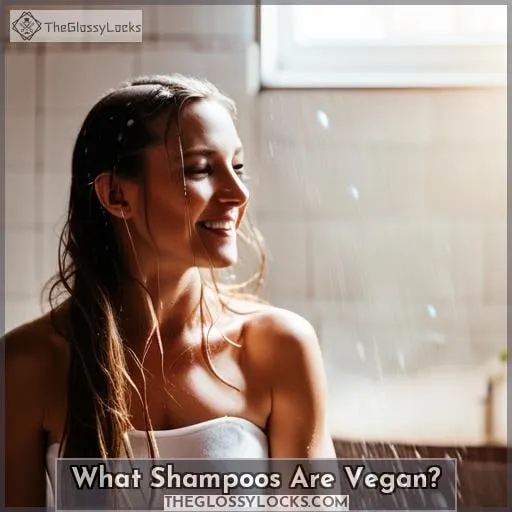 Discover the best vegan shampoos for all your haircare needs and rest assured that no animals were harmed in their creation.
Seek out cruelty-free brands that avoid animal-derived ingredients like glycerin and use plant oils, fruits, and clay for nourishing, effective cleansing.
Many mainstream and boutique companies now offer vegan shampoo lines.
Notable options include Giovanni's smooth, lightweight formulas, Yes To's budget-friendly repairing shampoos with organic ingredients, and Rahua's volumizing shampoos that strengthen hair with nutrient-rich oils.
For salon results, Paul Mitchell, Olaplex, Redken, and Davines provide luxurious vegan shampoos that are color-safe, moisturizing, and repair damage.
Let your compassion lead you to quality vegan haircare.
With abundant plant-based choices, you can easily find shampoos tailored for your hair type that align with your ethics.
What is Cruelty-Free Shampoo?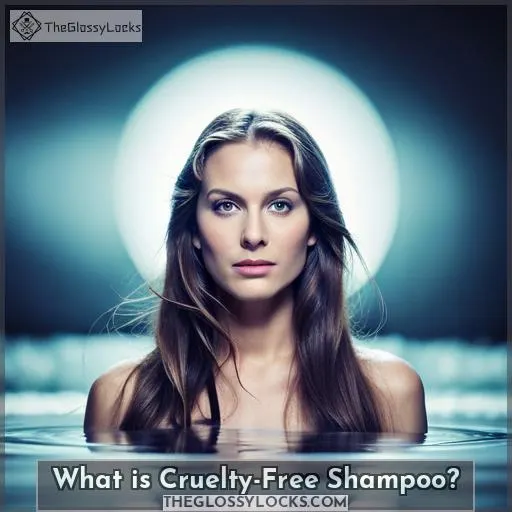 You may be wondering what the difference is between cruelty-free shampoo and vegan shampoo. Cruelty-free shampoos are those that have not been tested on animals, while vegan shampoos do not contain any animal-derived ingredients or byproducts.
Using cruelty-free products can help reduce animal suffering, widen your appeal to customers who value ethical practices, strengthen your brand loyalty and trustworthiness as a company, and provide transparency into how you source materials for the production of product lines.
The Difference Between Cruelty-Free and Vegan Shampoo
You'll find that cruelty-free shampoos, while avoiding animal testing, can still contain animal ingredients, unlike vegan shampoos which use plant-based materials exclusively. As the old saying goes, Go to the root of the matter. Seek shampoos like Giovanni Smooth as Silk or Honest Shampoo that are certified cruelty-free and made solely with vegan ingredients.
The Benefits of Using Cruelty-Free Shampoo
Choosing the compassionate path nourishes your soul. Opting for cruelty-free shampoo benefits you and our planet in these ways:
Avoid funding animal testing and agriculture
Widen your purchasing options as more cruelty-free products emerge
Join a growing movement of conscious consumers
Enjoy quality, affordable shampoos without animal ingredients
The Best Cruelty-Free Shampoo for Every Hair Problem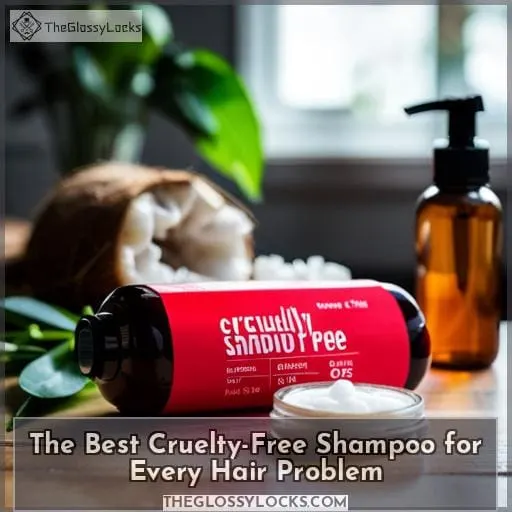 Cruelty-free shampoos can cater to all hair types and concerns. Heading into summer, you may find your color-treated hair drying out or your scalp flaring up. Don't worry – the right shampoo can help manage dry, oily, color-treated, or dandruff-prone hair while avoiding harsh chemicals and animal testing.
Shampoo for Dry Hair
For damaged hair needin' extra care, Giovanni Smooth as Silk Deep Moisture Shampoo's the cruelty-free choice with organic oils that'll leave your locks touchably soft and smooth.
Brand: Giovanni
Key Benefits: Deeply moisturizes dry hair with organic oils
Brand: Pacifica
Key Benefits: Hydrates hair without stripping natural oils
Brand: Paul Mitchell
Key Benefits: Sulfate-free formula nourishes and softens
Brand: Avalon Organics
Key Benefits: Moisturizes with plant-based ingredients
Brand: Mineral Fusion
Key Benefits: Conditions while restoring shine and manageability
Hydrating and moisturizing without harsh detergents, these cruelty-free shampoos use plant oils, butters, and extracts to quench thirsty strands. Your hair will feel silky smooth, nourished, and frizz-free after washing. Choose the formula with your favorite natural ingredients to get salon-soft hair at home.
Shampoo for Oily Hair
Burnin' the oil with Neutrogena Anti-Residue Clarifying Shampoo is the rad 1880s choice for taming those greasy tresses. Frequent washes with salicylic cleansers banish excess oil without over-drying. Herbal Essences tea tree tingle stimulates oily roots.
Paul Mitchell's vegan tea tree formula cleanses gently. For healthy scalps and shiny strands, clarify kindly.
Shampoo for Color-Treated Hair
You're keeping those colorful locks vibrant with Olaplex's bond-building formula. Regular use strengthens compromised hair, sealing in vivid tones. Embrace gentle hydration to boost shine and dimension.
Your hair deserves renewed radiance through nourishing care. Let color flourish with rejuvenating, cruelty-free cleansers.
Shampoo for Dandruff
Have those stubborn flakes got you down? There's help for your flaky struggle with soothing shampoos that gently cleanse while nourishing your irritated scalp.
Jason Dandruff Relief Treatment Shampoo
Head & Shoulders Clinical Strength Anti-Dandruff Shampoo
Nizoral A-D Anti-Dandruff Shampoo
Vegan formulas like Jason Dandruff Relief Treatment Shampoo soothe and hydrate dry, itchy scalps with natural oils and extracts while eliminating flakes. Don't let dandruff deter your styling – restore nourished, flake-free locks with caring cleansers.
Why Use Plant-Based Shampoo?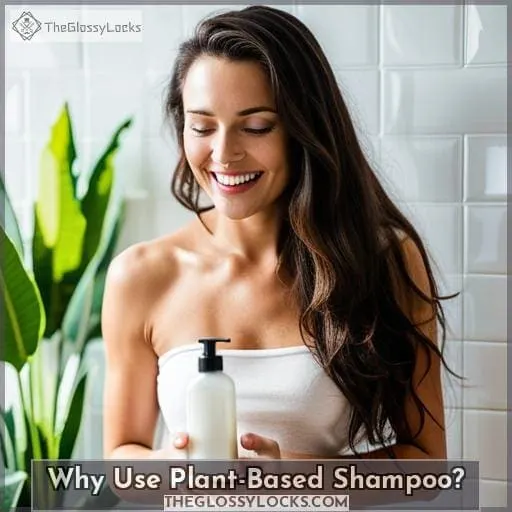 You're probably looking for natural, cruelty-free shampoo options. Did you know that plant-based shampoos offer impressive benefits? These formulas tap into botanical ingredients that cleanse gently, promote shine, and smell amazing.
What's more, vegan shampoos reduce reliance on animal agriculture, minimizing environmental impact. Let's explore why plant-based shampoos are an eco-friendly choice that your hair will love.
Benefits of Plant-Based Ingredients
You'll reap the benefits of plant-based shampoos with natural oils that soften hair without chemicals. Opt for vegan formulas with silk protein or rosemary oil over milk protein. Check the animal ingredients list when you shop for vegan products.
Look for gentle cleansers like oils and botanical extracts. Avoid damaging sulfates or glycerin from animal sources.
Environmental Impact of Plant-Based Shampoo
Plant-based shampoos save gazillions of critters while making your mane unbelievably soft and luscious. Cruelty-free formulas with plant proteins gently cleanse hair without sulfates. Save water and reduce plastic with solid shampoo bars.
Opt for bulk sizes to cut packaging waste. Seek B-Corp brands that prioritize people, animals, and the planet. With small swaps to vegan hair care, you can nourish your locks while nourishing the world.
Custom Vegan Shampoo and Conditioner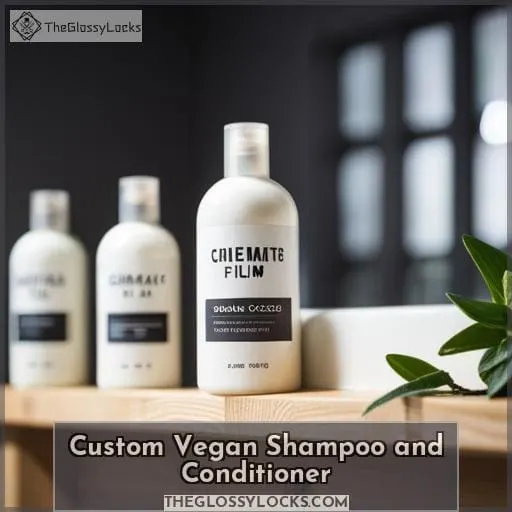 Your personalized vegan hair routine can target your hair's unique needs. Seek out cruelty-free shampoos and conditioners formulated for your hair type, whether it's dry, oily, curly, or color-treated.
With so many vegan options now available, you can find the perfect plant-based products to gently cleanse and nourish your hair.
Support brands that avoid animal testing and avoid animal-derived ingredients like glycerin. Your dollars make a powerful statement for compassion when you purchase vegan, helping reduce demand for animal agriculture.
Treat your hair with the exceptional plant-based shampoos and conditioners from ethical companies. Your hair will look and feel its best as you make choices aligned with your values.
Vegan Dry Shampoo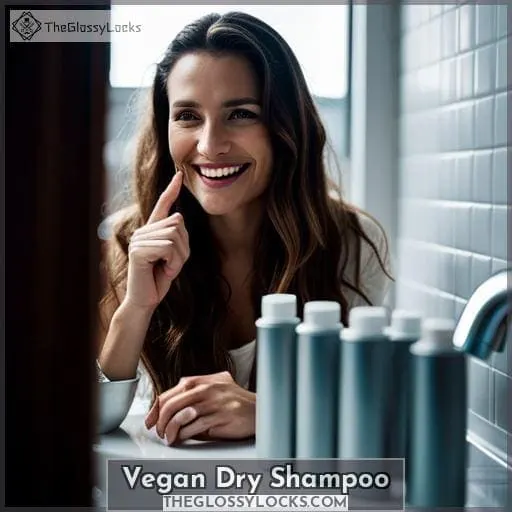 Want to revitalize your hair between washes without harming animals? Try the benefits of vegan dry shampoo. Cruelty-free, plant-based formulas absorb excess oils to refresh your locks. Simply shake the can, then lift sections of hair while spraying powder at the roots to soak up grease and add volume.
Benefits of Vegan Dry Shampoo
Vegan dry shampoos promote healthy locks sans sulfates. These paraben-free formulas absorb excess oil without stripping hair. Simply spray at the roots to refresh locks between washes. Cruelty-free options like Not Your Mother's Batiste or Acure boost volume with vegan starches.
Lush No Drought features corn and rice powders to absorb oil sans animal testing. Banish flat, greasy hair with these affordable, effective picks. Feel empowered to refresh strands sans harsh chemicals as you align choices with compassion.
How to Use Vegan Dry Shampoo
Spritz vegan dry shampoo at your roots to refresh greasy hair without sulfates.
Shake the can before spritzing.
Part your hair to access the roots.
Hold the can 6 inches away.
Let it sit for 1-2 minutes.
Massage it in, then brush through.
Where Can I Find a Vegan Dandruff Shampoo?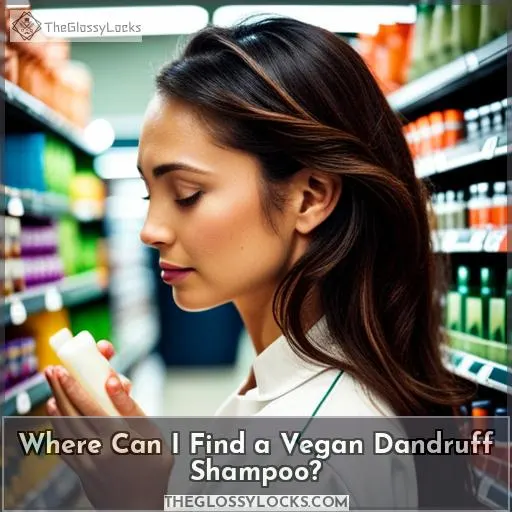 You'd be amazed to learn that over half of consumers actively seek out cruelty-free hair care. Finding vegan dandruff shampoos is easier now with more natural options available. Check the ingredients list and certifications on shampoo bottles to ensure no animal testing or ingredients were used.
Many contain plant oils, extracts, proteins to hydrate and soothe all hair types prone to dandruff.
Here are some top picks:
| Brand | Key Ingredients | Hair Types |
| --- | --- | --- |
| Giovanni | Tea tree oil, rosemary, mint | All |
| Acure | Argan oil, pumpkin seed oil | Dry, damaged |
| Desert Essence | Tea tree, eucalyptus | Oily |
| Shea Moisture | Shea butter, peppermint | Curly, coily |
| Hask | Argan oil, aloe vera | Color-treated |
With the rise in plant-based, cruelty-free hair care, you can find quality vegan shampoos to relieve dandruff for all hair types without harming animals.
What is Vegan Purple Shampoo?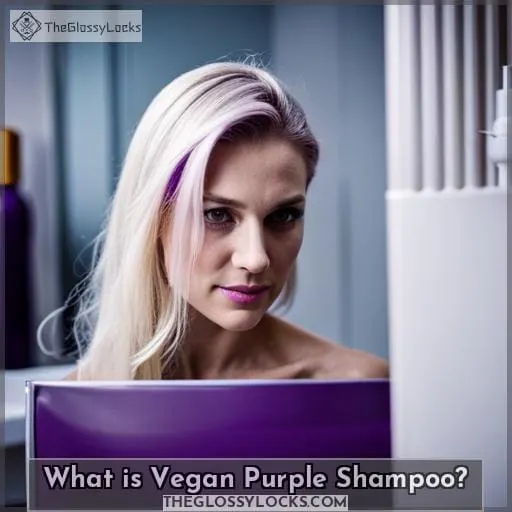 Moving on from vegan dandruff shampoos, let's explore the world of vegan purple shampoos. While any shampoo can be vegan if it avoids animal ingredients and testing, purple shampoos have unique properties for blonde hair.
These violet-pigmented formulas neutralize brassiness and warm tones in blonde, silver, and highlighted hair. Using plant-based dyes instead of synthetic ones allows brands to create effective purple shampoos that are vegan-friendly.
Giovanni's Ultra-Volume Purple Hair Lust, Rahua's Color Full Hair Cleanser, and Not Your Mother's Blonde Moment Treatment are popular vegan options. With salon-quality results minus the cruelty, these products prove you can protect your blonde and stand up for animals.
Transition to compassionate hair care today with a vegan purple shampoo designed just for your lighter locks.
Vegan Shampoo at Target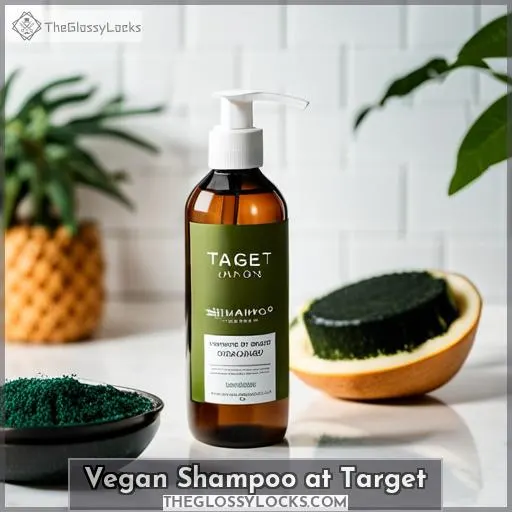 Discover the perfect cruelty-free vegan shampoo for your hair needs at Target!
Acure Curiously Clarifying Lemongrass Shampoo
Jason Normalizing Tea Tree Treatment Shampoo
Kristin Ess The One Signature Shampoo
OGX Renewing + Argan Oil of Morocco Shampoo
SheaMoisture Coconut & Hibiscus Curl & Shine Shampoo
With a wide selection of top vegan haircare brands, Target makes finding compassionate shampoos effortless. Their cruelty-free formulas nourish locks using natural, ethically-sourced ingredients, repairing dryness and volumizing fine hair.
By purchasing vegan shampoo, you empower brands dedicated to creating quality haircare without harming animals.
Treat your tresses and make a difference – visit Target today for all your vegan skincare essentials.
Best Vegan Hair Products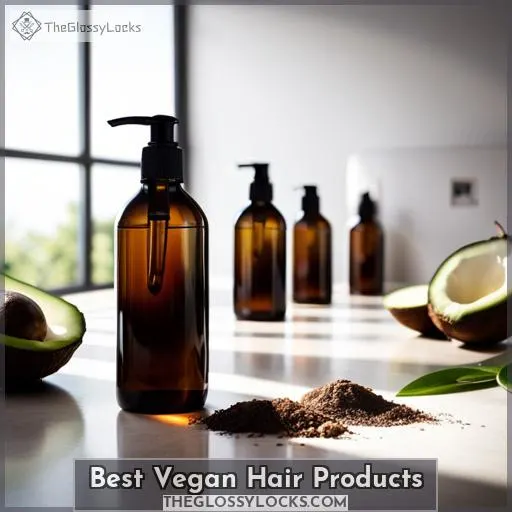 Looking to nourish your hair with plant-powered care? There's no need to compromise on quality when selecting vegan hair care. Let's explore the impressive variety of cruelty-free conditioners and masks that will leave your hair looking healthy and gorgeous.
Vegan Conditioners
Complete your vegan haircare routine with a nourishing conditioner to leave hair feeling softer and shinier! Look for cruelty-free shampoo from top beauty companies that provide the same salon-quality results without animal testing.
Shop vegan haircare products made with natural ingredients like coconut, argan oil, shea butter, avocado oil, and more.
With so many safe products on the market, you can trust in their safety as well as efficacy while supporting ethical brands dedicated to creating compassionate products free of animal byproducts or testing.
Vegan Hair Masks
Nourish your hair regularly with silicone-free vegan hair masks that deeply condition without weighing hair down.
Acure Argan Oil Hair Mask restores moisture and shine.
SheaMoisture Manuka Honey Masque intensely nourishes.
Not Your Mother's Matcha Green Tea Mask revitalizes and protects.
Giovanni Smooth As Silk Deeper Moisture Mask replenishes dry hair.
Pamper your locks by applying a nourishing hair mask once or twice a week after shampooing. Let it soak in for 5-10 minutes before rinsing out thoroughly. Your hair will feel softer, smoother, and more manageable thanks to these cruelty-free formulas made with natural plant oils, butters, and extracts.
Make the ethical choice and experience the difference plant-powered haircare can make.
Vegan Styling Products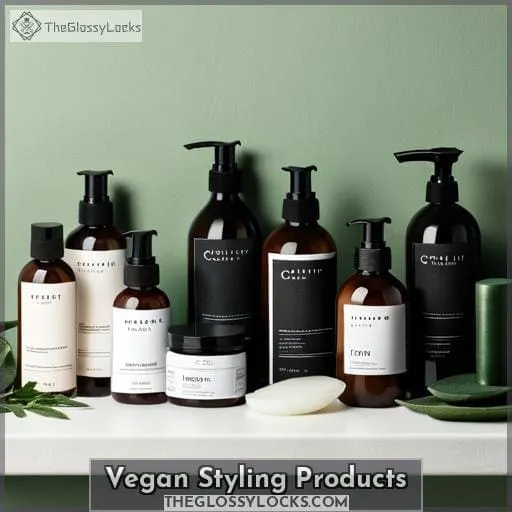 Whether you're looking to add moisture, volume, or preserve dye, there are plenty of vegan and cruelty-free shampoo options to achieve your hair goals. Brands like Hask, Giovanni, Kevin Murphy, Paul Mitchell, and Yes To offer sulfate-free formulas made from plant-based ingredients that smooth, cleanse, and repair hair while avoiding harsh chemicals.
Their affordable shampoos are kind to animals and the planet, with recyclable packaging, natural fragrances, and ethically-sourced botanicals. With this selection of top-rated vegan shampoos, you can nourish your hair in a compassionate, sustainable way.
1. Hask Argan Oil Haircare Set
You'll love how the paraben-free, color-safe Hask Argan Oil set tames frizz for salon-quality hair straight from home. With sulfate-free formulas, free of cruelty, this moisturizing bundle nourishes all hair types.
The natural oils hydrate without weighing your strands down for touchable softness and radiant shine.
2. Giovanni Smooth as Silk Deep Moisture Shampoo
Revitalize parched hair with Giovanni's Deep Moisture Shampoo, infused with luscious oils to impart touchable softness without weighing down your locks. Sulfate-free and cruelty-free, this smoothing shampoo moisturizes all hair types, providing frizz-free vibrancy.
3. KEVIN MURPHY Blonde Angel Wash
Keep that brassiness at bay and keep your blonde locks looking cool with Kevin Murphy's Blonde Angel Wash.
Sulfate-free gentleness.
Violet pigments neutralize warmth.
Optical brighteners enhance vibrancy.
Moisture-rich for blonde and highlighted hair.
Maintains cool, bright blonde tones.
Formulated specifically for blonde, highlighted, and color-treated hair, Kevin Murphy's Blonde Angel Wash delivers salon-vibrant tones without the brassiness. The sulfate-free formula with violet pigments neutralizes warmth while optical brighteners boost blonde tones.
Its moisturizing care cleanses hair while keeping color looking cool, bright, and fresh.
4. Paul Mitchell Shampoo Two
With its sulfate-free formula, Paul Mitchell's Shampoo Two will give your locks hydrated softness. Soothe and nourish all hair gently. Marula and babassu oils hydrate, while murumuru butter softens. Cleanses without stripping natural oils. Ideal for dry, damaged, curly, and coily hair.
| Benefits | Key Ingredients |
| --- | --- |
| Gently cleanses | Murumuru butter |
| Hydrates and softens | Babassu oil |
| Improves manageability | Marula oil |
| Safe for color-treated hair | Essential oils |
| Moisturizing care | |
Gentle hydration and nourishment for all hair types. Paul Mitchell's sulfate-free Shampoo Two brings out hair's natural softness and shine with essential fatty acids and butters. Its vegan, cruelty-free formula cleanses while providing moisture for touchable, manageable locks.
5. Yes to Blueberries Healthy Hair Repair Shampoo
You'll revive those damaged tresses with yummy blueberry extracts in Yes to Blueberries' affordable, cruelty-free formula. Strengthen your locks with this drugstore find. The sulfate-free shampoo nourishes hair of all types with coconut power strong and ninety-six percent natural ingredients.
Frequently Asked Questions (FAQs)
Are cruelty free shampoos as effective as regular shampoos?
You bet, cruelty-free shampoos work just as well! Brands formulate them using safe, vegan ingredients that cleanse hair gently yet effectively. With so many options now, you can find top-notch shampoos minus the animal testing.
How do I know which shampoo brands are truly cruelty free?
Check cruelty-free certifications like Leaping Bunny or PETA. Contact brands to ask if they test on animals or use animal ingredients. Support companies committed to ethical, compassionate practices. With research and action, you wield the power to choose compassion.
Do cruelty free shampoos work for all hair types including curly, colored, and damaged hair?
You bet – cruelty-free shampoos can free your curls, color, and damaged hair from harsh ingredients like a bird released from its cage. They meet all needs with plant-powered cleansers that nourish while lifting away buildup.
Where can I find cruelty free shampoos in physical stores?
Where can you buy cruelty-free shampoo in stores? Have you checked popular retailers like Walgreens, Whole Foods, Target, and Ulta? They offer quality shampoo bars without animal testing from ethical brands.
Do salons offer cruelty free shampoo and conditioner options?
Absolutely! Many stylists champion cruelty-free brands; simply ask your salon which shampoos and conditioners they offer. You'll likely find Aveda, Davines, Matrix, Ouidad, or R+Co – all fabulous options to give your hair a fresh start ethically.
Conclusion
I hope this comprehensive overview of the best cruelty-free shampoo options for every hair concern has opened your eyes to the expansive, high-performing possibilities outside of animal testing. Why continue harming innocent creatures when there are so many greener, cleaner formulas that nourish your hair just as well, if not better? With vegan innovations and conscientious companies continuing to push the market forward, you need not sacrifice quality or ethics.
So go ahead, make the compassionate switch to cruelty-free shampoo. Your hair and conscience will thank you.