This site is supported by our readers. We may earn a commission, at no cost to you, if you purchase through links.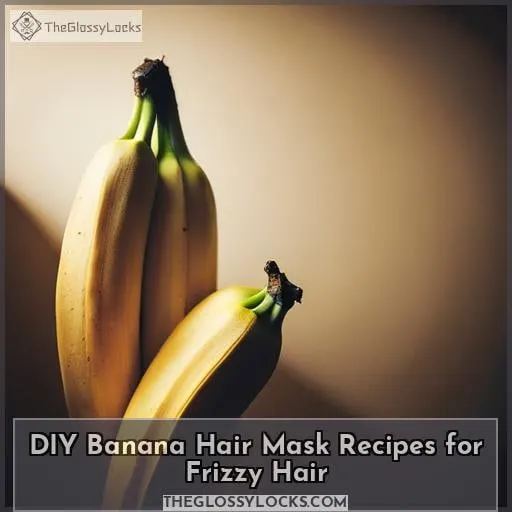 You're probably already aware of the many benefits that bananas have to offer. But did you know they can also be used to help combat frizzy hair? Rich in silica and other essential ingredients, a banana hair mask is an effective way to get rid of pesky flyaways and restore your locks back to their natural shine.
Whether it's mixed with honey, olive oil, or coconut milk, there are plenty of DIY recipes out there designed specifically for those suffering from dry, unmanageable strands.
Key Takeaways
Bananas contain silica and essential ingredients for combating frizzy hair.
DIY banana hair masks reduce frizz, add shine, and restore nutrients.
Different combinations of ingredients like honey, milk, yogurt, avocado, coconut milk, olive oil, argan oil, and aloe vera can enhance the benefits of banana hair masks.
Regular use of DIY banana hair masks can improve the texture and shine of hair.
Banana Hair Mask for Frizzy Hair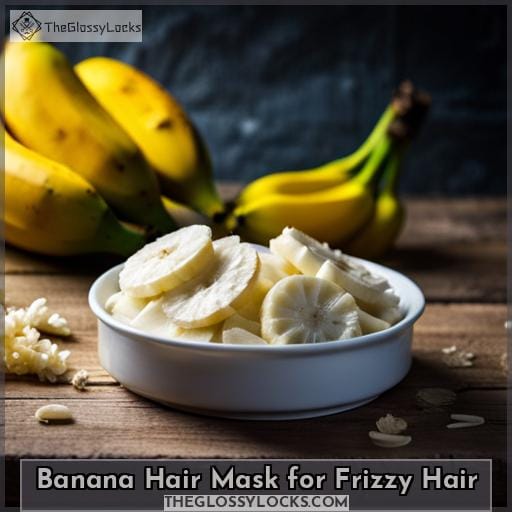 Give your frizzy hair the nourishment it needs with a DIY banana mask! Anushka Sharma's beauty regimen emphasizes simplicity and effectiveness, and her homemade hair masks are no exception. Bananas are rich in vitamins, minerals, zinc, and silica – all of which can help combat frizz while strengthening your tresses.
To get started on this natural haircare recipe, you'll need one ripe banana mashed up into a smooth paste. Apply it to wet or damp locks from roots to tips, then leave it for 30 minutes before rinsing off with shampoo.
For added benefits, add other ingredients like honey or curd – they're great for dandruff too – but remember not to overdo the treatments. Once or twice per week is enough for healthy-looking locks without further damage.
Try out Anushka's DIY recipes today; you won't regret giving yourself an at-home spa day!
Banana and Milk Mask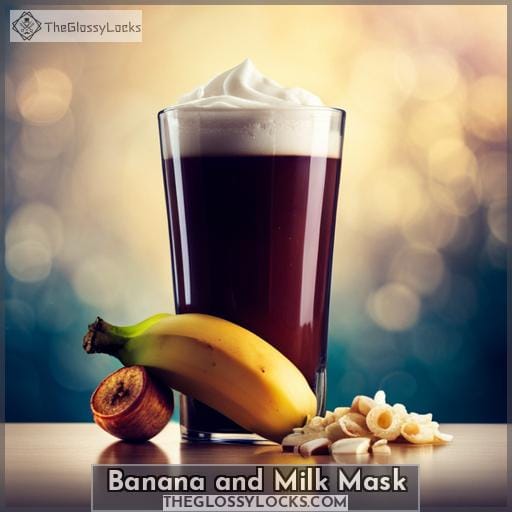 If you're looking for a DIY banana hair mask to tame frizzy, unruly hair, Anushka Sharma's Banana and Milk Mask might be just the ticket. This simple combination of mashed banana and milk creates an easy-to-apply paste with a milky consistency that coats strands from root to tip.
As it dries on your locks, its antioxidant properties help reduce frizz while restoring essential nutrients like magnesium, potassium, and silica, which promote healthy hair growth.
Not only is this recipe great for controlling unwanted flyaways, but it also helps keep moisture locked in so you can enjoy smoother tresses without sacrificing shine or softness either.
Banana and Yogurt Mask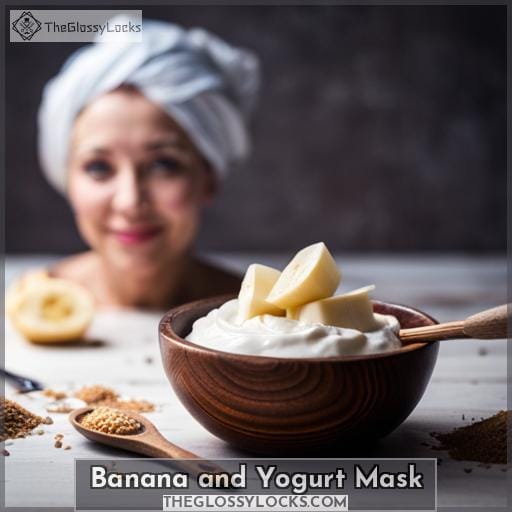 Tame your frizzy hair with a nourishing banana and yogurt mask! This DIY hair care treatment is packed with essential nutrients, vitamins, and minerals that can help reduce the appearance of split ends and add shine to dull locks while providing hydration.
Yogurt benefits are numerous for the scalp. It contains lactic acid, which helps balance pH levels on dry scalps and combats dandruff. For best results, apply this homemade mask by gently massaging it into wet hair, starting from root to tip.
The combination of bananas and yogurt provides maximum hydration, leaving you feeling refreshed after each use.
Banana and Honey Mask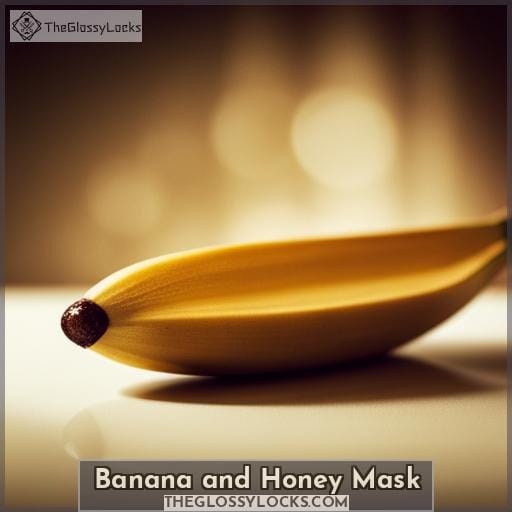 Combine honey and banana for a nourishing hair mask that will reduce frizz while conditioning your tresses. Honey is an excellent source of antioxidants, vitamin B, and enzymes, which are great for scalp health.
The combination of honey and banana helps to keep the scalp hydrated and adds shine to your strands. It also protects the hair from damage caused by styling products or heat-styling tools.
This mask can be used twice a week, depending on how dry or damaged your hair is. To make this easy DIY remedy at home, all you need is one ripe mashed banana mixed with two tablespoons of organic raw honey until it forms a paste-like consistency.
Apply the mixture liberally throughout damp, clean hair from roots down, working in circular motions with fingertips to ensure even coverage. After 10 minutes, wash out the mask using lukewarm water first, followed by cold water for best results.
Not only does this simple yet effective treatment help tame unruly locks, but it also adds volume, leaving you feeling refreshed!
Banana and Avocado Mask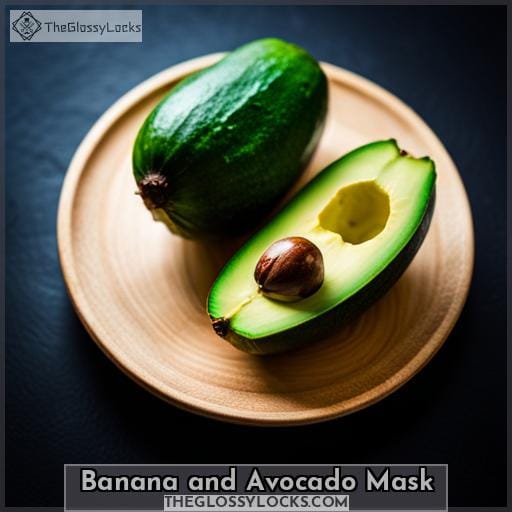 Transform your hair with a nourishing banana and avocado mask for soft, manageable locks. Both of these natural ingredients boast several benefits that can be harnessed to improve the health of your hair.
Avocado is packed full of vitamins A, D, E, and B6, which are all essential in providing moisture while strengthening strands at the same time. Bananas are rich in zinc and silica, which both help strengthen cuticles to reduce frizziness.
DIY variations on this classic combination include adding honey or coconut milk for even more moisturizing properties – perfect if you're looking for an easy remedy against dryness or unmanageable flyaways!
When using any kind of homemade banana mask, it's important not to overdo it as too much could lead to greasy roots. Aim instead for once or twice a week usage depending on how often you shampoo your hair.
With proper precautions taken, you'll soon notice improved hydration levels throughout each strand with noticeably softer texture overall – plus no more annoying frizziness either!
Banana and Coconut Milk Mask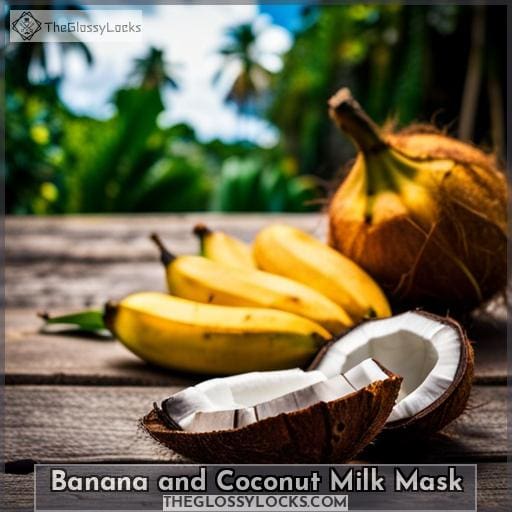 Ready to try out Anushka Sharma's go-to hair mask? If you're looking for a nourishing, DIY solution for frizzy and unruly hair, then the banana and coconut milk conditioner might be just what you need.
Coconut milk is packed with vitamins and minerals that can help boost your hair's natural shine while moisturizing it from root to tip.
To make this recipe at home, blend one ripe banana with half a cup of coconut milk.
This mask will not only condition but also add volume, making sure each strand looks smooth without any trace of flyaways or split ends.
Banana and Olive Oil Mask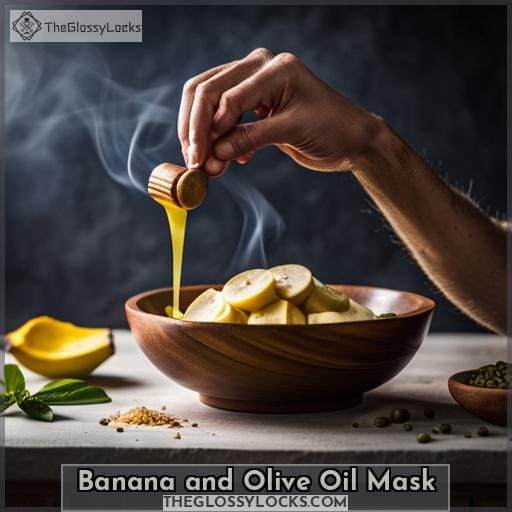 Mix a ripe banana with olive oil to nourish your hair and reduce frizz, leaving it soft and glossy. Olive oil is an excellent conditioning agent that helps lock in moisture, protecting the hair from becoming dry or brittle.
It can also help control frizz while increasing shine and elasticity for longer-lasting styles.
With added benefits like antioxidants, vitamins A & E, plus minerals such as magnesium & potassium, this DIY banana mask will leave your locks looking luscious! Use this natural remedy once or twice a week for best results.
To make the mask, mix together half of mashed bananas with 2 tablespoons of extra virgin olive oil until you get a smooth paste.
Anushka Sharma swears by her homemade masks, so why not try out this simple yet effective recipe today? You'll be sure to see results in no time – happy styling!
Banana and Argan Oil Mask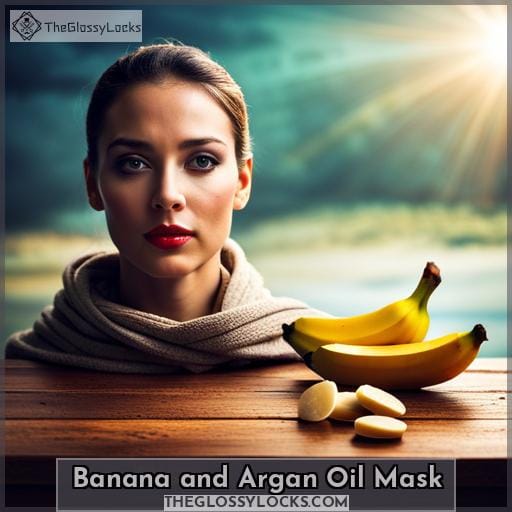 Try this hydrating and nourishing banana and argan oil mask for your frizzy hair to help impart shine and smoothness. Argan oil is packed with beneficial nutrients that can improve the look of dull, dry hair.
It's also rich in Vitamin E, which helps protect the scalp from free radicals while providing long-lasting moisture. The omega-9 fatty acids give it an extra boost of hydration as well as offering anti-frizz benefits.
Argan Oil Benefits: Rich in vitamin E & Omega 9 fatty acids for deep moisturization
Frizz Control: Helps control flyaways & tame unruly curls
Hair Mask Variations: Mix with other ingredients like honey or avocado for maximum effect
DIY Haircare Trends: Try incorporating natural products into your haircare routine
Celebrity Beauty Secrets: Anushka Sharma's secret weapon against frizzy hair!
Banana adds a dose of brightness to this mask due to its high levels of potassium, magnesium, zinc, iron plus vitamins A, B6, C, D, and folic acid.
So go ahead and try out this easy recipe at home today–you won't regret it!
Banana and Aloe Vera Mask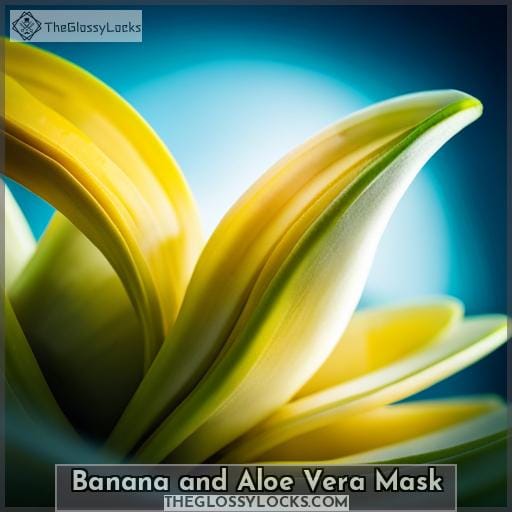 If you're looking for a hair mask to combat frizz and add some shine, try combining bananas with aloe vera! Aloe vera contains many beneficial components such as vitamins A, C, E, and B-complex, which help to hydrate the scalp.
Its anti-inflammatory properties can also reduce redness caused by dry skin. This combination of banana and aloe vera not only provides deep moisture but also helps control dandruff due to its antimicrobial activity.
To make this mask at home, simply blend together one ripe banana with two tablespoons of fresh aloe vera gel until it forms a smooth paste.
Enjoy the nourishing benefits that this simple DIY recipe has in store for your locks while reaping all the natural goodness from these two ingredients combined into one amazing concoction perfect for taming any unruly mane!
Supercharged Banana Hair Mask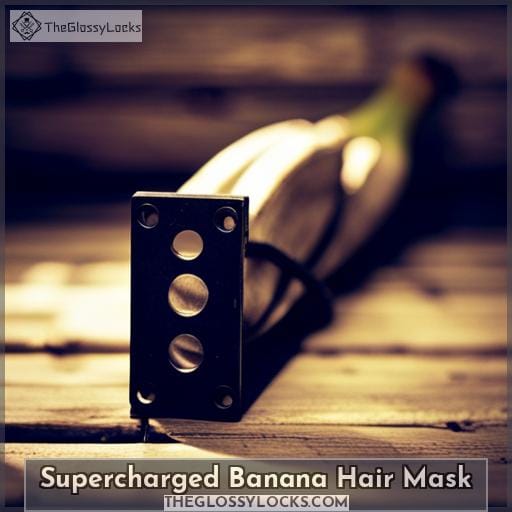 Create a supercharged banana hair mask for frizzy locks with the help of some nourishing kitchen pantry ingredients! This nutrient-rich treatment combines bananas, honey, and egg to improve texture, thickness, and shine.
Bananas are a natural source of silicon, which strengthens hair cuticles. They also have antimicrobial properties that fight dry scalp and dandruff. Honey is great for restoring moisture to damaged strands, while eggs provide protein that helps promote growth.
For those looking for an extra boost in their haircare routine, add avocado or coconut milk into your mixture as well.
With these variations, you can tailor your own DIY beauty hack based on what works best with your hair type! Celebrity-approved haircare rituals like Anushka Sharma's homemade masks offer simple solutions when it comes to achieving healthier locks.
Conclusion
Well, there you have it! DIY banana hair masks can be just the thing to get your frizzy hair back to looking healthy and shiny. From the banana and milk mask to the supercharged banana hair mask, there are plenty of recipes to choose from.
Bananas are a great source of vitamins, minerals, zinc, and silica, all of which can help improve the texture, thickness, and shine of your hair.