This site is supported by our readers. We may earn a commission, at no cost to you, if you purchase through links.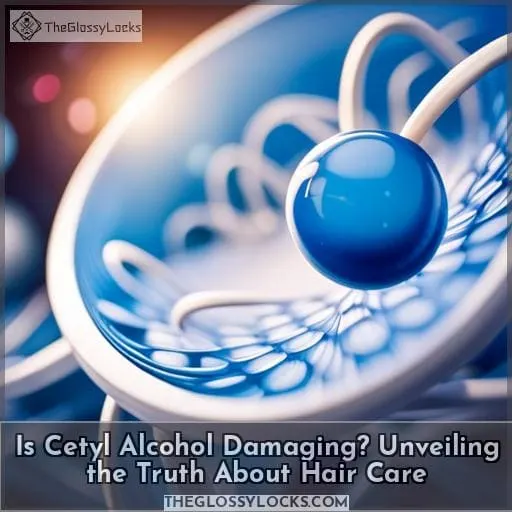 Do you ever wonder if the ingredients in your hair care products could be damaging to your locks? One of these commonly used compounds is cetearyl alcohol, and with so much conflicting information out there, it can be hard to know what's true.
While some may say that this type of alcohol is bad for your hair, others claim that it's actually beneficial. To help you make an informed decision about using cetearyl alcohol on your mane, let's take a closer look at its properties and how they affect our strands.
Cetearyl alcohol has been designed specifically as a conditioner for skin and hair due to its ability to provide moisture while also improving texture without causing drying or irritation like other types of alcohol can do.
Additionally, because cetearyl only contains 12 carbons per molecule compared to regular ethanol which holds 2 carbons per molecule, this makes all the difference when considering their effects on our scalp health too!
Key Takeaways
Cetyl alcohol is derived from natural sources like palm or coconut oil.
Cetyl alcohol moisturizes and conditions the hair, reducing frizz and breakage.
Cetyl alcohol traps water, enhancing hair hydration and softness.
Cetyl alcohol strengthens the hair against damage from styling.
Common Misconceptions About Cetyl Alcohol in Hair Products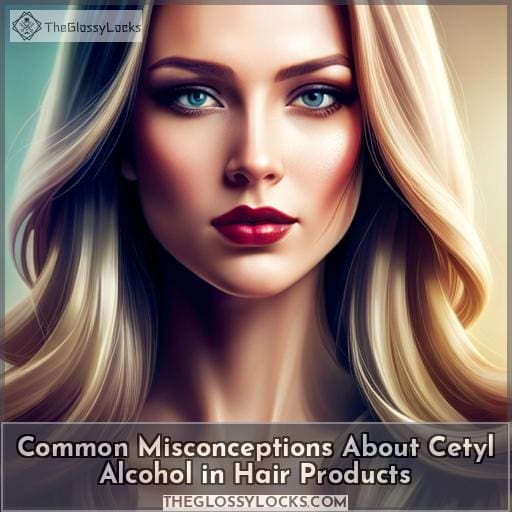 Despite popular misconceptions, cetyl alcohol is a beneficial ingredient for your hair. In fact, it's found in up to 95% of all haircare products. Cetyl alcohol has multiple benefits, such as moisturizing and conditioning the hair.
Unlike other types of alcohols like ethanol or denatured alcohol, which can be damaging, cetyl alcohol is derived from natural sources like palm oil or coconut oil.
Furthermore, when compared with other bad alcohols commonly used in haircare products, such as SD Alcohol 40-B (a type of drying agent), you'll find that using cetearyl instead will give you much better results without any potential damage caused by harsh ingredients.
So don't let common misconceptions about cetyl alcohol deter you from incorporating this helpful ingredient into your everyday routine.
How Cetyl Alcohol Helps to Moisturize and Condition Hair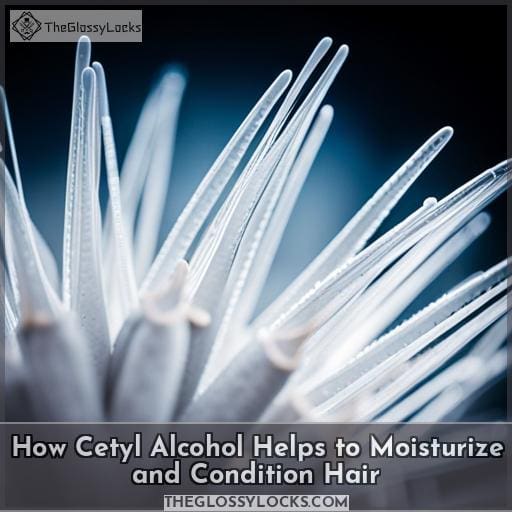 You'll be glad to know that cetyl alcohol helps keep your hair moisturized and conditioned. It's a beneficial fatty alcohol, derived from natural sources like palm or coconut oil, which acts as an emulsifier and stabilizer while penetrating the hair shaft to retain moisture.
Cetyl Alcohol Benefits include:
Hair hydration thanks to its water trapping ability
Improved conditioning effects
Enhanced overall hair health due to improved softness
Increased moisture retention in the scalp area
It is also one of the good alcohols for hair since it doesn't dry out strands like short chain types such as Alcohol Denat can do.
As part of a proper haircare routine with regular use of shampoo and conditioner specifically formulated for your type, cetyl alcohol provides lasting protection against frizziness by helping improve manageability while keeping locks softer longer.
The Role of Cetyl Alcohol in Enhancing Hair Texture and Manageability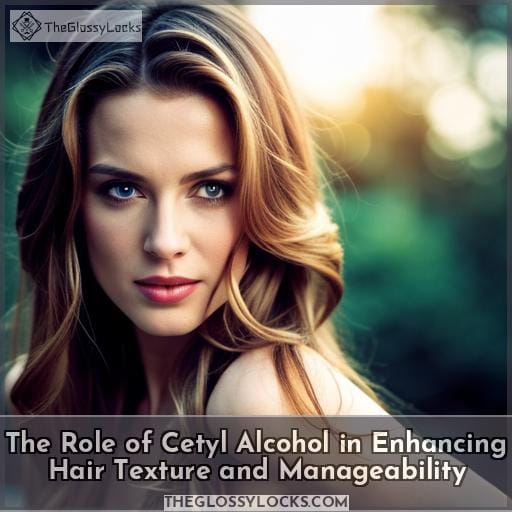 By using cetyl alcohol, you can improve the texture and manageability of your hair while locking in moisture. Cetearyl alcohol is a mixture of fatty alcohols known as cetyl and stearyl that are found in many hair care products.
This ingredient helps to trap water molecules within the strands, providing hydration for improved styling benefits like frizz control and increased smoothness. It also supports detangling, reducing breakage from harshly combing or brushing wet, tangled hair.
Hair treated with this natural ingredient is stronger against damage caused by everyday stresses such as blow drying or over-styling with heated tools.
Using products containing cetearyl alcohol will help keep your locks looking healthy without sacrificing any style!
The Difference Between Cetyl Alcohol and Other Alcohols in Hair Products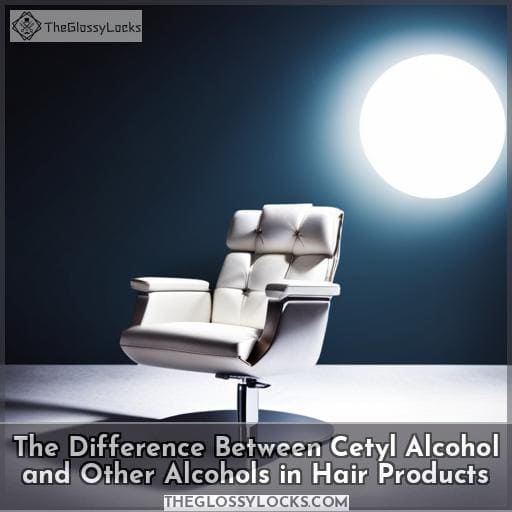 Discover the difference between cetyl alcohol and other alcohols in hair products that can determine how healthy your locks look and feel. Cetyl Alcohol is an emulsifier, derived from natural sources like palm or coconut oil, which helps to trap water molecules for a moisturizing effect.
Long chain fatty alcohols are beneficial for damaged hair prone to frizz, but short-chain ones such as Alcohol Denat should be avoided as they are drying. They can harm curly or color-treated hair when used in large amounts found in certain shampoos and conditioners or styling products like gels and sprays.
Haircare ingredients must be carefully chosen – incorporating cetearyl alcohol into your routine may offer better results than relying solely on moisture stripping agents of any kind! From healthier strands with more manageability to improved texture overall; understanding the benefits of these different types of alcoholic compounds will help you make informed decisions when it comes to choosing the best haircare options available.
Conclusion
You have probably heard of cetyl alcohol before, but do you really know what it is and what it does to your hair? Despite common misconceptions, cetyl alcohol is actually beneficial for your hair. It helps to moisturize and condition the hair, enhance texture and manageability, and is even safer than other types of alcohols included in hair products.