This site is supported by our readers. We may earn a commission, at no cost to you, if you purchase through links.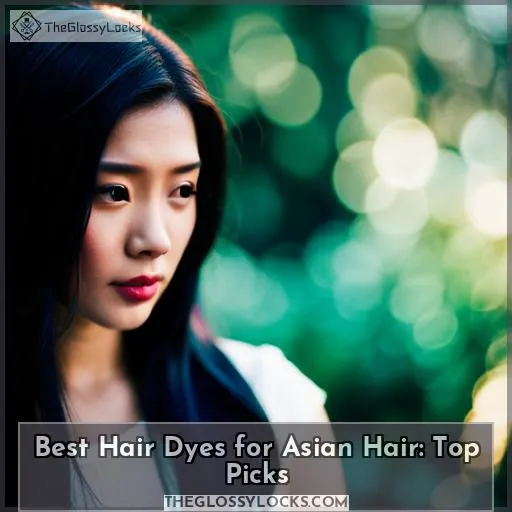 Paint your hair with the right colors, and you'll unlock a world of possibilities. When it comes to Asian hair, finding the perfect hair color can be tricky. But don't worry; we've rounded up our top picks for the best hair dyes for Asian Hair.
These professional products will give your locks an intense color that lasts longer than other brands out there.
Whether you're looking for dark navy or lightest brown shades, these hair dyes will ensure your tresses are vibrant and healthy-looking.
Key Takeaways
Dariya Salon Hair Color, Kao Liese Bubble Hair Dye, Mise en Scene Hair Color, and Revlon Total Color are some of the top hair dyes for Asian hair.
Factors to consider when choosing a hair dye for Asian hair include the influence of eye color, desired gray coverage, an ammonia-free formula, and ingredient considerations.
Tips for applying hair dye on Asian hair include preparation, sectioning, application, and rinsing and conditioning.
When removing hair dye from Asian hair, lemon juice and clarifying shampoos can be used, and professional help may be sought if needed.
7 Best Hair Dyes for Asian Hair
Are you searching for the best hair dyes for Asian hair? From Dariya Salon Hair Color Lightest Brown to Bigen One Push Lightest Brown 2 Pack, this guide covers a variety of products specifically designed to nourish and protect dark-colored Asian tresses.
With these top picks in your arsenal, you'll be able to create vibrant looks that last while keeping your scalp safe from harsh chemicals.
1. Dariya Salon Hair Color Lightest Brown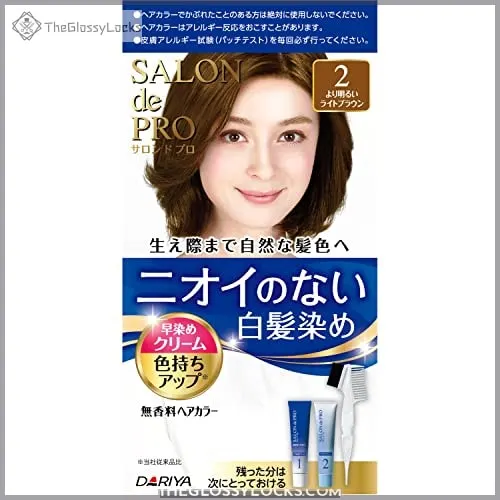 View On Amazon
With its odorless, hassle-free formula and affordable price, Dariya Salon Hair Color Lightest Brown is the perfect choice for covering gray hair quickly and easily. This no-drip cream can be used multiple times on just the roots to save time on those in-between dyeing moments.
It's infused with natural ingredients – Silk Protein for elasticity and strength, Royal Jelly extract for moisture retention, Natural Olive Oil to add shine, and Botanical Protein to protect your tresses from damage – making every use a nourishing experience you can rely on.
Despite its impressive quality of cover, however, some users have reported scalp discomfort when touched by the product directly, while others found that it faded relatively quickly after application, leading them back into regular touch-up sessions more frequently than desired.
Odorless & suitable for quick at-home coloring
Good coverage of gray hair
Affordable price
Easy to use with minimal color unevenness
Color fades relatively quickly
2. Kao Liese Bubble Hair Dye Dark Navy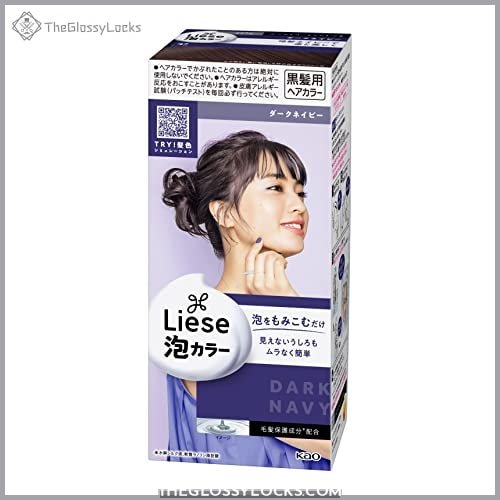 View On Amazon
Kao Liese Bubble Hair Dye Dark Navy provides a dark navy color to your tresses with its easy-to-use foam format, adding shine and lasting several months. It is perfect for those looking for a convenient touch-up solution as no pre-bleaching is required.
The product has a pleasant scent after application, which adds an extra boost of confidence.
Customers who have tried it report that its coverage of gray hair cannot be matched by other products on the market. However, some users did experience a burning sensation in their scalp during application.
It is important to note that not everyone experienced this issue or felt exacerbated discomfort from it as time went on.
Easy to use foam format
Pleasant smell after application
No pre-bleaching necessary
Burning sensation reported in some scalps
Results may vary based on individual hair types & colors
3. Mise en Scene Hair Color Ash Olive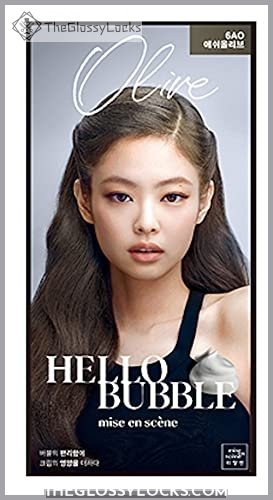 View On Amazon
Try Mise en Scene's Ash Olive Foam Color for an easy, effortless hair coloring experience that will leave you with beautiful results in just one hour! This 3.35 ounce package is all it takes to give yourself the salon-quality color and shine you desire at home.
The gentle formula of this dye contains no pre-bleaching or harsh chemicals, making it suitable even for sensitive scalps. Enjoy a pleasant smell during application and afterwards as your hair reveals its new hue with added luster from the Botanical Enriched Conditioning Gloss included in each package.
Achieve natural looking tones without spending money on expensive salons by using Mise en Scene Hair Color Ash Olive!
Easy to use at home
No pre-bleaching required
Pleasant scent during and after application
Vegan formula free of harsh chemicals
Includes botanical enriched conditioning gloss for extra shine
Results may vary depending on individual hair types and colors
Not long lasting; some users have reported color fading quickly
Could cause damage if not used properly
4. Revlon Total Color Darkest Brown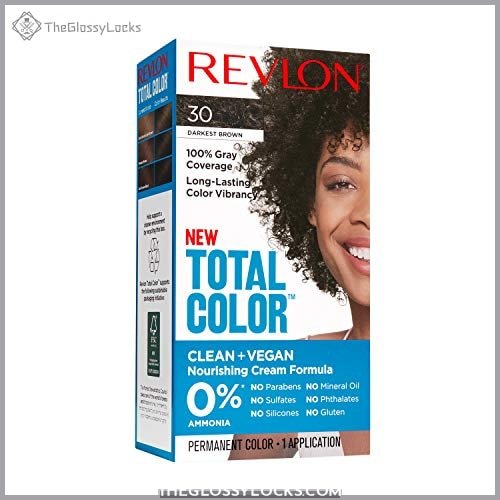 View On Amazon
Revlon Total Color Darkest Brown is the perfect choice for those wanting a clean, vegan hair dye that will provide rich color coverage and last up to 6 weeks while also nourishing the scalp. This permanent, at-home hair dye kit comes with 16 botanical-enriched shades and an accompanying Botanical Enriched Conditioning Gloss containing shade-specific ingredients.
Its unique REVLON Color Surround Technology penetrates deep into each strand of your hair to provide maximum gray coverage and leave you with ultra-moisturized locks and less breakage.
Reviewers have praised this product's availability and easy application with a non-drip formula, without any allergic reactions or itching sensations on the scalp.
Some users did face difficulties in understanding the instructions included in the kits, but overall, Revlon Total Color Darkest Brown has offered great results when it comes to providing good color consistency along with amazing vibrancy, even for darker shades like dark browns or black colors.
Clean vegan formula free of harsh chemicals
Provides 100% gray coverage lasting up to 6 weeks
Infused Hemp Seed Oil provides additional nourishment
Non-drip formula makes application convenient
Pleasant scent & natural-looking tones
Instructions can be confusing at times
Colors may not match what appears on the package
May cause a burning sensation on some scalps
5. Rishiri Kombu Dark Brown Hair Treatment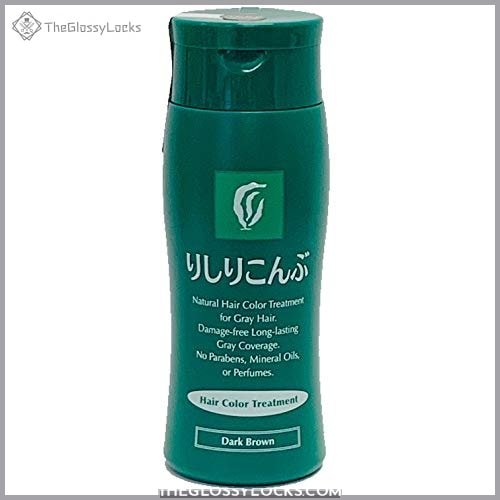 View On Amazon
Rishiri Kombu Dark Brown Hair Treatment offers a chemical-free, natural solution to cover gray hair without damage. This product contains minerals and iodine for healthful benefits on the scalp, while fucoidan balances both skin and scalp conditions.
It was voted #1 in Japan for Best Hair Color and Manicure Product in 2011 and 2012. With each application, it gradually colors your hair without any pain or burning sensations. The liquid texture of the product ensures a mess-free experience, although some users have complained about staining due to its dark color.
One user warned against ending up with green hair if the directions are not followed properly. It is important to carefully follow the instructions to avoid any undesired results. Although the container may become deformed, it does not affect the quality of the product itself.
Natural extracts provide nourishing effects on the scalp and hair.
The chemical-free formula prevents irritation and allergies.
The gradual coloring process causes minimal damage over time.
Some users have reported longevity issues and needed frequent reapplication.
There have been complaints about the risk of staining due to the thick texture.
One user had difficulties using the product as they received a green version.
There is a lack of clear instructions, which could lead to undesired results.
6. Daeng Gi Meo Ri Hair Color Black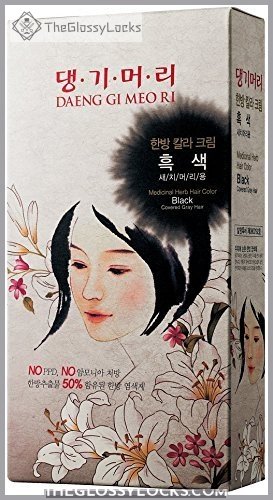 View On Amazon
Experience the natural way of dyeing your hair with Daeng Gi Meo Ri Hair Color Black—a product that promises to reduce itch and irritation, nourish damaged hair, and provide long-lasting color. Formulated without ammonia or PPD (paraphenylenediamine)—which is known to cause allergies—this organic cream-based product contains directly decocted medicinal herb extracts such as ginseng, cnidium officinale, and mugwort for improved scalp conditions.
It also features keratin for extra protection of damaged strands while giving off a pleasant smell after application.
For those looking for a quick touch-up solution without having to worry about any chemical additives causing damage or discomfort on their scalps, they will appreciate this easy 20-30 minute process using Bigen One Push Lightest Brown 2 Pack.
It provides excellent coverage on grey hairs in no time at all! The included pump ensures mess-free application, while the comb applicator allows precision even when dealing with short straight locks, making it great both in convenience and ease of use.
The results are soft, lustrous locks full of shine from its added moisturizing substances PCA (Natural Moisturizing Factor), which helps maintain moisture levels throughout washes. This gentle yet effective formula makes sure you don't have to deal with any post-dye irritations like a burning sensation, nor do you have to fear the adverse effects caused by chemical dyes due to its naturally derived ingredients.
Provides better color coverage compared to other products.
Reduces scalp itch or irritation during and after application.
No foul odor due to Ammonia prescription.
Minimizes irritation caused by hair dyeing – No PPD addition.
Contains Keratin to protect damaged hair.
7. Bigen One Push Lightest Brown 2 Pack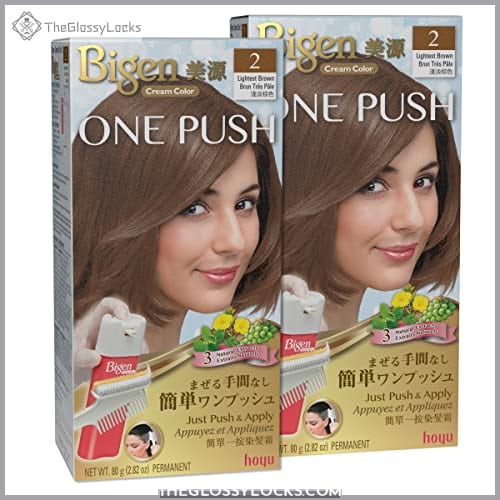 View On Amazon
If you're looking for a quick and easy way to touch up your color, Bigen One Push Lightest Brown 2 Pack is the perfect solution! This innovative product features two creams in one bottle, so there's no need for pre-mixing or a bowl.
The included comb applicator makes it ideal for short, straight hair. Plus, it provides excellent gray coverage that lasts a long time with minimal effort. Cleanup and storage are made simple thanks to the pump that comes with this package.
Quick to dispense two creams together without pre-mixing or bowl requirements
Easy application via comb applicator – great for short hair
Excellent long-lasting gray coverage
Save & store unused solutions easily
Some experienced fading after a few washes
Comb applicator may be better only suitable for short, straight hair
Not recommended if you have lots of gray hairs
How to Select the Right Hair Dye for Asian Hair?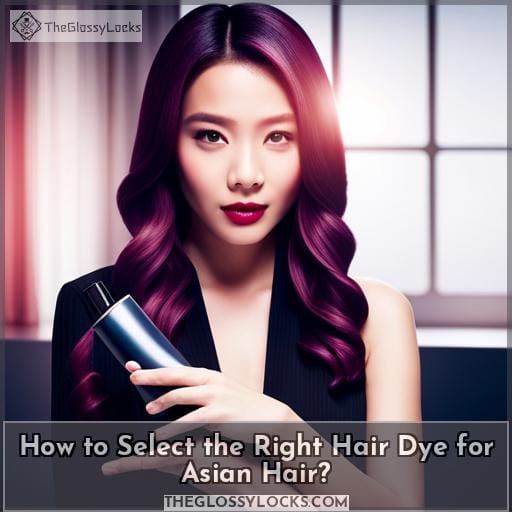 When it comes to selecting the right hair dye for Asian hair, there are several factors to consider. Ingredients like hemp oil and humectants such as propylene glycol can provide nourishment and hydration while also helping to protect your scalp from irritation or damage.
Eye color is an important factor too; hazel and brown eyes suit golden blonde, brown, and burgundy shades best. Furthermore, the longevity of coverage should be taken into account when choosing a product – look for formulas that offer 100% coverage lasting 6-8 weeks with proper care.
Hair dye ingredients
When selecting a hair dye for Asian hair, it's important to consider the ingredients included. This will ensure that you get a product that is both effective and gentle on your scalp. Look for natural options, such as hemp oil, as well as humectants like propylene glycol and other nourishing extracts.
Avoid products that contain harsh chemicals or ammonia, as these can cause irritation or damage to sensitive scalps. If possible, consider hypoallergenic dyes that are specifically formulated for Asian hair texture and color needs.
These dyes are typically non-drip formulas with added nutrients, offering long-lasting results without compromising safety or comfort of use.
Eye color considerations
Consider your eye color before you take the plunge and dye your hair, as hues like golden blond, brown, and burgundy can really give it a pop.
For those with hazel or brown eyes, try warm shades of gold-blond that will enhance their natural coloring.
If you have dark eyes, use darker tones like deep mahogany or chestnut to create contrast.
To maintain vibrant color for longer, opt for products offering 100% coverage lasting 6-8 weeks with proper care.
With all these DIY coloring tips in mind, explore the latest trends from top brands such as L'Oreal Paris Feria Shimmering Permanent Hair Color and Etude House Hot Style Bubble Hair Coloring to find something perfect just right for you!
Longevity and coverage
Look for long-lasting dyes that provide 100% coverage to ensure vibrant color. Research products with natural ingredients like hemp oil and humectants such as propylene glycol for color maintenance and haircare routines.
Consider your style preferences – do you need gray coverage or prefer bold colors? The latest trends offer plenty of options, from sleek bobs to balayage ombres. Always check product labels for ammonia-free, non-drip formulas that offer post-dye conditioning.
How to Apply Hair Dye on Asian Hair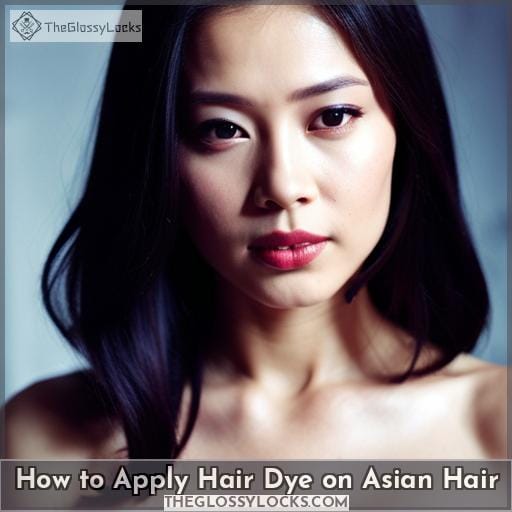 Applying hair dye on Asian hair is easy with the right products and techniques. To get the best results, you should consider factors like ingredients, eye color, longevity, toxin-free options, and ease of use when choosing a suitable product.
Start by prepping your hair for dyeing: wash it thoroughly beforehand to avoid any residue buildup that could affect the outcome of your coloring session. Then do a strand test if necessary before mixing any dyes together. This will give you an idea of how long to leave in each product and help prevent overprocessing or damaging your strands during application time.
Follow this step-by-step guide for perfect locks:
Divide sections.
Apply color from roots to tips.
Cover the scalp with gloves or plastic sheeting.
Comb through evenly using a brush or comb.
Rinse until the water runs clear.
Condition after rinsing.
Complete the post-care routine, including deep conditioning treatments weekly.
With natural ingredients such as hemp oil and humectants like propylene glycol providing hydration and nourishment, DIY at-home Asian haircare is possible! Use ammonia-free formulas that are gentler on sensitive scalps while still delivering vivid hues without harsh chemicals.
How to Remove Hair Dye From Asian Hair – Step-By-Step Guide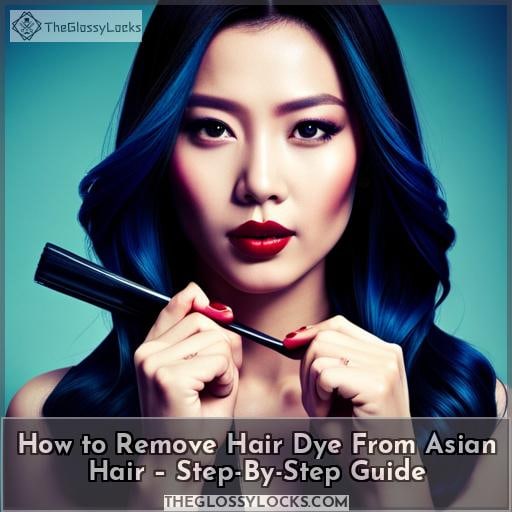 Removing hair dye from Asian hair can be a tricky process, but with the right tools and technique, you'll have salon-worthy results in no time. For natural remedies, lemon juice is an effective approach to gently lighten dyed strands.
Or try DIY solutions like clarifying shampoos or color fading products for quicker results.
If all else fails, seek professional help such as a strong power shampoo for deep cleansing of unwanted hues. However, this method may require multiple treatments to achieve the desired outcome while avoiding common mistakes like overusing bleach or ammonia-based products that could cause damage to your locks.
Whatever route you choose, take extra caution when removing excess hair dyes from Asian tresses due to its delicate texture and unique composition!
Why Trust ?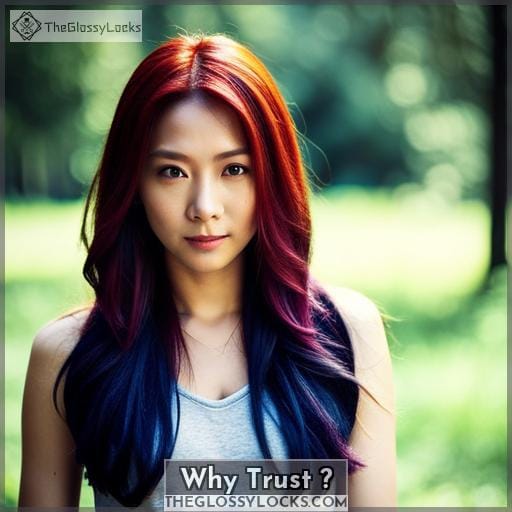 If you're looking for a hair dye that works on Asian hair, it's important to trust products with high ratings from people who know the difference – and over 80% of customers have given Bigen One Push Lightest Brown 2 Pack five stars.
Before choosing a product, look out for expert recommendations from experienced professionals in the field as well as reviews by users. These will provide insight into how effective each product is for different types of Asian hair texture.
Additionally, ingredient analysis can be beneficial in understanding how compatible certain colors are with your desired results. When applying any type of dye to your locks, make sure to follow application tips found online or provided by customer service teams and consult professional stylists if needed before committing fully to one particular brand or color range.
With all this information at hand plus unbiased reviews about various brands and their performance levels when it comes specifically to Asian tresses, selecting the right hairspray should be simple!
Conclusion
With more than half of the world's population being of Asian descent, it's important to be aware of the unique characteristics of Asian hair and the best hair dyes for it. The right hair dye for Asian hair should contain natural ingredients like hemp oil and humectants, be ammonia-free, and provide 100% coverage and lasting results.
Our top picks for hair dyes for Asian hair include:
Dariya Salon Hair Color Lightest Brown
Kao Liese Bubble Hair Dye Dark Navy
Mise en Scene Hair Color Ash Olive
Revlon Total Color Darkest Brown
By considering factors such as eye color and the longevity of the product, you can find the perfect hair dye for Asian hair that gives you the desired results.