This site is supported by our readers. We may earn a commission, at no cost to you, if you purchase through links.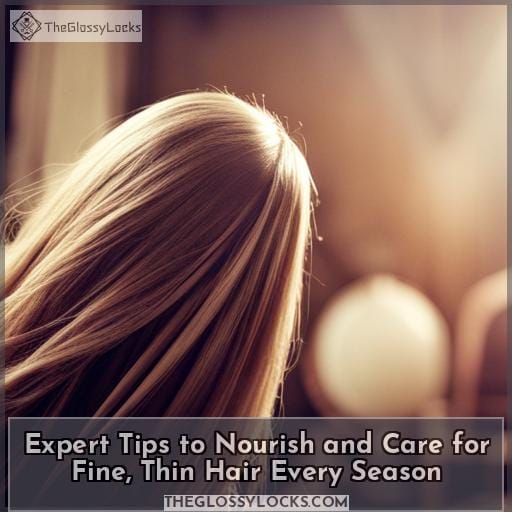 First, go easy on the shampoo. Overwashing strips hair's natural oils, so aim to shampoo every other day.
When you do lather up, use a volumizing shampoo. These formulas gently cleanse while adding body.
Clarify weekly too – this removes buildup that weighs hair down.
Beyond shampooing smarts, I've got specific product recommendations that transform limp locks into lustrous manes.
Together we'll get your fine hair healthier and fuller – I can't wait to see your gorgeous transformation!
Key Takeaways
Limit shampooing to every other day and use volumizing shampoos to add body.
Use dry shampoo to soak up excess oil and boost volume.
Gently handle fine hair and restrict heat styling to prevent damage.
Pamper your scalp with massages and deep conditioning treatments.
What is Fine Hair?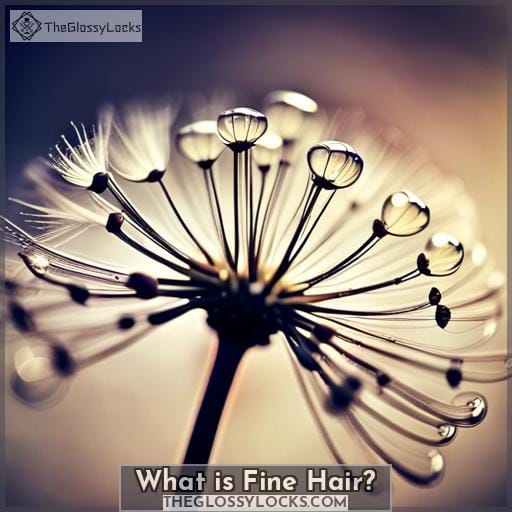 To identify your hair's sleek silkiness, perform a hair texture test and differentiate the shiny strands from thinning types. Grab a single strand between your fingers. Fine hair feels smooth and thin. Unlike thinning hair, fine hair density remains full but each strand is delicate.
Examine it in the light. Fine hair appears shiny and soft because the cuticle lies flat.
Now feel your hair's density. Those with fine and dense hair lack volume due to the thin diameter of each strand.
Though fine hair is low maintenance, it tangles. To prevent knots, handle gently.
Finally, embrace the benefits. Fine hair holds a style and is low maintenance with the right products. Flaunt the natural movement with soft layers and texture boosting sprays. Your hair's silkiness is an asset, not a curse.
Identifying Your Hair Type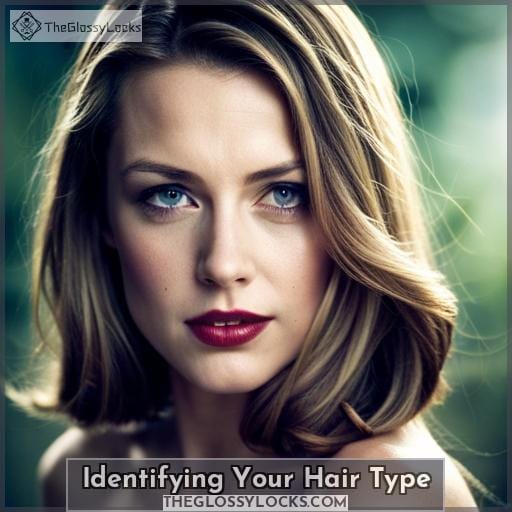 You need to properly identify your hair type to care for your fine hair. Start by performing a simple hair texture test. Grab a strand of clean, product-free hair between your fingers. Fine hair feels silky smooth.
It won't feel coarse or rough like thick hair. Don't confuse fine hair with thin hair.
Examine how your hair falls and moves. Fine hair often appears flat at the roots yet silky and soft overall. It may lack volume and be prone to tangles. Notice how it reacts to moisture. Fine hair needs less conditioning to avoid falling limp.
Knowing your exact hair characteristics helps customize your care. With proper identification, you can choose products and techniques to enhance your fine hair.
Cleansing Fine Hair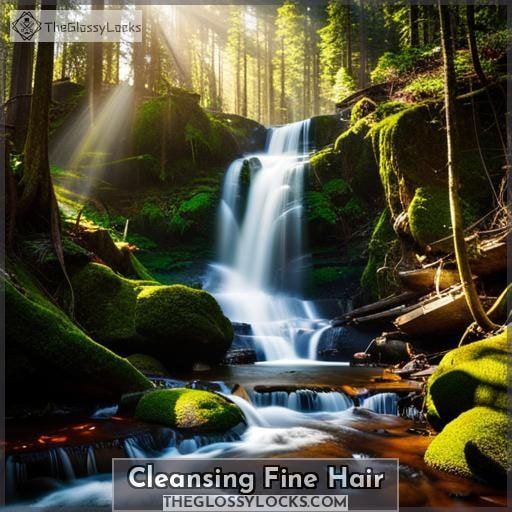 Dry shampoos are your fine hair's best friend. By absorbing excess oils, these volumizing shampoos can breathe life into limp locks without weighing them down like traditional shampoos.
Choosing the Right Shampoo
Since fine hair can get limp fast, choose a volumizing shampoo that lifts roots without weighing your strands down.
Apply shampoo to roots only to prevent product buildup on lengths.
Look for shampoos with volumizing ingredients like rice starch, sea salt, and panthenol.
Alternate shampooing with a clarifying shampoo to remove buildup.
Opt for sulfate-free formulas to avoid stripping hair's natural oils.
As your hairstylist, I always recommend a volumizing shampoo for my fine-haired clients. Focus the lather at the roots to boost body and bounce without overburdening delicate strands.
Conditioner Cautions
Alertness with conditioner helps curb flat and lifeless hair when you have fine locks. Conditioner is a balancing act for fine-haired beauties. Too much weighs down your strands, causing a limp, lackluster look.
However, skipping conditioner entirely can leave hair dry and brittle over time. When shopping, seek lightweight formulas targeted to fine hair. Apply just to your mid-lengths and ends, avoiding the roots.
This prevents buildup that drags your hair down. Alternatively, use a cleansing conditioner to gently hydrate with minimal residue. Monitor hair's needs, adjusting frequency and amount to prevent greasiness while combating dryness.
Aim for conditioned locks with movement, not flattened, lifeless hair. With care in conditioner selection and application, your fine hair can look healthy, soft and touchably soft.
Drying and Styling Tips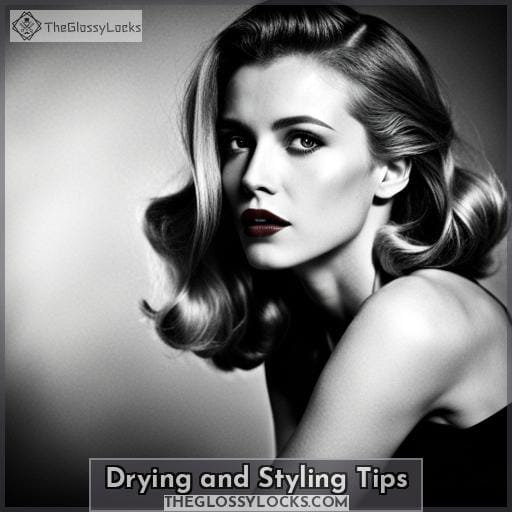 Looking to add more body to fine hair? Limit using hot tools like blow dryers, curling irons, and straighteners to prevent damage. Instead, air dry and scrunch hair with your hands for texture. Blow drying upside down and backcombing at the roots will give fine hair a boost, while sleeping on a silk pillowcase reduces tangles and breakage.
Limit Heat Styling
Only blow-dry fine hair occasionally, as overusing heat tools can cause major damage. It's best to let your hair air dry most of the time, at least until it's 75% dry, then style with heat protection spray.
For heat-free styling, try twist outs, braids, rollers, or flexi-rods overnight to get beautiful curls and waves. If you must use a blowdryer or curling iron, always apply a heat protectant first, use the lowest heat setting, and avoid brushing wet hair to minimize breakage.
Limit heat tools to special occasions, and opt for no-heat hairstyles like updos, headbands, and clips on most days to keep your fine hair looking healthy.
Volume-Boosting Techniques
Blow dry hair upside down using a round brush. The roots will get lots of lift this way.
Backcomb hair at the crown gently. This teases the roots for instant volume.
Use volumizing mousse when hair is still wet. Scrunching upwards creates va-va-voom volume.
Prioritize volumizing products over heavy oils. Experiment with different blow drying angles, haircut styles, and styling techniques until you find the magic combo that pumps up those fine locks.
Best Haircuts for Fine Hair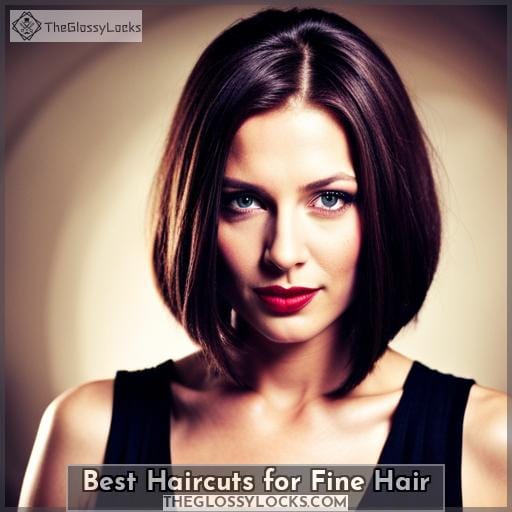 You need to carefully consider soft, subtle layers and shorter styles when choosing haircuts for your fine hair. The right cut can make all the difference in maximizing the texture and movement of fine locks.
Soft, face-framing layers are ideal for taking some of the weight out of fine hair and encouraging natural volume. Ask your stylist for long layers that start below the chin and cascade down – this'll remove bulk while maintaining length and flow.
Consider a chin or shoulder-length bob for built-in body and bounce. The stacked back and angled shape is perfect for pumping up fine hair's natural texture. For an easy-care style, go for a lob (long bob) with long layers. This chic cut lets you boost volume with waves and curls or wear straight for sleek flattery.
The key is communicating clearly with your stylist about the challenges of fine hair.
Maintaining and Nourishing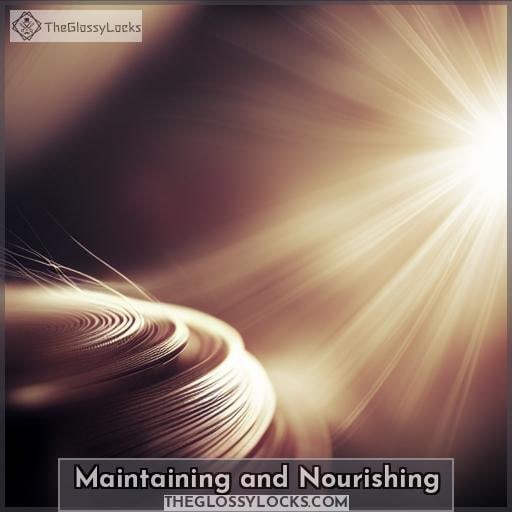 Good day to you! Looking to maintain your fine hair and keep it nourished? Preventing split ends through regular trims is key, as is keeping your scalp healthy with ingredients like minoxidil to combat thinning.
Avoid over-brushing and style with care to keep your fine hair looking its best.
Split End Prevention
Those feathery layers and airy bangs surely liven up your locks, but they're so fragile, girlfriend.
Stay on top of trimming tips, use leave-in treatments, and sleep on silk – you've worked hard for that sassy style, so baby those tresses.
Make split end prevention part of your hair health regimen with smart styling techniques and moisturizing methods.
Fine hair is delicate, so be gentle and keep up with dietary considerations for strength.
A little TLC keeps your thin hair happy – show it some love so you can rock those layers fabulously, darling!
Scalp Health
Nurture your scalp to keep fine hair lush. Gentle scalp massages promote blood flow to nourish hair follicles. Use your fingertips to massage in small circles before shampooing. Avoid over-washing as this strips oils and irritates the scalp.
Limit washing to 2-3 times per week, using a gentle shampoo. After washing, blot hair with a towel and allow it to air dry as much as possible before styling. This prevents damage to the delicate strands. Establish healthy scalp habits to prevent dryness, irritation, and dandruff.
Common Concerns and Solutions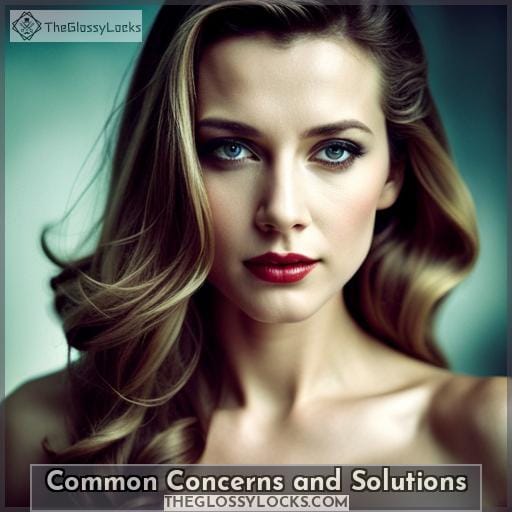 Essential oils deeply condition fine hair without weighing it down. For limp, flat hair lacking body and bounce, whip up a pre-shampoo oil treatment. Mix two tablespoons of olive, coconut or argan oil with five drops each of rosemary and peppermint essential oils.
Massage into your scalp and hair, put on a shower cap and let sit for 30 minutes before shampooing as normal. The hydrating oils'll help strengthen strands while the rosemary stimulates circulation for a healthy scalp and peppermint provides a cooling, tingly sensation.
For fine hair prone to tangles and knots, make a leave-in detangling spray. To a spray bottle, add 1/4 cup coconut oil, 1/4 cup aloe vera gel, 10 drops rosemary essential oil and 2 tablespoons honey. Shake well before misting through clean, damp hair from midshaft to ends. The slippery honey and oils'll help detangle strands while the rosemary purifies.
Let air dry for smooth, tangle-free hair. With the right homemade treatments utilizing natural oils and extracts, you can enjoy strong, voluminous, beautiful fine hair.
Embracing Your Hair Texture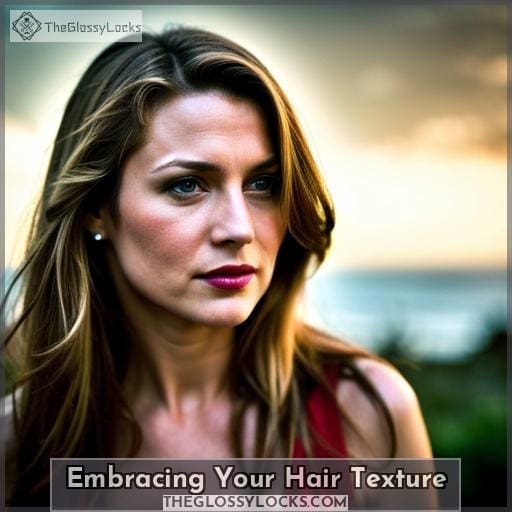 Rejoice in your fine hair's texture by embracing its unique qualities. Your hair type is special and learning to style it with confidence can be an enlightening experience.
Invest in quality styling tools like a wide tooth comb and heat protectant. These'll prevent damage during styling.
Experiment with soft layers and face-framing pieces to accentuate your hair's natural movement. Ask your stylist to cut long or short layers that remove bulk but maintain movement.
Don't be afraid to try volumizing products like dry shampoo. Applying it lightly at the roots can refresh your hair and add texture without weighing it down.
The key is finding the right products and techniques for your hair type. Approach styling as an opportunity to highlight your fine hair's beauty. Don't fight your texture – work with it. Getting your hair to look its best is about embracing its natural properties.
Your hair is unique and learning what works for its texture can turn styling into a confidence-boosting experience.
Conclusion
Struggling with lifeless, flat hair? We understand—fine hair is delicate. But don't worry! With the right techniques, you can nourish those strands and achieve beautiful volume and fullness. Stick to mild cleansers, take extra care when brushing, and opt for hold over oil products.
Protect hair at night and focus on scalp health through diet and massage. Armed with these tips on caring for fine hair, you'll have lustrous locks in no time.