This site is supported by our readers. We may earn a commission, at no cost to you, if you purchase through links.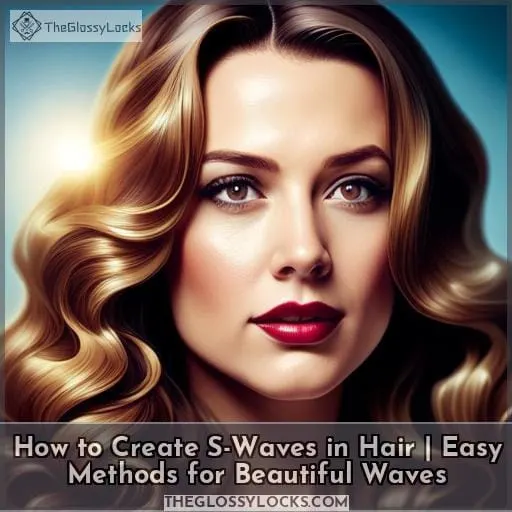 Are you looking for a way to spruce up your hair routine? If so, S-waves are the perfect option. These subtle yet sophisticated waves offer an effortless look that can be achieved in minutes. With just a few simple tools and techniques, you can create beautiful beachy waves without ever leaving the house! In this article, we'll discuss how to get those gorgeous S-waves using flat irons, curling wands, and more – as well as our top three hair products for creating them.
Key Takeaways
Use styling tools such as flat irons or curling wands, or try heatless methods.
Section the hair into one-inch layers for the desired S-wave shape.
Avoid clamping too tightly with heated devices to prevent damage.
Finish with products like oil serum or hairspray for shine and hold.
What Are S-Waves?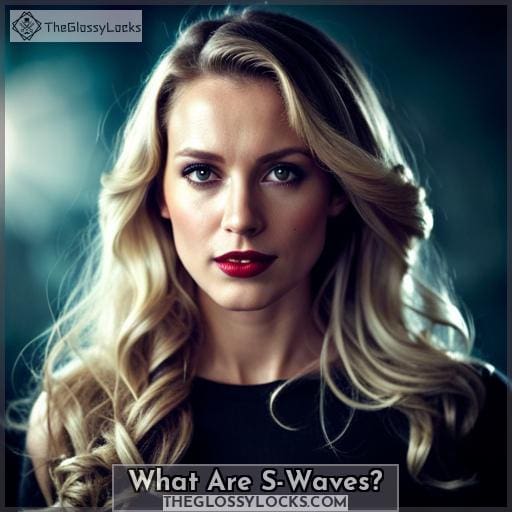 S-waves are a Hollywood-inspired wave style that gives your hair an undone yet glamorous look, just like Margot Robbie and Hailey Bieber's signature styles. The S shape of the waves creates a laid-back, beachy vibe that is perfect for everyday wear.
To achieve this look, start with clean, dry hair and apply heat protectant to protect from damage caused by styling tools, such as flat irons or three-barrel curling irons. Sectioning off one-inch layers will help create the 'belly' of each 's'. Depending on texture, use either straightening mousse for curly/wavy hair or blow-drying with a round brush for extra volume prior to styling with hot tools.
This helps maintain the desired shape without overusing heat tools, which can cause further damage to delicate strands.
The finishing product could be anything from an oil serum, giving added shine, to hairspray, adding hold, depending on personal preference.
With HerStyler Hair Serum Argan, you can get transformational shine while taming frizz, leaving soft, hydrated locks behind.
How to Create S-Waves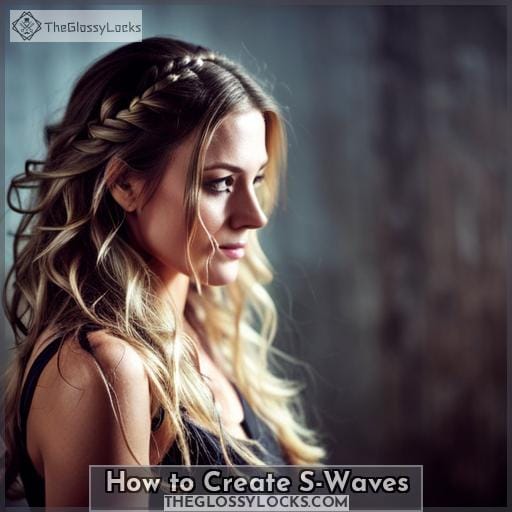 Creating show-stopping S waves in your hair has never been easier! With the right tools and techniques, you can achieve this trendy Hollywood-inspired style using a flat iron, curling wand, blow dryer, or even without heat.
Whether you choose to create soft, lived-in waves or more defined S-shaped bends for an undone look, there are various methods that will help you achieve the perfect wave every time.
Using a Flat Iron
You can achieve fabulous, frizz-free S-waves with a flat iron by sectioning hair and creating half-inch pieces for the 'belly' of each shape. Start with straight hair or use mousse to tame curls/wavy locks, then apply heat protectant before using the flat iron on a low heat setting.
For extra shine, add oil after styling and set your look with hairspray! Other essentials include:
Wide tooth comb
Heat protector
Hair serum
For celebrity inspiration, take cues from Margot Robbie or Hailey Bieber's effortless S waves! Finally, don't forget to use a heat-resistant product like HSI Professional Argan Oil Heat Protector for long-lasting results.
Using a Curling Wand
To get the perfect S-waves, try using a curling wand to make large sections of your hair look effortless and natural. Before styling, apply heat protectants and use a wide-tooth comb for detangling.
Once dry, section off one to two-inch pieces and wrap them around the wand for voluminous curls that last all day long.
Avoid overusing heat as this can damage your locks. Instead, opt for an overnight method such as braiding or twisting into mini buns if you're looking to go heatless!
With these curling wand tips in mind, you'll be able to achieve beautiful S-wave styles without any mistakes!
Using a Blow Dryer
Using a blow dryer, you can achieve soft, lived-in S-waves in just minutes. Divide hair into sections based on thickness and use low heat to create an S shape with the flat iron.
When finished, apply serum to loosen waves and add shine or texturizing spray if needed.
To achieve effortless S-wave variations, experiment with different methods. Try curling wand techniques, styling without heat, and blow drying tips until you find what works best for your hair type!
Heatless Waves
For heatless waves, try sleeping in braids or mini buns to get a no-heat option with plenty of volume and bounce. Hair rollers, like heated tools, can help create flat wave patterns that are easy to style and manage the next day.
To part your hair for these heatless methods, start by separating it into two sections at the crown of your head. Then, create four quadrants within each half before you begin rolling or braiding.
Overnight methods offer an effortless way to achieve beautiful s-shaped curls without exposing hair to damaging temperatures from styling tools—just make sure you use enough hairspray when finished!
With so many options available for achieving heat-free curls without compromising on results, there's no reason not to experiment with different techniques until you find what works best for you!
Overnight Methods
Try out overnight methods for creating S-waves in your hair, and you'll be amazed at how effortless they look – like a dream!
Get creative with heatless techniques such as braid waves, bun waves, or sleeping in styles.
Make sure to wash your hair beforehand and use products designed for achieving S-waves, such as a three-barrel iron or texturizing spray.
Find what works best through trial and error – soon enough, you'll have beautiful S-shaped curls that last all day long!
Top 3 Hair Products for Creating S-Waves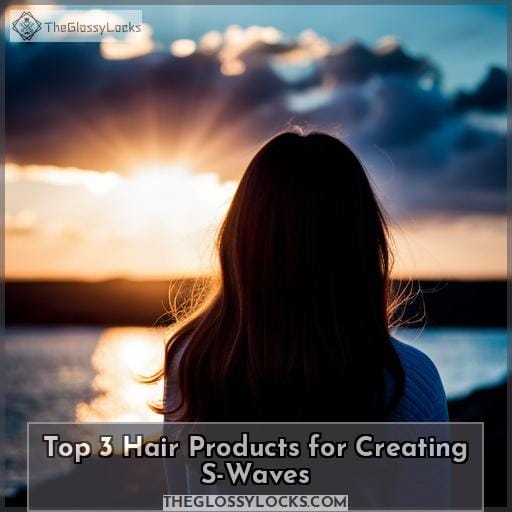 Smoothly glide the Paul Mitchell ProTools Express Xlarge Brush through your locks to get those glossy S-shaped waves.
To achieve the perfect s-wave style without damaging your hair, use products that are infused with argan oil and other nourishing ingredients.
HSI Professional Argan Oil Heat Protector is a lightweight mist designed to protect hair from heat exposure up to 450º F and doubles as a leave-in conditioner for smooth, hydrated strands.
HerStyler Hair Serum Argan contains aloe and argan oil extracts which reduce frizz, tame hair, reduce split ends while locking in moisture with Vitamin E – all in one non-greasy formula!
For added hold on fine hairspray try using texturizing spray for defined waves or opt for more natural methods like curling wand techniques or overnight braiding/twisting buns.
Celebrity hairstyles featuring S Waves have been spotted everywhere lately so why not jump on board this trend? Just remember: Protect locks before styling with heat resistant products then finish off look with hairspray & serum!
Conclusion
Creating S-waves is a great way to give your hair an effortless, Hollywood-inspired look. From using a flat iron and curling wand to heatless and overnight methods, you can achieve beautiful S-shaped waves in no time! With the help of the right products, such as HSI Professional Argan Oil Heat Protector, HerStyler Hair Serum Argan, and Paul Mitchell ProTools Express Xlarge Brush, you're sure to get the perfect waves.