This site is supported by our readers. We may earn a commission, at no cost to you, if you purchase through links.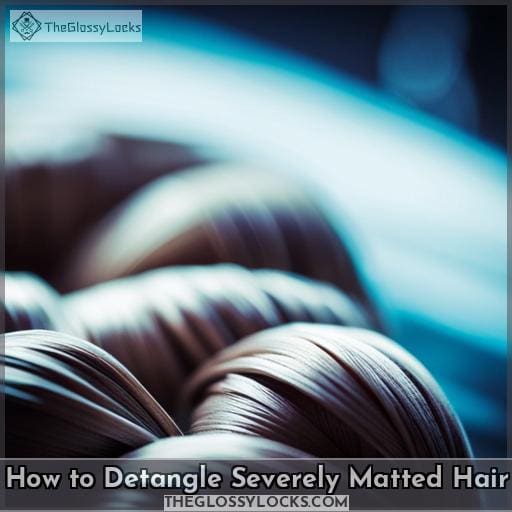 Knots and tangles, oh my! Many of us can relate to the struggle that is dealing with matted hair. This troublesome situation may seem impossible to detangle without a pair of scissors, but fear not – it's possible to restore your locks back to their natural glory with some patience and proper tools.
But before you attempt this delicate process, take note: if you have severely matted hair, then cutting should be your absolute last resort.
Key Takeaways
Wet detangling with warm water and conditioner is recommended for severe matting.
Use fingers or a wide-tooth comb to gently work through knots, starting at the ends.
Divide the hair into smaller sections and use a wide-tooth comb or brush with flexible bristles.
Be patient, take breaks, and rinse with cold water to remove products.
Wet Detangling: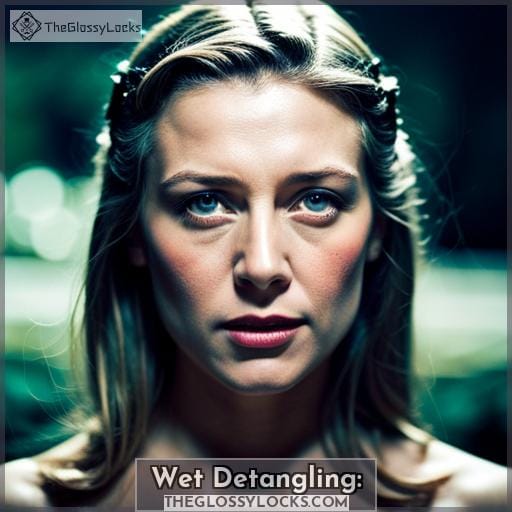 To prevent damage, you should wet your hair and apply conditioner or oil to help loosen the knots before attempting to comb out any tangles. This will make detangling easier by reducing friction between hairs. Selecting a product that will nourish your hair while also providing moisture retention is key for preventing future tangling.
Depending on your hair texture, length, and thickness, try different techniques such as finger-combing or using a wide-tooth comb in sections from root to tip until most of the knots are gone. When dealing with severely matted strands, use caution as it can be difficult not to break them off when tugging too hard during the detangling process.
Instead, focus on gently thinning out these areas and then slowly work through each knot bit by bit until they're all untangled properly without causing additional stress or damage along the way.
Once done, rinse thoroughly followed up with leave-in conditioner for added protection against further matting.
Step 1: Start by Wetting Your Hair With Warm Water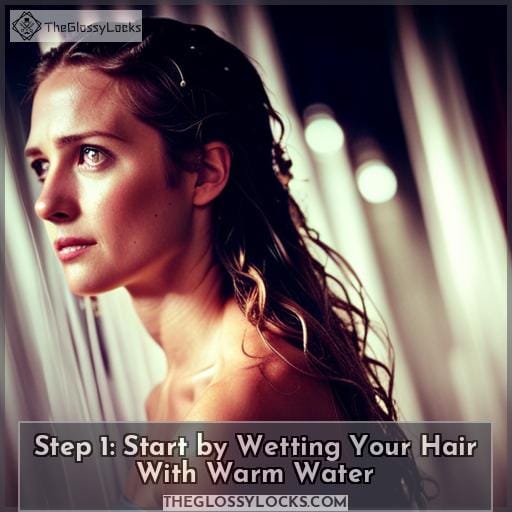 Taking the first step in detangling severely matted hair is to wet it with warm water. This helps to soften the knots and make them easier to take apart without causing too much breakage.
Furthermore, it's important that your hair be moist enough for conditioner application; this will help keep strands lubricated as you work on detangling. In addition, moisture plays an essential role in preventing tangles from forming while also ensuring that all of your products are properly absorbed into each strand of hair.
Lastly, having a few tools handy, such as wide-toothed combs or brushes, can go a long way in helping you successfully remove those stubborn mats from your head! By following these simple tips and techniques when dealing with matted locks, you'll have no problem getting back to beautiful, tangle-free curls in no time at all!
Step 2: Apply a Generous Amount of Conditioner or Detangling Spray to Your Hair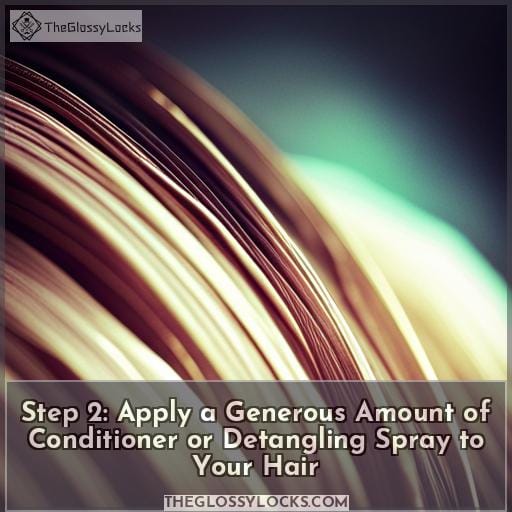 After wetting your hair with warm water, generously apply conditioner or detangling spray to help break down the knots. But how much is enough? The product selection and conditioning techniques you use are crucial when it comes to managing severely matted hair.
When applying a generous amount of conditioner or detangling spray, focus on working through smaller sections at a time and using the appropriate tools for each section. To increase effectiveness, make sure that your tangle-prone areas are adequately hydrated by leaving in some of the product before beginning any further steps.
Start by selecting either a wide-toothed comb or picking brush as these will be gentler than regular combs for getting rid of stubborn knots without pulling too hard on delicate strands.
Finish off with an extra dose of hydration if needed; then proceed onto styling as desired – all while keeping in mind that prevention is key when dealing with matted locks!
Step 3: Use Your Fingers or a Wide-tooth Comb to Gently Work Through Any Tangles, Starting From the Ends and Working Your Way Up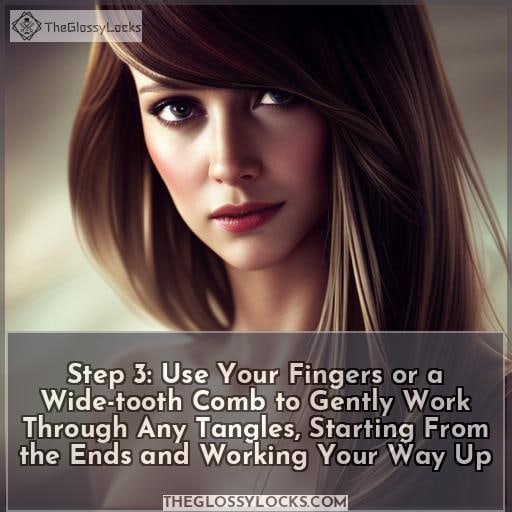 Gently use your fingers or a wide-tooth comb to work through any tangles, starting from the ends and slowly moving up. This step is essential for detangling severely matted hair without causing further damage.
Understand your hair texture so that you can select the right tools and techniques for detangling.
Utilize tangle prevention methods, such as using protective accessories like silk bonnets or pillowcases.
Hydrate regularly with conditioners, oils, and deep treatments.
Choose a wide tooth comb when tackling knots to avoid breakage. Fine combs should be reserved only after most of the tangles have been removed.
Lastly, remember that patience is key! Working too quickly will cause more damage than good, so take things slow until all knots are gone.
Step 4: Continue to Comb Through Your Hair Until All Tangles Are Removed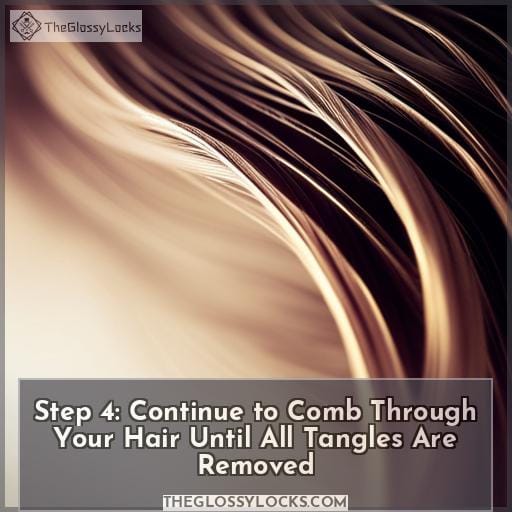 Continue to work through any remaining tangles with a wide-tooth comb, gradually moving from the ends of your hair up towards the root. Use a comb that won't easily snag or break hairs. Be patient and take extra care when dealing with severely matted hair.
Take it slow. A deep conditioner or oil can help soften strands for easier detangling. Make sure to choose products that are suitable for your specific hair type and texture. To prevent future matting, consider using accessories like silk bonnets at night.
Regular haircuts and trims are also important for damaged ends. Repeat this process until all knots have been completely removed. Take breaks if necessary. Finish off by using a fine-toothed brush or comb to style your dampened locks.
Step 5: Rinse Out the Conditioner or Detangling Spray From Your Hair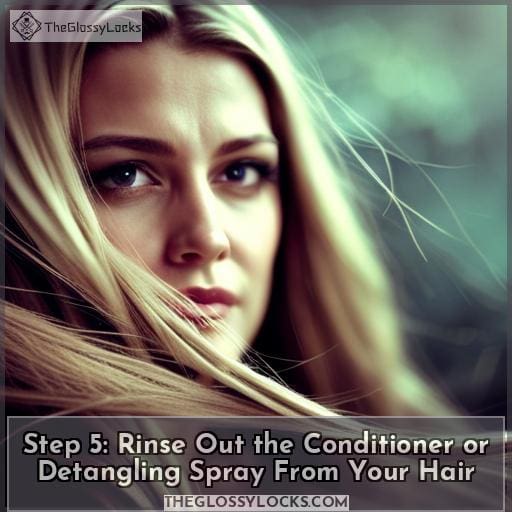 Once you have combed through your hair, it's important to rinse out the conditioner or detangling spray so that your strands can stay healthy and tangle-free. To do this properly, use conditioning techniques for maximum moisture management.
Ensure that all detangling products are fully rinsed from the scalp and hair strands. After washing, rinse with cold water to close cuticles. Lastly, incorporate these tips into a regular hair care routine.
Dry Detangling: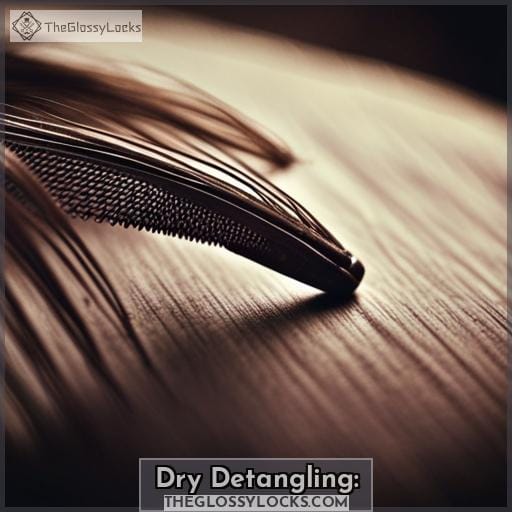 Once all the moisture is out of your hair, you can begin dry detangling. To make this process easier, try using a wide-tooth comb to start with and then move on to a smaller one for stubborn knots. An interesting statistic shows that over 70% of people who suffer from matted hair found it helpful in reducing tangles.
When doing so, focus on areas where there are multiple knots or mats and use gentle strokes with the comb instead of tugging at the strands too hard. Hair hydration plays an important role here too. If your locks are not well moisturized, they will become more prone to knotting up again after being untangled.
This is more than likely due to proper deep conditioning techniques not being used or applied consistently throughout your weekly haircare routine.
Once done, gently brush through each part starting from roots going down towards ends until all sections have been addressed thoroughly. This should do wonders when it comes time for preventing tangles while helping remove any existing ones during dry detangling sessions.
Step 1: Start With Dry Hair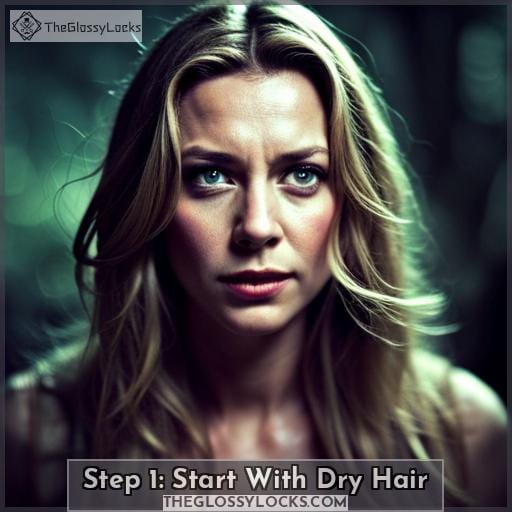 To begin detangling severely matted hair, start by running your fingers through your dry locks to loosen any small knots. This is the first step in dry detangling and can help prevent further matting or damage when using tools.
When selecting a tool for this process, look for one specifically designed for removing tangles from textured or curly hair, such as an afro pick comb. Make sure you have enough products on hand to keep the strands hydrated during this stage – think deep conditioners and leave-in treatments that will provide moisture while gently untangling without causing breakage.
Finally, it's important to be patient throughout the entire process. Pulling forcefully could cause even more harm than good! Take time between each section of mats. Use calming breaths if needed and work slowly until all sections are free of tangles before moving onto wet detangles with additional product application.
Step 2: Apply a Leave-in Conditioner or Detangling Spray to Your Hair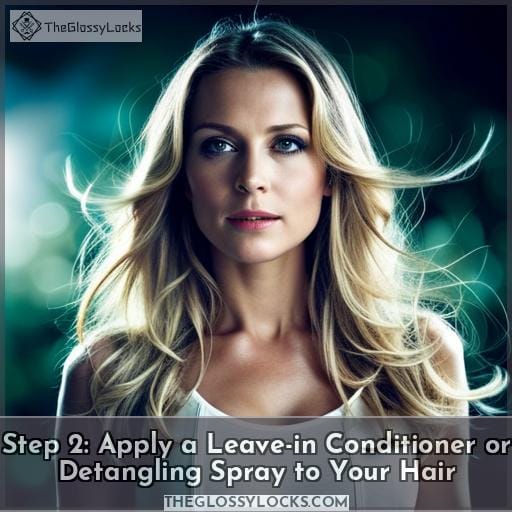 Spray your locks with a leave-in conditioner or detangling spray to start the process of restoring them to their former glory. Leave-in conditioners and sprays are great for hydrating strands while helping reduce breakage and matting during combing.
Choose a product that's pH balanced, sulfate-free, silicone-free, and alcohol-free.
Be mindful of how much you use.
Focus on areas where hair is severely matted first.
Spray evenly throughout the entire head so all hairs get treated equally.
Proper hydration helps prevent future tangles from forming, as well as split ends, which can lead to more serious matting over time if not taken care of correctly. Selecting quality products also ensures optimal health benefits for your tresses without any major damage due to harsh chemicals found in some formulas.
Step 3: Section Your Hair Into Smaller Sections to Make It Easier to Work Through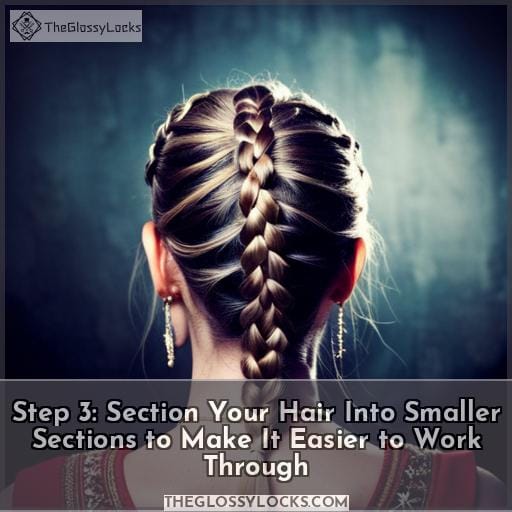 Divide your hair into smaller sections to make it easier to manage. Sectioning benefits include more targeted detangling, as well as improved hydration and styling practices that prevent matting.
Start by taking a small section on one side of the head from ear level down, then secure it with an elastic band or clip. To ensure even coverage of product, use this same technique for other parts of the head until all strands are divided into manageable pieces.
Now you have access to each individual strand, allowing you better control when detangling severely matted areas such as at the nape or sides where knots tend to form quickly due to sweat and friction against clothing or bedding.
Take your time when working through each section in order to achieve the best results possible.
Step 4: Use a Wide-tooth Comb or a Brush With Flexible Bristles to Gently Comb Through Each Section, Starting From the Ends and Working Your Way Up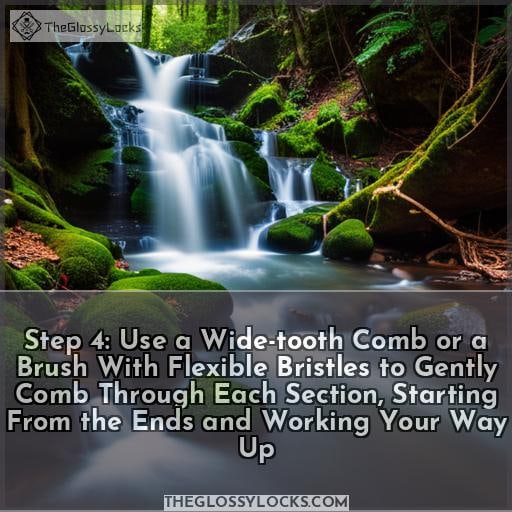 Starting from the bottom of each section, slowly use a wide-tooth comb or brush with flexible bristles to work through your hair in small sections like you're unraveling a tangled ball of yarn. Be gentle and patient as you detangle severely matted hair; it may take several attempts before all knots are removed.
Here are some tips for successful brushing:
Use a brush technique that works for your specific hair type. This may include using an extra-soft bristle brush if you have fine hairs or opting for boar bristles if yours is thicker and more coarse.
Invest in quality tools such as tangle prevention combs/brushes designed specifically to help tackle tangles without breaking strands.
Take time when brushing so that the process becomes easier over time. Start at the ends first, then gradually move up towards roots until all knots have been worked out gently but effectively.
Give yourself plenty of breaks between sessions too!
Following these steps will ensure maximum success when detangling severely matted hair while minimizing breakage and damage overall.
Step 5: Continue to Comb Through Your Hair Until All Tangles Are Removed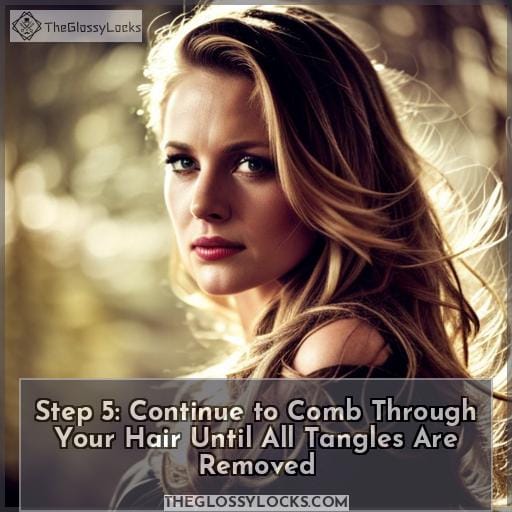 After you've used your fingers to carefully remove small knots, it's time to move onto a wider-toothed comb. When selecting a tool for detangling severely matted hair, opt for one with flexible bristles that are gentle on the scalp and won't snag or pull too much at the strands.
As you comb through each section of hair from ends to roots, use patience and practice deep conditioning by applying conditioner or oils as needed along the way. To prevent further damage while removing tangles, use isolated pieces of hair instead of tackling large mats all at once.
After continuing to slowly comb through your entire head until all tangles are removed, gently rinse out any remaining treatments left in your locks before styling as usual with protective hairstyles for nighttime maintenance.
Conclusion
Have you ever wondered how to detangle severely matted hair? Well, the process is time-consuming and difficult, but with the right tools and techniques, anyone can do it.
Wet detangling is the best way to go about it. Start by wetting your hair with warm water and then apply a generous amount of conditioner or detangling spray. This will make it easier to loosen the knots without causing too much damage to your hair.
Next, use your fingers to detangle the small knots first. Then, use a wide-toothed comb followed by a small-toothed comb for stubborn knots.
Finally, rinse your hair with cold water to seal the cuticles and promote shine. Finish by styling your hair in a protective hairstyle, such as braids or a bun, to prevent further tangling.
To prevent future matted hair, there are a few things you can do. First, use silk bonnets or pillowcases while sleeping to reduce friction and tangles. Second, avoid using harsh chemicals or excessive heat on your hair, as these can cause damage and tangling.
Third, limit the duration of protective styles, as leaving them in for too long can lead to matting. Fourth, make sure to detangle your hair during each wash to prevent knots from forming. Lastly, trim damaged ends regularly to keep your hair healthy and prevent tangles from spreading.
By following these steps, you can successfully detangle severely matted hair and keep it healthy and beautiful. Remember to be patient and gentle with your hair, as rushing or being too rough can cause more harm than good.