This site is supported by our readers. We may earn a commission, at no cost to you, if you purchase through links.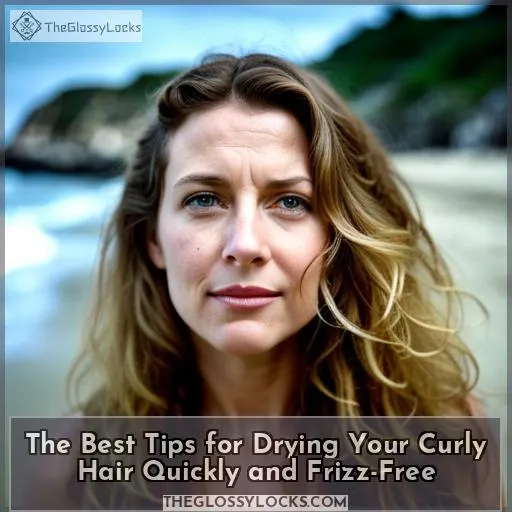 Have you ever wondered how to dry your curly hair quickly and frizz-free? You're not alone! Whether you have wavy, coily, or tightly curled hair, drying it correctly can help prevent damage and keep your curls looking bouncy.
While there are many ways to go about this process, one of the best methods is plopping. Hairstylist Leigh Hardges recommends this technique for type 2 and 3 curls as they have more challenges in retaining curl on the ends without adding additional frizz.
Read on for a step-by-step guide that will show you exactly how to use plopping, as well as other tips like product recommendations and parting techniques, so that you can achieve voluminous locks with minimal effort!
Air-Drying Curly Hair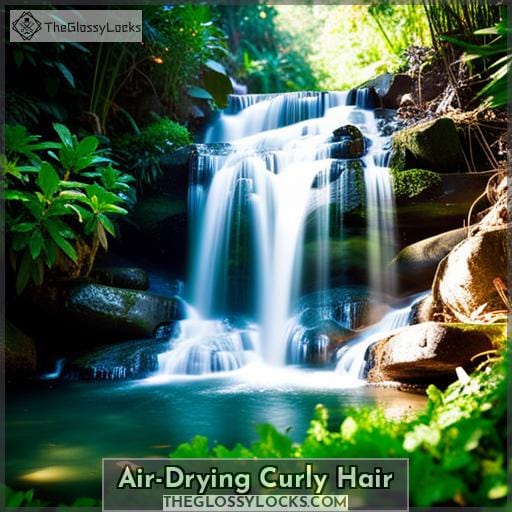 Drying your curls can take time, but the results are worth it. After shampooing, gently pat your hair with a microfiber towel and apply leave-in conditioners like those from Garnier Fructis before allowing your hair to completely air dry.
Patience is Key
You'll need to exercise patience after applying products if you want your curls to fully realize their natural form through air drying. Avoid touching hair and let those luxurious locks do their thing. Diffusing can speed things up, but true patience reaps the greatest frizz-free rewards.
Overnight, preserve your curls on a satin pillowcase. Come morning, gently shake your mane for gorgeous volume. With the proper care, your curls will sing. Patience is the key for healthy, bodacious curls.
Using Microfiber Towels
As a curly-headed community, we must abandon the hair-ruining terrycloth and convert to the moisture-locking microfibers that gently squeeze out excess water, cradling strands in a fuzzy embrace.
Microfiber towels efficiently absorb water from hair without roughness.
They reduce frizz and damage compared to terry towels.
The soft fibers are gentle on curls.
Microfiber towels speed up drying time.
Using microfiber towels promotes healthy, defined curls.

Avoid terrycloth towels and experience frizz-free, moisturized curls with microfiber hair towels.
Product Recommendations
Leaving your curls nourished lets them take shape on their own. Try a curl enhancing serum like Mizani Miracle 25 Leave-in Conditioner. Before blow drying, use a heat protectant to shield hair from damage. Rollers create a smoother look while drying.
Sleep on satin pillowcases to avoid frizz. Co-wash to cleanse while retaining moisture. Switch between moisturizing and protein conditioners. Remove excess water with a microfiber towel. Let your hair fully air dry for the best results. Avoid touching curls until they are completely dry.
Plopping Curly Hair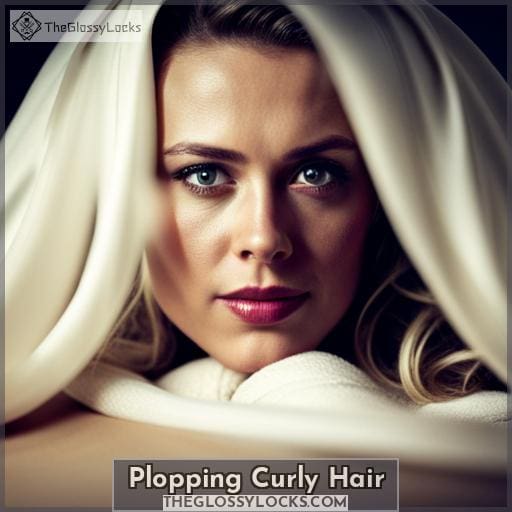 Deciding to plop your curls is the first step to enhancing your natural texture. Gently squeezing hair into a microfiber towel or old tee shirt helps reduce frizz and define those luscious locks, while cutting down on dry time.
So reach for your favorite styling products, like Mizani Miracle 25 Leave-In Conditioner, and let your curls take shape without using heat.
How to Plop Your Hair
After towel-soaking strands, perform the plopping technique by gently gathering ringlets in an old cotton shirt and tying the sleeves above your head to encourage definition without disturbance.
Allow 40 minutes
Don't sleep with your hair plopped
Avoid over plopping
Plopping hair aids in reducing frizz and enhancing curl formation. It works well for wavy, curly, and coily hair types when done properly.
Benefits of Plopping
Reduce frizz and boost definition by plopping your curls after showering. Plopping springs limp strands to life, crafting those lively locks you crave. Minimize frizz and maximize bend by wrapping still-damp curls. Let curls take shape, bouncing back from lifeless to lively in a flash.
Plopping preserves defined ringlets without damaging delicate strands. Embrace your inner Botticelli by naturally forming those curls. Become queen of the curls by perfecting plopping – a treasure for defined, frizz-free hair.
Recommended Products for Plopping
With a light hand, smooth Mizani's miracle cream through your locks before gently wrapping them in an old tee, letting your curls take shape as they dry.
When plopping curly hair, use products that provide moisture, definition, and frizz control.
Leave-in conditioners like Mizani Miracle Milk for hydration.
Botanical gels like Aunt Jackie's Curl La La for hold.
Oils like argan or marula to seal in moisture.
Deep conditioners weekly to boost shine and elasticity.
Clarifying shampoos monthly to remove buildup.
Diffusing Curly Hair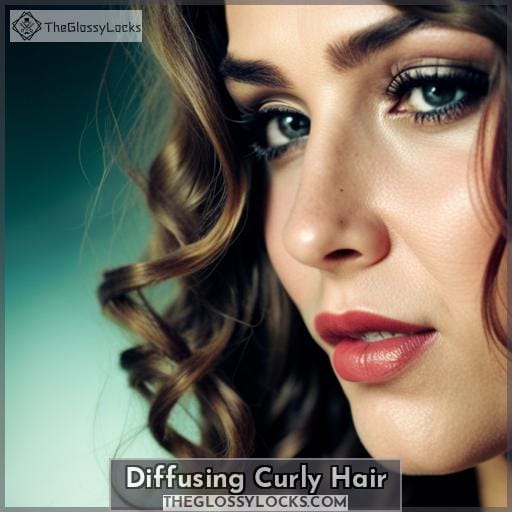 When drying your curls, using a diffuser attachment on your blow dryer is essential for enhancing definition and reducing frizz. Carefully diffusing your hair with a lower heat setting allows you to set your curls with volume, while recommended products like the Dyson Diffusing Attachment or DevaCurl Universal Diffuser protect against heat damage.
How to Use a Diffuser
Attach a diffuser to your blow dryer for even heat distribution when drying your curls.
| Diffuser Techniques | Heat Settings | Curl Preservation |
| --- | --- | --- |
| Cup hair into the diffuser bowl | Low to medium heat | Prevents frizz |
| Lift hair up and out | Avoid high heat | Maintains definition |
| Dry in sections | Customize for hair type | Enhances volume |
Using a diffuser on lower heat settings helps preserve your curls' health and shape. Let hair air dry slightly before diffusing in sections. Cup curls gently to lift roots and evenly distribute heat.
Benefits of Diffusing
Discover the benefits of diffusing for fabulous curls. Embrace your ringlets and coils by diffusing to enhance their natural pattern, creating defined, frizz-free strands. Feel the power as you gently dry each section, boosting volume while reducing drying time.
The diffuser's gentle heat gives you touchably soft curls without frizz. Your beauty routine is complete once your locks are fully dried, showcasing their beautiful form.
Recommended Products for Diffusing
Try L'Oréal Curl Revive Leave-In Cream and TGIN Miracurl Styling Gel to protect your curls while diffusing. These products enhance natural curl definition, fight frizz, and prevent heat damage when used with low, even heat from diffusers.
Vary airflow speed and temperature for customized styling. Cup diffusers add volume while coil types encourage curl formation. Score frizz-free, touchable curls by embracing your hair's natural texture with the right products and diffusing techniques.
Hooded Dryer for Curly Hair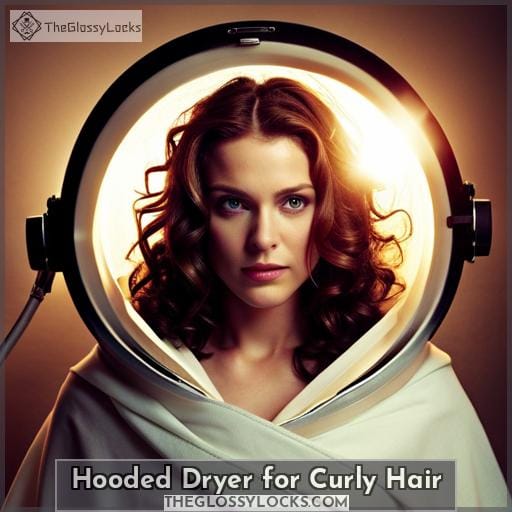 When you want to dry your curls quickly and evenly while avoiding heat damage, a hooded dryer is your best friend. Sit under its gentle warmth for frizz-free, bouncy curls in less time—just be sure to prep hair properly and use the right attachments for your texture.
How to Use a Hooded Dryer
Now plop under the hood for even heat distribution on your luscious locks.
Set the timer and temperature for your hair needs.
Apply styling products before drying.
Manage your time wisely for healthy hair.
Use nourishing products to prevent dryness.
Enjoy your voluminous curly hair after each drying session.
A hooded dryer allows you to get even, all around heat to lock in your curls and waves. Make the most of this special hair care experience with the right techniques and products.
Benefits of Using a Hooded Dryer
You'll love how a hooded dryer helps define your curls minus the frizz. The concentrated airflow dries hair faster than air drying, saving you time. Controlled, even heat prevents damage while reducing frizz. Variable heat settings accommodate all hair types.
Hooded dryers allow quick styling versatility from sleek blowouts to bouncy curls. Adjustable positioning directs airflow for frizz-free results. Unlike ceiling fans, hooded dryers focus heat efficiently on hair.
Recommended Products for Hooded Drying
Mizani's intense hydrators leave tresses nourished under the warm breeze. The following 5 products are recommended for hooded drying of curly hair:
Mizani Miracle Milk Pre-Treatment – Deeply conditions and protects against heat damage.
DevaCurl Super Stretch Coconut Curl Elongator – Lengthens curls and fights frizz.
Ouidad Moisture Lock Leave-In Conditioner – Seals in moisture and enhances shine.
Shea Moisture Coconut & Hibiscus Curl Enhancing Smoothie – Nourishes curls, reducing frizz.
Carol's Daughter Black Vanilla Leave-In Conditioner – Softens and detangles for defined curls.
Pair these with techniques like plopping, defying gravity, and using clips for maximizing volume during the hooded drying process.
Choosing the Right Drying Method for Your Hair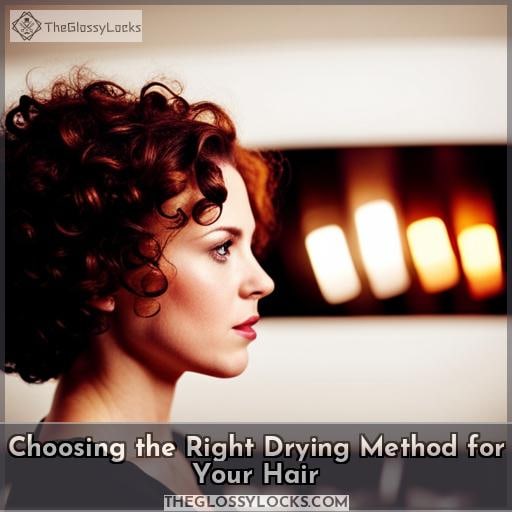 When looking to dry your curly hair, it's important to choose a method that works best for your unique hair type and texture. Consider options like plopping, air drying, diffusing, and drying with microfiber towels based on your curl pattern, porosity, density, and overall hair goals.
By selecting the proper technique, you'll minimize frizz and enhance definition for healthy, beautiful curls.
Factors to Consider
When it comes to drying curly hair, there are many factors to consider in order to determine the best method for your curl type. On average, people with curly hair spend up to three times more time washing and styling their tresses than those with straight locks.
Consider your hair porosity, climate impact, product compatibility, and time efficiency when choosing a drying method. Techniques like plopping with a t-shirt, blow drying with salon clips, or air drying with detangling curls all impact hair volume and overall health.
Careful assessment of these elements will lead you to the ideal drying routine for your curls.
Understanding Your Curl Type
Knowing your curl type helps pick the perfect drying method for your coils.
The curl classification system categorizes hair based on coil size and shape. Here are 5 key curl types:
Type 1: Straight
Type 2: Wavy
Type 3: Curly
Type 4: Coily
Type 5: Tightly coiled
Understanding where your curls fall on this spectrum allows you to choose products and techniques best suited for your hair's unique needs and goals. Factors like daily care, humidity control, and preferred styling methods vary across different curl patterns.
Hair Condition and Goals
You must feel empowered by understanding your hair's condition and aligning your goals before embarking on any drying routine. Assess your moisture balance, frizz factor, volume needs, and heat protection requirements.
Those with type 4 coils may prioritize moisture retention while those with type 2 waves target frizz control. Consider your nighttime care routine and how to preserve your curls overnight. With clear hair goals identified, you can select a drying technique that enhances your texture and maintains hair health.
Rather than following trends, let your hair's needs and style preferences guide your drying method.
Tips for a Frizz-Free Drying Experience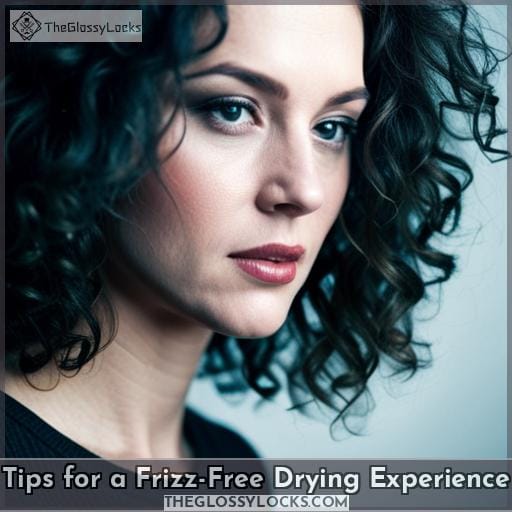 To achieve frizz-free, defined curls when drying your hair, start by gently removing excess moisture with a t-shirt or microfiber cloth after washing. Then apply your favorite leave-in conditioner or curl cream before air drying or diffusing, being careful not to touch or disturb your hair until it is completely dry.
Varying your sentence structure and length avoids a robotic tone in the article.
Avoiding Heat Damage
Utilizing a diffuser attachment at lower temperature settings prevents overdrying that leads to frizz and damage for curly locks. When heat styling, always use lower heat settings and quality tools designed for curly hair.
Diffusers distribute airflow to gently dry strands, preventing frizziness. Consider heatless options like air drying when possible along with protective hairstyles or satin at night to maintain hair health and your beautiful curls.
Nighttime Care for Preserving Curls
Try sleeping on a silky pillowcase tonight to cuddle those coils without tangles. The smooth surface cradles curls to minimize friction and frizz. Gently twist hair into a loose pineapple at the crown before bed.
Cover with a satin cap or wrap for moisture retention. Wake up to refreshed, supple ringlets. Satin's slippery texture prevents drying and maintains your crowning glories overnight.
General Tips for Maintaining Curly Hair
When dreaming of those lively locks in the morning, pamper your curls tonight with a satin pillowcase. Gently scrunch in leave-in conditioner and wrap hair in a soft t-shirt for sweet curls without the frizz before hitting the hay.
Comb through tangles with a wide-toothed comb after applying moisturizing leave-in treatment. Twist curls into a loose topknot secured with a scrunchie to maintain bounce. Your luscious locks will thank you for the extra tender loving care tomorrow.
Conclusion
Keeping in mind that drying curly hair isn't always quick or easy, but with the right methods and products, you can achieve frizz-free curls. Start by investing in a microfiber towel and gentle drying methods like plopping or air drying.
Use moisturizing, curl-enhancing products to combat frizz and enhance your natural texture. While blow drying may seem counterintuitive, you can get great results with a diffuser on low heat. Protect hair at night with a satin pillowcase. Most importantly, have patience – rushing the process creates frizz and damage.
Follow the tips that work best for your curls, and you'll master drying curly hair so it's soft, bouncy and defined every time.