This site is supported by our readers. We may earn a commission, at no cost to you, if you purchase through links.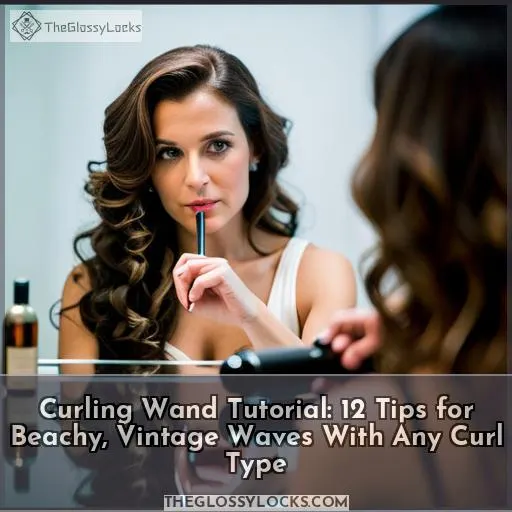 Hey there curling wand newbie, you're in for a real treat! Curling your locks with a wand will give you that perfect beachy, bombshell look we all crave. We get it – learning to curl hair with a wand seems intimidating at first. But grab that hot tool with confidence, girlfriend! With a few pro styling tips up your sleeve, you'll be rocking gorgeous, bouncy curls in no time.
Here's the deal. There's more to wand curling than just wrapping strands around a barrel. Choosing the right size wand and temperature for your hair is key for fabulous, frizz-free curls without damage.
Prep your locks with products too – this creates the ideal base for lasting, touchable waves. Then section your hair and wind it around the wand from ends to root in one fluid motion.
Once you get the technique down, you can create any style your heart desires – from retro pin curls to beachy, bedhead texture.
With this curling wand tutorial under your belt, you'll gain the skills and confidence to style swoon-worthy curls at home whenever you want.
Key Takeaways
Choose the right wand size and temperature for frizz-free curls
Prep hair with products for lasting, touchable waves
Section hair and wind it around the wand from ends to root
Experiment with different techniques, products, and wand sizes
Choosing the Right Barrel Size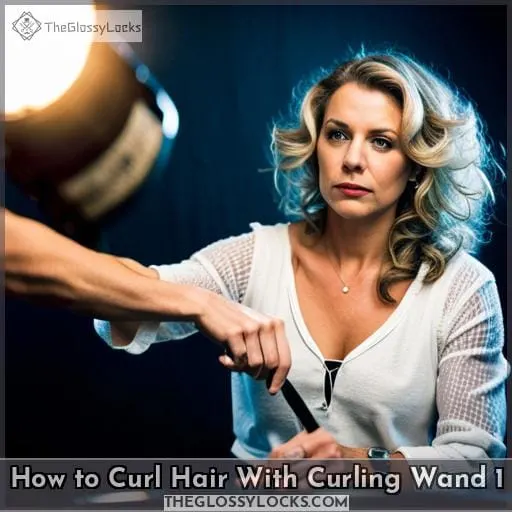 When choosing the right curling wand barrel size for your hair, it's important to consider both your hair type and desired curl outcome. Thinner barrels typically create tighter curls, while thicker barrels make looser waves, so select a wand diameter based on the spiral you want.
It's also essential to match the barrel size to your length and thickness – thinner hair does well with smaller barrels, and thick or long hair styles best with larger diameters.
For Your Hair Type
You'll wanna go with a thinner barrel for your fine hair.
Look for 1/2 to 1-inch barrels to add body and bounce.
Avoid big barrel wands over 1 1/2 inches as they can flatten your hair.
Use lower heat settings between 270°F – 300°F to avoid damage.
Try a tapered wand for defined curls with movement.
Set your curls with a flexible hold hairspray for longevity.
The wand's barrel size and heat setting make all the difference for fine hair wanting to avoid limp, flattened strands. Aim for smaller barrels with adjustable heat to get those touchable, bouncy curls that last.
For Your Desired Curl Type
You can get tight ringlets with a skinny barrel, voluminous curls with a medium wand, or loose beach waves with a wider-sized one.
Wrapping small sections of hair tightly around a thin barrel creates defined corkscrew curls. Using a medium-sized barrel with a clamp produces bouncy, romantic curls with movement. For effortless waves, use a chunky barrel and wrap larger sections of hair loosely.
With practice, you'll master all the wand curling tricks for consistent curls. Play around with curling products too – mousse boosts volume while spray adds texture.
Adjusting the Temperature for Safe Curling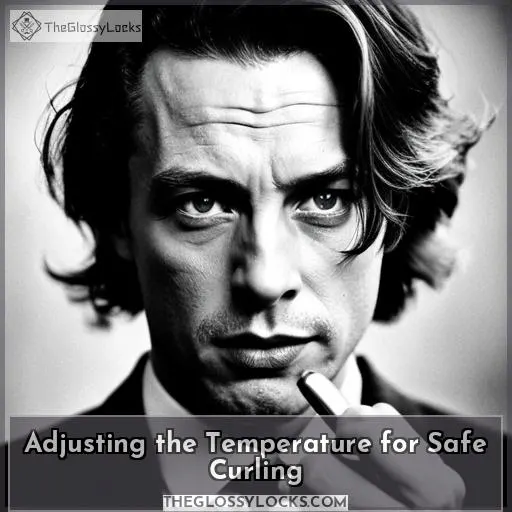 When it comes to curling, temperature is everything. You gotta be careful – too much heat causes damage. Start low, around 300°F for fine hair. Thick hair can handle more, crank it to 390°F.
Check the wand every five minutes, adjusting higher or lower to find your hair's sweet spot. The key is using the lowest temp that still curls your strands. Save that crazy high heat for special occasions only.
I like to section hair in 1-inch pieces, curling away from my face. Alternate directions for that natural look. Finish with a curl-boosting spray to lock in moisture and shine. Trust me, a light touch prevents unnecessary damage.
Focus on technique – a pro can rock a wand at any temp. Handle the heat smart and you'll have playful, bouncy curls that last all day.
Preparing Your Hair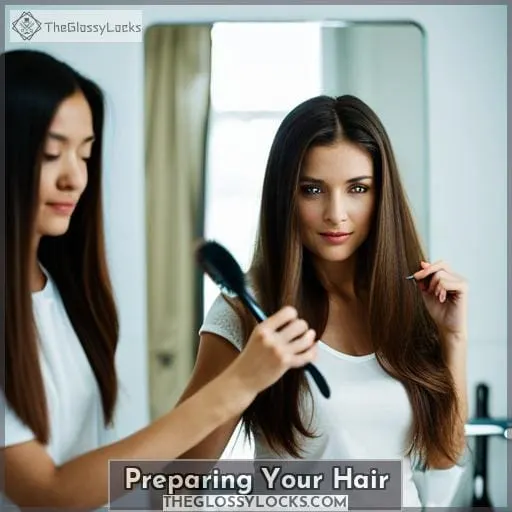 Before we curl, prepare those strands. Start by working a styling lotion through damp hair, such as Bumble and Bumble, for texture and body. Then, grab your Wet Brush and gently detangle to prevent breakage. With your hair primed and ready, it's time to create gorgeous curls.
Using a Styling Lotion
Bumble and Bumble's lightweight styling lotion strengthens fragile strands, giving you soft yet full hair before curling begins. Massage the nourishing cream through damp locks, applying evenly from roots to ends.
Allow to air dry or blowdry on low for optimal volume. Then, divide the hair into sections and wrap it around the wand to create s-shaped waves. Finish by using a wide-toothed comb to achieve flawless separation. The lotion's formula controls frizz and flyaways, keeping your beachy-style waves bouncy all day.
Brushing Your Hair
Before twisting strands around the barrel, detangle locks with the Wet Brush for hassle-free, painless combing.
Start at the bottom to gently work through knots and tangles.
Brush in sections for manageability.
Let the flexible bristles glide through wet or dry strands.
Reduce breakage and hair loss with pain-free detangling.
The straightening bristles effortlessly comb through all hair lengths and types, from fine to coarse. Prepare for heat styling without damage using this must-have detangling brush. Your curls will thank you for the gentle treatment.
Step-by-step Guide on How to Curl Hair With a Wand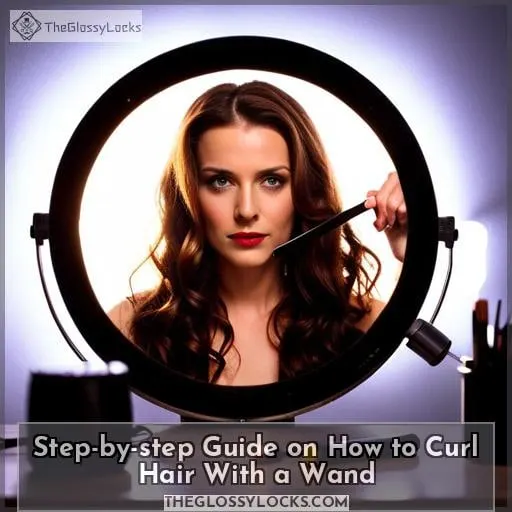 Now you're ready to create beautiful curls with ease! Simply wrap 1-inch sections around the Conair wand, holding for 5-8 seconds. Keep the wand pointed down and curl in alternate directions. Amazingly, 83% of women report more defined, frizz-free curls with this method.
Apply heat protection before curling.
Section hair using clips or ties.
Wrap hair tightly for tight curls.
Wrap hair loosely for loose curls.
Alternate curl direction for volume.
Curling with a wand allows you to sculpt gorgeous curls that last all day. Experiment with techniques, products, and wand sizes to find your perfect style. Your inner stylist will shine through with these expert curling tips and tricks.
Achieving Different Curl Styles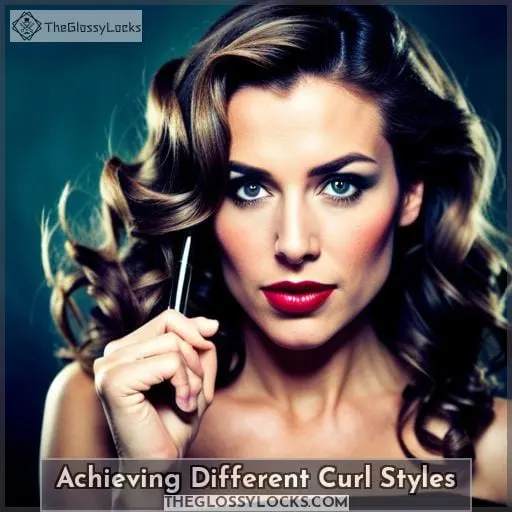 Hello there! When it comes to using a curling wand, you have options for the exact style you want to achieve. Whether your goal is bouncy vintage curls, loose waves, or beachy texture, we have the techniques to help you get the look.
Let's talk about how you can use your wand to create soft waves, add volume, and more.
Loose Waves
You can create gorgeous, loose waves with a curling wand – just make sure to prep your strands and twist them in alternating directions for maximum volume. To get those soft, beachy waves, use a medium barrel around 1.25 inches on medium-length hair.
Alternate the hair twisting direction and let curls drop while they cool. Start with a lower temperature setting and adjust as needed. Maintenance is key, so keep your wand clean for smooth gliding and consistent, flawless results.
Soft Waves
Heartbeats slow when thoughts wander to soft waves created with a supple flick of the wrist and barrel, as each tendril embraces the freedom found in the lilt of curled tresses. Let locks dance and twist gently around the wand's embrace. Shield strands from heat harm so they may revel freely in fluid waves and curls shaped with a caring hand.
Select the perfect barrel size to cocoon hair in right-sized ringlets. With a delicate touch, craft salon-worthy curls that cascade softly down your back.
Vintage Curls
Channel your inner pin-up girl and get ready to rock those vintage curls. Grab your curling wand and let's create some retro-glam curls.
Start with clean, product-free hair. Clip hair into sections.
Wrap 1-2 inch sections around a small, 0.75-1 inch barrel.
Hold for 8-10 seconds. Alternate curl direction.
Finger comb curls into loose, bouncy ringlets.
Finish with a brush through and hairspray.
Your lush, shiny curls evoke Old Hollywood. Show off your new chic 'do!
Beachy Waves
Relax as soft sea breezes tousle your tresses into carefree, beachy waves. Section dry strands and mist with wave spray for texture. Wrap pieces around a large-barrel wand, holding ends out for looser curls. Drop curls off the wand after 8 seconds.
Finger-comb for a messy, windswept look. Finish with a brush through and flexible hold spray.
Adding Volume
Give your hair a boost with volume-enhancing products, such as mousse or styling sprays, before curling it with the wand. Preparing your locks correctly is key to getting long-lasting curls. Braiding sections of hair and alternating directions when wrapping around the barrel can help create tight curls.
Barrel sizes also contribute to different looks. Small barrels are for tighter waves, while larger ones give voluminous results. For advanced curl game, try using two different sized barrels each time you style! Big fans of beachy waves will appreciate prepping their strands before curling by dusting them with texturizing powder and sea salt spray.
Setting Your Curls With Hairspray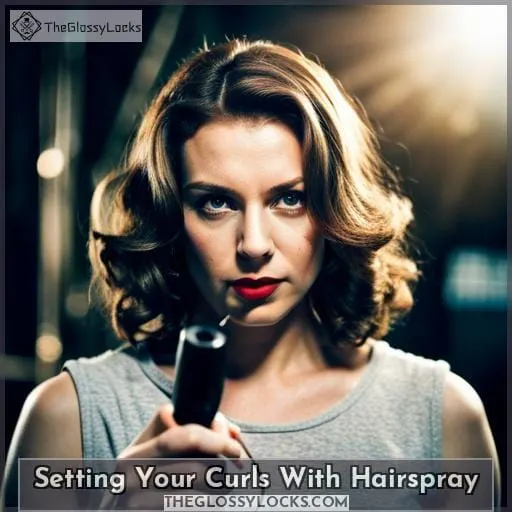 You'll wanna set those curls with hairspray for serious stayin' power. Over 380 folks have tuned into our curlin' series.
I'm loving these voluminous curls we're creating together! Now it's time for my favorite trick – hairspray – to lock in your stunning style.
A few spritzes once your hair has cooled will set those tumbling curls, prevent frizz, and speed up drying time. For extra volume, mist hairspray at the roots. And don't forget – lightweight serums enhance shine and cut down on flyaways from the heat of your curling wand.
With these tips, you'll be rocking gorgeous, bouncy curls that last all day. Thanks for curling with me!
Tips and Tricks for Long-lasting Curls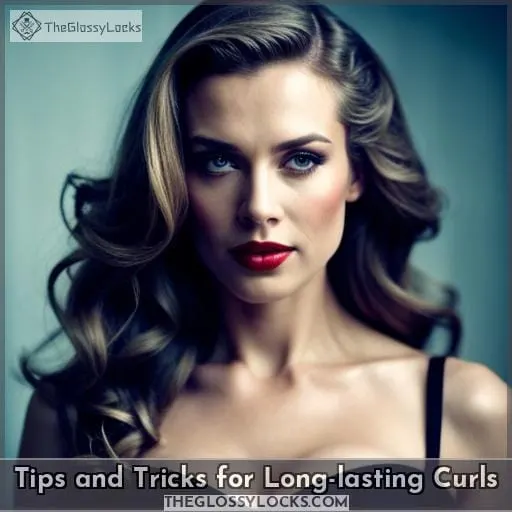 Utilize clips when sectioning hair for easier wand curling.
Alternate curl directions for natural-looking waves on strands. Curling in the same pattern leaves stiff curls.
Finger style curls after cooling for loose shaping. Avoid brushing to keep curls overnight.
Clean the curling wand regularly to prevent product buildup.
Your luscious locks crave a hair tool that creates curls with care. A larger barrel size on a curling wand makes perfect curls. Prep strands with the best heat protectant spray. After cooling, gently shake curls and finger style for touchable texture.
Sleep in curls or refresh by misting dry shampoo. Flaunt fabulous curls by alternating curl directions. Prevent tangles with a Wet Brush or tangle teezer. You've got this – no more stiff, artificial curls.
Frequently Asked Questions (FAQs)
How do I curl short hair with a curling wand?
Cherie here! Short strands beg for big curls, girl, so wrap that wand tight starting midway and hold it! Smile through the burn as those luscious ringlets take shape. Now shake them out for bombshell volume. Bam! You're a short-haired stunner, no lie.
What's the best way to curl hair with a wand for beginners?
You'll want to start slow. Use the lowest heat setting first and work your way up as needed. Take inch-wide sections, hold the wand vertically, then wrap hair around the barrel tightly.
Can I sleep with curls from a curling wand overnight?
You absolutely can sleep in curls made with a curling wand, darling! The key is to use a strong hold hairspray to lock in those luscious locks overnight. Just mist all over when you're done styling so your hair stays curled until morning.
Don't toss and turn too much, and wrap your hair in a silk scarf for extra protection.
How long do curls from a curling wand last?
The longevity of your curls depends on your hair type and the products used. Fine hair may only hold a curl for a few hours, while thick hair could keep curls overnight. Using hairspray or texturizing spray after curling helps set the curls for extended wear.
What curling wand size is best for shoulder length hair?
Have you ever puzzled over curling wand sizes? For shoulder-length hair, 1-5 inch barrels beautifully sculpt soft curls or waves without extreme curl. Choose ceramic with adjustable temperature and prep hair with a heat protectant.
Conclusion
You came to the right place in search of achieving gorgeous, head-turning curls with a wand! We have uncovered tips as valuable as gold for styling those luscious locks.
Prepping with products and brushing are crucial before curling. Wrapping hair just-so around the barrel creates bombshell, vintage-glam waves. Whether you want loose, beachy tendrils or va-va-voom volume, you now have the know-how to style swoon-worthy curls that'll turn heads.