This site is supported by our readers. We may earn a commission, at no cost to you, if you purchase through links.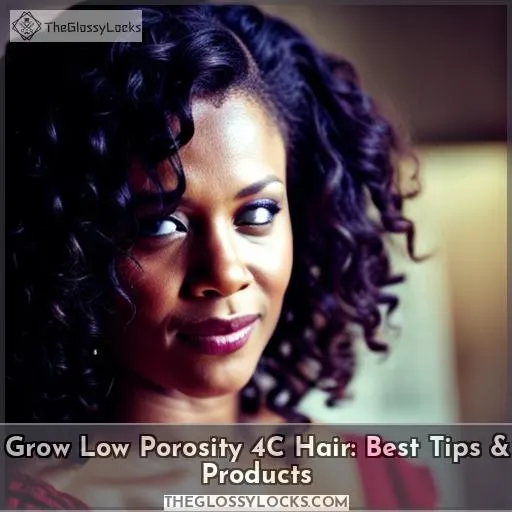 Growing your hair can feel like an endless battle, can't it? Especially when your strands are playing defense with that low porosity. I feel your frustration, curl friend. But don't start crying into your deep conditioner just yet.
This is a team effort – you, me, and your coils – and together we'll strategize a game plan to penetrate those stubborn cuticles.
With the right techniques and products specifically for low porosity 4C hair, we'll have your strands flourishing in no time. Now grab your wide tooth comb and let's get to work unlocking your hair's potential.
Progress may feel slow at first, but stay consistent. With knowledge, care, and a little creativity, you and your coils will be unstoppable.
Key Takeaways
Use a moisturizing shampoo like Redken All Soft Shampoo to provide hydration without stripping oils.
Incorporate cleansing and moisturizing products like Camille Rose Sweet Ginger Cleansing Rinse and TGIN Miracle Repair Leave-In Conditioner.
Repair damage and increase moisture absorption with treatments like Olaplex Hair Perfector.
Focus on retaining moisture through methods such as deep conditioning with heat, avoiding heavy products that block moisture, and protecting hair overnight.
7 Best Products for Growing Low Porosity 4C Hair
Exploring products specifically designed for low porosity 4c hair, like Redken All Soft Shampoo or Camille Rose Sweet Ginger Cleansing Rinse, can provide the gentle, loving care your hair needs without stripping away moisture.
You'll also want to consider deep conditioning treatments such as Olaplex to help rebuild, strengthen, and soften your hair strands. Meanwhile, gentle drying techniques like hood hair dryers, as opposed to rough towel drying, allow for enhanced moisture retention.
1. Redken All Soft Shampoo Dry Brittle Hair Argan Oil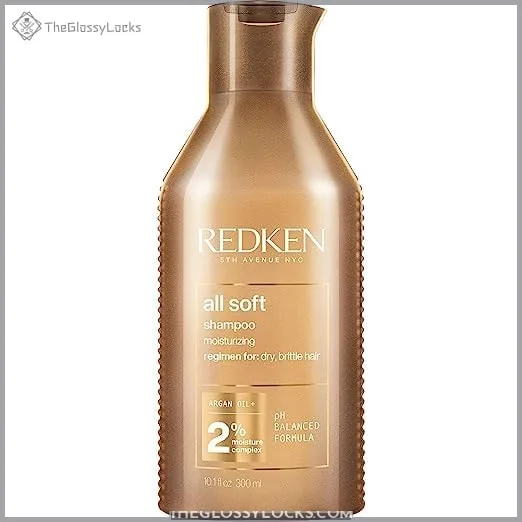 View On Amazon
You'll feel your parched strands instantly soak up the argan oil moisture complex in Redken All Soft Shampoo, leaving your hair touchably soft and free of frizz with salon-quality conditioning. This professional-grade shampoo's moisturizing formula nourishes even the most dry, brittle hair.
The argan oil replenishes your hair's moisture balance while the conditioners smooth the cuticle and restore a healthy suppleness.
Instantly softens dry, brittle hair
Nourishing argan oil formula
Leaves hair frizz-free
Professional-grade conditioning
Maintains moisture balance
Can be more expensive than drugstore brands
Strong fragrance may be overpowering for some
Needs to be used regularly for best results
2. Camille Rose Sweet Ginger Cleansing Rinse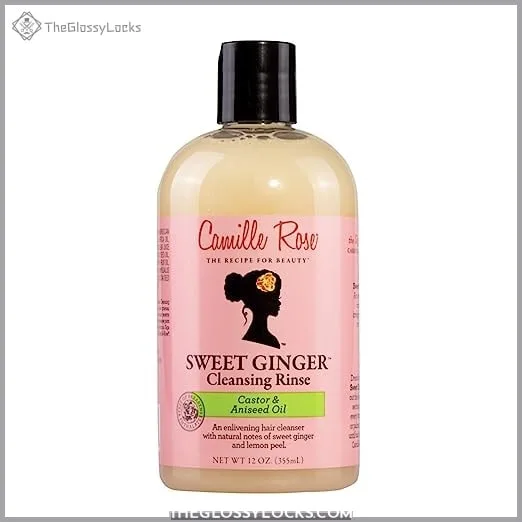 View On Amazon
Once massaged along damp strands from roots to tips, Camille Rose Sweet Ginger Cleansing Rinse gently cleanses your coils while preserving your hair's natural moisture for soft, defined curls. Aniseed Oil, the key natural ingredient, provides relief for a dry scalp while infusing moisture to promote growth.
This 12 oz hair cleanser has a fresh sweet ginger and lemon peel scent that customers love. The gel formula effectively cleanses, producing a good lather as it restores softness and manageability to dry, coily hair.
This cleansing rinse is recommended for use before Camille Rose's Algae Renew Deep Conditioning Mask to optimize moisturizing effects.
Leaves hair soft and moisturized
Restores definition to curls
Affordable price point
Slight difficulty dispensing gel from bottle
Consideration for packaging/sealing
3. Aussie Paraben Free Miracle Moist Conditioner Dry Hair Avocado Jojoba
View On Amazon
Transform parched strands with Aussie's moisture-packed conditioner boasting avocado and jojoba oils. The lightweight formula drenches dry hair in intense moisture without weighing it down.
Aussie Miracle Moist transforms brittle strands, reviving them with rich avocado oil to soften and jojoba oil to smooth. The paraben-free formula provides salon-worthy conditioning ideal for all hair types.
Unmanageable, dull hair is restored to soft, hydrated locks with this easy yet effective conditioner.
Softens and hydrates parched hair
Lightweight formula won't weigh hair down
Sweet, fruity fragrance
May not provide enough moisture for extremely dry hair
Fragrance may be too strong for sensitive noses
Not ideal for oily hair types
4. Tgin Miracle Repair Protective Leave in Conditioner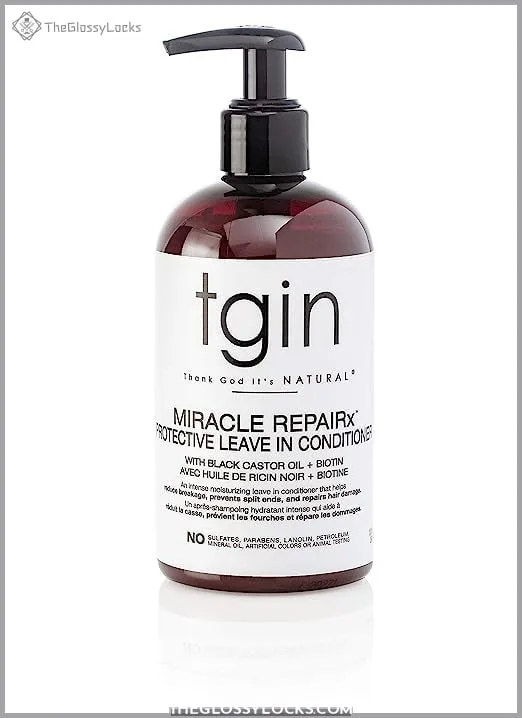 View On Amazon
Tgin's leave-in conditioner penetrates and repairs damaged tresses while softening for easier detangling. This lightweight, creamy formula is infused with moisturizing black castor oil and strengthening biotin, making it specially designed for curly, coiled, and 4C hair.
It restores softness and shine, reduces split ends, promotes growth, and prevents breakage. The product provides excellent slip, making detangling effortless and minimizing damage from combing.
Simply smooth it through damp hair, focusing on the ends. Let hair air dry or gently blot before heat styling. Users report restored bounce and definition to dull, lackluster curls. Some find the pump dispenser inconvenient due to the cream's thick texture.
Lightweight formula with no buildup
Softens and hydrates for easier detangling
Smoothes frizz and enhances curl definition
Strengthens hair and prevents breakage
Promotes hair growth
Thick texture can clog pump dispenser
Can leave behind residue for some
5. Olaplex Hair Repair Treatment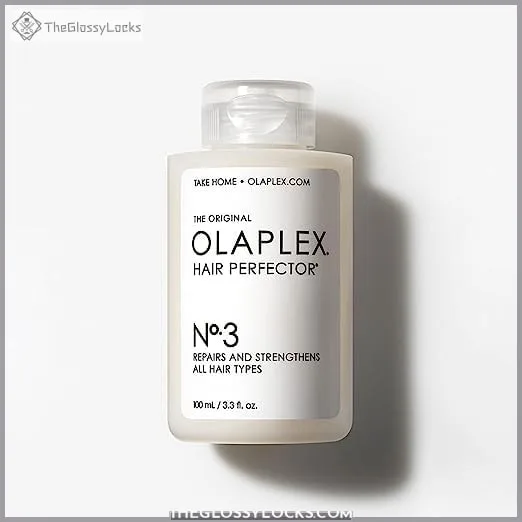 View On Amazon
You're restoring strength to damaged strands by re-linking broken bonds with Olaplex's patented bonding technology. This revolutionary 100 gram liquid treatment utilizes a unique active bis-aminopropyl diglycol dimaleate that works to repair broken disulfide bonds in the hair.
Simply apply the treatment generously from roots to ends on towel-dried hair without shampooing first. Let it penetrate for a minimum of 10 minutes before rinsing thoroughly. Shampoo and condition as usual after.
You'll notice dramatically improved texture and healthier looking hair after just one use.
Many users confirm it instantly restores compromised hair.
Clinically proven to repair damage
Makes hair stronger and healthier
Easy at-home treatment
Expensive compared to conditioners
Can cause hair loss if overused
Doesn't condition hair
6. Red Kiss Ceramic Tourmaline Professional Hood Dryer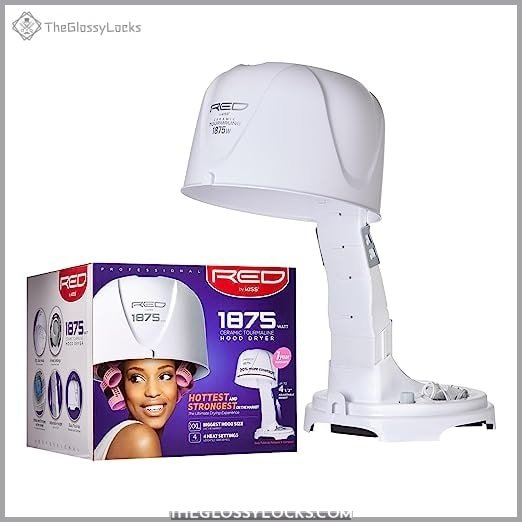 View On Amazon
You'll achieve frizz-free, salon-quality curls at home with this lightweight, ceramic tourmaline hood dryer. The Red Kiss Professional Hood Dryer evenly distributes heat with its 1875 watts of ceramic tourmaline technology, banishing frizz for smooth, defined curls.
With 60% more coverage than average hood dryers, it easily fits rollers for setting pin curls or rod sets. The adjustable height offers a custom fit for your height and hair length. Treat yourself to deep conditioning and long-lasting styles without the salon price tag.
Lightweight and portable, it stores conveniently when not in use.
Even heat distribution
Prevents frizz
4 heat settings
Adjustable height
Large coverage area
Lightweight and portable
Hood can feel confining
Limited height settings
No timer feature
7. Conair 1875W Cord Keeper Retractable Cord Hair Dryer
View On Amazon
Boast flowing locks with Conair's 1875-watt hairdryer. Its tourmaline ceramic and ionic technology tames frizz and nourishes as air streams through the attachments, either concentrating airflow or diffusing for curls.
This Conair hairdryer packs a powerful 1875 watts for quick drying and styling. Ionic technology leaves hair smooth and shiny by reducing static and frizz. The ceramic tourmaline technology provides even heat distribution, protecting strands from damage during drying.
With three heat and two speed settings plus a cool shot button, it caters to all hair types. Attachments allow you to concentrate the airflow for sleek, straight styles or diffuse it to enhance natural waves and curls.
When you're done, the five-foot power cord retracts into the handle for tidy storage.
1875W for fast drying
Ionic technology reduces frizz
Even heat distribution
Short 5ft cord
Retractable cord isn't always preferred
Can be loud
Understanding Low Porosity Hair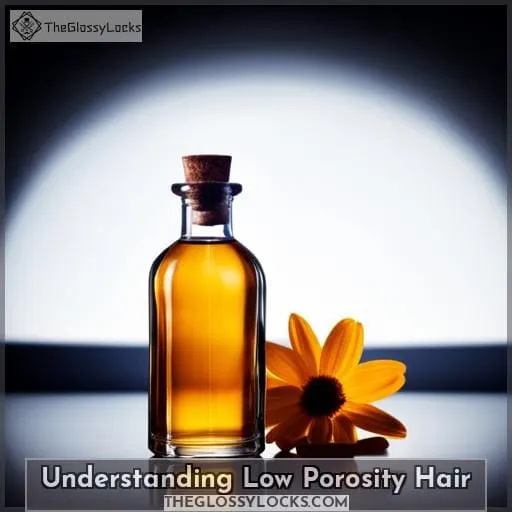 Limited moisture absorption can leave your coils craving hydration. Understanding your low porosity hair and implementing the right techniques is crucial for restoring moisture balance. With a customized low-po regimen, you can overcome the challenges of low porosity and unleash your hair's full potential.
Strands appear dry and thirsty despite hydrating efforts.
Water beads and sits on top instead of penetrating.
Takes eons to fully dry after washing.
Mastering moisture retention starts with knowing your hair's characteristics. Then, curate your regimen and lifestyle for optimal hydration. Your commitment will be rewarded with revived, flourishing locks. Though the journey requires diligence, your hair will finally have the moisture it craves.
Liberation awaits when you become the ultimate steward of your glorious low-po mane.
Tips for Retaining Moisture in Low Porosity Hair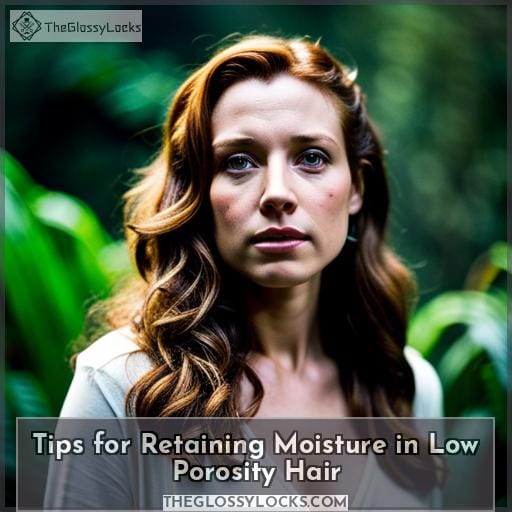 Wrap your strands after washing in a soft t-shirt or microfiber towel to gently soak up excess moisture and prevent frizz.
Use a humidifier or steam treatments to increase moisture in the air. The extra humidity will help hair absorb and retain moisture.
Apply your favorite leave-in conditioner or cream while hair is still damp. This seals in moisture.
Add a layer of oil or butter to lock in the moisture from your leave-in. Focus oils on ends.
Avoid heavy waxes, greases, and silicones that can prevent moisture absorption.
Deep condition regularly with heat to open cuticles and allow deeper penetration of hydrating ingredients.
Moisture is key for retaining length and managing low porosity hair. Customize your regimen with the right techniques and products.
The Recipe for Growing Low Porosity Hair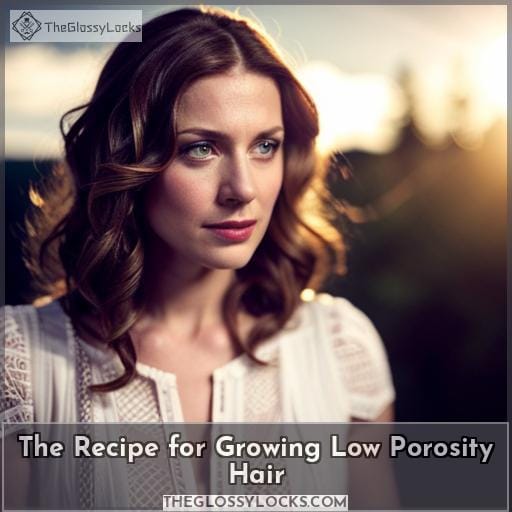 You'll want to grab Redken's All Soft Shampoo and Camille Rose's cleansing rinse to start washing your strands with care, then load on the moisture with Aussie's avocado- and jojoba-infused conditioner and tgin's miracle leave-in before revitalizing your hair with Olaplex's bonding treatment and a hood dryer's ambient heat.
The key to growing healthy, hydrated low porosity 4C hair relies on a customized regimen focused on sealing in moisture. Clarify buildup, then reach for water-based stylers to add hydration without heaviness.
Deep condition regularly, avoiding protein overload. Let ambient heat help products absorb, then protect your strands in silk at night.
With the right low porosity hair growth tips and techniques, your coils will flourish into their healthiest, strongest, and most vibrant form yet.
How to Care for Low Porosity Hair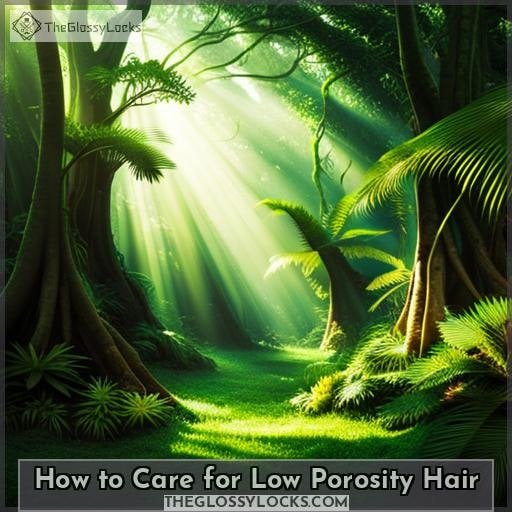 Satisfying your low porosity hair's thirst for moisture will have those curls popping.
Clarify regularly to prevent product buildup.
Deep condition weekly with heat.
Focus on water-based products.
Avoid heavy oils and butters.
Keeping a consistent moisture routine is key for low porosity hair. Clarifying washes will prevent product buildup so moisture can penetrate. Using heat while deep conditioning opens the cuticle so hair can absorb hydrating ingredients.
Look for water-based stylers since oils and butters tend to sit on top of the hair shaft. With the right techniques, you can help your curls retain moisture and reach their full potential.
Conclusion
You've been on a journey to grow and care for your low porosity 4C hair. With the right products and techniques, you're nourishing those tightly coiled strands, promoting length retention, and revealing your hair's natural beauty.
Take Charise for example. Her 4C hair was chronically dry and shrunken, no matter what products she tried. But once she started using moisturizing shampoos free of heavy oils, deep conditioning under a hooded dryer, and protecting her hair overnight with a satin cap, her coils sprung back to life.
So don't get discouraged. By following an intentional regimen with moisture-infused products, you too can achieve longer, lusher low porosity curls. Just remember—it's a marathon, not a sprint. With patience and TLC, you'll reach your hair goals.