This site is supported by our readers. We may earn a commission, at no cost to you, if you purchase through links.
The reason why I specifically wanted to talk about how to trim a beard with scissors is that many men don't just want to use the cost of a complete beard trimmer.
Especially if they only occasionally grow their beards, if your beard trimmer breaks, or if you have limited time and only need a quick touch, there is no better option than a simple trimming beard with scissors.
Although your main goal is to grow your beard length, you need beard should look good, right? One of the most important points to maintain a healthy beard is to ensure that you occasionally give it a good beard trim.
What if we tell you that you can work magically with scissors, and once you have mastered it, you never come to using your electric gadgets again? You also feel like a real lumberjack, trim your beard with a few blades.
Beard scissors can also cut beards of all sizes, while a trimmer can only handle stubble and short beards. As such, it is a required skill for a bearded man to know how to trim beard with scissors.
To get a nice beard, we will split this article into a few very simple steps to show you how to trim a beard with scissors.
The Reasons And Benefits For Regular Trim Beard With Scissors
Prevents clogged pores, dirt, and bacteria: makes cleaning of beards and face much easier.
Removes split-ends that deter healthy beard growth: makes your beard thread-like, unkempt and messy, even with the application of beard care products such as oils, balms, etc.
Removes loose, coarse, tangled hair: These spiky, stubborn hairs are wild and often cannot remain to lie, even with the use of balms, waxes, and blow dryers. That's why you just have to know how to trim beard with scissors.
Maintains a uniform, even appearance: Needless to say, facial hair grows at all different speeds. Some grow more on their right; others grow more on their left or on their chin. You can control this genetic predisposition by bringing it into uniformity.
Makes you more attractive: In numerous studies around the world, symmetry is one of the most important characteristics of physical attractiveness. Things like wearing glasses, cutting the sides, and cutting the beard provide a uniform, symmetrical appearance.
Make the beard look fuller: You may think the opposite is true but think of your beard as a garden shrub. Cutting the loose branches and lost leaves gives the plant a fuller, collective embodiment. It is not how much space the garden bush occupies; it is the density of the space occupied. The same applies to beards.
Less application of beard oils, balms, etc. This is common sense, the less hair there is, the less application.
Makes eating with a big mustache and beard easier: All bearded men know how difficult it is to eat a creamy soup or a bowl of cereal. Tapering the long hair around the mouth significantly reduces the amount of food and drink that gets stuck.
Beard Scissors Vs. Beard Trimmers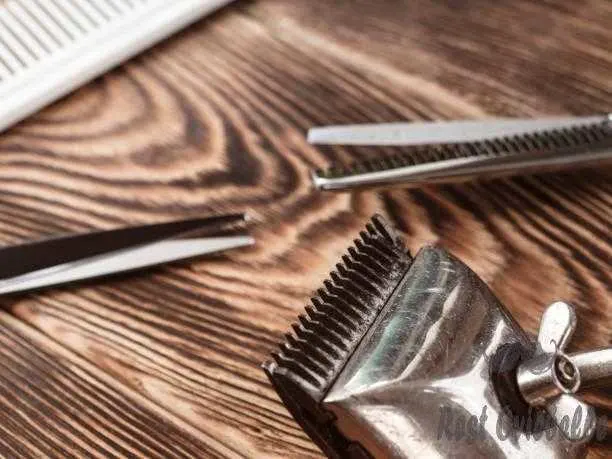 If you are still not convinced of trimming beard with scissors and you still think that a beard trimmer is much more convenient, let's briefly compare them with some nice good pros and cons.
Beard scissors
If you have chosen a quality pair of best beard scissors, you are ready to go.
Of course, it takes time to master all the little tricks for different parts of your face and the different styles that you are looking for.
Unrivaled accuracy and precision
Much more control over all shapes and small details
Regardless of style, the best beard scissors can help you cover them all.
The hair feels tapered and soft after cutting.
It is a slower process that takes some time to control
You cannot really remove large amounts of hair at once
Trimming under your chin line can sometimes be difficult.
Beard Trimmers
Beard trimmers are available in a wide variety of sizes, shapes, capabilities, and various add-ons; they have their own weaknesses.
They are fast and very efficient.
They can remove large parts of hair in one go.
Adjustable combs ensure consistency when cutting lengths.
They are easier to control than trim beard with scissors.
They give a softer, less customized look.
After cutting, the hairs are much pokey and look like a porcupine.
You have much less control over the textures, shapes, and other details.
Not so practical for cutting a mustache or large beards
How to Trim a Beard With Scissors Step By Step
If your beard begins to find its way to the longer area, consider the best way to trim beardwith scissors.
Now it might be tempting to just leave this job to your hairdresser, but the fact is that many men don't go as often as they would like.
Let's see how to trim a beard with scissors! We have divided it into nine steps that are easy to follow.
1. It all starts with a shower
Although this may seem a bit too much and not very convenient, yes, you do have to take a shower before pruning your beard. Why? Because you remove all polluting substances and debris in your beard.
Wash the beard thoroughly. Whether it's just water (in that case, make sure it is lukewarm to prevent frizz), or with your beard soap that you take with you everywhere, make sure you wash it carefully.
Then dry it thoroughly and make sure it is not wet in the middle (depending on how big your beard is).
You can use a hairdryer if you want, but this is not necessary and is actually not recommended by this gentleman (who currently has a very tight beard but used to have a straight bush that never responded positively to the hairdryer).
Those who use beard balms and oils should ensure that they rinse everything thoroughly.
There are many beard shampoos that can help you with that. If you look at your beard while cutting, it must be really clean so that you can cut it properly.
2. The Right Tools For The Trim A Beard
As we said at the beginning of the article, if you are looking for a beard growth of more than an inch, beard scissors are the best tool for the job. Slightly shorter than an inch, a beard trimmer is a better choice.
Regarding the quality of the scissors that you should use, you should not rely on multiple scissors-like Fiskars or something that your mother is likely to use for cutting wrapping paper during the holidays.
When picking up the best beard scissors for the first time and this is mainly used on your beard, we recommend using shorter scissors, such as the Suvorna 5 or Professional Moustache Scissors.
A much shorter pair of scissors is easier to handle and operate than a full-size pair of scissors that your stylist can use.
In addition to scissors, we also recommend using a good quality comb. Our choice and the most popular choice among beards anywhere is the Kent comb (it is without a doubt the best beard comb).
Kent combs are great because the width between the teeth in their combs is usually a bit narrower. However, the most important thing is that Kent combs are sawn and polished by hand. This is incredibly important for a number of reasons.
If you are trimming beard with scissors, you will constantly comb it to ensure that you get the right cut.
3. Comb your beard
The third step of our small how to trim a beard with scissors is actually the most pleasant one. Use your beautiful new comb to easily comb your beard up and down.
First, comb your beard down, in the direction in which it usually grows. This way, you can see the form that you start with.
Then comb your beard on and off, against the direction of hair growth. If your beard appears downy and downy, it goes well. This loosens beard hair, making lost, fast-growing hair more visible. You also see which areas are fuller, so you can find out even when needed.
By doing this, you will understand much better in which areas you should work, so that you can trimming beard with scissors accordingly and evenly.
4. trim one side first and then the other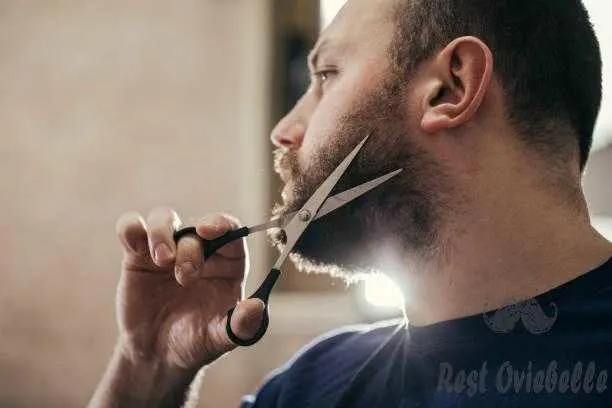 Choose a side to start with, take your time here now, because definition and patience are crucial here, with a comb as a guide.
Bring it through your beard hair at an oblique angle and remove all hair sticking out of the comb.
Don't overdo it – cut off the long hair.
Try to see how a hairdresser cuts your hair: light, fast trim.
For even cutting, make sure that every time you trim, the same amount of hair protrudes from the teeth of the comb.
The biggest problem with trimming a beard with scissors is too much cutting.
I've done it many times before, so try to remember that you really don't have to cut so much off if you're just looking for something neat. Take a modest amount and follow it evenly on the side you are working on.
When your first side is ready, comb through it a few times, and continue carefully with your fingers.
Repeat the process on the other side.
5. Cleaning up the neck
How can you make a beard with scissors without cutting hair on your neck? Well, it's a little trickier than the upper parts of your face.
Look at your beard in the mirror and view the growth in the neck. In general, you do not want your neck hair to always extend beyond the length of your chin hair. Having this difference in length will generally be perceived by others as ugly and simply sloppy.
Always ensure that the length of the hair in your neck is never greater than that of your chin. If you don't get it right, you get a messy beard.
6. Don't forget the mustache
Comb the mustache straight down. Remove any hair that falls below your lip line.
7. Washing your beard
After you have achieved the desired look, it is important to thoroughly wash the beard again to prevent small hairs from getting into your clothes, food, or bed.
8. After trim a beard with scissors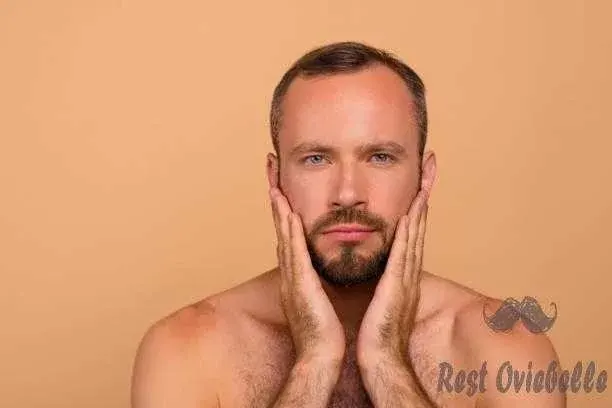 As you probably already know, a trimming beard with scissors is not the only care it needs to look good.
You need a good beard conditioner, usually in the form of beard oil or beard balm.
They all contain two primary ingredients: the carrier and the essential oils.
Only for that finishing touch. We also have a fairly comprehensive list of all the best beard conditioners that you need.
Beard balms usually also contain butter and wax, so make sure you find what feels best for your beard.
Conclusion
You now know how to trim a beard with scissors, with scissors, high-quality beard scissors, you have complete control over the styling and texture of your beard. It is reliable, durable, and simple.
It is a crucial skill, believe me, when I say that you get caught up in a sharp and clean image without your trimmer. If you can find things like this, you have a valuable new skill. You can thank us later.
Now that you have mastered the lost art of trimming beard with scissors, you can give yourself applause and enjoy the completely new look on your face.