This site is supported by our readers. We may earn a commission, at no cost to you, if you purchase through links.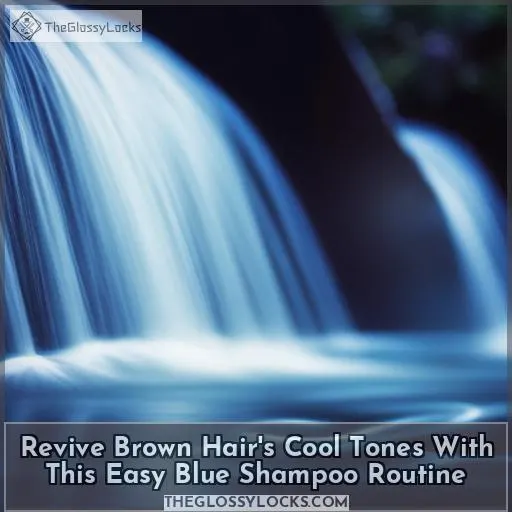 Let's turn our hair care routine into an art form, dear friend. When you gaze into the mirror, that beautiful mane reflects your soul – ever-changing and full of warmth.
Brassiness creeps in, dulling your radiance.
Fear not. Like an artist mixing paint, we have the power to revive those cool tones with a stroke of blue shampoo.
Apply this magic elixir, and watch it transform each strand, neutralizing warmth to reveal your true colors once more.
No longer must you hide your shine under a brassy veil. Let blue shampoo wash away the impurities so your hair can channel your inner light.
Key Takeaways
Wet and cleanse your hair before applying blue shampoo.
Rinse your hair thoroughly after use to prevent staining.
Use a hydrating conditioner after using blue shampoo for softness.
Use blue shampoo regularly, 1-2 times per month, to maintain your cool hair color.
What is Blue Shampoo?

You've gotta cancel out those unwanted tones lurking in your locks. Blue shampoo's your saving grace – it's specially formulated to neutralize brassy orange and yellow hues. This color-correcting shampoo contains blue and violet pigments that tone down warmth, keeping brunette hair looking cool, rich, and smooth.
Unlike purple shampoo for blondes, blue shampoo's ideal for brunette babes battling brassiness. Make sure to follow up with a good conditioner and thoroughly rinse your strands to prevent blue staining in the shower.
Use it sparingly, 1-2 times a month max to boost color maintenance between salon visits.
Who Should Use Blue Shampoo?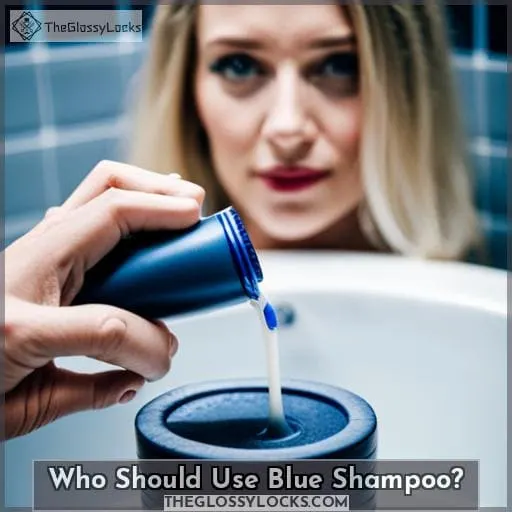 Son, brunettes with brassy tones oughta try blue shampoo for keepin' that orange hue at bay. If your dark brown hair has unwanted golden or red undertones, blue shampoo's the fix for you. This magical elixir deposits blue-violet pigments to neutralize brassiness and brighten up those lovely chocolate locks.
Balances out orange tones
Restores cool brunette tones
Keeps color lookin' rich
When choosin' the right blue shampoo, opt for a gentle, weekly-use formula. And follow with conditioner to keep hair soft and hydrated. Makin' smart choices prevents dryness or over-tonin'. You've got this! With the right blue shampoo, you'll be rockin' fresh, vibrant hair in no time.
How to Use Blue Shampoo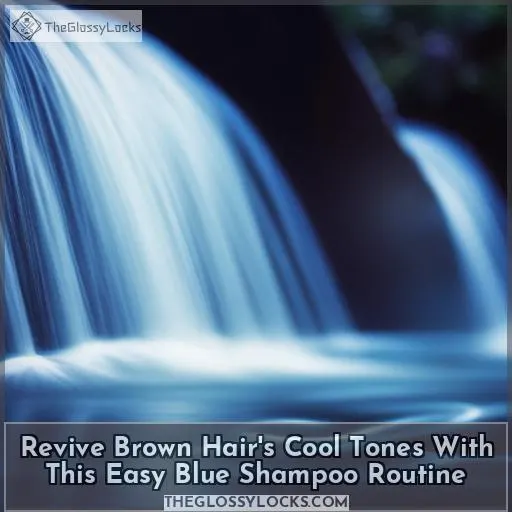 When starting your wash routine, wet your hair and cleanse as usual. Next, apply the blue shampoo, letting it sit for 3 to 5 minutes before rinsing thoroughly. Follow with a hydrating conditioner to smooth the cuticle and treat your locks to a nourishing leave-in treatment for added moisture.
Wet and Cleanse as Usual
First, wet and cleanse your hair as usual with your regular shampoo. This pre-shampoo treatment primes hair for optimal blue shampoo results. Adhere to your normal hair care routine using a sulfate-free shampoo to gently cleanse hair pigments.
Rinse thoroughly after to prevent staining from the color wheel opposites of blue shampoo and your warm brunette tones.
Follow Up With Conditioner
After rinsing away brass, be sure to soften hair with a hydrating conditioner so those strands sing like a canary. Let the strands soak up moisture like a sponge post-shampoo. Hydrating locks prevent damage and enhance shine for healthy, vibrant hair.
Pick a thick conditioner to smooth cuticles, detangle, and boost manageability. Nourish hair thoroughly to lock in color, restore luster, and maintain your beautiful brunette hue.
Treat Your Hair to a Leave-in Treatment
Your hair will love a nourishing leave-in treatment after using blue shampoo.
Hydrate parched strands.
Restore shine.
Shield from heat damage.
Leave-in treatments give hair an instant dose of moisture and protection. Apply evenly from roots to ends after shampooing. Let it sit for 10 minutes before blow drying or heat styling. Choose lightweight formulas to avoid greasiness.
How Often to Use Blue Shampoo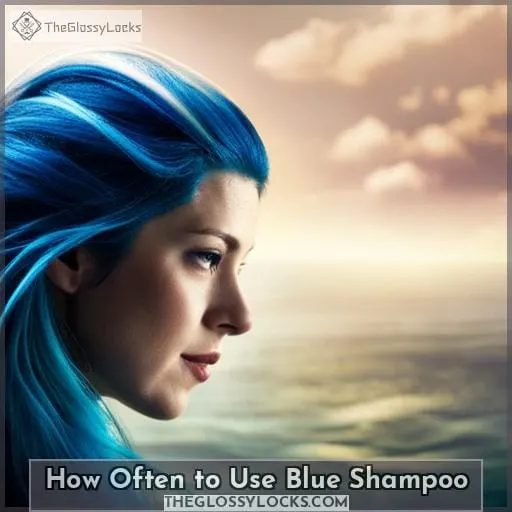 Each week, monitor the brassiness and use blue shampoo up to 1-2 times for best results. Blue shampoo is formulated to fight unwanted warm tones in brunette hair, but moderation is key to getting the most out of each use while avoiding over-depositing.
There are 4 factors to consider when choosing your blue shampoo frequency:
Level of existing brassiness or orange tones – More brass requires more regular use.
Strength of the formula – Highly pigmented options may stain with overuse.
Condition of your hair – Brittle or dry hair won't tolerate frequent use well.
Desired results – Using it too often can result in cooler than intended tones.
Finding the right balance will help maximize blue shampoo effectiveness for your hair. Check the brass-fighting results weekly, increase use if tones persist, decrease if hair seems dried out or discolored.
Best Blue Shampoo Products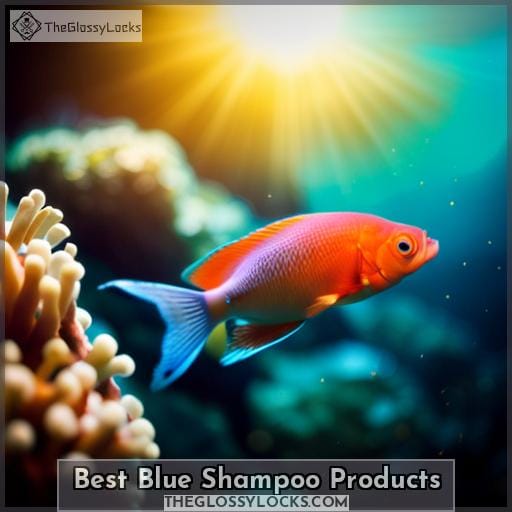 For the best results, splash Aussie's SOS Brunette Hydration blue shampoo into your strands and let it nourish your hair's warm tones for 3-7 minutes before rinsing.
When shopping for the top blue shampoo products, look for expert reviews. Focus on color-enhancing shampoos designed to neutralize brassy tones using blue-violet hair pigments.
Try Total Results Brass Off for a customizable system with shampoo, conditioner, and neutralizing mask. If your hair needs hydration, reach for Aussie's SOS Brunette line. Their blue shampoo contains natural Australian botanicals to counter brassiness while caring for brunette hair.
Use this buying guide to find the right blue shampoo that suits your hair goals. With regular use, these specially formulated products will keep your hair color cool, fresh, and free of unwanted warmth.
Conclusion
As a licensed cosmetologist and beauty expert, I want to let you know that using blue shampoo is like refreshing your brown locks with a cool sip of water. When utilized correctly, blue shampoo can resurrect the rich, chocolatey tones we all crave.
Use your inner brunette beauty and make blue shampoo your new hair best friend. Just a few minutes with this color-correcting formula helps keep your hair's undertones smooth and sultry for weeks on end.