This site is supported by our readers. We may earn a commission, at no cost to you, if you purchase through links.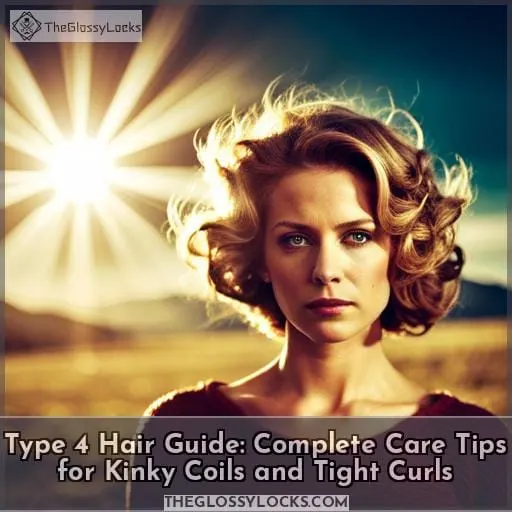 You're tired of styling struggles with your coils and curls. We get it.
Let's unlock your hair's potential and ditch the frizz with customized tips for your type 4 texture.
This guide breaks down caring for your specific curl pattern and coils.
We'll recommend products to define those spirals and discuss techniques to boost moisture, reduce breakage, and help you love your gorgeous, natural hair.
Understanding Type 4 Hair

As a hair professional, it's crucial to understand the intricacies of Type 4 hair.
Type 4a features densely packed S-shaped coils that require special care to maintain their health and texture.
On the other hand, Type 4b displays a zigzag pattern and often struggles with moisture retention.
Lastly, Type 4c consists of tightly coiled strands that are fragile and prone to extreme dryness and breakage.
By understanding these distinctions within Type 4 hair types, you can provide tailored care for your clients' kinky coils or tight curls effectively.
4a – Tightly Coiled S-shaped Pattern
Your densely-packed, large S-pattern coils characterize your Type 4a hair. To enhance your texture and maintain healthy hair:
Use gentle, moisturizing cleansers like sulfate-free shampoos or cleansing conditioners.
Frequently deep condition to provide much-needed hydration.
Opt for soft hold styling products to help define coils without buildup.
Embracing your natural 4a coils will let your texture truly shine through.
4b – Zigzag Pattern Prone to Dryness
With its distinctive zigzag pattern, your 4b hair struggles to retain moisture. This curl pattern tends to absorb oils, so it's imperative to provide hydration through leave-in conditioners, moisturizing gels, and natural oils.
Embrace protective styles, deep conditioning treatments, and satin materials to nurture hair health.
When detangling or styling, be gentle to avoid breakage.
With proper care, your beautiful zigzag curls will thrive.
4c – Tight, Fragile Coils
To understand Type 4 hair, let's delve into the subcategory of 4c – tight, fragile coils that require special care and attention.
4c hair is known for its ultra-tight coils and high shrinkage. It can be prone to breakage and extreme dryness.
To maintain its health, it's recommended to use leave-in moisturizers and products with rich hydration properties like castor oil. These will help combat dryness, promote curl definition, and keep your kinky hair healthy.
Caring for Type 4a Hair

When caring for type 4a hair, focus on nourishing those delicate, densely-packed coils. Avoid harsh ingredients like sulfates and embrace co-washing to maintain your hair's natural oils.
Opt for hydrating leave-in conditioners to combat dryness without disrupting your curl pattern.
Avoid Sulfates and Heat Styling
Shun sulfates and heat styling when caring for your type 4a hair. Embracing your natural curl type protects delicate strands.
Avoid frequent shampooing and heat tools that can damage hair. Opt for sulfate-free cleansers to gently wash while retaining moisture.
Let curls air dry and style with curl-enhancing products for definition and frizz control.
Nourish hair with moisturizing leave-ins to maintain soft, touchable coils.
Use Leave-in Conditioners
Apply a moisture-rich leave-in conditioner to your dense ringlets daily to provide essential hydration for your 4a coils.
Look for leave-ins with nourishing oils, shea butter, aloe vera, or glycerin to attract and seal in moisture.
Finger rake or smooth lightly through sections after washing.
Reapply as needed for frizz control.
Opt for a weightless, non-greasy formula to avoid product buildup.
Continue using your go-to leave-in between washes to maintain soft, hydrated ringlets.
Managing Type 4b Hair

When caring for your type 4b hair, focus on hydration and minimizing breakage. Look for hydrating serums and creams that will moisturize the hair and reduce tangles.
Your regimen should include ingredients and techniques to minimize breakage of the delicate zig-zag strands.
Hydrating Serums and Creams
When caring for your type 4b hair with its zig-zag pattern that can lead to moisture challenges, opt for hydrating serums and creams that help reduce tangles and minimize breakage. These products will provide much-needed hydration to your coily hair, improving curl definition and overall manageability.
With the right hydrating serums and creams, you can maintain the health of your type 4 hair while enhancing its natural texture.
Reduce Breakage and Tangles
To reduce breakage and tangles in your Type 4b hair, start by gently detangling with a wide-tooth comb or your fingers. Use a moisturizing detangler and detangle in sections. Avoid excessive combing and brushing.
Braid or twist hair into protective styles. Use satin pillowcases and scrunchies.
Deep condition regularly and avoid manipulation when wet. Incorporate protein treatments to strengthen strands.
Sleep with a silk bonnet.
Type 4c Hair Care Tips

When caring for type 4c hair, focus on using heavy moisturizers and oils. This hair type requires gentle detangling with fingers or wide-tooth combs. Slowly work in moisturizing products when hair is dripping wet to prevent breakage.
Heavy Moisturizers and Oils
You'll want to apply rich, heavy moisturizers and oils to your ultra-coiled 4c hair for deep hydration and nourishment.
Look for thick, creamy leave-in conditioners and curl creams that provide intense moisture without weighing hair down.
Use hair butters or oils high in fatty acids, like shea butter, coconut oil, or castor oil to lock in that moisture.
Focus the heavier products on the ends of 4c hair to prevent dryness and breakage.
With the right routine, your tight coils will stay soft, defined, and hydrated.
Gentle Detangling
Starting detangling sessions with generous amounts of a moisturizing conditioner and your widest-tooth comb accelerates the process for your 4c coils while minimizing breakage.
Work in sections when gently detangling 4c curls.
Use a moisturizing detangler or leave-in conditioner for slip.
Rinse hair completely before using a wide-tooth comb.
Avoid forcefully pulling hair apart during detangling.
Handle your tight, fragile coils with care when untangling to avoid damaging the hair shaft and cuticle.
Focusing on moisture retention limits knots and makes styling 4c hair easier.
Top 10 Products for Type 4 Hair
When it comes to caring for type 4 hair, choosing the right products is essential. Type 4 hair typically has tight coils and can be prone to dryness, shrinkage, and breakage. To address these concerns, top products for type 4 hair should provide moisture, definition, and protection.
Here are ten highly recommended options that cater specifically to the needs of type 4 curls:
VERB Curl Leave-In Conditioner
Design Essentials Curl Enhancing Mousse Almond and Avocado
As I Am Coconut Cowash Cleansing Conditioner
Carol's Daughter Curl Refresher Spray
Mielle Organics Honey Ginger Curl Definer Moisturizer Aloe
Goddess Curls Botanical Gelle by Curls
Rucker Roots Texture Styling Mousse Natural Wet Dry Heat Styles
Kinky Curling Cream Curly and Wavy Hair Paraben Free
Vernon Francois Nourishing Hair Mist Amino Acid Treatment
Creme of Nature Coconut Milk Detangling Conditioning Formula Normal Hair.
1. VERB Curl Leave-in Conditioner
View On Amazon
The VERB Curl Leave-in Conditioner is a lightweight, vegan formula that nourishes curls and waves to reduce frizz for soft definition.
With sunflower seed extract and glycerin, this leave-in moisturizes and detangles without heaviness.
While ideal for 2B-2C waves, this paraben- and sulfate-free formula may also benefit dry or colored hair.
Lightweight, moisturizing formula
Reduces frizz and enhances curl definition
Free of parabens and sulfates
Repairs damage and adds shine
Vegan and cruelty-free
May not provide enough hold for very curly hair
Can leave residue for some hair types
Relatively expensive compared to some drugstore brands
2. Design Essentials Curl Enhancing Mousse Almond and Avocado 10 Ounce
View On Amazon
Embrace your curls with Design Essentials' lightweight Curl Enhancing Mousse, featuring almond and avocado extracts to deeply hydrate while providing definition. This mousse is ideal for all curl types, from loose waves to tight coils. The quick-drying formula eliminates frizz and provides luminous shine without leaving hair crunchy or stiff.
Infused with nourishing oils, it offers touchable softness and pliable hold for flawless curls. The paraben-free formula is great for natural styling and works well in humid weather.
Lightweight, non-greasy formula
Hydrates and defines curls
Reduces frizz
Enhances natural texture
Offers luminous shine
Can be pricey
May not provide enough hold for some
3. Coconut Cowash Cleansing Conditioner
View On Amazon
Gently cleanse and condition your coils with the As I Am Coconut Cowash Cleansing Conditioner. This innovative formula harnesses the moisturizing benefits of coconut oil to gently cleanse away dirt, oils, and buildup while simultaneously nourishing your curls.
The coconut-derived cleansing agents lift residue without stripping your hair of its natural oils. Saw palmetto and phytosterols promote healthy hair growth while vitamins and antioxidants leave coils smooth, defined, and ultra-hydrated.
This cowash is free of sulfates, parabens, and phthalates, making it safe even for color-treated coils. Use it as your regular cleanser or as an occasional deep treatment for maximized moisture and shine.
Your curls will be bouncy, frizz-free, and touchably soft.
Deeply hydrating
Promotes curl definition
Gentle formula
Not ideal for straight hair
Coconut scent may be strong initially
4. Carol's Daughter Curl Refresher Spray
View On Amazon
Refresh and redefine your curls without weighing hair down by using Carol's Daughter Curl Refresher Spray. This lightweight, silicone-free mist contains Agave Nectar to lock in moisture and control frizz for soft, touchable curls.
Enriched with Wheat Protein and Sweet Almond Oil, it moisturizes, softens, and detangles coils and waves without buildup. Simply mist on dry, styled hair to renew definition and bounce. For best results, scrunch product in with your hands.
Lightweight formula won't weigh hair down
Locks in moisture and prevents frizz
Softens, moisturizes, and detangles coils and waves
Can renew second-day curls
Pleasant agave scent
May not work as well in high humidity
Can leave hair feeling sticky or dingy for some
Not ideal for all wavy hair types
5. Mielle Organics Honey Ginger Curl Definer Moisturizer Aloe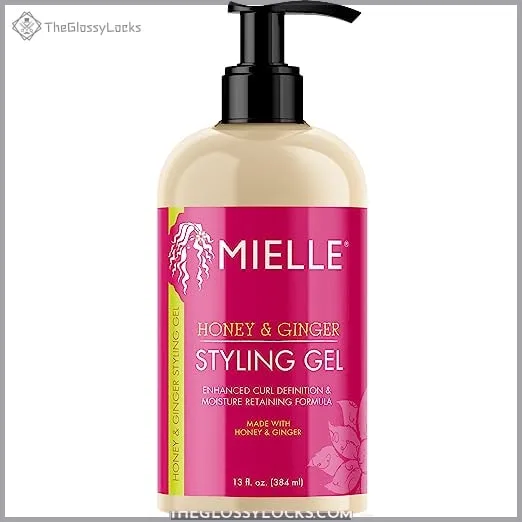 View On Amazon
You'll define and moisturize your curls without buildup using Mielle Organics' Honey Ginger Curl Definer Moisturizer. This lightweight, curl-enhancing styling gel helps define, moisturize, and manage frizz for curly hair without greasy residue.
Formulated with certified organic honey, ginger, aloe, and babassu oil, it provides soft, touchable curls and reduces frizz for hair types 3A to 4C.
Lightweight gel-cream formula
No greasy buildup
Organic ingredients
Reduces frizz
Soft, touchable curls
Strong ginger scent for some
May not provide enough hold for coils
6. Goddess Curls Botanical Gelle
View On Amazon
Apply Goddess Curls Botanical Gelle to wet hair for light hold, shine, and frizz control if you have fine or thin curly locks needing soft hold. As an aloe-enriched botanical gel, it defines 3b curls and enhances curl pattern with its plumeria flower extract ingredients.
Best suited for long-term product users seeking hydration without heaviness or crunch.
Defines spirals and ringlets without harsh chemicals.
Moisturizing and frizz-fighting
Soft hold
Enhances definition
May not provide enough hold for dense hair
Can cause crunchiness if not applied properly
Some packaging issues reported.
7. Rucker Roots Texture Styling Mousse Natural Wet Dry Heat Styles
View On Amazon
Beat frizz and add definition to your coils with Rucker Roots' lightweight, nourishing styling mousse you'll love for both wet and dry styles.
Infused with stimulating ginger, carrot, and turnip oils, this mousse boosts shine and elasticity without weighing hair down.
The vegan formula is free of sulfates and minerals, suiting all textures. For best results, apply to wet hair and style as usual or scrunch into dry hair for a refresh.
Lightweight formula won't weigh hair down
Vegan and free of sulfates and minerals
Nourishes and stimulates hair growth
Defines curls, waves, coils wet or dry
Allows you to frequently change up styles
May not provide enough hold for extra tight coils
Scent not desirable for all users
8. Kinky Curling Cream Curly and Wavy Hair Paraben Free
View On Amazon
When caring for your type 4 hair, try Kinky Curling Cream, a natural, moisturizing formula that softens, stretches, and defines tightly wound tresses while fighting frizz and shrinkage.
This paraben-free, cruelty-free curl cream helps boost curl definition and elongate tight spirals without harsh chemicals or heat styling.
The gel-cream formula promotes vibrant, bouncy curls by eliminating shrinkage and banishing frizz.
Moisturizes and softens hair
Fights frizz and shrinkage
Defines curls and coils
Promotes bounce
May cause dry or crunchy results for some
Works best on longer hair
Requires blow drying to maximize stretch
9. Vernon Francois Nourishing Hair Mist Amino Acid Treatment
View On Amazon
You'll find the alcohol-free Vernon Francois Nourishing Hair Mist revives and strengthens your coils and curls as a multi-benefit pre-styler. This lightweight mist contains amino acids, natural oils, and botanicals that build hair strength, boost moisture and shine, while protecting color and combating frizz.
Just a spritz softens, repairs damage, and refreshes tight kinks and defined spirals alike.
Light, non-greasy formula
Moisturizes without weighing hair down
Color-safe
Multi-use for all curl types
Can develop unpleasant smell over time
May not provide enough hold or definition for some
Needs reapplication for long-lasting effects
11. Maui Moisture Curl Quench Smoothie
View On Amazon
To enhance and nourish your type 4 hair, try using the Maui Moisture Curl Quench Smoothie. This coconut oil-infused curl styling cream hydrates, smoothens and defrizzes your curls while enhancing softness and body.
The vegan formula utilizes aloe vera, coconut oil and fruit extracts like papaya to nourish your thick, tight curls without sulfates or silicones. It helps define and maintain your curls, working well as a leave-in moisturizer.
Hydrates and moisturizes curls
Smooths and defrizzes
Enhances softness and body
Lightweight, no heavy feeling
Pleasant coconut scent
May not provide enough hold for some
Can cause buildup if overused
Not suitable for straight or wavy hair
Conclusion
Type 4 hair can be a challenge to care for, but with the right knowledge, products, and techniques, it can be manageable and look beautiful.
Take the case of Stephanie, who had been struggling with her 4b curls and zigzag pattern. With the right hydration serums and creams, she was able to reduce the breakage and tangles.
For type 4c hair, heavy moisturizers and oils are essential, along with gentle detangling.
By trying out the top 10 products recommended in this article for type 4 hair, you can make your coils and curls look their best and be proud of your natural texture.
With a little effort, you can enjoy beautiful, healthy type 4 hair.