This site is supported by our readers. We may earn a commission, at no cost to you, if you purchase through links.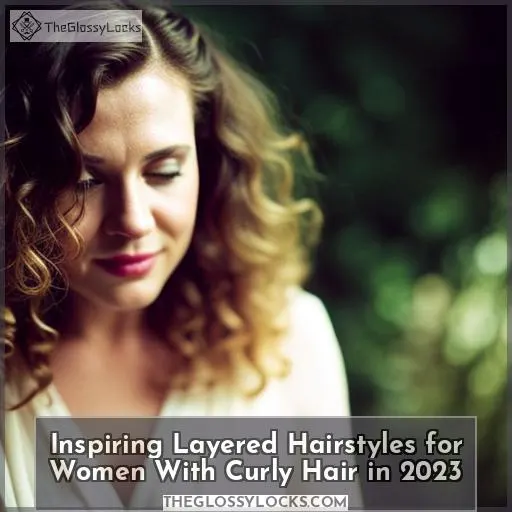 You know that feeling when your curly hair gets a bit too heavy, and your curls start to lose their bounce? Adding layers is magic for taking your curls from weighted waves to beautiful defined ringlets.
With the right layered cut and some curl-friendly products, you can uncover the gorgeous spirals hiding under those limp locks.
Whether you rock ringlets or loose waves, layers boost volume and movement. They lighten up thick hair and pump up fine strands. Your curls will spring free instead of falling flat. Plus, layers make styling easier – you'll ditch tangles and cut your routine time.
With a trendy layered cut, you'll love showing off your curls and they'll turn heads everywhere. So grab some curls inspo, and make an appointment to get the right layers framed around your face.
Key Takeaways
Layered cuts add volume and definition to curly hair. Customized layers enhance the natural bounce and shape.
Face-framing layers help define the shape and reduce bulkiness. Short layers near the crown lift the roots and add volume.
Layered pixie cuts and angled bobs work well for those with short curly hair. Messy shags create a textured look.
It's best to consult curl experts for proper cut and style techniques. Use products to maintain healthy hair.
Why Layer Curly Hair?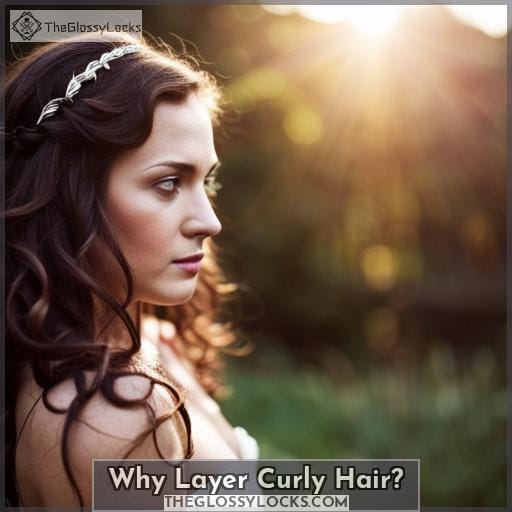 If you are looking for a hairstyle to define the shape and reduce bulkiness of your curly hair while improving volume and adding more movement, layered cuts are the perfect solution. Expert stylists recommend customized layering to help your curls take on the ideal form for which they were meant.
Layered haircuts can assist in sculpting curls to enhance their natural bounce and movement. By removing some of the length and weight, layers create a frame for curls that allows them to spring up rather than be pulled down.
Strategic layering also helps remove any triangular or boxy shapes, making curls appear rounder and more voluminous. When cut properly to suit your curl type and pattern, layers can make curly hair look its absolute best.
Define Shape
You can define the shape of your curls with strategic layering. Angled, face-framing layers sculpt voluminous texture. Tapered ends complement your natural curl pattern for perfect definition. Curated layers allow your spirals to shine.
Reduce Bulk
Do not bulk by extreme layering. Expertly trimmed layers slenderize dense curls. Prudently lop ends for supple shape without sacrifice. Adeptly layer textures and lengths, decreasing mass yet retaining lively form. Consider face shape and innate volume when determining ideal layer types for curly hair.
Lessen bulk with strategic cuts. Welcome textured variations through skillful layering benefits.
Improve Volume
Start with shorter layers near the crown to lift roots and add volume.
Ask for wispy, light layers to gently remove weight while adding airiness.
Embrace a heavily layered look to maximize bounce and movement for fullness.
Incorporate subtle face-framing layers around your features for a flattering, voluminous shape.
Play with layers of varying lengths to boost volume right where you want it.
Add Movement
Course texturized layers will breathe life into curly locks. Strategic slicing separates curls, allowing them to bounce freely. Shorter layers underneath encourage lift while longer pieces on top enhance flow and movement.
Play with partings, products, and styling methods after your cut to maximize motion.
| Curl Type | Best Layering Approach |
| --- | --- |
| Loose waves | Long layers to encourage bend and flow |
| Ringlet curls | Short layers to separate and reduce bulk |
| Tight coils | Blunt cut with slight texturizing around hairline |
Layered Styles for Short Curly Hair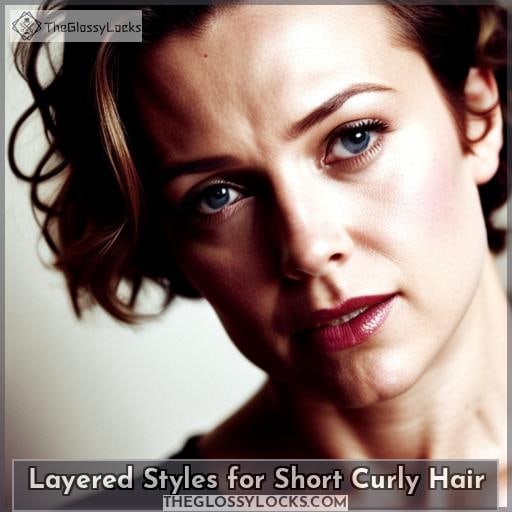 Pixie cuts or angled bob styles are perfect if you love short curly hair. Try an asymmetrical cut with shorter layers toward the front to add movement and shape without losing curl definition.
Angled Bobs
You'll get a sleek 'do with extra volume and movement when you get a sharply angled bob cut with a side part.
Style with texturizing sea salt spray for beachy waves.
Add highlights around the face for dimension.
Flip the ends under for retro glam.
With crisp layers angled from short to long, an asymmetrical curly bob flatters oval and heart-shaped faces beautifully. Your curls will spring with bounce and shape. Discuss styling options with your curl expert to maximize your layered cut.
Messy Shags
You're going to be obsessed with messy shags for your short curly hair, as the shaggy layers create the ultimate carefree and undone texture. Shag variations like a pixie or bob with piecey layers are ideal for boosting definition and movement.
Strategic texturizing, razored layers, and volumizing products are key for styling your curly shag. The customized layers provide weight removal, bounce, and shape for your curls and coils. Play with side or diagonal partings to switch up your curly shag. The edgy, tousled look flatters oval, heart, round face shapes beautifully.
Layered Mid-Length Curly Hair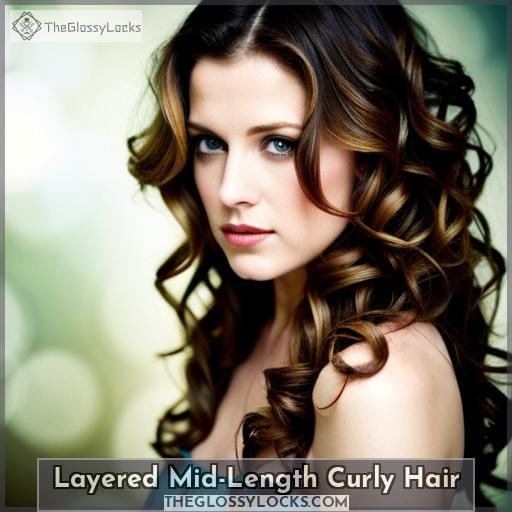 If you have shoulder length or medium curly hair, layering is an excellent way to enhance definition and movement. Opt for longer face-framing layers and shorter layers through the interior and back to add shape and prevent triangular hair.
Middle Parts
Ask for subtle front layers around the face to open up your features.
Use a wide-tooth comb on damp hair to define your part after washing.
Twist sections away from your part for extra volume.
Finish with a curl cream to tame frizz and enhance your spirals.
Don't worry, middle parts are a go-to for showing off the texture and movement of layered medium-length curls. Embrace middle parts to give your curls body and breathe new life into your look.
Side Parts
Getting a thick side part with longer face-framing layers and short layers on top gives curly hair more dimension and movement. The placement of a side part should complement your natural parting and face shape.
Side parts look beautiful on oval, heart, and diamond shaped faces. When getting layers, ask your stylist for shorter layers on top and around the crown area. Longer face framing layers will prevent the triangle effect. Style your curls with mousse for extra hold.
Finger detangling when wet reduces breakage. Regular trims maintain your layers.
Layered Long Curly Hair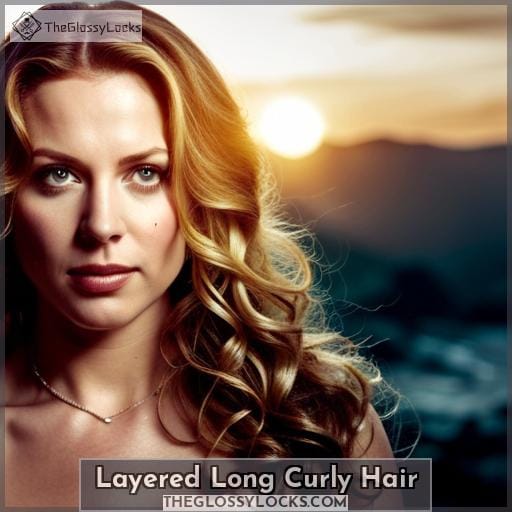 Looking to add shape and movement to your long curly locks? Incorporating strategic short layers that start around your cheekbones is a perfect way to enhance your curls' natural bounce and flow. Avoid blunt ends and let short layered sections blend with longer lengths to maintain balanced fullness, without losing length or creating a triangular shape.
Short Layers
Those short, lively strands wonderfully shape a spirited style. Layered short curly hair evokes freedom and belonging through:
Precision cut layering techniques to optimize texture
Versatile styling like pixies, bobs, finger waves
Considering oval, heart, diamond face shapes
Easy maintenance with leave-in conditioner
Embracing natural texture in short layers
With the right layered cut and care, short curly hair unlocks self-expression.
Avoid Triangles
You've got to ensure the longest layers frame your face to avoid that dreaded triangular shape with long curly layered hair. Focus on distributing volume gradually from the crown down the length with strategic layering angles.
Shorter layers underneath provide texture and movement without excess bulk. Consider face shape and damage when determining layer lengths.
Face-Framing Layers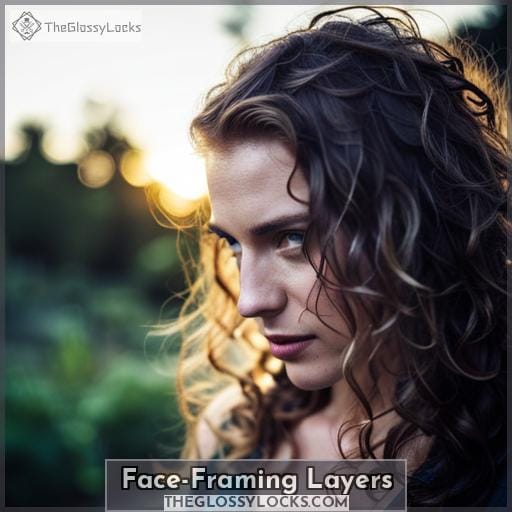 Face-Framing Layers
Framing your face in the best light softens features with face-framing layers that create flattering angles, drawing attention to your eyes, cheekbones, and smile. An expert stylist can assess your facial features, evaluate your curl pattern, and customize angled layers to gently shape your visage.
Softening Features
There's a chance your softer face comes out as your jawline is curtained by the swoops of those face-framing layers. Those volumizing layers around your cheeks mellow any angles for a sweet, rounded look.
Framing your features with graduated lengths lifts your curls while taking off weight. Play with parted and tucked back styles to showcase the line of your chin, or sweep both sides forward for a softened, pretty look.
Flattering Angles
My friend, savor the joy of framing your face at flattering angles with tactfully layered curls. The stylist thoughtfully frames your features, accentuating your best angles and softening contours, through layering techniques for curly hair.
Flattering face-framing curls emerge effortlessly with the right cut. Consult styling tips to maximize texture and movement at complementing perspectives. Embrace the liberating versatility of working with your natural waves and curls.
Thoughtful layers let your spirited locks shine at their most flattering angles, beautifully framing your face.
Razor Cut Layers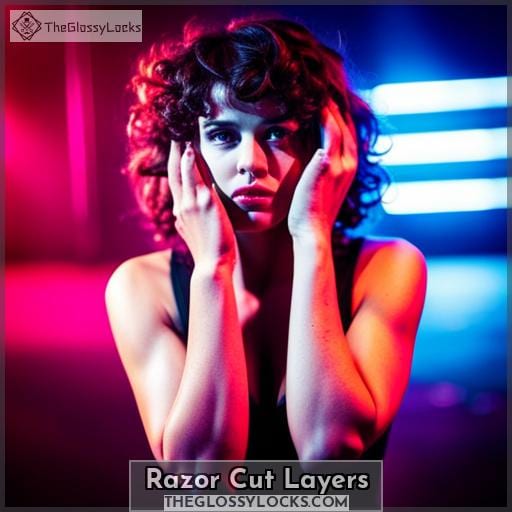 Looking for light layers that enhance natural texture? Expert stylists recommend asking your hairdresser for razor cut layers. With razor cutting, the hair is sectioned and trimmed with a razor tool to remove weight and create wispy, feathered layers.
Light Textured Look
Don't get lost in that sea of curls, let's dive into the light textured look to gently part the waves and define your spirals.
Keep volume on top and tapered ends for movement.
Point cut with shears to remove bulk.
Style with mousse for touchable texture.
Embrace your natural pattern.
Refresh 2nd day curls with spray and scrunch.
The right layers create effortless texture and movement to showcase your spirals' natural beauty.
Blend Curl Patterns
You're surely wise in blending curl patterns with those razor-cut layers for extra movement and dimension. The textured layering helps fuse multiple curl patterns into multi-curl harmony. With layered waves, the curly layers transition and flow together beautifully. Try a flowing curly shag or curly bob to blend curl patterns at shoulder length.
Experiment with types of layers for curly hair to achieve the ideal textured layering.
Curly Shags With Layers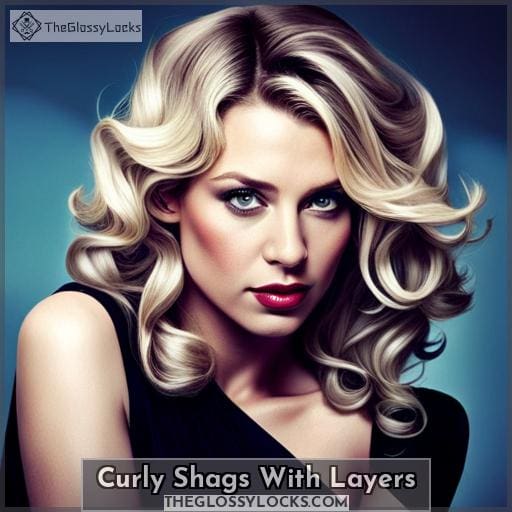 If you want to highlight your natural texture with an effortlessly cool look, a curly shag with lots of layers will give you that tousled vibe that embraces the natural movement and dimension of your curls.
We can explore how various layering techniques can help create texture, volume, and flow for your curly shag hairstyle. Different types of layers add shape and structure while allowing your curls to bounce around naturally.
Shorter face-framing layers around the front soften your features and let your spirals pop around your face. Long layers throughout the back and sides encourage your curls to cascade down your back gracefully.
And choppy, shattered layers all over give your mop of curls an intentionally messy, piecey look with lots of separation and definition. Your stylist can customize the layers based on your hair length, thickness and curl pattern.
So let your curly hair shine with a layered shag haircut that brings out your gorgeous natural texture.
Lots of Texture
Got tons of texture with those razor-cut layers.
Vary your part and style for dramatically different looks.
Scrunch and twist sections while air-drying to maximize texture.
Use a sea salt spray for extra grit and separation between strands.
Lots of texture in curly hair from razor-cutting layers opens up a world of styling options. Embracing natural curls and enhancing them with products that boost definition is key. Changing up your part and twisting sections while drying helps get the most out of your textured layers.
Tousled Look
Tousle your hair for a fabulously messy yet defined look. Go for choppy layers throughout to boost texture and movement. Try curling with a wand, scrunching with sea salt spray, or simply finger-combing for artfully tousled waves.
When styling, work in sections and avoid over-brushing. Embrace your natural texture and enhance it with highlights for a beachy, lived-in look with loads of body and bounce.
Layered Highlighted Curls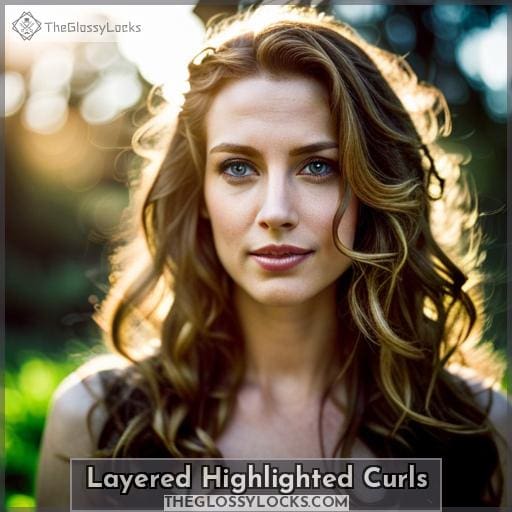 Looking to add dimension and brighten up curly locks? Layered, highlighted curls can help achieve that goal. Strategically placed highlights throughout the layered cut will not only add radiance, but also create an illusion of depth.
Create Dimension
With subtle stacked layers, your curls frame your face in full dimension. Discover multiple styling options, as textured layering enhances volume and curl definition. Face framing layers soften and shape, allowing hairstyles from voluminous to sleek.
Embrace newfound bounce, movement, and creative freedom as the layered cut separates each unique ringlet for lightweight, airy curls. Experiment with partings, products, and accessories to find your ideal style. Types of layers for curly hair can create dimension, including see-through bangs that flatter round faces, framing layers that soften and shape, and dimension-boosting highlights on blonde curls that add depth.
Brighten Color
You'll pop your curls with bold highlights and lowlights. Give your ringlets dimension by brightening color with vivid balayage. Look for copper, magenta, purple and blue shades to energize spirals. Go for babylights too, with fine streaks of lighter color through the underlayers.
This illuminates density with sun-kissed tonal enhancements. Consult a curl specialist to determine ideal hues and placement based on your hair thickness and goals.
Consult Curl Experts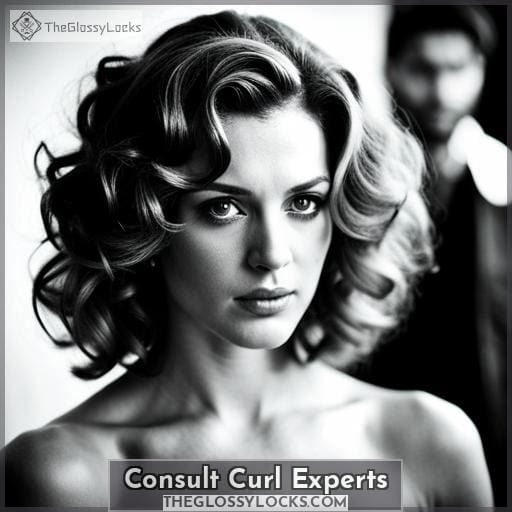 Curly hair layering techniques require proper care and craft from an experienced stylist. Book your consultation with our curl experts to ensure getting the right cut and upkeep for your natural texture's unique curl pattern and porosity.
Our stylists understand the intricacies of cutting curly hair in a way that complements the natural shape. Schedule a session to learn techniques for styling, products, and at-home care that work best for your hair's needs.
With an expert cut and the right tips, you'll love how your curls look and feel.
Proper Techniques
You've got to learn proper techniques for layering curly hair from experts to get the best results. When it comes to texturizing methods like curl specific cutting, the angles and layers have to complement your texture.
Experts tailor the right layering angles to enhance volume and frame your face. Whether you want subtle texture or dramatic layers, specialists use techniques catered to curly hair types. Trust the process and consult real experts for techniques that bring out your spirals' best.
Healthy Maintenance
Resist those urges to grab the flat iron, honey, 'cause you're only gonna damage those gorgeous curls even more.
Here's what you can do to maintain healthy curls:
Use heat protectant before styling.
Deep condition weekly.
Limit washing to 2-3 times per week.
Sleep on a silk pillowcase.
Avoid brushing dry hair.
The key is keeping your curls moisturized and minimizing damage from heat styling. Work with your stylist to find a routine that brings out your natural texture in a healthy way.
Love Your Layered Curls!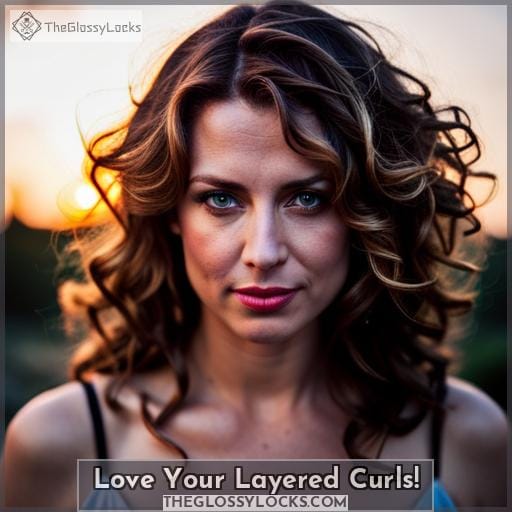 Curl up, kick off your shoes and love your layered locks with confidence today! Embrace your curls' natural texture and shape with layered cutting techniques for covetable definition. Run your fingers through voluminous layers that keep curls from clumping and get rid of unwanted bulk.
Flaunt your gorgeous spiral shape with face-framing layers or textured layers to amplify your curl pattern's glory.
Don't forget to finesse your fringe, too, with fresh layers and bangs that frame your features. Experiment with feathered layers for movement or graduated layers for shape. Throwing your curls up in a layered top knot or gently pulling out pieces around your face adds flattering volume.
Make sure your stylist understands your hair's needs. With proper layering and the right care, your coils will cascade freely in enviable, frizz-free spirals that you can't help but love.
Conclusion
You've got this! With the right style and cut for your curls, layered hairstyles can help you achieve the volume, shape, and movement you've been dreaming of. Though the options may seem endless, focus on flattering silhouettes for your face shape, manageable lengths for your lifestyle, and proper layering techniques to avoid damage.
Trust your curls – and a knowledgeable stylist – to guide you toward showstopping styles with enviable definition. When in doubt, keep things simple with face-framing shape and soft layering around the crown.
With an open mind and a little inspiration, you'll find beautiful new ways to rock your curly locks in 2023.