This site is supported by our readers. We may earn a commission, at no cost to you, if you purchase through links.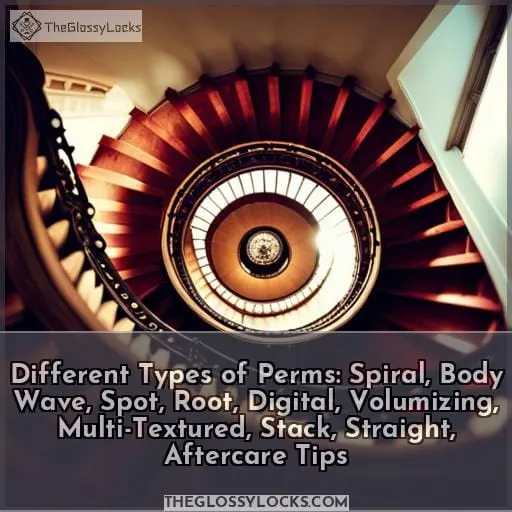 Transform your hair into whatever style you desire with the right perm. Whether you're looking for tight curls or loose waves, there are a variety of different types of perms to choose from that can give your locks an extra boost.
From Spiral and Body Wave Perms to Spot, Root, Digital, and Volumizing Perms – each technique has its own unique benefits and applications.
Key Takeaways
Spiral perm: Achieve tight curls with healthy hair.
Body wave perm: Softer, natural-looking waves with added texture.
Spot perm: Creates uniformity with curly hair strands of multiple textures.
Root perm: Adds volume and texture to limp locks without an obvious curl pattern.
Spiral Perm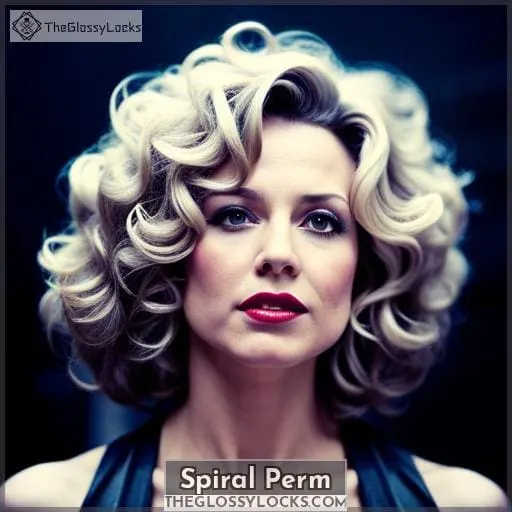 You can achieve tight curls with a spiral perm, which requires healthy hair to be effective. Depending on your hair type and length, this curl maintenance treatment is suitable for almost any hairstyle.
When considering a spiral perm, it's important to keep in mind the styling options that are available after the perming process as well as proper care instructions for maintaining voluminous locks. To get started with preserving natural bounce and keeping strands hydrated before, during, and after receiving a spiral perm, opt for healthy hair tips such as using leave-in conditioner regularly or deep conditioning treatments weekly to maintain softness while avoiding breakage from heat tools when possible.
These small steps will help ensure you have happy curls post-perm! Additionally, try out different products until you find ones that work best so your style stays looking fresh throughout the weeks without damaging your newly coiffed mane!
Body Wave Perm

Experiencing a body wave perm offers you softer, more natural-looking waves with added texture and longer-lasting blowouts. The process involves applying chemicals to the hair before wrapping it in rods and then heating them for desired results.
It is important to note that body wave perms are not as tight or long-lasting as spiral perms, but they can give a subtle boost of volume after styling. This type of perm is ideal for those who want their curls to look less defined yet still have some curl definition when styled properly.
Aftercare plays an essential role in maintaining your new style. Regular deep conditioning treatments should be done, along with using sulfate-free shampoos and conditioners specifically designed for chemically treated hair like Mielle Organics Biotin Oil.
This product helps nourish, strengthen, and protect your tresses while prolonging the life of your perm.
Body wave perms come at varying prices depending on length and thickness but typically cost around $100-$200 USD, making it one of the most affordable types out there! Whether you're looking for more texture or just want something different from straight styles without too much commitment, getting a body wave perm may be just what you need!
Spot Perm

A spot perm is perfect for creating uniformity with curly-haired strands that have multiple textures, giving your hair a soft and natural look. It involves the use of heat to create tight curls or waves on particular areas, making it ideal for short hairstyles like pixies and bobs.
The process is similar to other perms but does not involve treating the entire head. Instead, specific sections are cooled down using rollers or rods after being treated with chemicals. This allows stylists to customize each client's perm according to their needs and desired outcomes.
Spot perming provides many benefits, including curl definition without losing length and volume control in certain areas while leaving others untouched. For example, at the roots where texture can be kept intact longer than usual when compared to root perming techniques.
With proper care, such as deep conditioning treatments, regular trims, sulfate-free shampoos/conditioners, etc.
Root Perm

Transform your look with a root perm and enjoy voluminous, beautiful hair that's full of life.
Root perms are a great way to add body and texture to otherwise limp locks – without having an obvious curl pattern like other types of perms.
The process involves wrapping the mid-lengths and ends around rods before applying a chemical solution. This solution breaks down keratin in the hair shaft so it can be reset into curls or waves for added volume throughout the entire head.
This method is gentler than standard spiral or digital perms because there's less heat used on individual strands, resulting in less overall damage.
Compared with spiral perming techniques, root perm treatments create more subtle effects that can last up to three months if properly taken care of.
Post-perm care includes using sulfate-free shampoos and avoiding harsh brushing. These practices will help maintain good condition while preventing further damage during styling sessions!
Digital Perm

Unlock the perfect waves with a digital perm and let your hair flow like rolling ocean tides. Digital perming is an innovative way to get long-lasting curls that are soft yet voluminous. The process involves using machines and infrared heat, in addition to balanced chemicals, allowing for more precise control over the shape of each curl compared to traditional cold or hot methods.
If you're looking for loose natural waves, then digital perming might be right for you! It's also great if you have colored hair as it requires less maintenance than other types of perm treatments while providing longer-lasting results due to its gentler approach.
With proper care and upkeep after treatment, your look can last up to six months depending on hair length – making this one of the longest-lasting types of permanent curling available today! Whether you want big bouncy curls or smooth sleek waves, try out a digital perm today and experience all its benefits firsthand!
Volumizing Perm

A volumizing perm helps add bounce and body to your hair, giving it the texture you desire with lasting results. It's perfect for those looking to make a subtle change without compromising on volume.
Unlike traditional perms that produce tight curls, a volumizing perm uses larger rods to create loose waves or gentle curls while still adding volume throughout the hair shaft. The process involves wrapping sections of dampened hair around small or medium-sized rods and applying mild chemicals before heat is applied in order to lock in shape and set the curl pattern into place.
With regular trims every six weeks, this type of perm can last 3-6 months depending on how well you care for your tresses with proper hydration as well as using sulfate-free shampoos/conditioners like Monday Haircare Volume Shampoo along with other natural products such as Mielle Organics Biotin Oil and Samnyte Wax Stick Wigs.
Volumizing perms are a great alternative if you're seeking more tame wave patterns compared to body wave perms, which result in more defined ringlets due to their use of smaller rod sizes when creating the desired style.
However, both techniques offer an incredible opportunity to customize your look by mixing different size rod variations to achieve an even better look.
Multi-Textured Perm

Tired of the same old hairstyle? Maybe it's time to try something new, like a multi-textured perm! This technique uses varying perm rod sizes for realistic and tightly curled looks that are sure to turn heads.
Not only will you have more styling options with this look, but maintenance is also easier than ever before.
The best hair types for this type of perm are healthy virgin hair or already damaged tresses – both can benefit from extra volume and texture! To ensure your new look lasts longer, use clarifying shampoo once a week as well as regular deep conditioning treatments and hair masks.
Cost varies depending on length and desired style, so be sure to ask your stylist first before committing.
Stack Perm

Achieve a voluminous layered look with a stack perm, perfect for graduated bobs and short haircuts. Stack perms use different rod sizes to give the hair lift at the roots while keeping ends curled, creating an effortless yet stylish effect.
The process involves wrapping sections of hair around rods and then applying a chemical solution or heat depending on the desired result.
Maintenance is relatively simple: avoid overstyling using hot tools as this can damage curls; use shampoo specifically formulated for curly/wavy textures; opt for gentle conditioning treatments such as deep masks or oil treatments regularly; apply leave-in conditioners before blowdrying if necessary; consider touch-up appointments every few months if needed.
With careful care and maintenance, you can enjoy your stack perm's fabulous results!
Straight Perm

Transform your locks with a straight perm – permanently removing natural curls using an alkaline solution and heat for up to six months of smooth, effortless style.
The benefits of a straight perm are plentiful. The look is polished and sleek. It requires less maintenance than other types like spiral or multi-textured perms.
When selecting the right one, consider whether you need a hot or cold perm. Also, think about if you want to target just certain sections (partial) or all hair strands.
To keep your new 'do looking perfect after treatment, use sulfate-free shampoos specially designed for chemical processes. Glyceryl monothioglycolate is a great option as it helps maintain texture while still cleansing follicles without damage from harsh ingredients.
With the right care regimen in place, you'll enjoy your salon perfection at home every day!
Aftercare Tips for Perms

It's important to properly care for your perm after you leave the salon, in order to maintain and maximize its effects.
Perm maintenance: Regularly use sulfate-free shampoos and conditioners that won't strip away curl definition or dry out hair. Avoid using heat styling tools as much as possible, since too much heat can damage permed hair.
Styling options: Take advantage of products designed specifically for perms such as mousses and serums that help keep curls defined without weighing them down. Try scrunching damp strands with an absorbent towel instead of brushing or combing when styling wet hair after a perm treatment.
Perm friendly products: Look out for natural oils such as coconut oil which nourish the scalp while adding shine to locks; it also helps protect against breakage from chemical treatments like permanent waves!
Heat Damage Avoidance After A Perm: Use low settings on blow-dryers, curling irons, flatirons, etc. Shields should be used before applying any hot tool near newly-permed curls so they don't become overworked by direct contact with extreme temperatures.
Protect Color Treated Hair With A Perm: If you have color-treated tresses, seek advice from experienced stylists regarding techniques that will not damage their hue. This could include avoiding tight rod sizes, cold application methods only, frequent trims if necessary, etc.
Conclusion
With so many perm types available, it's hard to know where to start. From spiral to stack perms, from body wave to digital, there is something for everyone. Whether you want a natural look or something more daring, perms provide a range of styling options.
Not only do they offer versatility, but also the ability to customize the perm to suit individual needs.
So, if you're looking to switch up your look, why not consider a perm? It could be just the thing to bring out your unique style.