This site is supported by our readers. We may earn a commission, at no cost to you, if you purchase through links.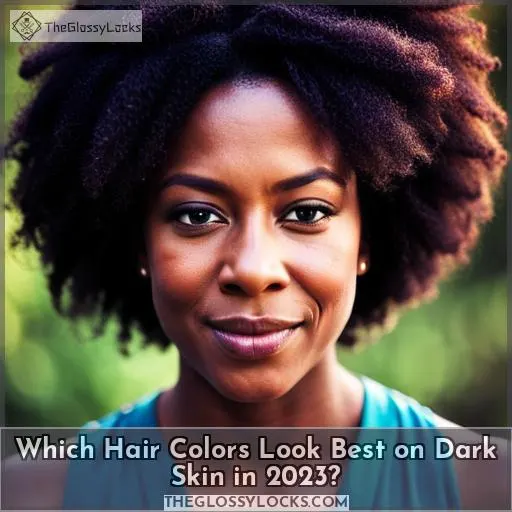 Are you looking for the perfect hair color to match your dark skin tones? Whether you want something subtle and natural-looking or a bold, colorful statement, there is an option out there that will flatter your complexion.
The best thing about having darker skin is that any type of hair color looks great on it; however, some colors may look better than others.
From golden goddess blonde to pink ombré highlights and everything in between—we've got all the inspiration needed to reveal a new look for 2021!
Key Takeaways
Golden goddess blonde
Multi-dimensional red highlights
High-gloss black hair
Money piece trend
Golden Goddess Blonde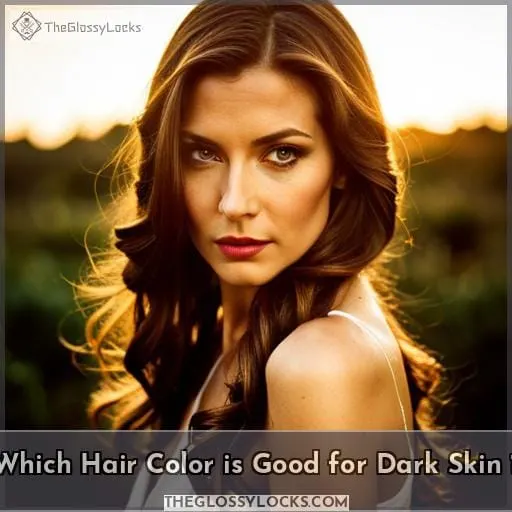 You'll look heavenly with golden goddess blonde, a medium to light brown natural base color that pops against your complexion. Beyoncé's trendy golden shade is the perfect example of how this hair color can add depth and texture to dark skin tones.
To get the most out of this hue, consider blending it with lighter shades for sun-kissed looks or darker hues for tousled beach waves.
Whether you choose highlights like Ciara or all over coverage like Zendaya, the possibilities are endless when it comes to achieving beautiful results with Golden Goddess Blonde on dark skin tones.
Multi-Dimensional Red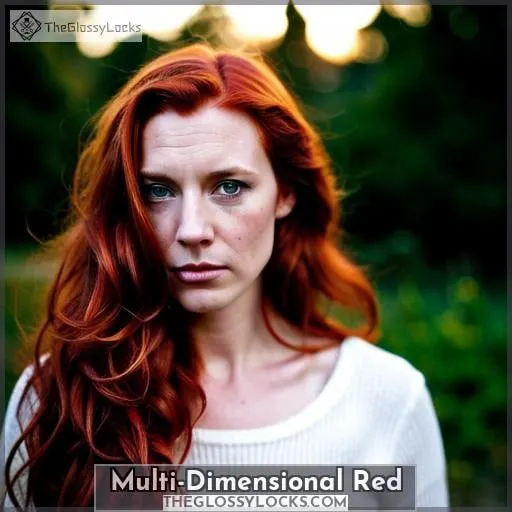 Achieve a perfect red hair color with multi-dimensional red highlights. Whether you're looking for subtle shades or more vibrant, warm hues, this hair color can give your dark skin an eye-catching contrast.
Multi-tonal effects are key to creating a natural look when it comes to styling and coloring dark skin tones—red is no exception! Try combining warm undertones with cool ones for stunning results that will turn heads wherever you go.
Subtle yet bold pops of colors like copper and cinnamon help create soft dimension while still delivering plenty of impact without going overboard. For something even bolder, consider rose gold or deep jewel tone versions which provide great contrast against warmer undertones in the face area but also blend well into the rest of your style if desired.
So why not take advantage of all these different options? With such variety available, there's sure to be one just right for you!
High-Gloss Black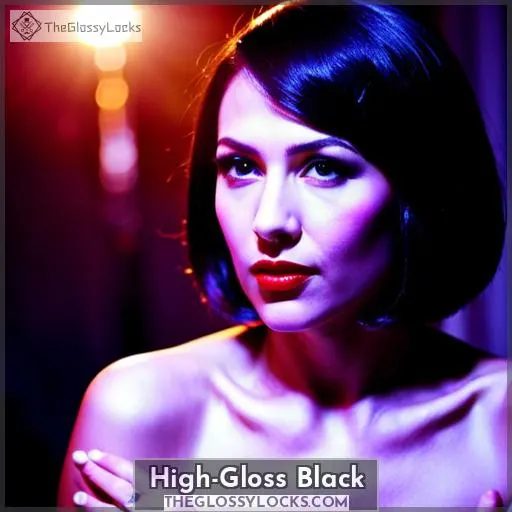 Experience the bold and glossy look of high-gloss black hair, perfect for creating a dramatic shift to warm or cool tones while still adding shine. For those with medium to dark skin tones, this style offers an opportunity to stand out while still complimenting your natural base color.
Start with a golden goddess blonde as the foundation if you want warmer hues. Rich brown hues can be achieved by starting from a darker natural base color such as hazelnut or the money piece trend.
Enhance warmth and depth in your look by adding highlights like copper, cinnamon, carrot reds, and chunky sun-kissed pieces that will pop against dark skin tone beautifully.
Neutralize any vibrant colors in your hairstyle using a black gloss sheen, which will help blend all of these different shades together seamlessly without making it too overwhelming!
If you're looking for something even more daring but don't want permanent change, then try going for rose gold highlights or dusty pink on top.
Whether you're a fan of subtlety or jewel-toned hair colors, there's sure to be one just right for anyone wanting to explore their options when it comes to choosing the best hue for their complexion type.
Money Piece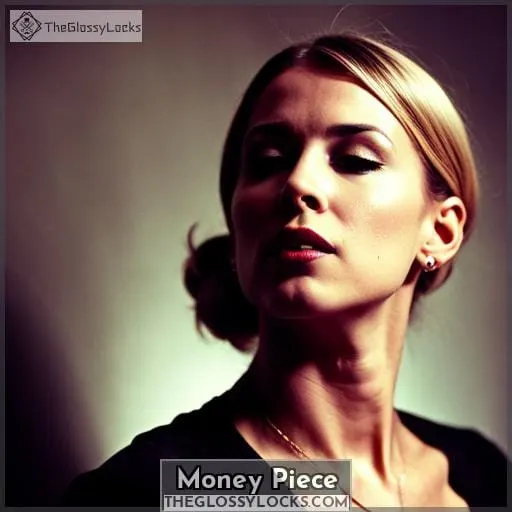 Try the Money Piece trend to create a full section of color around your face, while keeping the rest of your hair darker for an eye-catching look. Whether it's a golden goddess blonde or chunky highlights reminiscent of the 90s, this style can be tailored to any skin tone and offer up major dimension.
For added contrast against warm undertones, try rosy gold highlights with a face-framing money piece – perfect for drawing attention to those beautiful features! To keep things subtle yet still stylish, opt for dusty rose color that will provide just enough pop without going overboard.
Maintenance is key when it comes to achieving maximum impact – so make sure you have regular touch-ups in between salon visits as well as using quality products recommended by professionals who understand how best to protect and nourish each individual's locks!
With these tips combined along with some bold styling ideas from our experts at hand, you're guaranteed an unforgettable statement hairdo that won't go unnoticed anytime soon!
Red Hot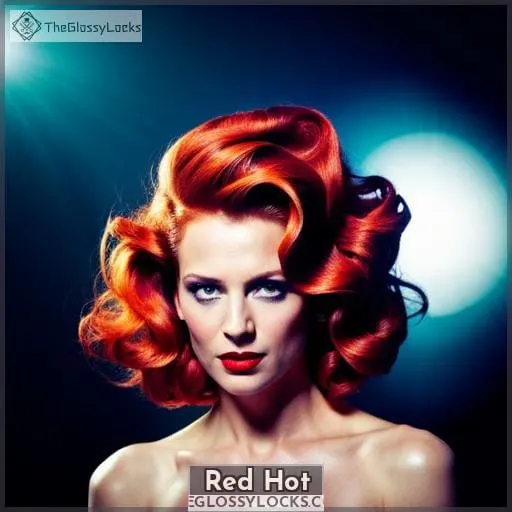 Embrace the Red Hot trend and add some fiery impact to your look with various hues like copper, cinnamon, and carrot – for a bold statement that'll be sure to turn heads!
Deep copper or burgundy lowlights are perfect for bringing out warm hazelnut tones in brown skin. For an edgier style reminiscent of the velvet rope era, try thick curls kissed with cinnamon color.
Meanwhile, those looking for something more subtle can opt for lighter carroty shades which will still provide plenty of contrast against dark complexions.
Whatever hue you choose – from deep mahogany reds all the way through to bright orangey carrots – adding any level of warmth into your locks is sure to make them stand out at any occasion without overpowering natural beauty underneath it all.
So why not take this opportunity today? Experiment away and see what amazing looks await when you decide on a new shade within this vibrant spectrum!
Soft Chocolate Brown

Give your look an instant upgrade with Soft Chocolate Brown – the natural-looking all-over color perfect for any season!
This shade range features cool tones that won't overwhelm warm undertones in dark skin, making it a great option to try out. Whether you're looking for a subtle upgrade or something more dramatic, this hair color will provide you with a dewy and highlighted look that's sure to make heads turn.
With its versatility, soft chocolate brown is one of the best hair colors available for those seeking neutral hues without sacrificing vibrancy on darker skin tones.
From light ash browns through to deep cocoa shades – there's plenty of options within this spectrum so finding just what suits your individual style shouldn't be hard at all! So why not give soft chocolate brown a go today? You'll definitely love how much healthier and beautiful your locks appear after coloring them with such an earthy yet vibrant hue!
Chunky Highlights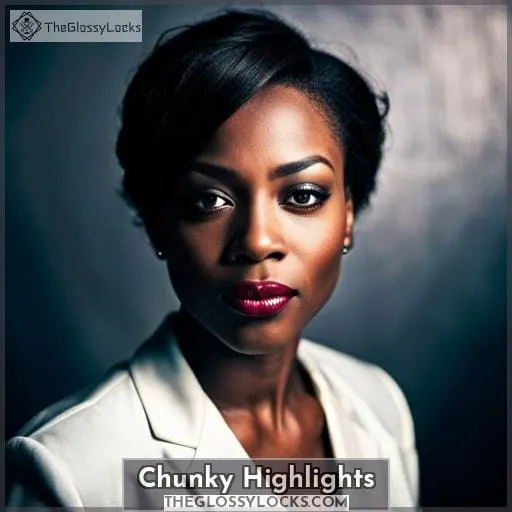 Experience a sun-kissed look like nothing else with chunky highlights – it's as if the rays of sunshine have been sprinkled across your hair, creating an enchanting contrast against medium to dark skin tones.
Highlighted blends and subtle contrasts add a hint of color for that warm glow, while contrasting tones create depth and interest.
Plus, this look is low maintenance yet still allows you to play around with shades when styling your locks.
For those seeking darker colors than blonde or light browns without giving up on their natural base hues, chunky highlights are perfect! Accents in copper or cinnamon provide extra warmth to the overall effect while still maintaining a professional tone – making them ideal for workwear and formal events alike!
And don't forget about adding money pieces around the face – they'll give you an instant lift no matter what length your mane may be!
Lastly, combine soft ombré with these highlighted accents for even more dimension; allowing you to embrace both warmer tints as well as cooler palettes depending on what suits best. With all these options available, there's certainly something out there that'll make dark skin shine brighter than ever before – so go ahead and rock those beautiful curls however way feels most comfortable today.
Grey or Silver Ombré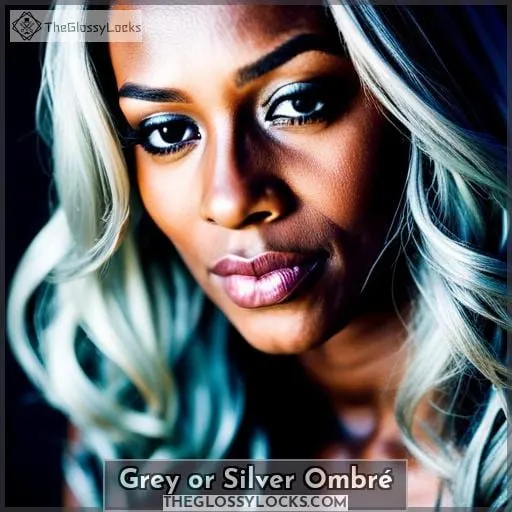 Try out the grey or silver ombré for a trendy and icy look that will make your dark skin glow! This color contrasting technique uses tinting, highlighting, and other techniques to create subtle hues of ice with an edge.
Think Janet Jackson's Velvet Rope era but updated for 2020 – Tiffany Haddish has been seen rocking this look at events while Meghan Markle opted for a softer version when attending her first royal engagement.
And Zendaya showed us all how to do it right with her dark Auburn twist on the red carpet.
For those looking to take their style even further, Tish Celestine recommends going bolder by adding in highlights giving you more control over what kind of impact you want your hair color to have – whether it's warm tones or cool ones (or both!).
Dive deep into icy tones without compromising on having healthy hair – perfect for any season!
Rose Gold Highlights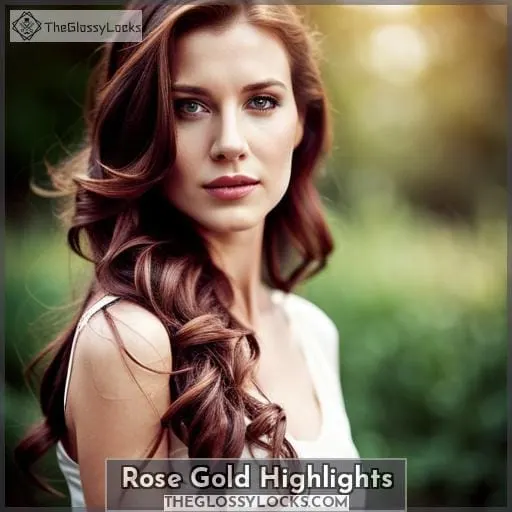 Discover the dramatic transformation of rose gold highlights that add depth and richness to both warm and cool skin tones! Perfect for dark complexions, this hair color technique will give you a subtle balayage look by incorporating golden copper tones.
A great contrast to black or blonde hair, these icy hues will enhance your overall style without going overboard. The best part? You can adjust the tone of your hair according to its undertones—for warmer shades, opt for lighter tips framed around the face with a more natural look.
So if you're looking for something daring yet sophisticated, then try out rose gold highlights today – let them be your secret weapon in making heads turn wherever you go!
Pink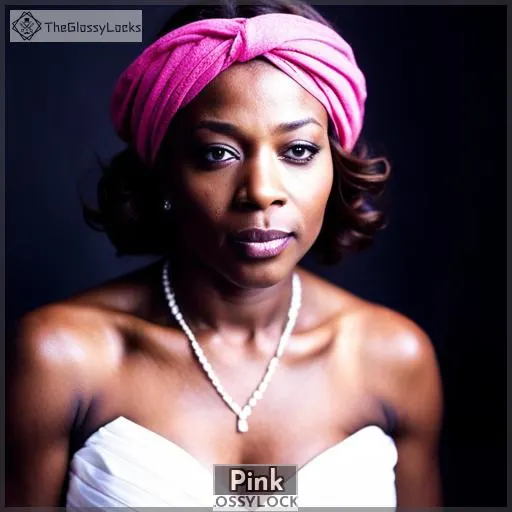 Give your dark complexion a boost with the latest pink hair trend – add dusty rose color for a subtle, natural look that will make you stand out! Whether you opt for pastel hues or purple accents, blush tones and copper streaks can help enhance your features.
Burgundy lowlights also work well to create depth in darker skin tones. A great way to achieve this is by adding length and volume with vibrant pops of colors like navy blue or chocolate brown.
Pink flamingo carpeting is an eye-catching alternative if you're looking for something more daring yet chic! With easy maintenance needs, pink hair has never been easier than now – simply wash it as usual and enjoy its vibrancy throughout the season without having to worry about fading highlights.
You'll be sure to feel confident walking into any room rocking these unique hues – so go ahead, get creative with shades of pink today!
Frequently Asked Questions (FAQs)
What are the best hair products to use for dark skin?
Discover the perfect hair products for your dark skin. Find hues that flatter, such as copper and rose gold highlights, or achieve a jet black look with burgundy streaks.
How do I maintain the color of my hair when I have dark skin?
Maintaining your hair color when you have dark skin is a breeze – just make sure to nourish and protect it with the right products. Treat each strand like precious gemstones, wrapping them in an invisible layer of moisturizing protection that will keep colors vibrant and alive.
Use conditioners and masks for deeper hydration while avoiding harsh chemicals or heat styling tools.
What type of hairstyles look best with dark skin?
Dark skin looks gorgeous with bold, multi-dimensional hairstyles. Try a money piece around the face and dark brown throughout for a sun-kissed look, or opt for red-hot copper highlights to add warmth and sparkle.
Rose gold can enhance natural bronze tones while jet black is perfect for creating dramatic depth.
Is there a way to prevent my hair color from fading when I have dark skin?
Take preventative measures to keep your hair color from fading. Use shampoos and conditioners with UV filters specifically designed for dark skin tones, avoid over-washing, deep condition regularly, and use heat-protecting products when styling.
Are there any specific health concerns I should be aware of when I dye my hair and have dark skin?
When dyeing your hair and having dark skin, it's important to be mindful of potential health risks. Consider the strength of the chemical used, as well as how long you leave it in – too much can cause scalp irritation or even hair loss.
Use a deep conditioning treatment after bleaching and use heat protectant when styling to minimize damage.
Conclusion
You've seen the many hair colors that look great on dark skin, from the golden goddess blonde to the multi-dimensional red. From the moneypiece to the rose gold highlights, you've seen how each color brings out the unique beauty of dark skin.
As you ponder which color is the right one for you, remember that no matter what you choose, it's sure to be the perfect complement to your unique beauty. With the right hair color, you'll be sure to turn heads and leave a lasting impression.