This site is supported by our readers. We may earn a commission, at no cost to you, if you purchase through links.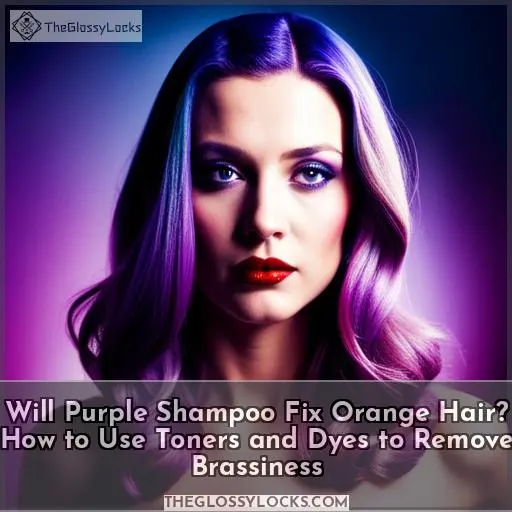 You're staring at the stranger in the mirror, horrified by your new orange locks that seem so out of place next to your usual blonde hair. Like a tiger that earned its stripes, those brass tones boldly declare their presence.
Though you yearn for the freedom of your former blonde glory, understanding how to fix this mishap will give you peace of mind. Armed with purple shampoo and a few other tricks, you can gently ease those orange tones into submission.
So don't despair – with some TLC and clever color correction, your hair will soon be back to the bright, golden blonde you know and love.
Key Takeaways
Purple shampoo cancels out orange tones and creates an ashy color when used 1-2 times per week.
Saturate pre-lightened hair with purple shampoo. Leave it on for a few minutes, then rinse with cool water for best results.
Protecting hair from sun exposure helps prevent brassiness. Using products with sun protection, hats, etc.
Deep conditioning regularly and using reputable hair products helps maintain color and hair health for longer lasting results.
What Causes Orange Hair?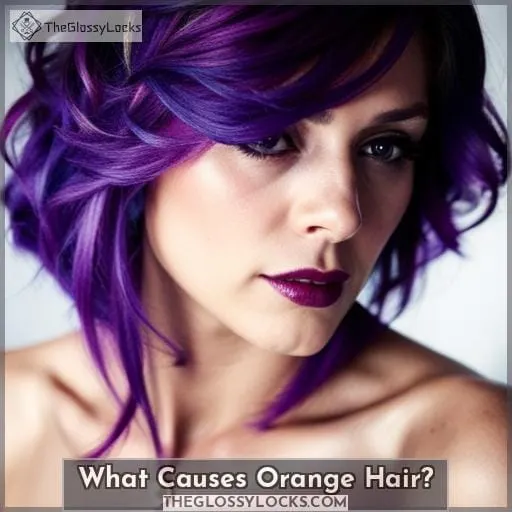 You're dealing with this issue because orange hair after bleaching is commonly caused by the underlying red and orange pigments in your natural dark hair being revealed. When you bleach dark hair, it lifts the cuticle and removes your natural melanin pigment, exposing the underlying warm tones.
Darker hair tends to have more red and orange undertones. If you don't tone to neutralize these colors, they show through, causing brassiness. Using a purple shampoo can help cancel out the orange and create a cooler, ashy color.
Make sure to saturate your hair well and leave the shampoo on for a few minutes before rinsing for best toning results. Following the proper usage instructions is key. Also consider seeing your stylist for an in-salon toner or color correction if needed for more drastic results.
Maintaining your color with routine toning will help prevent orange from reappearing between appointments.
How to Prevent Orange Hair After Bleaching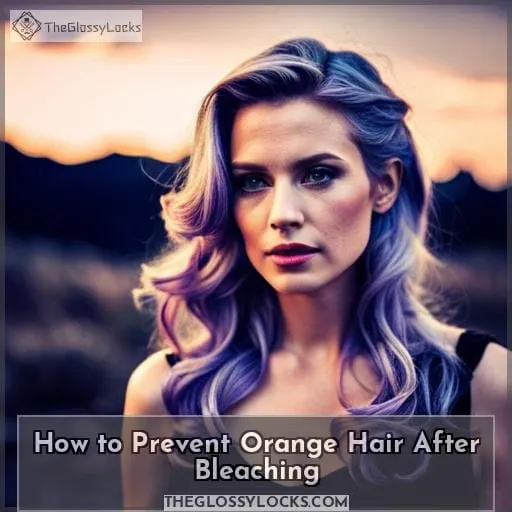 Protect your hair from sun exposure after bleaching to prevent brassiness. Wear hats and use styling products with UV filters when you spend time outdoors to shield your delicate color-treated strands.
Protect Hair From Sun
Put on a hat when going outside to prevent your hair from getting brassy in the sun. Unprotected exposure to UV rays can cause fading, drying, and brassiness. Wear wide-brimmed hats or headscarves to shield your hair.
Consider using UV-protective products like leave-in conditioners with sunscreen. Limit the time spent outdoors during peak sun hours. Preventing damage from the start will help you avoid having to fix orange tones later.
Safeguarding your hair against environmental factors ensures your color stays fresh.
How to Use Purple Shampoo on Orange Hair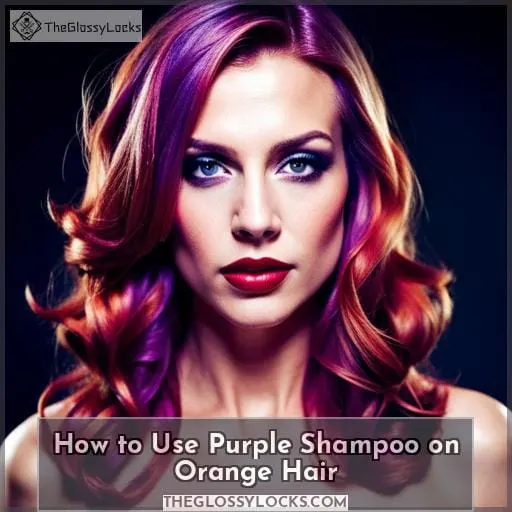 Before you dive in, it's vital to do a strand test and follow the instructions for application, rinsing, and regular use. If you don't, you could end up with overly tinted hair or lackluster results. Take the time to learn proper techniques for the best toning outcomes.
Strand Test
Before dousing your whole head, try the purple stuff on a small section first. Grab a stranded lock beneath your part and saturate just that hair with your new purple shampoo. Let it sit for 5 minutes, then rinse. Check for any unwanted tinting or harshness.
If it all looks good, go ahead and apply it to all hair needing brassiness removed. Still nervous? Test it again nearer your face. Strand tests give peace of mind before fully color correcting with purple shampoo.
Apply and Rinse
After massaging the solution through your tresses, send the brassiness down the drain with a cool water rinse.
Saturate hair thoroughly with cool water.
Allow purple shampoo to remain 2-5 minutes maximum.
Rinse from roots to tips, using cold or cool water.
Repeat if more toning is desired.
Condition and style as usual for maximized results.
With expertise in the latest hair color trends, I recommend rinsing with cool water after applying purple shampoo to effectively tone down brassiness in blonde and orange hair. This helps lock in the violet pigments for optimal color correction. Proper rinsing is key for fresh, bright hair color without unwanted staining or discoloration.
Regular Use Tips
You'll want to use purple shampoo regularly to keep blonde hair free of brassiness. To maintain your ideal tone between salon visits, shampoo 1-2 times per week. Alternate with regular shampoo to prevent over-depositing pigment.
Using purple conditioner as well will boost toning results. For best outcomes, incorporate preventive measures like UV protection into your routine too. Other solutions like dye, vinegar rinses, or salon corrections can target the brassiness if it returns.
Dos and Don'ts of Purple Shampoo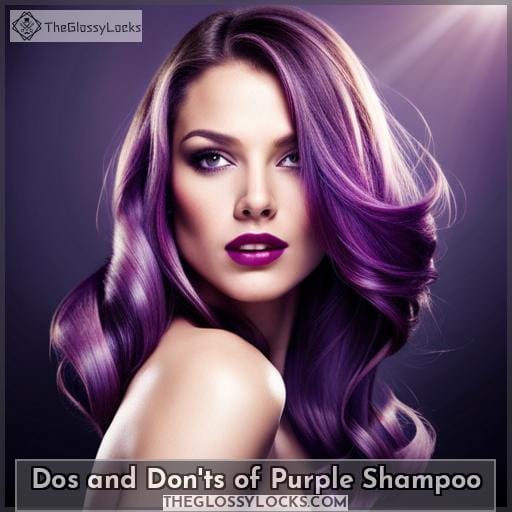 When using purple shampoo, do conduct a strand test to check the toning effect first and start by only leaving it on for a minute or two before gradually increasing time. Don't leave purple shampoo on for too long or use it too frequently, as this can result in unnatural purple tones in your hair.
Dos
Don't you care about getting the most from your purple shampoo to combat brassiness? Apply it thoroughly and evenly, massaging into hair and scalp for maximum toning and color correction.
Use gloves to avoid staining your hands.
Leave the shampoo on your hair for 3-5 minutes for light toning.
Use the shampoo weekly as maintenance between salon visits.
Follow with a purple conditioner for added nourishment.
Don'ts
You're better off avoiding constantly re-wetting your hair between applications. Leaving purple shampoo on too long can result in over-toning, so limit contact time to 5 minutes maximum. Don't use purple shampoo daily, as this can dry out color-treated hair. Alternate with a hydrating shampoo and deep condition weekly.
Applying heat amplifies toning effects, so avoid blow drying or hot tools after using purple shampoo. Lastly, purple shampoo works best on pre-lightened hair, so those with virgin hair may not see brassiness removed, only tinting.
Best Purple Shampoos for Orange Hair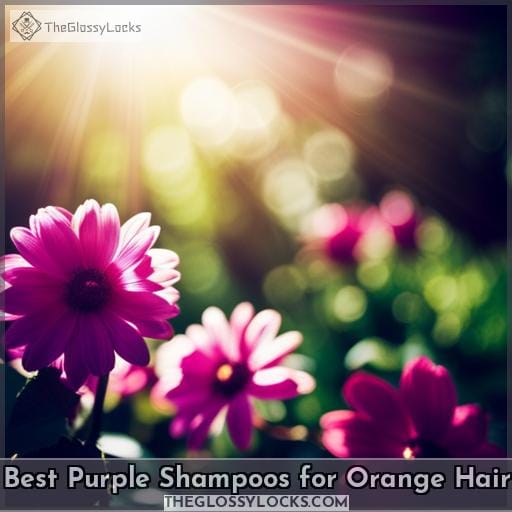 You'll find that reputable brands like Olaplex, Biolage, Milkshake, and Joico offer quality purple shampoos that can help tone down brassiness in blonde, gray, silver, and color-treated hair. These top-rated shampoos feature pigmented formulas with ingredients that gently cleanse while neutralizing unwanted warm tones for cool, bright results.
Olaplex No.4
I hear Olaplex No. 4 is to brassiness what kryptonite is to Superman. This weekly bonding treatment rejuvenates and strengthens compromised and color-treated hair. Infused with Olaplex's patented bond-building technology, it repairs damage and prevents breakage.
Its restorative formula acts as an at-home deep conditioning treatment that reduces frizz and improves split ends. Delivering lasting hydration and nourishing botanicals, No. 4 helps keep blonde and highlighted hair glossy, vibrant and healthy-looking between salon visits.
For best results, apply generously to towel-dried hair, leave in for 10 minutes, then rinse thoroughly. You'll notice a remarkable difference in the texture, shine, and color-fidelity.
Biolage Color Last
Concentrate the toning shampoo directly on the brassy sections for a maximum of 3 minutes. As a professional colorist, I always recommend strand testing first to gauge results. Apply Biolage evenly from roots to ends, massaging thoroughly. Rinse with cool water.
For the best toning results, follow with the Color Last Purple Conditioner. Use 1-2 times weekly to neutralize yellow tones in blonde and highlighted hair. This vegan formula gently cleanses while depositing violet pigments to counter brassiness.
Milkshake Silver Shine
Let the violet pigment gently counteract unwanted warmth from your locks as you massage this luxurious berry-scented shampoo through golden strands.
First, conduct a strand test.
Next, apply and massage in for 1-2 minutes.
Use 1-2 times per week at maximum.
Milkshake Silver Shine tones down brassiness moderately without over-purpling. The light purple shampoo brightens blonde and silver hair gently.
Joico Color Balance
Blondes can bid farewell to brassiness with Joico's toning shampoo that neutralizes unwanted yellow tones without leaving your locks tinted purple. This sulfate-free formula gently cleanses while depositing violet pigments to counteract warmth.
Key ingredients like keratin, green tea, and rosehip oil strengthen, protect, and enhance shine. Reviews extol its ability to reduce brassiness sans unwelcome purple hues. Employ this weekly to maintain blonde and silver hair fresh.
Other Ways to Fix Orange Hair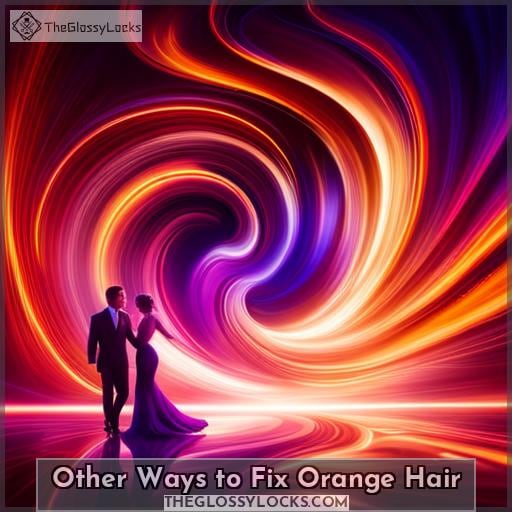 You can dye your hair darker using shades like ash brown, dark chocolate brown, or espresso to help cancel out the brassiness. Making an appointment with your stylist for a toner or color correction service will help get your hair back to your desired tone professionally.
Dye Hair Darker
Box dye kits in ash and neutral browns can override orange.
Have your stylist do a full color correction with toner.
Use a demi-permanent toner on bleached sections only.
A professional colorist can help you find the most flattering brunette shade to complement your complexion. They'll also know the right toning techniques. With expert assistance, you may discover a beautiful new hair color you never expected.
Salon Correction
It's best to get a professional fix if your brassy hair is causin' grief. Salon experts have all the know-how and techniques to help correct that unwanted orange. They can whip up custom toner cocktails in a jiffy to neutralize yellow undertones.
With professional solutions like highlights, color correction, and the right purple shampoo, your hair will be lookin' gorgeous in no time.
Apple Cider Vinegar Rinse
While rinsing with apple cider vinegar may temporarily tone some brassiness, it is still best to use proper purple shampoo regularly to truly fix orange hair. Create a rinse by mixing equal parts filtered water and raw apple cider vinegar.
After shampooing, massage the mixture into hair, avoiding direct contact with eyes. Let it sit for 1-5 minutes based on hair porosity before rinsing out. Repeat 1-2 times weekly, taking care to avoid over-drying hair.
Restore pH balance with a moisturizing conditioner. For lasting results on orange hair, use a pigmented purple shampoo regularly.
Conclusion
Brassy orange hair bringing you down? Don't sweat it – purple shampoo can help banish those unwanted warm tones. Just be sure to strand test first, apply purple shampoo evenly from roots to ends, and rinse thoroughly with cool water after 3-5 minutes max.
Stick to reputable brands like Olaplex's No. 4 or Biolage's Color Last for the best results. And for lasting color protection, shield your hair from UV rays, wash in cool water, and deep condition often.