This site is supported by our readers. We may earn a commission, at no cost to you, if you purchase through links.
Are you tired of that annoying unwanted hair on your body? Do you dream of silky skin? The most affordable methods for removing unwanted hair are the use of disposable razors.
Shaving may not be as effective, and waxing is a rather painful process.
So the next solution is to use the best epilator for the face and body that will give you silky skin for a few weeks. It is not as painful as waxing and is undoubtedly less trouble than shaving every day.
The average woman wastes 58 days of their lives shaving. Fortunately, you are already looking for a much better solution for epilation.
Best epilator for face and body gives youthe best of everything – the softness of shaving and the long-lasting benefits of waxing, plus you don't have to wait for your hair to grow that long!
Epilator is much faster and much less messy than waxing, and with the best face and body epilator, your hair removal sessions will be almost as quick as shaving!
However, choosing the best one for your skin can be a challenge!
Our reviews provide comprehensive information on how to find the best epilator for sensitive skin so you can find the right tool for you.
Read more about what to look for when choosing an epilator and my full review of the top ten best face and body epilator.
How To Find The Best Epilator For Face and Body
How can you see if a specific facial epilator is worth buying? Here are some things to look out for when you are looking for your best facial epilator and full-body epilator:
1. Size of the device
An epilator for the face should be small enough to fit in small areas. The upper lip can be difficult to reach because of your nose.
The head of the device must be small enough to fit comfortably. You don't want to hit the nose yourself.
2. Hair thickness
Hair thickness is significant to consider. Thick, rough hair needs more power to remove, and many small battery-operated epilators do not work well for this type of hair.
You may need to purchase a corded epilator to get the required power.
On the other hand, thin hairs can also be challenging to remove for some epilators. Too powerful force epilators sometimes break these hairs on the surface instead of pulling them out at the root.
You can usually solve this problem by using a lower speed on the epilator and moving the epilator more slowly, but not always.
3. Power source
Disposable batteries power most epilators for the face. These can be advantages or disadvantages, and I think depending on your preferences. But keep in mind that the cells that run on batteries will be less sturdy and that you will incur additional costs for replacing the batteries.
However, to prevent this from happening a little, you can purchase rechargeable batteries.
You can also purchase a rechargeable best facial epilator that comes with a battery that you connect to charge.
However, you must be concerned about charging before use.
A typical epilator needs more than an hour to charge. You will then receive approximately 30 minutes of use before you have to charge it.
4. Body or face epilator or both?
If you plan to epilate all over your body, consider a full epilator first to see if it meets your needs. Then you do not have to make two separate purchases, just for epilation. And if you plan to epilate your upper lip, chin, cheeks, or neck, a full-size epilator works excellent.
When making a choice, you must decide which type of epilator you want to use.
There are simple facial hair epilators or full-body epilators with attachments. Some women only want to remove unwanted facial hair. Others want to be hairless in different places.
However, if you are going to epilate your sideburns, between your eyebrows or above your eyebrows, a smaller epilator is more ideal. Although you can use a face cap on many epilators to epilate in these smaller areas, it is still confusing, and you will not get very accurate results.
5. Ease of use
The epilator must be easy to clean to remove all hair. Hair can clog the system if it is not entirely eliminated. Most epilators come with a small brush for cleaning. Others can be flushed under the tap.

10 Best Epilators for Face and Body of 2023
To find these
best epilator for face and body, I spent countless hours researching and testing different models on the market.
It has been a challenge but a grand challenge of researching all these full-body epilators.
My only reward would be for finding the right body and face epilator after going through my epilator reviews.
1. Braun Silk-épil 9 9-579 – best braun epilator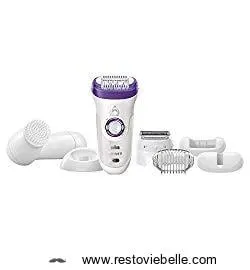 View On Amazon
Braun silk-épil is not the most expensive epilator there is, but it IS the best epilator that can buy with money in 2023. Let's see why.
The head of this epilator is extra full, which helps to remove more hair in each pass. The head vibrates during use, minimizing the pain that you experience during epilation.
The vibrations help to massage and numb your skin. And finally, the Braun silk-épil 9 9-579 epilator head also rotates with your body.
This helps to keep the epilator head on the surface of your skin in more difficult places, such as under the arms or behind the knees.
It is wireless, with the longest possible battery on the market, and can be used in both wet and dry environments. It is also easy to clean with a removable head that you can wash or use the included cleaning brush.
There is a built-in light for better visibility. To help with sensitive skin areas, the Braun Silk Epil 9 9-579 epilator offers two speeds and an efficiency cap.
This helps to maximize hair removal and determines how much hair you want to epilate at any time.
Last but not least, the Braun silk-épil epilator comes with seven extras! Yes, SEVEN! This includes a shaving head that you can use for shaving, a trimming cap for trimming the hair, an efficiency cap, a high-frequency massage cap, and a face brush.
The facial brush helps remove makeup and physically exfoliates any dead skin through micro-vibrations.
All these fittings are water,ight just like the epilator itself.

It is wide enough to shave you smoothly without having to make many movements.
You can use it wet or dry and regularly for painless hair removal.
The pulsating vibration massages your skin, which is excellent for circulation.
Comes with a few extra functions for better facial care.
Smart-Light technology ensures that you remove even the smallest haIt can
Can use both AC and DC power and hence the portability.
Your first experience may not be smooth, so patience is required.
2. Emjoi AP-18 Emagine Epilator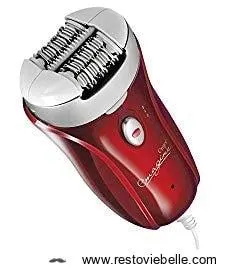 View On Amazon
Another great option with the best high-end epilators is the Emjoi AP-18 Emagine model.
It is equipped with functions that make the epilation process more comfortable and efficient.
You can use it on the bikini line (bikini top protectors and trimmers), legs and armpits.
The Emjoi Emagine has 72 tweezers, which you will find most with every epilator on the market.
This significantly reduces epilation time and gives you hairless skin for up to 6 weeks.
The two different heads of the Emagine hold the skin tight, which helps eliminate ingrown hairs and minimize pain.
Also, the epilator lifts the hair with Glide technology, and the tweezers slide over the skin. This helps to minimize irritation.
The two-speed settings also make it possible to adjust the epilation process for fine or coarse hair. This is a twisted epilator
Seventy-two tweezers, thorough epilation, minimal pain, ergonomic design
Prevents ingrown hairs
Can be used on all parts of the body except the face
Double speeds, easy to clean, 1-year warranty.
Ribbed, not visible, there is no built-in light.
3. Braun Face 851 Epilator Review
View On AmazonThe Braun Face 851, also known as the FaceSpa, is one of the brand's best-selling epilators preferred by countless users around the world. This is a truly stunning model from Braun that offers the 2-in-1 benefit of deep and gentle cleansing of the facial pores with an incredibly smooth and absolutely painless epilation.
What do I like about this product?
The device comes with 10 micro-apertures on the hair removal head, which rotate at your 200 picks per second, uprooting even the finest hairs of only 0.02mm long that are barely visible. The great thing is that it's bidirectional, so you can turn in any direction you want.
It comes with 4 sonic cleansing brushes that provide a perfect exfoliation plus pore cleansing to completely remove dead cells, impurities, and makeup residues from your pores. This not only deeply cleanses your skin but also cleanses your skIt alsoAlso relaxes your facial muscles during and after epilation.
The Braun 851 epilator is designed based on the Braun 820 epilator. The 851 is considered the updated version of the 830.
The Braun Face 820 epilator is also a solid product but has a fatal flaw. This epilator is not made for durability and rarely lasts more than a few months. As it reaches the end of its short life, it will also use more and more power, requiring more frequent battery replacement.
While all models look identical, I think this new one has gotten some minor updates. Update: Here's a new update and deal for you.

Combines epilation with facial cleansing
Waterproof
Cleanses face six times better than manual washing
Removes hair as short as 0.02 mm
Battery often needs to be replaced
4. Philips Satinelle Essential HP6401 Epilator
View On Amazon
If you are looking for the best affordable epilator, one of your most important considerations should be the Philips Satinelle Essential model. It's the best-selling epilator on Amazon and with good reason.
For the low price tag, there is no other model that can beat its efficient performance.
Philips Satinelle has been specially designed for epilating legs.
But it can also be used in the bikini line and arms. However, it is not recommended to use on the sensitive skin of the face.
It has an ergonomic design that offers a very comfortable grip. The epilator is equipped with 21 tweezers that pull the hair out.
With the two speeds, you can choose a softer speed when epilating more sensitive areas or finer hearing or accelerating when epilating coarser hair.
Affordable price
Sufficient tweezers to remove the hair at the roots
Double speed, ergonomic design
The removable head is washable, including an efficiency cap to relieve pain
Two years Guarantee.
Not for use on the face, not cordless
5. Remington EP7030E: The Cheapest Wet Dry Body + Face Epilator
View On Amazon
The Remington EP7030E is a bit of an unusual model.
Why do I say that?
Because it's affordable, well, that's not the weirdest thing.
The thing that surprises me is the attachment that goes with it:
efficiency cap with aloe vera, there are a few small green rolls that massage the skin, so it is the Remington version for the message roll mount of the Braun
the precision hood that is actually a face ,mask and it can also be used on the bikini line, making the package complete
it is wireless and wet & dry so that it can be used in the shower
This is the cheapest wet dry epilator that can be used to remove the hair from the entire body plus the face.
Also, the Remington EP7030E has:
40 tweezers
Two speeds
built-in light
Disadvantages
As always,
When it comes to wireless epilators, there are complaints that the battery is not charged after a few months of use.
This is why people still don't feel comfortable buying a wireless model.
I and many others are still waiting for a cable pill epilator with all the right accessories, such as the Braun 5780, but it is not easily available worldwide.

-Two Speeds-40 Tweezers For Optimum Hair Grip-Can Be Used On Both Face And Entire body
Waterproof
Pivoting Head-No Batteries
-Despite Having A Precision Head, As well Bulky To Use On Eyebrows
Very Noisy-Over Time, Loses Capability To Hold A Charge
Sometimes Fails To Grip Hair
6. Braun Silk Epil 3 SE3170 Epilator
View On Amazon
Braun Silk Epil 3 is equipped with a 20-tweezer system that ensures easy hair removal for the roots, leaving the skin smooth and shiny.
This epilator also does not run on batteries but is a wired unit. Rechargeable models are usually more expensive.
As with the models mentioned above, Braun Silk Epil 3 also offers two speeds that you can choose depending on whether you are epilating more beautiful or coarse hair.
The Silk Epil 3 epilator has a message system that effectively soothes epileptic sensation by stimulating the skin during the epilation process. This results in maximum comfort and minimal irritation.
The construction of the epilator contains SoftLift tips that are designed to remove even the flat-lying hairs. This model also contains the same SmartLight function as on the Silk Epil 7 epilator. This feature is handy to ensure that you do not miss a hair during the process.
Two speeds, SoftLift tips, root hair removal, SmartLight lighting, high-frequency massage to prevent irritation.
Corded, not for use on the face.
7. Emjoi Soft Caress Epilator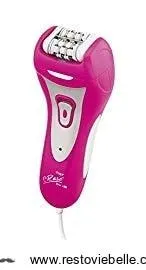 View On Amazon
The Emjoi Soft Caress Epilator is a different kind of powerhouse because it is a very efficient epilator for people with sensitive skin.
It only has 36 tweezers, but it has the furriest pin codes per minute. There are two speeds on this epilator,. So although there are far fewer tweezers, at each of the two rates the tweezers rotate very quickly to pull the hair out quickly. This makes the Emjoi Soft Caress Epilator perfect for causing the least amount of discomfort on sensitive skin.
Emjoi Soft Caress Epilator has another useful function for people with sensitive skin – all 36 tweezers are 24-carat gold-plated and have antibacterial properties. This plating makes the tweezers hypoallergenic and reduces ingrown hairs.
It contains a massage aid that helps numb your skin during epilation. Just like the Emjoi AP-18, it is not water-resistant but has a cleaning brush. It must not be used in the shower.
This epilator is also wireless and rechargeable. You can even use it while charging, unlike the other epilators treated so far. This allows you to use this epilator at any time in dry situations!
It would be nice to see Emjoi make their epilators waterproof. The Emjoi Soft Caress Epilator has so many functions in addition to the excellent epilation technology.
Being able to use it in the shower would complete its list of functions and make it attractive to a wider audience.

Make sure this fits
By entering your model number.
24-carat gold-plated tweezers discs
Pain reduction technology and massaging finger attachment significantly reduces discomfort
Ergonomically designed soft grip
8. Emjoi Epi Slim Epilator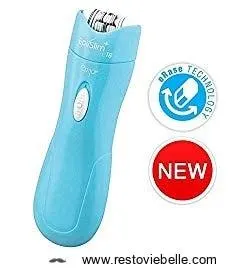 View On Amazon
One of the top-rated epilation devices for the face and other sensitive areas is the Emjoi Epi Slim model. It has a slim and compact design and runs on batteries so that you can use the epilator anytime and anywhere.
Because it is specially designed for sensitive skin areas, this is not the best option for legs.
The tweezers have a narrow design that helps remove the hair from the root. It gently covers small areas for efficient but gentle epilation.
Because of the narrow design, it will work well on the bikini line, underarms, upper lip, chin, and cheek. It may not be the fastest epilator, but it works well.
The epilator fits nicely in one hand, thanks to the ergonomic design. The Emjoi Epi Slim is a great option if you are looking for an epilator with a sensitive epilator for sensitive areas that are also very efficient and easily portable.
Straightforward On The Skin
18 Tweezers For Efficient Hair Elimination
Tiny And Compact, Very Portable-Highly Effective At Getting rid of Peach Fuzz
-Uses Batteries Up Quickly-Might Not Pull Out Coarse Hair
Not A Precise Eyebrow Epilator
9. Emjoi eRase e60: Corded Affordable Epilator for Body Face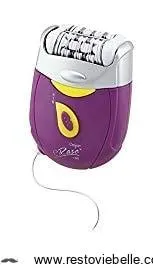 View On Amazon
The Emjoi eRase e60 is one of my favorite epilators, and there is no way to get it out of my epilator reviews.
A lot is going on:
a very affordable price
60 tweezers, the second after the Emjoi AP-18 in the number of tweezers
a sensitive attachment containing a number of those 60 tweezers, with which you can use the Emjoi e60 to
even remove facial hair
with cord
Two speeds
the Skin Glide technology that lifts the flat hair
the 3-disc system that ensures that the skin is stretched during hair removal for a bit of com. You you still have to smooth the skin
and there are even shavers and trimmer attachments
There is no built-in light; it is a feature or defect that belongs to all Emjoi models.
Delicate attachments to decrease discomfort
Assisted skin stretching to preserve skin taut, decreasing discomfort
Erase Glide Technology assists get rid of hair as rapid as feasible
No light could be simpler for you to miss hairs
Corded
For dry skin only
10. Bellabe Facial Hair Epilator – The Best Cheap Facial Epilator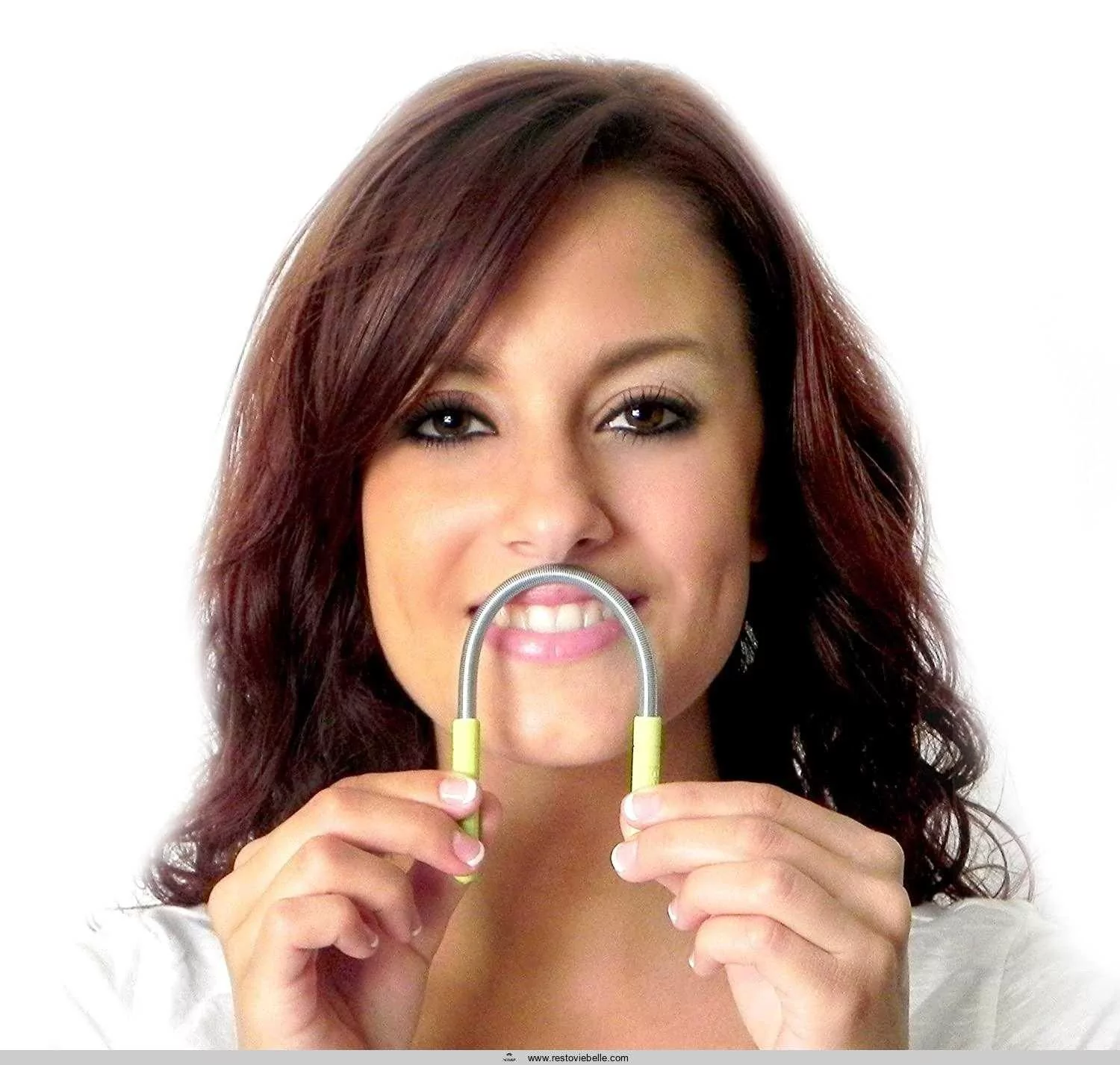 View On Amazon
If your facial hair is just a little bit of peach fuzz, you may not be determined enough to remove hair to pay a lot for an epilator, in which case the Bellabe might be for you.
The Bellabe is a manual epilator, so basically it pulls hair out with a spring-like the original 80s epilators, but instead of the springs moving automatically like those epilators, you hold the spring with small handles and you roll it over your face yourself.
As you move the feather, it opens and closes, grabs and pulls hairs. Similar to threading.
Its main advantages are its small size, simplicity, and hypoallergenic coating, making it great for sensitive skin and inexpensive.
However, I recommend this especially for finer hair as it tends to break coarser hair on the surface.
Some people also find it more painful than electric epilators. This may be because it takes longer. I know I found it excruciating to use the Bellabe on my cheek hair, even though I didn't disturb them on a regular epilator.
And as with other electric epilators, you still shouldn't use it near your cheek hair. Eyes or you may be pulling eyelashes. So if you were hoping he would use it for that, you might be better with a good pair of tweezers.

Inexpensive!
Super small and easy to navigate about the encounter with.
Hypoallergenic metal.
Does not execute effectively on coarse hairs.
Will consider a whilst to pull all the hairs out.
Not as sturdy as contemporary day electrical epilators.
What Is An Epilator?
I know some women have never heard of these devices so far, and that's okay.
I'm going to make a long introduction so that you can catch up.
A hair removal applicator is a small device that removes hair from the root thanks to the small metal / ceramic tweezers.
Hair is not removed one by one because that would last forever.
Some of them are removed from the root with a single passage.
The tweezers rotate, and they grab the hair and pull it from the root.
Here's the kicker:
You can have soft skin for two weeks, up to a month.
That's pretty great, and you have to admit it!
Types Of Epilators
Spring Type
If you've ever seen or used the Bellabe, you know what I'm only talking about that a motor-powered the spring type epilator.
The Bellabe is a device for removing facial hair that needs to be rotated by hand.
Type Of Rotating Disk
Remington was the first to replace the spring with a series of metal disks.
Type Tweezers
That is the modern epilator that we are all currently using.
Using a Face Epilator Safe
using your epilator is the right way to make a smooth face with the least amount of pain possible.
These steps will help you to get a safe, smooth finish from your epilator:
Wash your face with mild soap. Dry your skin thoroughly by dabbing it with a clean towel.
Turn on the epilator and set the speed. For beginners, start at a slow speed.
Place the epilator above the part of your face that you want to remove. Using gentle pressure, the epilator glides across the area in the opposite direction of hair growth.
Continue using this method for each area on your face from which you want to remove the hair.
Turn off the epilator. Remove the head and rinse it with warm water until you remove all hair. Lay the head on a clean towel to dry.
FAQs About Epilators
How Does Epilator Work?
The epilator's head consists of a small metal tweezer that moves together and apart while the head is rotating, grabs the hairs and pulls them off the root, and then releases the removed hairs.
Several small tweezers grab her and pluck them from their roots.
It is automated epilation, and therefore, the pain is also more intense.
The hair is pulled from the root, just like with resins.
Is it painful to use an epilator on the face?
Hair is removed from their follicle, so epilation is painful.
Such as waxing, even a little more painful than waxing, especially when it comes to removing facial hair.
Shaving and hair removal creams are non-painful hair removal methods.
Does epilation become less painful over time?
That's for sure.
If you immediately switch from shaving to epilation, it will be excruciating in the beginning.
Some people don't accept it, and if it's torture for you, it's best to give up.
But if you stick to it,
it will ultimately be less painful. The body and the mind adapt.
If you go from waxing to epilation, the transition will not be so uncomfortable.
How to make epilation less painful?
I'm not going to lie: there aren't many things that make epilation less painful.
Taking a hot bath or shower helps open the pores.
By keeping the skin tight while removing the hair, it also helps a little.
An efficiency connection or a holder for a massage roll makes everything just that little bit better.
If you want to epilate your bikini line or armpits, use a cap for sensitive areas.
Will Epilating Cause Ingrown Hairs?
Because epilation removes hair from the root, below the skin surface, there is a chance that you will get ingrown hairs as they grow back. Some people seem to be more prone to them than others. Don't let this prevent you from epilating; the benefits outweigh.
Make sure you scrub regularly to prevent ingrown hairs. Some epilators, such as the Braun Silk-Pill pill, have a peeling brush that you can use. If you choose a model without, you can use a regular body scrub instead. We recommend selecting a scrub that uses natural exfoliators, such as the Astra Organic Exfoliating Body Scrub that you can purchase here at Amazon. This scrub uses Himalayan sea salt. Alternatively, you can buy exfoliating brushes designed for this purpose.
However, you don't want to scrub too much – once, maybe twice a week should be enough. Do this just before you epilate and then again after a few days.
Is it OK to Epilate the face?
Yes, you can, but choose one that is the best epilator for face. Facial epilators have features such as the ability to rotate in two directions and generally have fewer tweezers so that you can be more accurate with your shape.
Many body epilation devices have a smaller head or cap that reduces the epilation surface, but a specially designed facial applicator will be much milder for your face. Moreover, it is shaped so that you can reach the hair more quickly.
However, male hair in the face is much denser and thicker than in women. Therefore, if you are a man, you will find that epilating your face will be much more painful.
Can I epilate my Bikini line?
Yes, you can. However, remember that you are likely to feel more discomfort when epilating your bikini line. This is partly because the skin is more sensitive and partly because the hair is thicker.
We recommend that you use an attachment that reduces the epilation surface for your bikini line. Although this means that it takes a little longer, it is more helpful for your skin.
Don't forget to exfoliate before and a few days after epilating your bikini line. This area can be more prone to getting ingrown hairs.
You can also cut your hair short before you start epilating your bikini line. Work on smaller parts at the same time and keep your skin tight.
Final Words
We recommend choosing epilation as an excellent hair removal method. It is so famous for a reason. You get long-lasting results and beautiful soft skin.
It may take some getting used to, but you will be happy with the results. Another hair removal option that you can consider is electrolysis.
We hope that with our best epilators for face and body you will find the product that delivers the most efficient performance.
References
epilatorauthority.com
getarazor.com