This site is supported by our readers. We may earn a commission, at no cost to you, if you purchase through links.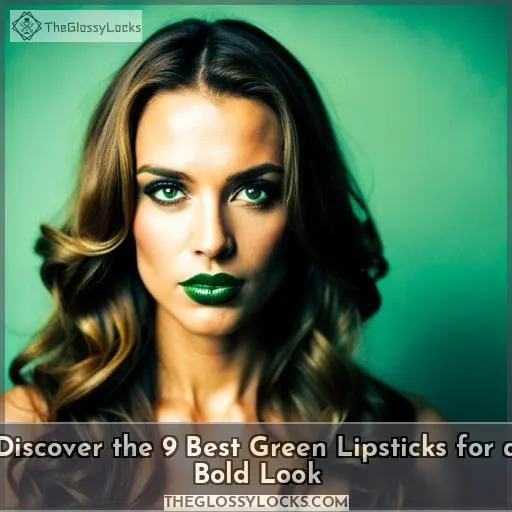 Ready to make a bold statement? Then you'll love the look of green lipstick! From classic dark shades to bright metallic finishes, there's something for everyone. Whether you want an everyday color or a daring pop of color for special occasions, discover the nine best green lipsticks that will have your lips looking fabulous in no time.
Go beyond basic nudes and browns and unlock your inner glam with vibrant hues sure to turn heads.
Key Takeaways
Variety of shades and finishes available
Different formulas cater to different preferences and needs
Complement a range of skin tones and undertones
Brands like Mynena, Kuckian, and Aromi offer green lipsticks
Best Green Lipsticks
Looking for the best green lipsticks? From Mynena Dark Green Lipstick to Graftobian HD Lipstick Semi-Matte, explore a range of options that include Kuckian Forbidden Forest Lipstick, Vegan Green Lipstick Matte, Aromi Matte Evergreen Lipstick, and NYX Macaron Key Lime.
Also, check out Halloween Zombie Green lipstick from Cosmic Moon Cosmetics, as well as Bloody Mary Gothic and Moon Glow UV lippies.
Mynena Dark Green Lipstick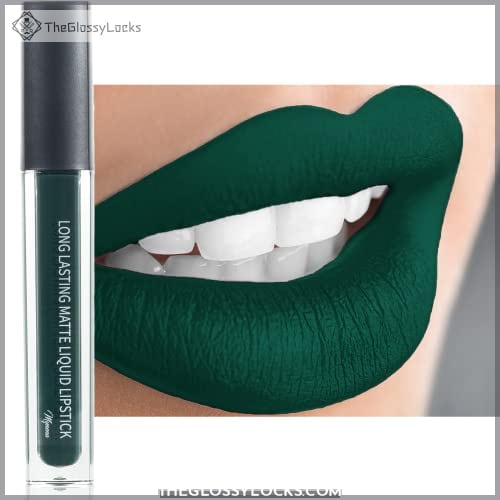 View On Amazon
Discover your unique expression with Mynena Dark Green Lipstick, a velvety soft matte finish that will last all day without smudging. This non-transferable lipstick is waterproof and kiss-proof, so you can be confident in the look it provides.
The lightweight formula applies like a creamy gloss but dries to an ultra comfortable matte until reapplied after eating.
With its range of trendy colors from nudes to black, reds, browns, and pink, it's suitable for beginners as well as professional makeup artists alike.
Finally, enjoy long-lasting color on every occasion – whether you're at work or partying away into the night!
Lightweight formula with a weightless feel
Non-transferable & waterproof lipstick
Velvety soft matte finish that lasts all day
Range of trendy colors from neutrals to bolds
Gluten-free, paraben-free & cruelty-free
Requires careful application & removal
Drying time necessary before closing mouth
Kuckian Forbidden Forest Lipstick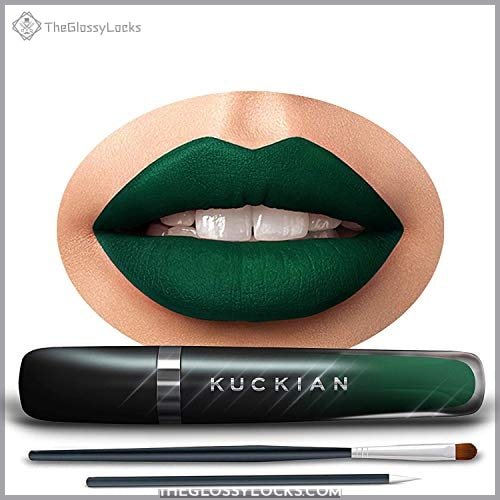 View On Amazon
Experience the iconic green shade of Kuckian Forbidden Forest Lipstick, enriched with Vitamin E for skincare benefits and a powerful antioxidant formula. This 12-HOUR long-wear lipstick comes with two precision applicators for sharp corners, plus a $12 gift! It's vegan and cruelty-free too, so you can feel good about wearing it every day.
Plus, Kuckian is known around Europe as one of the top cosmetics brands that guarantees quality products without harming animals in any way.
Benefits:
Long-lasting wear
Clean beauty ingredients
Cruelty-free & Vegan-friendly
Cons:
Pricey compared to other lipsticks on the market
Not available in stores worldwide yet
Limited shades available
Vegan Green Lipstick Matte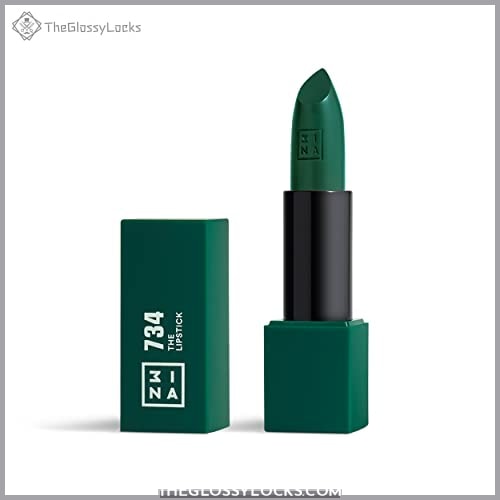 View On Amazon
Soar to new heights of beauty and style with Vegan Green Lipstick Matte from 3INA. This luxurious classic lipstick provides sumptuous satin-rich color thanks to high-quality vegetable waxes and nutrient-rich essential oils that actively hydrate and nourish lips.
Plus, it comes in a handy magnetic case, preventing cover damage while keeping purses stain-free during travel! Best of all, this 100% vegan cosmetics product is paraben-free as well as cruelty-free – never tested on animals – so you can feel good about your makeup choices.
With its versatile application methods – apply directly or over The Lip Primer for long-lasting results – you'll be sure to find the perfect shade for any occasion!
Non-transferable & highly pigmented full coverage
Waterproof & kiss-proof non-sticky formula
Long-lasting up to 12 hours wear time
Not suitable for those with sensitive skin
Limited color range
Expensive compared to other brands
Aromi Matte Evergreen Lipstick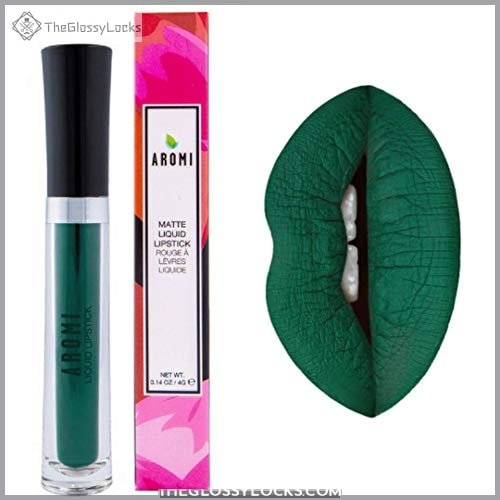 View On Amazon
Unlock a unique look with Aromi Matte Evergreen Lipstick, handcrafted in small batches by an in-house cosmetics chemist for true quality assurance. This 100% vegan and cruelty-free lipstick is formulated without parabens, phthalates, gluten, animal ingredients, or triclosan to actively nourish lips while providing sumptuous satin-rich color.
Lightweight yet long-lasting and comfortable to wear, this subtle shade of green offers effortless beauty that will make you stand out from the crowd.
Its magnetic case prevents cover damage and keeps purses stain-free during travel! Enjoy the perfect combination of gloss-like application with a matte finish delivered through ethical standards of clean beauty, making it ideal for any occasion.
Non-transferable highly pigmented full coverage
Velvety soft matte finish
Waterproof, kiss-proof, non-sticky, and long-lasting
High-quality mineral ingredients
Gluten-free, paraben-free, and cruelty-free
Limited shade variety
Expensive due to premium formula
NYX Macaron Key Lime Lipstick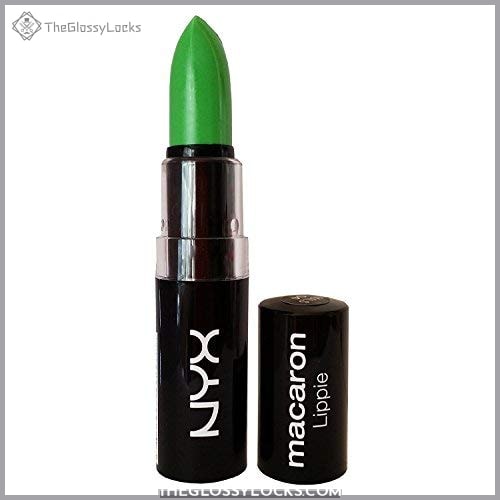 View On Amazon
Take your makeup look to the next level with NYX Macaron Key Lime Lipstick, a vibrant and radiant shade of green that will add depth and drama to your pout.
Enjoy long-lasting color payoff in one swipe without feeling sticky or flaky on lips.
Cruelty-free & PETA certified
100% Authentic & Unused
Lightweight Coverage
Long-Lasting Color Payoff
Beveled Edge Design For Precise Application
Not Transferable
Can Feel Sticky Or Flaky On Lips
Halloween Zombie Green Lipstick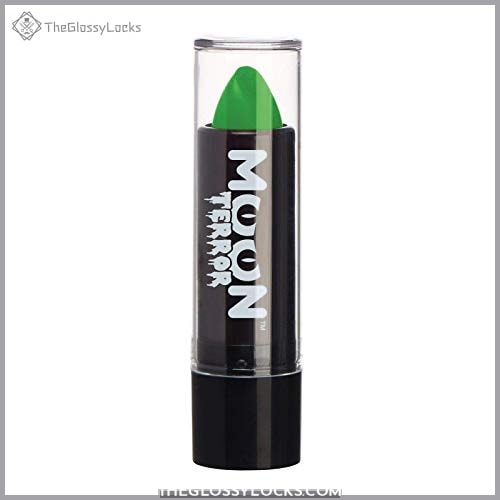 View On Amazon
Transform your Halloween look with the bold and captivating Bloody Mary Lipstick Gothic. It features a creamy, long-lasting formula in an intense green shade. Perfect for witch costumes, themed events, or theatrical performances.
This 100% authentic lipstick is compliant with EU1223/2009 and other international cosmetic regulations.
The unique formula glides easily over lips to deliver exceptional coverage without caking or smudging.
Highly pigmented color payoff
Lightweight & comfortable wear
Cruelty-Free & PETA certified
Not suitable for those who prefer a glossy finish
Limited edition product
Graftobian HD Lipstick Semi-Matte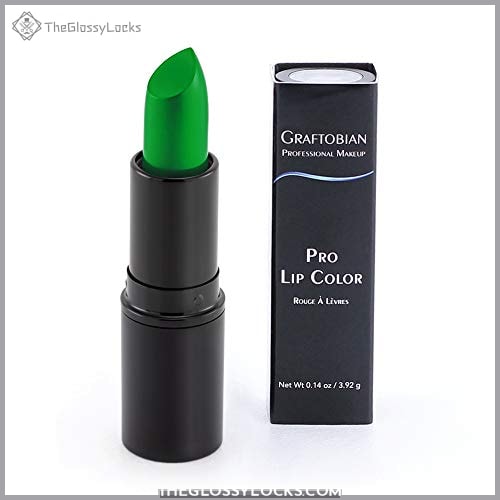 View On Amazon
Experience the highest definition of color and long-lasting wear with Graftobian HD Lipstick Semi-Matte. This luxurious collection is crafted with a velvety smooth semi-matte finish that enhances natural lip shape and undertone for a sophisticated look.
With its beveled edge design, easy application is effortless; no more touch-ups needed! It's made in the USA using only the finest ingredients, so you can feel guilt-free when wearing this amazing lipstick.
Get ready to make an impression and stand out from the crowd with these highly pigmented shades! Enjoy rich pigment while still being safe on sensitive lips – perfect for any occasion or season! Add some fun into your makeup routine without worrying about having to retouch due to its ultra high definition formula that lasts until you remove it yourself.
Whether you're looking for something subtle or bold, there are plenty of options available in this diverse shade range so everyone can find their perfect match – let your true beauty shine through Graftobian HD Lipstick Semi-Matte today!
Ultra High Definition lipstick collection
Long-lasting color payoff suitable for various occasions
Velvety smooth semi-matte lip color providing comfortable everyday wear
Beveled edge design allows easy precise application
Full coverage formula needs just one swipe
Highly pigmented formula minimizing touch-ups
Wide range of vibrant & natural shades catering to all skin tones
Bloody Mary Lipstick Gothic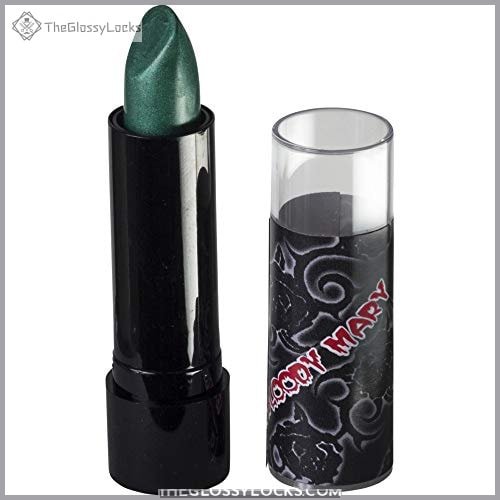 View On Amazon
Feel the captivating radiance of Bloody Mary Lipstick Gothic on your lips as you make a statement with this unique, creamy green shade. Professional makeup artist Bobbie Weiner brings forth a high-quality lipstick for impressive results and long-lasting color payoff.
Suitable for Halloween witch costumes, masquerade parties, theatrical performances, and artistic shows alike – it's sure to get heads turning! The smooth application makes blending easy; pair it with Glitter Lip Gloss for extra sparkle or use alone to create an unforgettable look.
High-quality lipstick with impressive results
Rich pigment and striking green color
Non-matte formula maintains moisture
Higher cost compared to most name brands
Needs darker base or glitter lip glosses for better effect
Requires coconut oil removal
Moon Glow UV Lipstick Green
View On Amazon
Unleash your inner party animal with Moon Glow's UV Lipstick Green, a wax-based matte lipstick that'll make you stand out in the club scene! This special formula offers an intense green pigment and bright neon color under natural light.
Application is easy; simply apply directly to lips and remove with soap and water – no need for makeup wipes. The product is non-toxic and made in the UK according to EU1223/2009 standards. It has never been tested on animals.
Get ready to rock the night away with this unique lipstick from Moon Glow!
Intense green pigments under natural light
Spectacular glowing effect under UV lighting/blacklights
Easy application – no need for makeup wipes
Not as vibrant glow without proper lighting conditions
Color may appear lighter when applied than the original shade of lipstick
Slightly difficult application
How to Choose the Right Green Lipstick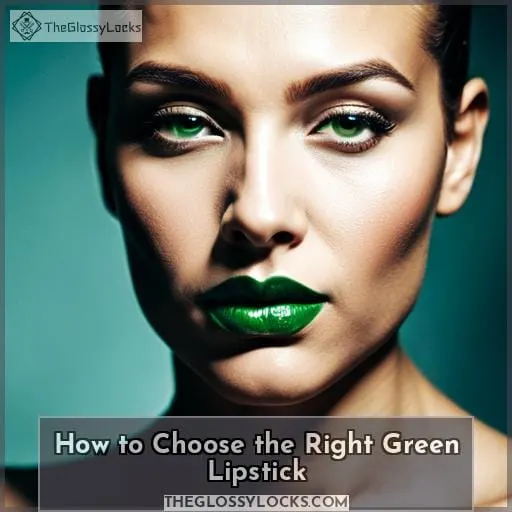 Choosing the perfect green lipstick can be a daunting task, but with so many vibrant hues available and careful consideration of your skin tone and formula, you'll find one that will make you stand out from the crowd.
Various Hues
Discover how to craft a look that is uniquely yours with different hues of green lipstick. From emerald and zombie green to army, lime, and neon shades – there is a color for every skin tone. Ensure you check the ingredients list before purchasing vegan options for lip health benefits as well as UV glow palettes perfect for Halloween looks or parties! Consider matte finish types if you crave longevity without compromising on hydration – but whatever your choice may be, don't forget the boldness of green lipstick will always make an unforgettable statement.
Complementing Your Skin Tone
Choose the green shade that complements your skin tone and make a bold statement with your makeup. To detect undertones, look for hints of blue or yellow in veins; cool tones have more blue while warm ones contain more yellow.
Shade selection requires knowledge of ingredients, such as moisturizing benefits from matte lipsticks enriched with vegetable waxes and essential oils. High-quality green lipstick formulas also come in tubes, crayons, or pots to suit individual application methods.
Formula Considerations
When it comes to formula considerations for green lipstick, you'll want to make sure that the product is customized to your needs. Look out for ingredient safety, hydrating formulas, and vegan-friendly ingredients.
Intense color pigmentation is also key in perfecting shades of green! Skin-enhancing ingredients like natural waxes or hydrating ingredients such as Vitamin E are essential for nourishing lips with long-lasting comfort and color payoff.
What to Look for in a Quality Green Lipstick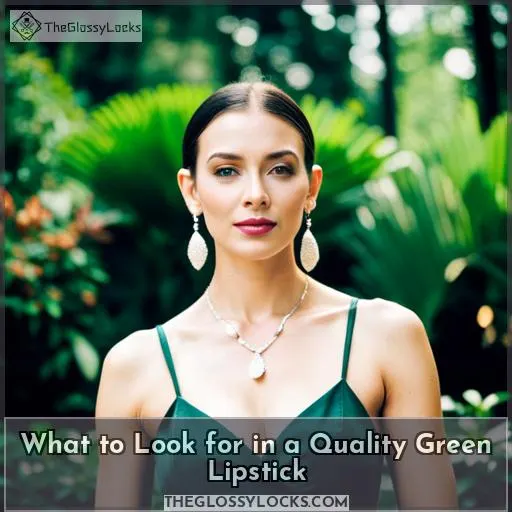 Are you looking for a green lipstick that withstands the test of time? Are you searching for a metallic finish and high color saturation? If so, then look no further! With its long-lasting formula, unique metallic finish, and intense hue, this is the perfect green lipstick to make an unforgettable statement.
Longevity
When it comes to long-lasting color, look for a green lipstick with superior quality ingredients that will keep your lips looking fresh throughout the day. Moisturizing benefits can be found in brands like Kjaer Weis and Saint Jane Beauty Luxury Lip Creme.
For intense green shades, NYX Macaron Lippie offers full coverage and a UV glow finish, while matte lipsticks come in various shades from Aromi's Evergreen to Moon Glow's Neon UV Intense Green.
Metallic Finish
For the adventurous among us, metallic green lipstick delivers a show-stopping look sure to turn heads. Choose from vegan ingredients like Moon Glow Neon UV Lipstick or Saint Cosmetics Velvet Lip Creams for hydrating shades with skin tone-matching capabilities.
Gucci Rouge à Lèvres Mat Matte Lipstick and La Splash Cosmetics Soft Long-Lasting Waterproof Matte Dark Green Liquid Lipstick offer classic finishes in an array of tones.
High Color Saturation
You'll love the intense color saturation of green lipsticks, perfect for making a bold statement. Whether you're looking for vegan-friendly, long-lasting, or moisturizing formulas – there's something out there to suit your needs.
Mynena Liquid Matte Lipstick and 3ina Essential Lipstick are great options that provide excellent color payoff without breaking the bank.
Factors to Consider Before Buying Green Lipstick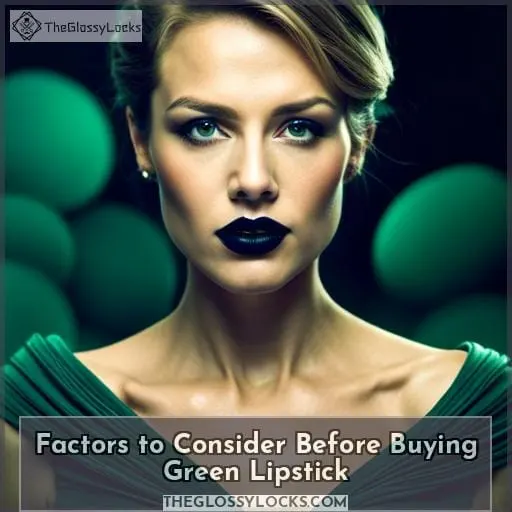 If you're looking for the best green lipstick, then you need to know what factors to consider before buying. From the price range and top recommendations, make sure your purchase is worth the investment with these essential tips.
Price Range
Price is an important factor to consider when shopping for green lipstick, so make sure you find a balance between quality and affordability. For budget-friendly options, try W3ll People's Natural Performance Lipstick or Maybelline New York Color Sensational Green Lipstick.
RMS Beauty Wild With Desire lipsticks provide good value across the price range with their organic formula free of synthetic chemicals and allergen-free ingredients. Alternatively, drugstore brands like NYX Professional Makeup offer affordable matte lipsticks in various shades of green that are perfect for everyday wear.
So no matter your budget constraints, there's something out there to suit every pocket size!
Top Recommendations
With vibrant colors and luxury formulas, these top green lipstick recommendations will have you feeling confident and daring.
From Aromi Matte Liquid Lipstick's vegan formula to Graftobian Professional Lipstick's nourishing ingredients, each offers lip health benefits as well as a unique wearable look.
Saint Cosmetics Velvet Lip Creams offer an everyday alternative while Halloween Lipstick by Moon Terror in Zombie Green is perfect for UV lighting events.
Wild and Free provide long-lasting results with their bold shades of green – try Mynena Dark Green for the ultimate statement!
With these top picks, your lips will be looking luscious while you stay true to yourself!
Is Matte Lipstick Harmful for Your Lips?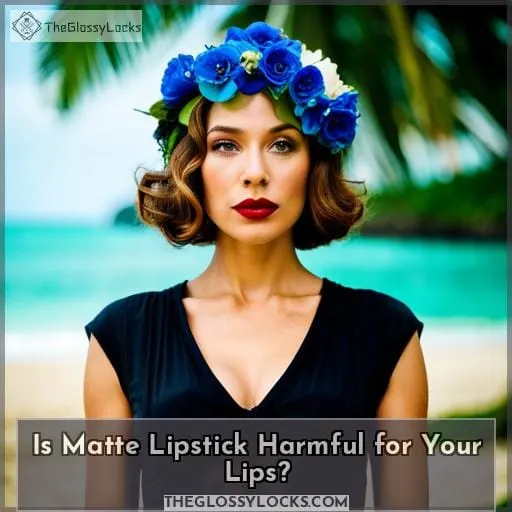 When considering matte lipstick, it's important to remember that its long-lasting formula and lack of shine can potentially be harmful for your lips. To reduce the risk, opt for chemical-free lipsticks with moisturizing ingredients like vitamin E or shea butter to keep lips hydrated.
If you're using a conventional lipstick brand without UV protection, consider adding a thin layer of lip primer first as an extra layer of defense against dryness and cracking.
For those looking for even more intense hydration while still achieving a beautiful matte look, try Bloody Mary Lipstick Gothic.
Additionally, there are plenty of hydrating matte lipstick brands available which contain nourishing oils such as avocado oil or jojoba oil, plus antioxidants like green tea extract. So you don't have to worry about excessive lip consumption due to harsh chemicals in traditional formulas.
How to Determine Your Lip Shade

The key to rocking green lipstick is finding the right shade for you. Choose a hue that fits your skin tone, complements your natural look, and makes a statement.
To pick the perfect shade of green lipstick, start by determining if you have cool undertones or warm undertones in your skin. Cool tones are best suited for emeralds, while warmer complexions will benefit from army greens.
Then apply it correctly with either a lip brush or directly from the tube and combine with other colors to create unique looks! When wearing green lipstick, be sure to hydrate lips regularly as this color can dry them out faster than others due to their intensity — especially when they're matte!
Don't forget: blending colors together helps keep eye-catching shades wearable. Try combining an earthy olive hue with nude pink lips for subtle sophistication throughout any season!
Where to Find Green Lipsticks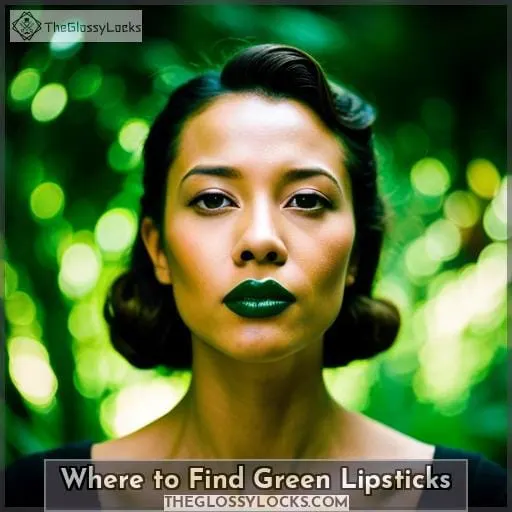 If you're looking for the perfect green lipstick, look no further. From Sephora to other retailers and brands, there is a wide variety of options available that offer long-lasting color without compromising on quality.
Whether it's for everyday use or special occasions, these lipsticks are sure to add the perfect pop of boldness and creativity to your makeup routine.
Sephora Options
If you're looking to switch up your makeup routine, Sephora has a wide selection of green lipsticks that let you express your unique style. Choose from various hues like emeralds and army greens; there's something for every skin tone.
Prices range depending on the finish type and longevity of wear, but popular brands include Mynena, Kuckian, Aromi Matte Liquid Lipstick, NYX Macaron Lippie Key Lime, and more! For an unforgettable look, try Moon Glow Neon UV Lipstick in Intense Green or Bloody Mary's Gothic lipstick.
Other Retailers and Brands
Looking to try something new? Check out other retailers and brands for their unique selection of green lipsticks.
Vegan options, like Mynena Dark Green Lipstick, provide full coverage in a velvety matte finish with gluten-free and paraben-free ingredients.
Organic options such as Kuckian Forbidden Forest Lipstick offer 12 hours of long wear with antioxidant properties that nourish the lips.
For natural ingredients enriched lipstick shades, 3INA Essential offers luxurious satin color while Aromi Matte Evergreen is handcrafted in small batches for added assurance on ethical beauty standards.
Trendy shades from NYX Macaron Key Lime or Halloween Zombie Green are perfect for special occasions while luxury brands like Graftobian HD Semi-Matte or Bloody Mary Gothic bring sophistication to any look!
Jocelyne Liquid Mattes also provides hydrating benefits through its cruelty-free formula featuring unique green colors not found elsewhere!
Frequently Asked Questions (FAQs)
Is Green Lipstick Suitable for All Skin Tones?
Green lipstick can be a great way to express yourself and make a bold statement, but it is important to choose the right hue for your skin tone.
Is Green Lipstick Better than Regular Lipstick?
Green lipstick can be a great option for those looking to make a bold statement with their makeup. It offers unique shades and finishes that regular lipsticks don't, allowing you to express yourself in ways never thought possible.
Are Green Lipsticks Long-Lasting?
Yes, green lipsticks can be long-lasting! Many come with high-quality ingredients and are waterproof, kiss-proof, and non-sticky. Look for formulas enriched with Vitamin E for skincare benefits that guarantee satisfaction.
Are Green Lipsticks Safe to Use?
Yes, green lipsticks are generally safe to use. High-quality formulas made with natural ingredients are a great option for those looking to stay healthy and break away from traditional shades.
Are Green Lipsticks Vegan Friendly?
Yes, many green lipsticks are vegan-friendly! Choose from a range of cruelty-free brands to find the perfect shade for you. With an array of finishes and nourishing ingredients, enjoy vibrant color with all-day wear without compromising your values.
Conclusion
Green lipstick can be a bold and daring way to express yourself, make a statement, and stand out in a crowd. From vibrant shades of lime green to neon UV glow, there's a green lipstick for everyone.
With such a wide variety of shades, formulas, and finishes, it's important to consider your skin tone, your desired aesthetic, and the ingredients in your lipstick before making the purchase. Whether you want to try a subtle approach or go all out, the 9 best green lipsticks mentioned in this article are sure to make you look and feel your best.
So don't be afraid to embrace your adventurous side and find your perfect shade of green lipstick!