This site is supported by our readers. We may earn a commission, at no cost to you, if you purchase through links.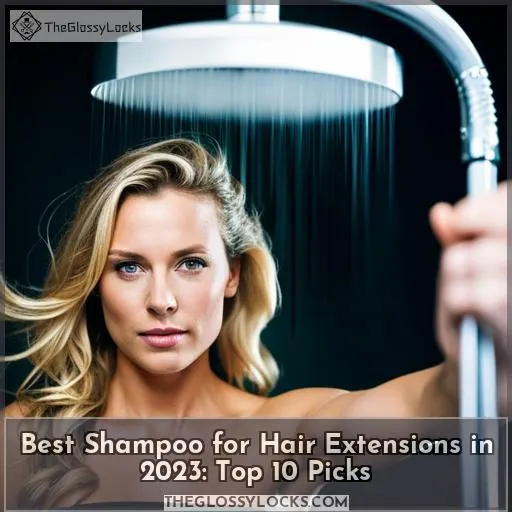 Take the plunge and go for hair extensions! These are a fabulous way to sport a new look while still feeling like yourself. But don't forget that with great power comes great responsibility, so you must ensure your extension game is on-point by choosing the best shampoo for hair extensions.
As they say, 'a little goes a long way', so selecting just the right product can make all the difference between dull and lustrous locks. In this article, we'll be exploring our top 10 picks of shampoos specifically designed to keep your hair extensions looking their very best in 2023 – from Color Wow Security Shampoo to Batiste Dry Shampoo Variety.
We will also be discussing proper care tips, ingredients to look out for, and what not to buy when it comes to these products.
Let's get started!
Key Takeaways
Wait 2-3 days before the first wash after getting extensions.
Avoid washing extensions daily to prevent damage.
Detangle gently before washing to avoid shedding.
Consider hair type and extension type when selecting shampoo.
Top 10 Best Shampoos for Hair Extensions
Finding the perfect shampoo for hair extensions can be a daunting task. Luckily, there are many excellent shampoos to choose from. Some of the top options include Color Wow Security Shampoo, OGX Coconut Milk Shampoo, Oribe Gold Lust Dry Shampoo, and Pureology Hydrate Shampoo.
For those with color-treated hair, the NYK1 Color Treated Hair Shampoo Conditioner Set is an aftercare solution that cleans gently without stripping color. If you're looking for hydration and nourishment for all hair types, Giovanni Eco Chic and Moroccanoil Moisture Repair are great choices.
If you have fragile tresses, Big Kizzy Biotin can help strengthen them. On the other hand, Shea Moisture's Curly Hair set is perfect for restoring dull locks with natural ingredients like raw shea butter and argan oil.
Lastly, if you need a quick refresh in between washes, Batiste Dry Variety is a great option that leaves your hair looking great.
Color Wow Security Shampoo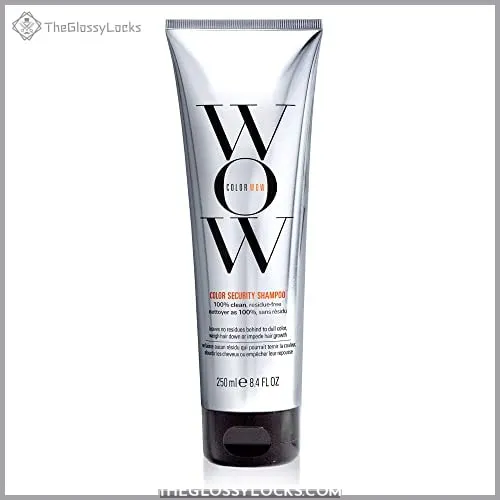 View On Amazon
You will appreciate Color Wow Security Shampoo's sulfate-free, paraben-free, and silicone-free formula that promotes healthier hair while protecting your color from fading. This liquid shampoo is suitable for all hair types, including fragile, colored, or chemically treated locks.
It has a rich lathering action which rinses clean and leaves no residue behind. It also helps to keep gray hairs looking shiny.
Sulfate-, paraben-, silicone-, and gluten-free formula
For all Hair Types – fragile/colored/chemically treated locks
Rich lather cleanses the scalp without leaving residue
Protects color & makes gray look shiny
Leaves users feeling their best after every wash
Pricey compared with other brands
Unscented formulation may not appeal to everyone
Not suitable for children under 12 years old
Overall, it looks like an excellent choice if you want a quality product that provides maximum protection as well as nourishment for your tresses!
OGX Coconut Milk Shampoo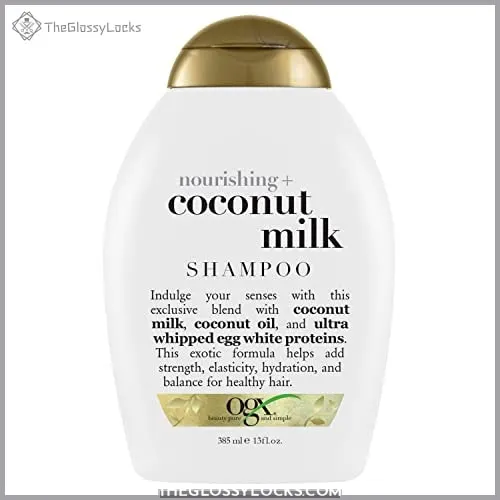 View On Amazon
Try OGX Coconut Milk Shampoo for an indulgent, coconut-scented experience that hydrates and nourishes hair while providing frizz control and humidity protection. Formulated with coconut oil, coconut milk, and egg white protein, it helps strengthen your locks without stripping away color or natural oils.
This sulfate-free shampoo is paraben-free and made in Canada, meaning it's gentle enough for daily use on all hair types, including those colored or chemically treated strands.
Its creamy formula leaves a light scent of white peach as it works to restore luster into dull locks while adding moisture into dry ones – a perfect solution after treatments like keratin or coloring! With its affordable price tag, this premium shampoo is the go-to choice among salons worldwide, leaving you feeling confident about both spending less yet still achieving salon-style results at home.
Sulfate-free & Paraben-Free Formula
Suitable For All Hair Types And Textures, Including Colored Or Chemically Treated Strands
Lightly Scented With White Peach Fragrance
Affordable Price Tag
Made In Canada
Not Ideal For Very Oily Hair Types As It May Leave Residue Behind
Contains Sodium Chloride Which Can Cause Damage To Color-Treated Hair Over Time
Oribe Gold Lust Dry Shampoo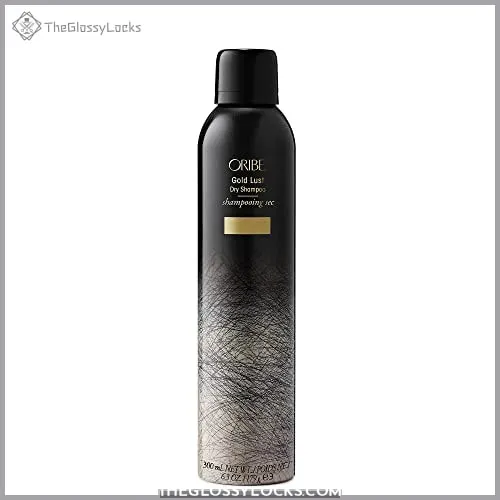 View On Amazon
Experience the luxurious Oribe Gold Lust Dry Shampoo for a quick refresh and nourishment, leaving your hair soft, smooth, and touchable. This powerful dry shampoo powder instantly absorbs dirt and oil from the scalp while fortifying damaged strands.
It doesn't add texture or weight to your hair but instead gives it body and movement without compromising its natural feel.
The formula is also designed to preserve color vibrancy so you can feel confident that those expensive treatments won't go to waste! Plus, this sulfate-free shampoo helps extend blowouts, so you don't have to wash as often—an added bonus if you're short on time!
Instantly absorbs dirt & oil
Leaves hair feeling soft & smooth
Fortifies damaged strands
Preserves color vibrancy
Can be pricey compared with other brands
Pureology Hydrate Shampoo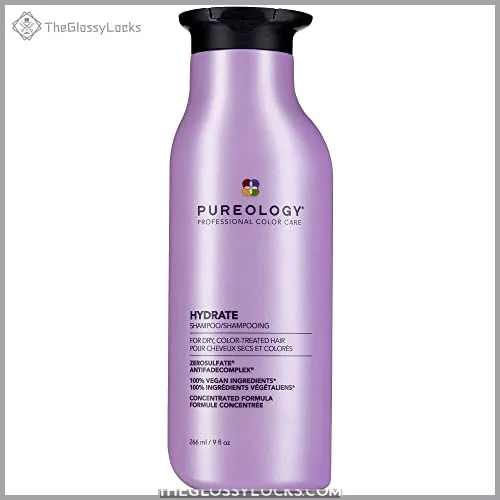 View On Amazon
Drench your hair in luxurious hydration with Pureology Hydrate Shampoo, like a parched desert finally finding an oasis. This vegan-friendly shampoo is formulated with key ingredients such as Jojoba, Rose Extract, Green Tea, and Sage to protect color and support scalp health.
It helps to lock in moisture while deeply hydrating dry hair for an effortless shine from root to tip.
Ideal for all types of colored or natural hair, it leaves locks feeling soft and healthy without the use of sulfates or parabens! Use this creamy lather daily after applying dime-sized amounts directly onto wet strands.
Sulfate-free & Paraben-free
Perfect for normal/thick/dry/color-treated Hair
Locks in moisture & adds shine
Can be expensive when bought regularly
Not suitable if wanting volume rather than hydration
NYK1 Color Treated Hair Shampoo Conditioner Set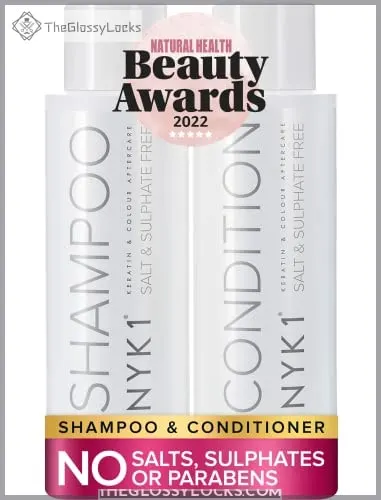 View On Amazon
Revive your hair with the NYK1 Color Treated Hair Shampoo Conditioner Set. It is formulated to protect expensive treatments like keratin and color while leaving your hair soft, shiny, and frizz-free. This sulfate-free and paraben-free shampoo cleans without stripping the hair's color or damaging extensions.
It is recommended by salons for all types of hair, especially those that are chemically treated or have undergone treatments such as coloring or adding extensions. With its gentle cleansing action, it helps maintain the vibrancy of colors in complex modern hairstyles.
It can even be used as a leave-in conditioner for added protection against frizz and humidity damage.
The 500ml set includes both shampoo and conditioner, providing everything you need to keep your tresses looking their best!
Protects expensive treatments
Gentle cleansing
Prevents color fading
Safe for hair extensions
Moisturizing & anti-frizz action
Salon recommended
Not suitable for all budgets due to price point
Giovanni Eco Chic Shampoo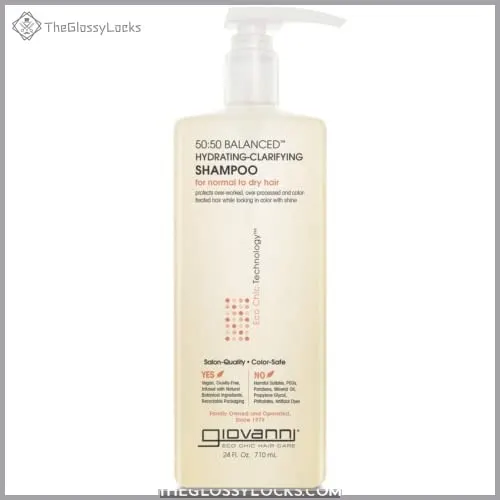 View On Amazon
Nourish your hair with Giovanni Eco Chic Shampoo and bring it back to life with its unique blend of vitamins, nutrients, and proteins! Infused with aloe vera, rosemary extract, and botanical extracts, this vegan-friendly, cruelty-free product is certified by Leaping Bunny.
Perfect for daily use on normal to dry hair, this shampoo will help restore strength as well as vitality in each strand.
The recyclable packaging helps bridge the gap between natural products and salon quality, making it an ideal choice when searching for something special just for you.
Infused with Aloe Vera, Rosemary Extract & Botanical Extracts
Gentle Cleanse Without Stripping Natural Oils From Scalp
Vegan Friendly Cruelty Free Certified By Leaping Bunny
Not Suitable For Oily Hair Types
No Sulfates Or Parabens Included
Expensive Compared To Other Brands
Moroccanoil Moisture Repair Shampoo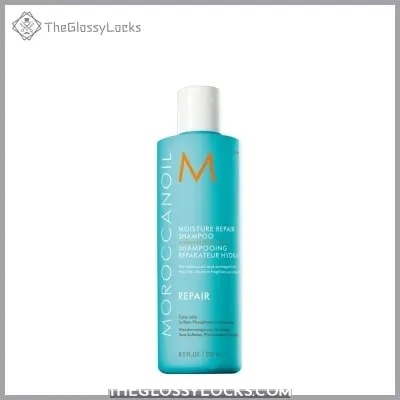 View On Amazon
Give your hair a luxurious spa day with Moroccanoil Moisture Repair Shampoo, which revives and repairs dry, damaged locks like a warm hug for your tresses. Formulated with antioxidant-rich argan oil and reconstructive keratin, this gentle sulfate-, phosphate-, and paraben-free shampoo helps restore moisture while strengthening strands.
Sweet almond oil strengthens the hair cuticle to leave it manageable, shiny, and safe for color-treated hair – without weighing it down or leaving any residue behind! It's also cruelty-free and vegan-friendly, so you can pamper yourself guilt-free.
Revives and repairs dry/damaged locks
Gentle formula is sulfate-, phosphate-, and paraben-free
Infused with argan oil and keratin to restore moisture
Strengthens the hair cuticle with sweet almond oil
Safe for color-treated hair
Expensive compared to other shampoos
Big Kizzy Biotin Shampoo Conditioner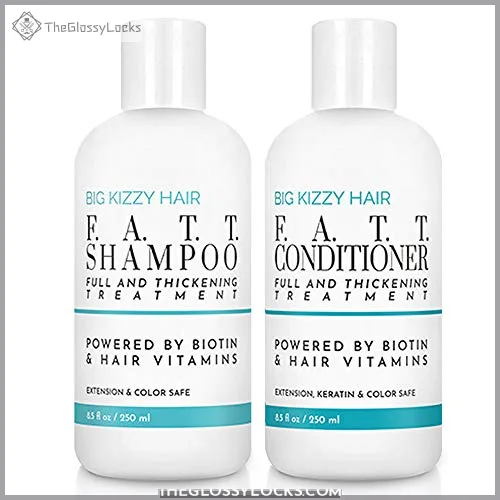 View On Amazon
Try Big Kizzy Biotin Shampoo Conditioner to strengthen and repair your hair for healthy, voluminous locks. This hairdresser-inspired set is formulated with biotin and pro-vitamin B5 to nourish, strengthen, and add shine while 11 amino acids help rebuild damaged strands.
It is cruelty-free, without silicones or parabens, in a lightly scented, oil-free formula, making it perfect for all types of hair, from natural to colored extensions.
The shampoo has just the right amount of lather that gently cleanses without stripping color or drying out your scalp.
Promotes natural hair growth
Prevents future hair loss
Safe for all types of hair, including extensions
Repairs damaged hair
Makes hair look thicker and healthier
Follow shampoo with Kizzy keratin conditioning treatment
For best results, use regularly
Oil can cause extensions to slip out
Shea Moisture Curly Hair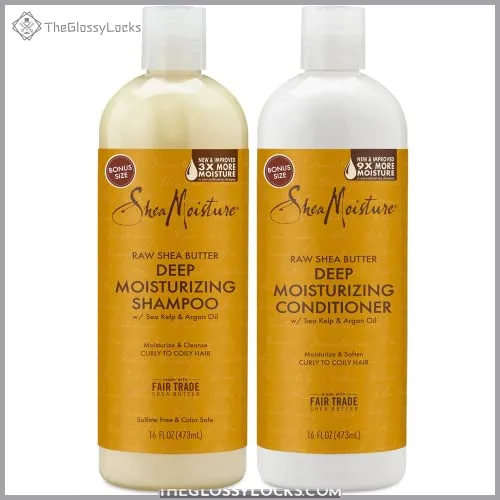 View On Amazon
Take your hair care to the next level with Shea Moisture Curly Hair Shampoo & Conditioner Set, which helps to restore dull, lifeless hair and leave it feeling soft and nourished. This sulfate-free set is specifically designed for color-treated, curly, chemically treated, or natural hair.
It's formulated with raw shea butter that nourishes and conditions the scalp while promoting healthy growth of strands. Organic shea butter is rich in Vitamin E, which helps restore shine and elasticity, while argan oil adds smoothness without weighing down curls.
Shea Moisture Curly Hair also hydrates dry locks when used as a rinse-out conditioner or left in for an extra boost of moisture throughout the day.
Sulfate-free
For color-treated & curly/natural hair
Restores dull strands
Hydrates dry locks
Not ideal for fine/oily tresses
May not provide enough moisturization
Batiste Dry Shampoo Variety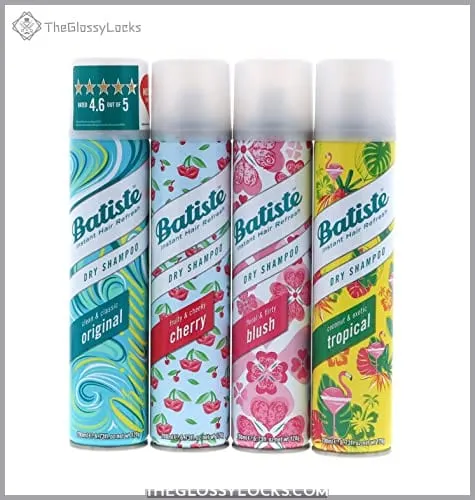 View On Amazon
You'll love the light, lingering scent Batiste's dry shampoo provides for a quick pick-me-up in between washes. This spray is perfect for getting rid of oily hair that can accumulate over time and giving fine or thick hair an extra boost of volume.
The oil-free formula contains biotin, pro-vitamin B5, and 11 amino acids to nourish your scalp while strengthening and repairing damaged strands.
Additionally, this product works on all types of hair, including natural curls, extensions, or color-treated tresses, making it highly versatile without risking damage to any treatments used previously.
Lightweight spray absorbs oil quickly
Contains biotin & pro-vitamin B5 to nourish the scalp
Works on all types of hair, including extensions & colored tresses
Cruelty-Free – no animal testing involved
Not ideal for those with allergies as the label front is only in English
Proper Hair Extension Care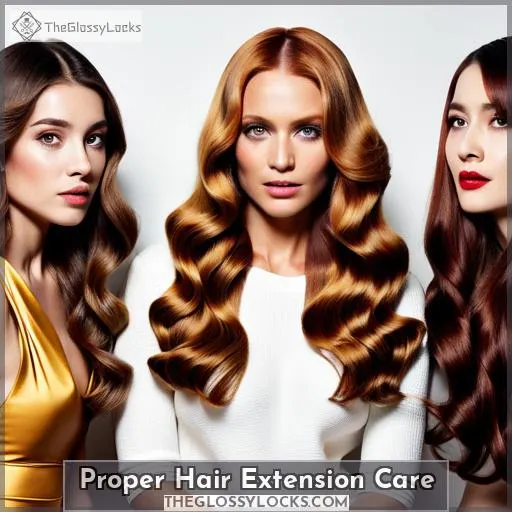 You should wait 2-3 days after getting hair extensions before you wash them and not shampoo every day. Detangle your hair first, then use lukewarm water to clean it thoroughly; make sure to rinse properly afterward.
Taking this approach will help keep your extensions in the best condition possible while maintaining their longevity.
Wait 2-3 Days Before Washing Your Hair
Give your hair extensions the time they need to settle in properly by waiting 2-3 days before washing them, as a stitch in time saves nine.
Here are 3 tips for caring for your extensions:
Choose a shampoo that is sulfate-free and nourishing, such as Color Wow Security Shampoo or Pureology Hydrate Shampoo.
Incorporate nourishing ingredients like oils or keratin into your routine.
Use vegan products when possible to protect both scalp health and the environment simultaneously!
Hair extension maintenance requires more than regular care, but with these techniques, you can ensure long-lasting beautiful locks while still being mindful of sustainability – no compromise necessary!
Don't Shampoo Every Day
Avoid washing your hair every day to help keep your extensions looking their best. Choose a shampoo type and texture that caters to the needs of both natural hair and extensions. Select ingredients that are sulfate-free, paraben-free, alcohol-free, and safe for color-treated hair if needed.
Look for products containing nourishing oils like argan or coconut oil, as well as proteins and fatty acids. Use lukewarm water when washing; too hot can damage the extension bonds, while cold water may not cleanse properly, leaving residue buildup on the scalp.
Daily usage can strip away hydration, resulting in dryness, which causes breakage, leading to frizz or, worse, shedding strands! Properly caring for your locks is key – choose wisely!
Detangle Your Hair First
Before washing your hair extensions, take the time to gently detangle them from the roots down to prevent any breakage or further tangles. Don't let the fear of damaging your extensions keep you from doing this essential step! Detangling is especially important for human hair extensions that are held together by adhesive strips, as these can easily fall out when pulled too hard.
The process should be done with a wide-tooth comb and in small sections starting at the bottom and working up towards the top of each extension type. Be sure to use safe ingredients like oils or keratin-based products on natural fibers for added nourishment during this process.
Wash With Lukewarm Water
Wash your extensions with lukewarm water to ensure that the cuticles stay sealed for optimum shine and health. Depending on your hair type, it is recommended to use a sulfate-free gentle shampoo to avoid stripping away natural oils from your extensions.
Consider using shampoos enriched with nourishing ingredients like biotin, argan oil, shea butter, or cocoa butter. These ingredients will help keep your extensions healthy and hydrated. Avoid using shampoos that contain toxic ingredients such as silicone or parabens, as they can damage the fragile strands of your hair extensions over time.
With regular care and the use of the correct products, you'll be able to maintain vibrant color in your locks while keeping them soft and silky!
Rinse Properly
Rinse thoroughly and cool to seal in moisture and cuticles for the perfect finish. When it comes to proper hair extension care, your rinse technique is just as important as the shampoo you use.
Use lukewarm water and a gentle formula like sulfate-free shampoos with safe alcohols or nourishing oils like argan, coconut, or avocado oil. For colored extensions, opt for color-safe options that will protect them from fading over time, such as Color Radiance System Shampoo or Pureology Hydrate Shampoo.
Be sure not only to select the best shampoo but also air dry when possible instead of towel drying, which can lead to frizziness, especially with Remy human hair extensions since they lack volume due to natural loss of sebum production.
With careful consideration given towards usage tips along with a mindful selection process, your hair's health will be preserved each wash cycle!
Choosing the Right Shampoo for Hair Extensions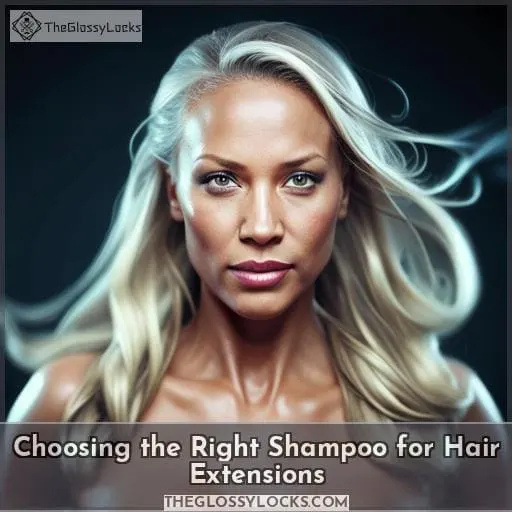 No matter what type of hair you have or the type of extension you're wearing, it's important to choose the right shampoo for your hair extensions. Look for shampoos that are sulfate-free, paraben-free, and free from toxic ingredients like alcohols and silicone.
Nourishing ingredients such as argan oil, keratin proteins, and fatty acids should also be considered when selecting a suitable product.
Hair Types
Consider your hair type and needs when selecting a shampoo for your extensions. Whether you have straight, oily, curly, or combination hair, it's important to choose the right product for proper care.
Natural oils like argan oil can help nourish dry or damaged hair, while clarifying shampoos are great for oily types. Regularly washing with sulfate-free shampoos keeps color vibrant, while gentle products protect fragile extensions from damage.
Look out for ingredients like keratin and fatty acids to keep locks looking healthy! Be sure to alternate between different kinds of shampoos, such as Color Wow Security Shampoo, OGX Coconut Milk Shampoo, Oribe Gold Lust Dry Shampoo, and more, depending on what suits you best.
Types of Hair Extensions
When selecting a shampoo for hair extensions, think about the type of extension you have and how they need to be cared for. Depending on your hair type and the type of extension you use, certain shampoos may work better than others.
For example, Jamaican castor oil is an ideal choice for curly or wavy extensions as it provides moisture retention without leaving any residue. Color-safe shampoos are best used with colored extensions to help maintain vibrancy.
Clarifying formulas can tackle oily locks while nourishing ones soothe dry strands that may require extra hydration due to their delicate nature.
Selecting a sulfate-free shampoo is essential when using synthetic or human hair extensions as these ingredients can strip away protective layers from already fragile tresses, resulting in damage over time.
Ingredients to Look For
Look for shampoos with nourishing ingredients such as oils, keratin, and fatty acids to keep your hair extensions healthy. Sulfate-free formulas are ideal for moisture retention, while clarifying shampoos work best on oily hair.
To hydrate dry or damaged strands, opt for a shampoo enriched with natural ingredients like argan oil or coconut milk that won't strip away color from colored extensions. Avoid alcohol-based products and select a nourishing option based on your specific hair type – straight and oily versus curly and in need of more moisture – as well as needs like avoiding sodium chloride shampoos, etc.
Avoiding Toxic Ingredients in Hair Extension Shampoos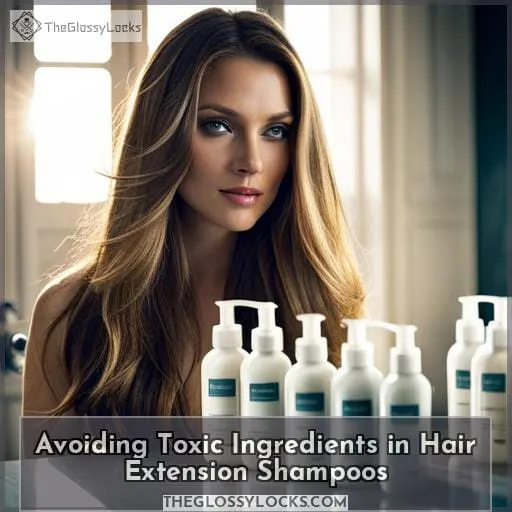 When it comes to finding the best shampoo for hair extensions, it's important to be aware of the types of ingredients that can be harmful. Avoid shampoos with sulfates, alcohols like propanol or isopropyl alcohol, dimethicone, hair dyes, and mineral oil as these may damage your extensions.
Look for a shampoo that is specifically designed for use on fragile or color-treated locks and opt for natural organic formulas containing nourishing oils such as argan or coconut oil where possible.
Sulfates
Avoid sulfates when selecting a shampoo for your hair extensions to keep them healthy and nourished. Hair type, extension type, and the need for moisture retention should all be considered. Opting for sulfate-free shampoos is ideal; safe alcohols are also recommended if needed.
Look out specifically for Color Wow Security Shampoo or OGX Coconut Milk Shampoo. Also, consider Oribe Gold Lust Dry Shampoo or Pureology Hydrate Shampoo. Depending on your needs and preferences, you can choose from the NYK1 Color Treated Hair Set or Giovanni Eco Chic range.
Harmful Alcohols
Be mindful of alcohol-based shampoos, as they can strip away natural oils and damage hair extensions. While these types of products are great for daily use on normal to dry hair, those with sensitive scalps or colored/chemically treated extensions should avoid using them.
Instead, opt for a sulfate-free shampoo that uses nourishing ingredients like keratin and fatty acids to ensure optimal hair health without alcohol sensitivity. Look also for natural organic formulas or ones containing safe alcohols such as cetearyl, stearyl, behenyl, etc.
Dimethicone
Dimethicone is a silicone-based polymer that can weigh down the hair, making it appear dull and greasy. Although some may think this ingredient is necessary for conditioning, there are other hydrating options to keep extensions looking their best.
Sulfate-free shampoos provide better moisture retention, and paraben-free formulas help protect color from fading. Select nourishing products with oils or keratin based on the type of hair and its needs.
Regular care also includes avoiding alcohols; use a gentle shampoo instead for softness and shine without stripping away natural oils or damaging colored strands.
Hair Dyes
When caring for hair extensions, steer clear of dyes that can damage your locks. To ensure dye safety and shade selection, consult a professional stylist or read up on product reviews online. Color preservation is key: look for products with natural ingredients and avoid those containing toxic chemicals like ammonia or parabens to prevent allergic reactions.
Mineral Oil
Mineral oil can be an irritating and damaging ingredient for hair extensions, so steer clear of shampoos that include it. Harmful effects range from scalp irritation to dryness, frizziness, and weakening of natural oils.
Natural solutions such as argan or coconut oil are highly effective alternatives with added beauty benefits. DIY alternatives like honey-lemon masks provide a safe option for those on a budget.
Tips for Choosing the Best Shampoo for Hair Extensions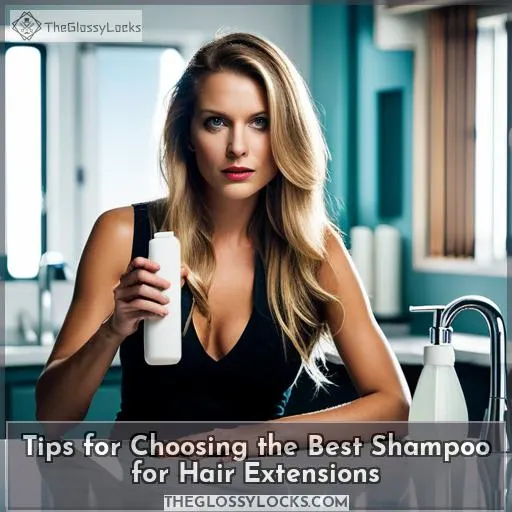 You'll be the envy of your friend group when you choose the right shampoo for those fancy extensions, so don't skimp on pampering! To make sure that your hair stays in top condition and looks great, consider these tips:
Select a sulfate-free formula to maintain moisture retention.
Look for clarifying shampoos if you have oily hair.
Opt for nourishing formulas if you have dry or damaged hair.
Go with gentle shampoos like Color Radiance System Shampoo, Moroccanoil Shampoo, Kérastase Resistance Bain Extentioniste, or Oribe Silverati Shampoo to keep color vibrant and protect treatments from fading away too soon while still keeping it moisturized and soft at all times.
Nourish extension strands regularly by using oil-based products such as argan oil, coconut oil, or avocado oils along with keratin proteins, which help strengthen them up even more.
Don't forget about natural ingredients either—they are a perfect choice if the scalp is sensitive—and alternate between different types of shampoo depending on your particular needs.
With these recommendations in mind, there's no doubt that everyone will admire how healthy-looking your locks are!
Frequently Asked Questions (FAQs)
How often should I shampoo my hair extensions?
Shampoo your hair extensions regularly to keep them healthy and vibrant. Depending on the type, wash curly hair extensions 1-3 times weekly, and straight or oily hair extensions 3-5 times a week. Use sulfate-free shampoo for moisture retention, a nourishing formula for dry or damaged hair, and clarifying shampoos for oiliness.
How do I prevent my hair extensions from tangling?
To prevent tangling, brush gently from the ends and tie your hair before sleeping. Limit the use of heat tools, handle wet hair carefully, and avoid brushing it when wet. Use a nourishing shampoo with oils or keratin to keep your extensions hydrated and conditioned.
What ingredients should I avoid when looking for a shampoo for my hair extensions?
When choosing a shampoo for your hair extensions, avoid products with sulfates, alcohols, silicones, parabens, and dyes. Opt for ones without these ingredients that are specifically designed to nourish and protect fragile or colored hair.
Is there a difference between shampoos for synthetic and natural hair extensions?
Yes, there's a difference! Natural hair extensions need nourishing shampoos with oils or keratin. Synthetic ones require a gentle shampoo to protect from fading and frizzing. Choose sulfate-free for moisture retention, clarifying for oily types, and alternate shampoos for combination hair.
Are there any shampoos specifically formulated for colored hair extensions?
Yes, there are shampoos specifically formulated for colored hair extensions. The Color Radiance System Shampoo, Moroccanoil Shampoo, and Oribe Silverati Shampoo provide vibrant color protection while nourishing the hair with oils or keratin.
NYK1's Color Treated Hair Set is perfect for aftercare of color treatments like coloring and extensions.
Conclusion
With so many shampoos available, it can be hard to know which one is best for your hair extensions. Did you know that, according to research, Color Wow Security Shampoo is the most popular shampoo for hair extensions? This sulfate-free, paraben-free, and silicone-free liquid shampoo promotes healthier hair and protects color from fading.
It's suitable for all hair types, including fragile, colored, and chemically treated hair.
With the right care and the best shampoo for hair extensions, you can maintain healthy, vibrant hair and protect your expensive hair treatments. To ensure the longevity of your hair extensions, opt for a sulfate-free, paraben-free, and color-safe shampoo with nourishing ingredients like argan oil, keratin, fatty acids, proteins, and natural ingredients for sensitive scalps.