This site is supported by our readers. We may earn a commission, at no cost to you, if you purchase through links.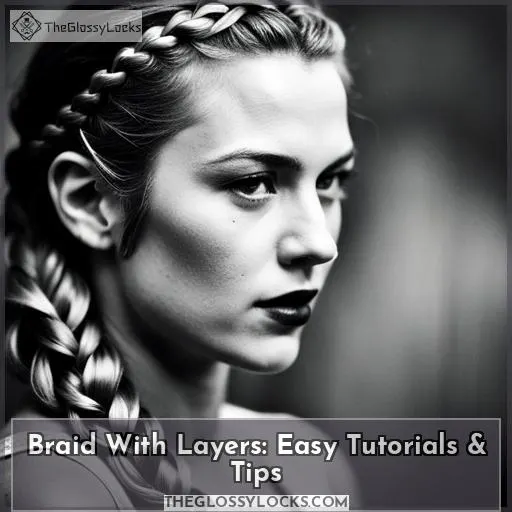 Are you ready to take control of your layered hair? Braiding with layers is the perfect way to show off their texture and depth, while also keeping it stylishly put together. Whether you're looking for a classic braid or something more unique, this article will provide tips on how to braid when you have layers.
Embrace the power that comes with mastering these techniques – unleash your inner artist and make braids that are sure to turn heads! Let's get started by understanding some basic principles about braiding technique, as well as using styling products like hairspray or gel.
Key Takeaways
Curl the ends before braiding for seamless layer blending.
Secure the layers with bobby pins and hairspray while braiding.
Choose braid styles that complement your layered haircut.
Consider Fishtail, Side, Messy, French, Halo, or Waterfall braids.
Tips for Braiding Layered Hair

Are you seeking tips on braiding layered hair? With the correct techniques and styling products, you can effortlessly create stunning braid styles, even with the most intricate haircuts.
Curling the Ends
To achieve a seamless blend of your layers, try curling the ends before braiding for an effortless and stylish look. Use heatless techniques like rag curls or flexi rods to save time while styling. Add texture with products such as mousse or sea salt spray. To keep each layer in place, use bobby pins and hairspray throughout the process of braiding.
Choosing the Right Braid Style
Choose a braid style that complements your layered haircut and helps you express yourself. Consider the Fishtail or Side for an effortless yet stylish look, or go with Messy Options for added texture and volume.
If you want something more elegant, try a French braid! Halo Magic is simple but chic, while Waterfall Beauty adds graceful movement to layered hair.
Securing the Braid
Secure your masterpiece with bobby pins as you go for a style that'll last all day long! To ensure stability, use two to three small bobby pins per pleat and crisscross them at the base.
Leaving some pieces out of each twist adds texture and volume, while tucking any loose ends prevents unraveling. For extra hold, spritz hairspray along the length of your finished look before securing it with a hair tie.
If braiding layered hair is difficult for you, try Dutch braids or fishtail styles which blend layers more easily than regular French plaits do—just remember to leave pieces out!
With these tricks in hand (and pinned!), you'll be sure to keep every strand in place until it's time to take down your stunning style.
Side Braid Tutorial for Layered Hair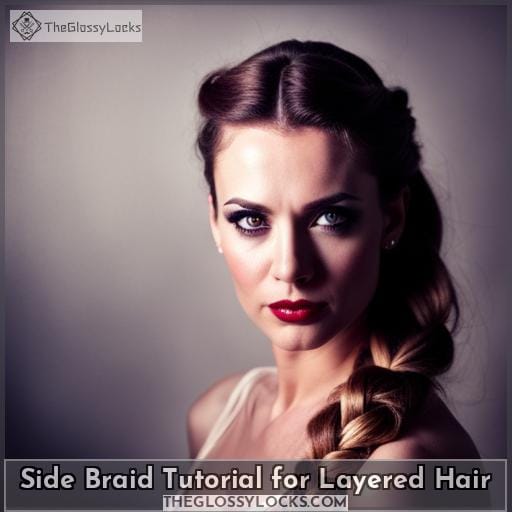 Preparing your hair for a side braid can be the difference between success and failure. Make sure to start with clean, styled hair that is appropriate for your texture. Then, gather the necessary tools such as a fine-toothed comb, bobby pins, and ties.
Once you have these items ready to go, consider curling any shorter layers in order to blend them together easily when braiding.
Preparing Your Hair
Gather your tools and get ready to style: a fine-toothed comb, bobby pins, and hair ties – you're almost set! Select the right product for your texture; then curl the ends of layers for blending. Split your hair into sections with a middle part and adjust the size according to the length of each layer.
Creating the Side Braid
Starting with a middle part, separate your hair into three sections and begin braiding the right section of hair over the center to create a classic side braid.
For variations, try incorporating accessories like ribbons or clips for added texture.
Layered haircare can be challenging, but styling tips such as curling pieces before braiding and using hairspray help keep things neat.
To achieve messy looks, slightly loosen pleats while braiding, and remember to secure them in place with pins!
To ensure layers don't stick out uncomfortably, use smaller chunks of hair when creating your side braid.
Finishing Touches With Hairspray and Bobby Pins
To finish off your beautiful side braid, use hairspray and bobby pins to keep it in place for hours. For an extra hold and fix, apply hairspray techniques like spraying the length of the hair, then using a comb or brush to evenly distribute the product.
Use Bobby Pin tricks such as criss-crossing them into the base of your hairstyle or weaving them through individual braids for a secure fit.
French Braids for Layered Hair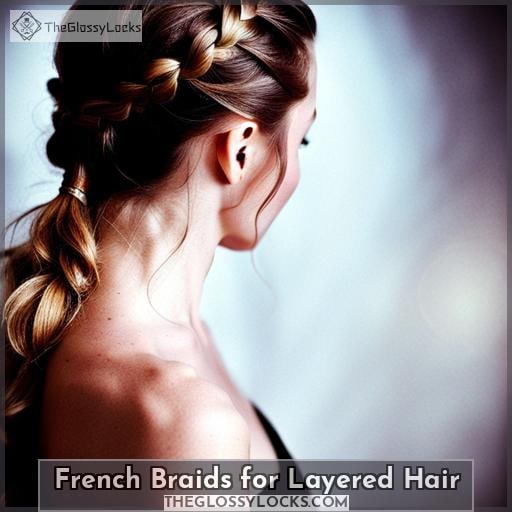 Are you trying to master the art of French braiding layered hair? Sectioning your hair correctly is key to achieving a successful braid. With consistent practice and by following simple guidelines, you can learn how to section and create beautiful French braids in no time.
Sectioning Your Hair
Divide your hair into sections, starting with the middle part and separating each side for a French braid that'll leave you looking put-together. Use sectioning techniques to ensure all strands are evenly divided and out of the way when braiding.
You can use parting tips, such as finding natural points or using a comb, to guide where to start dividing your hair for any style. Hair division is key. Try segmenting strands into two or three chunks, depending on the look you're going for, like double French braids or half-up half-down styles.
Start partitioning at the front and then work towards the back, making sure those layers don't stick out! With these tips for sectioning your hair, picking a matching braid won't be hard anymore.
French Braiding Technique
Gently interweave the sections of your hair to create a gorgeous French braid that shows off your layers. Divide into three even parts before starting, making sure to tuck in and secure shorter layers with pins.
Braid from top down, using hairspray on each layer for extra hold. Finish by securely tying it up with an elastic band and enjoy its effortless charm all day long!
Maintenance is key – regularly use nourishing oils to ensure this timeless classic never fails you.
Dealing With Shorter Layers
Adjust the sections of your hair according to the length of your layers for a beautiful braid. Curl the shorter ends before braiding and use styling products to blend them in with longer pieces. Section the hair into smaller chunks, avoiding gaps between layers while keeping larger sections on top for added texture and volume.
Stylish Braid Hairstyles for Layered Hair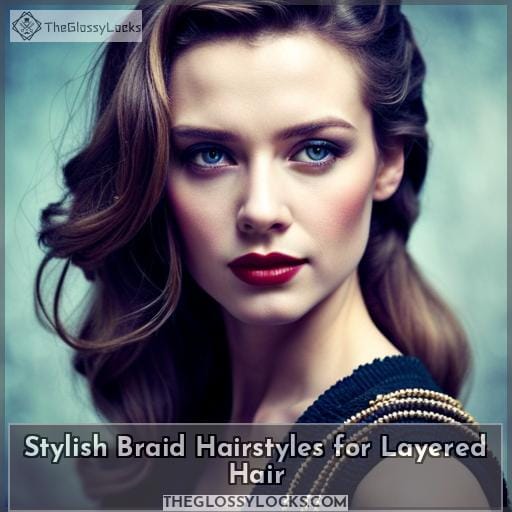 Braiding layered hair can be a daunting task, but with the correct techniques and tools, you can create stunning hairstyles. From fishtail braids to halo braid styles, there are plenty of options available for styling layered hair.
Fishtail Braid
Try a fishtail braid to add an intricate twist to your layered hairstyle! Experiment with variations like the halo, waterfall, or ponytail braid. And don't forget the little details: use hair ties and accessories for extra flair, curl strands of hair for more texture and volume.
For maximum impact, make sure you take care of your layered hair care – keep it clean and styled before braiding.
Messy Braid
Create a tousled look with a messy braid, weaving your strands to create an effortless yet stylish hairstyle.
Start by gathering the top section of hair at the crown and secure it in place with a clear elastic.
Then take two thin sections from underneath each side and bring them over each other in an alternating pattern until you reach the ends of your hair.
Finish off with textured finish for that added boho vibes or beachy waves effect for casual elegance.
Make sure to tug on individual pieces while braiding to give it more dimension and volume, creating that effortless chic look!
With just one simple step, you can easily upgrade any hairstyle into something special without breaking much sweat—a perfect go-to style when time isn't on your side!
Double French Braid
For an elegantly woven look, you can try a Double French Braid – intertwining two braids for added texture and volume.
To create the perfect style in layered hair, begin by parting your hair into two sections down the middle. Start at the crown of your head and braid each side separately using three sections per braid.
As you twist each section together, use styling options like finger waves or smooth pulls to give it a more creative flair.
With proper layered haircare maintenance, these beautiful styles will remain intact until next time.
Halo Braid
Let your layers shine through with a beautiful halo braid! This variation of the classic French braid is intricate yet stylish. Try using different accessories to create unique Halo Braid Variations, perfect for any occasion.
For styling tips, use Dutch braiding techniques and incorporate smaller sections of hair to keep all layers in place.
Don't be afraid to experiment and have fun creating new styles with your layered hair; it's easier than ever before when you know how to craft the perfect halo braid.
Waterfall Braid
Try the beautiful waterfall braid for a unique hairstyle with your layered hair. There are many variations of this classic style, from simple to intricate designs. With styling options such as adding accessories or pairing it with other braids, you can find the perfect look for any occasion! Try a waterfall braid for weddings or special occasions, on short layers for added dimension and texture, or compared to fishtail braids when looking to make an impactful statement.
Braid Ponytail
Embrace the creativity of a braid ponytail to take your layered look to the next level. From voluminous low ponytails with an intricate woven design to half-up styles that combine casual and chic elements, there are countless styling possibilities.
Make sure you're taking good care of your hair before attempting these looks by using suitable products for layered haircare.
Get inspired by browsing online tutorials and images on how others have achieved their own unique braided ponies. Creating something special has never been easier! Let's get creative and express our individual style today—with a braid ponytail, we can take any layered look up a notch.
Half-Up Half-Down Braid
Create a beautiful half-up half-down braid for your layered hair and show off your style in no time – over 99% of people with long layered haircuts can pull off this look!
Choose from different braid variations to suit the occasion, and get creative by twisting or accessorizing pieces for added flair.
To start, divide your layers into sections before braiding. Begin at the crown of your head and adjust the sizes based on the length of your hair.
As you go along, secure each pleat with pins and use hairspray to keep it all together.
With this hairstyle, you can showcase a breathtaking hairdo without compromising on volume or texture.
Conclusion
The braiding journey can seem intimidating when you have layers, but it doesn't have to be! With a few tips and tricks, you'll be a master of braiding with layers in no time.
Start by prepping your hair with the right products and tools. Choose a braid style that suits your layered hair and use the proper braiding techniques. Adjust the size of the hair sections based on your layers, and don't forget to curl the ends before braiding.
Use styling spray to help keep shorter layers in place and embrace the versatility of braids for different occasions and hair lengths. Don't let layers deter you from creating beautiful, unique hairstyles. With the right instructions and a bit of practice, you can learn how to braid when you have layers in no time.