This site is supported by our readers. We may earn a commission, at no cost to you, if you purchase through links.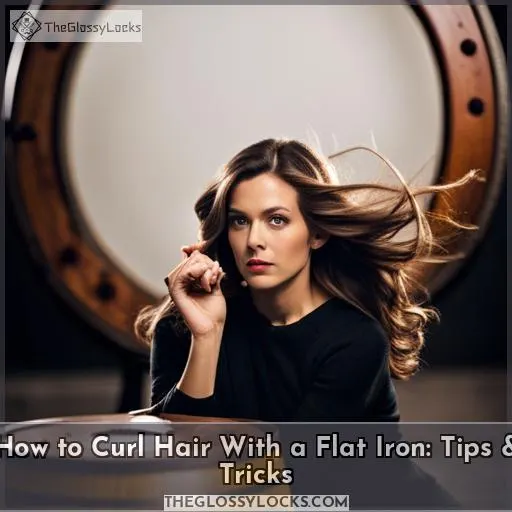 Like an artist transforming a blank canvas, you can create beautiful curls with the right tools. To get bouncy and voluminous curls without a curling iron, all you need is your trusty flat iron. With some practice and creativity, this multi-use hair tool can be used to achieve beach waves or polished Hollywood S-waves that will have everyone asking how to curl their hair with a flat iron! Here are our top tips for mastering the art of using your straightener to curl your locks like never before.
Key Takeaways
Use smaller sections and slower movements for tight curls.
Use larger sections and faster movements for loose curls.
Glide the flat iron smoothly in a C motion for beach waves.
Wrap 1-2 inch sections of hair from mid-shaft to ends for classic waves.
What to Know Before Getting Started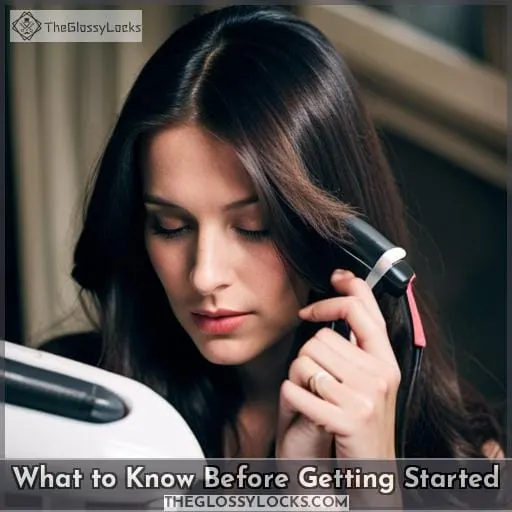 If you're looking to curl your hair with a flat iron, it's important to be prepared and know what you need before getting started. To protect your strands from heat damage, use a heat protectant spray beforehand.
Also, make sure that the temperature on the flat iron is turned down; look for an iron with single-pass straightening capabilities so that there won't be multiple passes over one section of hair, which can cause breakage or split ends.
Use a Heat Protectant Spray
Before you begin curling your hair with a flat iron, make sure to apply a heat protectant spray. This will help keep your tresses healthy and glossy throughout the styling process.
Curling techniques such as slide curl and push wave require high temperatures from the flat iron or curling iron to create long-lasting curls that won't fall out quickly. Heat protection is essential for avoiding damage caused by excessive heat exposure when using either tool.
Ensure you evenly spread an ample amount of the heat protectant over all sections before starting any of these methods for maximum benefit! With proper use, this product can provide lasting shine without weighing down your style–leaving you feeling beautiful yet powerful!
Turn Down the Heat
Turn down the heat on your flat iron for a more natural look; otherwise, you risk damaging delicate strands. Use a heat protectant spray to create polished waves that won't leave unsightly dirt embrace residue.
The slide curl technique is great for creating subtle bends, and the push wave technique works well with longer hair lengths.
Achieve salon-quality looks in no time – just remember to keep it at a low temperature setting and enjoy beautiful, healthy-looking locks!
Look for a Single Pass Straightening Iron
Choose a flat iron with rounded edges so you can achieve smooth, sleek curls in just one pass. Heat settings should be adjusted based on hair texture and desired curl technique. A protectant spray is recommended to ensure your strands are properly conditioned before curling.
Start by taking sections of the hair from the root and working down for tight curls or up for classic flat iron wave patterns.
Embrace the Dirt
Embrace the mess and transform your locks with a single-pass straightening iron. Dirt-proofing and heat-proofing products are essential for creating perfect waves, S-waves, or villa beachy curls with a flat iron.
Modified slide curls are easy to master when you have the right tools. Curl one section at a time, remembering to keep your flatiron moving while curling each section for the best results – not holding it in place too long! Experiment until you find what works best for your hair texture and create beautiful styles that last all day long.
How to Curl Your Hair With a Flat Iron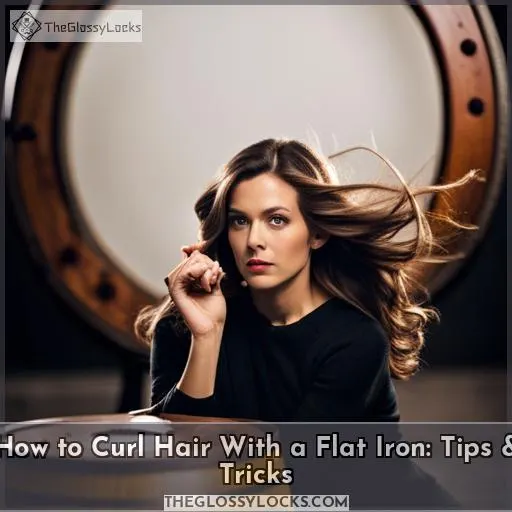 Getting the perfect curls with your flat iron is easier than you think! To achieve this, start by creating sections within your hair and work in one-inch pieces. Then, begin to curl each small section of hair using a consistent motion all over.
Create Your Sections
Divide your hair into sections to get ready for the perfect curls! Use a sectioning technique that works with your face shape and flat iron type. Carefully choose products to protect against heat damage while providing hold. Practice curl techniques on different lengths of hair, adjusting temperature control as needed for the best results.
Work in One-inch Sections
Separate your hair into 1-inch sections and work with each section individually. Use clips to hold the remaining hair tightly in place as you curl. Switch hands occasionally for a more balanced look. Make sure to stay hydrated and use a brush or comb if necessary.
Then, take your flat iron and firmly grip it around the section of hair at its base. Hold tightly while slowly twisting towards your face, moving down until you reach the ends.
Start to Curl
Hold the flat iron vertically, like a pen in your hand. Wrap sections of hair around it to set the heat and create curls or waves.
Use That Same Motion All Over
Once you have the hang of curling your hair with a flat iron, use that same motion all over to create beautiful curls in no time. Adjust heat settings according to your hair texture and divide it into sections.
Apply styling spray for the desired hold and curl pattern before using the flat iron on each section one at a time until all are curled.
Loosen Up the Ringlets
Once you've finished curling your hair, take a few seconds to loosen the ringlets with your fingertips for an effortless yet glamorous look! To dampen strands and protect from heat damage, apply a light spray before using a flat iron.
Vary the temperature setting and the number of passes based on hair texture. Curl in short sections to ensure even heat distribution during the styling process.
How to Get Tighter Curls With a Flat Iron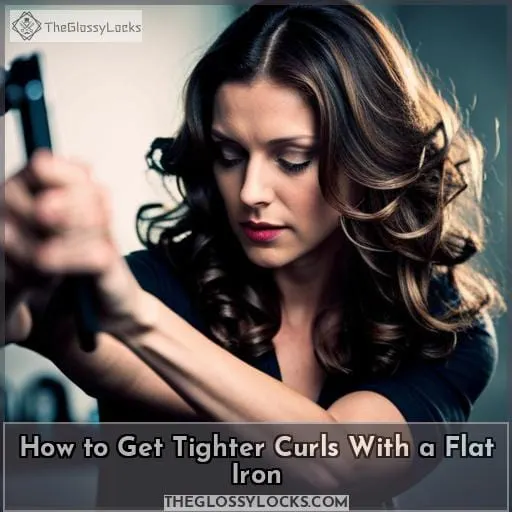 Curling your hair with a flat iron can help you create more defined, tighter curls. To get the best results, be sure to section off your hair before running the iron through each piece individually.
Section Off Your Hair
Divide your hair into several sections, starting with the bottom layer and working up. Ensure that each section is an appropriate size for curling. Before you curl, apply a heat protectant to ensure that heat-styling won't damage your locks.
Run Your Iron Through Each Section
Run the heated flat iron through each section of hair, taking care to keep your strokes slow and steady. Adjust temperature settings for the best results; use heat protectant and styling product before starting.
Roll the iron in a rotating motion along strands to create curls with bounce, body, and shine.
Let the Curls Cool Down in Place
After you've completed the process with each section of your hair, let those beautiful curls cool down and set in place. Using a product selection for heat protection and taming frizz is key, as well as controlling oil to help keep the style lasting longer.
Sectioning off your hair makes it easier to curl all strands evenly while avoiding burning or unnecessary damage from too much heat exposure.
Shake It Out
Once your curls are cool, give them a shake to break up the spiral shape and create more tousled texture. Experts say shaking out adds volume – up to 40%! Hair care pros know that shampooing tips, heat styling, and texture boosting for different hair types will help you achieve those perfect tight curls with a flat iron.
Grab Your Finishing Spray
Spray your hair with a finishing product to set the style and achieve those tight curls. Use something that won't leave behind residue, such as paraben-free, sulfate-free vegan styling sprays.
How to Create Smooth Waves With a Flat Iron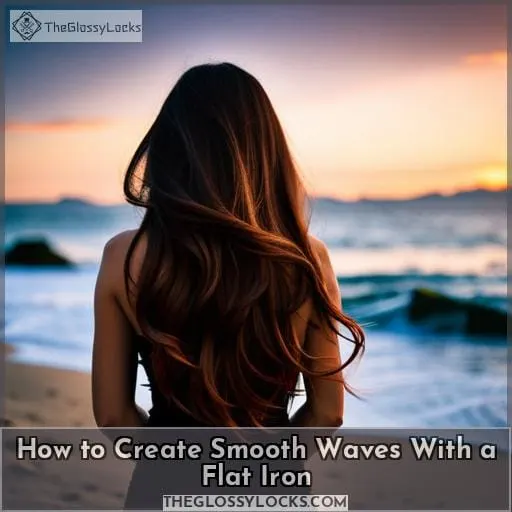 Creating smooth waves with a flat iron is an easy way to give your look some added texture and volume. To achieve the best results, take larger sections of hair when curling and use smaller movements to break up the curls or waves into more natural-looking pieces.
Start by lightly spraying Oribe Dry Texturizing Spray for extra hold and then set your flat iron's temperature according to your hair type before you begin styling.
Take Larger Sections for This Look
Grab a larger section of hair than normal and place the flat iron near the roots for smooth, soft waves. Glide it down in sections to create texture and hold shape without skipping layers. Make sure you protect your hair from heat damage as you curl by using a thermal protecting spray beforehand.
Break Up the Waves
Gently break up the waves with your fingers to create smoother, softer curls. Use a flat iron set at the appropriate temperature for your hair type to control texture and release tension. When dampening strands prior to curling, be sure not to saturate them completely as this can affect heat setting capabilities of the tool.
Work in sections and begin curling from mid-lengths towards ends while alternating curl direction every few passes for an even look all over.
How Do You Curl Hair With a Straightener?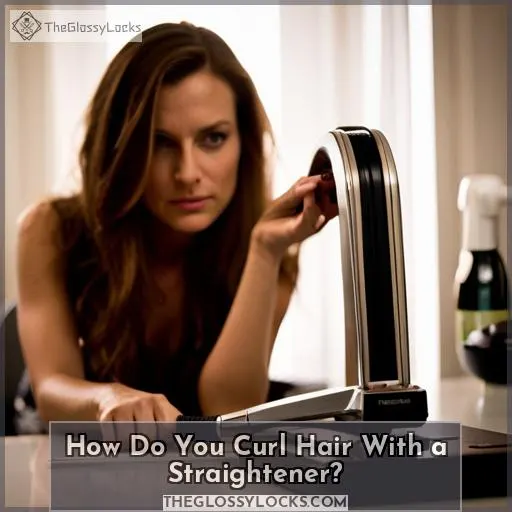 Are you curious about how to create stunning curls with a flat iron? There are many methods, such as the Slide Curl, Modified Slide Curl, Classic Flat Iron Wave, and Push Wave. All of them offer different textures and effects that can make your hair look amazing.
Slide Curl
Slide the flat iron along your hair to create loose curls for a romantic look. Use heat protection and dampen each section of hair before sliding the flat iron from root to tip. For more definition, use fewer sections of hair with each slide and move slower when curling.
To set curls in place, finish off by spraying a light hold finishing spray all over the head.
Modified Slide Curl
Twist your flat iron around a strand of hair, then slowly pull it down to create beautiful curls. Apply Oribe Dry Texturizing Spray for extra volume and hold – no powdery residue or strong scent! Use the slide curl technique with heat protectant for single-pass styling and dirty texture you can finish with spray.
Make sure to vary sentence length and structure as you go; power, mastery, and understanding are within reach without self-referencing what's being done.
Classic Flat Iron Wave
Create beautiful, soft waves with your flat iron in minutes for an effortlessly chic look. Adjust the heat setting on your straightener according to hair type: fine hair should be set at around 300-350°F, while thick or coarse strands will need a higher temperature.
Use styling products like Oribe Dry Texturizing Spray before you start curling to add texture and hold without compromising shine or movement.
With the classic flat iron wave curl technique, grasp 1-2 inch sections of hair and wrap them tightly around the heated plates, starting from mid-shaft down towards the ends.
Push Wave
To achieve a beautiful push wave look, position your flat iron 1-2 inches away from the roots and slightly rotate it outward as you move down the length. If you have fine hair, try starting with 330°F for subtle waves without heat damage.
Pinch wrapping, reverse curling, ribbon curling, scrunch twisting, or flat clamping are all techniques to create perfect push waves.
How to Use a Straightener for Beach Waves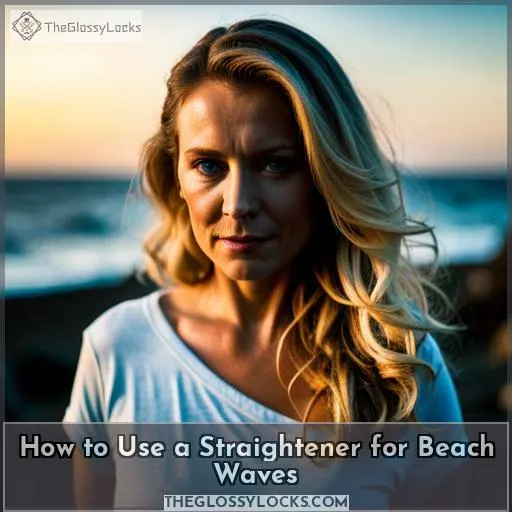 Are you looking for a way to get that perfect beachy look? With the right technique, it's easy to curl your hair with a flat iron and create beautiful sea waves or pin curls.
Simple Beach C-Waves
Smoothly glide the flat iron through your strands to achieve perfect beach C-waves! Start by applying a heat protectant and moisturizing spray to damp hair for ultimate protection.
Then, section off smaller chunks of hair and begin using the straightener on each piece from root to tip, creating small waves throughout. Make sure you avoid split ends when going over with the flat iron by not clamping down too hard or leaving it in one spot for an extended period of time.
This will give you plenty of style options as well as volume that stays put all day long without sacrificing any shine or softness – enjoy those flawless beachy locks!
Beachy Pin Curls
You can achieve beautiful, beachy pin curls with just a flat iron and some hairspray – in as little as 10 minutes! Plus, using Oribe Dry Texturizing Spray has been scientifically proven to add volume to fine or thin hair by up to 30%.
To get perfect beach waves with a straightener, you need:
Heat protection: Use an appropriate heat protectant like this one from TRESemmé before styling.
Hairspray techniques: Apply hairspray after curling small sections for extra hold once the look is finished.
Volume control: Start at the crown of your head when curling and move downward for maximum fullness.
Heat safety: Never leave your flat iron on any section of hair longer than necessary; excessive heat will damage strands beyond repair!
With these tips in mind, you'll be able to create flawless curls that last all day long while controlling volume levels without compromising on style or safety.
How to Use a Straightener for Bouncy Curls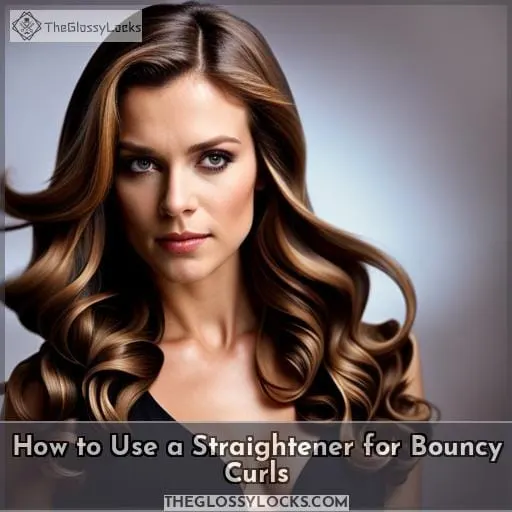 Create eye-catching, voluminous curls with just a few simple swipes of your straightener! Start by prepping your hair with heat protectant and then select the temperature setting suitable for your hair texture.
Then section off small portions of hair and begin curling in single passes to ensure even heating. To get ultra bouncy curls, embrace dirt – that is, don't brush out each curl after wrapping it around the iron but instead allow them to cool down naturally before brushing out into the desired shape.
Finish up with a light misting of finishing spray for extra hold and shine.
For best results when using a flat iron on curly or wavy hair, make sure you use an adequate amount of heat protectant beforehand. Opt for lower temperatures tailored to suit your individual hair type. Vary the direction while curling as this will add more definition.
Try the double pass technique if needed, wherein two strands are curled together.
All these tips combined can help you achieve perfect bouncy curls without too much effort! Finally, don't forget to finish off your style using some hairspray or an oil-based product like Oribe Dry Texturizing Spray, which provides volume plus added hold so that your gorgeous curly hairdo stays put throughout the day and night!
How to Use a Straightener for Polished Waves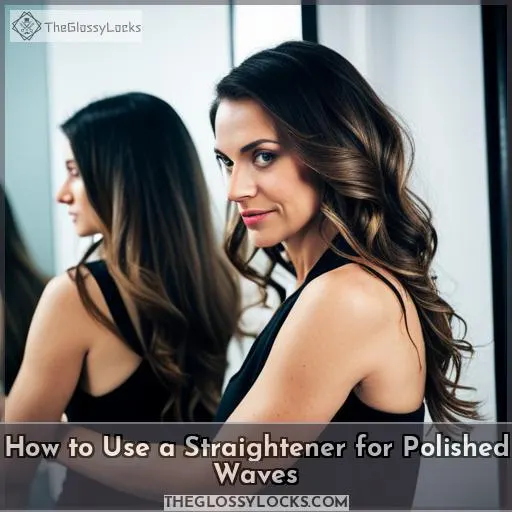 Looking for a polished hairstyle that adds texture and volume? Five-Second Touch Up, Hollywood S-Waves are the perfect way to achieve this look. With the help of a flat iron, you can give your hair soft curls without sacrificing its natural shine.
Five-Second Touch Up
Quickly revive your waves with a flat iron, adding texture and lift for a polished look. With just five seconds of heat, you can pump up volume while controlling frizz. Tease up curls in the crown or smooth out texture on the sides – whatever style you're looking for! Use short strokes to get desired results without taking too much time away from your day-to-day routine.
For extra shine, add some serum before styling; then set it with hairspray if needed. A few passes of the flat iron will give hair an instant boost and help keep flyaways at bay all day long – no need to fret over unruly strands anymore! Whether you're creating tight ringlets or tousled waves, find freedom from worrying about how long they last: use this quick touchup technique whenever necessary to maintain that fresh curl look throughout the day.
Hollywood S-Waves
Polish off your look with Hollywood S-Waves, giving you gorgeous waves that will last all day and night.
For bouncy curls, start by spritzing hair with a texturizing spray before using the flat iron to create large 2-inch wide sections of curl. Place the flat iron at the root and slowly twist it away from your face while continuing down each section until fully curled.
For tousled waves, use smaller sections but make sure not to hold them in place too long as this can result in tight curls instead of wavy ones!
If you're looking for finger or flat wave looks, try changing up which direction you are curling. Alternate between inward towards your face and outward away from it for more defined results that won't be too uniformed.
With these simple tips, creating beautiful wavy styles is easy – just remember to give yourself time perfecting them!
Frequently Asked Questions (FAQs)
How long should I leave the flat iron on my hair?
Be mindful of how long you leave the flat iron on your hair; leaving it on for too long can damage it. Experiment to find the perfect amount of time that will give you beautiful, bouncy curls without compromising the health of your locks.
Are there any risks associated with using a flat iron?
Yes, using a flat iron can be risky. It's important to use one with rounded edges and set the temperature based on your hair texture for the best results.
Is there any way to make the curls last longer?
To make curls last longer, use hairspray for hold and a heat protectant before styling. Try curling in smaller sections to create uniformity and add more tension when wrapping around the iron.
Does the size of flat iron matter?
Yes, the size of a flat iron matters. Curls created with wider irons may be looser and more natural-looking than those made with smaller ones. For tighter curls, choose an iron that's 1 to 2 inches wide – the rounded edges will help create smoother waves.
Is it recommended to use a heat protectant before curling with a flat iron?
Absolutely! Heat protectants create a barrier between your hair and the flat iron, helping to prevent damage. Use one before curling for maximum protection and beautiful, long-lasting results.
Conclusion
You can easily create beautiful curls in your hair with a flat iron, and the process isn't as intimidating as it may seem. With the right tools and techniques, you can achieve any style from tight ringlets to loose beach waves.
It's important to use a heat protectant spray and set your flat iron's temperature according to your hair texture, which will help prevent damage. When curling your hair, work in small sections and use the same motion all over to create uniform results.
If you want tighter curls, let your curls cool down in place before loosening them up with your fingers. For smooth waves or beachy waves, take larger sections and use the flat iron to break up the waves.