This site is supported by our readers. We may earn a commission, at no cost to you, if you purchase through links.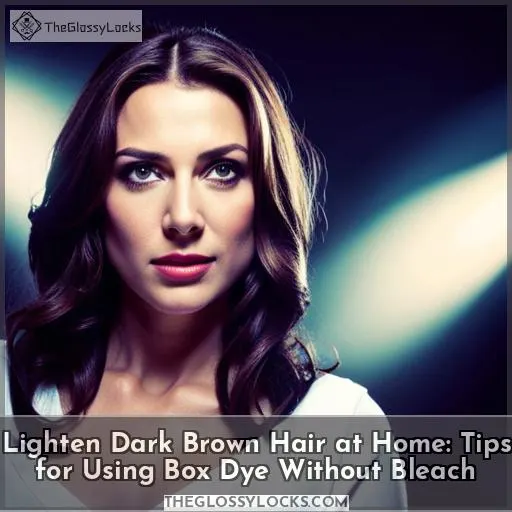 You've hit a hair color rut. Those deep espresso brown locks that once had you radiating confidence now feel heavy and dull. We get it—your hair's dark tone used to seem so rich and sexy but now you're craving a lighter, brighter look.
Maybe even some highlights or a subtle ombré. You want that sun-kissed warmth, a summery lightness to your strands.
Well, you're in the right place. As master colorists, we'll walk you through lightening dark brown hair safely using box dye, no bleach required. With a few simple tips, you can brighten your brunette in the comfort of your own home.
So don't worry, we'll have that monotonous mane morphed into a lighter, livelier you in no time.
You just need direction, and we've got you covered. Lightening your hair can seem intimidating, especially when you're not sure how to get the results you want without damage. But you don't have to go it alone. Lean on our expertise for a foolproof home hair makeover.
Can I Dye My Hair Lighter Without Bleach?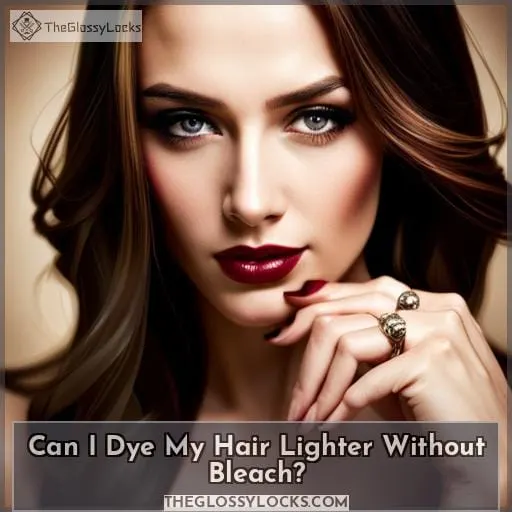 You'll have a hard time getting the light hair color you want from dark brown hair without using bleach. The level of pigment in your strands makes it nearly impossible to achieve blonde tones without lifting and lightening first.
However, there are some techniques that can boost your color a shade or two. Focus on hair health with deep conditioning masks before dyeing and avoid over-washing. Consider a semi-permanent color for subtle lightening or try natural methods like lemon juice or chamomile tea rinses.
They help remove brassiness and brighten hair over time. The porosity and current damage to your hair impacts how much lightening you'll get from dye. For the most vibrant colors, opt for highly pigmented semi-permanents in shades like blues or purples which deposit lots of color.
With box dyes, you may be able to go lighter by 1-2 levels. But for significant lightening, especially to achieve blonde, bleach remains the most effective option. The good news is that when done correctly, lightening opens up a world of hair color possibilities for you to explore.
Tips for Lightening Dark Brown Hair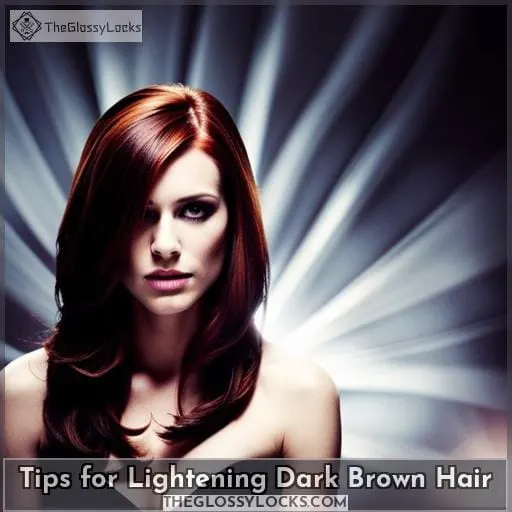 To protect your locks while lightening dark hair, take small steps using box color or bleach to lift your color by just a level or two each session. Space out sessions at least 2 weeks apart for hair health. Once you've reached your target brightness, use an ash or platinum toner designed for brunettes to cancel out brassy tones for a more natural, dimensional blonde look.
Gradually Lighten Hair
Try deep conditioning and nurturing your strands before embarking on lightening dark brown hair gradually. Understand your hair's porosity before choosing color options for a more natural-looking result.
Opt for demi-permanent dyes in ash or neutral tones when making subtle changes over time.
Consider adding highlights or lowlights to break up solid color. Focus on the midshaft and ends when applying lighter dye to avoid obvious roots. Don't overlap lightened sections to prevent banding. Use a clarifying shampoo occasionally to prolong vibrancy.
Nourish hair between sessions with masks. Lightening dark hair is a journey – take your time.
Use Toners
By the time your hair journey came to an end, the golden beams of sunlight uncovered your vibrant new locks. After lightening your dark locks, embrace the toning phase. Toners are magic – they neutralize brassiness and provide shine.
Apply toner in the shower following instructions. Section hair and use gloves for even coverage.
Choosing the Right Box Dye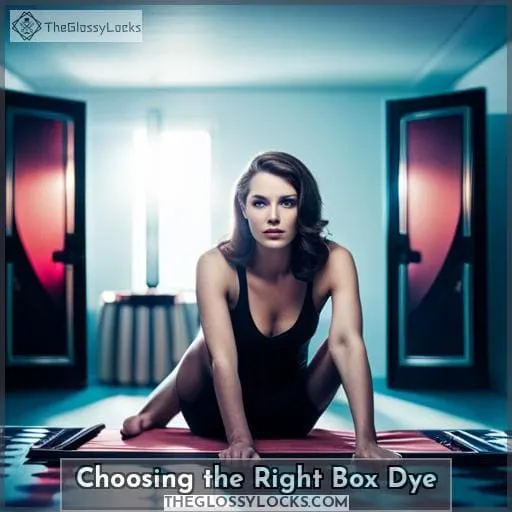 When dyed without bleach, complementing your skin tone and choosing permanent color is key for lightening dark brown hair. To subtly lighten hair in a long-lasting way, opt for a permanent dye that flatters your complexion rather than semi-permanent options that wash out quickly.
Complement Your Skin Tone
Match your new hair color to your skin's undertones for a beautifully harmonious look. Determine if your skin leans warm with yellow, peach or golden undertones or cool with pink, red or bluish undertones.
Warm complexions pair best with golden browns or strawberry blondes while cool tones complement ash browns or platinum. When unsure, opt for neutral medium brunette shades. Swatch test hair colors against your face before committing.
Your skin knows best – let it guide your shade selection. Trust this knowledge and you'll achieve a natural, flattering hair color.
Permanent Vs Semi-Permanent
You'll get the longest-lasting results with permanent dye. Permanent hair color uses ammonia and peroxide developers to open the cuticle and deposit lasting pigment. Semi-permanent lacks developer, sitting on top of the hair without lightening it.
This allows semi-permanent dyes to fade gracefully over 4-6 weeks without damaging or drastically changing your natural color.
Permanent dye results last around 4-6 weeks initially and longer with touchups. It provides more dramatic color payoff and vibrancy.
Consider hair porosity and condition, along with your color goals and preferred upkeep. Either permanent or semi-permanent can beautifully enhance your hair when thoughtfully chosen.
Preparing Your Hair Before Dyeing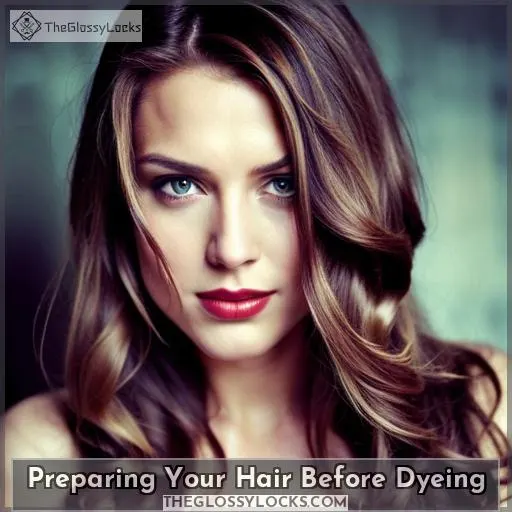 Before you begin lightening your dark brown locks, start with some TLC for those tresses!
First, determine your hair's porosity level and current health. This helps you choose the ideal box dye and avoid damage. If it's dry or damaged, pamper it with a moisturizing hair mask a few days prior.
Then, on dye day, wash with a clarifying shampoo to remove buildup. Section damp hair and spritz a leave-in conditioner, focusing on the midlengths and ends. This protects while allowing dye to penetrate at the roots. Pop on a shower cap during processing for heat activation.
Rinse with cool water to seal the cuticle and leave on a hydrating mask for 5 minutes. Let your hair air dry to avoid further stress. Proper prep promotes vibrant results and nourishes your hair simultaneously.
Applying the Box Dye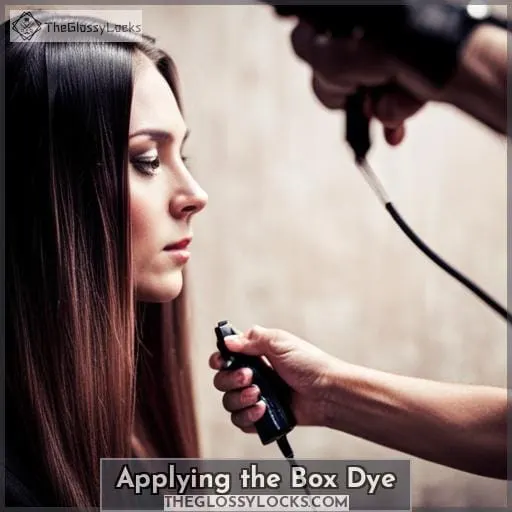 You've gotta vigilantly follow the instructions when applying the box dye for optimal results.
Start with clean, towel-dried hair. Any oils or buildup can block the dye from penetrating the hair shaft.
Part your hair into four sections – front, sides, back, and crown. Clip the sections up and out of the way.
Beginning at the back of your head, apply the color using the tinting brush, working it through from roots to ends.
Once the back section is covered, move to the sides, applying more dye. Cover every strand thoroughly.
Finish with the front and crown sections last. Don't forget your edges and hairline! Applying dye in sections guarantees complete, even coverage.
Follow the instructions precisely and avoid leaving dye on longer than directed. Rinse thoroughly with cool water and deep condition after to lock in moisture and shine.
Caring for Lightened Hair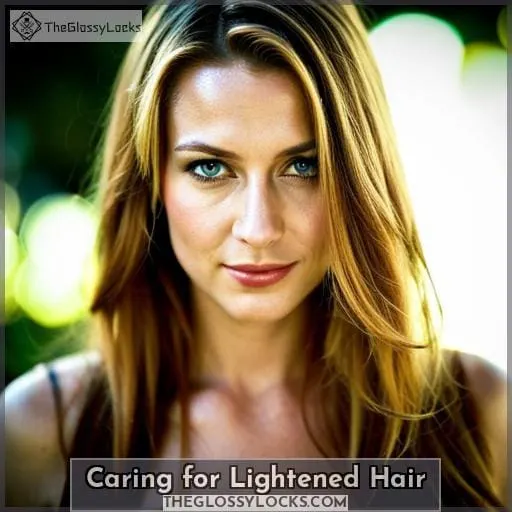 You've taken the first step in lightening your dark brown hair with box dye. Now it's time to properly care for your newly lightened locks. Invest in color-treated shampoos and conditioners that will help maintain your new hue.
Also, incorporate a weekly gloss treatment to boost shine and keep the color looking vibrant.
Color-Treated Products
After lightening your hair, keep it vibrant with color-safe shampoos and conditioners. Use a post-dye gloss to protect your strands and boost shine. Opt for weekly masks with moisture-binding ingredients like ceramides.
Look for sulfate-free formulas that won't strip color. Incorporate lightweight oils such as argan into your routine for extra nourishment. Limit heat styling to preserve your new hue. With proper care, your lightened locks will stay fresh and radiant.
Gloss Treatments
Include a gloss treatment now and then for luminous, vibrant color that'll turn heads your way. My fellow color enthusiasts, don't overlook the power of a gloss for boosting your hued hair's brilliance.
Infusing hair with a shine-boosting gloss nourishes strands while magnifying dimension and vibrancy. Unlike damaging bleach, these conditioning cocktails amplify color sans sapping moisture. Simply shampoo, apply gloss evenly, wait, rinse. Voila – glossy, glassy hair with dazzling dimension.
Beyond illuminating color, these indulgent treatments increase shine, smoothness, and softness so your strands look and feel their best.
Conclusion
Like a chameleon changing colors, you can transform your dark tresses with the right box dye. Follow these tips to gradually lighten your hair, choose flattering tones, and properly prep your strands. With some patience and TLC between sessions, you'll unveil radiant, lighter locks.
Remember – hair lightened with box dye still requires special care. Treat it gently and use products specifically formulated for color-treated hair to keep your new 'do dazzling and healthy.