This site is supported by our readers. We may earn a commission, at no cost to you, if you purchase through links.
Do you want to know how to sharpen clipper blades?
What if I tell you that you don't have to be a professional barber to sharpen clipper blades? You don't have to buy new clippers or replacement blades every time the blades become dull.
As a fact, if you own clippers, you should know how to sharpen hair clippers yourself.
This post is about everything you need to know about how to sharpen clippers and what you need for this task.
Read on for some tips on clipper blade sharpening with this short, easy, step-by-step guide.
Tools You Would Need to Sharpen Clipper Blades
You need to make sure you have everything you need to clipper blade sharpening.
If this is your first time, here are some things you will need:
A screwdriver – one the size of the clipper blade screws.
A Rigid Toothbrush – The toothbrush is usually stiffer and better than a clipper cleaning brush.
A Sharpening Stone/Sandpaper/Salt – Must be a combination of 3000 and 8000 grits for best results.
Cotton cloth or paper towel.
Clipper oil.
A Marker – Will help you determine how much surface area has been removed from your blades.
Once you have all of these items, it's time to get down to business.
How to Sharpen Clipper Blades With Sandpaper/Sharpening Stone/Salt
There are two ways to sharpen razor blades: with or without a sharpening stone.
You can use a wire brush or aluminum foil or even learn how to sharpen hair clippers with sandpaper.
Before sharpening, you'll want to ensure the blades are 100% clean and free of dirt and debris. A hot soapy water wash will suffice, although sometimes you may need to soak in vinegar (if your blade is very dirty).
1. Cleaning Clipper Blades
Using a screwdriver of the appropriate size, remove the screws from the clipper. Most models usually have their screws attached to the bottom of the cutter head.
Clean the mower blades by brushing off all debris, hair, dust, and particles with an old toothbrush.
Please take out your bowl and fill it with white vinegar and warm water. You also have the option of using rubbing alcohol or a commercial blade wash, but the latter may not be as organic and safe compared to what you have in your pantry.
Dip your toothbrush in the white vinegar mixture.
With the wet toothbrush, scrub the trimmer blades until clean.
When your mower blades are free of dirt, dry them with a hand towel or cloth.
After cleaning and before you start clipper blade sharpening, you can dry them and install them back on your slicer to test and see a performance improvement.
2. Prepare The Blades For Sharpening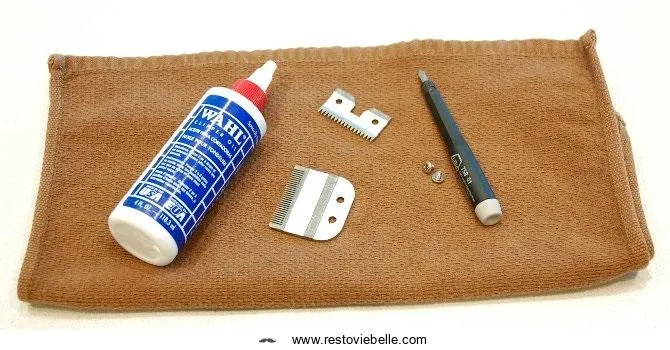 Now, you are sure that the blades on your clipper need to be sharpened. We are about to get down to work.
So we will prepare the sheets for what is to come. Because while sharpening the blades on a whetstone or sandpaper, it's easy to get carried away.
But you can create a safety net when you highlight the inside of the blades with a marker. As soon as your mark is gone, you know your work is done.
Before starting the process, lubricate the whetstone with water or oil. However, if you own a razor with ceramic blades, make sure you have a diamond sharpening stone.
By now, your blades should be free of dirt and therefore easy to inspect. Take a closer look and understand what exactly needs to be tuned. This can get confusing, especially if this is your first time sharpening—understanding how cutters work will help you visualize what you need to fine-tune.
Do you notice how the two blades move from side to side? Based on this, what do you think needs to be improved?
3. Sharpen the Blades
Now you have everything ready—time to sharpen the blades.
Clipper Blade Sharpening With a Whetstone
Place the whetstone on a flat surface with the 3000-grain side up.
Lubricate the stone with a splash of water or razor oil over the area you want to work on.
Press the flat blade onto the whetstone, then slide it back and forth along the stone. You can use a quick move or make significant stage strides on the rock.
When you think you've done an excellent job, switch to the 8000-grain side of the whetstone and repeat the process.
Sharpen Clipper Blades With a Sandpaper
Place the sandpaper on a flat surface.
Spray sandpaper with a bit of oil or water for smooth movement.
Rub the inside of the blades on the sandpaper.
Rub the inside of the blades on the sandpaper.
Rub for about 30 seconds and start over with a new sheet of sandpaper. Repeat this three to four times to give it a glossy shine.
Sharpen Hair Clipper Blades With Salt
Salt is one of the most common resources in our homes and can be used for various purposes. Salt can also sharpen razor blades, and you will still get a shiny sharp blade in the end.
But as simple as it may sound, some people don't know how to use salt to sharpen their slicer blade. This is quite unfortunate because salt is available to us more than anything else, such as aluminum, sandpaper, whetstone, and the like.
If you want to know how to sharpen clipper blades with salt, this is how to do it:
Just push the blade into the salt
Make sure salt covers cutter teeth
Allow sharpening until salt is pulverized.
Then you pick it up and press it over another part of the salt.
That's it! It may seem like a concise and straightforward process that will not work, but this is a great advantage. You don't need a 700-page guide to perfectly sharpen your slicer blades. You can continue with the process until you are satisfied with the result.
4. Clean and Oil the Blades
Once you've sharpened the blades, you'll want to clean and grease them before reassembling them. I used a little soap and water to clean my blades, but rubbing alcohol wouldn't hurt. I then greased my blades to prevent rust and wiped off excess oil.
5. Reassemble the Clippers
Make sure you have the blades oriented in the direction they were initially oriented and spaced close to the actual distance. Screw in the edges firmly.
Frequently Asked Questions (FAQs)
Can clipper blades be sharpened?
Yes; You will need to disassemble the cutter, clean the blade, and then use a whetstone.
How Often Should Clipper Blades Be Sharpened?
Your response is closely related to how often you use your clipper. If you only shave or cut with it once in a few weeks, the blades can be sharpened once in 3-6 months.
However, a public hair clipper or dog grooming clipper needs to sharpen its blades, preferably once a month.
Can I use salt to sharpen the clipper blade?
Yes, rock salt can be used to sharpen cutter blades. It is one of the cheapest and simplest ways. In the past, barbers used salt to sharpen their clipper blades.
How Much Does It Cost To Get Clipper Blades Sharpened?
A clipper sharpening service costs less than $
It costs you nothing if you perform the process with instruments you already have at home. A whetstone costs between $ 30 and $ 30 and would last almost a lifetime.
Also, you can use the stone to sharpen your knives.
Conclusion
Learning how to sharpen clipper blades is a simple process. If you follow it wisely, it will become a habit as soon as your second sharpening session.
The best way to keep your mower blades in top condition is to clean them every six months. However, if you are not the only one using your razor, cleaning should be more frequent than that.
Hopefully, your hair clipper works faster and now gives cutting edge shapes.
References
wisebarber.com
dapperlyclub.com
bladereviews.com
customwoodcarving.com