This site is supported by our readers. We may earn a commission, at no cost to you, if you purchase through links.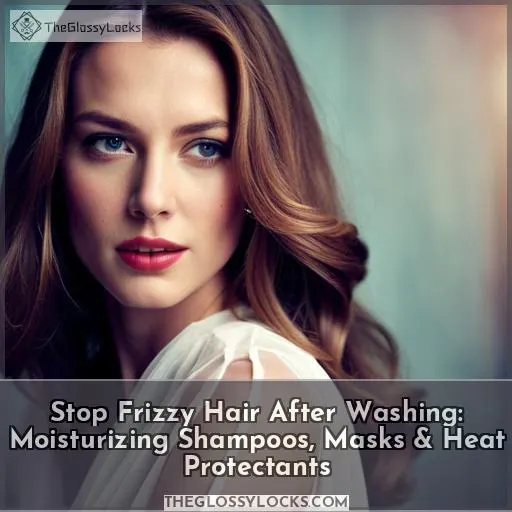 Ah, the woes of frizzy hair! Is it humidity? Washing too often? Or something else entirely? Regardless of why your hair is looking like a lion's mane, taming and controlling those flyaways can be quite a challenge.
But fear not – there are some simple steps you can take to keep frizz away after washing your locks. From hydrating shampoos to heat protectants and masks, we'll show you how to stop frizzy hair once and for all.
How to Stop Frizzy Hair After Washing
You want to keep your hair looking its best, but frizz can often be a problem after washing. Fortunately, there are several products you can try to help prevent and control frizz, such as SACHAJUAN Moisturizing Shampoo, Shea Moisture Castor Oil Hair Growth Treatment, Kerastase Discipline Anti-Frizz Spray, and John Frieda Frizz Ease Hairspray.
SACHAJUAN Moisturizing Shampoo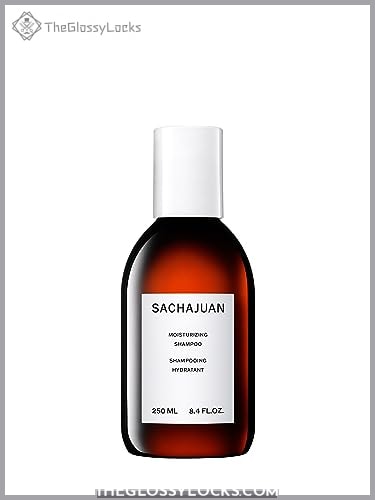 View On Amazon
If you're looking for a luxurious shampoo to nourish your hair and give it the bounce it deserves, SACHAJUAN Moisturizing Shampoo is here to help! This product gently cleanses the scalp and removes impurities, oils, and dirt.
It's enriched with moisturizers that promote healthier and stronger hair follicles while providing a pleasant fragrance reminiscent of perfume.
Suitable for all types of hair, including fine or graying ones, this shampoo eliminates the need for conditioner, leaving you with shiny, bouncy locks. Some users report great results in terms of improved quality after continued use, while others don't find it worth its price tag.
Some experience a greasy, heavy feeling after using this product. However, if used correctly, most complainants agree that their scalps were relieved from itching when using Sachajuan products regularly in tandem with other haircare items from their range, such as shampoos and conditioners.
Gently cleanses the scalp and removes impurities, oils, and dirt
Promotes healthier and stronger hair follicles
Nourishes damaged hair
Pleasant fragrance reminiscent of perfume
Mixed feedback regarding performance
Greasy, heavy feeling reported by some users
Expensive
Shea Moisture Castor Oil Hair Growth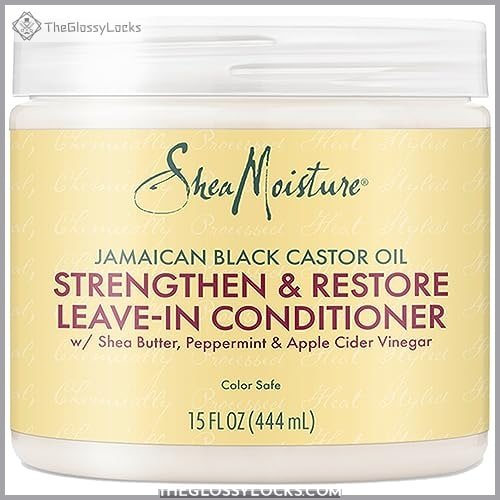 View On Amazon
Try Shea Moisture Castor Oil Hair Growth for nourished, hydrated, and strong locks that will stay frizz-free. This luxurious leave-in conditioner is designed to help restore damaged hair follicles with Jamaican Black Castor Oil, rich in Vitamin E.
Apple Cider Vinegar smoothens the hair while reducing scalp itchiness and adjusting pH levels. Organic Shea Butter seals in moisture without clogging pores, while Peppermint may aid in preventing hair loss.
Apply generously to clean, damp, or towel-dried hair before styling. Use more as needed, but avoid applying near the roots to prevent excessive oiliness from building up overnight on your scalp!
With positive user reviews mentioning a pleasant scent and suitability for various types of dry, gray, and chemically damaged hair, it's an excellent choice if you want manageable locks without too much fuss!
Contains Jamaican Black Castor Oil, rich in Vitamin E, for moisturization and promoting healthy growth of all kinds of hair
Includes Apple Cider Vinegar, which helps reduce dandruff and itching
Organic Shea Butter provides deep conditioning by sealing moisture without clogging pores
Peppermint aids in the prevention against hair loss, providing a refreshing feeling
May not be suitable if you have an oily scalp/hair type due to its high oil content
Application close to the root area can result in an excessively greasy look
Kerastase Discipline Anti Frizz Spray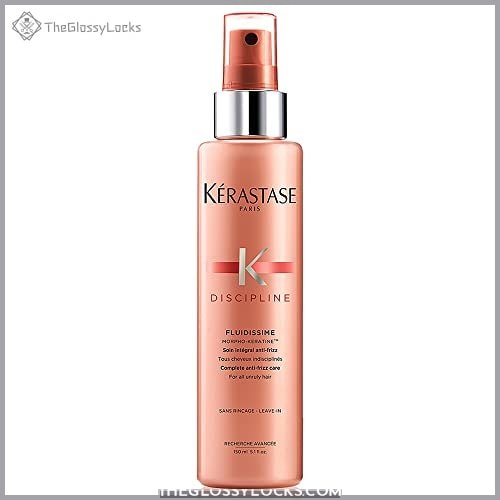 View On Amazon
Give your hair the ultimate protection from frizz with Kerastase Discipline Anti Frizz Spray. This complete treatment is designed to help you manage unruly, thick, and wavy hair with ease.
Shake before use, then apply 4-5 sprays onto clean, damp, towel-dried hair. Using your fingertips or combing evenly along lengths will help distribute the product more evenly.
Combats frizz effectively.
Offers heat protection up to 72 hours with 450°F thermo-protection.
Smoothes and restores hair fibers for a shiny finish, making blow-drying faster.
No noticeable shine/hair gets deranged after application.
Unpleasant strong perfume-like scent.
Not effective in reducing frizz depending on the user's needs and texture type.
May not be a one-time solution, so it could require multiple uses over time.
John Frieda Frizz Ease Hairspray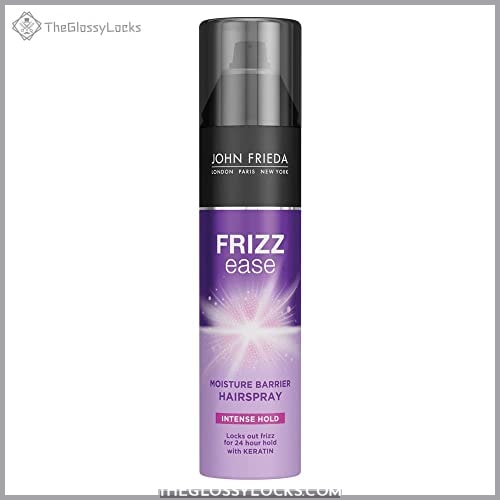 View On Amazon
John Frieda Frizz Ease Hairspray offers intense hold power and a fast-drying formula to help seal out humidity for hours. This frizz combatant is enriched with a UV filter, providing protection from the sun's rays.
It also holds hair in place without making it feel dry or crunchy, even on fine flyaway hair.
The product comes in an aerosol form that is easy to apply and quickly dries for long-lasting results throughout the day – perfect for styling your look! Whether you're looking to define curls or tame flyaways, this hairspray does the job without leaving behind any residue or build-up over time, giving you manageable locks every single time!
Intense hold power
Fast-drying formula seals out humidity
Contains UV filter protection against the sun's rays
Does not make hair dry nor crunchy
Is easy to apply and quickly dries
Can be expensive compared to other brands of hairsprays
Aerosol can can irritate the skin if used too close
Understanding Frizz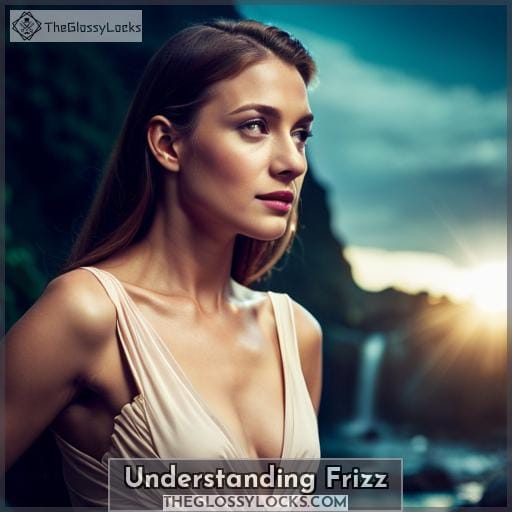 Take a moment to understand the causes of frizz, so you can take steps to address it.
Frizzy hair is often caused by a lack of moisture and dryness in the environment or after washing hair. Humidity levels and heat can also exacerbate this issue, making it even worse for those with curly or wavy locks.
Prevention techniques are key methods used to help minimize frizz. These include using lukewarm water when washing hair, conditioning after shampooing, applying products while still wet for even distribution, and towel-drying with a microfiber cloth.
Product recommendations should include moisturizing shampoos containing humectants like glycerin, along with hydrating masks that contain oils like argan oil or hyaluronic acid.
Hair care practices such as sleeping on silk pillowcases, avoiding touching your mane too frequently, and trimming split ends will all aid in improving moisture retention, which helps reduce curls turning into unruly flyaways!
9 Ways to Add Moisture to Your Hair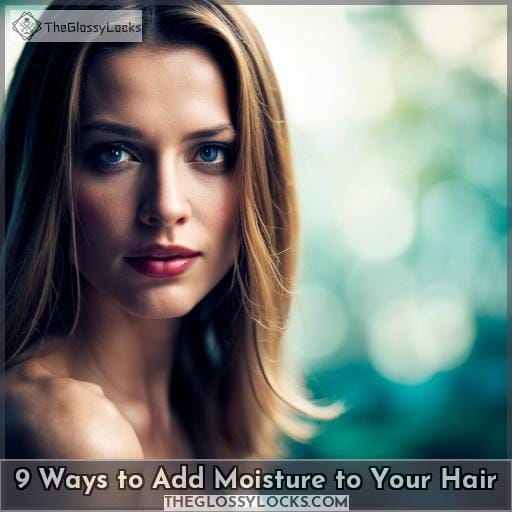 Adding moisture to your hair is the key to keeping frizz at bay – try these 9 tips for smooth, manageable locks!
Sleep on a silk pillowcase to reduce friction and retain natural oils.
Invest in a diffuser attachment or hot tools made specifically for your hair type.
Use sulfate-free shampoo with humectants like glycerin, followed by conditioner that locks in moisture.
And don't forget about masks! Hair masks are an essential step of any good hair care routine; look for one that contains argan oil or hyaluronic acid.
After showering, apply leave-in treatments containing silicones and natural oils such as coconut oil or jojoba oil while damp — this will lock out humidity while nourishing strands from root to tip before styling with heat protectant spray if desired.
Finally, combatting static electricity can be done by spritzing cold air after using hot tools on your style and finishing off with a frizz fighting hairspray like John Frieda's Frizz Ease Moisture Barrier Spray when necessary!
Use a Moisturising Shampoo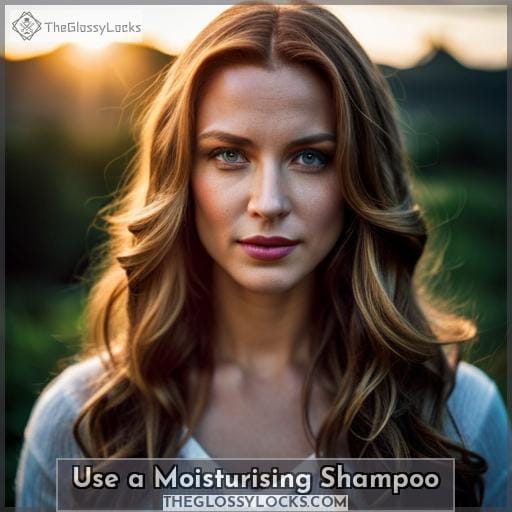 Reach for a moisturizing shampoo like SACHAJUAN to help seal in hydration and reduce frizz. Using a hydrating shampoo is one of the best tools for preventing frizzy hair and providing lasting moisture.
Moisturizing shampoos cleanse without stripping away natural oils or drying out strands, leaving locks feeling soft and healthy.
Hydrating products can replenish lost moisture, which helps prevent dryness-induced static electricity from building up on your mane.
A quality moisturizing shampoo will also protect against environmental stressors that cause breakage and split ends — both of which contribute to unwanted frizziness!
When selecting the right product for your tresses, make sure it's free from sulfates as these synthetic compounds are known to strip hair of its natural oils leading to increased dryness and therefore more susceptibility towards humidity-induced curls and waves!
Finally, be mindful about how often you're washing since over-washing could lead to excessive removal of essential oil production needed by the scalp and follicles resulting in dehydration – another culprit causing unruly strands! By choosing wisely when it comes time for wash day, you'll have gorgeous smooth tresses with minimal effort.
Don't Strip Your Hair's Natural Oils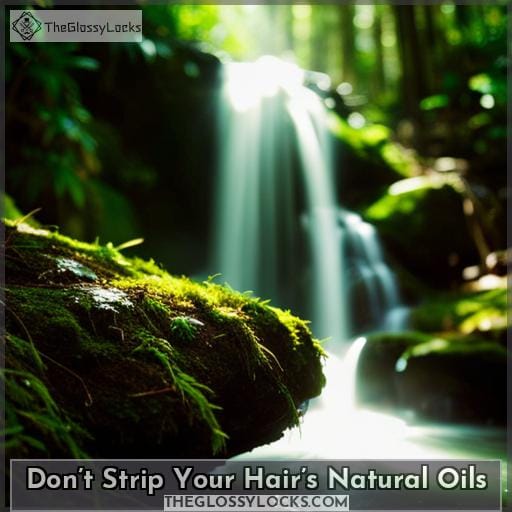 When it comes to post-wash frizz, one of the most important things you can do is preserve your hair's natural oils. That means avoiding habits that strip away oil, such as washing with very hot water or using harsh detergents in shampoos and conditioners.
Instead, opt for a moisturizing shampoo like Philip Kingsley Moisture Balancing Conditioner that won't strip your scalp of its natural oils.
You should also avoid over styling after washing; instead go for more gentle techniques like plopping and pineappling which don't require heat tools but still help define curls without damaging them further.
To maintain moisture balance even longer try sleeping on a silk pillowcase to reduce friction during tossing and turning at night as well as treat yourself with a hydrating hair mask once per week – avocado masks are great!
Lastly, make sure you use products specifically designed for fighting frizz such as leave-in treatments containing silicones or cold air blow dryers when necessary to cool down cuticles quickly and lock in hydration while reducing flyaways due to static electricity buildup between hair strands.
Following these steps will ensure smoothness no matter what type of hair you have!
Use Masks on Your Hair Once a Week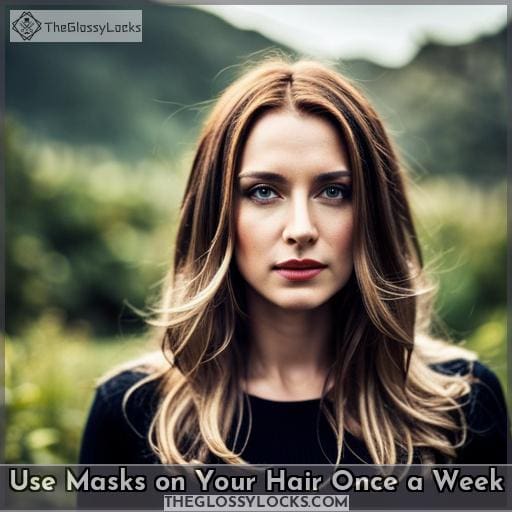 Treat your tresses to a weekly hair mask for maximum moisture and frizz-control! Hair masks can help restore natural oils, reduce breakage, and protect from environmental damage. Invest in a high-quality silk pillowcase to retain hydration while you sleep. Use leave-in treatments with oils or silicones after showering for added protection against humidity.
Heat protectants are essential before using hot tools like blow dryers or diffusers; they'll keep your hair healthy without compromising styling results.
Here are some other tips for maintaining smooth locks:
Try hydrating masks with argan oil or hyaluronic acid.
Avoid overwashing—know the ideal frequency for your hair type.
Refresh curls between washes by misting them lightly.
Detangle damp strands carefully using wide-tooth combs.
By following these simple steps, you'll be able to achieve soft waves that stay manageable throughout the day!
Invest in a Silk Pillow Case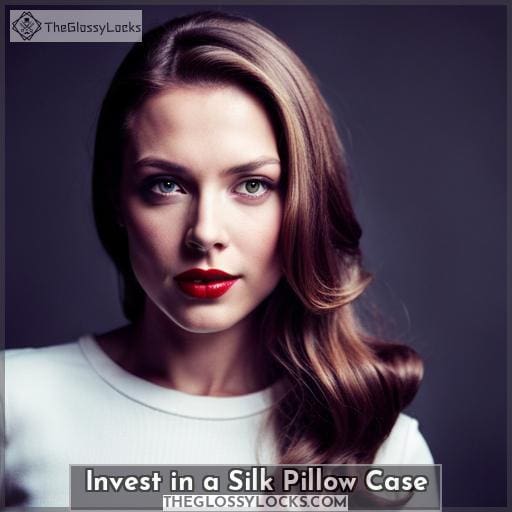 Investing in a silk pillowcase is like giving your hair an extra layer of protection against the ravages of frizz – it's like wrapping them up in a soft, silky cocoon each night.
Silk fabric helps reduce friction on fragile strands, preventing breakage while retaining moisture for better hydration. Its natural breathability keeps you cool throughout the night, promoting better sleep hygiene too.
A silk pillowcase should be considered as part of any beauty investment to ensure that your hair looks its best all day long! Silk can help preserve hairstyles longer by minimizing flyaways and keeping curls intact without having to apply more product or heat styling tools during the day.
It can even reduce morning bedhead significantly because fabrics such as cotton absorb moisture from our scalps overnight, causing flatness. However, with silk, this does not occur so easily due to its smooth surface texture, which repels water molecules away from our skin instead trapping them inside.
Plus, it's gentle enough for everyday use yet strong enough not to tear or wear out quickly, making it well worth investing in if frizz prevention is something that needs addressing frequently within one's daily routine.
Lock in Moisture With Leave-in Treatments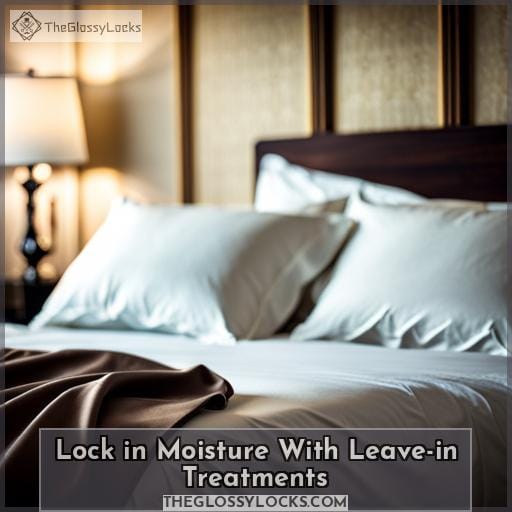 After investing in a silk pillowcase to reduce frizz while you sleep, the next step for preventing frizzy hair after washing is locking in moisture with leave-in treatments. Products like Shea Moisture Jamaican Black Castor Oil Strengthen/Grow and Restore Leave-In Conditioner provide intense hydration and nourishment for hair follicles to promote healthy growth.
To keep your curls looking their best, incorporate these five steps into your routine:
Use a moisturizing shampoo with humectants such as glycerine.
Follow up with an ultra hydrating conditioner or mask.
Apply leave-in treatments containing oils and silicones right after showering.
Lock it all in place by using heat protectant before styling.
Finish off with a hairspray designed specifically for controlling frizz.
With the help of these products and practices, you can achieve lasting results that are sure to make everyone jealous of your luscious locks!
Always Use a Heat Protectant Before Styling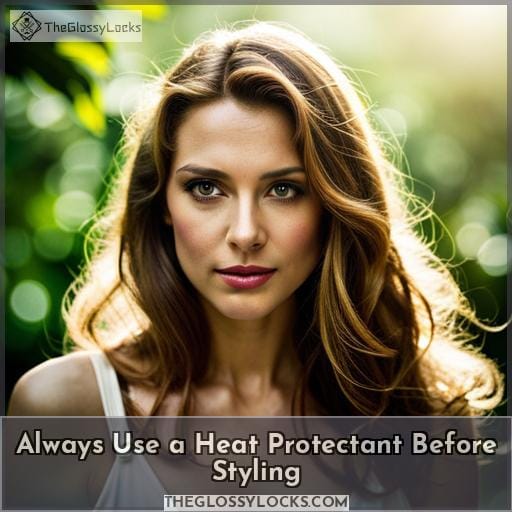 Before styling your hair, be sure to always use a heat protectant like Kerastase Discipline Fluidissime Spray – a stitch in time saves nine! Heat protection is an important step when it comes to fighting frizz.
It helps keep hair healthy and prevents damage from hot tools such as curling irons or flat irons.
A heat protectant creates a barrier between the tool and the hair, helping reduce breakage and split ends that can lead to frizz. When using hot tools, be sure to apply the product before every pass of your tool for maximum protection.
You may also want to consider using diffusers instead of traditional blow-dryers for more gentle drying with less friction on curly textures, which tend towards higher levels of frizziness than other types of hair.
Finally, after styling, don't forget about hairspray or serums that will help seal out humidity while keeping in style all day long! With these tips, you'll have smooth, stylish locks without fear of unwanted flyaways ruining your look throughout the day – no matter what type or texture you have.
Use a Hair Diffuser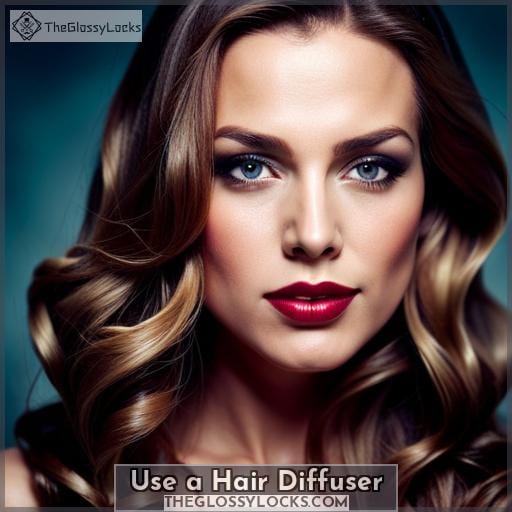 To reduce frizz and maximize curl definition, use a hair diffuser when styling your hair. A diffuser is an attachment for blow-dryers that works to disperse air evenly over the entire head. This helps prevent heat damage while providing lift and volume to curls or waves without creating frizz.
There are several benefits of using a diffuser, including more defined curls, less time spent styling your hair with heated tools, improved shine and softness, as well as protection from humidity.
When using a diffuser, there are some techniques you should follow in order to get the best results. One technique is plopping, where you wrap wet strands around your fingers towards the scalp, then place it on top of your head before securing with clips or ties.
Different types of diffusers come in different shapes, so make sure you choose one that fits comfortably onto any size blow dryer nozzle.
Lastly, avoid overusing products like hairsprays or gels after applying product, as these tend to cause static electricity, leading to further increase flyaways and making it harder to manage them afterwards.
Finish Off With a Hairspray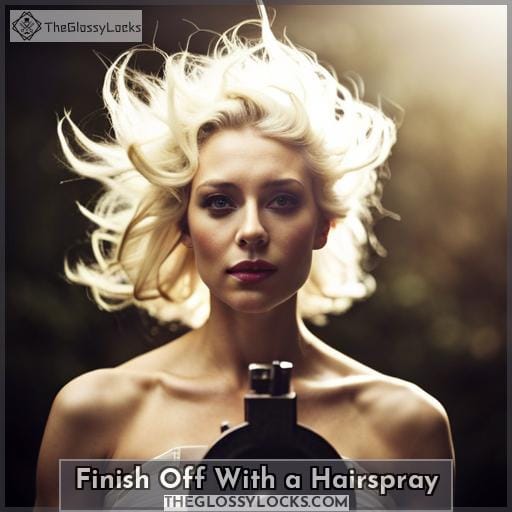 Finish off your wash day routine by locking in moisture and preventing frizz with a quality hairspray like John Frieda Frizz Ease Moisture Barrier Intense Hold. This fast-drying, shine-boosting formula holds hair for hours without becoming sticky or crunchy while offering up to 72 hours of heat protection.
Not only does it provide intense hold, but it also contains UV filters that protect the hair from sun damage.
Additionally, regular use of hairspray helps nourish the scalp and keep flyaways under control – perfect for those with curly or wavy locks prone to frizziness.
To complete your haircare routine after washing, apply your favorite styling products.
Invest in a Mason Pearson Hairbrush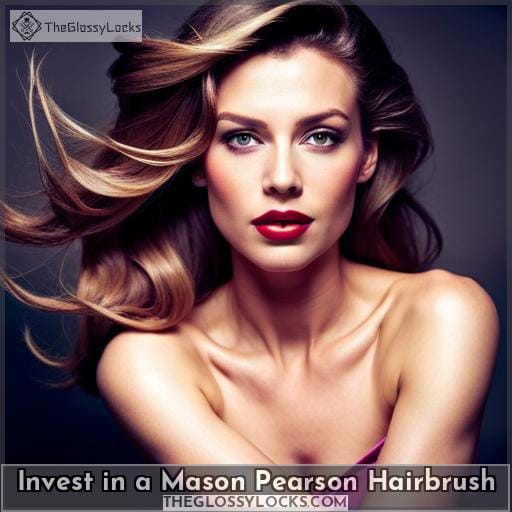 Investing in a Mason Pearson Hairbrush will help keep frizz at bay. It is designed with boar bristles that are gentler on hair than regular brushes and combs. Studies have shown that up to 84% of users experienced an improvement in their overall hair condition after using the brush.
Selecting the right type of brush for your specific needs should be based on texture and density. Thicker or coarser textures may require more sturdy materials like nylon, while thinner or finer textures can benefit from softer natural fibers such as horsehair.
Maintaining your Mason Pearson Hairbrush involves cleaning it regularly with soap and warm water, followed by drying thoroughly before use. This helps cut down on static electricity caused by brushing dry hair, which leads to increased frizziness.
Not only do these tips ensure you get maximum benefit out of this top-notch tool, but they also minimize damage caused by excessive tugging when brushing wet strands – something we all want to avoid!
So invest in a good quality Mason Pearson Hairbrush today for beautiful locks free from unruly tresses tomorrow!
How Do I Stop My Hair From Being Frizzy After Washing It?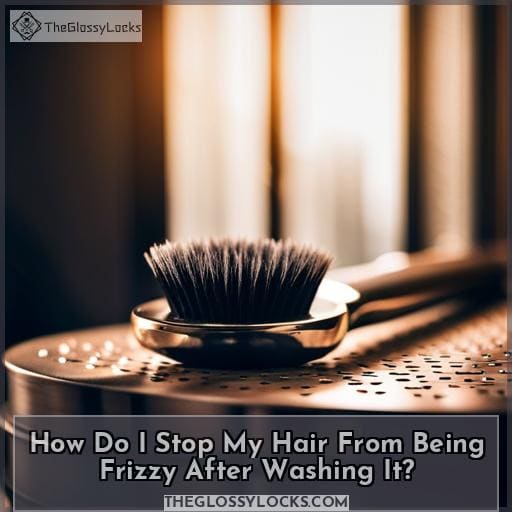 To avoid dealing with frizz after washing your hair, try incorporating some of the product recommendations and hair care practices outlined here.
To prevent frizz and maintain hydrated locks, opt for a moisturizing shampoo with humectants like glycerin or Philip Kingsley Moisture Balancing Conditioner.
Use an intense hold hairspray to seal in moisture, such as John Frieda Frizz Ease Moisture Barrier Hairspray.
Refresh curls between washes by misting them with a spray bottle full of water or jojoba oil to lock in moisture.
Sleep on silk pillowcases for added benefits too!
Finally, apply heat protectant before styling and let air-dry instead of using a blow dryer whenever possible.
What Causes Frizzy Hair and How to Prevent It?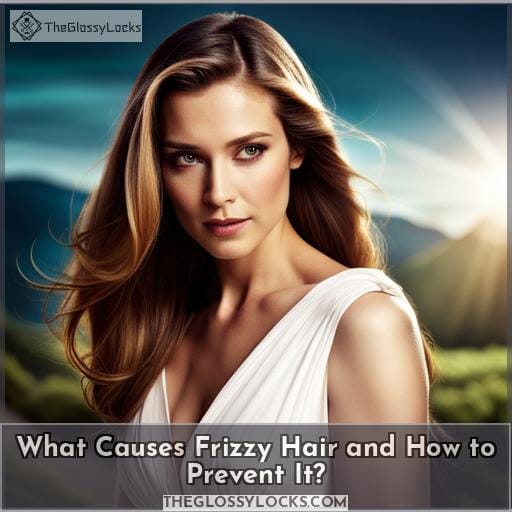 When it comes to maintaining healthy hair, understanding how to prevent frizz is key. Overwashing and washing your hair with hot water can lead to dryness, which leads directly to frizziness. Towel-drying and using too much heat from hot tools are also common culprits. To stop your hair from becoming unruly, slow down on the heat styling tools and consider clarifying every few weeks for best results.
Overwashing and Washing Hair With Hot Water
Be aware that overwashing your hair can strip it of natural oils, leading to up to 20% more frizz and making hot water a no-go when washing. Humidity control is key for reducing frizz. Use moisturizing products like leave-in treatments with silicones or oils before styling; use cold water rinses post-showering and silk pillowcases at night for added protection against humidity.
Towel-Drying and Using Too Much Heat
Avoid towel-drying your hair and using too much heat, or else risk damaging your precious curls! Instead, opt for microfiber curl towels to dry hair instead of terry cloth. Use a diffuser on the lowest setting when blow-drying and finish with a frizz-preventing hairspray.
For extra protection, sleep on silk pillowcases which help retain moisture, leaving you with soft defined curls in the morning.
Slow Down With Hot Tools
Take it slow with hot tools and show your hair some love – heat damage is the quickest way to create frizz. Use a heat protectant before styling, opt for silk pillowcases over cotton ones, use a Mason Pearson brush on wet or dry hair for minimal breakage, and incorporate moisturizing masks into your routine care.
Hair diffusers are great for controlling natural curls without excessive amounts of damaging heat; their benefits cannot be understated! Heat protection products should always be used when using any type of hot tool as they help prevent damage that contributes to frizziness.
Clarify Your Hair
To keep frizz at bay, periodically clarify your hair with a clarifying shampoo. It offers numerous benefits:
Cleansing the scalp and hair shaft of product buildup.
Retaining moisture for a smoother texture.
Preventing frizz when coupled with silk pillowcases or microfiber towels for drying curls. Clarifying shampoos can be used as often as needed to maintain healthy-looking locks without sacrificing hydration levels or creating dryness!
Conclusion
Struggling with frizzy hair after washing is almost like a never-ending nightmare! But, with the right products, techniques, and hair care practices, you can finally put an end to it. From using a moisturizing shampoo to investing in a silk pillowcase and using a heat protectant before styling, there are plenty of ways to keep your hair hydrated and tamed.