This site is supported by our readers. We may earn a commission, at no cost to you, if you purchase through links.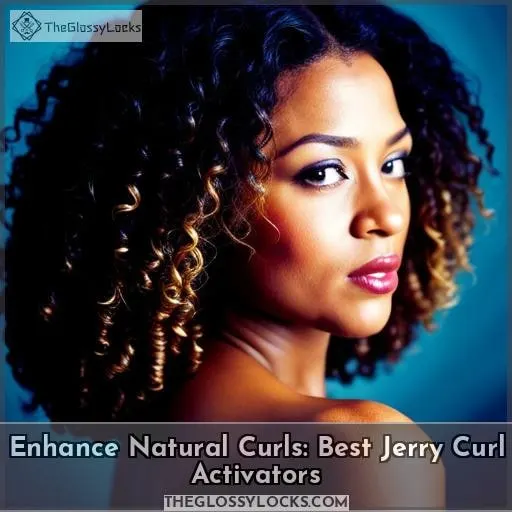 Longing for curly locks? Tried everything and nothing seems to work? Look no further, we've got you covered! Jerry curl activators are the perfect way to enhance your natural curls. These products were made popular by Jheri Redding in the 1980s and have resurfaced recently as a top choice for those looking to get defined curls with added shine and volume.
In this article, we'll cover some of our favorite jerry curl activators for natural hair, their benefits, and how to use them properly so that you can achieve optimal results without damaging your tresses.
Get ready – it's time to upgrade your hairstyle with these amazing jerry curl activators on natural hair!
Key Takeaways
Jerry curl activators enhance natural curls without making hair curly.
AG Care Curl Recoil and Lustrasilk Max Curl Moisturizer are popular options.
Key ingredients in Jerry curl activators include hydrolyzed collagen, argan oil, panthenol, glycerin, and olive oil.
Styling techniques like the cocktail method and flat twists can help retain moisture and create beautiful curls.
Top 2 Jerry Curl Activators for Natural Hair
If you're looking for the perfect curl activator to achieve natural, bouncy Jerry curls, AG Care Curl Recoil and Lustrasilk Max Curl Moisturizer are two of the best options. The former is a 6-ounce conditioner specially designed for daily use that provides more hold than gel without an overly crispy texture.
On the other hand, Lustrasilk Max moisturizes hair with its enriching argan oil content while eliminating flyaways and frizz at once, making it an ideal choice for type 4A hair types.
1. AG Care Curl Recoil
View On Amazon
You'll be amazed by the remarkable hold that AG Care Curl Recoil offers for your curly hair, with no crunchy texture in sight – it's like a miracle! This 100% quality product is specially designed for daily use and can help to hold natural waves without making them crunchy.
With its light scent, you can achieve wavy to almost curly styles with just a small amount of product.
However, this curl activator may not be suitable if you're looking for shine or fullness on your curls. Not Your Mothers brand cream might be better suited instead. Also, beware of protein overload, which may cause dry and brittle ends.
Additionally, do note that AG Care Curl Recoil isn't recommended when brushing curls as this might lead to freeze and mess up the overall look you're going for.
Provides more hold than gel without overly crispy texture
Light scent
A little goes a long way; good value
Helps hold natural waves without making them crunchy
May be heavy and not provide much shine or hold
Not recommended when brushing curls
Protein overload could cause dry & brittle ends
2. Lustrasilk Max Curl Moisturizer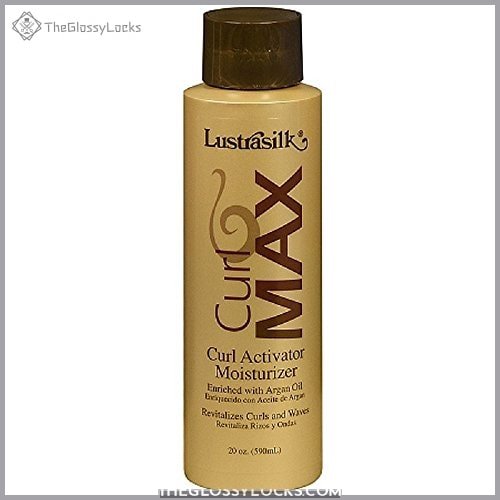 View On Amazon
Lustrasilk Max Curl Moisturizer is enriched with argan oil to eliminate flyaways and frizz, giving your curls dramatic definition and shape. This salon-quality product has earned positive reviews from customers who have used it on their curly hair.
YouTubers with a similar type 4A hair texture also recommend this curl activator for its long-lasting results.
It can be mixed with water in a spray bottle for an easy application, which helps to provide straightening and smoothing effects without making the hair crunchy or overly crispy like some gels do.
Provides straightening and smoothing effects
Can be mixed with water in a spray bottle
Gives dramatic definition & shape to curls
Eliminates stubborn flyaways & frizz
Positive reviews from users
Great value money-wise
Not readily available at stores
Benefits of Using a Jerry Curl Activator on Natural Hair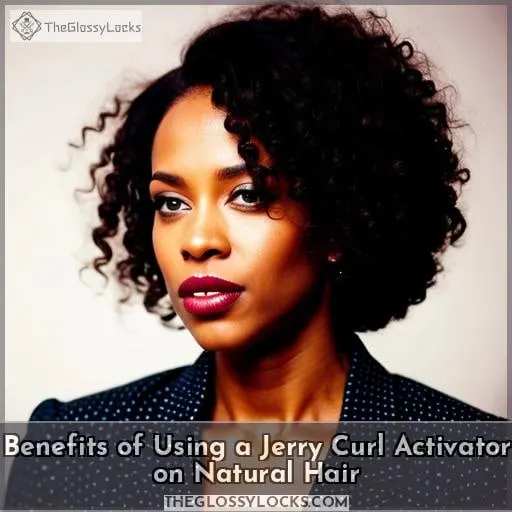 Are you searching for a product to moisturize, define, and add shine to your natural curls? Jerry Curl Activator is an all-in-one solution that not only prevents frizz and dryness but also adds volume.
With its hydrating ingredients, this curl activator provides lasting hold with maximum definition while keeping hair soft and manageable.
Moisturizes and defines curls
With its hydrating ingredients and curl definition, a Jerry Curl Activator will give your hair softness and shine while controlling frizz and dryness. Key ingredients like hydrolyzed collagen, argan oil, panthenol, glycerin, and olive oil help provide optimal hydration for curls.
Best practices include starting with clean, detangled hair before applying the activator in sections from roots to tips. To maintain defined curls, use an overnight protective bonnet or scarf, and moisturize each section with natural oils after styling.
Prevents frizz and dryness
Using a curl activator helps protect your hair from dryness and frizz, while keeping it soft and hydrated. It is recommended to invest in a jerry curl activator specifically designed for natural hair to achieve maximum results.
The key ingredients of the product should include hydrolyzed collagen, argan oil, panthenol, glycerin, or olive oil.
To retain moisture, styling techniques such as the cocktail method can be used. This involves layering products correctly. For best results, you can use Luster's S-Curl Activator Moisturizer followed by an eco styler gel with olive oil.
One common mistake is avoiding moisturizing after styling. This step is essential to prevent breakage due to insufficient hydration versus moisture balance.
A quality Jerry Curl Activator will provide excellent hold without compromising on shine and definition.
Adds shine and volume
When you use a curl activator like Lustrasilk, your hair will be left with a dazzling shine and voluminous bounce that will make it look and feel incredible. Apply the product section by section, focusing on each individual strand for maximum results.
Styling techniques, such as flat twists, can help create beautiful curls without damaging your natural hair texture. Choose an activator based on its ingredients and how well it works for maintaining curls after styling or sleeping in them overnight.
With the right styling tips and the perfect curl activator, you'll be rocking amazing Jheri/Jerry Curl looks with ease!
How to Properly Use a Jerry Curl Activator on Natural Hair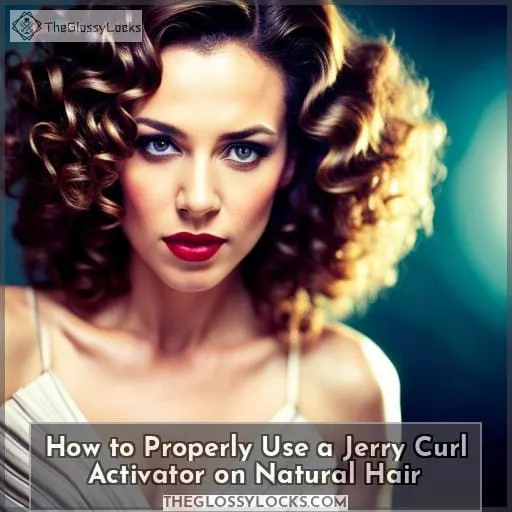 You can achieve soft, defined curls with a Jerry Curl Activator that moisturizes and controls frizz. To get the best results, start with clean, detangled hair and apply leave-in conditioner.
Use a Denman brush to evenly distribute the curl activator gel from root to tip in sections.
Finish off by styling your natural curls with perm curlers or flat twists for overnight hold and enhanced definition.
For optimal results, try products such as AG Hair Care's Curl Recoil Conditioner or Lustrasilk Max Curl Moisturizer, which are specifically designed for curly textures on wavy/curly afro-textured hairstyles like Jheri curl, etc.
Common mistakes include applying too much product resulting in dryness or overusing heavy ingredients like glycerin, causing flash drying of the scalp skin cells – so use judiciously!
Reviews show positive overall feedback about using these types of products; some customers reported noticing significant improvements within just two weeks after starting usage!
Can a Jerry Curl Activator Make Your Hair Curly?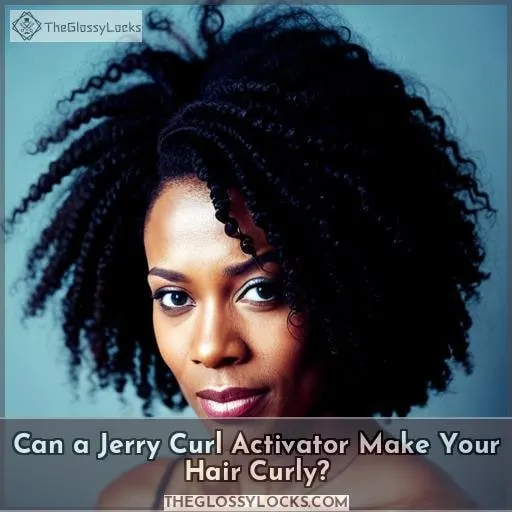 No, a Jerry Curl Activator won't make your hair curly – it simply enhances the natural curl pattern you already have. It can help bring out smooth and frizz-free curls by moisturizing and adding volume to hair.
To achieve this transformation, find a curl activator that works best for your specific hair texture. AG Hair Care Re: Coil Curl Activator is well praised for its definition and frizz control. For finer locks, Cantu Shea Butter Moisturizing Curl Activator Cream or SoftSheen-Carson Care Free Gold Instant Activators are good choices as they deliver lasting curl definition without weighing down strands with product buildup.
Alternatives to the Jerry curl activators include Luster's S-Curl Activator Moisturizer enriched with argan oil, Creme of Nature Argan Oil & Shine Curls Activators Crème, Aveda BeCurly Enhancer which contains wheat protein and organic aloe vera extract, Twisted Sista Cream for softness without crunchiness, Carol's Daughter Coco Mist Spray formulated especially for fine tresses, and TIGI Catwalk Amplifier providing humidity protection while defining curls.
As an alternative, styling techniques like flat twists may be used instead of using chemicals or heat on natural hairstyles such as Jheri curling set up overnight using perm rollers.
Common misconceptions arise regarding what any given product can do, so read reviews thoroughly before committing to anything new when recreating looks from days gone past!
Conclusion
In a nutshell, Jerry Curl Activators are must-have products for those looking to enhance their natural curls. These activators are designed to provide definition, shape, control, and prevent flyaways and frizz, while adding shine and moisture thanks to enriching ingredients like argan oil.
AG Care Curl Recoil and Lustrasilk Max Curl Moisturizer are two of the best Jerry Curl Activators to give your tresses the perfect look. When used correctly, they will give you the desired curls, while also protecting your hair from dryness and frizz.
So, don't miss out on these amazing curl-enhancing products and give your hair the Jerry Curl Activator treatment!