This site is supported by our readers. We may earn a commission, at no cost to you, if you purchase through links.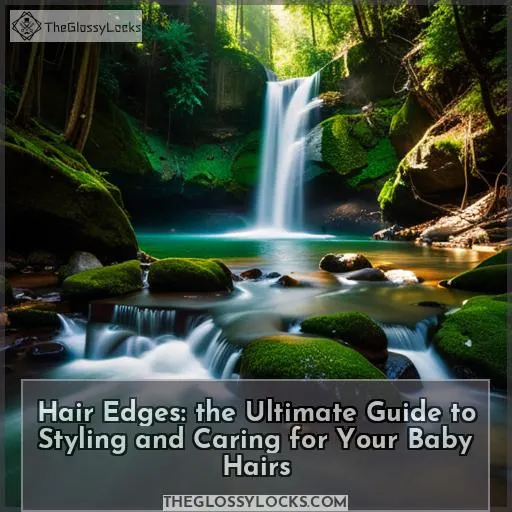 Unleash your inner goddess with the ultimate guide to styling and caring for your baby hairs. Hair edges, also known as baby hairs, are shorter strands of hair that frame the face and give texture to any hairstyle.
Whether you're looking for tips on how best to lay down those pesky flyaways or which product works best for keeping them in place, we've got you covered with our comprehensive guide on all things hair edges.
So let's get started by exploring where it all began: The Baby Hair Trend Revolution!
Key Takeaways
Baby hairs have a historical and cultural significance, representing Black women's pride, individuality, and expression.
There are a variety of styles for baby hairs, allowing for creative expression and the use of beauty accessories.
Key products for styling and caring for baby hairs include edge control gels, argan oil, and olive oil gel.
Caring for baby hairs involves preventing damage, promoting growth, and utilizing nourishing products.
What Are Hair Edges Aka Baby Hairs?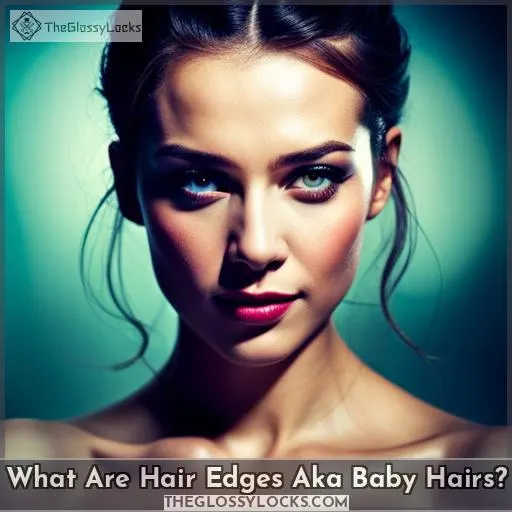 You may have heard of baby hairs, but do you know what they really are and their cultural significance? Baby hairs refer to the short, fine strands that frame your hairline. They can range from wispy to curly and usually need extra care so as not to suffer breakage or moisture loss.
Black women in particular have embraced edges for centuries now, styling them into signature looks that express individuality and strength.
In terms of origins, baby hairs were popularized by early pioneers such as Josephine Baker and Baby Esther who used the accessory throughout performances in jazz clubs during the 1920s-30s era.
Today there is an even wider spectrum of styles available with edge accessories: soft & subtle edges; swirly & sleek edges; messy chic edges; water waves edging products; poofing gels; braided designs.
There are also dedicated edge control products specifically designed to help maintain perfect lines without any frizz or flyaways—like Carol's Daughter Edge Control Smoother—while Creme Nature Argan Oil Perfect Edges Control offers light firm hold without tearing out those precious strands! ECOCO Olive Oil Gel adds shine while African Pride Black Castor Gel provides grip if you want something unique like dreadlocks or twists.
This diverse array of options celebrates uniqueness while empowering individuals across cultures, which has been especially important during this past year where people are looking for ways to make themselves feel beautiful despite times being difficult worldwide.
It comes as no surprise that actresses like Danielle Pinnock advocate for body positivity, diversity, and neurodiversity through their work both on and off the screen! Hair memories play a significant role in our lives, making sure we celebrate ourselves every day.
How and When Did the Edges Trend Start?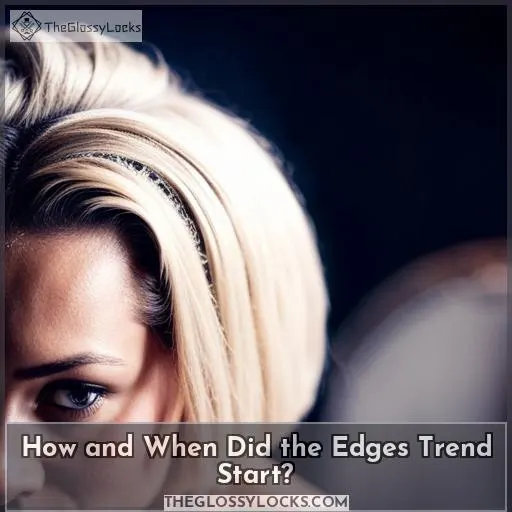 The resurgence of edges dates back to the early 20th century when pioneering icons such as Josephine Baker and Baby Esther began sporting baby hairs. Despite challenges from traditional beauty standards, these women championed a trend that has since become an empowering symbol for Black women everywhere.
Edges' Historical Roots:
The original wave of edge styling originated in Africa with cornrows or plaits, which were decorated with beads or shells. In America during the civil rights movement era in the 1950s and 1960s, African American activists embraced their natural looks by wearing afros and sporting baby hair designs to represent pride in their cultural heritage.
Cultural Influences on Edges:
Celebrity culture popularized edges throughout the 1990s into today's modern age where stars like Rihanna have worn them proudly for years, inspiring even more styles including high ponytails featuring sleeked-down sides and swooping bangs! Social media platforms have also had a huge impact on how people view this style. Instagram influencers are constantly posting images showing off their own unique takes on edgy hairstyles, providing inspiration around every corner!
Evolution of Edge Techniques:
As techniques evolved over time, so did product options. Mousse became gel, and later pomade was available specifically designed for laying down those flyaways while adding shine and definition all at once! This allowed individuals to personalize their look even further, creating limitless possibilities out there waiting to be discovered one strand after another…
Redefining Edge Beauty:
From wild wisps framing your face like wings taking flight, bold braids draping below shoulders calling attention wherever you go, to gentle curls cascading over collarbones making everyone turn heads towards you… All these looks prove that no matter what shape, size, color, pattern, texture, length, density, curl type, etc., each person can make it theirs, redefining what edge beauty means within society today!
What Are the Different Styles of Hair Edges?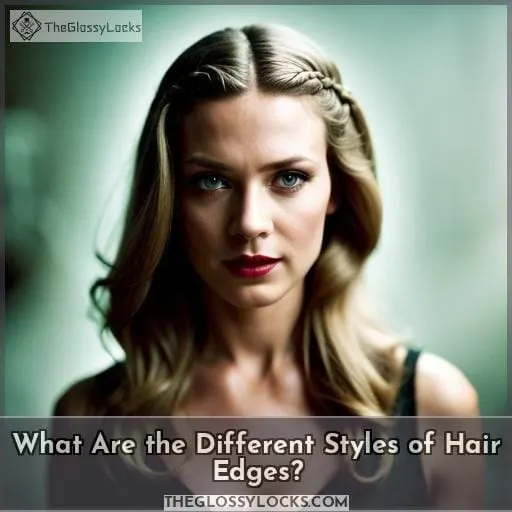 The art of styling hair edges has become increasingly popular in recent years, with a variety of styles ranging from Soft & Subtle to Swirly & Sleek, Messy Chic to Water Waves, and Poof and Slay.
Each style offers a unique way to express yourself through your hair, allowing you the opportunity to create stunning looks that reflect your personal aesthetic.
Soft & Subtle
Smooth, subtle edges add a delicate, polished finish to your look. Slick down long baby hairs with edge control products for effortless style and maintenance.
Subtlety is key when it comes to styling hair edges – too much product can cause build-up that makes the hair appear heavy and weighed down. Use light oils or conditioners on natural hair to keep them from drying out while creating smooth lines of softness at the front of your face frame.
Edge artistry requires finesse. Use smaller brushes such as toothbrushes or eyebrow brushes for more precise detailing in order to create beautiful, soft, and subtle looks without overdoing it!
With patience and practice, you can master this art form that adds an elegant touch of beauty wherever you go!
Swirly & Sleek
For the perfect polished look, swirly and sleek edges can give you a stylish edge that will last all day. Achieve swooped edges by using specialized brushes like those utilized by Josephine Baker for her signature style.
Mastering styling tips, such as the layering technique, to achieve definition is key in creating this timeless cultural symbol of beauty.
Messy Chic
You can express your individual style with messy chic edges – perfect for a tousled, carefree look! Find Messy Chic inspiration in popular culture or create unique patterns and designs. Embrace natural edges with edge brushing techniques combined with baby hairs and braids to achieve the desired effect.
Style your edges to reflect who you are, adding self-expression that resonates throughout any outfit.
Water Waves
Embrace the movement of your water waves, showcasing their undulations as a statement of beauty and empowerment. Styling techniques for this texture variation range from creating bouncy curls to sleek styles.
Incorporate celebrity influence to introduce new trends or maintenance tips, such as moisturizing daily with sulfate-free and silicone-free conditioners to prevent moisture buildup. Strengthen thinning edges by using natural oils like rosemary oil, or regrow edges with protective styling techniques that keep them safe.
Poof and Slay
Unlock your inner diva with Poof and Slay edges – a style that will have heads turning in awe! Perfect for textured hair, this look uses edge styling techniques like teasing and backcombing to create a creative design.
Sleek poof tips ensure the look stays put while avoiding product buildup. With proper care routine practices, you can ensure your poof vs slay stands out as both an iconic cultural phenomenon and an intimate expression of beauty.
Top 4 Best Baby Hair/Edge Control Products

Finding the best baby hair/edge control products can be a challenge, but luckily, there are some great options on the market. From Carol's Daughter Edge Control to Creme of Nature Argan Oil Perfect Edges Control and ECOCO Olive Oil Gel to African Pride Black Castor Gel, these top four products will help keep your edges looking fresh and healthy.
1. Carols Daughter Edge Control
Transform your style and make a statement with Carol's Daughter Edge Control – a frizz-busting styling product that keeps hair soft, manageable, and oh-so shiny. Use it to perfect your edge styling techniques: apply it dry for lasting hold, tame split ends, and add moisture and shine.
2. Creme Nature Argan Oil Perfect Edges Control
Experience the superior hold of Creme Nature Argan Oil Perfect Edges Control, a non-sticky and non-greasy formula that adds moisture to the scalp and hair while providing sleek styles. It offers an affordable alternative to store prices when mixed with BTZ's Turning up the Heat for maintaining hair.
Its pleasant scent won't pull out edges while smoothing and softening your mane all day long, even in hot weather. This product tames split ends, enhances shine on waves or curls, and provides grip for braiding clean lines.
Enjoy the benefits of Creme Nature Argan Oil Perfect Edges Control when transitioning from chemical relaxers or keeping up with beauty trends like the natural hair movement without breaking the bank.
3. ECOCO Olive Oil Gel
Try ECOCO's Olive Oil Gel for a weightless, maximum hold styling solution that will last up to 3 hours before needing reapplication! It's made with 100% pure olive oil and offers deep conditioning, plus anti-itch properties.
With the added benefits of shine and moisture, it can be used on all hair types to create creative edge artistry. Plus, its environmentally conscious production process means you're getting salon-quality products without sacrificing your principles.
4. African Pride Black Castor Gel
Unleash the power of African Pride Black Castor Gel for long-lasting, shiny hair edges that will keep your look on point! Using Castor Oil to nourish and protect, it maintains shine while providing grip and manageability for braiding.
Enjoy a fuller appearance with gold embellished edges or achieve S-waves. Alternative products are available too; styling techniques plus edge healthcare ensure lasting beauty.
What Are the Best Brushes to Lay Down Edges?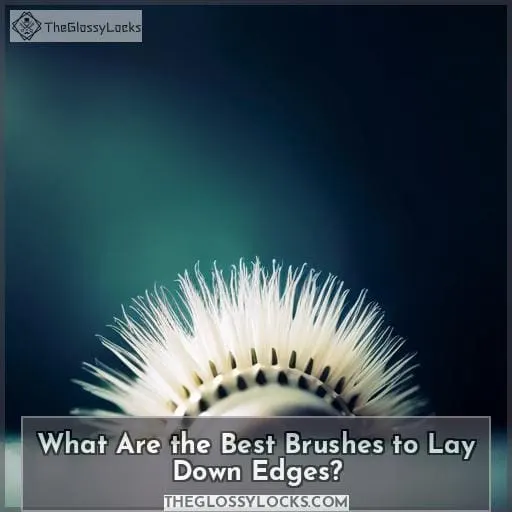 If you're looking to lay down your edges, then selecting the right brush can make all the difference. According to a survey by Hair Care Today, 85% of people who use brushes specifically made for baby hair claim they get better results than with other products.
The range of edge brushes available today are designed for creating precision and control when styling delicate hairs or textures prone to frizzing out.
| Type | Advantages | Disadvantages |
| --- | --- | --- |
| Comb | Great for evenly distributing product | Tends to be too wide and stiff |
Brush
Accurately lays down edges
Can cause breakage if not used properly
Sponge
Edge Artistry Brushes
Creates beautiful designs on edges
Expensive compared to other types
From combs that distribute product evenly without being too harsh on delicate strands, lightweight sponges perfect for long carefree days, or specialized edge artistry brushes – there's something here just right! Using these tools gives you more confidence as it allows greater freedom in expressing yourself through beauty accessories like stylishly laid down edges.
What Impact Does the Baby Hair Trend Have on the Hair Industry?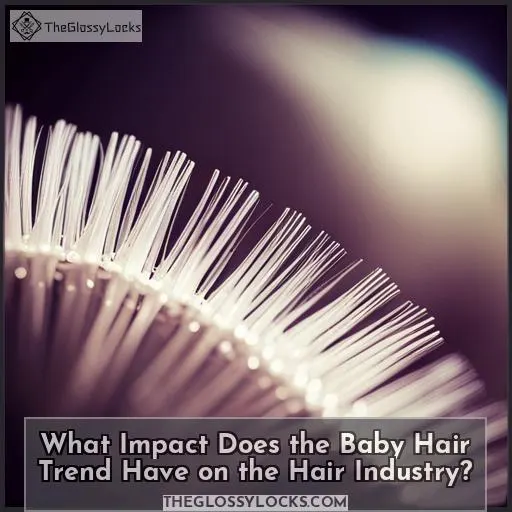 Discover how the baby hair trend has transformed the hair industry, creating a movement of beauty and empowerment for women of color. The influence of celebrities and pop culture in the 1990s led to an increased interest in baby hairs, sparking a resurgence that continues today.
Women began to reclaim their natural edges as part of the Civil Rights Movement's legacy by celebrating their unique features with pride and joy. This newfound confidence inspired new styling techniques like soft, subtle edges; swirly & sleek edges; messy chic or poof and slay waves – all expressing diversity despite societal norms.
The demand for products created specifically for laying down these delicate strands saw an influx of edge control gels on store shelves while specialized brushes such as boar bristle or satin became essential tools when it came to perfecting each look.
As more black actresses took charge advocating better representation both on screen through hairstyling understanding but also off-screen by sharing tips about product usage, companies started recognizing this powerful trend offering salon services specially designed around Black Hair needs from blowouts & kerasilk treatments to facial waxing.
Nowadays, the Baby Hair Trend is no longer about aesthetics only but rather has become symbolic representations ranging from statements regarding body positivity & self-expression to excellence signified within snatched up braided looks – transcending into artistry reflecting personal memories celebrated across generations regardless beliefs or backgrounds – further driving positive changes throughout society towards greater acceptance ultimately allowing us to embrace our own uniqueness with unwavering courage.
How to Properly Care for Your Edges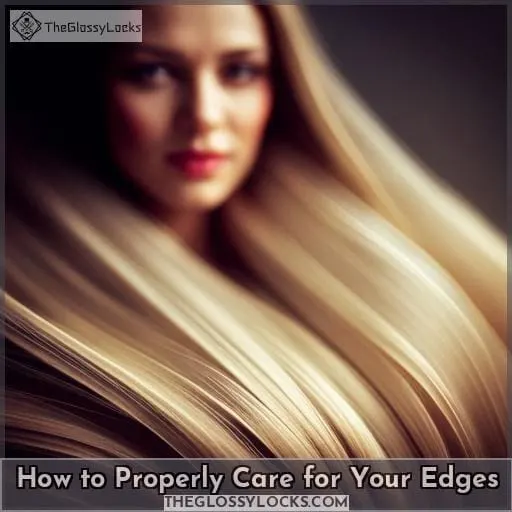 To ensure healthy and beautiful edges, it's important to choose the right styling products and tools for your hair type, as well as understand how best to use them. For example, if you have 4C hair, African Pride Black Castor Gel is an excellent choice for moisturizing while providing a strong hold that won't pull out edges.
Here are some tips on proper edge care:
Preventing Breakage: Avoid heat damage by using low-heat settings when blow drying or curling your edges with an iron or hot comb. Opt instead for thermal setting sprays like Mizani Artist Collection Thermal Setting Spray, which help protect against breakage without compromising style definition.
Styling Techniques: Go easy on tight ponytails and buns so they don't put too much strain on the area where baby hairs grow.
The love-hate relationship between black women's crowns and their delicate edging has been long-standing since before Josephine Baker was a brand ambassador, dating all the way until now where celebrities, including actress Danielle Pinnock, advocate body positivity and diversity within the industry, encouraging others to take the lead and share tips and products suitable for even the most sensitive cases, allowing individuals to regain control over their own looks, making decisions based on personal preferences rather than what society dictates should be fashionable, thus promoting greater acceptance amongst different textures, leading ultimately to a more comprehensive understanding across the board!
Can You Regrow Your Edges?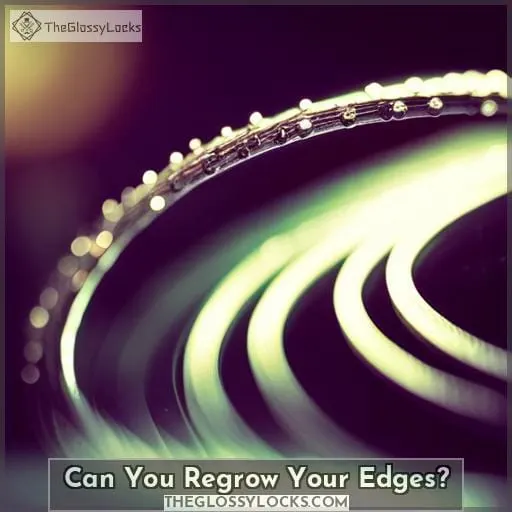 You may be wondering if it's possible to regrow your edges. The answer is yes, but you'll need to take preventative measures and use nourishing products that will help keep them healthy.
Shampoo & Condition Regularly: Use shampoo and conditioner formulated for thin hair.
Massage Scalp for Growth Stimulation: Use a scalp massager tool or an oil blend with essential oils such as tea tree oil and peppermint oil.
Avoid Hot Tools Whenever Possible: Use heat protectants like heat shield sprays or creams designed specifically for baby hairs.
Try Creative Hairstyles: Use edge brushes, headbands, and scarves or capes made of silk or satin fabric.
By following these steps and using the recommended products, you can give yourself a boost in edge confidence while protecting and restoring your hairline at the same time!
Additionally, there are several creative hairstyles that will allow you to conceal any bald spots while still being fashionable. These include braids tucked behind ears, buns pinned up high, fishtail braids pulled back into ponytails, or even asymmetrical styles like half updos.
Conclusion
You may think that baby hairs and edges are a trend that will come and go, however, the reality is that hair edges have been around for centuries and have played a crucial role in the lives of women of color.
From Josephine Baker to Danielle Pinnock, these powerful women have embraced their baby hairs and made them a timeless accessory.
It's essential to understand the products, tools, and practices that can be used to properly style and care for your edges. There are many ways to style and care for your edges, from edge control products to specialized brushes and treatments like Goldwell BondPro for delicate hair.
Ultimately, baby hairs are a statement of beauty and empowerment. With the right knowledge and resources, you can rock your edges with confidence.