This site is supported by our readers. We may earn a commission, at no cost to you, if you purchase through links.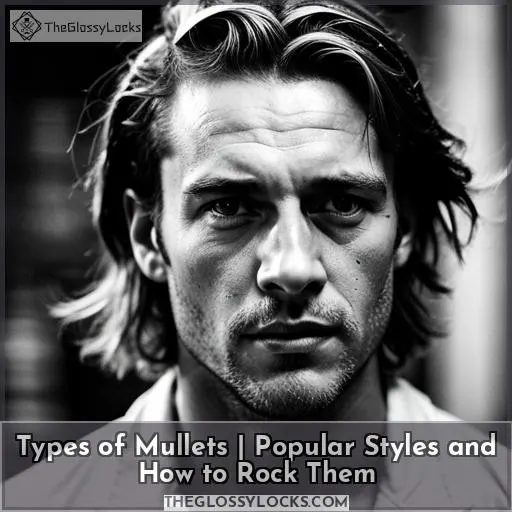 Are you ready to rock the trendiest hairstyle of 2021? The mullet is back and it's here to stay. Whether you're looking for a classic, modern, or unique style – there are plenty of types of mullets that can help express your personality! This article will take an in-depth look at the different styles available and how they've evolved over time.
We'll also cover some popular men's hairstyles as well as hair products so that you can create any type of mullet with ease.
Key Takeaways
The mullet has a rich history and has evolved over time, becoming popular in the '70s-'80s with iconic figures embracing it.
The mullet hairstyle has made a comeback in 2021 and is considered trendy, with a resurgence in pop culture, fashion, and among celebrities.
There are various types of mullets, including short sides & long top, fade, undercut, and unique types like cropped, hipster, temple fade, tapered, and tousled mullets.
Maintenance and trims are important for maintaining the mullet hairstyle, with regular trims needed during the transition period.
What is a Mullet?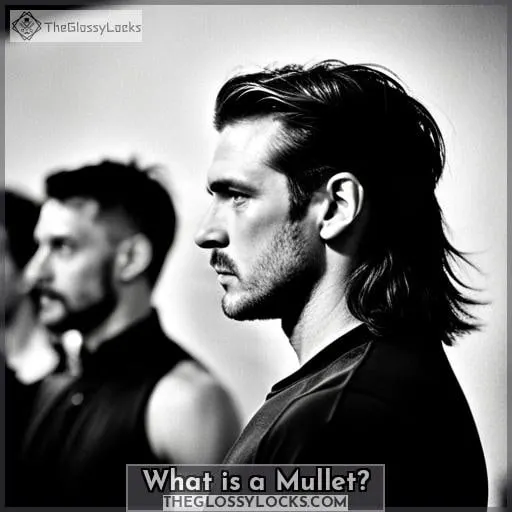 You can sport a classic, messy, combed back or gelled into spikes mullet that's sure to make heads turn. The iconic hairstyle has evolved from its sixth-century roots and surged in popularity in the '70s and '80s with celebrities like David Bowie and Rod Stewart sporting it.
Today, the modern mullet is unisex – perfect for both men and women – making it an attractive option for those seeking something unique yet timeless. There are various styling challenges such as cutting techniques needed for each individual style type of Mullets including short sides & long top, fade cut, undercut, etc.
History of the Mullet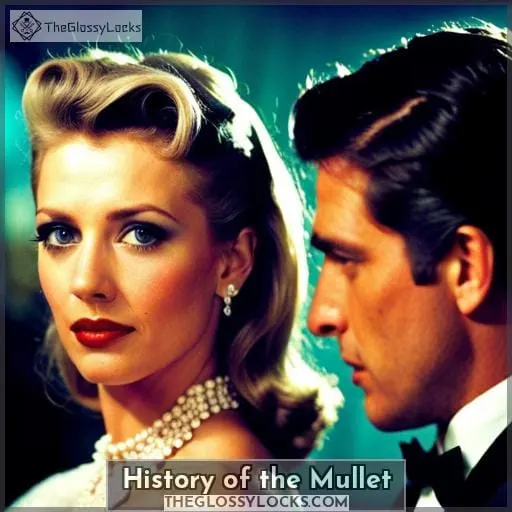 The mullet's history dates back centuries, making it one of the most timeless hairstyles around. Iconic figures like David Bowie and Rod Stewart embraced the style during its peak popularity in the 1970s and 1980s.
This cultural influence was so strong that even today, a revival of classic 80s styles is still seen among men and women alike.
The evolution of mullet styles has been remarkable as well. From short to long cuts with bangs or fades, there are countless variations out there for anyone to choose from! Mullets have also become popular due to their versatility.
They can be styled into messy spikes or gelled back for a more professional look, depending on your taste.
What makes them especially unique is their ability to reflect an individual's personality while providing liberation at the same time. Many people enjoy wearing these daring looks without having any fear about judgment or conformity issues.
Is the Mullet Coming Back?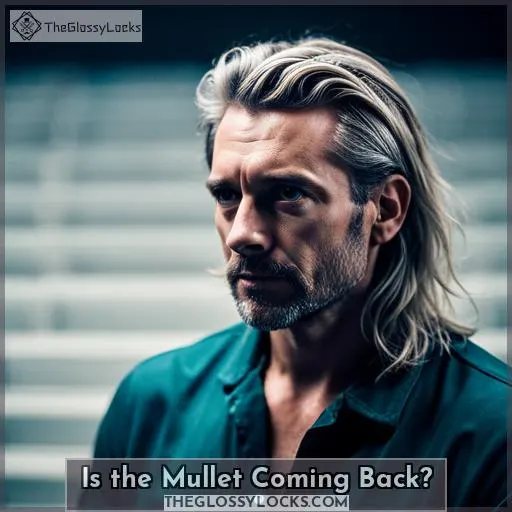 Have you noticed the resurgence of the mullet hairstyle? From its roots in ancient cultures to modern celebrity influences, it seems that this versatile style is here to stay.
Across pop culture and fashion, mullets can be seen on everyone from rock stars to models. Modern variations come in a variety of styles, such as asymmetrical fringe mullet or textured hair mullets, giving wearers creative options for personal expression.
Mullet trends are predicted to continue into 2023, with many more variations possible like shullets, which blend both the shag cut and traditional mohawk look together.
How to Style a Mullet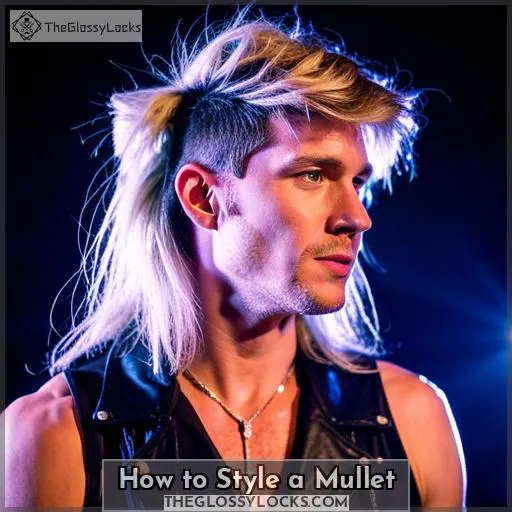 Experiment with your modern mullet to create a statement look that captures the attention of everyone around you! Choose from various styling techniques like adding texture, asymmetrical looks, and shaved sides.
Select the right product for your hair type – sea-salt spray for wavy hair or pomade for thicker strands. To keep up with maintenance tips, consider regular trims and use shampoos designed specifically for mullets.
For extra flair, try out a french crop mullet or afro style. Add body to it by blow-drying into waves.
Popular Mullet Styles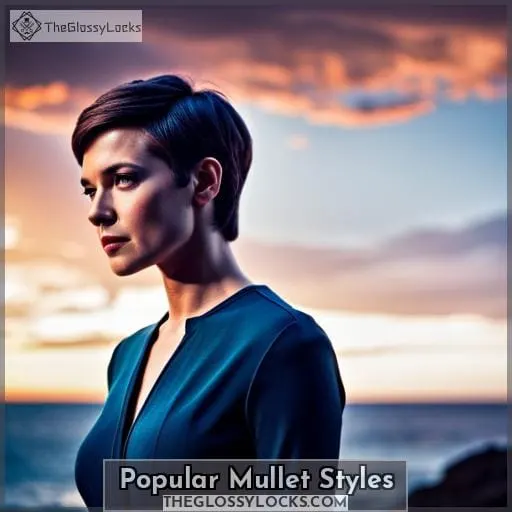 Are you looking for a hairstyle that will make you stand out? The mullet is the perfect choice, offering classic, modern, and undercut styles with shaved sides or a fade.
Classic Mullet
Take your pick from the classic mullet, an enduring and timeless look sure to turn heads. From feathered bangs to permed layers, this style continues to evolve with iconic influences.
It works with any hair type while its unconventional variations remain popular in 2023. Styling techniques vary depending on texture: use a sea salt spray for waviness or mousse for volume and body; add pomade or clay for hold and shine.
Try side-swept bangs as a modern touch that'll make you stand out! With so many options available, the classic mullet can be adapted into something unique every time – a true testament of fashion's infinite possibilities!
Modern Mullet
Try rocking a modern mullet with shorter sides and top, and a longer back for an edgy yet timeless look. Mullets are making a comeback in contemporary styling trends, with unconventional twists like color experimentation and perm options.
To keep your modern mullet looking fresh, use products such as pomade or sea-salt spray to style the front hair into spikes or blown-out locks. Maintain your desired length by getting regular trims. Consider going for an undercut design on the sides to add more texture and contrast to this popular hairstyle.
With its versatility and unisex appeal, you can experiment with different colors of faux hawk or mohawk styles.
Undercut
Rock the modern look with an undercut mullet! Perfect for those who want to stay on trend, the undercut is a stylish variation of the classic mullet. This cut features shorter sides and top with longer hair in the back, allowing you to experiment with various styling options.
Choose from short or long undercuts depending on your face shape and preference. Keep up maintenance by regularly trimming your ends or adding subtle color variations like ombre highlights for additional dimension.
Take advantage of all that this versatile style has to offer. Go bolder and unleash creative designs such as feathers or shaved patterns into your undercut! Show off any unique hairstyle while still sporting a chic yet edgy vibe – all thanks to an incredible Undercut Mullet!
Mullet Fade
Slip on a mullet fade to show off your daring side and embrace the spotlight like you're wearing a crown of confidence. Variations like burst, drop, or skin fade let you customize it for any hair type.
Modern styling techniques add texture that requires frequent maintenance but are worth it when done right. Choose from different lengths with creative solutions for adding volume and movement to give each look its unique flair.
Shaved Sides
Show off your daring side with a modern mullet featuring shaved sides! With this look, you can achieve an edgy appeal and style it in various ways.
This unisex hairstyle will suit any hair texture or type and provide possibilities for creative styling techniques like spikes, line ups, fades, etc.
Keep experimenting with different variations of mullets to find your signature cut.
Popular Hairstyles for Men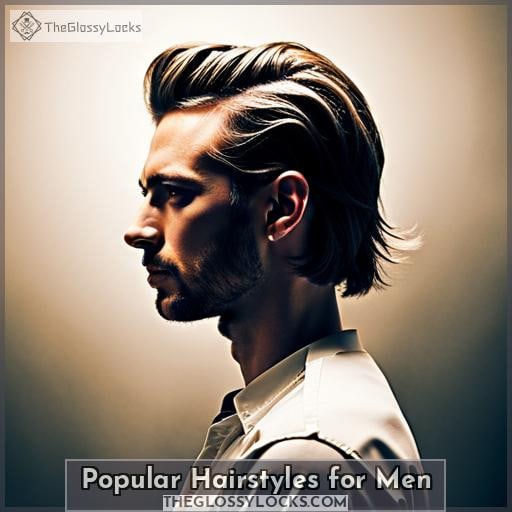 Celebrate your individuality with a modern mullet haircut and show off your unique style! There has been an evolution of the iconic hairstyle, from the classic to trendy variations. To make sure you get the perfect cut, consider face shape when picking a style. Then choose products that suit it: matte clay for spiky styles or pomade for sleek looks are just two examples.
Take inspiration from celebrities who have rocked this 'do – think David Bowie's feathered look or Rod Stewart's combed back version.
Hair Products for Men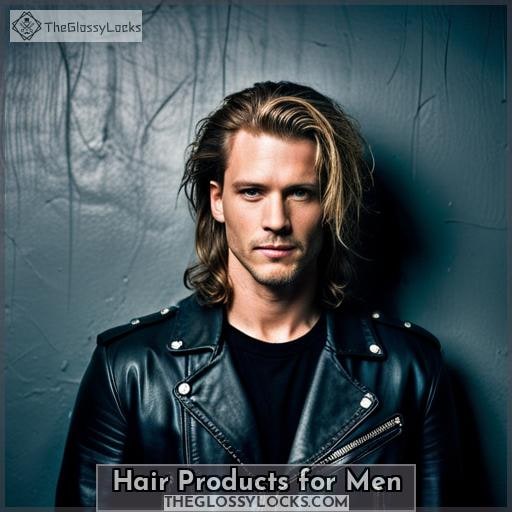 Pick the perfect products to complete your modern mullet look. Whether you're rocking a classic cut or something more spiky and edgy, there are some essential hair care products that can help make sure your hairstyle looks great all day long.
Start with a good shampoo and conditioner for beard care, designed specifically for men's hair types like straight, curly, or thick/fine.
When it comes to accessorizing short hairstyles like the mullet, try some fun headwear pieces such as hats and bandanas.
To keep everything looking fresh throughout the day, put together an easy hair care routine.
From adding natural wavy curls with perm mullets featuring bangs and fringes to faux hawk styles and slick backs, choose from unique cuts including drop fades, mullet shags, punk cuts, rose gold highlights, feathered trims, textured locks, two-toned tossed dyed colors, and many more variations of this timeless trend!
Unique Types of Mullets in 2023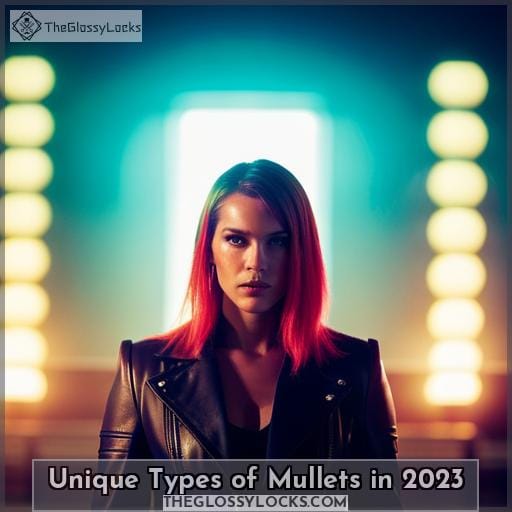 Looking for a unique haircut that's timeless yet modern? Look no further than the mullet. In 2023, there is an array of different types available like Cropped Mullet Fade, Hipster Mullet, Temple Fade Mullet, and Tapered and Blended Wavy Mullet to Tousled Wavy Mullet.
Cropped Mullet Fade
Experience the bold look of a cropped mullet fade and make heads turn with your modern take on this timeless style. Achieve layered texture, enhance styling techniques, and add color accents to personalize your look, all while keeping up with regular maintenance tips for optimal results.
Adapting face shape is also key when considering a cropped mullet fade style. Long straight mullets work best for oval faces, while half up half down or flat top styles fit rounder faces better.
For more daring looks, try two-toned tossed mullets or blonde highlights to attract attention from every angle! Whatever you desire, let the classic elements of a cropped mullet provide freedom and power without compromising sophistication.
Hipster Mullet
Explore the hipster mullet, a stylish take on the classic hairdo that has become popular in 2023 with its longer back and shorter front hair. This contemporary variation of the traditional style has been influenced by hipster culture and features unique styling trends like shaved sides, feathered layers, or dyed tips.
Accessories such as sea-salt spray or pomade allow for versatile styling options to achieve a look tailored to personal preference. The mullet haircut cost varies depending on length and complexity but is generally around $40, making it an affordable option for those looking to make a statement without breaking their budget.
With evolving trends in hairstyling constantly being adapted into modern versions of classic haircuts like this one, there's never been more opportunity for self-expression through fashion than now!
Temple Fade Mullet
Try out the Temple Fade Mullet for a look that's sure to turn heads! This iconic style features shorter hair at the front and sides, with longer locks in the back. To get this contemporary cut, ask your barber for a temple fade that incorporates mullet styling techniques.
Get inspired by some of today's most popular hairstyles for men – from David Beckham to Zayn Malik – as they all sported versions of this classic 'do. You'll need some essential hair products such as sea-salt spray, matte clay, and pomade to keep it looking sharp each day.
Use our guide and tips on face shapes plus maintenance info so you can rock your own unique version of this timeless 'do!
Tapered and Blended Wavy Mullet
Show off your unique style with a tapered and blended wavy mullet. This modern take on the classic cut requires regular maintenance, but it can be achieved with the right hair care products for styling and coloration.
Tousled Wavy Mullet
Add some flair to your look with a tousled wavy mullet, featuring choppy layers that give you volume and texture. For styling techniques, reach for sea-salt spray or matte clay; pomade or fiber cream can help maintain the beachy texture.
Make sure to follow hair maintenance tips such as deep conditioning treatments and regular trims to keep locks looking luscious.
Prep wet hair.
Separate into sections.
Curl each section away from the face.
Finish off with hairspray for hold.
Inject confidence into any ensemble while embracing modern trends of 2023—all thanks to this versatile look!
Final Things to Consider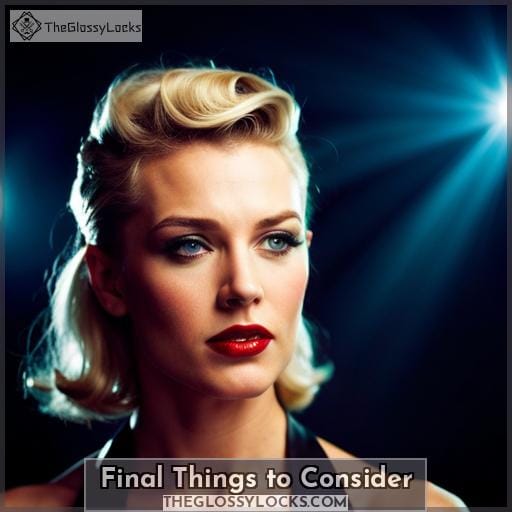 Adorn yourself with the perfect mullet this year – there are plenty of options to choose from! When selecting your style, consider your hair texture and face shape. You'll also want to think about color options if you're looking to add a unique touch.
For maintenance purposes, make sure you have appropriate styling products for whichever type of mullet you choose. Sea-salt spray, matte clay, or pomade can help keep it in place without leaving behind too much residue.
Once that's sorted out, look into some styling tips. For example, comb back short layers near the front and sides while keeping longer pieces at the back for volume. You can also add more definition with a product like fiber cream while blow-drying sections away from each other.
With so many variations available, there is something suitable for everyone. Don't be afraid to experiment! Mullets are making waves again as they become an increasingly popular way of expressing individualism and creativity through fashion.
Which Type of Mullet is Right for You?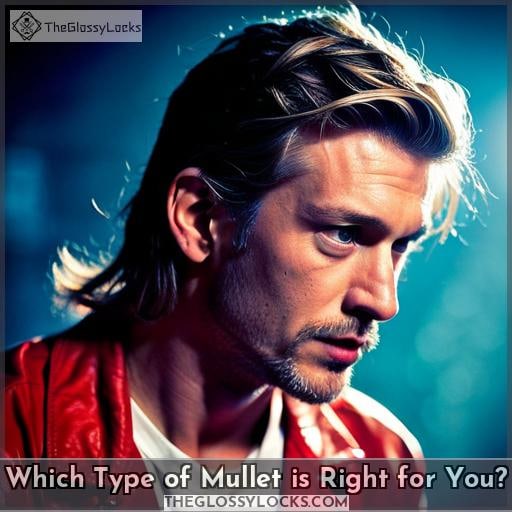 Choosing the right type of mullet for you is key to making a statement with your look. A skilled barber can help tailor the style to flatter your face shape, whether that's a classic mullet, modern twist, or something more daring.
When it comes to styling fine hair, products like sea-salt spray and matte clay are useful as they provide texture and hold without weighing down locks.
Growing out mullets can be challenging; regular trims ensure no awkward stages while transitioning from short back & sides into longer lengths at the nape of the neck.
Ultimately find what works best with bold experimentation – let yourself have fun!
Conclusion
You've seen it all, from the classic mullet to the modern perm, the undercut to the hipster mullet.
With a variety of styles to choose from, there's something for everyone. Whether you're looking for a low-maintenance cut or a daring statement, the versatility of the mullet is sure to provide you with an unforgettable look.
So don't be afraid to experiment and find the type of mullet that fits your personality. With the right tools, products, and knowledge, you can rock any type of mullet and look amazing.
So go ahead and embrace your inner mullet!