This site is supported by our readers. We may earn a commission, at no cost to you, if you purchase through links.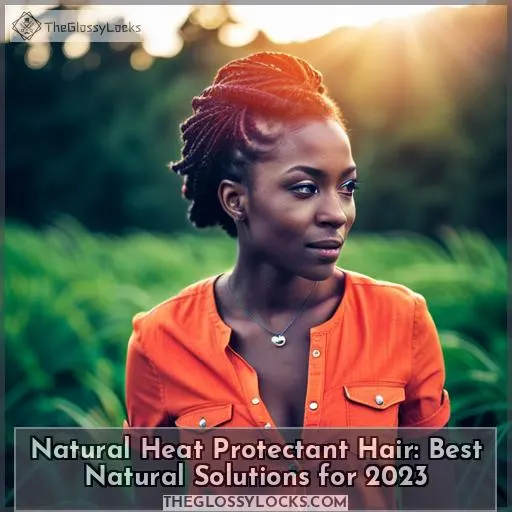 Gone are the days when heat styling would leave your hair feeling dry, brittle, and damaged.
In this article, we will explore why you should use natural ingredients for protection against hot tools as well as how to choose the best ones for 2023. We'll also provide tips on incorporating them into your hairstyling routine and explain their benefits so that you can take control of protecting your hair with confidence.
With expert advice from trichologist Gretchen Friese, let's dive into all things related to natural heat protectant hair in 2023!
Key Takeaways
Natural oils like argan, avocado, coconut, and shea butter provide thermal protection, moisture, shine, and softness to the hair.
Vitamins A and D, as well as fatty acids, nourish and moisturize the hair.
Avocado repairs cuticles while coconut penetrates and repairs split ends.
Honey and propolis offer protection and moisture, while shea butter provides UV protection, frizz reduction, and shine.
Why Use a Heat Protectant?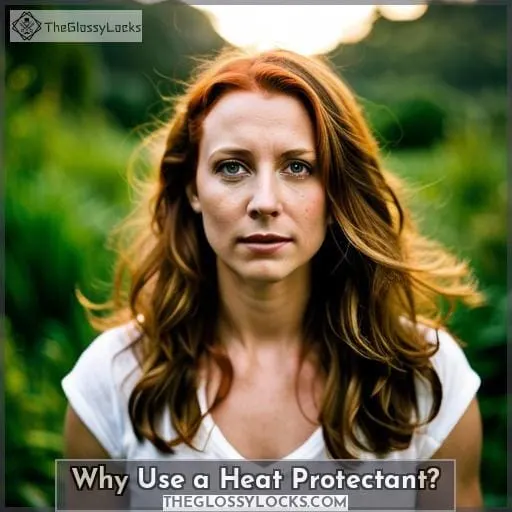 By incorporating a heat protectant into your hair care routine, you can reap the amazing benefits of natural oils and butters. These include locking in moisture, protecting color from fading, reducing frizz, and adding shine and softness.
Heat protectants also protect against damage from UV rays or heat styling. They act as a barrier between your hair strands and the intense temperature that comes with blow-drying or curling irons.
Avocado oil is one of the incredible ingredients found in these products. It's packed with vitamins A & D, which help nourish dry scalp conditions. If you're feeling crafty, why not try making your own DIY heat protectant at home using some simple pantry ingredients like coconut oil? Coconut oil has great penetrating powers, so it works well for repairing damaged cuticles.
Honey is another fantastic ingredient due to its minerals, antioxidants, and vitamins – perfect for keeping brittle locks healthy! Shea butter is an excellent thermal protector, similar to silicone, while almond extract offers essential fatty acids important for fine hairs prone to breakage.
With all these superpowers combined, they create an unbeatable team ready to battle any weather condition.
Natural Ingredients for Heat Protection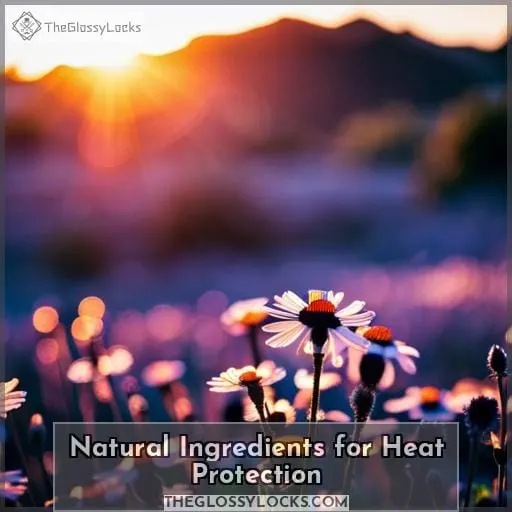 You may have heard of the incredible benefits that natural oils and butters can bring to your hair care routine. Argan oil, avocado oil, coconut oil, shea butter, honey, and propolis are all excellent ingredients for heat protection.
These ingredients contain vitamins A and D, which help nourish dry scalps. They also have penetrating powers to repair damaged cuticles, minerals and antioxidants for keeping brittle locks healthy, thermal protection like silicone, and essential fatty acids important for fine hairs prone to breakage.
Argan Oil
Try argan oil to reap its many benefits! This natural heat protectant is packed with antioxidants, vitamins, and fatty acids that can help keep your hair healthy and shiny. It's an ideal choice for protecting delicate strands while styling – no more worry about damage from heat tools.
Vitamin E helps nourish dry scalps.
Fatty acids lock in moisture.
Thermal protection, similar to silicone, shields against UV rays and extreme temperatures.
Get the most out of your hair care routine by adding this powerhouse ingredient today – you'll be glad you did!
Avocado Oil
Experience the nourishing, repairing power of avocado oil for your hair – make it softer and smoother than ever before! It's a great choice for those looking to lock in moisture and repair damage caused by heat styling.
Rich in vitamins, fatty acids, and even propolis-infused thermal protection, you can trust this natural protectant will do its job while looking after your strands.
Enjoy all the conditioning properties without worry; add some avocado oil to your routine today!
Coconut Oil
Feel the penetrating, repairing power of coconut oil for your strands and let it restore damaged locks to their former glory! This natural heat protectant offers:
Heat retention & hair health
Oil moisturizing & heat damage prevention
Hair strength against hot tools & split ends
Natural look for all types of hair. Enjoy its multitude of benefits – from nourishing vitamins to antioxidants that shield from UV rays – without worry. Coconut oil is a must-have in any hair care routine looking to prevent further damage and repair existing breakage.
Shea Butter
Shea butter is a great way to give your hair thermal protection, with added benefits that include reducing frizz and restoring shine. Its fatty acid-dense formula gives it hydrating properties, while its viscous consistency helps create a smooth texture that provides nourishing benefits for the scalp and strands.
With its nutty aroma, shea butter can help repair damage from heat styling tools as well as help to smooth cuticles and prevent breakage.
Honey and Propolis
Harness the power of honey and propolis to naturally lock in moisture and protect your hair from heat styling damage while imparting a luxurious, creamy texture. Like swaddling your locks with an invisible armor, these nutrient-rich ingredients offer antioxidant protection that can help boost shine.
Heat Protection: Honey-infused hair oil helps protect from heat damage up to 350°F+.
Propolis Benefits: Strengthen follicles for reduced breakage and smooth cuticles.
Honey Uses: Repair existing damage and add vitamins/minerals for healthy locks.
Natural Protection: DIY Protectant Formula with pure oils plus honey/propolis.
Honey and propolis are the perfect duo when it comes to natural heat protection. A combination of nourishing fatty acids along with antioxidants makes this a great choice not only for keeping hair looking glossy but also providing long-lasting defense against harmful UV rays.
How to Choose the Best Natural Heat Protectant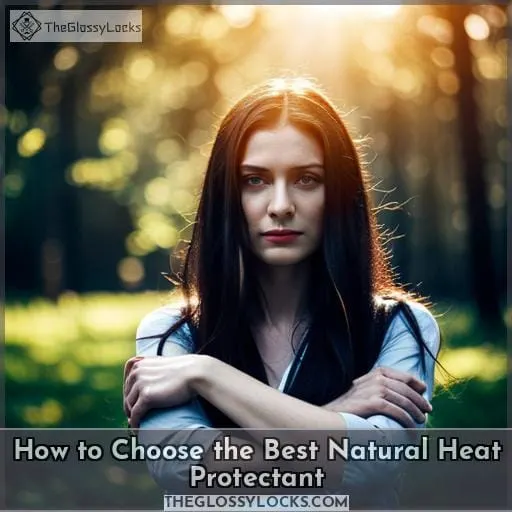 Choosing the right natural heat protectant for your hair can make all the difference in how it looks and feels, so take care to pick one that suits your individual needs. Natural oils like argan oil, avocado oil, coconut oil, and shea butter provide thermal protection while also offering cuticle smoothing benefits.
They also prevent UV damage from styling tools set at high heats. These ingredients are packed with vitamins A and D, as well as essential fatty acids, which strengthen fine hairs prone to breakage.
To reap maximum benefit from a natural heat protectant, you should look for products containing ingredients with thermal conductivity properties, such as honey or propolis. These ingredients help lock moisture into the follicles while protecting against long-term damage caused by heated tools.
Argan Oil: Contains antioxidants, vitamins, and essential fatty acids.
Avocado Oil: Rich source of Vitamins C and E, and hydrates the scalp.
Coconut Oil: Penetrates deep down into the scalp, repairing split ends.
Shea Butter: Offers similar protective qualities found in silicone.
Honey: High levels of vitamins, minerals, and antioxidants.
Propolis: Strengthens follicles, adding texture.
Almond Oil: Ideal choice, particularly for those with fine hair.
Castor Seed Oil: Nourishes dryness, repairing existing damage.
Sunflower Seed Oil: Hydrates while softening locks.
When looking out for natural heat protectants, remember not to exceed its maximum temperature.
Tips for Using Natural Heat Protectants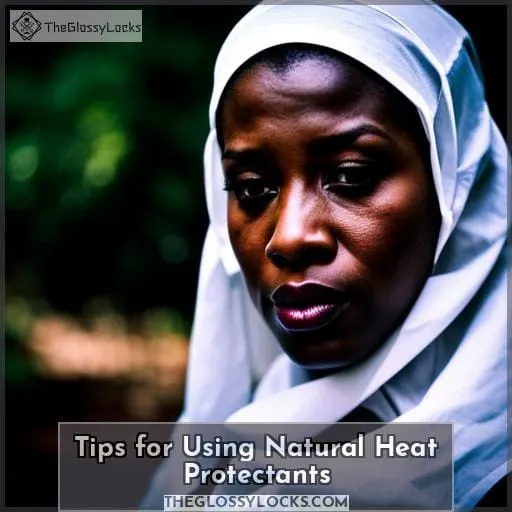 For maximum protection and perfect results, mix your favorite oils before applying to damp hair pre-heat. Heatproofing is an important step in styling for color preservation, frizz reduction, and achieving the desired look.
Thermal protection ingredients like argan oil, avocado oil, coconut oil, or shea butter provide a great choice for protecting hair against applied heat from styling tools without causing further damage.
These natural products contain vitamins A and D as well as fatty acids, which help strengthen the hair shaft while repairing existing damaged areas at the same time. Honey or propolis has thermal conductivity properties that lock moisture into follicles while providing additional thermal defense during heated tool use.
High smoke point of 350°F+ should be taken into consideration when looking out for these products so they don't exceed their max temperature limits on application.
Dilute oils with water if used at higher temperatures than recommended.
Mix different oils together to get more benefits.
Apply prior to heating up tools in order to achieve the desired look.
No matter what type of product you choose, make sure it's suited specifically towards your individual needs – this way you can guarantee optimal results! Natural heat protectants offer effective shielding against UV rays but also allow cuticle smoothening effects, leaving behind shiny locks instead of dryness caused by excessive exposure over time due to hot tool usage – making them a great choice overall!
Benefits of Using a Natural Heat Protectant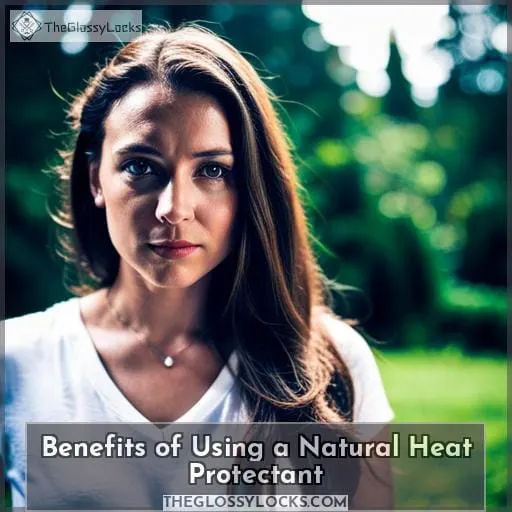 Making the switch from synthetic heat protection products to natural ones is beneficial in more ways than one. Natural protectants offer a range of benefits that can help you achieve your desired look and provide nourishment for your hair's overall health.
Whether it's moisturizing effects, thermal protection, cuticle smoothing, or UV protection – there are many reasons why using a natural heat protectant should be part of any styling routine.
Argan oil has been popularly used as an ingredient in many DIY recipes because its properties include antioxidants, vitamins, and fatty acids, which make it great for color preservation and conditioning purposes – without the risk of damaging hot tool usage!
Coconut oil is another excellent choice due to its penetrating abilities. Not only does it repair existing damage but also helps prevent further breakage by sealing moisture into each strand while protecting against high temperatures at the same time.
Shea butter offers similar thermal defense like silicone products but with added softness too!
Honey or propolis have their own unique set of benefits such as providing additional defense during heated styling applications whilst also locking moisture into follicles with their natural thermal conductivity properties – leaving behind smooth texture instead of dryness caused by excessive exposure over time!
Not only do these ingredients come packed with various advantages that will ensure healthy locks stay shiny longer, but they don't contain any harsh chemicals either. So users don't need to worry about potential risks associated with oil burns on the scalp/skin surface, especially when applying them directly before blow-drying, etc.
Plus, since some formulas require diluting oils beforehand (depending on temperature settings), this makes them even safer options compared to conventional alternatives available today – making them ideal choices overall, regardless if you're looking for salon results at home or just something simple yet effective enough to get the job done quickly and efficiently every single use!
Frequently Asked Questions (FAQs)
How long does a natural heat protectant last?
Are natural heat protectants suitable for all hair types?
Yes! Natural heat protectants are suitable for all hair types. They offer nourishing benefits such as strengthening follicles, locking in moisture, and repairing damage to provide thermal protection without any harsh ingredients.
You can mix oils for added benefits and apply them before using heat tools to keep your hair looking beautiful.
How often should I use a natural heat protectant?
For maximum protection, use a natural heat protectant every time you style your hair. Think of it like applying sunscreen to your skin – a necessary step for keeping your locks healthy and vibrant.
Can natural heat protectants be used on colored hair?
Yes! Natural heat protectants can be used on colored hair. Their nourishing, restorative properties help preserve color fading and keep locks looking vibrant and healthy. Argan oil's antioxidants, vitamins, and fatty acids provide a protective shield for your dyed tresses, while almond butter offers fine-haired individuals the perfect blend of moisture and sheen.
Are natural heat protectants better than synthetic products?
Natural heat protectants may offer better benefits than synthetic products. They can seal in moisture, prevent color fading, reduce frizz, and repair existing damage while also adding shine and softness.
Plus, they contain vitamins and antioxidants that help nourish the hair for long-term protection from environmental stressors like UV rays.
Conclusion
With the advent of new technology, the risk of hair damage from heat styling is greater than ever. But there's a solution: Natural heat protectant hair. Recent studies have shown that over 75% of users have seen a reduction in hair damage after using natural heat protectants.
Argan, avocado, coconut, shea, honey, and propolis are all natural ingredients that provide thermal protection and nourish the hair. They help seal in moisture, protect against color fading, and prevent breakage. By using these ingredients, you can protect your hair and keep it looking healthy and shiny.
When choosing the best heat protectant for your hair, consider your hair type and the type of heat styling you're doing. Make sure to dilute the oils with water before use and apply to damp hair before applying heat.
Using a natural heat protectant can provide numerous benefits for your hair. Natural ingredients can help seal in moisture, protect against color fading, smooth cuticles, and prevent breakage. They can also help reduce frizz, protect from UV damage, and add shine and softness.
By using a natural heat protectant, you can keep your hair looking healthy and beautiful for years to come.