This site is supported by our readers. We may earn a commission, at no cost to you, if you purchase through links.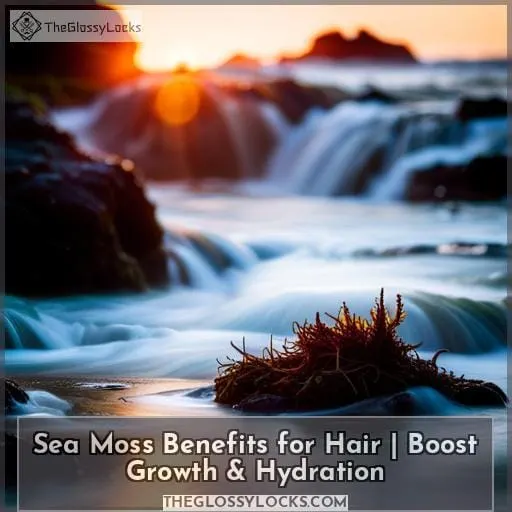 Unlock the secret behind healthy, voluminous hair: sea moss! This ancient superfood has been used for centuries to promote health and beauty. From its nutritional benefits to its ability to boost hydration in your hair, sea moss is a must-have ingredient for anyone looking to achieve their best tresses yet.
Whether you're hoping for stronger strands or longer locks, this all-natural product will give you results like never before—and it won't break the bank either! So what are some of the ways that incorporating sea moss into your haircare routine can help?
Here's how adding this seaweed wonder can help boost growth and hydration in your mane.
What is Sea Moss?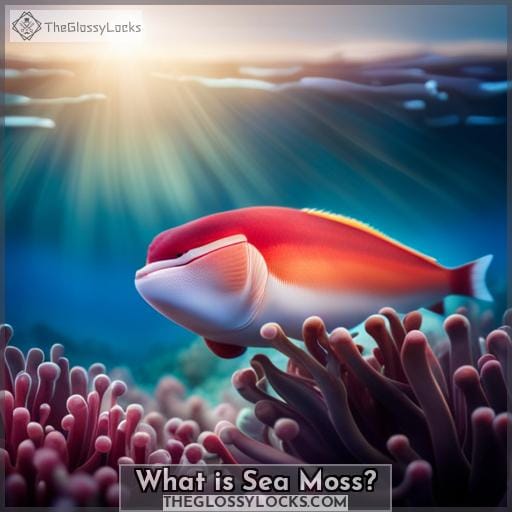 You may have heard of sea moss and its benefits for your hair, but what is it exactly? Sea Moss, or Irish Moss, is a type of seaweed found in the Caribbean and Atlantic oceans.
When prepared correctly using only natural ingredients like water and lime juice, Sea Moss can be used to make jellies or soups with numerous health benefits. Sea Moss offers many advantages when added to personal care products. It provides scalp health protection from UV damage with mycosporine-like amino acids.
It also offers hydration that reduces breakage and improved elasticity, which adds bounce and shine.
Moreover, Sea Moss contains vitamins A, C, E, K, and B for overall healthy growth, as well as essential minerals like iron, zinc, magnesium, and potassium for strength and vitality. There are several varieties available depending on the region harvested. Wildcrafted and organic cultivated sea moss are the most sought after by chefs and consumers alike, yet both provide great nutritional value.
Finally, regular use of Sea Moss ensures healthier hair while providing other skin-related perks too!
What Benefits Does Sea Moss Have?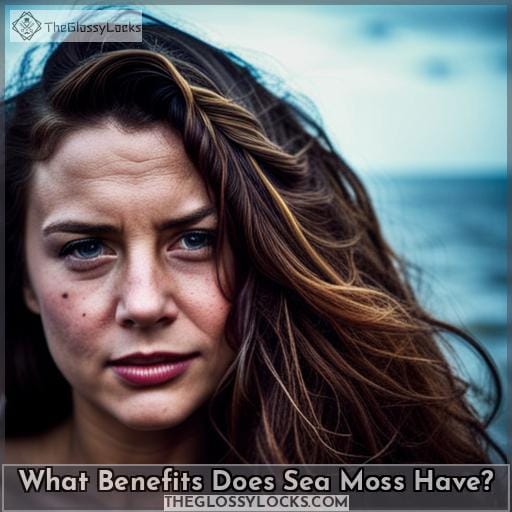 Sea Moss is a superfood with numerous benefits for overall health and beauty. Rich in vitamins, minerals, fatty acids, and folic acids, it can promote natural hair growth while hydrating the scalp to reduce breakage and split ends.
Nutritional Benefits
With an abundance of vitamins and minerals, Sea Moss is a superfood that offers various nutritional benefits for your hair. Have you ever wondered how? Sea Moss provides hydration, detangling secrets, scalp nourishment, and UV protection, thanks to its mineral-rich composition.
Hair hydration: Moisture easily binds to the cuticle in 3C-4C hair types due to its shape.
Detangling secrets: Sea Moss prevents tangles from forming while promoting natural growth.
Scalp nourishment: The antioxidants in Sea Moss provide essential nutrients for healthier-looking hair.
UV protection: Sea Moss contains mycosporine-like amino acids that reduce damage caused by exposure to sunlight.
Sea Moss supplements help restore strength and shine without harmful ingredients found in other brands, giving you true power over your health!
Hair Benefits
Experience the power of sea moss with its nourishing fatty acids and folic acids that help promote natural hair growth. With essential minerals like iron, zinc, magnesium, and potassium, plus antioxidant vitamins A, C, E, K, and B – sea moss can hydrate your scalp to reduce breakage and split ends while providing UV protection from damaging rays.
Sea Moss also offers detangling benefits by preventing tangles and improving overall hair health for a mineral-rich glow.
What Benefits Does Sea Moss Have on Hair?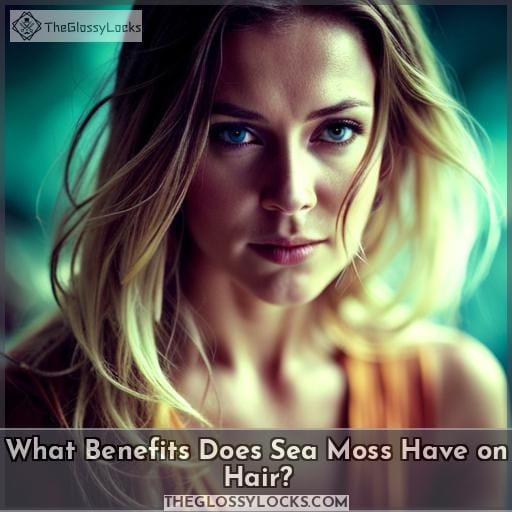 Sea Moss is a beneficial ingredient in hair care products due to its hydration, detangling, and definition capabilities, scalp health benefits, UV damage prevention qualities, and support for hair growth.
It is especially suited for 3C to 4C hair types as it contains essential vitamins and minerals like B vitamins, vitamin A, vitamin E, calcium, and magnesium, which help bind hydration to the cuticle of the strands.
Hydration
Sea Moss' natural hydration helps curls retain moisture, defining and smoothing them with frizz control. Scalp nourishment boosts hair growth, while UV protection keeps locks safe from the sun's rays.
Detangling and Definition
Unlock bouncy, defined curls with sea moss! Detangling techniques, curl definition methods, and hair care routines benefit from natural ingredients. Sea Moss offers hydration, scalp health, and sun protection to restore hair. Styling tips help achieve the desired look.
Scalp Health
Discover the scalp health benefits of Sea Moss: anti-inflammatory properties, fighting free radicals, and promoting hair growth.
UV Damage Prevention
Shield your hair with Sea Moss' mycosporine-like amino acids. Hydrate, define curls, and fortify strands with sea moss supplements. Curly hair care is enhanced by the Restoring Sea Moss & Aloe Jelly Collection for damage restoration.
Hair Growth Support
Boost your hair health with sea moss's growth-promoting properties. Strengthen, retain moisture, and define curls naturally.
Suitable for 3C to 4C Hair Types
Sea Moss benefits 3C to 4C hair types, providing hydration and vitamins. Studies suggest it may stimulate follicles, promoting faster growth than other products. The list includes moisture retention, curl definition, UV protection, and scalp nourishment.
It helps retain moisture for defined curls, protects from sun damage, nourishes the scalp for healthy growth, and adds shine too! Wild-harvested Sea Moss is a great choice for natural hair care routines.
Vitamins and Minerals in Sea Moss
You'll be amazed by Sea Moss's essential vitamins and minerals: B, A, E, calcium, and magnesium.
The Restoring Sea Moss & Aloe Jelly Collection

Discover the power of PATTERN's Restoring Sea Moss & Aloe Jelly Collection for hydrated, healthy hair! This collection is a unique fusion of nutrient-rich sea moss and aloe jelly that provides optimal protection for curly hair.
Product Benefits:
The shampoo cleanses without stripping away moisture, while the conditioner adds softness and detangles strands. The deep conditioning treatment nourishes with essential fatty acids while protecting against UV damage from mycosporine-like amino acids in sea moss extract. Finally, the styling cream locks in moisture and defines curls without heaviness or stiffness.
Application Tips:
Smooth each product onto freshly washed wet hair, starting at your roots then working down towards ends for reduced frizz and superior absorption of nutrients.
Ingredient Spotlight:
Sea Moss contains antioxidant properties, as well as vitamins A, C, E, K, and B, which work together to promote scalp health by stimulating follicles and preventing breakage, plus split ends caused by dryness.
Using this collection together will maximize its restorative powers so your natural curl pattern can thrive!
The Restoring Shampoo With Sea Moss & Aloe Jelly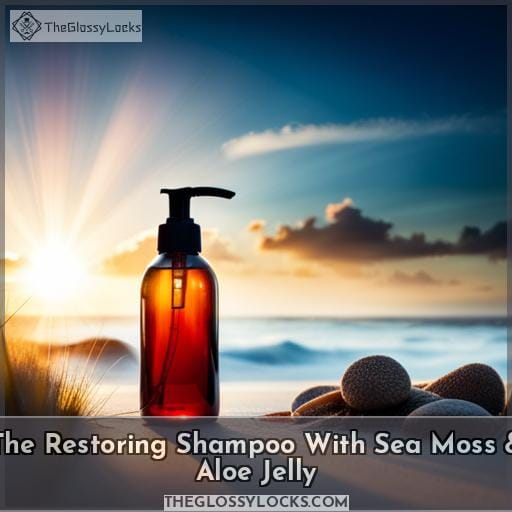 The Restoring Shampoo with Sea Moss & Aloe Jelly will transform your hair from dull and lifeless to shiny and luxurious in an instant! Formulated for curly-haired beauties, this shampoo offers a unique blend of natural ingredients that make it suitable for all textures.
Not only does this product cleanse the scalp, but it also provides essential hydration while detangling locks. The sea moss helps to deeply penetrate moisture into the hair strands, leaving them feeling soft without weighing them down too much.
Meanwhile, aloe jelly works as an emollient, which can help improve elasticity, making curls more manageable during styling sessions.
As if that wasn't enough already, this amazing restoring shampoo also contains antioxidants that provide protection against UV damage by fighting off free radicals! With such incredible benefits at your fingertips, you'll be able to enjoy gorgeous-looking tresses each time you wash your hair with The Restoring Shampoo with Sea Moss & Aloe Jelly.
The Restoring Conditioner With Sea Moss & Aloe Jelly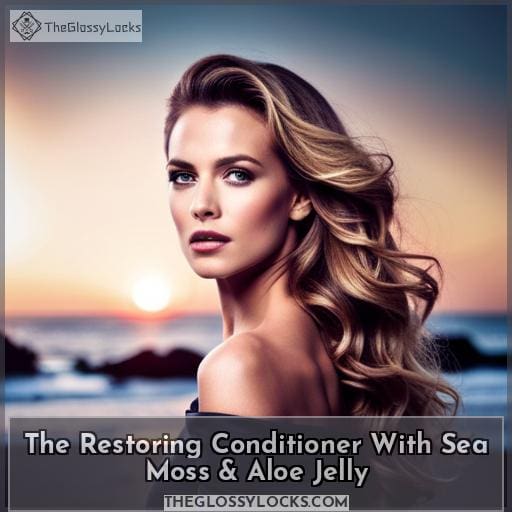 Experience the power of Sea Moss and Aloe Jelly with PATTERN's Restoring Conditioner. This leave-in conditioner provides your hair with maximum moisture, detangling benefits, and protection against UV damage.
With its key ingredient of Sea Moss, it helps bind hydration to the hair cuticle for 3C to 4C types that often struggle with hydration due to their unique shape.
Rich in antioxidants like vitamins A & E as well as essential minerals such as magnesium & potassium, this styling product will nourish your scalp while supporting overall hair health from root-to-tip!
Use it alongside shampoo or deep conditioners for an even better effect; together they provide intensive conditioning without any heaviness or stickiness.
The result? Hair that feels incredibly soft, manageable, and looks gorgeous day after day!
The Fresh Frozé Deep Conditioner With Sea Moss & Aloe Jelly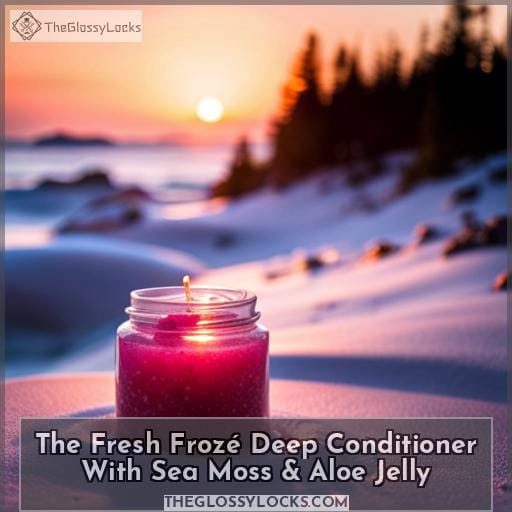 Are you looking to make your hair healthier and stronger? Consider using the Fresh Frozé Deep Conditioner with Sea Moss & Aloe Jelly. This product is part of PATTERN's Restoring Collection and offers numerous benefits for curly hair types, particularly 3C to 4C.
It provides hydration while nourishing the scalp with essential nutrients like vitamins A, E, B, calcium, magnesium, and more! Moreover, it helps protect against UV damage due to its mycosporine-like amino acids properties.
The following are some of its advantages:
Contains fatty acids that promote hair growth.
Hydrates the scalp, reducing breakage and split ends.
Offers protection from sun exposure through antioxidants.
Stimulates follicles, which help increase length retention.
This conditioner can be used alone or as part of a full collection for maximum results in restoring damaged curls back to life! With regular use, this product will help keep your natural curl pattern healthy by providing moisture without heaviness or buildup, so you can achieve beautiful bouncy curls that last all day long.
The Restoring Styling Cream With Sea Moss & Aloe Jelly

Indulge in the luxurious power of PATTERN's Restoring Styling Cream to restore and define your curls while deeply nourishing them with Sea Moss & Aloe Jelly. This cream is formulated without sulfates, lightweight oils, or other harsh ingredients that can strip moisture from hair.
Instead, it utilizes a unique combination of Sea Moss and Aloe Jelly to provide natural hydration and curl definition.
Plus, its antioxidant-rich formula helps protect against UV damage caused by environmental aggressors like pollution or heat styling tools.
Use this creamy styler as part of the complete PATTERN collection for maximum benefits. This includes improved scalp health, reduced frizziness, and better moisture absorption. It's perfect for 3C – 4C hair types, which often struggle with hydration due to their curly shape.
So what are you waiting for? Get ready to experience beautiful tresses powered by nature!
Incorporating Sea Moss in Hair Products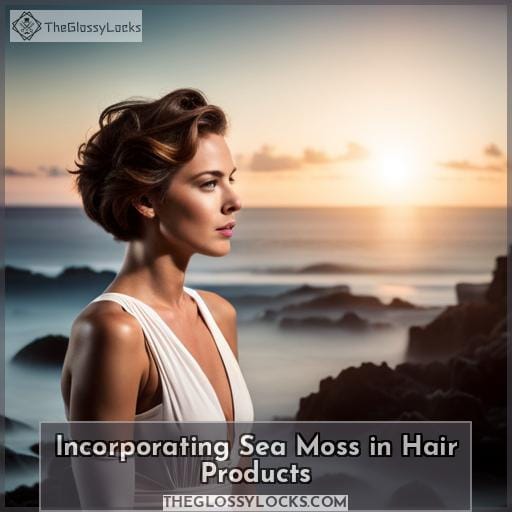 Discover the wonders of Sea Moss in hair products like PATTERN Detangling Nectar for deep hydration and a nourished scalp.
It contains antioxidants, vitamins A, C, E, and K, plus minerals such as iron and zinc.
Sea Moss is known to stimulate hair follicles, promoting natural growth.
Its anti-inflammatory properties reduce breakage and split ends while protecting against UV damage with mycosporine-like amino acids.
Fatty acids help increase moisture retention, leading to less frizziness over time.
Plus, it's packed with essential vitamins and minerals that provide overall scalp health!
With all these advantages, Sea Moss is now part of many haircare beauty trends that have shifted from synthetic chemicals towards more natural ingredients found in nature – like this superfood! Studies suggest that using products containing Sea Moss can maximize restoration for all types of curly hair textures while providing lasting protection against environmental damage throughout the day, giving you healthier-looking locks full of life – no matter what your curl pattern may be!
How to Add Sea Moss Benefits to Your Hair Care Routine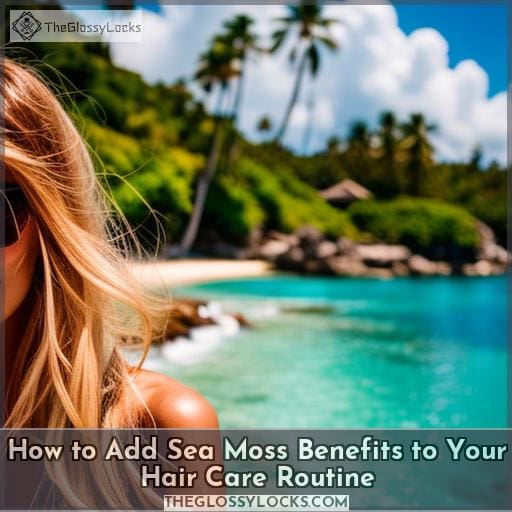 You may have heard about the many benefits of Sea Moss for hair growth, scalp health, and hydrated hair. This superfood is gaining popularity in nutrition and beauty due to its numerous vitamins, minerals, fatty acids, and antioxidants that can support overall hair health.
Sea Moss as a Hair Growth Booster
Boost your hair's growth with Sea Moss, packed full of essential vitamins and minerals. Nourish the scalp to promote healthy follicles and enjoy hydration and UV protection too! Sea Moss benefits include strengthening strands, improving elasticity, reducing breakage—all while adding shine! Get creative by adding it to DIY masks or look for specialized products like PATTERN Detangling Nectar.
Keep curls looking their best with this superfood known for its incredible results.
Sea Moss for Scalp Health
Unlock the key to a healthier scalp and stronger hair with sea moss! It hydrates, nourishes, and protects. Scalp health is supported by its antioxidant protection from UV damage. Essential vitamins and minerals stimulate hair growth for a renewed look.
Nourish the scalp with essential vitamins & minerals
Antioxidant protection from UV damage
Hair hydration & stimulation of growth
Mycosporine-like amino acids protect in all weather conditions
Sea Moss for Hydrated Hair
Replenish your ringlets with moisturizing Sea Moss for shiny, strong hair. Its benefits include hydration, detangling, and improved scalp health. Use Sea Moss products specifically designed for natural hair care to reap its full potential—hydrated curls last longer and look vibrant! Incorporate these nourishing ingredients into your routine for healthy-looking locks that stay protected against UV damage.
Conclusion
Sea Moss has been gaining popularity in the beauty industry for its amazing benefits for hair. It's packed with fatty acids and folic acids that help speed up hair growth. Additionally, Sea Moss provides UV damage prevention and hydration, making it an incredible ingredient for improving the health and appearance of your hair.
Incorporating Sea Moss products like PATTERN's Detangling Nectar into your hair care routine can help you achieve healthier, shinier, and more defined curls. Sea Moss is a superfood for your hair, thanks to its rich supply of vitamins, minerals, and antioxidants.
It provides the hydration and nourishment your hair needs to look and feel its best.
If you're ready to boost your hair growth and hydration, Sea Moss is the perfect ingredient to add to your hair care routine.