This site is supported by our readers. We may earn a commission, at no cost to you, if you purchase through links.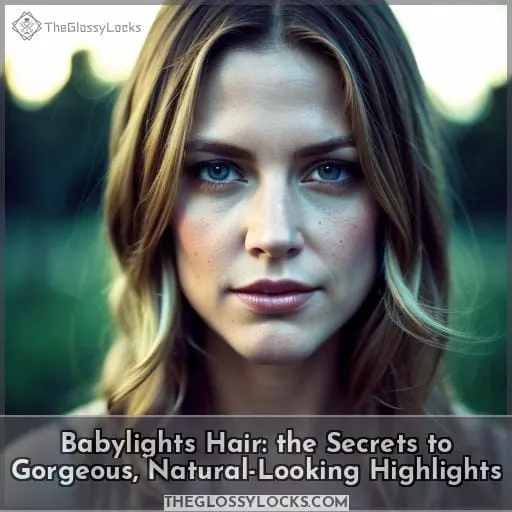 Tired of traditional highlights that leave your hair looking one-dimensional? Babylights are the perfect way to get a natural, subtle look with some added dimension. In fact, over 71% of people have reported being satisfied with their babylights results! These delicate highlights can be applied to any hair color or texture and provide an effortless beauty boost for anyone looking for something new.
Whether you're hoping to add warmth or depth, babylights offer beautiful results without the commitment of all-over dye jobs.
Key Takeaways
Babylights offer natural-looking highlights for added dimension.
They are suitable for all hair colors and textures.
Babylights require salon expertise for the best results.
Maintenance includes bond-building treatments and the use of color-safe products.
What Are Babylights and Why Are They Popular?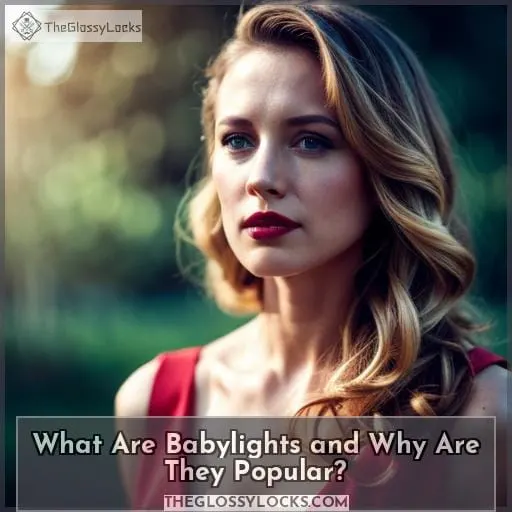 You can achieve a sun-kissed, natural look with Babylights – finely-woven highlights that mimic your own hair color – for an elevated style perfect for all hair colors and lengths. By using thin foils in a super fine weave pattern to create a blended appearance rather than intentional highlights, you'll get subtle results worth the time and cost.
They're ideal for adding dimension to fine or thinning hair as well as creating celeb-inspired looks without the damage of traditional highlighting techniques like balayage. Choosing tones closest to your natural shade will help preserve length while styling tips like alternating Majirel Highlift and Platinium provide multidimensional color when glossing with DIA Light offers bespoke finishing touches.
To maintain these babylights at home, use Blondifier Cool Shampoo from Serie Expert's Blondifier Range which enhances blonde hues alongside keeping up regular treatments such as bond building products plus purple shampoo washes every few weeks on top of caring weekly routines outlined in a maintenance schedule tailored just for you!
With knowledge comes confidence, so follow this guide before taking those first steps into getting the most out of your new hairstyle!
How Are Babylights Different From Other Hair Techniques?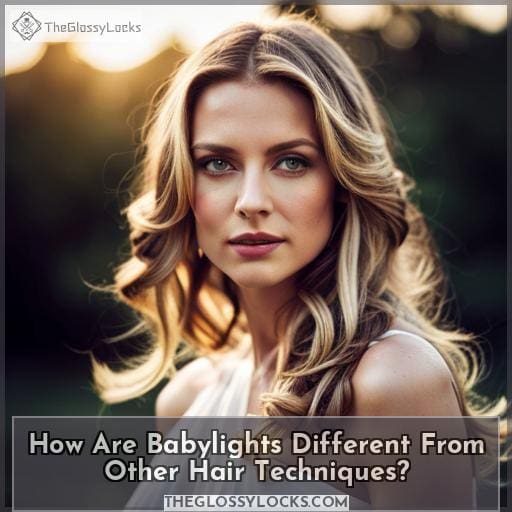 You've heard of those subtle highlights that make your 'do look oh-so natural, but have you ever wondered how they differ from other hair techniques? When it comes to Babylights vs Balayage, the main difference lies in the method used.
Foils are utilized with babylights for a thinner highlight, whereas balayage is painted onto and processed in open air.
Hair coloring trends often draw inspiration from traditional highlights. However, babylights take highlighting to another level by creating finer, more delicate strands, adding depth and thickness without any dramatic changes or damage.
Highlight placement also varies across different lightening methods, such as strand lightening, which has become increasingly popular over time due to its ability to create a bespoke finish not achievable through foiling or balayage alone! For those looking for an elevated look that won't damage their locks while allowing them to maintain effortless upkeep, babylight application may be just what you need!
Who Can Benefit From Babylights?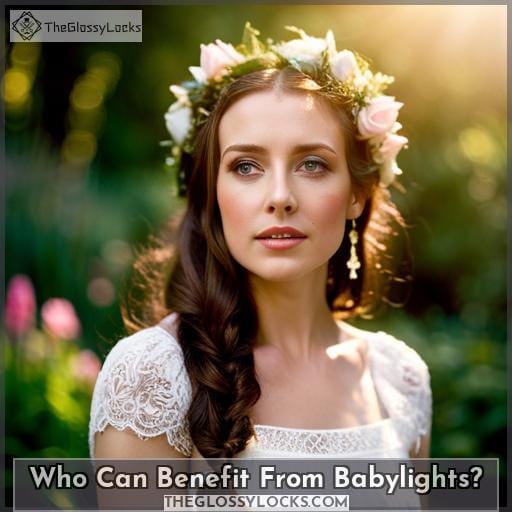 Are you looking for a subtle, sun-kissed hair look that won't damage your delicate locks? Babylights could be the perfect hair technique for you! With their thin and finely woven highlights, babylights can create warm blonde tones or blended blonde hues on fine hair.
Natural babylights are also great for short haircuts, while striking hairstyles with burgundy shades give an elegant wavy hairdo some extra depth.
Warm Blonde Babylights for Delicate Look
Experimenting with warm blonde hues, you can create a delicate look that's sure to turn heads. Babylights are the perfect way to achieve natural-looking hair color while still having fun.
Balayage vs babylights? For brunettes, babylights provide subtle illumination around the face and throughout the midlengths of your locks. This is achieved by using foils in a super fine weave pattern. Colorists then apply Majirel Highlift or Platinium toners to add dimension before finishing off with DIA light glosses for an extra bespoke touch.
Get ready; this is one style everyone will be after!
Blended Blonde Highlights for Fine Hair
For a subtle yet impactful look, try blending highlights into your fine hair. Creating volume with babylights and face-framing highlights can brighten locks, while root smudging techniques balance contrast.
Styling fine babylights requires precise technique to avoid over-processing color-treated hair.
Natural Babylights for Short Haircuts
If you're looking for a low-maintenance, sun-kissed look to accentuate your short haircut, babylights are the perfect choice. Create depth with color intensity and face-framing highlights; style options abound! Maintenance tips ensure soft blended hair color lasts longer.
Striking Hairstyles With Burgundy Babylights
Upgrade your hairdo with a striking contrast of burgundy babylights and be the envy of all – 'A change is as good as a rest!' Get creative with rich hair color combinations to achieve bold yet subtle styling for short hair.
Maintenance tips can help keep multidimensional blonde looking fresh, while variations on the classic look provide endless possibilities.
Elegant Wavy Hair With Blended Highlights
Transform your wavy hair with blended babylights for an elegant, sun-kissed look! Add dimension to your locks:
Start with a seamless blend between shades.
Begin highlighting at the crown and frame the face.
Create soft layers of lightness throughout strands.
Finish by styling curls in an airy updo or tousled waves! Babylights provide a delicate dimensional effect that can't be achieved any other way – enhance your natural beauty today!
How Much Do Babylights Cost and Are They Worth It?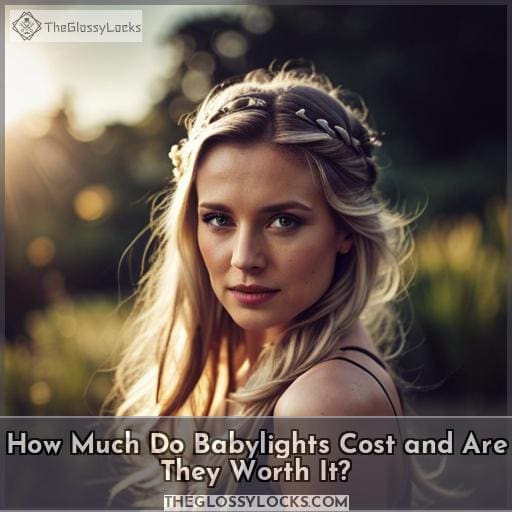 Investing in babylights is an opportunity to achieve subtle, sun-kissed highlights that create a naturally beautiful look worth the cost.
Cost Factors: Babylights can be more expensive than traditional highlighting techniques due to their intricate application process and use of multiple shades of color.
Salon Selection: Finding a hairdresser with experience in the babylight technique will ensure natural-looking results and help minimize any risks associated with DIY coloring options at home or less experienced salons.
DIY Risks: At-home methods may not provide consistent coverage across all strands, resulting in uneven tones or splotchy colors that require additional visits for corrective work, which adds on costs exponentially over time compared to professional services' upfront fees per appointment visit.
Maintenance Expenses: Aftercare products like bond builders, purple shampoos, and moisture masks are essential items needed after each session as they prevent fading, brassiness, and breakage while also helping maintain vibrancy for longer-lasting results.
Stylist Expertise: A certified hairstylist should have expertise and knowledge on how much lightening and toning needs to be done, along with what oxidant levels are used based on your desired result goals ahead of starting out.
How Do Hairdressers Create Babylights?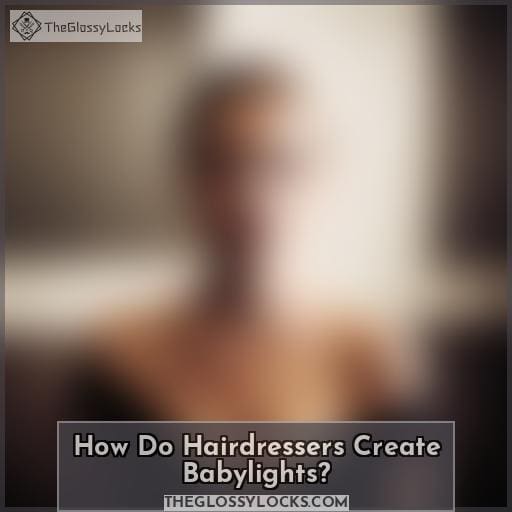 Unlock the beauty of finely-woven highlights and embrace sun-kissed hair with a hairdresser's masterful technique. Babylights are created through careful placement, color selection, foiling process, gradual tonal shift, and styling accentuation.
A hairstylist will begin by sectioning off the hair to assess where they can best place the babylight strands for an even distribution throughout your locks. Then they will choose a shade that complements your natural base color but still stands out subtly when light hits it – usually one or two shades lighter or darker than your starting hue, depending on the desired effect.
Once this decision has been made, each individual strand is carefully placed into foil before being saturated with dye to create maximum shine and impact without looking too obvious or unnatural once finished.
With all that taken care of, all that's left now is for them to give you some tips on how to maintain their work at home: always opt for color-safe products, use purple shampoo, and don't forget bond-building treatments if needed – not just aftercare shampoos!
The result? A beautiful blend between tones creating an effortless look that illuminates both natural background colors and those added through the pony lights technique, thus giving dimensionality while keeping true integrity intact – because we know how precious our tresses really are!
How to Maintain Your Babylights for Long-Lasting Results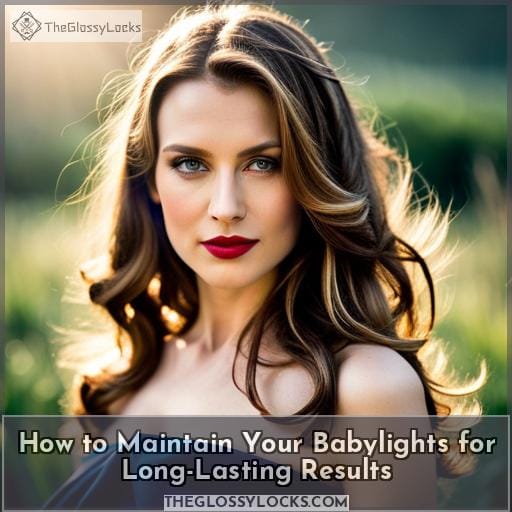 Maintaining your babylights for long-lasting results is essential. To do so, you should use color-safe products and bond-building treatments to protect the hair from damage, as well as purple shampoo to tone down any brassiness.
Using Color-Safe Products
To ensure your babylights last, make sure to use color-safe products like Blondifier Cool Shampoo to prevent fading and maintain vibrancy. Get the best shampoo recommended by professionals for optimal color protection and glossiness of sun-kissed virgin hair.
DIY dyeing is not an option when it comes to babylights hair; professional recommendations are a must! Maintain natural beauty with quality products that can keep up with the longevity of your look – no need for touch-ups due to premature fading or dullness.
Bond-Building Treatments
Reap the benefits of your babylights with bond-building treatments to strengthen and protect fragile lightened hair. Products specifically designed for highlighted hair contain ingredients that help reconstruct bonds in strands damaged by bleaching or dyeing.
The effectiveness of these treatments is improved when applied correctly. The frequency of application depends on how often you shampoo and style your locks.
Techniques for bond-building treatments range from DIY at home to professional salon services. However, the importance lies in the quality of the product used as well as its application process. After a DIY dye job or even fresh babylights color, hair health should be the top priority.
Purple Shampoo for Toning
Keep your babylights looking fresh and bright with a weekly purple shampoo to tone down brassiness. Toning benefits are endless; from color correction to lightening the overall background color of micro highlights.
To get the most out of this method, select a sulfate-free purple shampoo that's designed for blonde hair specifically – avoid any myths about them being drying! If you don't want to use purple shampoos, other alternative toning methods such as using glosses or masques can be used instead.
With proper care and maintenance, you'll be able to enjoy natural grow-out beauty, which will highlight your thin weave pattern even more!
Recommended Home Care Routine for Babylights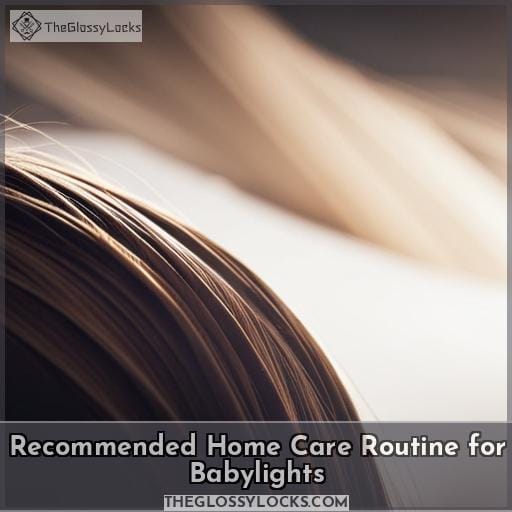 Maintaining your babylights for long-lasting results doesn't have to be a daunting task. With the right home care routine, you can keep your hair looking salon-fresh and glossy. The Blondifier Cool Shampoo is perfect for maintaining vibrant color, while the Serie Expert Blondifier Range helps enhance blonde locks further.
Blondifier Cool Shampoo for Maintenance
The perfect way to maintain your gorgeous Babylights? Blondifier Cool Shampoo – ironic, right? This professional salon hair care product is designed specifically for maintaining and preserving the look of partial foil applications or multicolor gloss applications.
Here are three major benefits you can get from using this shampoo:
Toning techniques that prevent brassiness in blonde hair.
Maintaining color vibrancy while preventing fading.
Post-color haircare for an elevated appearance with lasting results!
Its purple pigments tone down yellow hues without impacting your natural highlights or overall base color, letting you enjoy a cool shade of blonde all year round! Use it as part of your regular haircare routine and keep those Babylights looking beautiful every day!
Serie Expert Blondifier Range for Enhancing Blonde Hair
Embrace your blonde locks with L'Oréal Professionnel's Serie Expert Blondifier Range to enhance and maintain the vibrancy of babylights. The range offers a variety of toning techniques that help retain color intensity, while also protecting hair against external aggressors.
Strengthen your hair with their special haircare tips. These tips can be used to define haircut shape, create visual contrast, and stay ahead in today's ever-evolving hair-color trends. This modernized approach towards maintaining fine highlights helps you keep up with all the latest beauty looks without straining or damaging your strands by using traditional methods like bleach or highlighting comb applicators.
Accentuate each strand for an effortless transition from natural tones into subtle yet defined blonde hues through its advanced color enhancement technology developed especially for blondes!
Conclusion
Babylights hair is the perfect way to achieve a natural look with subtle sun-kissed highlights. It adds thickness, depth, and movement to your hair, like a warm summer breeze. Babylights use a delicate technique that's thinner than traditional highlights, enhancing your hair without sacrificing its health.
Although the cost of babylights may be higher than other techniques, the long-lasting and natural results are worth it. With the right products, maintenance routine, and expert touch, you can keep your babylights beautiful for years to come.
So, if you're looking to add a touch of sunshine to your hair, babylights hair is the perfect choice.