This site is supported by our readers. We may earn a commission, at no cost to you, if you purchase through links.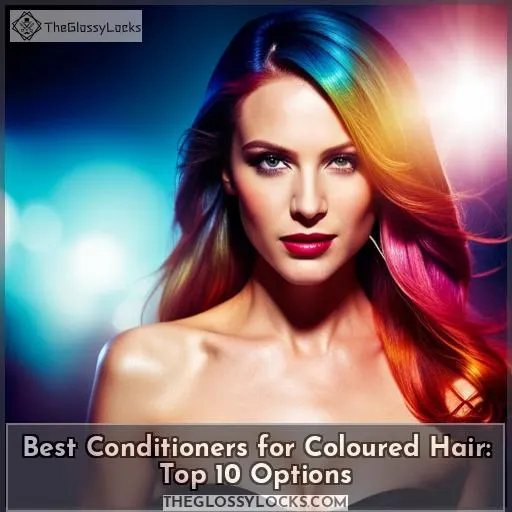 If you're looking to keep your hair color vibrant and healthy for longer, then you'll need the best conditioners for colored hair. From repairing damaged strands and promoting growth to strengthening weakened locks, there's a product here that suits everyone – even those with sensitive skin or heavily bleached manes.
To help narrow down your selection, we've rounded up our top 10 picks so that you can select a color-depositing conditioner tailored specifically to meet all of your needs. Whether it's hydration, UV protection, or long-lasting shine – each pick has been carefully selected based on their active ingredients and ability to enhance color retention.
Along the way, we also offer expert recommendations from beauty professionals. So if you're ready to find out which products will give life back into your colored tresses, read on!
Key Takeaways
Nourishing, sulfate-free conditioners are beneficial for vibrant, healthy colored hair.
Color-protecting conditioners with UV protection can help preserve the vibrancy of colored hair.
Natural ingredients like rosemary, argan oil, and shea butter are effective in maintaining colored hair.
Color-depositing conditioners can neutralize brassiness and preserve the color of colored hair.
Top 10 Best Conditioners for Coloured Hair
Are you searching for the best conditioners to maintain and protect your colored hair? From Virtue Recovery Shampoo Conditioner, L'Oreal Paris EverPure Color Treated Hair Shampoo Conditioner, UNITE Hair 7SECONDS Shampoo, Hask Rose Oil Peach Set, Monday Haircare set, all the way to Redken Color Extend Magnetics; Loma's Moisturizing Duo and SACHAJUAN Color Protect shampoo, this guide will provide a comprehensive overview of the top 10 conditioners for colored hair.
1. Virtue Recovery Shampoo Conditioner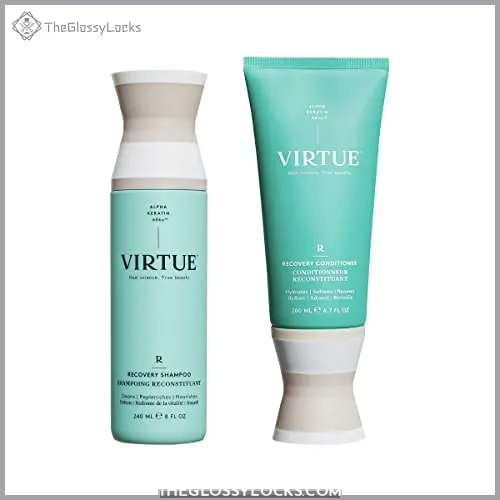 View On Amazon
If you're looking for a gentle shampoo and conditioner to nourish and restore your colored hair, Virtue Recovery Shampoo Conditioner is an excellent choice. 97% of customers reported improved manageability after using this cruelty-free, sulfate-free duo.
It contains natural ingredients like aloe vera extract, sunflower seed oil, and a pro vitamin B5 complex to replenish moisture and add shine without weighing down the hair.
Its light lather gently cleanses while providing superior hydration that lasts all day long.
Free from sulfates, parabens, phthalates & synthetic dyes
Contains nourishing ingredients like shea butter & coconut oil
Lightweight lather gently cleanses for superior hydration
Cruelty-free formula ensures no animal testing has been done
Some customers have complained about its smell
Not suitable for those with sensitive scalps as it may cause irritation
2. Loreal Paris EverPure Color Treated Hair Shampoo Conditioner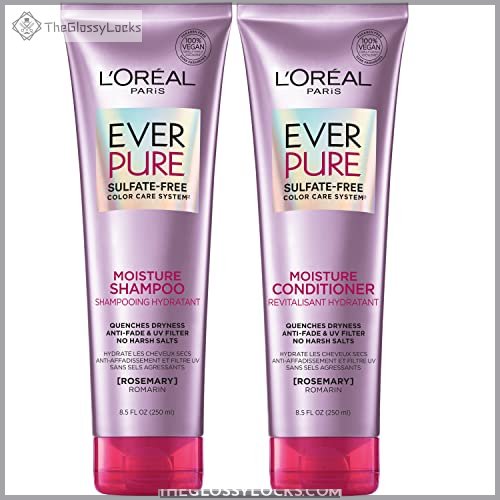 View On Amazon
Experience the power of L'Oréal Paris EverPure Color Treated Hair Shampoo and Conditioner to keep your color vibrant for up to four weeks without any weigh down. This sulfate-free duo is enriched with rosemary, giving a delicately scented experience and intense hydration while protecting hair from fading.
It's part of L'Oréal's Ever Collection which offers a range of treatments tailored specifically for colored hair needs.
The shampoo has been praised by users for its performance on dry, damaged tresses. It provides deep nourishment without weighing it down or leaving behind residue that can dull colors over time.
The conditioner also provides light moisture that doesn't leave an oily feel while promoting luminous shine throughout the day.
Thanks to its small bottle size and low lather formula, this set is ideal even in humid climates where other products may not perform as well.
Deeply replenishes dry hair with moisture & softness
Color protection keeps vibrancy intact up to 4 weeks
Sulfate-free formula suitable even in humid climates
Costly compared to salon brands
Amazon shipping packaging issues reported
3. UNITE Hair 7SECONDS Shampoo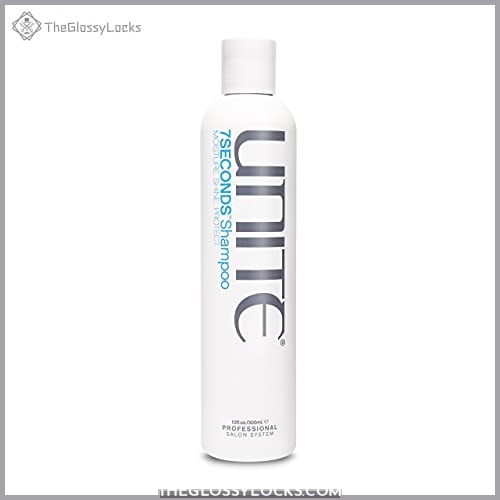 View On Amazon
UNITE Hair 7SECONDS Shampoo is a daily-use shampoo designed to add weightless moisture and shine, lock in color, and protect against thermal and UV damage. This sulfate-free formula contains no parabens or phthalates, making it safe for all hair types, including extensions or chemically treated hair.
Adds weightless moisture and shine
Locks in and protects color
Provides thermal and UV protection
Sulfate-free formula
No lather when using a small amount
Can strip away natural oils of some users
Fragrance may not be pleasant for everyone
4. Hask Rose Oil Peach Shampoo Conditioner Set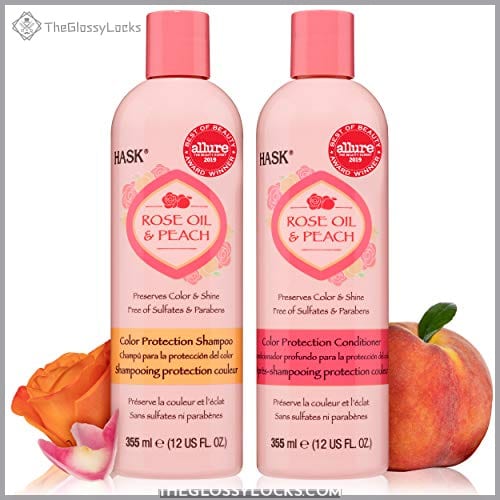 View On Amazon
Discover the benefits of Hask Rose Oil Peach Shampoo Conditioner Set – a gentle, Argan oil-infused duo designed to revive and restore dry, damaged hair. This shampoo and conditioner set is free from sulfates, parabens, phthalates, gluten, and drying alcohols.
It infuses your locks with nourishing ingredients like Shea butter and coconut oil instead.
Not only that, but this product is also certified cruelty-free by PETA. It is 100% recyclable for an environmentally friendly solution! It lathers up nicely without leaving any residue behind while helping to reduce frizziness in the hair shaft.
Hair will be left feeling soft yet strong enough to withstand breakage or damage caused by heat tools or styling products used on color-treated hair.
Its light mango/tropical scent leaves you feeling fresh after each use too!
Free from harsh chemicals such as sulfates & phthalates
Nourishes & hydrates with natural ingredients
Cruelty-free & eco-friendly packaging
Light refreshing scent
Expensive compared to other brands available
Scent may not appeal to everyone's preferences
5. Monday Haircare Shampoo Conditioner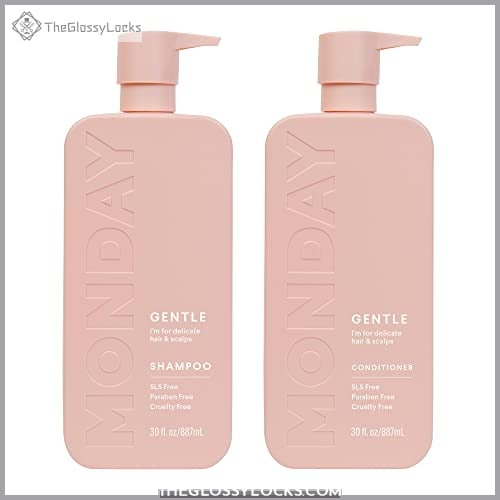 View On Amazon
Transform your colored hair with Monday Haircare Shampoo & Conditioner, a gentle yet powerful duo that nourishes and protects it without weighing it down. This sulfate-free formula is made from natural ingredients such as shea butter and coconut oil to help soothe the scalp while providing intense hydration for dry locks.
Its award-winning formulation has been recognized by 11+ beauty awards including Cosmopolitan 2021 Holy Grail Beauty Award, Glamour 2021 Beauty Award, InStyle 2022 Best Beauty Buy Award, and more – plus its cruelty-free credentials have earned PETA recognition! The product comes in 100% recyclable bottles too to reduce carbon footprint and landfill waste.
The shampoo's light lather helps cleanse away dirt without stripping away essential oils or color pigments from dyed hair – leaving behind softness instead of residue buildup! Meanwhile, the conditioner seals in moisture while also fortifying strands against split ends caused by daily exposure to heat styling tools or UV rays – all thanks to its amino acids complex which works together with other natural ingredients like Vitamin E for optimal results.
Plus, you don't need much; just a small amount is enough as this product goes quite far due to its concentrated formula!
Sulfate-free
Natural Ingredients
Cruelty-Free
Recyclable packaging
Lightweight lather
Amino acids complex
Fortifies against split ends
Pricey compared to some alternatives
6. Redken Color Extend Magnetics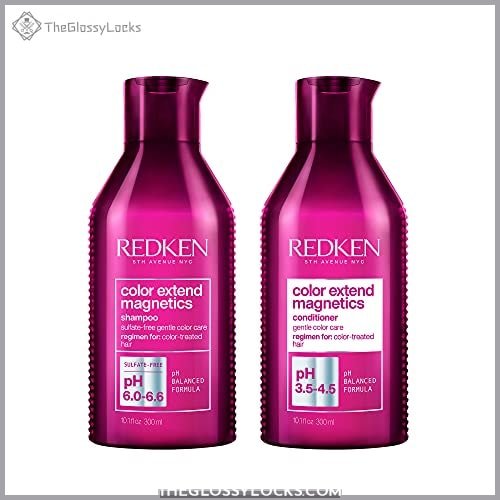 View On Amazon
Redken Color Extend Magnetics is a professional-grade product designed to keep your hair color vibrant and true between salon visits, with its amino-ions locking in the hue while providing softness and shine.
This sulfate-free formula is perfect for sensitive scalps, humid conditions, and all types of colored hair. Its small bottle size requires less product than other shampoo formulas for effective cleaning without feeling weighed down or greasy afterwards.
Your locks will stay looking healthy thanks to improved elasticity that prevents breakage and keeps it from drying out quickly – leaving you with beautiful softness and luminous shine!
Strengthens hair fibers & locks in color
Amino ions enhance vibrancy of colors
Suitable for all types of colored hair
Requires less product per use
Formulated specifically for sensitive scalps & humid climates
Expensive compared to other brands
Scent may not be preferred by some users
Not suitable as a daily wash
7. Loma Hair Moisturizing Duo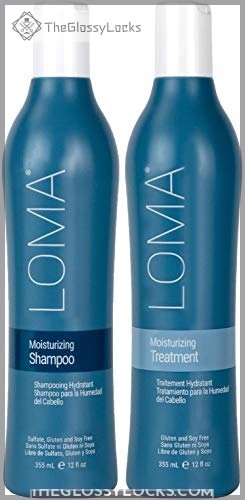 View On Amazon
Try Loma Hair Moisturizing Duo to keep your colored hair moisturized, soft, and shiny. This shampoo and conditioner set is all-natural with ingredients like shea butter and coconut oil that'll nourish your hair without stripping away its color.
The mango/tropical scent of the shampoo combined with the gentle orange-vanilla scent of the conditioner make this duo an enjoyable experience while providing effective results.
It's suitable for various types of hair, including thick or curly locks, as well as dyed strands – perfect for those who use heat products on their tresses! Not only does it provide moisture, but it also helps reduce frizziness, so you can rock any hairstyle confidently throughout dry seasons.
This product has been highly recommended by users who've praised its ability to improve shine, texture, and repair split ends. It also addresses issues such as chemical burns on the scalp due to coloring treatments from hairdressers or home remedies gone wrong! Furthermore, salon professionals have given two thumbs up in terms of performance, making it worth every penny spent, although customers may be put off by some leakage during shipping, which could potentially affect fragrance quality if not handled properly upon delivery.
Color protectant
Reduces frizz
Suitable for various hair types (thick, fine & curly)
Keeps hair moisturized
All-natural ingredients
Ideal for dry seasons
Recommended for individuals with colored hair
Effectively addresses dry scalp problems and damaged hair
Leaves hair extremely soft, smooth, and shiny
Shipping may result in fragrances being affected by leakage
Small bottle size might not last long
Expensive compared to other products
8. SACHAJUAN Colour Protect Shampoo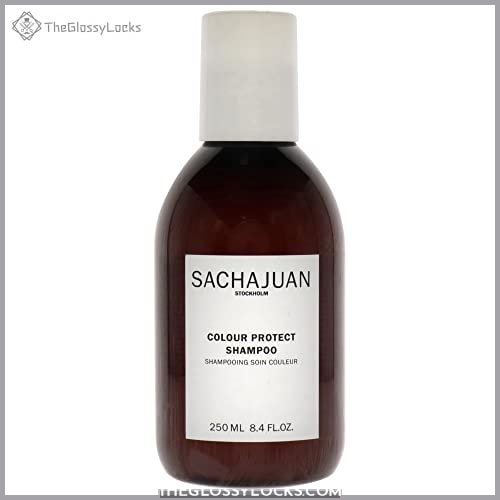 View On Amazon
SACHAJUAN Colour Protect Shampoo hydrates and cleanses, improving elasticity while helping to preserve color. This liquid shampoo is specifically designed for color-treated hair, free from sulfates, parabens, phthalates, and drying alcohols.
It adds weightless moisture and shine while providing thermal and UV protection – ideal for those with extensions or chemically treated hair.
With a light mango/tropical scent in the shampoo plus gentle orange-vanilla in the conditioner, it's no wonder users have praised this product so highly! They love its ability to detangle without leaving any greasy residue behind, as well as how soft their locks feel afterwards.
Nourishing ingredients like shea butter & coconut oil
Sulfate-, paraben-, phthalate-, gluten-free formula
Cruelty-free & certified by PETA – 100% recyclable bottles
Light lather perfect for sensitive scalps & humid conditions
Leaves hair soft & shiny with luminous shine
Some dissatisfaction with scent – may be too strong or sweet-smelling
Difficult lathering; some users dilute concentrated shampoo before use
Complaints of leakage during shipping which can cause wastage
9. VERB Ghost Conditioner
View On Amazon
For a stronger, smoother mane that won't weigh you down, VERB Ghost Conditioner is the perfect choice. This strengthening conditioner from Verb's Ghost collection protects and strengthens fine hair while softening and detangling for maximum manageability.
Infused with Moringa Oil to smooth frizz and nourish strands, plus Sunflower Seed Extract for sun protection, as well as Green Tea Extract for antioxidant benefits, Jojoba Seed Oil helps to seal in moisture without weighing hair down.
The paraben-free, gluten-free, sulfate-free formula makes it safe even on color-treated or keratin-treated locks while being vegan-friendly too!
Best used after the Verb Ghost shampoo, followed by their Ghost oil if needed, this conditioning treatment can help your tresses look glossy and radiant all day long!
Strengthens & Protects Fine Hair
Softens & Detangles Hair
Contains Nourishing Ingredients (Moringa Oil)
10. Iles Formula Conditioner Reparative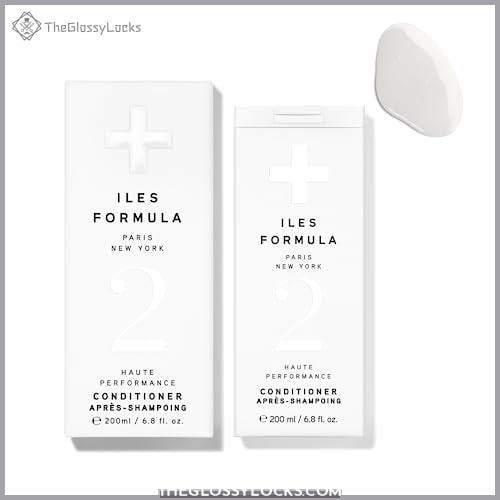 View On Amazon
Finally, for those with damaged or straw-like hair, Iles Formula Conditioner Reparative can help restore it to its former glory. This award-winning conditioning formula provides superior nourishment and protection from breakage while leaving hair soft and smooth.
It contains premium ingredients sourced sustainably such as Moringa Oil, Sunflower Seed Extract, Green Tea Extract, and Jojoba Seed Oil that help reduce frizziness and add shine to the strands. The allergen-free White Tea Flower perfume adds a light scent without being overpowering or irritating to the scalp.
Iles Formula Conditioner Reparative is suitable for all types of colored hair but may be too expensive compared to other brands like Biolage or Privana. However, multiple users have claimed that it's worth every penny spent on this product due to their positive results on shine and texture, especially for thin shoulder-length hairs that were struggling before using this conditioner! Users also noted improved split ends conditions when used in conjunction with Iles Formulas shampoo.
Transforms and repairs damaged/strawy hairs into silky softness without weighing them down
Rich in soothing nutrients which prevent breakages
Contains silk from Japan providing an immediate voluminous effect
Allergy-free white tea flower scent
Suitable for various types of colored hairs
Expensive compared to other products
Fake product warnings reported by some customers
Issues regarding packaging observed
Why Do I Need Conditioners for Color-treated Hair?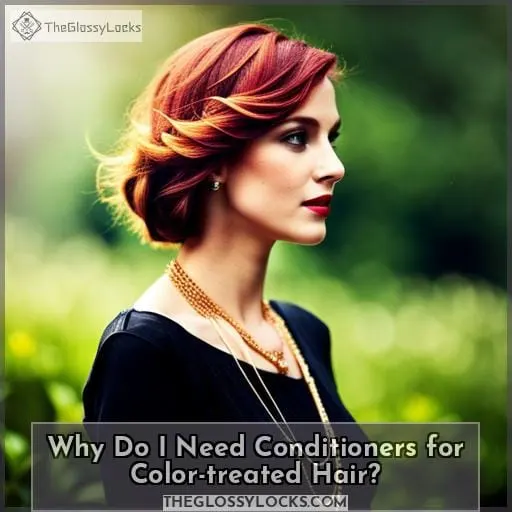 It's important to use conditioners for color-treated hair because they are specifically formulated with ingredients that help preserve and protect your new hue.
For instance, using a purple toning shampoo or conditioner can neutralize brassiness in blonde hair. Similarly, blue toning drops can cancel out orange and brassy tones in brunettes.
Conditioners designed for colored hair contain beneficial ingredients like shea butter, coconut oil, and argan oil from Morocco. These ingredients provide moisture while preventing fading of the dye molecules.
To get the best results, it is essential to apply these products correctly by following the instructions on the label. This may include instructions such as 'leave in' or 'rinse off'. Additionally, regular maintenance tips such as avoiding damaging sunlight exposure and heat styling tools should be followed.
The best conditioners should also provide improved manageability without leaving any residue behind.
Choosing the Right Conditioner for Colored Hair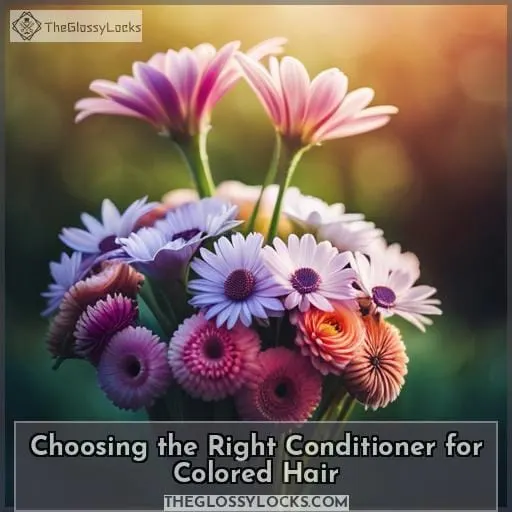 Choosing the right conditioner for colored hair is essential to protect and preserve your color. Color-depositing conditioners can help maintain vibrancy, but it's important to consider factors like hair type, scent preferences, and value for money when selecting one that's best for you.
To make sure you get the most from your purchase, always read expert recommendations and reviews before buying a color-depositing conditioner product.
Benefits of color-depositing.
You'll love how color-depositing conditioners deposit rich, vibrant tones to keep your hair looking fresh and fabulous. Color-depositing benefits include neutralizing brassiness in blondes, intensifying dark brown or black shades, camouflaging grays, and refreshing red hues.
Plus, they can help prevent fading from hard water exposure or UV rays by locking in the vibrancy of each shade while imparting a healthy shine. Customized color care has never been easier as these formulas offer tailored solutions for different needs.
For example, deep conditioning masks with natural oils strengthen colored hair fibers and protect against future damage.
With so many options available, choose the best-pigmented conditioner that meets all your coloring needs!
Considerations for hair type.
When choosing the right conditioner for colored hair, consider your unique hair type and texture to ensure it meets all of your needs. There are plenty of options available, from sulfate-free offerings that help preserve color to moisturizing formulas designed for dry strands.
Consider factors like scent preferences and value for money when making a selection. Pay close attention to scalp health if you have an underlying issue such as dandruff or sensitivity. Finding the best balance between moisture and strengthening is key. Look out for color-depositing conditioners with ingredients like shea butter or jojoba oil, which can both nourish while protecting against fading.
Expert recommendations and reviews
Discovering the perfect conditioner for your colored locks is made easier with expert advice and reviews. Professional colorists can help you find formulas that are specifically designed to protect and maintain hair color, as well as provide hydration or other benefits depending on your needs.
User experiences often reveal which products work best, while ingredient analysis helps identify potential irritants or allergens. Scent preferences should also be taken into account when making a selection, particularly if you're using it daily.
Color guard complexes in semi-permanent colors offer additional protection between salon visits too! With this information at hand, finding the right conditioner for colored hair will no longer feel like an overwhelming task!
A Buyer's Guide to Selecting the Best Conditioner for Colored Hair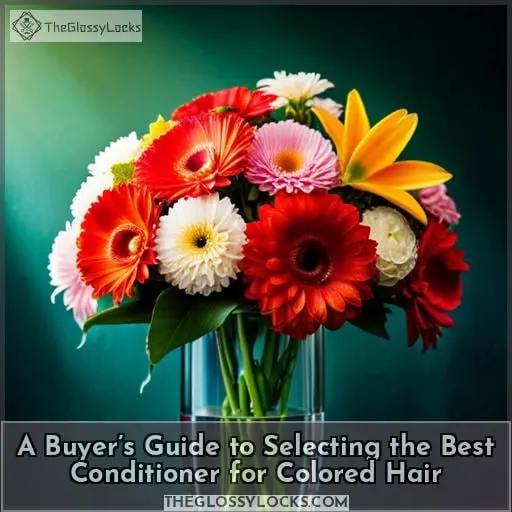 When it comes to maintaining colored hair, selecting the right conditioner is essential. There are many best color-depositing options for refreshing your hair color, such as Argan oil-infused formulas and specially formulated products for color-treated hair.
However, factors like hard water, heat styling tools, and UV rays can also impact its retention, so it's important to consider these before making a purchase decision.
Best color-depositing options
With a wide range of vibrant hues, you can easily find the perfect color-depositing conditioner to refresh your hair. Look for sulfate-free formulas that won't strip away color and lightweight leave-in conditioners that provide strengthening and UV protection benefits.
Toning drops are great for combating brassiness, while multi-purpose formulas enhance natural colors or deepen brunettes' shades.
For gray coverage, try purple-based products. Reds have quick refreshers available, and clear gloss formula will add shine without altering tone.
Factors impacting color retention
To keep your hair color vibrant, you need to understand the factors that can cause it to fade.
To prevent damage from hard water, use vitamin C-infused products or try a sulfate-free shampoo that will help protect against mineral buildup. Sunscreen is also essential for protecting hair from damaging UV rays. Look for lightweight formulas with SPF protection specifically designed for colored strands.
Additionally, using dry shampoo in between washes helps maintain vibrancy by reducing exposure to harsh cleansers like sulfates and oils, which can strip away color over time.
Tips for maintaining colored hair
Caring for colored hair doesn't have to be a chore. Sun protection is key, so when you're out and about in the sun, wear a hat! For extra protection against UV exposure, try using dry shampoo or beauty brands like BondBar's color-protecting conditioner.
To keep your curls frizz-free and looking their best, deep conditioning once per week will help hydrate them while adding shine.
What to Look for in a Color-Depositing Conditioner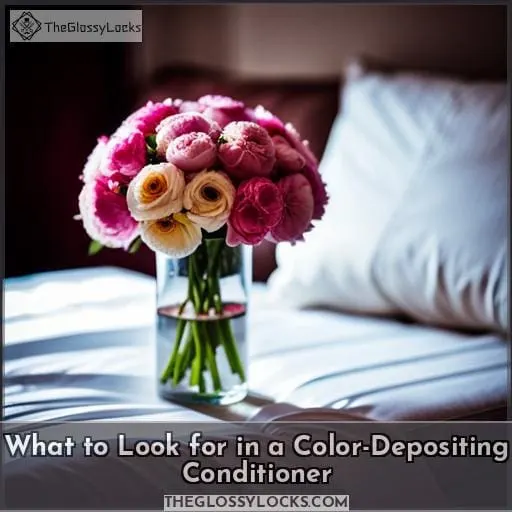 When it comes to finding the best color-depositing conditioner for your colored hair, there are several factors you need to consider. First, consider the specific benefits that a color depositing conditioner can offer in regards to preserving and enhancing your hair's hue.
Next, take into account your own unique hair type when selecting from different formulas available on the market today; products designed for dry or damaged types tend to work better than those intended solely as refreshers.
Additionally, seek out expert opinions and recommendations from stylists who specialize in coloring techniques and products they trust most highly.
As far as maintaining vibrant colors goes, be sure to avoid sulfates which can strip away tones quickly; opt instead for specially formulated shampoos made specifically with colored tresses in mind!
Also, keep an eye out for certain ingredients like buriti oil or shea butter which provide added nourishment while also conditioning strands effectively without weighing them down too much – perfect if you have fine hairs at risk of breakage!
Lastly, don't forget regular deep conditioning treatments such as masks or leave-in oils along with protection against damaging UV rays via hats/sunscreen during outdoor activities.
Conclusion
Choosing the best conditioners for colored hair can be a daunting task. With so many options available, it's important to consider your hair type, color-depositing benefits, ingredients, price, and reviews when selecting the right product.
Sulfate-free and color-depositing conditioners can help extend the shelf life of hair color, while regular maintenance with hats and hair sunscreen can protect against damaging UV rays. Consider using a deep conditioner or leave-in treatment once a week, and avoid products with sulfates, heavy oils, alcohol, and conflicting pH levels.
Ultimately, the best conditioners for colored hair in 2023 are those that meet your needs, provide value for money, and leave your hair feeling soft and looking vibrant.