This site is supported by our readers. We may earn a commission, at no cost to you, if you purchase through links.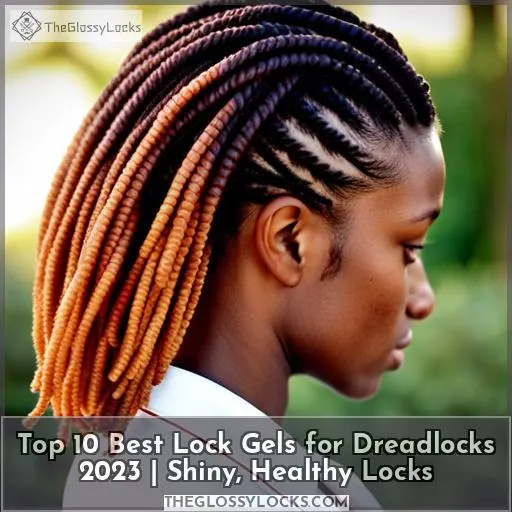 You're searching for the perfect product to lock in those dreads and keep them looking gorgeous. Look no further! We've put together a detailed guide on the best locking gels for dreadlocks of 2023, so you can achieve shiny, healthy locks that last all day long.
From Style Factor Lock Booster Twist Grip Styling Solution to Bronner Brothers Tropical Roots Firm Locking Gel 6 Fl Oz, we'll help you find just what you need with our comprehensive list and tips on how to pick out your ideal gel.
Let us take away the guesswork and show you exactly why using a good loc-and-twist gel is worth it. It makes styling easier than ever before and keeps your hair protected from damage.
Key Takeaways
Taliah Waajid gel: nourishes, lightly scents, no flaking/buildup, affordable, lacks tight hold
Dr Naturals gel: provides firm hold, no stiffness/grease, grips better, relieves dryness/itching
AllDay Locks gel: defines, grips locs, no residue, sleek look, relieves dryness/itching, works as edge control
Ors gel: nourishes, lightweight, no flaking/buildup, stimulates growth, relieves itchiness
Top 10 Best Lock Gels for Dreadlocks
Finding the right lock gel for dreadlocks can be challenging. We've compiled a list of the top 10 gels, including Style Factor Lock Booster Twist Grip Styling Solution, Jamaican Mango Lime Locking Firm Hair Wax Extra Hold Beeswax Honey, Lion Locs Moisturizer for Locks, and more to simplify your decision-making process.
These products contain natural ingredients like oils and butters that nourish hair without causing damage or leaving behind residue.
Style Factor Lock Booster Twist Grip Styling Solution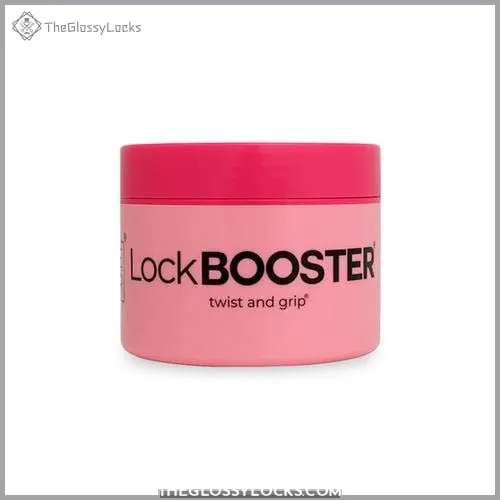 View On Amazon
For a styling solution that offers maximum hold and shine without flaking or buildup, try Style Factor Lock Booster Twist Grip Styling Solution. Rub a small amount onto your hands before styling to calm flyaways and deliver silky shine for flawless braids, twists, and locs that stay in place.
Controls frizz and flyaways
Hydrates hair
No flaking or residue
Long-lasting hold
Three formulas for different needs
Avoid eye contact
Keep out of children's reach
Could cause irritation
Jamaican Mango Lime Locking Firm Hair Wax Extra Hold Beeswax Honey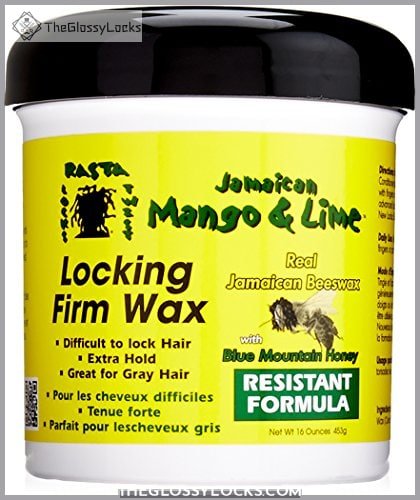 View On Amazon
You'll love how this Jamaican Mango Lime wax keeps your hair moisturized and smelling great while controlling flyaways, even if it doesn't provide the tightest hold. Formulated with real Jamaican beeswax and blue mountain honey, the mango-scented locking wax has a nice texture that penetrates dreadlocks well without leaving residue or flaking.
The 16 oz tub provides extra firm hold and resistant formula ideal for keeping gray hair styles fresh. Plus, the natural ingredients strengthen hair over time. The wax formula lacks enough hold for some tight loc styles, though it still promotes healthy hair growth.
Moisturizes hair
Mango scent
Controls flyaways on gray hair
Leaves no residue
Penetrates dreadlocks well
Lacks tight hold for some loc styles
Primarily moisturizes rather than locking
Lion Locs Moisturizer for Locks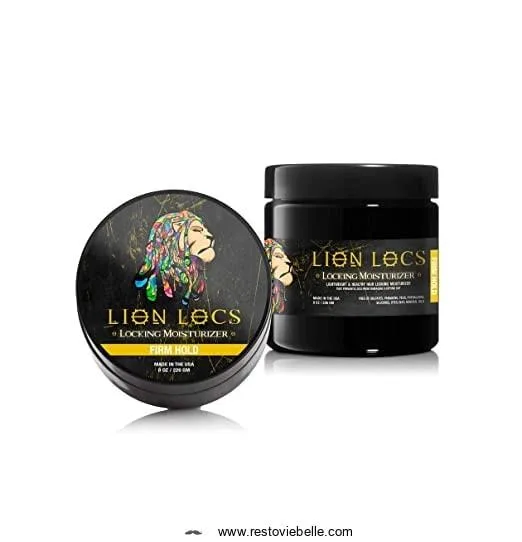 View On Amazon
Lion Locs Moisturizer provides a firm yet flexible hold for your locs, braids, and curls while controlling frizz and flyaways without leaving hair stiff or greasy. Among gels for maintaining locs, it has one of the highest user recommendation rates at 96%.
An organic, sulfate-free styling gel, FIRM HOLD TWIST LOC GEL gives locs, braids, and curls a lasting yet flexible grip. The lightweight formula tames frizz and flyaways without greasiness or flaking. It leaves no residue, smells great, needs only a small amount, and holds styles for weeks.
Organic ingredients, no sulfates
Lightweight, non-greasy formula
Long hold, up to weeks
Great for many hair types
Pleasant scent
A bit pricey but worth it
May not work for extremely coarse or resistant hair
Taliah Waajid Black Earth Lock It Up Tight Hold Six Ounce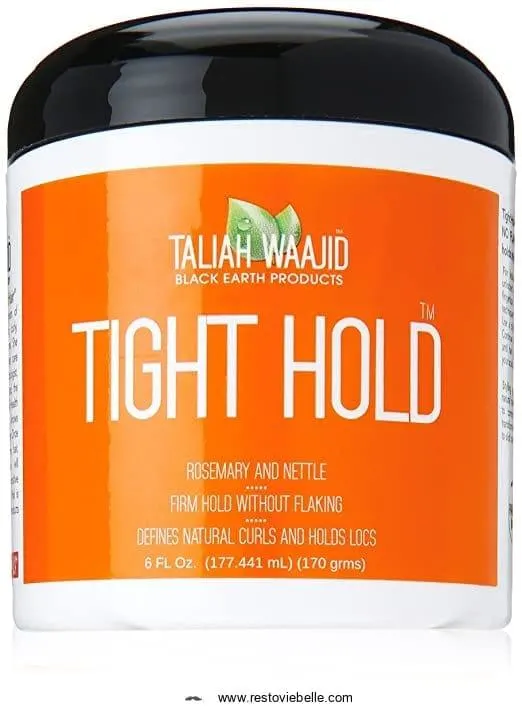 View On Amazon
Experience a semi-firm hold and subtle shine with Taliah Waajid's Black Earth Lock It Up Tight Hold, ideal for locking, twisting and styling gray hair. This discontinued gel helps style while nourishing and lightly perfuming locks, twists or color-treated hair.
Its gelatinous consistency doesn't flake or build up – leaving behind a pleasant scent that lasts long after application.
Reviewers love this product as it eliminates dryness while giving their dreadlocks moisture to stay healthy without itchiness – all at an affordable price! Unfortunately some note that it lacks an extremely tight hold for locs but its juicy look on twists and curls are still highly favored by many customers looking to define their natural curl patterns better.
Lightweight formula conditions & controls frizz/flyaways
Pleasant smell & no residue left behind
Affordable price point
Softens as dries – touchable styles
Lacks an extra strong grip on locks
Potentially lead exposed container reported
RACosmetics Dr Naturals Superior Locking Gel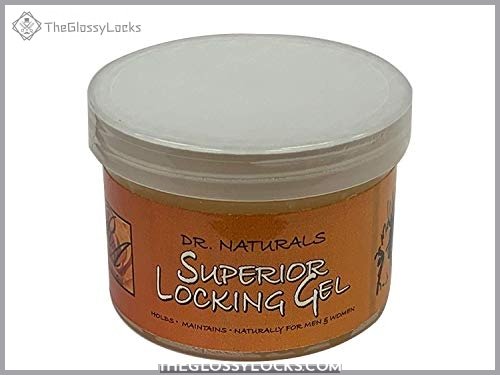 View On Amazon
Discover the power of RA Cosmetics' Superior Locking Gel, which keeps your locs tightly in place with its firm hold without leaving hair feeling hard or dry. This 8 oz gel provides a great styling solution for retwisting and maintaining locs.
The thick, firm-hold formula controls frizz and flyaways for days without flaking, stiffness, or greasiness. It also penetrates and grips dreads better than many alternatives. Customers highly recommend this long-lasting gel that promotes well-defined, neat locs without dryness or itchiness.
Firm hold without stiffness
Long-lasting grip
No flaking or greasiness
Softens locs as it dries
Defines and maintains locs
Relieves dryness and itchiness
Smaller container size
Not as thick as some gels
Scent may not suit everyone
Stylin Dredz Moulding Gel Wax Twist Lock Maximum Hold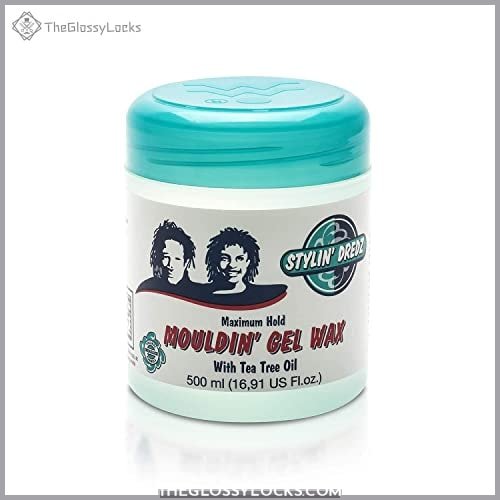 View On Amazon
Mold minty locks with the cooling Stylin Dredz gel wax. The 16.91 oz formula grips hair tightly with tea tree oil and glycerin moisturizing ingredients. It suits all hair types, including color-treated and locs, without flaking, grease, or residue.
Define, nourish, and refresh your style weekly with light application and air drying.
Maximum hold without stiffness
Moisturizing ingredients
Suitable for all hair types
No flaking or buildup
Maintains styles for days
Small quantity for price
Not widely available
Scent not for everyone
AllDay Locks Braid Gel Extreme Hold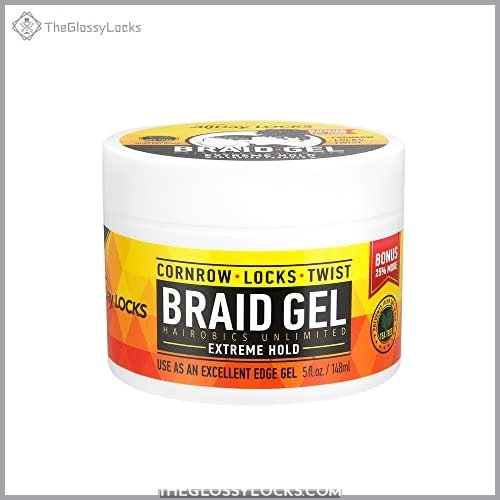 View On Amazon
You'll define your locs with AllDay Locks' extreme hold braid gel. This lavender and tea tree infused formula keeps braids, locs, and twists sleek with extreme grip. The 5oz gel doubles as edge control, finishing off braids neatly. It defines and grips hair without leaving residue behind.
Reviewers love how it smooths, tames frizz, and delivers a polished look. This sulfate-free, natural formula alleviates dryness and itchiness too.
Defines and grips locs without residue
Lavender and tea tree infused for moisture
Relieves dryness and itchiness
Gives hair a sleek, polished look
Works as edge control too
Small 5oz size
May not hold as long as some thicker gels
Needs reapplication to maintain hold
Murray Gel Lock Hair Styling Gel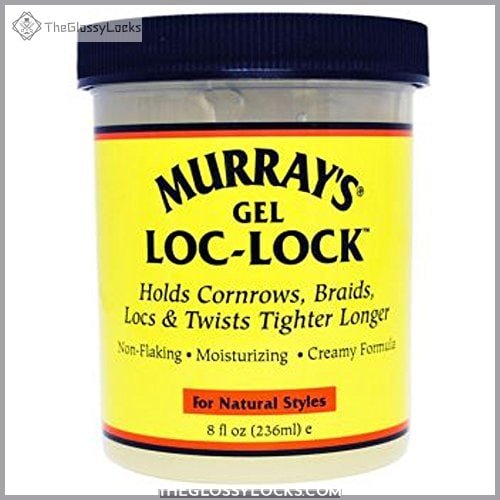 View On Amazon
Transform your locks with Murray's Gel Lock Hair Styling Gel – it offers a medium hold that'll keep your style in place all day long, plus an ultra-luxurious touch you won't believe! This creamy gel contains olive oil and is ideal for sculpting thinner hair into smooth updos or neat retwists.
It penetrates dreads better than many alternatives and softens as it dries for longer lasting styles. Perfect if you have allergies too! Keep things natural by avoiding flakiness with this lightweight moisturizer which stimulates hair growth while maintaining manageable locs without itchiness or dryness.
Achieve tight lock styles without stiffness or greasiness – the slippery formula will help you get there easily, so use sparingly to avoid overdoing product build up on your scalp.
Olive oil formula helps shape and hold hairdos
Lightweight moisturizer promotes healthy hair growth
Slippery gel penetrates dreadlocks better than other formulas
Softens as it dries for longer lasting styles
Need to use a lot of product
Flaky if used excessively
Ors Lock and Twist Gel Pack of 1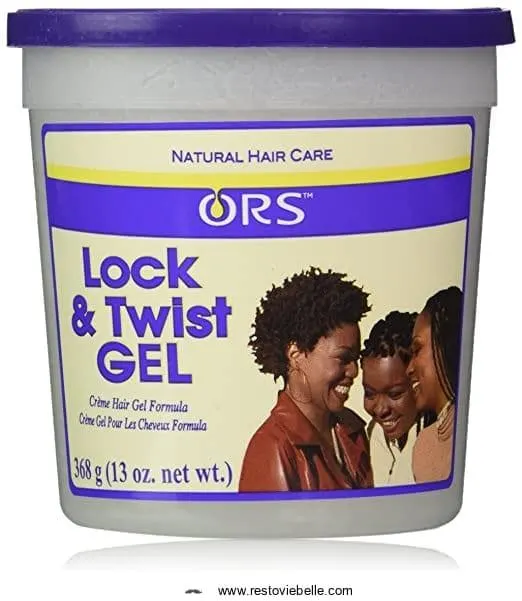 View On Amazon
Ors gel gently nourishes new growth when retightening your locks. It's a lightweight cream formula that moisturizes and holds styles without flaking or building up, leaving hair soft with subtle shine.
This 360mL, 12.96oz product contains olive oil to help shape and hold hairdos in place for days while stimulating hair growth to keep it healthy-looking over time.
With its ability to relieve itchiness caused by dry scalp as well as dandruff, the Ors Lock & Twist Gel provides an excellent solution for maintaining locs between retwisting sessions while ensuring maximum comfort throughout use – all at an affordable price point!
Lightweight cream formula that doesn't flake or build up
Stimulates hair growth while moisturizing
Dye-free; unscented; relieves itching/dandruff
Affordable price point
Reports of lead exposure potential
Leaky containers reported by some customers
Use sparingly due to heavy consistency
Bronner Brothers Tropical Roots Firm Locking Gel 6 Fl Oz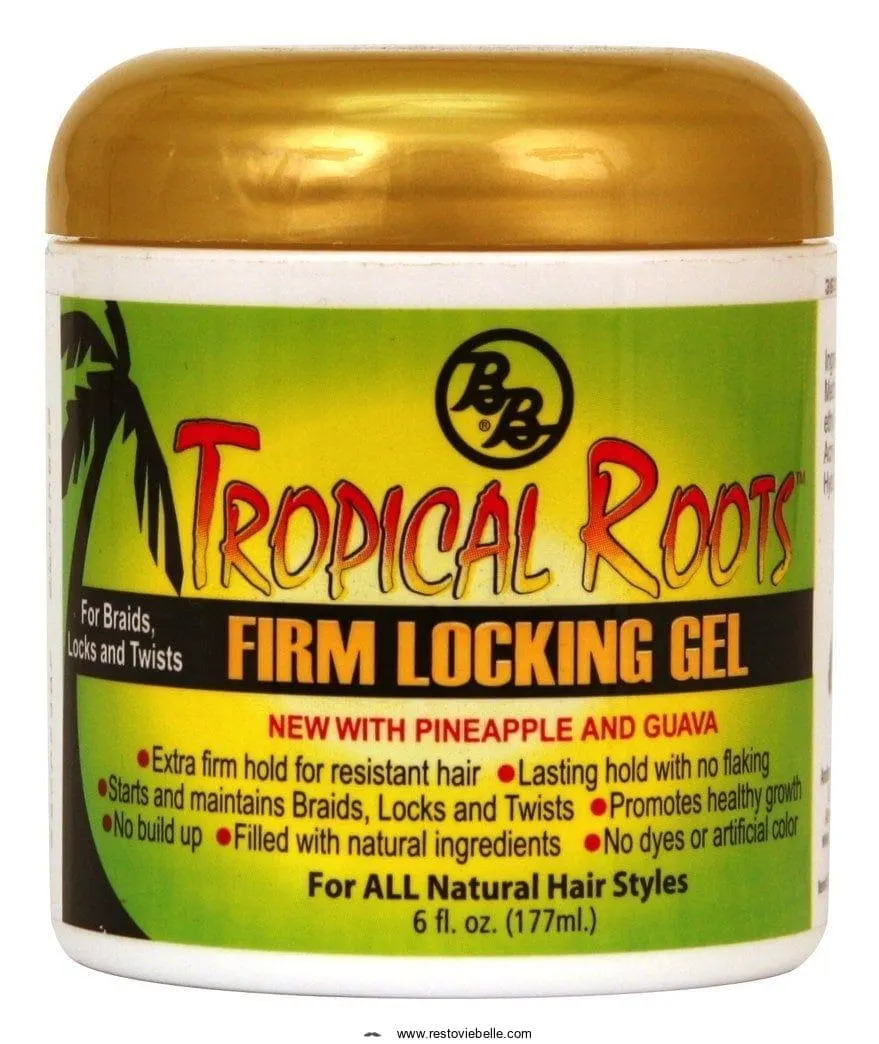 View On Amazon
Bronner Brothers Tropical Roots Firm Locking Gel has an extra firm hold that won't flake, making it ideal for resistant hair types. This dairy-free gel is liquid in form and works well when starting locs or retwisting existing locks.
It stimulates healthy growth while also providing a nice scent and relieving dry scalp and dandruff.
Plus, users only need to use a small amount of the product to achieve their desired results without worrying about flaking afterwards. However, there have been some reports of leaky containers as well as potential lead exposure, which can be harmful if not taken into consideration before using this product.
Extra firm hold for resistant hair
Lasting hold with no flaking
Promotes healthy growth
Dairy-free
Might expose user to lead
Some issues reported with leaky containers
Use a small amount to avoid flaking
How to Choose the Perfect Gel for Dreadlocks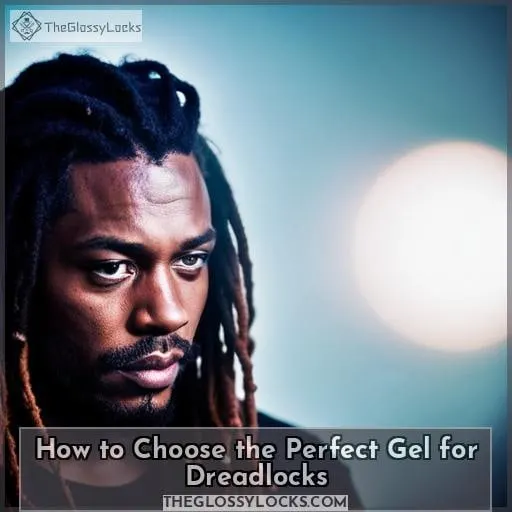 Choosing the perfect gel for dreadlocks is an important decision in maintaining healthy, beautiful locs. When looking for the best lock gel, consider ingredients like natural oils and butters to nourish hair.
Evaluate holding power that suits your style needs without damaging locks. Select a formula with ease of application and washability so it will not leave any residue behind, as well as a pleasant fragrance which can help enhance styling results.
Ingredients
When selecting a locking gel, look for natural ingredients like coconut, olive, and castor oils to nourish your hair. Opt for a gel with a hold strength that won't damage locks and helps prevent frizz without leaving residue.
Choose gels with a pleasant fragrance that are moisturizing yet grease-free so they wash out easily. Lock definition is key too – silcone-free and sulfate-free gels offer the gentlest styling options with great curl definition.
Research different products to find the perfect gel that will keep locs in place while providing maximum hydration benefits.
Holding Power
Choose a locking gel based on the hold strength you need, how residue-free it is, and your fragrance preference. Look for natural ingredients like oils or butters that nourish hair and avoid wax-based products.
Opt for moisturizing power without grease, one that washes out easily with reviews to back up its performance. Consider grip strength; choose gels designed specifically for locs over those with petroleum or mineral oil content – these are gentlest on hair strands during dreadlock maintenance.
Ease of Application and Washability
You'll want to select a gel that's easy to work with and rinses out cleanly when washing your locs.
For example, Taliah Waajid's Lock It Up glides onto hair smoothly without dripping and washes out without leaving residue behind.
Look for gels with natural ingredients like coconut oil or olive oil, which will also help nourish your locks as you twist them up tight.
Residue-free gels are usually the best option since they won't leave behind any build-up that can damage delicate dreadlocks over time.
And make sure you're using enough gel – it should be applied generously from roots to ends after shampooing and sectioning the hair into smaller parts before twisting each one tightly in place for added hold benefits!
Fragrance
Check out reviews to find a gel that suits your fragrance preference and won't leave any residue. Look for gels with natural ingredients like oils, butters, and aloe vera for mustiness/freshness. For cooling/heating sensations, choose those infused with tea tree oil or peppermint extracts.
Massaging/vibration formulas help invigorate the scalp while moisturizing locks without grease buildup. Safety/allergies-wise, opt for silicone-free, sulfate-free products that are gentlest on hair and skin alike.
Why Use a Good Loc and Twist Gel?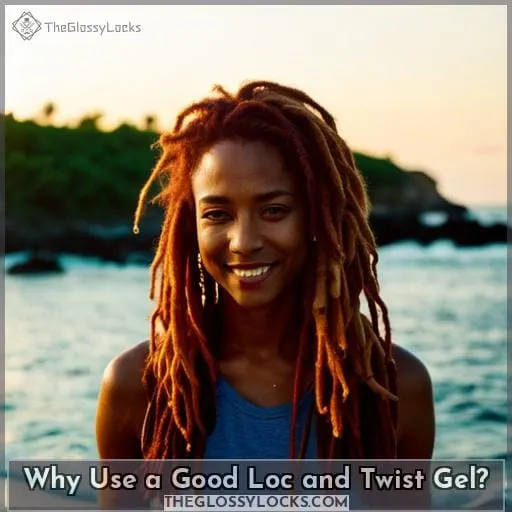 Using a quality loc and twist gel can help you achieve the look of your desired dreadlocks while protecting them from damage. Opt for a gel made with natural oils like coconut or olive oil to keep your locks moisturized and your scalp healthy.
When retwisting, apply the gel generously from roots to ends after shampooing and divide hair into sections before twisting tightly. Use gel only for retwisting, not daily, to avoid buildup. Allow 2-3 weeks between retwists for new locs, 4-6 months for mature locs.
Proper gel use helps you maintain your locs' shape and tightness while providing needed moisture.
What Are Locs?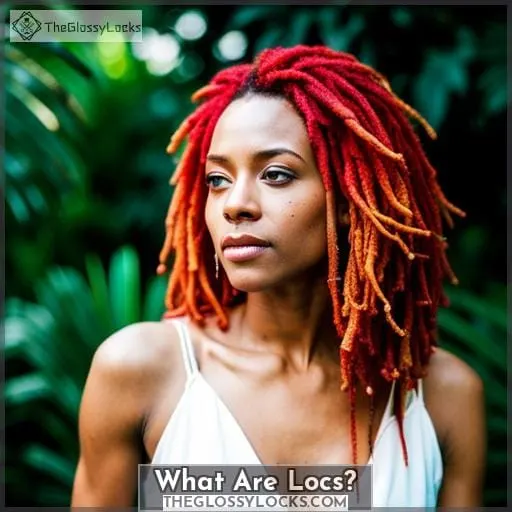 Locs, or dreadlocks, are a hairstyle where strands of hair are intertwined and held together.
Locs also require regular maintenance such as cleansing, styling, and retwisting to keep the locs looking neat while nourishing the scalp underneath. To ensure healthy locs with maximum hydration, it's important to use an appropriate gel when retwisting or creating new locks.
Choose a product specifically designed for dreadlocks that contains natural ingredients like oils and butters, as well as aloe vera, which helps maintain them without harming your hair health over time.
When applying the gel, be sure not to use too much since excessive usage can cause buildup. Instead, only apply generously from roots to ends after shampooing, then twist each section tightly before letting air dry or using hairspray afterwards if needed.
How to Use Locking Gels to Create Twists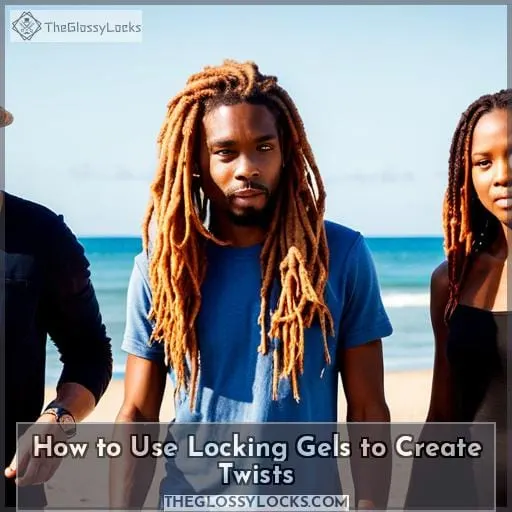 To create twists, choose a locking gel that is specifically designed for locs and contains natural ingredients such as oils or butters. Look for gels with hold strength to define curls without damaging them and moisturizing benefits like coconut oil, olive oil, or castor oils.
Avoid products with harsh chemicals, wax-based products, petroleum, and mineral oils.
When applying the gel generously from roots to ends after shampooing, twist each section tightly – use only when retwisting, not daily! Retwist new locs every 2-3 weeks and mature ones every 4-6 months; this will help avoid damage from too much manipulation.
Let the gel air dry or use hairspray after retwisting before wearing it for some time before retyling again.
Frequently Asked Questions (FAQs)
What should I use to remove locking gel from my hair?
To remove locking gel, wash hair with a sulfate-free shampoo and follow up with an apple cider vinegar rinse. Avoid harsh chemicals or any products containing petroleum while cleaning your locks.
How often should I retwist my locks?
Retwist new locks every 2-3 weeks and mature ones every 4-6 months. Too frequent retwisting can cause damage, so be patient with your locks!
Are locking gels safe for color-treated hair?
Yes, locking gels are safe for color-treated hair. Look for natural ingredients like oils and butters that nourish the scalp without harsh chemicals, waxes, or sulfates. Use sparingly to avoid flaking and buildup – a little goes a long way! Firm lock gels provide maximum hold while adding shine; choose wisely to keep your style looking fresh.
How can I stop my locks from itching?
To stop locks from itching, use a gel with natural ingredients like oils or butter and avoid damaging chemicals. Retwist locs every 2-3 weeks to help reduce irritation and keep them moisturized. Use a silk cap when sleeping, limit manipulation of your hair, and choose gels specifically designed for dreadlocks.
Are locking gels suitable for all hair types?
You bet locking gels suit all hair types! Skillfully scour smart solutions, selecting a specialized serum. Scientifically formulated formulas foster flyaway-free, frizz-fighting fashions. Thoughtfully tailor treatment, tenderly twisting tresses. Consistently condition, cleverly combating dry, damaged dos.
Meticulously maintain moisture, mastering manageable, moldable manes. Patiently pamper plaits, gently guarding against breakage.
Conclusion
Finding the perfect lock gel for your dreadlocks can be daunting. It requires careful consideration of ingredients, hold strength, ease of application, and more. But with the right product, you'll be rewarded with shiny, healthy locks that last for weeks.
With the 10 products reviewed here, you can find the perfect gel to lock in your style and maintain your dreads. Each product offers a unique blend of natural ingredients, from beeswax and honey to tea tree oil and glycerin, to nourish and protect your hair.
Whether you're looking for light or firm hold, you can trust these top-rated lock gels to keep your dreads in place with minimal fuss. With the right gel, you can keep your dreads looking their best and make a statement.