This site is supported by our readers. We may earn a commission, at no cost to you, if you purchase through links.
Mustaches are a time-tested symbol of masculinity, evolving through generations and centuries. Mustache styles can be as varied as a cowboy, from mustache to sleek city fringe.
Science has proven that men with mustaches make more money! One study found that men with mustaches earn 4.3% more than their clean-shaven counterparts.
If you want to trim and style your mustache correctly, you need high-quality trimming tools for a stunning look, and you don't have to rely solely on scissors; there are beard trimmers built specifically for mustaches!
The best mustache trimmer can give the most accurate trim and comes with attachments needed to detail your facial hair. Most men need an all-around mustache and beard trimmer with a razor blade.
Most of these tools generally call themselves facial hair trimmers, so I have already searched the top-rated facial trimmers and handpicked the best beard trimmers the market offers!
How to Buy a Good Mustache Trimmer
Neatly trimmed facial hair can look attractive, bold, and even artistic.
So I researched the best to give you high-quality mustache trimmer reviews and the best find bargains out there. Before we dive in, keep these elements in mind when choosing the best mustache trimmer for the best trimming experience.
Versatility and Beard Length
Your facial hair makes a statement about who you are, so whether you wear a sleek or full beard, a detailed mustache, or a carefully groomed handlebar, you need a trimmer with options.
Most mustache and beard trimmers come in different lengths, from 0.105mm stubble to longer facial hair of about 20mm. You may also want to change your look, and with a mustache and beard trimmer that is versatile, you can get creative and shape your facial hair the way you want.
Budget
Of course, one of the things to consider is your budget. Beard and mustache trimmers can range in price significantly, from about $ 15 to $ 100. For a luxury grooming kit, go for it. Be aware that you can still get the job done and look sharp with an affordable mustache.
Quality Sharp Blades
Mustache and beard trimmer blades are forged in various metals, such as titanium or stainless steel. Stainless steel blades are corrosion-resistant and easy to maintain and clean. The best whiskers have self-sharpening lifetime sharp metal blades that provide a smooth, smooth trim for years to come.
Wet/Dry Capability
If you only shave outside the shower, you don't have to worry about the wet/dry properties.
Find a mustache trimmer that can handle water without getting damaged if you want to shave the rest of your face and even your mustache in the shower or above to trim the sink with water.
Powerful Motor
It would be best to have a beard and mustache trimmer with a powerful motor that cuts through coarse, thick hair of any length. A weak motor tugs on your facial hair and is quite painful while trimming. A robust motor also glides over your face and prevents skin irritation.
Charge Time
Some trimmers can be fully charged in about an hour, while others can take eight hours. If you're on the right track and keep your mustache trimmer turned on, charging time shouldn't be a problem.
However, if you often forget to power the battery and are in a rush and need a trim, this can be an essential factor. If so, you may want to look for a trimmer that can charge in just a few minutes for a single shave and then fully charge in just an hour.

Best Mustache Trimmer Of 2023
If you have an unruly mustache that needs to be tamed, read on to find the best mustache trimmer! Below we've put together the five mustache trimmers, with our reviews on their capabilities.
1. Philips Norelco Mg3750 Multigroom All-in-one Series 3000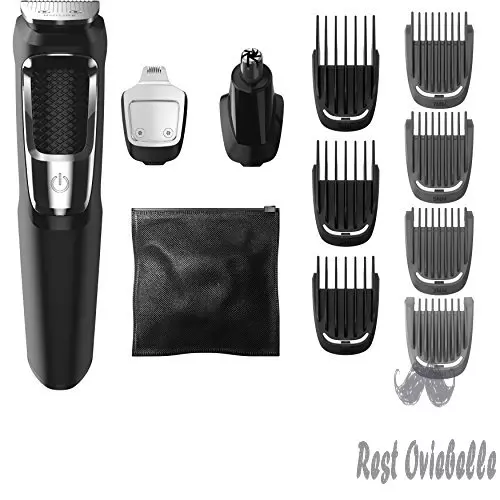 View On Amazon
If you're looking for a simple, comprehensive beard and mustache trimming set, one of our top picks is the Philips Norelco multigroom All-in-One Series 3000. This electric trimmer has three protective caps for cutting hair "great for cutting hair" .neck and around the ears," three be, "d/mustache guards, and a stubble beard guard.
You also get a nose hair trimmer, a precision steel trimmer, and an accessory pouch. This set is on the more affordable side and has a considerable number of 5-star reviews. You can't fully submerge this trimmer, but you can wash detachable stainless steel precision blades in the water.
Overall, the philips norelco multigroom series 3000 is one of our brands with more preference for clippers and electric shavers, so if you don't, I don't have a super specific idea of ​​what you want a mustache beard trimmer; this set is worth it worth watching. The power source for this trimmer is 100 to 240 volts ac for recharging and can last up to 60 minutes with the lithium-ion battery.

Includes 13 attachments
Ear and nose hair clipper
Self-sharpening steel blades
No oil needed
It can be used as a hair clipper.
The whole device is not waterproof.
Not the most reliable battery on the market
2. Wahl Stainless Steel Beard Trimmer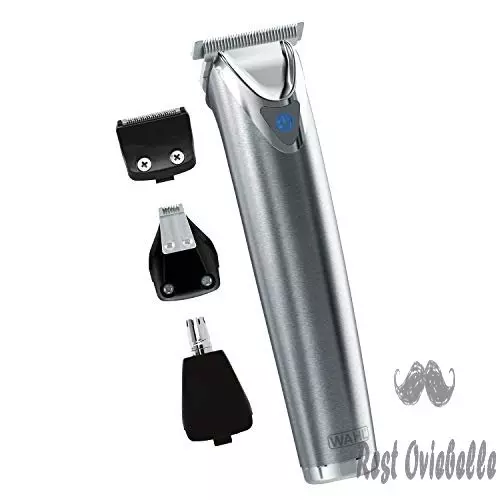 View On AmazonThe Wahl Stainless Steel Beard Trimmer is a sleek mustache and beard trimmer beautifully designed by the manufacturer, the number one brand used by professional hairdressers and stylists.
This sleek brushed stainless steel appliance has four multifunctional interchangeable heads and 12 beard guards for lengths from 1/16″ to 1″. The T-blade, detail trimmer, ear and nose trimmer, and precision detailer provide various trimming and touch-ups for mustaches, sideburns, goatees, stubble, and body and beard hair.
The self-sharpening blades are designed with patented technology for long-lasting performance. This cordless trimmer is powered by a lithium-ion battery that can hold its charge for up to 4 hours and can be charged in 1 minute for quick updates.
The Wahl is not waterproof and can only be used for dry cutting. Additional accessories include blade oil, cleaning brush, charger, and storage pouch.
The Wahl stainless steel beard and mustache trimmer can give any man a professional and precise look at home.

Fast charging options. You can charge a full 1-hour charge or a quick 60 seconds if you're in a hurry.
Smart LED indicators that light up when charged are essential for electrical safety.
They can be used when connected to a cable and come with a universal power outlet adapter.
Cleaning the trimmer heads is challenging as they cannot be rinsed under running water. Rust easily forms on trimmers after a few weeks. It should be cleaned dry with a brush.
3. Hatteker Men's Beard Trimmer Grooming Kit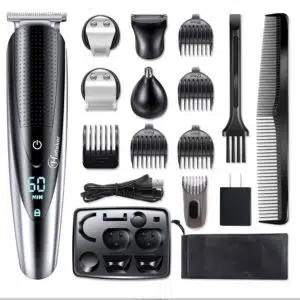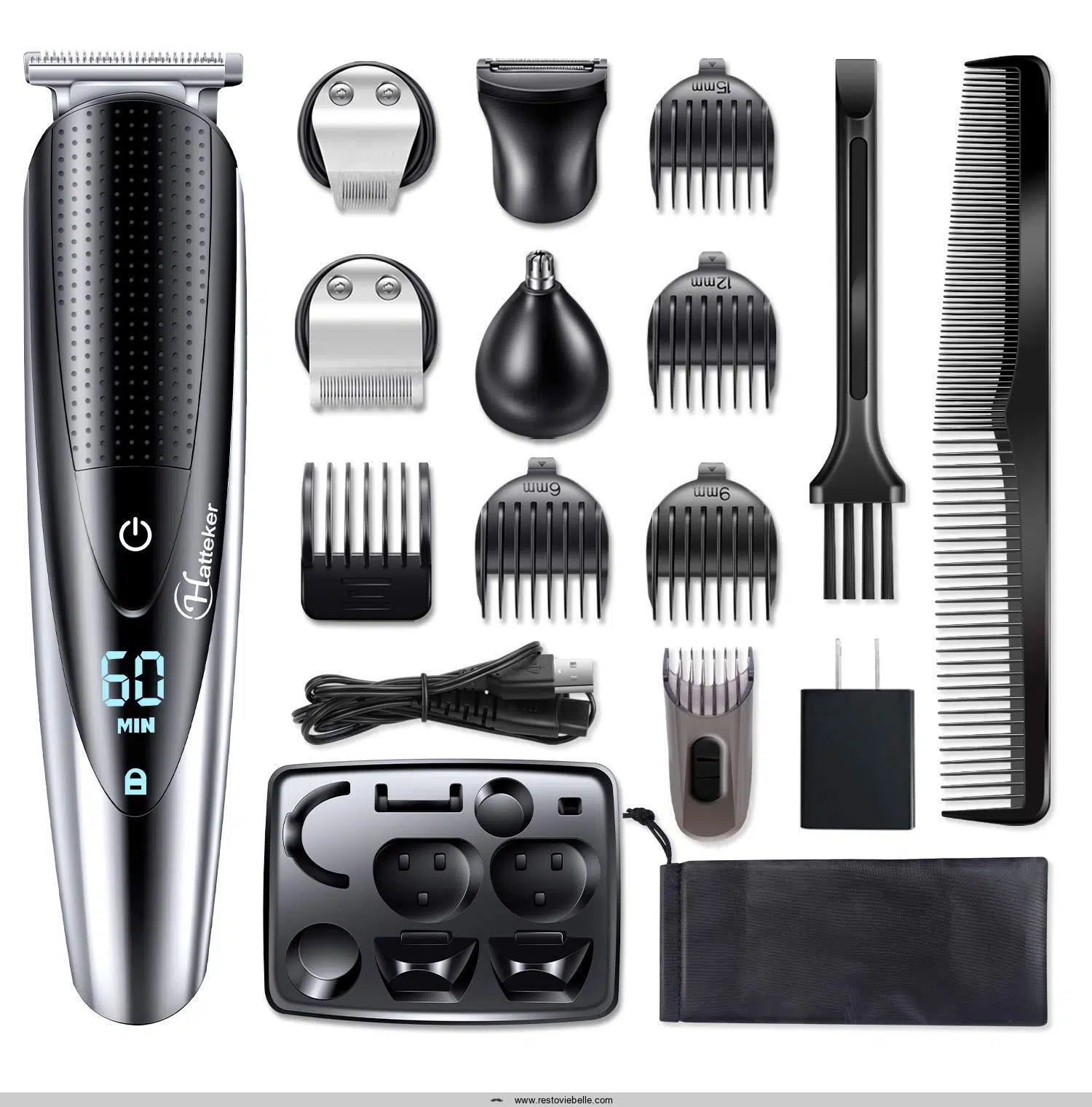 View On AmazonIt may be from a Chinese brand, but Hatteker can market a good product. You've probably seen some of their other grooming products specifically for beard trimming.
Hatteker markets this as a 5-in-1 trimmer, and it achieves that capability in the same way as the Wahl lithium battery Philips multi groomer, with set interchangeable trimmer heads. You will get either full-size trimmers, engraving, wide hair, body hair, or nose trimmers, and for beard hair purposes, we usually use full-size trimmers and engraving.
There isn't much curvature to the body or much grip, but the indented spine helps the hand curl the trimmer's body. All blades are stainless steel and are made to reduce heat for the best comfort.
You have a wide range of possible lengths. There is always the option to use it without a comb for the shortest possible cut. The adjustable comb has your back for short lengths, ranging from 1 mm to 10mm in 1 mm increments. The beard comb can use 3 mm, 4 mm, 5 mm, or 6 mm for a less clumsy comb. There are four more comb attachments for longer lengths, one of 6 mm, 9 mm, 12 mm, and 15 each. And if you need precision work, the adjustment slider above the power button gives you 0.8mm, 1.3mm, and 1.8mm.
You have everything you need for mustaches up to 10mm, plus some more extended options.
You get an hour of shaving time after an hour of charging, which is pretty good battery life. You also get a charging dock that the comb attachments and extra heads fit in to put it somewhere comfortable and ready. The front display shows the charging time, how long the battery is left on the battery and how long it will take to complete charging.
It's also waterproof, so cleaning is super easy. Of course, remember to dry it off before cleaning. Used it again.
It has a downside: it mainly has strength; it tends to hold the hair quite painfully or not cut it, especially the nose trimmer.
Aside from that problem, very few things are wrong with the Hatteker. It gives you excellent service and a lot of versatility.

Waterproof
It comes with 12 different attachments.
Ear and nose trimmer and extra-wide clippers included
Minutes left on charging display.
Self-sharpening, non-corrosive blades
Not ideal for susceptible skin
More expensive than some competitors
4. Sminiker Professional 5-in-1 Multi-functional Waterproof Man's Grooming Kit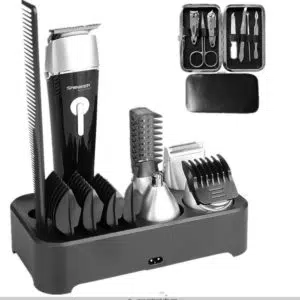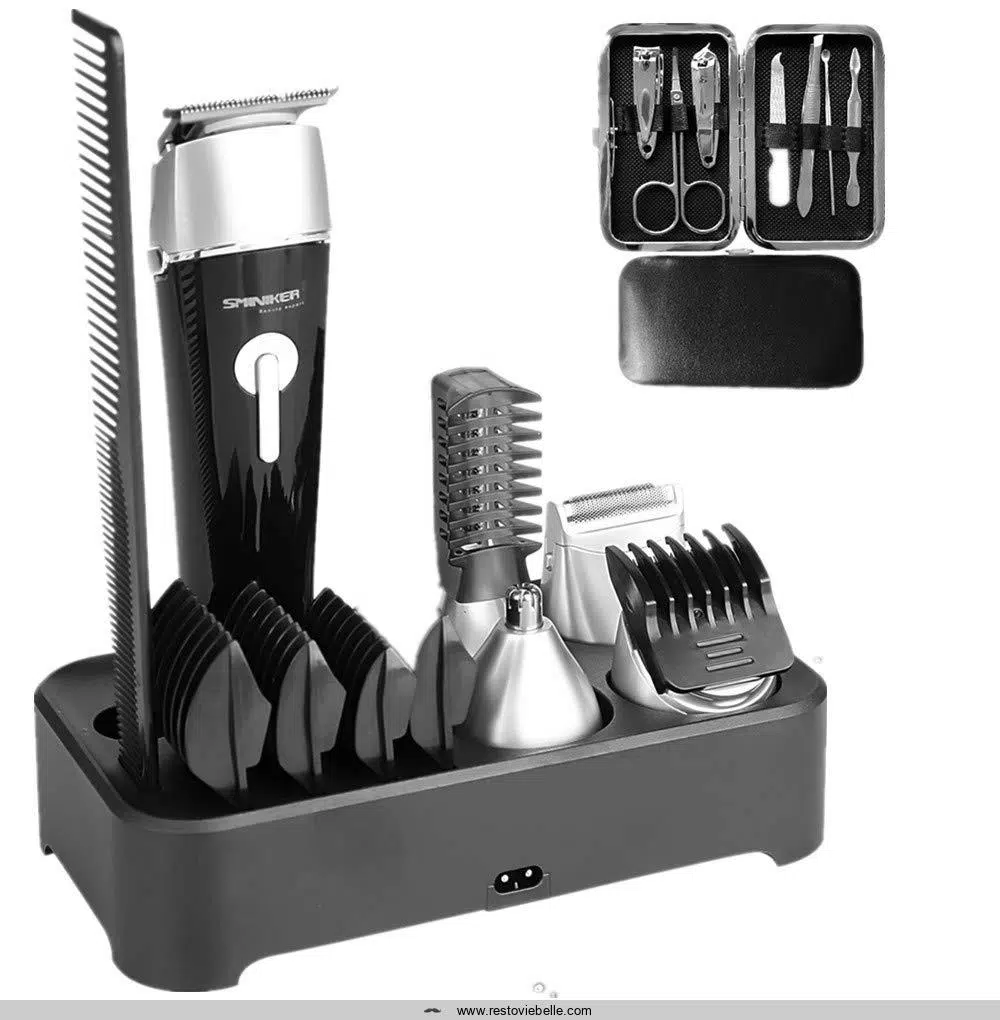 View On AmazonThis is one to consider if you want a complete grooming kit that includes the best mustache trimmer and a hair clipper, nose hair trimmer, and other accessories. The accessory dock works as an organizer for the attachments and a charging dock.
You can also use this trimmer in the shower, "although the entire motor should never be submerged," With three trimming brackets, a hair guide comb protector, a precision trimmer, a great beard, and mustache guide comb trimmer, and a full-size trimmer, you have all your bases covered.
This set also includes the extra grooming kit with nail clippers, scissors, and the best manicure sets for men. The cost of this kit is about mid to low on the price scale. So I think this is a great deal on anything included.

Excellent customer reviews.
Complete set of attachments, including hair guards and trimmer
Charging station doubles as an accessory organizer
Nose and ear hair attachment
Nail care kit included.
Not the best product for a close shave
Not ideal for small bathrooms due to the charging station
5. Philips Norelco Multigroom Series 7000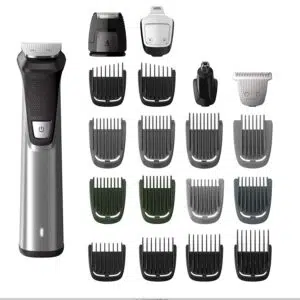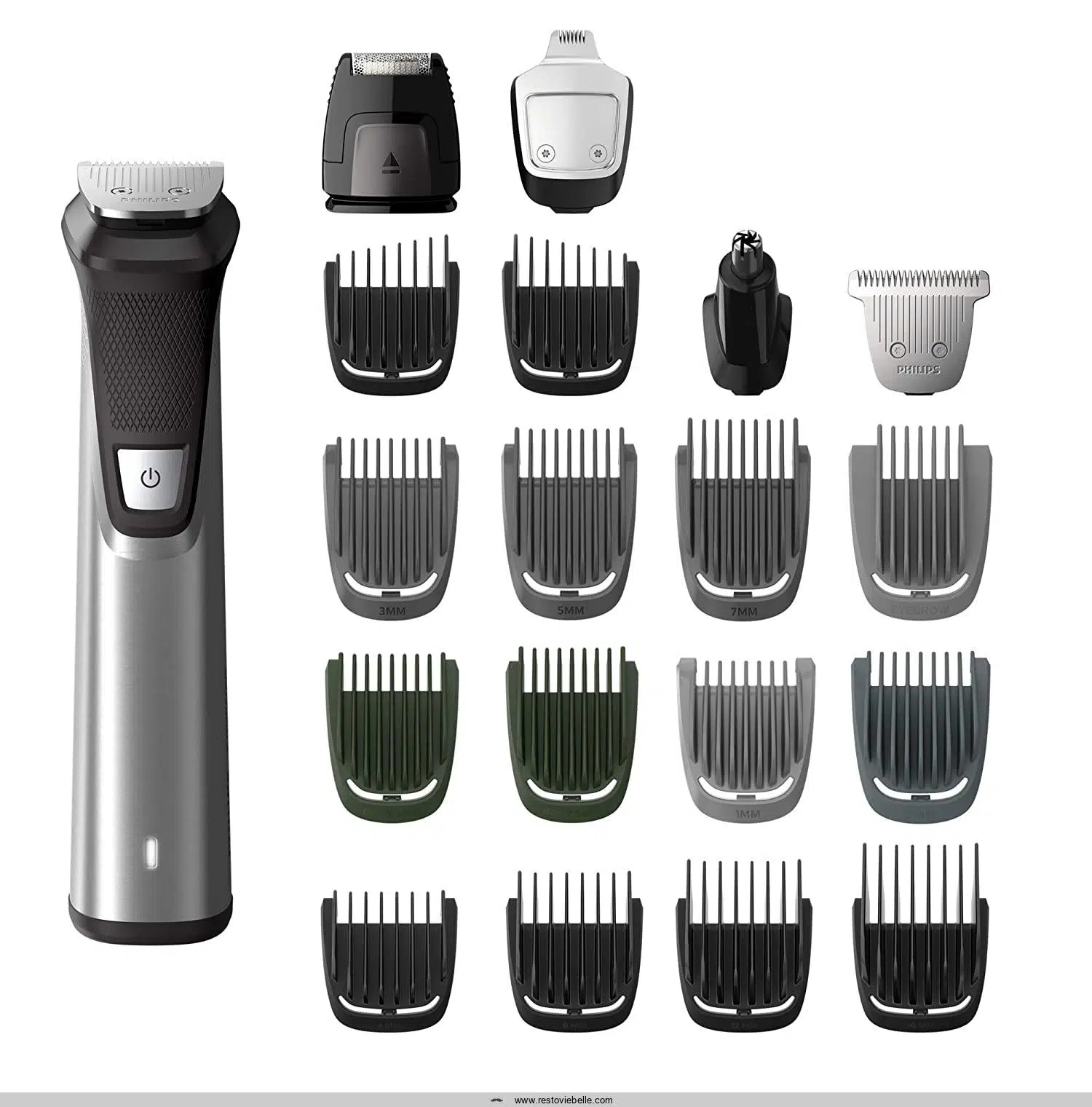 View On AmazonWith 14 different trim guards and five specialized attachments, the Philips Norelco Multigroom Series 7000 is designed to trim men's hair from head to toe. DualCut technology keeps the self-sharpening blades sharp for years. The machine's powerful lithium-ion battery provides up to 5 hours of runtime at a time load.
The trimmer guards are reinforced to prevent bending and kinking. They are individually marked for trimming mustache, beard, stubble, head, and body hair.
Attachments for these advanced Philips Norelco models include a foil shaver, a precision trimmer for detailing and finishing, a nose and ear trimmer, and an extra-wide aqua blade for trimming your sideburns and necklines.
Guys Will Find The Mustache Shaver is a handy tool when they want to trim or shave their facial hair for a neat look. This complete mustache trimming set also comes with a precision head that you can use in detailing the hair.
This Philips Norelco multigroom series 7000 comes in a solid stainless steel frame that can be easily rinsed during your running water. This model is waterproof and designed for wet and dry use, and this model offers maximum performance and convenience for an excellent grooming routine.
As the best beard and mustache trimmer on the market, the Philips Norelco Multigroom Series 7000 is affordable, a build quality that guarantees perfect and precise care every day.

After an hour of charging, you have five hours of use.
Very sharp blades and exact cutting.
Easy to trim the edges with
Shave comfortably with a product that is not too heavy.
The carrying case is very mediocre compared to the product it is carrying.
How Do You Trim Your Mustache?
After youYou need to tidy things up after the mustache grows out, you neese, it will look unruly felt on your top lip. This part of the guide describes how.
Comb Your Mustache
Straight and tidy hair is always easier to style than a messy tangle, so it's time to grab a fine-toothed comb. You want a small comb intended for facial hair so that it does not get in the way. In all cases, make sure that your mustache is wholly dried at this point. You can apply the product ahead of time to make it softer, but make sure it is dry once you start trimming.
Trim the Bottom
When everything is straight, it's time to start. Start at the bottom of the mustache, along your lip line. Press very gently on the top of your lip line and pull away. Remember to work from the outside and move to the center, one side at a time; once you are done with one side, move to the other side.
Trim The Top
This is to make a nice, clean top edge for your mustache. Again, the same principle: press the top of the mustache and pull away, working from the outside. You also can trim diagonally towards your lips for more shape or leave it straight for a fuller mustache. Also, don't forget the part where the mustache meets the nose; you want to cut that so it doesn't look like overgrown nose hair.
Reduce the Volume of Your Mustache
This determines how long and full your mustache is; maybe you don't want it too heavy. This is where the comb attachments come in on your trimmer. First, attach a long comb, and don't forget to trim in the direction of hair growth. In this case, it & down. Remember: go from long to short. You can always cut again, but you can't undo something too short.
Recombine and check again
Pass the comb over your mustache again to straighten it and see if you missed anything in the first round. Turn your head and examine your mustache from an angle to see if anything is sticking out. Once you've found the trouble spots, go there again with the trimmer.
Frequently Asked Questions (FAQs)
What guard should I use to trim my mustache?
Use a more extended guard to trim thin hair that doesn't lie flat and a shorter guard to trim most of the mustache. However, ensure that your clipper guard is securely attached so it doesn't fall off while trimming.
Can a beard trimmer be used for Moustache?
Yes, the best vacuum beard trimmer can be used for the mustache. To make your face flawless in general, all you need, besides a well-shaped beard, is a protruding mustache.
Should your mustache cover your lip?
Picture the shape in your mind, covering your entire lip with a bit of overhang. Your mustache should extend beyond the tip of your lips, but to a reasonable extent. Too wide, and it looks bushy, too thin, and you look bad.
When should I trim my Moustache?
Trim your mustache weekly. First, comb a dry mustache with a fine mustache comb. When wet, hair can look longer, resulting in too much clipping. Using mustache scissors or an electric trimmer, trim for shape first, trim along the mustache's bottom, then along the outer edges.
Do you trim your mustache up or down?
Comb your mustache up to ensure that the hairs prolong just past the teeth of the comb. After that, trim the excess hairs with either scissors or a trimmer. Attempt to trim only a little, yet when thinning your mustache. You can always cut extra. However, you can not ever return.
Conclusion
Whether you Now want to spend less than $ 20 or are interested in a more expensive device, you can get the best mustache trimmers at almost any price. Just know what you are looking for before buying.
If you also want to improve your style by shaping your beard and mustache, you can opt for one of the above products and give your mustache a new and more stylish texture every day.
Don't worry about the trimmer's quality and durability because all the trimmers mentioned in this article are tried and tested by experts.
References
menshairstylestoday.com
allaboutrazor.com
dappermane.com