This site is supported by our readers. We may earn a commission, at no cost to you, if you purchase through links.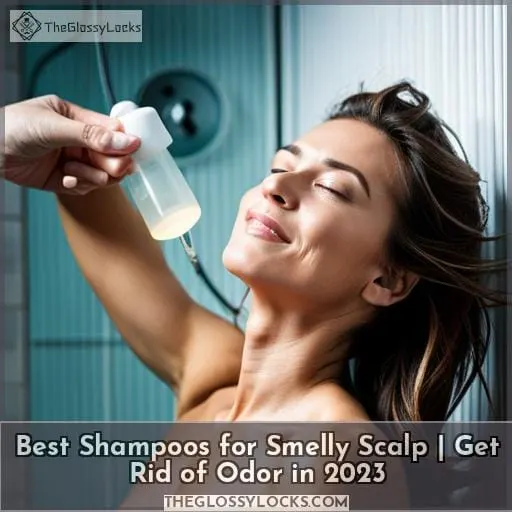 Do you ever feel like your scalp has a life of its own? A smelly one, at that? It's almost like it wants to announce itself with an odorous presence! If this is the case for you, then don't worry – there are solutions.
The best shampoo for a smelly scalp can rid your head and hair of embarrassing odors in 2023. Whether it's due to under washing or hormonal imbalance, these top 10 shampoos will have you smelling fresh again.
From Videri Lemon Sage Shampoo to WOW Apple Cider Vinegar Shampoo – we've got all the best products covered so that even if malodor rears its ugly head again, now you know what remedies work best!
Key Takeaways
Use lukewarm water and clarifying shampoo to remove residue buildup.
Look for shampoos with natural ingredients like aloe vera, apple cider vinegar, charcoal, and essential oils.
Medicated shampoos with salicylic acid or corticosteroids can help treat conditions like psoriasis.
If home remedies don't work, consult a doctor for persistent smelly scalp issues.
Top 10 Best Shampoos for Smelly Scalp
Finding the right shampoo for a smelly scalp can be difficult, but luckily there are some great options on the market. Videri Lemon Sage Shampoo, OGX Tea Tree Mint Shampoo, Degrease Oily Hair Shampoo, Ryo Hair Loss Shampoo, and Biolage Scalp Sync Oily Hair have all been specially formulated to help reduce oiliness and dandruff while nourishing your scalp.
For those looking for more natural ingredients, Aveeno Fresh Greens Shampoo with oats and rosemary provides light moisture without being too drying. Tea Tree Special from Paul Mitchell is concentrated to combat dandruff. Redken Detox removes product buildup from hair cuticles.
Avalon Organics Clarifying Lemon is vegan-friendly. Finally, WOW Apple Cider Vinegar helps restore pH balance in dry hair.
With so many choices available, you're sure to find the perfect fit!
Videri Lemon Sage Shampoo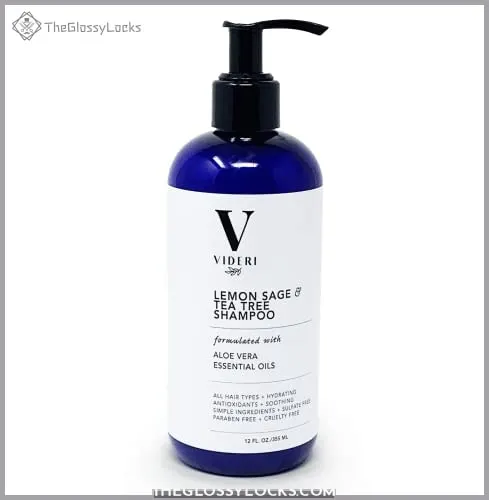 View On Amazon
Try Videri Lemon Sage Shampoo for a vegan, sulfate-free cleanse that adds moisture without greasiness and leaves hair smelling citrusy fresh. Perfect for oily, color-treated, or dry hair types, this shampoo is made with organic aloe vera and essential oils like tea tree oil to nourish the scalp while providing deep cleansing action.
It also contains hydrolyzed wheat protein and provitamin B5 to restore pH balance and volume to damaged tresses.
However, some customers have reported inconsistent product quality control issues, so consider trying out samples first before committing to the full-size bottle.
Vegan & cruelty-free
Sulfate & paraben-free
Moisturizes without leaving residue behind
Citrus scent
Contains vitamins B5 & wheat proteins
May cause dryness in some cases
Inconsistent product reports from customers
Quality control issues
OGX Tea Tree Mint Shampoo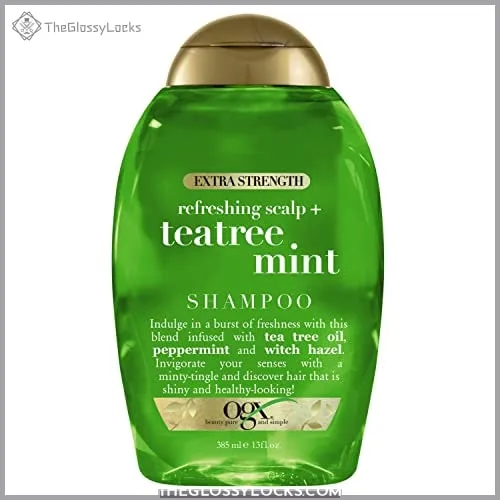 View On Amazon
Experience the invigorating tingle of OGX Tea Tree Mint Shampoo, made with cleansing peppermint extract and witch hazel for a deep clean! This sulfate-free shampoo from Vogue International is perfect for all hair types.
It contains tea tree oil to deeply cleanse the scalp and hair while nourishing it with natural ingredients like rosemary, cypress, basil, and lemon oils.
Enjoy up to 24 hours of oil control without having harsh chemicals strip away natural oils or color-treated locks.
Deeply cleanses hair & scalp
Removes buildup & restores pH balance without stripping away natural oils
Invigorates scalps with minty tingle
Leaves hair looking shiny & healthy
Some customers don't like its strong herbal scent
May have inconsistent product quality issues
Can cause dryness if used too often
Degrease Shampoo Oily Hair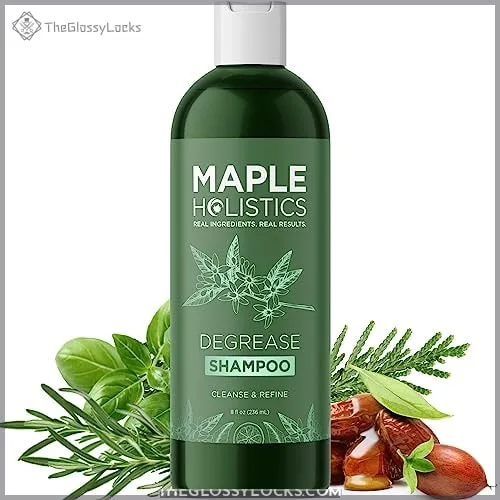 View On Amazon
Degrease Shampoo for Oily Hair
Degrease Shampoo for Oily Hair helps reduce dandruff and itchy scalp. It cleanses your hair without stripping away natural oils and provides long-lasting oil control. This popular purifying shampoo from Maple Holistics is sulfate-free and contains natural ingredients like rosemary, cypress, basil, and lemon oils.
These ingredients nourish the scalp while cleansing it of any buildup or residue.
It's suitable for all types of hair, including oily, dry, or color-treated hair. Customers report that this shampoo leaves their locks feeling soft but not greasy, with a strong tea tree scent that lasts up to 24 hours after use.
However, some users have found that the product was not effective on excessively oily scalps.
Reduces dandruff and itchiness
Cleanses without stripping away natural oils
Provides long-lasting oil control
Not effective on excessively oily scalps
Difficult to find in certain countries
Ryo Hair Loss Shampoo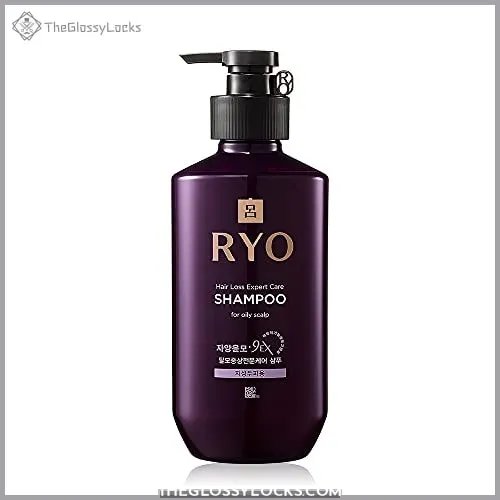 View On Amazon
You'll appreciate the cooling and refreshing foam of Ryo Hair Loss Shampoo, which can help reduce oiliness and dandruff while cleansing your scalp and hair. Formulated from a 47-year-old Korean scalp research center, this shampoo uses ginseng harvested at peak potency in June for maximum effectiveness.
Stems have 7x more key ingredients than roots to ensure nourishment is delivered deep into the follicles.
The herbal scent may be strong, but it's free of harsh ingredients like animal products or mineral oil that could damage your hair further.
Reduces oil & dandruff
Cleanses scalp & hair
Leaves clean & refreshed feeling
Strong herbal smell may not suit everyone
May cause some people to experience hair loss
Expensive
Biolage Scalp Sync Shampoo Oily Hair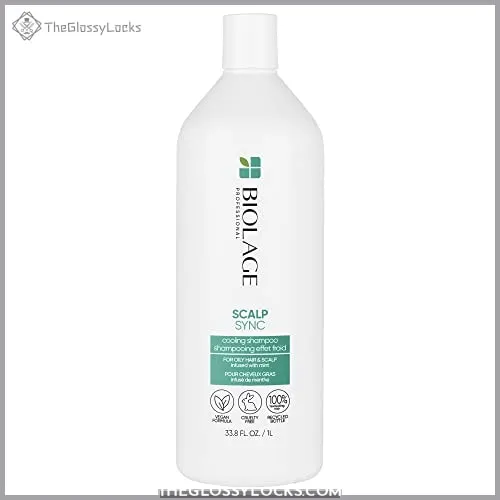 View On Amazon
Feel the cooling sensation of Biolage Scalp Sync Shampoo for Oily Hair as it refreshes your scalp and removes buildup to keep hair looking clean, shiny, and healthy. This deep cleansing formula is perfect for all hair types: straight, curly, wavy, or fine.
It's enriched with mint leaf, which provides an invigorating tingle while reducing dandruff and irritation caused by oiliness.
Not only does this professional salon product help reduce oily buildup, but it also strengthens the hair cuticle, leaving you feeling revitalized after each use.
Deep cleansing formula relieves oily scalp and removes buildup
Mint leaf provides a cooling, refreshing sensation
Helps reduce dandruff and irritation
Strengthens hair and leaves it clean
Can only be shipped within US/APO/FPO addresses
Must follow with conditioner for enhanced coolness
Expensive compared to other shampoos
Aveeno Fresh Greens Shampoo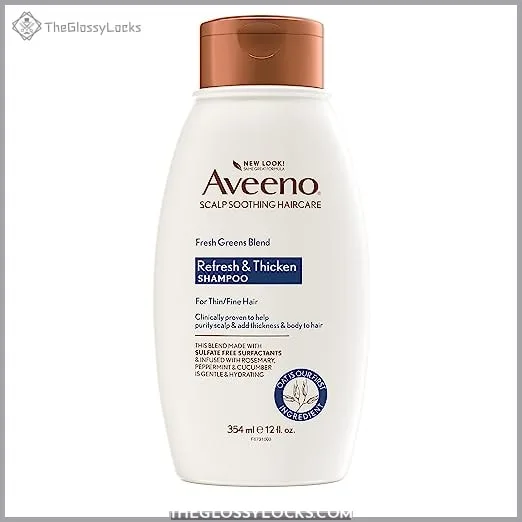 View On Amazon
Aveeno Fresh Greens Shampoo will clarify and thicken your strands while providing light moisture. This nourishing shampoo is infused with oats, rosemary, peppermint, and cucumber to restore pH balance in color-treated hair.
It is free of sulfates, dyes, and parabens, making it safe for all types of hair.
Customers have reported that this shampoo leaves their hair feeling soft, shiny, and moisturized without stripping away natural oils.
Clarifies & thickens strands while adding light moisture
Restores pH balance in colored-treated hair
Free from harsh ingredients like sulfates & parabens
Leaves Hair Soft & Shiny
Good size bottle for daily use/weekly deep cleanse
Some customers do not like its smell
Can leave some hairs dry or brittle
Comparatively expensive
Tea Tree Special Shampoo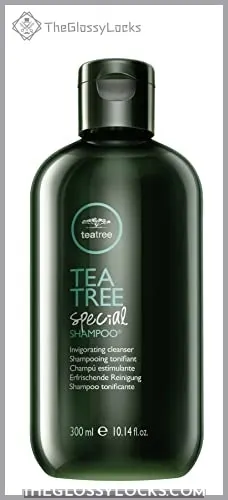 View On Amazon
Paul Mitchell's Tea Tree Special Shampoo is a liquid shampoo suitable for all hair types, with an invigorating tingle and refreshing scent. Have you tried it yet to combat dandruff, oiliness, and leave your scalp feeling minty fresh? This high-quality product from Paul Mitchell contains tea tree oil that helps remove impurities while leaving the hair clean, fresh, and full of vitality.
Its concentrated formula needs only a small amount per wash, giving you value for money.
It has a minty spa-like scent, which provides an extra boost to the senses every time it is used. The bottle design varies between sellers, but this does not affect its efficacy in any way.
Invigorating tingle & refreshing scent
Contains tea tree oil to help remove impurities
Leaves hair clean & refreshed
Ideal for all ages/hair types
Helps combat dandruff & oiliness
Very concentrated so only need a small amount
Expensive but high quality
Bottle design varies between sellers
Redken Detox Shampoo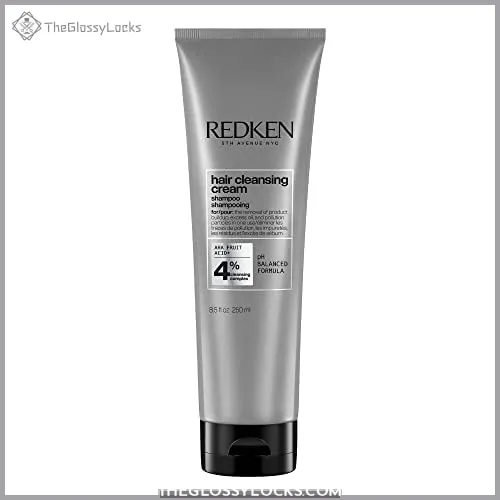 View On Amazon
Redken Detox Shampoo deeply cleanses and strengthens your hair with its purifying formula, leaving you feeling fresh and revitalized. Formulated with AHA fruit acid and a cleansing complex, this shampoo helps to remove buildup of product residue, oils, minerals, and pollution from the scalp.
Its citrus scent is refreshing, while the 1.7 oz bottle makes it perfect for trying out before committing to larger sizes or buying in bulk.
Ideal for all hair types, including color-treated strands, Redken Detox Shampoo leaves your locks feeling nourished without drying them out or stripping away natural oils that keep them healthy-looking and shiny.
Purifying formula removes product buildup & pollutants
Refreshing citrus scent
Suitable for all hair types, including color-treated strands
Small bottle size good only if trying out first
Must use conditioner after using shampoo
Some reviews claim fake products
Avalon Organics Clarifying Lemon Shampoo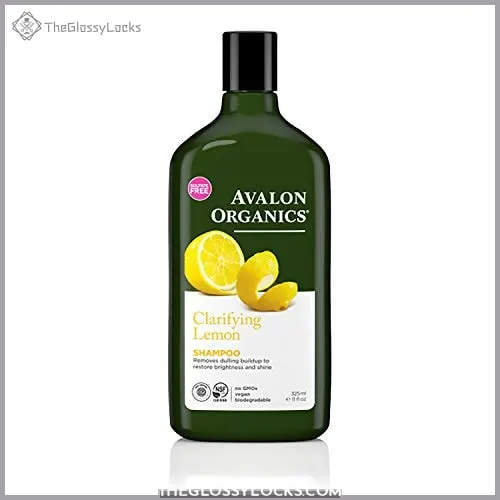 View On Amazon
Nourish your scalp with Avalon Organics Clarifying Lemon Shampoo for a refreshed and balanced feel. This certified organic formula is enriched with lemon essential oil, quinoa protein, aloe, and vitamin E to condition the hair while removing excess oils and buildup without harsh preservatives, parabens, or synthetic fragrances.
Suitable for color-treated or non-color treated hair types alike, this vegan shampoo helps restore the pH balance of your scalp while giving it a deep cleanse. With its refreshing citrus scent, it leaves you feeling invigorated yet comfortable in your own skin.
Enjoy up to 24 hours of oil control as well as improved volume thanks to its plant-based ingredients, which are designed specifically for dry hair types looking for an extra boost in vitality.
Certified organic formula
Plant-based ingredients
No GMOs, parabens, harsh preservatives, or synthetic colors or fragrances
May be slightly drying, so use conditioner after
Some may have perfume sensitivity
WOW Apple Cider Vinegar Shampoo
View On Amazon
WOW Apple Cider Vinegar Shampoo is a hypoallergenic and cruelty-free shampoo formulated to help restore your hair's pH balance, reduce oiliness, and stimulate follicles for healthier hair. It contains apple cider vinegar and saw palmetto extract from the Serenoa repens plant, which is native to North America and can help combat dandruff and other scalp issues.
The natural ingredients have been carefully chosen to avoid causing any irritation while gently cleansing the scalp of product buildup or oils without stripping away natural oils.
Massaging this foaming cream shampoo into your roots will provide an invigorating feel, leaving behind a mild apple scent that many enjoy but some may need time getting used to. This vegan formula helps fight hair loss and adds volume with regular use. However, it may take several uses before you begin noticing visible results like increased thickness or reduced dryness.
The shampoo has a low lather content, which could leave some feeling oily upon application.
Hypoallergenic & Cruelty-Free
Contains Apple Cider Vinegar & Saw Palmetto Extract
Gently Cleans Scalp Without Stripping Natural Oils
Invigorating Feel With A Mild Apple Scent
Helps Fight Hair Loss & Adds Volume
Low Lather Content Could Leave Some Feeling Oily Upon Application
May Take Several Uses Before Noticing Visible Results
Strong Herbal Scent That Some Users Don't Enjoy
What Causes a Smelly Scalp?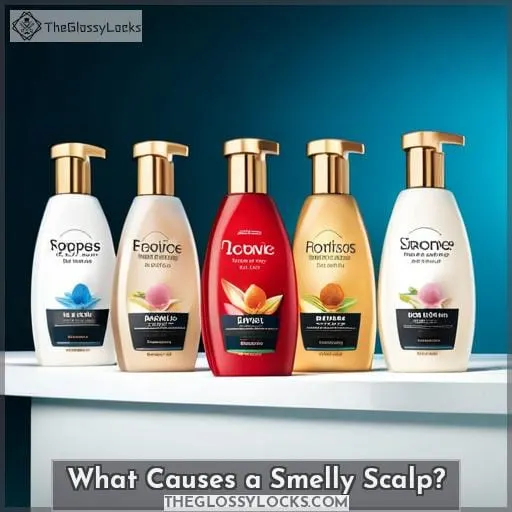 You may not be aware, but your scalp can become smelly for a variety of reasons. From underwashing to overwashing, improper washing to an oily scalp, and even hormonal imbalances – all these things can contribute to having a smelly scalp.
Knowing the cause is essential in order to find the right treatment and choose the best shampoo for you.
Under Washing
Underwashing your scalp can lead to a build-up of oils, sweat, and bacteria, which in turn may create an unpleasant smell. Studies have shown that up to 40% of people don't wash their hair often enough. This underwashing issue can cause oily hair, dandruff buildup, and even scalp hygiene problems.
To ensure you keep your scalp clean, it is important to focus on regular cleaning with gentle shampoos containing tea tree oil or other natural ingredients such as aloe vera or coconut oil. Regular exfoliation will also help remove dead skin cells from the surface, while using a clarifying shampoo once every week will help unclog pores for healthier-looking scalps and hair.
Hair care products specifically designed for oily scalps should be used regularly as they contain balanced cleansing agents that won't strip away beneficial oils but still provide effective cleaning power without harsh chemicals found in some cheaper alternatives.
Properly caring for your scalp through a proper maintenance routine, like washing twice weekly with good quality shampoo, is key if you want healthy hair free from odors caused by buildup on the roots over time due to a lack of cleaning!
Over Washing
Overcleaning can lead to an imbalance in your scalp's natural oils, leading to a smelly scalp. To avoid this, practice proper hygiene by washing with cool water and a clarifying shampoo every two to three days.
Use hydrating ingredients such as baking soda or tea tree oil when cleansing the hair, and witch hazel for additional cooling minty freshness. Exfoliate regularly and remember diet changes are also important – eliminate foods that cause odors like garlic, onions, spices, etc.
Improper Washing
If you're not washing your scalp regularly enough, it can lead to a buildup of bacteria and oils that cause an unpleasant smell. Poor hygiene practices, such as using the wrong shampoo or having an infrequent cleansing routine, are also common causes.
To maintain scalp hygiene, make sure you use a mild shampoo specifically designed for hair care, like anti-dandruff or clarifying shampoos. Additionally, moisturize your scalp with natural oils and, if necessary, use topical medication.
In addition to these steps, it's important to eat healthy foods that are rich in vitamins A and C. This can help reduce odor caused by poor nutrition. Another helpful tip is to use apple cider vinegar to restore the pH balance on your scalp, which promotes better overall health and cleanliness.
Lastly, don't forget to keep an eye out for any signs of infection. By following these steps diligently every day, you can ensure that your head stays fresh instead of smelly!
Oily Scalp
Oily scalp can be a major cause of smelly hair – try using shampoos with natural ingredients such as aloe vera, apple cider vinegar, and coconut oil to help control it. When choosing the right shampoo for an oily scalp, look for ones that contain rosemary and peppermint essential oils.
These oils are known to reduce inflammation associated with seborrheic dermatitis. Additionally, add some vitamin E oil directly to the scalp to nourish dryness while controlling excess grease.
Follow up your washing routine with a conditioning treatment featuring coconut oil or jojoba oil-based products specifically designed for oily skin care regimens.
Hormonal Imbalance
Hormonal imbalances can lead to scalp odor, leaving you feeling less than fresh. Treatment may include lifestyle changes such as reducing stress and avoiding certain food triggers. Natural remedies like aloe vera, lemon oil, or peppermint oil may also be effective, as well as antifungal medication for any underlying fungal infections causing the smell.
Hormonal changes due to menopause and other conditions can cause inflammation of the scalp, which could contribute to a foul odor too. In these cases, doctors often recommend hormone therapy along with topical treatments.
How to Get Rid of Stinky Scalp and Hair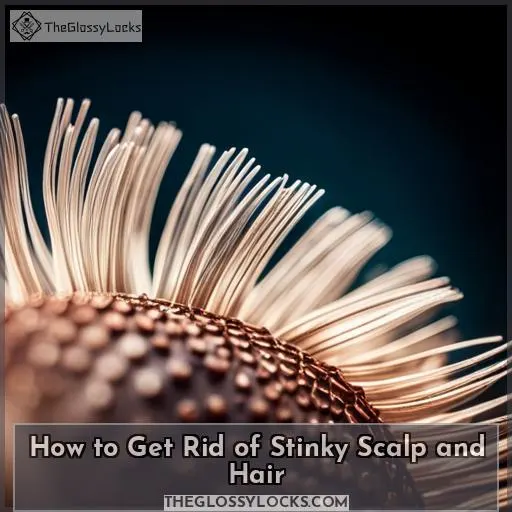 If you're struggling with a smelly scalp and hair, the key to solving your problem is finding the right method of washing and choosing an effective shampoo. With a few simple steps, you can get rid of that unpleasant odor for good. In this article, we'll discuss how to properly wash your hair in order to combat odors as well as which shampoos are best suited for getting rid of stinky scalps.
Correct Method of Hair Washing
To keep your scalp and hair smelling fresh, it's important to wash them properly.
Use lukewarm water when washing; avoid hot water as this strips away natural oils.
Use a clarifying shampoo for deeper cleansing and dandruff control. Look for ingredients like essential oils or medicated shampoos with salicylic acid if needed.
Avoid using too many products on the scalp. This can cause an overabundance of residue that causes odor buildup.
Home remedies such as apple cider vinegar, baking soda, coconut oil, or lemon juice can be beneficial in preventing smelly scalps due to their antibacterial properties.
Remember that the correct technique when washing will prevent any unpleasant smells from occurring!
Choosing the Best Shampoo for Smelly Scalp
Choosing the right shampoo to tackle a smelly scalp can be overwhelming, but don't worry – we've got just what you need!
Scalp hygiene is key for getting rid of odor-causing bacteria and excess oils. Look for shampoos with natural ingredients like aloe vera, apple cider vinegar, charcoal, coconut oil, and essential oils that will cleanse without stripping away moisture or causing hair loss.
For conditions like psoriasis on the scalp, look for medicated shampoos with salicylic acid or corticosteroids as active ingredients. Finally, try out different products until you find one that best suits your needs while gently cleansing your hair from unwanted odors caused by bacteria build-up.
What Medical Conditions Cause Smelly Scalp?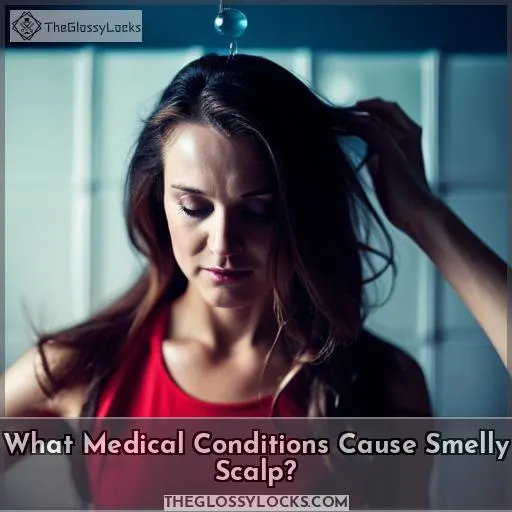 If you're experiencing a smelly scalp, it could be caused by medical conditions such as dandruff, seborrheic dermatitis, psoriasis, and hyperhidrosis. All of these can lead to irritation on the scalp, which is often accompanied by an unpleasant smell.
Environmental factors like pollution or smoking can also lead to a buildup of hair products that cause odor and discomfort. Additionally, certain dietary changes may contribute to this problem too – especially garlic or onions, which have strong odors when broken down in the body's sweat glands known as apocrine glands.
Improper hygiene or infrequent washing also plays a part in allowing bacteria accumulation on the skin surface, causing bad smells over time.
In order for treatment options to be effective, diagnosis from your doctor is recommended. They are able to determine what underlying issue needs attention before suggesting any treatments, such as antifungals for fungal infections, hormone therapy for menopause-related issues, medicated shampoos, etc.
Hair hygiene habits should always include regular shampooing with quality ingredients tailored specifically towards treating smelly scalps. It's important not only to take into account external factors but internal ones too, making sure your diet includes plenty of vitamins and minerals along with enough fluid intake throughout the day.
What Nonmedical Conditions Cause Smelly Scalp?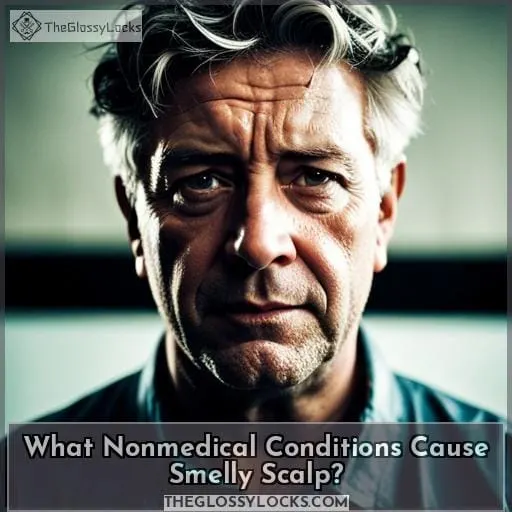 Discover the nonmedical conditions that could be behind your smelly scalp and how to tackle them with tailored home treatments, shampoos, and medical treatments.
Underwashing or overwashing can cause bad odors due to a buildup of oils on the scalp. An oily scalp is often caused by an imbalance in hormones, which leads to increased oil production. It's important to use the correct method for washing your hair: not too often but frequently enough so it doesn't become greasy or flaky from lack of hydration.
Clarifying shampoos are great for removing product residue from overuse as well as balancing oil levels on the scalp without stripping essential moisture away like harsh chemical-based detergents can do when used too often.
Additionally, dry scalps need extra attention with hydrating masks or conditioning oils applied before shampooing; this will help restore balance in natural sebum production leading up to better smelling tresses!
Use clarifying shampoos regularly.
Choose fragrance-free products.
Balance hormone levels through diet changes.
Hydrate dry scalps with nourishing masks.
The key takeaway? Make sure you choose appropriate treatment methods based on the type of hair/scalp condition – whether it's underwashing/overwashing issues leading up to excessive buildups resulting in stinky locks; hormonal imbalances triggering oily scalps; or dehydration issues contributing towards overly dry scalps – all cases require a different approach when tackling the smelliness issue at hand!
How is Smelly Scalp Treated?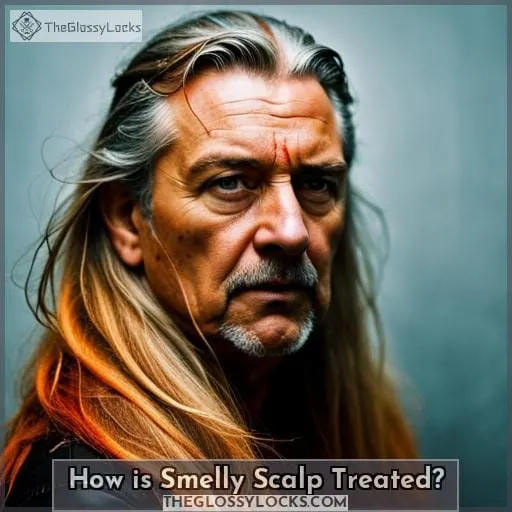 Treat your smelly scalp with a range of natural, medical, and shampoo ingredients-based solutions to make it feel fresh again!
To start, eliminate odor-causing foods from your diet like garlic, onions, and spices. It's also important to pay attention to hygiene practices as well as hormonal changes that can occur during menstruation or menopause.
The right shampoo ingredients are essential for managing smelly scalps too. Look for products containing aloe vera, apple cider vinegar, or charcoal along with essential oils such as peppermint and tea tree oil.
For serious cases involving an underlying medical condition like psoriasis or seborrheic dermatitis, you may need antifungal cream in addition to an anticholinergic drug if there is excessive sweating involved.
Finally, regular exfoliation of the scalp will help reduce the sour smell associated with dandruff buildup.
Keep hair clean by washing more frequently
Regularly use clarifying shampoos
Apply coconut oil directly on the scalp
Use medicated shampoos for bacteria & fungi
What is Smelly Scalp?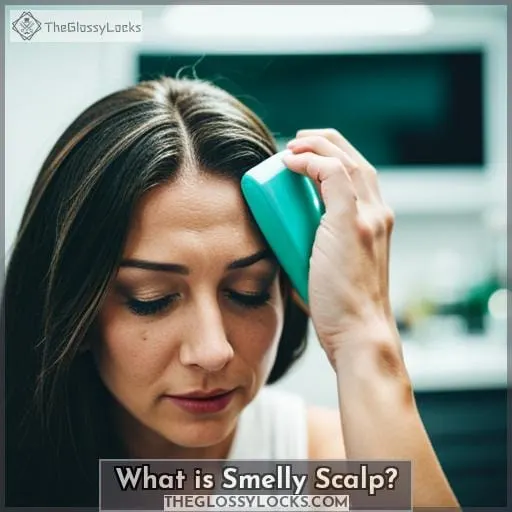 You may be experiencing a smelly scalp due to bacterial, fungal, or yeast overgrowth. The good news is that there are steps you can take to help manage this condition.
To reduce odor-causing foods from your diet and cool water washing of your hair with gentle shampoos regularly will help keep the scalp clean. Essential oils like peppermint and tea tree oil also offer relief when used topically on the scalp, while medicated shampoos can target bacteria directly as a treatment for infections such as dandruff or seborrheic dermatitis.
Exfoliating the scalp using natural ingredients like apple cider vinegar helps remove product residue buildup and excess oil, which contribute to an unpleasant smell in long hair or oily hair types respectively.
For more severe cases, medical treatments prescribed by experts, such as corticosteroids for inflammation, might be necessary depending on underlying conditions present. However, it's best to consult a dermatologist first before taking any medication orally or topically applied onto skin surfaces, especially if home remedies have been ineffective up until then.
Finally, try shampooing with formulas containing aloe vera, charcoal, coconut oil, and salicylic acid so that you get all-round benefits of nourishment combined with a minty smell plus anti-dandruff properties all at once!
When to See a Healthcare Provider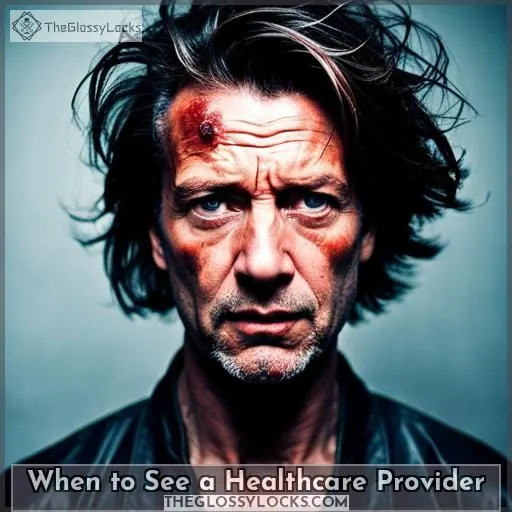 If your smelly scalp persists despite trying home remedies, it may be time to consult a healthcare provider. The doctor can determine the cause of the odor and prescribe medications such as anticholinergics for hyperhidrosis.
They can also recommend dandruff shampoos with salicylic acid or zinc to reduce irritation, oral medication like antibiotics or immunosuppressants for infections, and topical creams and ointments to cleanse the scalp of any residues that might be causing an unpleasant smell.
Additionally, they can recommend the best shampoo options that are free from harsh ingredients like sulfates and parabens while providing color protection. These shampoos contain natural ingredients such as aloe vera juice, tea tree oil, or lemon extract, which help reduce dandruff flakes while keeping hair hydrated without leaving behind perfumes that could irritate red patches on scalps already prone to sensitivity.
If you suffer from smelly scalp problems, seek medical advice in order to get personalized recommendations towards finding what works best for you!
What to Look for in a Shampoo for Smelly Scalp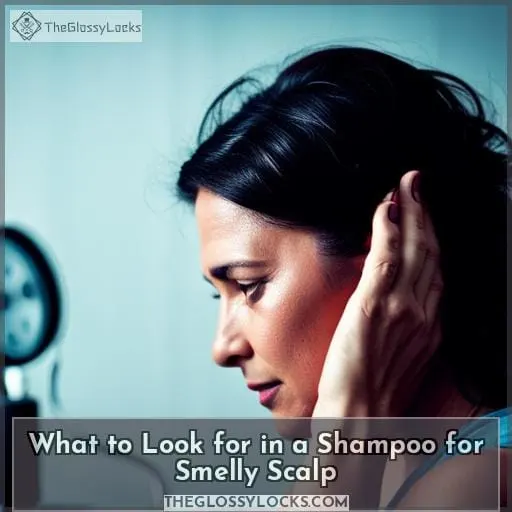 When choosing a shampoo for your smelly scalp, explore the ingredients and see if they can effectively combat the underlying issue. Look for organic ingredients such as aloe vera, apple cider vinegar, coconut oil, or essential oils like peppermint tea tree oil.
A clarifying shampoo containing these natural elements will help cleanse your scalp by removing excess buildup of sweat and product residue, which can cause odor.
Also, look for shampoos that contain salicylic acid to reduce dandruff or cool water washing to soothe an itchy scalp while stimulating hair growth with proteins from hydrolyzed wheat protein and provitamin B5.
In addition to cleansing agents in a formula, find those that are sulfate-free so as not to strip away natural oils in the hair, leaving it dry and dull, but still able to maintain its pH balance with gentle plant extracts like lemon juice or rosemary extract instead of harsh chemicals.
Want to Discover More Amazing Products for Your Hair?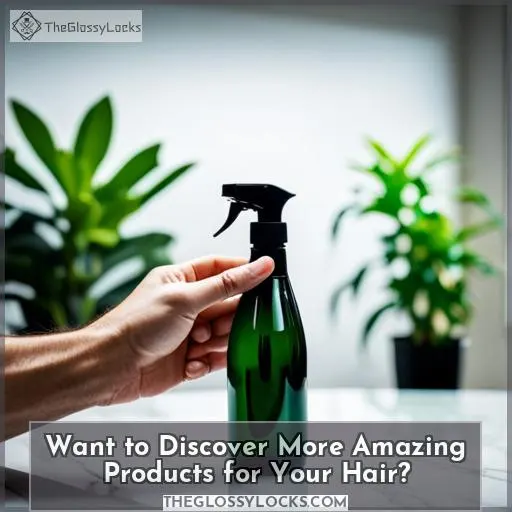 Now that you know what to look for in a shampoo for a smelly scalp, it's time to explore other hair care products that can help you achieve healthy and beautiful hair.
There are many amazing products available on the market today, from dry shampoos to scalp treatments and oils. Dry shampooing is great for days when your hair needs some extra oomph or if your scalp tends to get oily quickly between washes.
Scalp treatments with ingredients like tea tree oil can help remove buildup while soothing an irritated or inflamed area of skin on the head caused by conditions such as seborrheic dermatitis or psoriasis.
Hair oils like jojoba oil can nourish dry strands while helping prevent breakage and split ends, giving you strong, shiny locks!
Lastly, there are various types of specialized shampoos designed specifically for those suffering from thinning due to genetics or age-related issues. These shampoos often contain saw palmetto extract along with other natural ingredients known to promote thicker-looking strands.
So why not give something new a try? You might just find exactly what your tresses need!
Frequently Asked Questions (FAQs)
How often should I wash my hair with a shampoo for smelly scalp?
Wash your hair with a shampoo for a smelly scalp twice weekly – or even more often if necessary! Exfoliate between washes and use clarifying shampoos to draw out impurities. Incorporate essential oils like peppermint or tea tree oil for an extra boost of freshness.
Can I use a shampoo for smelly scalp if I have dyed hair?
Yes, you can use a shampoo for a smelly scalp even if you have dyed hair. Just look for a clarifying or gentle one that won't strip away the color and is suitable for your hair type. Look out for natural ingredients like tea tree oil, aloe vera, and apple cider vinegar to nourish and soothe the scalp while cleansing without drying it out.
Are there any natural remedies for smelly scalp?
Yes! Home treatments like apple cider vinegar, baking soda, coconut oil, and essential oils can help reduce the smell of a smelly scalp. Exfoliate your scalp regularly and wash your hair with cool water to get rid of sweat and product residue.
Is it safe to use a shampoo for smelly scalp if I'm pregnant?
Pregnant and have a smelly scalp? Don't worry, there are shampoos specifically made for you! But be sure to consult with your doctor first before using any product.
Does using a shampoo for smelly scalp help prevent hair loss?
Yes, using a shampoo specifically designed for smelly scalps can help reduce and prevent hair loss. Its ingredients nourish the scalp while removing buildup that blocks nutrients from reaching follicles, promoting healthy growth.
Conclusion
So, there you have it – the best shampoos for a smelly scalp in 2023. With the right shampoo, you can say goodbye to the odor and hello to a fresher head of hair. From clarifying shampoos to those with apple cider vinegar, you can be sure to find a product that works for you.
To keep your scalp clean and healthy, remember to use the correct method of hair washing and choose a shampoo suited to your needs.