This site is supported by our readers. We may earn a commission, at no cost to you, if you purchase through links.
Are you looking for the perfect straight razor? Here are 10 of the best options for men, whether you're a vintage fan or are looking for a modern design.
Before we dive in: straight razors are often called a straight-edged razor, a cut-throat, an open blade, a straight edge, a straight blade, and a straight razor.
While straight razors were made of bronze or bone-in ancient times, today's straight razors have a high level of craftsmanship that can cut hair with absolute ease.
However, getting the best straight razor kit isn't always an easy process, and the fact that there are different brands, brands, and models of straight edge razors on the market doesn't make the decision-making process any easier.
We have made it easier for you to find the best straight razor on the market. The following is a list of ten of the best straight razors that you can buy today, and these razors will give you an excellent shave every time.
Things To Consider When Purchasing Straight Razors
In researching all the leading straight razors on the market today, we identified a few important features to consider before making your purchase.

Suppose we consider that shaving straight is a great challenge for me and you; knowledge is going a long way to overcome this challenge and success. Here are these essential things that you should know before going to buy any product and before going to review the best straight razors.
1. Type
Straight razor blades have different types and are categorized as such:
Round point: In this case, the blade's tip is semi-circular, and without sharp endpoints, it is a more integrated blade than other species making it suitable and the best straight razor for beginners.
Square point: A square (or sharp) point blade has a straight point profile that terminates at a very sharp point perpendicular to the razors cutting edge. It's particularly useful in shaving small areas but requires some experience in handling.
French point: The French pointed blade's profile resembles a quarter circle and ends in a sharp point like a square pointed blade. It is also known as an (oblique point.)
2. Blade Width
The blade's width refers to the distance between the back of the blade and the cutting edge. The width is expressed in 1/8 increments, so an 8/8 blade is 1-inch wide, and a 4/8 blade is a half-inch wide.
3. Modern Vs. Vintage Straight Razors
Vintage: If you like old-fashioned stuff, this option is right for you as well as for a simple and reasonable price. However, for starters, you will need to deal with the modern model first before you use the old model, so you will need a bit of experience to handle this model.
Modern: modern straight razors feature all the benefits of new technology, better craftsmanship (in most cases), years of shaving, and customer experience behind them. The fact of the modern straight razor is often better than that of a vintage straight razor. But, again, the old razor is well maintained of the same quality as modern straight razors.
4. Blade Material: Carbon Vs. Stainless Steel
Straight razors are made of stainless steel or carbon steel. Steel razors are less expensive and last longer, but the carbon steel blades are generally of higher quality.
But most men use a straight razor made of stainless steel, of course, because they will run with them for long periods without changing them.
5. Weight & Grind
Milling represents the concave indents on the blades. Whole hollow milling makes the blade lighter and brighter, while the less hollow grinding is not sharp and is usually better suited for beginners and much safer and flexible in use.
6. What About A Shavette?
Shavit is no different from a bike with training wheels in that it is ideal for those who move to shave with a straight razor.
It looks exactly like a straight razor, but it takes a double-edged razor blade that you also use in a safety razor. It's a way to get used to straight razor shaving – and much cheaper razors.
7. Price
The amount you pay for a straight razor depends on the craftsmanship, but we've found that most high-quality straight razors are typically between $ 100 and $ 250.
Of course, the best vintage straight razor brands can cost beyond this range., The underside often relies on inferior steel or plastic handles, while the more expensive straight edge razors have ornate or rare materials in their handles.
10 Best Straight Razors for Beginners and Pros (Modern, Vintage)
There are not so many things in this life that are as openly masculine as razor shaving, and thanks to the maker, straight razor blades have enjoyed a bit of a renaissance in recent years.
In this review guide, we will take a closer look at straight razors and shed light on what we consider to be the best straight razors on the market today.
1. Feather's Black Ss Folding Handle Razor

View On Amazon
If you just look at the Black SS folding handle straight razor, you know this was a men's razor; it honestly looks deadly.
But the reality is, it's actually an incredibly user-friendly straight razor. A lot of smart features: that's why we call it our number 1 straight razor.
First, the handles use heat-resistant gum and super manipulated resin, so you always have an excellent, comfortable grip.
It also has a stainless steel body, which makes the whole process feel traditional and masculine.
With this shaver, you can go really deep for a very close shave, but it also has a round body tip and an exposed blade, so your shave always feels soft and safe.
In the end, this is just a superior quality straight razor: it looks, feels, and performs great. And whether you've never used a straight razor or your entire adult life, this will get you shaving better and make it more masculine.

Superior Quality
Good Grip
Heat Resistant Handle
2. Dovo Inox Straight Razor
Given the fact that the German company Dovo produces various high-quality straight razors, this was a difficult choice. But the Dovo Straight Razor is hard to beat.
It is also the best contender for the best shaver for beginners.
Let's take a closer look: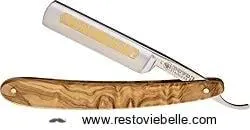 View On Amazon
Dovo has been producing superior knives since 1906. They have a reputation for excellence that is well deserved.
The German part (Solingen) was already known for producing the right quality cutting tools before entering the market for straight razor blades.
Davos ships all their straight razors ready to shave, meaning there is no preparatory work before you make your first shave.
The blade on the Dovo Razor is half hollow, light, and sharp. It also has a rounded point – which is often better for beginners – and is made from high-quality carbon steel that is hard, durable, and elastic. The magazine 5/8wide is another plus for nose heads.
The wooden handle of the Dovo Straight Razor is made of olive wood and not only looks great but also offers a firm grip that won't slip into your hand.
The edge of the blade is just as beautiful as any straight razor. It not only improves your daily shaving result but also gives it a smooth feel that requires no extra pressure.
The Dovo Razor has a simple design that is both elegant and stylish. It just looks good.
Super Sharp Blade to Provide the Closest Shave Ever
Stunning Wood Grain on Manage
Heirloom Top Quality
Must Be Taken Care of Properly
3. Feather SS Japanese

View On AmazonAlthough Germany is honored for its excellent quality, not all great shaving products are made in Germany. The Feather SS made in Japan is similar to Solingen's products and is produced by another company, Jatai, which is highly respected in the industry.
Of course, you must replace the replaceable blades on this straight razor, but the housing is made of stainless steel, and the handle is made of silicone resin; it would last a lifetime. You get an excellent, comfortable grip, and the straight razor is heat resistant up to 135 °. The design makes shaving a pleasure rather than a challenge for those new shavers.
Now, for the blade itself. You must purchase a spring blade separately, and there are several options, including 4/8) and 5/8) blades: the same used by hairdressers. They are well constructed, very sharp, and deliver an incredibly smooth shave without much pressure, precisely what you want from a straight quality blade. When it's time to remove the blade for cleaning or replacement, a system mounted at the touch of a button makes it easy.
Let's look at some of the features :
The razor's body is made of stainless steel and built to last a lifetime.

Super-engineered resin handle for excellent grip.

Heat-resistant gum handle (up to 135 C, 275 F).

The Feather SS's craftsmanship and design make it easier for straight-razor newbies to handle than other straight razors.
Replaceable blade (no adjustment required!
Precision Engineering by Feather
Small and light
Great anti-slip grip
Replacement blades must continue to buy
4. Dovo Straight Razor Carbon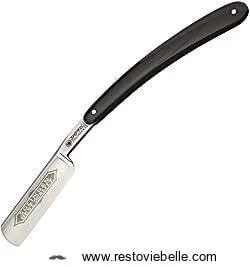 View On AmazonThe company markets the carbon steel straight razor from Dovo as the (best quality), and it would be difficult to dispute that claim. This is a dull razor with a classic straight razor design that fits comfortably in your hand and is even more significant when it works over your face.
If you're just as enthusiastic about an authentic razor experience as a quality shave, you won't find another straight razor that can perform better on both fronts than the Dovo Carbon Steel razor. It is a simple piece of bathroom technology that has no equal among the 21st-century mechanical shavers, and it will rightfully occupy a prominent place in your bathroom.
Let's look at some of the features :
Dovo Straight Razor Carbon, Ebony Wood Handle 4 580.
Simple, elegant, and stylish design.
Evenly ground metal through the blade.
A fine edge makes shaving graceful.
An elegantly designed wood handle completes the aesthetics.
The safest choice for a first safety razor.
A wide 6/8 blade provides stability and durability.
The dish is made of water-resistant celluloid that will last a lifetime.
Attention to detail that the Germans are known for.
You have to put it before you use it.
By no means cheap.
5. Equinox Professional Matte Black Straight Edge Razor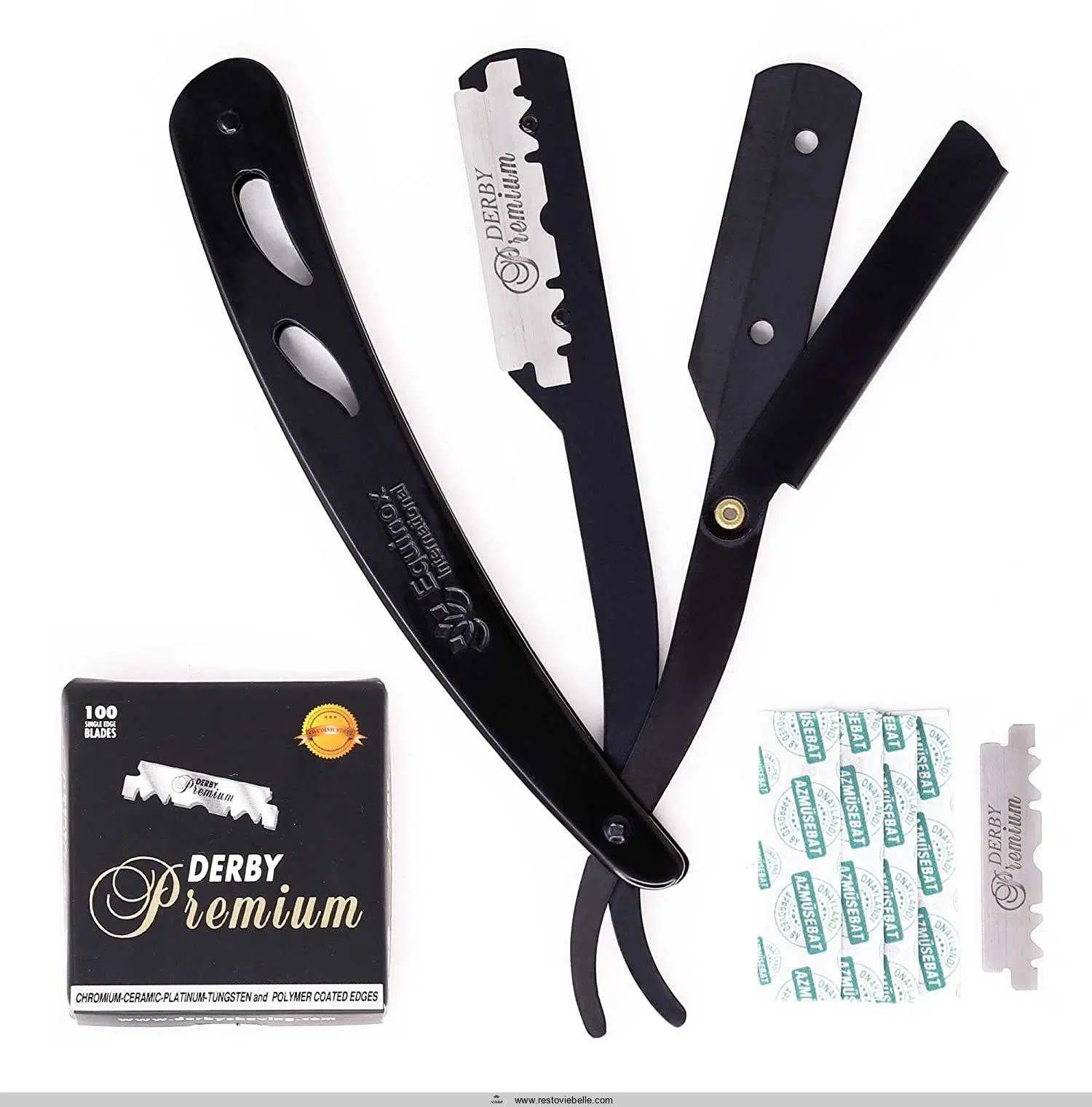 View On AmazonLet's face it; not everyone wants to invest a lot of money in a straight razor. Especially if you're new to the game, you probably aren't willing to pay for a top-quality straight razor, and that's perfectly fair enough.
If that's you and you're looking for a good deal instead: Worth it, and most importantly, the Equinox Professional Matte Black Straight-Edge Razor is for you.
Why? For a start, it's exceptionally cheap for what it is. You get over 200 shaves: the set includes a box of 100 Single Premium Edge blades – which you can use for a long time.
The straight razor is surprisingly high quality: the ergonomic design ensures a comfortable and safe shaving experience. The handle is equipped with a pair of finger rests to facilitate the operation of the razor. Make the razor easier. The stainless steel they use is durable and strong.
It also features matte black oxidation technology, which ensures that it won't get scratched or damaged. It will last your investment.
In the end, it's not the best straight razor you can find, but it's more than fair: and for the price, it's a steal!
Tough Matte Black Engineering
Comes With a Hundred Blades
Superb Value and Really Worth
It is a Littler Small, Specifically, if Your Hands Are Large
6. Feather Artist Club DX Folding Razor
Feather is back (we told you they were good) with yet another razor that combines a top-quality shaving experience with a striking design.
They already played a leading role in our safety razor guide, and now they run the risk of running away without a razor guide.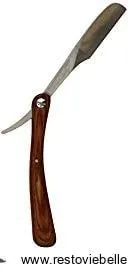 View On Amazon
It cannot be denied that these guys make a quality straight razor.
This next piece is another traditional straight razor that uses a disposable blade.
So that means that, again, you don't have to worry about sharpening or sharpening your blade. Remove it and replace it.
As we said above, the spring blades are of excellent quality, so you don't have to worry about the blade itself.
But it's the way this straight razor has that advanced edge and impresses us.
First of all, the blade is locked in place with a simple but effective mechanism.
This mechanism has an internally mounted turnbuckle.
This screw, such a small part, plays a significant role in this shaver.
It locks the blade with a strong horizontal force, creating a shave that looks, feels, and does as well as a traditional straight razor shave.
Speaking of feeling, that teak handle has incredible ergonomics in hand.
It is a high-quality construction, but it is also convenient.
For example, it is non-slip in wet shaving conditions and has enough heat tolerance to disinfect the entire straight razor shave in boiling water quickly.
The handle also contributes to the excellent balance of the shaver.
It is designed to work with the blade and to handle the handle in unity.
This creates a straight razor shave that feels so intuitive in your hand and gives you the confidence to go for a good shave.
It's not cheap – not long!
But for those men who are not put off by the high price, this shaver represents an incredible investment that you get back many times with professional quality shaves.
Excellent Stability
Sharp, Aggressive Blade
Seems and Feels Amazing
7. Dovo "Dovo Special" Straight Razor
View On AmazonDOVO was founded in 1906 in Solingen, Germany, and is a well-known company.
So if they come up with a model and call it the (DOVO-Special), sit down and take note.
This premium straight razor blade jumps out of the box full of premium functions: one is the fact that it is ready to shave directly from the table.
No first time or grinding is required here.
You can open the package with one hand while applying the other shaving cream and shave two minutes after the box arrives.
And what a shave you get.
This is a carbon steel straight razor shave, people.
That means that this product is built with just about the best blade material you will find on a straight razor shave.
It is also at high temperature, which means that less sharpening is required during the blade's long, long service life.
What DOVO did was take quality material and place it on a blade of 5/8) with an afro. Apply the nth edge.
That smaller size makes it ideal for getting into every corner and hole in your face, while the rounded edge means you don't accidentally cut yourself while working the blade at narrow angles.
If we received a level 1 compliant and bet we will, we are not big fans of the imitation turtle.
Yes, we know that the real thing can no longer be used, and we respect that.
But there are many more excellent materials that feel better in hand than fake turtles, at least in our opinion.
Yet it is a minor complaint about what a quality straight razor is.
Let's look at some of the features :
Stainless steel hand.
accommodates replacement blades
stainless steel blade guard
once a replaceable halved blade is inserted
Carbon steel blade
5/8 smooth shave blade
Half-hollow cut blade
Not the best handle in the world
8. Parker SR1 Stainless Steel Straight Edge Barber Razor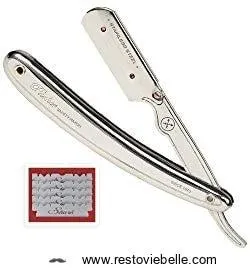 View On Amazon
Stainless Steel Parker SR1 Stainless Steel Straight forged plain stainless steel, not aluminum, making for a much more flexible blade. It's beautiful and robust and has a good weight in hand, providing you with a steady and sturdy shaving experience.
Blades also stay beautiful and safe, with the exposure rounded at the cabin blade's tip to reduce cuts and jokes.
This is a plus for people who do not have the "hands of the surgeon" or if they have jitter related to the morning caffeine routine. It also comes with 5 Super Super Stainless Steel blades, but can also be used with any number of double-edged swords.
Professional Quality for Barbershop use or at home.
Let's look at some of the features :
Genuine stainless steel blade (not aluminum).
Rounded exposure at the quiet of the blade compartment to limit cuts.

Snap/Lock blade holder along with inserts to ensure secure blade insertion.

Accepts barbershop single edge blades or 1/2 of a double edge blade – Comes with 5 Shark Super Stainless Half Blades!
Great value for money
The stainless steel blade arm
Compatible with a huge range of blades
The plastic handle is at its best
9. Best Straight Razor Kit: A.P Donovan Straight Razor kit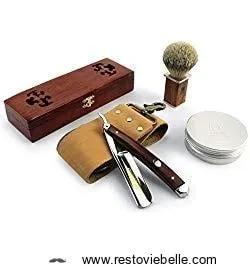 View On AmazonOur next product is this, a complete shaving set for shaving.
It offers everything you need to shave right out of the box, but the critical question should be how good that razor is?
So far, all the products that we have viewed assume that you already have a certain level of products – or that you would like to invest in them.
It is a fact that traditional straight razors cannot work alone.
To get the most out of them, they need high-quality shaving creams and well-made shaving brushes, along with other tools and items.
However, if you are not yet familiar with the use of a straight razor, there is a good chance that you do not have any additional items you need or at least one other item that you need.
Buying all extras can be quick.
Let's face it, too; the straight razor itself is not cheap.
If this rings a bell for you, consider investing in this kit from A. P. Donovan.
What you get here is a quality shaving brush, a good shaving soap, and – more importantly – a contemptuous belt.
This ticks off almost all essential tools to get started with your shaver.
You also need a razor yourself, and luckily you get a cool shaving head here.
The blade is a Japanese alloy, mainly carbon steel, an excellent material for blade construction.
In design, this is a beautiful traditional straight razor.
It has a well-designed and built wooden handle with the right balance.
This set is also supplied in a beautiful wooden storage box.
That also makes it a perfect gift.
The problem is that the shaver is not immediately ready for use from the package.
Nevertheless, this is a quality share supported by a large number of essential tools, all of which are supplied in one handy package.
Excellent Worth for Cash
Stainless Steel Blade Arm
Compatible With a Large Array of Blades
Plastic Manage is Ok at Very Best
10. Classic Samurai Cs-102 Stainless Steel Barber Straight Edge Razor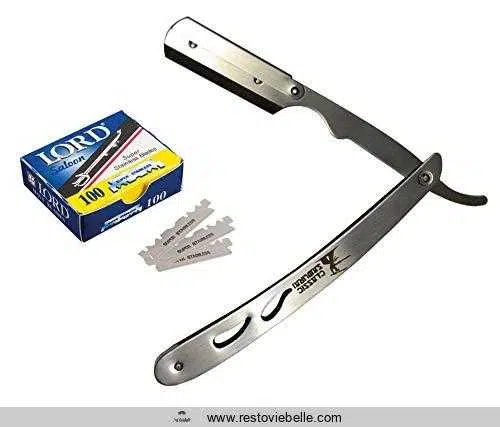 View On AmazonThis masterpiece is perfect for both pros and newcomers to the game. The classic Samurai CS-102 has a lot in its favor. Provides a great shaving experience at a fraction of the cost of other traditional straight razors. But this low price doesn't mean cheap. On the contrary, it is of inferior quality; it is loved and preferred by professionals for its high quality.
Here are some of the many features:
Classic Samurai CS-102 is made of stainless steel. It is easy to disassemble, replace parts and reassemble as needed.
The classic Samurai CS-102 straight razor has a great synthesis of weight and balance. It is easy to use, especially for those learning the technique.
It comes in a pouch (plastic) for extra protection, which helps to extend the life of the straight razor.
It is offered in a range of colors
Round tip disposable razor blades
Sound, Stainless Steel Creating
Stripped Back and Very Efficient Style and Design
Reduced-cost. So, So Cheap!
Not the Biggest Blade Holding Mechanism
FAQs About Straight Razors
Here are some common questions potential buyers have about straight razors
Are Straight Razors the Best Razors?
Yes and no.
They are best if you are looking for a traditional straight razor; they are best if you are looking for a tool that makes you feel good.
On the other hand, if you want a user-friendly razor, a straight razor may not be suitable for you.
It takes some practice and requires more effort to use than a standard safety razor.
In the best world, you could look at different types of razors.
The straight razor on days when you have more time.
The safety shaves for quick care in the morning before you run to work.
Is Carbon Better Than Stainless Steel?
That's a very loaded question, and it's tough to answer.
This is because both materials have definite advantages and disadvantages.
If you want a very smooth shave, look for a carbon blade.
Carbon steel is harsh but also brittle.
This means that although it can hold a very, very sharp edge, it also takes a lot of work to maintain that lead.
Stainless steel is not that sharp, but it is much, much more difficult.
So if the proximity to shaving is the most important thing, then carbon is the best.
If convenience is your biggest concern, stainless steel is better.
How to Use Straight Razor Blade for Beginners?
First, a word from Captain Obvious: Shaving straight razors is different from other types of shaving.
Thank you, Captain.
Even if we have a joke, it should be pointed out that shaving with a razor is an entirely different wash ball. A shaver is the holy grail of the shaving aid, but it's not for everyone (and that's good).
The use of a razor is not the most natural thing in the world, especially for beginners. But if you have mastered the technique, an incredibly smooth shave will undoubtedly follow. Here's a look at the basics of shaving with a straight razor.
First, make sure you have a sharp blade if yours is a classic fixed blade subject to a short strop session for use.
After showering or some warm water on your face softens up the whiskers a bit.
Apply a generous coat from your favorite shaving cream.
Do not apply too much pressure and hold the blade at approximately 30 ° angle.
Don't forget to shave in the direction of your hair growth. Shaving against the grain can cause ingrown hairs and other stains.
Conclusion
In conclusion, there are many great straight razors to choose from, so be sure to find the perfect one for your needs.
Whether you're looking for a vintage design or something a little more modern, take a look at the list of the best straight razors that will give you an excellent shave every time. So if you're in the market for a new straight razor, be sure to check out these options! So what are you waiting for? Get started shaving!
References
primandprep.com
gearhungry.com