This site is supported by our readers. We may earn a commission, at no cost to you, if you purchase through links.
If you want to ditch the classic cuts in favor of the iconic styles or if you're going to have a zigzag or star outline, a T-outliner is a way to go.
A T-outliner is named after how it has a T-shaped blade. Their unique design makes them ideal for extreme hair styling.
You can use a T-outliner for your contouring, fading, cropping, and dry shaving needs.
But not all T-outliners are ever really the same. It would help if you looked at the best t outliner trimmer models to find something suitable for your hair cutting needs.
We've picked seven products that perform better and last longer than your average purchase. These are the trimmers I vouch for; time after time, you can find a list of the best t outliner clippers from Andis and other popular brands.
How Do You Buy the Best T Blade Trimmer?
It can sometimes be challenging to get the exact T Outliner Blades you want, especially if you are using this device first.
Here are some of the things to consider when choosing the best T Outliner:
Blade Material
When finding the best T-outliner, you need to find a model that offers a clean cut every time. An outliner should have blades that are sharp and remain consistent. You can find many outliners with steel materials that sharpen themselves with each use. You will still need to clean and oil the blades regularly to ensure the outliner remains comfortable. Check how well the edge is laid out and get it to work in a few moments.
Motor
You want a quiet yet powerful engine. A noisy machine can be pretty cumbersome to use, especially if you (or your client) are sensitive to noise. In general, we recommend going for magnetic motors if you are looking for a balance between performance and sound.
In general, magnetic motors are quiet and do not disappoint when it comes to power. The main competitor of these engines is the rotary lineup of engines. While they are cheaper, they are also noisier.
Cordless vs. Corded
Getting rid of the cord on your T Outliner may seem like an easy decision, but wireless may not be for you, depending on your situation and habits. Cordless trimmers require you to keep them topped up.
Those who don't have space in your bathroom to keep the charging dock plugged in may forget to plug in the battery. Professional hairdressers and hairstylists, the choice is not that difficult. Usually, you have the space on your work table. With a cordless trimmer, it's worth the price alone to move around your client nimbly.
Build Quality
The first factor to consider is the contoured housing. It should be compact and ergonomic. That way, you can hold it and use it for hours without your wrist getting tired.
The blade is yet another essential factor to keep in mind regarding the unit's build quality. A good knife should be self-sharpening and stay sharp for a long time. The higher the quality of the steel used (e.g., carbon steel), the better.
Your Budget and Your Needs
Before buying a T Outliner, you should weigh your budget against your needs as with any purchase. Reading through a compelling list of features may spark your craving for the latest trimmer technology, but that doesn't mean your bank account can handle the extra expense.
My first choice, the Andis T Outliner, gives you everything you need for the best grooming experience. It's also the cheapest option you have.
Attachment Features
Not all T-outliners come with attachments, but those offer several guide combs that make it easier for you to trim longer hairs. You can also use these combs to create stubble effects that give everyone's face a sexy look. The comb attachments for a T-outliner are usually shorter in length than what you'd find on a more extensive trimmer set that covers more areas of hair.
10 Best T Outliner Trimmers & Clippers of 2023
With the wide range of t outliner trimmers out there, it's easy to get overwhelmed. Each product has tons of positive and negative reviews, and without first-hand experience, you don't know what you're getting.
To help you find the best t blade trimmer, we constantly do our best to update and expand our list of recommended contour trimmers to present it to you in an accurate, significant, and uncluttered way.
1. Andis T-outliner Cordless Trimmer
View On Amazon
The Andis T-Outliner cordless trimmer is exceptional compared to other blades because it is well equipped with a T-blade that cuts the hairs so short and well. The motor used in this trimmer is a high-speed motor.
The blades of the Andis T-outliner are made of carbon steel, whose quality and performance are very high. The dimensions of this product are 1.5*1.8*5.2 inches and 11.2 ounces for its weight. It usually also has a one-year warranty.
Several tests are performed before it leaves the factory to ensure consumer satisfaction and only after the final examination has been done.
The great thing is that it has never stopped growing, but it does so every day.

The design of this product is very durable
It is very friendly for sensitive skin
Andis T-Outliner cordless trimmer blades are adjustable and have excellent performance
It has good quality for dry use
Close is efficient with using this trimmer
Sometimes it can get too hot, making it hard to touch
N Not comfortable in terms of the on/off switch
2. Andis Professional 04603 Outliner Ii
View On Amazon
If you need the power and precision of an Andis Outliner but need something a little more traditional for beards and personal trims, check out my number three pick, the Andis Go Professional Outliner II Trimmer.
Don't let the name confuse you; this Andis trimmer offers the same quality as the Andis T-Outliner but without the T-Blade. Instead, you get a square carbon steel blade. Like the T-Blade, it can be zero gapped for the best possible results. The traditional edge on the Outliner II offers using regular guard combs for beard hair lengths or neckline adjustments.
I love the ribbed plastic body of the Andis Go. It is light yet durable. You feel in control of the device without the sticky rubber textures found on other products. Many customers wonder if the gloss coating is causing the Andis Go to slip out of your hand. The answer is no, and it's easy to hold and maneuver.
De on/off switch is easy to reach with one hand, yet out of the way enough to hold the unit any way you want. The Andis Go Professional Outliner II Trimmer is whisper quiet. It is ideal for hairdressers with many young clients or homeowners who do not want to disturb their partner or children.

It has a good cut quality
It contains strong compounds with metal snaps, so low risk of breakage
Suitable for fading and liner
Efficient for dry shaving
While running at high speed, it can be very noisy5GGSDue to lack of storage cases it becomes very inefficient
3. Wahl Professional Hero Corded 5-star T Blade Clipper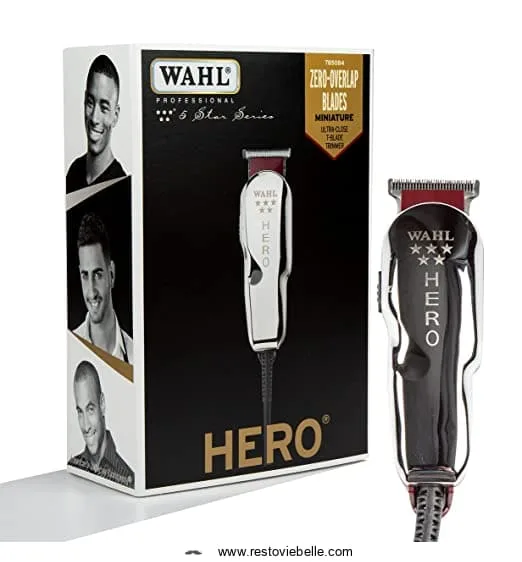 View On Amazon
This is a product designed only for professional use that is requested by experts. It is powerful and wired to cut hair easily and quickly.
The corded T-blade Hero Trimmer comes with all the necessary accessories needed for use.
The back includes the cleaning brush, oil, clippers, red blade guard, instruction manual, and # protectors.
It weighs 4.6lb and measures 4.25 long. This product features a professional grade, 8 foot, and chemically resultant cord. The Clippers works on 60 herts/120 volts, a standard electromagnetic motor, and a 600-1062 blade.
The dimensions are 6 * 1.25 * 1.25 inch. This product can only be returned within the first month. Wahl clippers are always good.

Easy to use
Very convenient
It is usually a speedy product
Fits perfectly in the hands of the user
It May require some skills to use
4. Wahl Professional Chromini T-cut #8549
View On Amazon
The Chromini is a Wahl trimmer that offers multiple adjustable points. Part of this is the ability to remove the blade in the blink of an eye. The cordless design of this trimmer adds to the quality of the layout for your needs.
You can remove the blade from the top part of the Chromini if needed. You can do this to get better access to the blade housing for cleaning purposes or when you need to replace the blade altogether. High-quality, German-made steel blades are used to create a clean cut every time.
The nickel-metal hydride battery of this clipper provides you with approximately 100 minutes of power on a full charge. The charging station offers a round body that fits well in your bathroom. A small light appears on the T-outliner to let you know how well the device is charging and when it's ready.
The cordless cutter's lightweight housing gives you better control everywhere. The blade weighs about four ounces, a total that's impressive when you consider how the trimmer requires a separate battery.

Easier to carry as it is very light yet compelling
Very useful as it comes with all accessories
It is usually speedy and efficient
Warranty not available to all dealers only the authorized
5. Wahl Professional 5 Star Series Cordless Retro T-cut Trimmer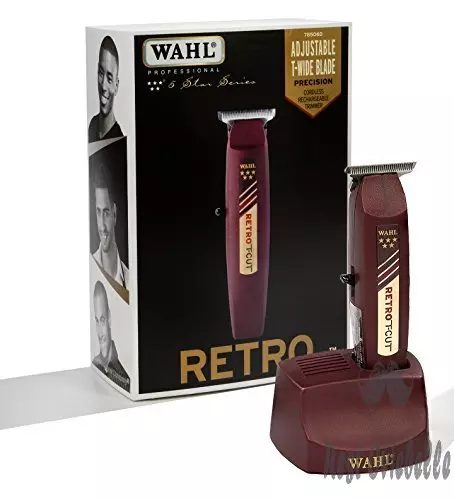 View On Amazon
The Wahl 5 Star Series has a special reverence for hairdressers from coast to coast. The Wahl 5 Star Shaver and MagiClip reign as some of the company's best-selling professional products. And the following dedicated to the Retro Cut stands just as diligently in its performance.
Although a professional hair tool, the Wahl 5 Star Series Cordless Retro T-Cut Trimmer sells the same price as the Andis Corded T-Outliner. For that reason, I've included it as my number four pick, among others.
Although a professional trimmer, I think it's a solid option for consumers looking for a cordless hair tool. The Retro Cut comes with a T-Blade and can be zero gapped. Wahl opted for the carbon steel blade. It stays sharp long after you buy it. Like Andis' T-Outliner, if run for twenty minutes at a time, this blade can overheat and scorch the skin. You can fix this problem by pausing between sessions.
The retro design looks cool, almost a bug. It feels good in the hand but could use some ribs or contouring for extra grip. I found the plastic case durable, and the rotary motor engages with a loud and satisfying thump.
OU3XWhile I've enjoyed my time with the Wahl Professional 5 Star Series Cordless Retro T-Cut Trimmer, and there are some drawbacks. The battery installed in the device is a Ni-MH. That is older battery technology and can suffer from memory loss. If the battery is not charged correctly, it will lose its charge. You can keep the trimmer's battery healthy by only charging it when it's dead.
ST Still, this is an excellent device despite its problematic battery. It is powerful, has a rotating motor and 60 minutes run-time per charge. You will not find a tighter or cleaner trimmer. In the box, you get the trimmer, charging stand, clipper oil, three trimming guides, a cleaning brush, and a red blade guard.
I recommend the Wahl Professional 5 Star Series Cordless Retro T-Cut Trimmer for hair experts looking for a cordless workhorse trimmer and consumers who love the product's retro touch and burgundy styling.

Lightweight so good for setups
Easy to hold
Cuts hard areas in thick hair
Lacks a light indicator to indicate battery charge level
6. Andis T Outliner 4775 Gtx Trimmer
View On Amazon
Let's start with the GTX Outliner Black Elegance look, and you must love it. GTX Outliner is a product that gives the best professional look. In addition, it is excellent for an all-around contour line.
This product can be easily removed thanks to the deep tooth. It is a deep tooth with a steel carbon trimmer blade.
The magnetic professional motor trimmer provides a good, sharp cut. It also features a steel carbon blade specifically for dry shaving.
Er is more, and it has a potent magnetic motor that works very calmly and quietly. It is best for dry shaving.
Andis 4775 Outliner has an ergonomic knob for easier use. What's more, it has a 2-meter cord and a hanging loop.
This product also has a return policy up to 9 MEUM days after purchase in the event of a problem with the product.

Very versatile
Dep tooth blade
It has a powerful motor
Good quality
7. Wahl Corded 9686-300 T-style Pro Clipper
View On Amazon
Wahl pro 9686 Trimmer is everything you need for a perfect grooming experience. The kit comes with: three beard combs, long hair combs, a power pro with cord, detail trimmer, cleaning brush, a storage pouch, beard comb, Spanish/English guide, and position guide.
More importantly, it can cut both wet and dry hair. The combs are well-rounded at the ends for those with sensitive skin.
Its blades are long-lasting, as well as a sharpened carbon blade for the very best trimming results. The blades are also self-sharpening and freely adjustable. In addition, it has a full cord that gives incredible cutting power.
Wahl pro trimmer has 12 blade guards that allow you to maintain an even length. The T-blade also ensures a close and clean shave, so you don't get razor bumps.
The Wahl Pro Trimmer edge allows you to fade, shave, detail and trim. It is important to note that particles between the blades can prevent a clean cut. Also noteworthy is that the Clippers must be fully charged for 16 hours before use.
This product also has a potent motor. It has a compact size that allows you to get a close-up view.

Nice and sharp bladesIVJ7Great cut
Powerful
Self-sharpening bladesIVJ7Eeasy to cleanIVJ7Easy to useIVJ7Value for money
It gets hot after prolonged use
Final Thoughts
Drawing out should never be a matter of trial and error. Fortunately, T-Outliners are designed to make the job easier. You need to find one that is ergonomic, powerful, and reliable.
We hope the detailed guidelines above will help you make an informed choice today.
References
trimmeradviser.com
getarazor.com
allaboutrazor.com