This site is supported by our readers. We may earn a commission, at no cost to you, if you purchase through links.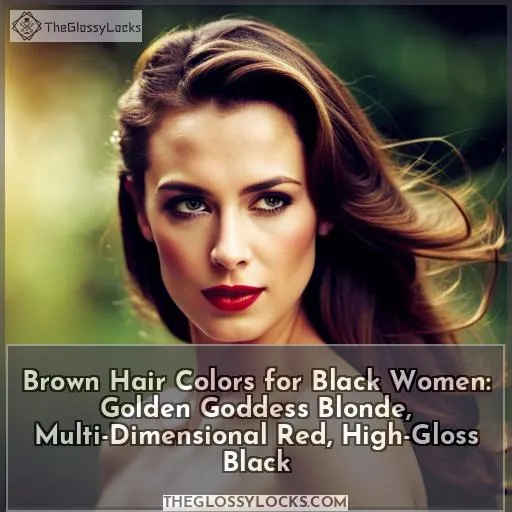 Ready to switch up your look? Coloring natural hair can be a great way to make a bold statement and express yourself. If you're looking for the perfect shade of brown hair colors for black women, then you've come to the right place! From golden goddess blonde highlights, multi-dimensional reds, and high-gloss blacks – there are so many options when it comes to embracing your dark skin tone with color.
Whether you want something subtle or dramatic, we have compiled 10 beautiful shades that will work perfectly on African American women with darker complexions.
Key Takeaways
Golden Goddess Blonde for texture and depth
Multi-Dimensional Red for vibrancy and depth
High-Gloss Black for a sleek and glossy look
Red Hot for a bold transformation
Golden Goddess Blonde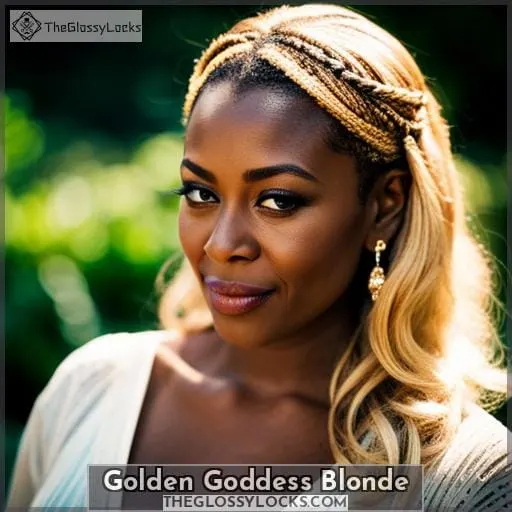 Achieve a sun-kissed look with Golden Goddess Blonde, perfect for adding texture and depth to dark tones.
Start by prepping your hair with proper care before coloring. For best results, use a deep conditioning treatment or oil as part of your haircare routine once or twice per week to maintain moisture levels.
Then begin the hair coloring process by mixing permanent and semi-permanent dyes in order to achieve an even hue that will last longer than one wash cycle.
Finish off the look with professional tools such as curling irons and flat irons if desired for extra volume or sleekness!
For inspiration on how others have rocked this beautiful shade, take cues from celebrities like Rihanna who's been spotted sporting it several times over recent years – proving its long-lasting appeal! The key is finding what works best for you; whether it be low maintenance upkeep through root touch-ups every few months or going bolder each time around.
Multi-Dimensional Red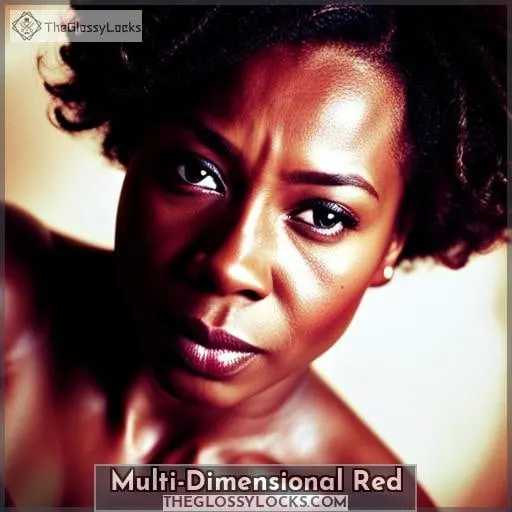 Embrace the fiery vibrancy of Multi-Dimensional Red for a look that'll have heads turning. Whether you choose to add red highlights, use ombre coloring techniques, or go all out with full-on vibrant shades, this hair color is sure to give you an eye-catching style.
Dark complexions can be enhanced by adding subtle and warm tones of red in their styling, while lighter skin tones can explore bolder expressions using brighter shades. There are various ways to get creative with multi-dimensional reds through expertly applied highlighting and lowlighting methods.
These methods create dynamic movement in your hair as well as beautiful depth and texture.
Maintenance for these bright colors includes regular deep conditioning treatments along with quality products specifically designed for colored tresses, such as sulfate-free shampoos and conditioners, heat protection sprays, hydrating masks, etc.
With proper care and maintenance, coupled with confidence, multi-dimensional Reds guarantee nothing short of stunning results!
High-Gloss Black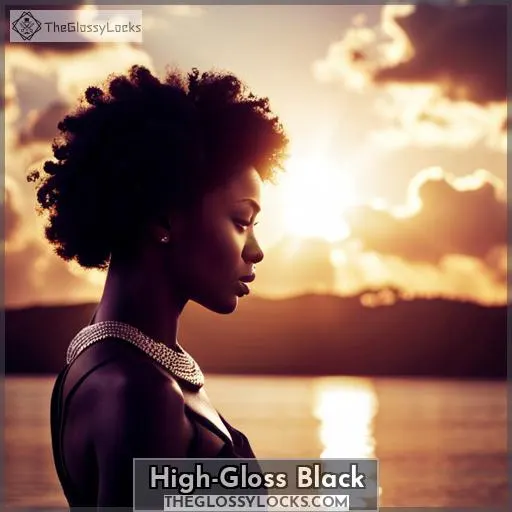 For black women looking for a sleek and glossy hair color, high-gloss black is the perfect choice. This rich shade will make you feel like an absolute queen, exuding elegance with every step. To achieve this look, opt for a deep conditioning treatment prior to coloring as it'll help maintain the shine of your new hue.
For those seeking styling tips or maintenance secrets, there are plenty of resources available online from beauty bloggers and celeb inspiration accounts alike! Additionally, be sure to use products specifically designed for dark skin tones when caring for your freshly dyed locks to keep them looking healthy and vibrant all year round.
With its luxurious texture and effortless glamorous vibes, creating stunning hairstyles has never been easier than with high-gloss black hair colors!
Money Piece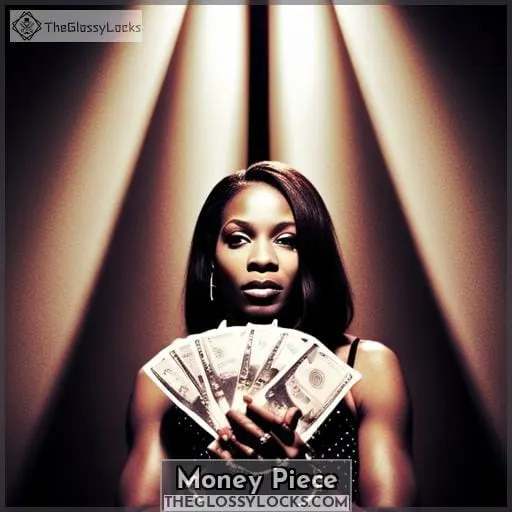 Make a statement with the Money Piece trend and add subtle sparkle to your look! Whether you opt for an all-over brown hair color or just use this trend as an accent, adding some money pieces to your style can completely transform it.
Achieving a money piece is easy; simply highlight sections of hair with lighter tones that are close to the natural base color.
If you're looking for inspiration, take cues from celebrities who have rocked this style like Alicia Keys and Zendaya Coleman—both stunning black women who have embraced their dark locks but added lightness through the strategic placement of highlights on their strands.
For those seeking even more glamorous looks, try incorporating glittery elements into the mix by styling individual strands in shades such as rose gold or platinum blonde using temporary coloring products.
With these tips in mind, creating engaging content has never been easier!
Red Hot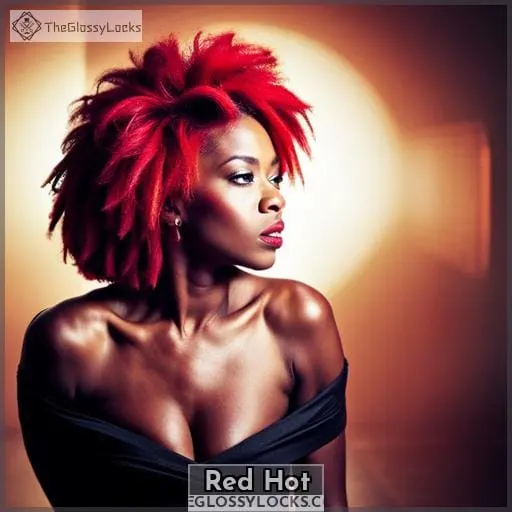 Experience the bold, fiery transformation of Red Hot and add some heat to your style.
Whether you're feeling daring or just want something different, Red Hot is sure to make an impact on your look. For added dimension, pair it with Honey Brown Highlights and create a unique blend of shades that truly stands out from the crowd.
Get inspired by celebrity looks featuring this trend and find styling tips tailored specifically for maintaining vibrant red hues in between salon visits.
With careful maintenance, you can enjoy beautiful brown hair colors like these without any hassle or worry about fading away quickly—so go ahead and try something new today!
Soft Chocolate Brown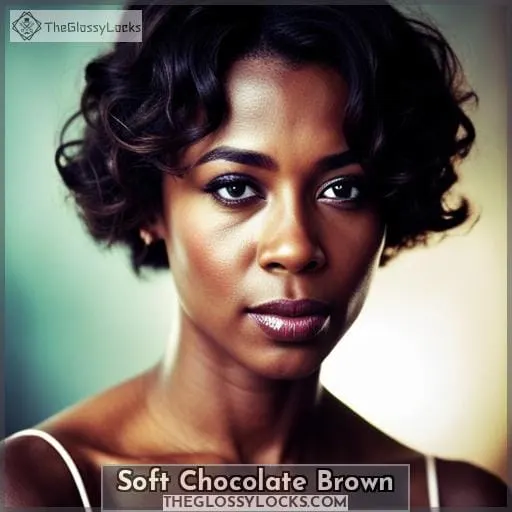 Indulge in the decadent Soft Chocolate Brown color that'll make you feel like a million bucks! This hue is perfect for those looking to add warmth and dimension to their look, without having to commit to a full-on dark brown shade.
Balayage techniques can be used with this color, creating subtle highlights throughout your hair while still maintaining an overall soft chocolate tone. With proper styling tips and maintenance routines, this look can last up to 8 weeks or longer.
To keep it looking fresh between coloring sessions, use quality hair care products specifically formulated for colored hair, such as sulfate-free shampoos and conditioners that won't strip away moisture from your strands.
For celeb inspiration on how to best wear soft chocolate brown, take a cue from stars like Kerry Washington, who rocks her natural curls with dark golden ends blended into deep black roots – the ultimate embodiment of beauty! Or Ciara's honey-hued balayage, which gives her long locks an effortless glow when paired with hazelnut highlights transitioning seamlessly into chestnut hues at the midshafts down towards light burgundy ends – a testament to its versatility for any skin tone and desired level of intensity!
No matter what kind of style you're after – classic or edgy, bold yet feminine – Soft Chocolate Brown offers something truly remarkable for everyone!
Chunky Highlights

Chunky highlights are a trendy way to add flair and texture to your look. Balayage techniques are used in this style of coloring, where the stylist places color at different lengths throughout the hair for an intentional yet natural-looking effect.
To maintain these chunky highlights, regular touch-ups may be needed, as well as using sulfate-free shampoos that won't strip away color quickly.
When it comes to highlight placement, consider if you want subtle or dramatic effects before visiting your stylist. This way, they can give you the desired outcome according to what works best with your face shape and overall look.
Hair coloring trends come in all shapes and sizes, but when it comes down to brown hair colors for black women, there is nothing quite like chunky highlights! They provide depth while still looking natural, perfect for making any outfit stand out from head to toe!
Grey or Silver Ombré

Try a stunning grey or silver ombré to elevate your look! An ombre is an effortless way to add dimension and shine without having to commit to one solid color. The transition from black at the roots, through silvers and greys, will give you that modern edge while still maintaining a natural look.
For best results, choose quality hair dye for lasting results. Start with clean, moisturized hair before application. Follow instructions carefully for even coverage throughout the strands of your hair.
Use styling products designed specifically for colored treated locks like Silver Elegance Shampoo & Conditioner.
To get some inspiration on how it's done by celebrities, be sure to check out their Instagram feeds as well as YouTube tutorials on coloring techniques and tips on Color Maintenance.
Auburn With Honey Brown Highlights

For a modern, daring look that'll turn heads, try adding honey brown highlights to your Auburn hair. This vibrant combination is perfect for black women looking to freshen up their hairstyle and stand out from the crowd.
To achieve this look, start with freshly washed hair before applying an all-over color of Auburn red as your base shade. When ready to add dimension and contrast, select sections of the crown area or sidesweep fringe areas for more subtle pops of color.
Then, apply lightener mixed with a 10 volume developer directly onto those pieces using balayage technique or foils, depending on the desired effect.
Once finished toning, rinse off excess product thoroughly before styling as usual! For maximum impact, pair this bold hue with complementary makeup choices. Opt for metallic smoky eyeshadow and nude lip glosses in shades like mauve pink hues.
Dark Brown Hair With Caramel Balayage

Transform your look with a luxurious dark brown hair color and add warmth to your style with caramel balayage highlights. From the perfect products for color maintenance to trendy styling combinations, these tips will help you achieve an amazing new style.
Use quality haircare products designed specifically for colored hair like sulfate-free shampoos and conditioners to keep your highlights looking vibrant.
Opt for heat protection sprays before using hot tools such as curling wands or flat irons on highlighted sections of hair so they don't become damaged by high temperatures.
Keep styling accessories handy like bobby pins, clips, elastics, headbands, etc., which can be used together or separately depending on how you want to wear them that day!
Experiment with different looks – why not try out braids and ponytails? They're great ways of adding interest while keeping it low maintenance when you have limited time in the mornings!
Your stunning new hairstyle is sure to turn heads wherever you go! With just a few simple steps each week – from deep conditioning treatments at home once a month coupled with regular trims – you'll be able to maintain healthy locks full of beautiful caramel tones all year long without any fussing around over trying too hard!
Conclusion
As a black woman, you can be your own Golden Goddess with blonde hair, stand out with multi-dimensional red, or go for a high-gloss black. The money piece look and red hot trend can add some spice to your style, while soft chocolate brown or chunky highlights give a more subtle look.
Grey or silver ombré, auburn with honey brown highlights, and dark brown with caramel balayage are just some examples of the many brown hair colors available for black women. These options provide an array of looks that can be tailored to each individual's unique style and personality.
So, go ahead and experiment with different shades of brown hair colors to find the perfect look for you!