This site is supported by our readers. We may earn a commission, at no cost to you, if you purchase through links.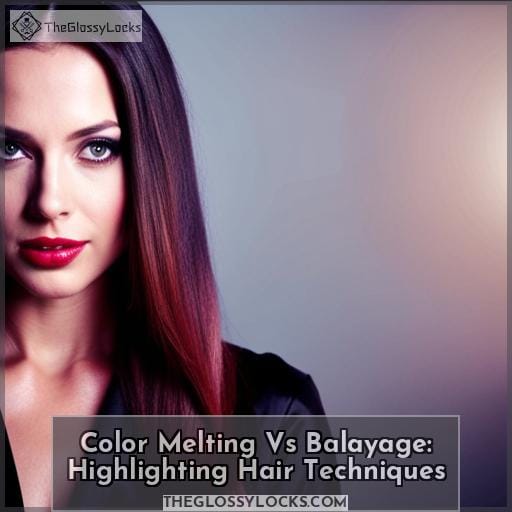 Ready to revolutionize your hair color game? Look no further than the color melting technique for highlighting hair. This trend has been taking salons by storm and is here to stay! Color melting offers a unique spin on traditional ombre, creating a more blended transition of hues from dark roots down to lighter ends.
It also differs from balayage in terms of both color selection and blending techniques.
Key Takeaways
The color melting technique revolutionizes the hair color game.
It involves blending hues from dark roots to lighter ends.
It is ideal for medium to dark natural hair colors.
The gradual transitions of color require fewer touch-ups.
What is Color Melting?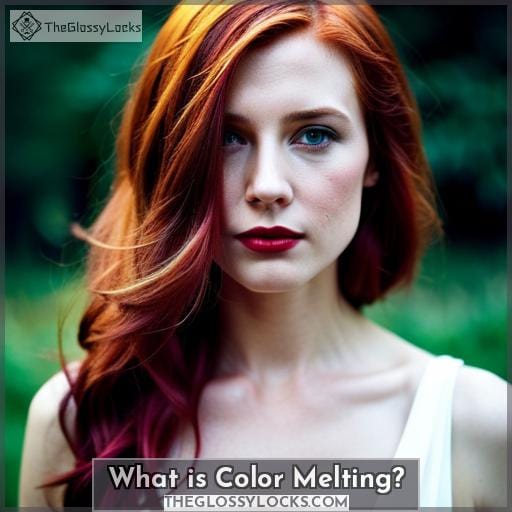 Transform your hair into a stunning, sun-kissed look with color melting – blending highlights and base colors for a seamless transition. This technique is ideal for medium to dark natural hair colors, as it creates an effortless blend of shades from the roots to ends.
With ash or warm tones added in, you can achieve dramatic fashion effects that will turn heads! Color Melting offers more than just aesthetic benefits; it's also easy to maintain due to its gradual transitions which require fewer touch-ups than other highlighting techniques like balayage and ombre.
Styling is simple too; soft waves are perfect for this style while curling with wide barrels adds fullness without overdoing it.
For those who want extra protection and shine, try using dry shampoo or oil between washes that won't cause fading over time either way you'll love your new look with Color Melting!
How Does Color Melting Differ From Balayage?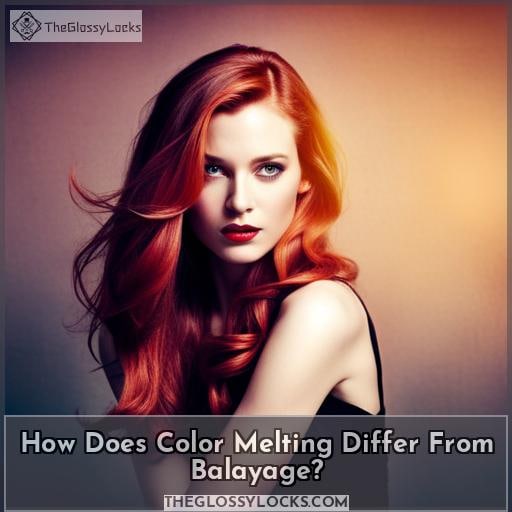 Are you looking for a new hair color that stands out? Consider Color Melting, which is an innovative technique to combine highlights with base colors to create soft, sun-kissed effects. With its gradual blend of shades from roots to ends, the unique effect can be achieved by selecting warm or ash tones and using a balayage blending technique.
Color Selection
Choose from a variety of warm or ash tones to create a dramatic fashion effect with your color melting technique. Consider hair and skin undertones, as well as seasonal trends, for the best results. When selecting colors, keep in mind three formulas: roots formula (for a dark base), mid-lengths formula (for lighter shades), and side ends formula (highlighted tips).
Blending Techniques
Discover the difference between color melting and balayage for an effortless blend of shades! Color melting combines highlights with base color to create a seamless transition, while balayage adds hand-painted accents.
Both techniques yield soft results ideal for medium to dark natural hair colors.
For lasting effects, use products designed specifically for colored hair and protect from heat damage with frizz serum. Style curls with a wide-barrel curling iron, then gently comb through. Hairspray will hold your look in place.
Create subtle or bold looks as desired – let Buford's salon give you the perfect blend using both ombre and balayage!
Step-by-Step Guide to Color Melting Technique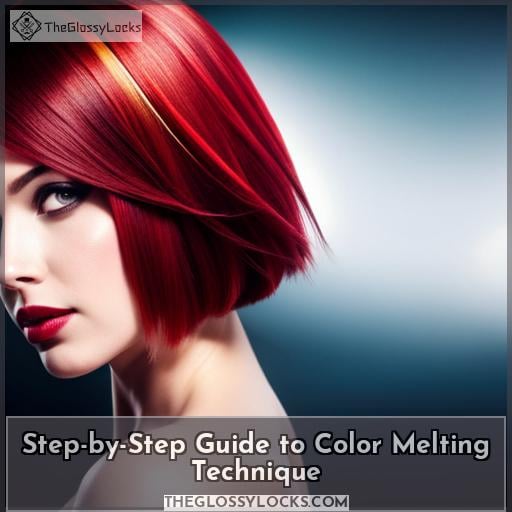 Experience a sun-kissed look with the color melting technique, seamlessly blending highlights and base color for an effortless transformation. Perfect your hair color trend with this step-by-step guide to Color Melting Basics.
Start by choosing the right colors that will blend together flawlessly – from warm or ash tones for a dramatic effect, to natural hues for subtlety. Grab your tools and products like shampoo and conditioner specifically designed for colored treated hair before beginning the melting process.
During application, be sure not to overlap strokes as you transition between shades in order to achieve a soft mix of colors instead of harsh lines.
With these tips, you'll master this popular hair color trend in no time at all!
Recommended Products for Color Melting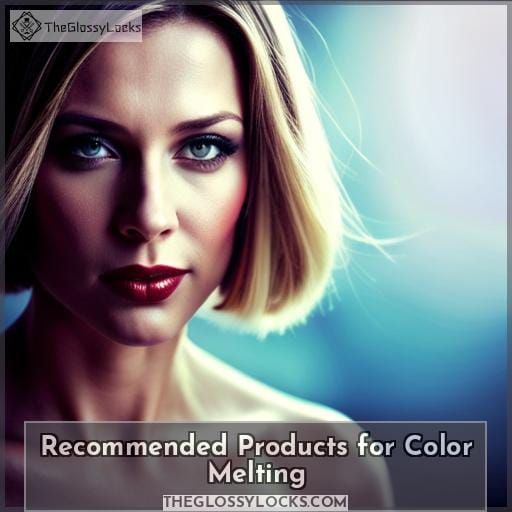 Enhance your look with products specifically designed for the color melting technique. 95% of women agree that using these products creates a dramatic, sun-kissed effect.
From haircare essentials like shampoo and conditioner to must-have styling tools, top product picks are essential for achieving salon-worthy results at home.
Frizz serum or heat protectant is key when curling hair with a wide barrel curling iron for soft waves that complement this highlight technique perfectly.
Dry oil and dry shampoo can help extend the life of your new hue while Ombré Highlight Sprays add extra vibrancy between color maintenance appointments.
With these handy tips and tricks, you'll be on your way to beautiful, naturally blended highlights in no time!
How to Care for Color Melted Hair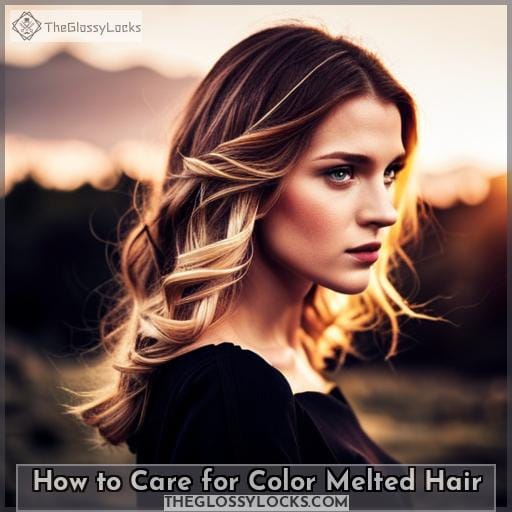 Caring for color-melted hair requires a specific set of products. To maintain the look, use shampoo and conditioner specifically formulated for color-treated hair, as well as a heat protectant to keep your style looking great.
Shampoo and Conditioner for Color-Treated Hair
To keep your color-treated hair looking vibrant and healthy, use shampoo and conditioner specifically designed for colored tresses. Salon-quality options are ideal for preserving blonde tips or preventing color fade with the latest techniques like balayage and color melting.
Using a sulfate-free formula to prevent dryness
Applying deep conditioning treatments regularly
Refreshing with leave-in conditioners between washings. Color care products can help you maintain desired results while blending shades together seamlessly! Make sure to choose the right product suited for your specific needs so that you can enjoy beautiful hair day after day.
Heat Protectant and Frizz Serum
Protect your color-treated hair with a heat protectant and frizz serum to keep it looking vibrant and glossy. Heat protectants help shield strands from damage caused by hot tools while also reducing drying time.
Frizz serums are great for adding shine, definition, and control without weighing down the locks. To get the most out of these products, apply them on damp or dry hair before styling.
For best results, use high-quality professional-grade products designed specifically for colored hair. This will help maintain its strength and vibrancy while avoiding common mistakes like overusing product, which can cause buildup and dullness in tresses after long-term use.
Avoiding Over-Shampooing
Regular shampooing is important to maintain healthy hair, but it's essential not to over-shampoo when you have color melted locks as this can cause fading.
Avoid putting too much product in the roots or near the scalp area. Focus on mid lengths and ends only.
Utilize dry shampoo for extra days between washes and be sure to use heat protectant before styling with hot tools if desired.
Dry Shampoo and Dry Oil
Keep your color-melted locks looking luscious with a quick spritz of dry shampoo and a drizzle of dry oil for an effortlessly glossy finish.
Dry shampoos are great for extending the time between washes, while also adding texture and volume.
On the other hand, oil-based products can help protect your hair from heat damage. They nourish your hair with vitamins, minerals, and antioxidants, keeping it healthy and vibrant.
When it comes to styling after a dye application method like the color melting technique for highlighting hair, Juvexin Cream Color is an ideal product to use. It is specifically designed not to fade out quickly or cause any unwanted discoloration in the process.
To perfect your style at home, you can watch a video tutorial by GKhair Educator. This tutorial features tips on proper maintenance advice, recommended products, and styling techniques for achieving flawless results every time.
So, give your hair the care it deserves and achieve beautiful, salon-worthy results with the help of dry shampoo, dry oil, and the right styling techniques.
Ombré Highlight Sprays
Enhance your color-melted hair with ombré highlight sprays for a gorgeous, sun-kissed look. These sprays are perfect for those who want to maintain their multi-tonal locks without frequent salon visits.
Pros of using ombré highlight sprays include easy maintenance and subtle enhancement. However, there is a potential for fading over time. To achieve the best results, it is recommended to use products from trusted brands that offer high-quality dyes.
The application process is simple. Just spray the product onto dry hair in sections until you achieve the desired effect. After that, style your hair as usual. To ensure the longevity of your ombré highlights, it is important to take proper care of your hair.
How to Style Color Melted Hair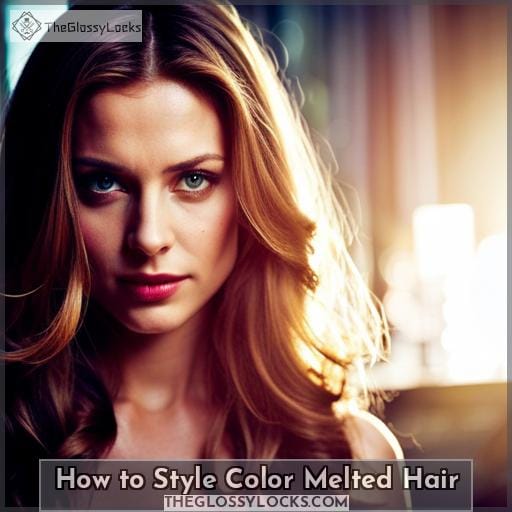 Styling color-melted hair is an easy way to get soft, sun-kissed highlights. Creating soft waves with a wide-barrel curling iron and gently combing them out for volume will help you achieve the perfect look.
Creating Soft Waves
Gently comb your curls with a wide-barrel curling iron to create soft, sun-kissed waves that will enhance your color-melted look.
For the perfect beachy texture, use styling products like heat protectant and frizz serum before applying heat tools.
To maintain vibrant hair colors longer between salon visits, use haircare products specifically designed for colored or prelightened hair, such as shampoo, conditioner, and deep conditioning masks.
You can also add extra dimension using the root smudge technique or balayage highlights along with color melting to achieve even more gorgeous results!
Have fun experimenting with different styling techniques to find the one that best suits you!
Curling Techniques
To create a full, glamorous look with your color melted hair, use a wide-barrel curling iron to define curls that will bring out the natural sun-kissed highlights.
To protect from heat damage and maintain the vibrant colors achieved by certified color melting artists, use an effective heat protectant.
Hair maintenance is essential for unconventional hair colors; avoid over shampooing and opt for dry shampoos or oil to keep up vibrancy.
A professional stylist can help you achieve salon styling at home – they know all about curling tips and styling secrets!
With their expertise in creating beautiful hairstyles using the unique color melting technique for highlighting hair, you'll be sure to have long-lasting results that make you stand out from everyone else!
Finishing With Hairspray
Complete your look with a few spritzes of hairspray to lock in those beautiful, soft curls and make sure your color-melted hair stands out. Choose a product specifically designed for colored hair that won't strip away the unconventional hues you achieved through highlighting, utilizing the color melting technique.
For long-lasting hold, select an aerosol spray that can be used before or after styling—just make sure it's applied from at least 12 inches away!
Need more styling advice? Use lightweight mousses and creams to enhance volume without weighing down your locks.
With these tips and the best products for protecting dye application methods like balayage or ombré highlights, you'll have stunning results whether straightening or curling!
Comparison to Other Hair Highlighting Techniques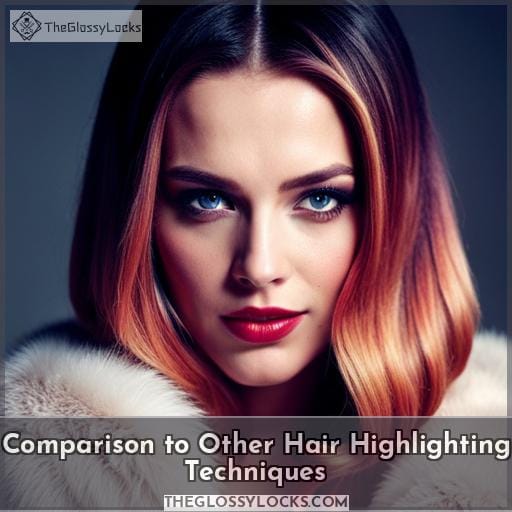 Looking to spice up your hairstyle? Consider trying out an ombre or balayage highlighting technique for a fashionable flair. Color melting can also be used as a highlighting option, blending multiple shades together for a seamless transition and creating soft, sun-kissed effects.
Ombré
Ombré creates a distinct line of demarcation between the roots and ends, adding dramatic dimension to your highlights. It's perfect for those who want to experiment with unconventional hair colors or color blending without having to fully commit.
Maintenance-wise, it requires less upkeep than other highlighting techniques like Balayage and the Color Melting Technique. This is because dye application is only done at the tips instead of throughout the entire length of the hair.
Styling-wise, soft curls complement this look best. You can use a wide-barrel curling iron to achieve more voluminous waves. To ensure long-lasting color vibrancy, it's important to protect your hair with heat protectant and frizz serum before styling.
Additionally, it's best to avoid over-shampooing. Instead, you can use dry shampoo and dry oil to help maintain the salon freshness of your hair.
Balayage
Unlike Ombré, Balayage adds hand-painted highlights that create subtle or bold blonde looks for a dramatic fashion effect. The technique is flexible and requires few rules to achieve the desired results.
It also offers the benefit of low maintenance since it doesn't require regular touchups like conventional highlighting methods. To maintain vibrant color, use heat protectant and frizz serum before styling with soft waves created using a wide-barrel curling iron.
Dry shampoo and dry oil can help enhance color while avoiding over-shampooing will help prevent fading in between salon visits for retouching services such as balayage application or dye selection with semi-permanent dyes to add unconventional hair colors like rose golds or pastel blues!
Color Melt Hair Maintenance Tips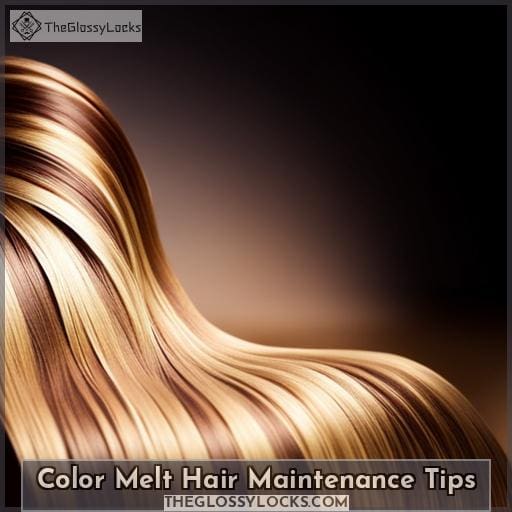 When it comes to color melting, you should take necessary steps in order to protect your hair from fading and ensure a healthy hair care routine. A good practice is using specialized products for treated hair like shampoo, conditioner, and masks; applying heat protectant before styling; avoiding over-shampooing; adding dry oil or spray between washes, as well as regularly using dry shampoo.
Protecting Hair From Fading
To keep your hair looking vibrant, use color-treated products and a heat protectant to prevent fading. Regular maintenance is key for those with recently dyed or highlighted hair using a color melting technique for highlighting.
Avoid over-shampooing as it can strip away the dye application methods used in the blending process.
To help maintain vibrancy, be sure to also use dry shampoo and dry oil when necessary.
With these fade prevention tips combined with good care at home, you'll have beautiful vibrant locks that last long after leaving the salon.
Recommended Hair Care Routine
Keep your hair looking fabulous with this easy-to-follow color melt routine! Protect the vibrant hues of your locks by using heat protection before styling. Regularly use dry shampoo for oil control and frizz prevention, as well as to keep shades bright.
Enhance color blending with product recommendations such as ombré highlight sprays or deep conditioning masks.
What to Expect During a Color Melting Salon Appointment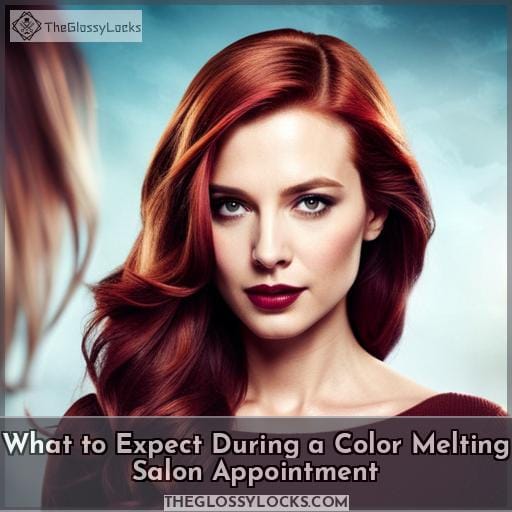 Looking for a salon to receive the perfect color melting technique for highlighting your hair? Look no further, as Buford, GA is right where you need to be! With available directions and easy access, it will be effortless to find your way.
Salon Location
You can easily access our salon in Buford, GA for your color melting hair highlighting needs. We're conveniently located near amenities such as shopping malls and restaurants.
Our cozy environment is perfect for any client looking to get their hair done! Our staff is friendly and knowledgeable about the latest trends in styling, coloring, and cutting techniques.
We also offer other services like balayage that will keep your style fresh all year round.
Directions and Accessibility
Getting to the salon is a breeze – our location in Buford, GA has easy directions for your convenience. Arriving on time helps get the most out of your appointment and ensures you'll have plenty of time to discuss color melting technique, hair highlighting, dye selection, and hair dye application with one of our experienced stylists.
Whatever style you're looking for, whether it's vibrant hair colors or preserving blonde tips, we make sure that each client leaves feeling confident and beautiful! Our team provides precise instructions on maintenance tips such as protecting with heat protectant and frizz serum, or using dry shampoo and oil to maintain color.
Clients leave our salon knowing how to show off their look all year long!
Tips for Maintaining a Color Melt Hair Look at Home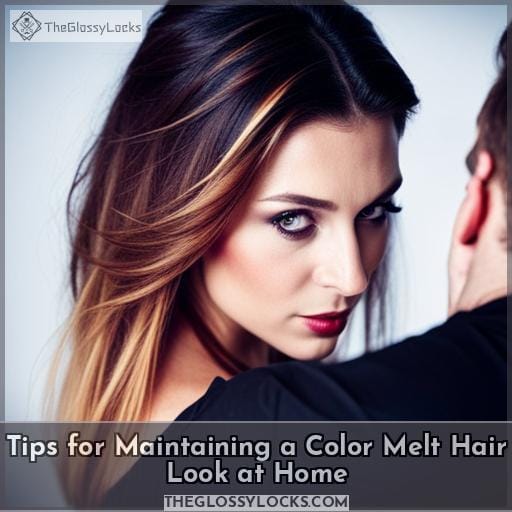 To maintain your sun-kissed look, opt for color-treated products and carefully protect from heat. Color melting hair requires special care at home to keep it looking vibrant and healthy.
Use semi-permanent dye or root touch-up kits between salon appointments as needed.
Maintain the health of dyed strands with nourishing masks, conditioners, and shampoos designed specifically for colored hair.
Protect against heat damage by using a thermal protection serum before styling tools are used on locks. This will help prevent fading due to high temperatures!
Try an Ombré Highlighting Spray if you want more depth in areas where the original color has faded too much over time. It's an easy way to add dimension without damaging delicate tresses further than necessary.
Be sure not to over shampoo. This can strip away vital moisture that helps hold onto pigment longer, so use dry shampoo when possible instead!
With these simple steps, you'll be able to enjoy your new look even longer than anticipated while keeping its beauty intact!
Conclusion
With millions of people color melting their hair each year, it's no wonder this technique is becoming increasingly popular. Color melting and balayage are two highlighting techniques that give stunning results.
The main difference between the two is the selection and blending of colors. Color melting uses a gradual blend of one or more colors to transition from the roots to the ends, while balayage uses hand-painted highlights.
Both techniques can be used in combination for a stronger look. With the right care and styling, both color melting and balayage can create beautiful, sun-kissed looks.