This site is supported by our readers. We may earn a commission, at no cost to you, if you purchase through links.
Greeting! Are you looking for a way to keep your natural hair healthy, nourished, and strong? If so, then the use of an effective sealant may be just what you need. Sealants are designed to lock in moisture and provide additional protection against breakage while giving your curls beautiful definition.
In this article, we will discuss the benefits of using a sealant on natural hair. We will also explore some of the best oils available that can act as excellent sealants for helping promote growth and keeping strands moisturized all day long.
Let's explore these together so that you can make informed decisions about how best to care for your locks!
Key Takeaways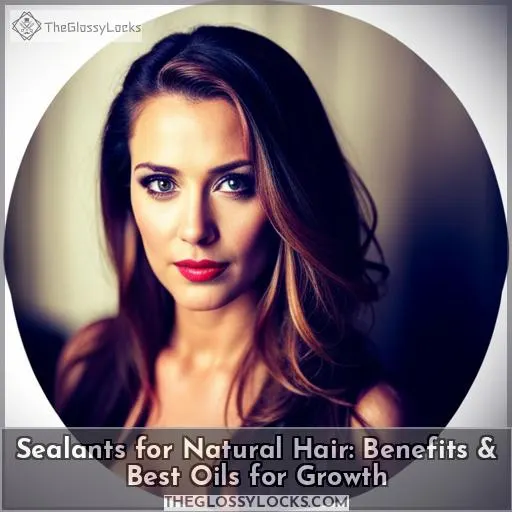 Sealants are essential for locking in moisture and protecting natural hair from breakage.
Different oils, such as jojoba oil, argan oil, castor oil, and olive oil, provide various benefits for hair, such as hydration, growth stimulation, restoration, and intense nourishment.
Whipped shea butter and mango butter are natural alternatives for sealing without greasiness, while coconut oil restores shine and provides hydration.
Custom oil blends can be created using carrier oils like jojoba or sweet almond oil, allowing for customization based on hair type and desired results.
What is a Sealant for Hair?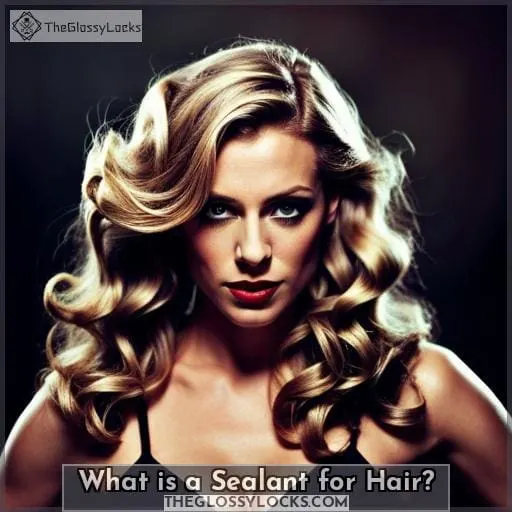 You can keep your hair looking healthy and shiny by using natural oils, butters, and other products to seal in moisture. Selecting the right oil for your specific hair type is key to achieving optimal results.
Jojoba oil is an excellent choice for all skin types – it deeply hydrates while aiding with shedding and promoting growth. Argan oil has great restorative properties that make it a perfect option if you're dealing with dry or damaged hair.
Castor oil stimulates growth while olive provides intense nourishment thanks to its fatty acids content.
Natural alternatives such as shea butter offer sealing capabilities without making your locks feel greasy or heavy.
When applying any of these products, remember that moisturizing beforehand is important in order to achieve maximum benefits from the product used.
Incorporating some simple tips into our haircare routine makes all the difference when aiming for healthy-looking strands.
What Are the Benefits of Using a Sealant?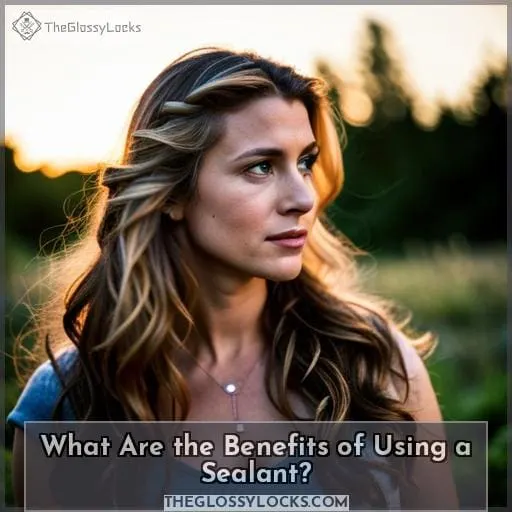 Slathering on the perfect sealant can be like wrapping your hair in a protective cocoon, ensuring its softness and shine. Moisturizing beforehand is key to achieving maximum benefits from the product used.
Natural oils like jojoba, argan, extra virgin olive oil, as well as shea butter, offer sealing capabilities that will help reduce frizz and give you an overall healthy-looking appearance.
Castor oil works wonders for stimulating hair growth, while coconut oil helps restore shine with its natural emollient properties. Mango butter adds much-needed hydration along with other nourishing ingredients such as apricot castor oil, which is known to add thickness to strands of natural hair without leaving it greasy or weighed down afterwards.
Oil blends are also great options for creating unique custom products tailored specifically towards individual needs – mix them up together for maximum sealing! With these easy tips incorporated into our haircare routine, we can keep our locks looking their best at all times without having to worry about damage done in the long run.
What Are the Best Sealants for Natural Hair?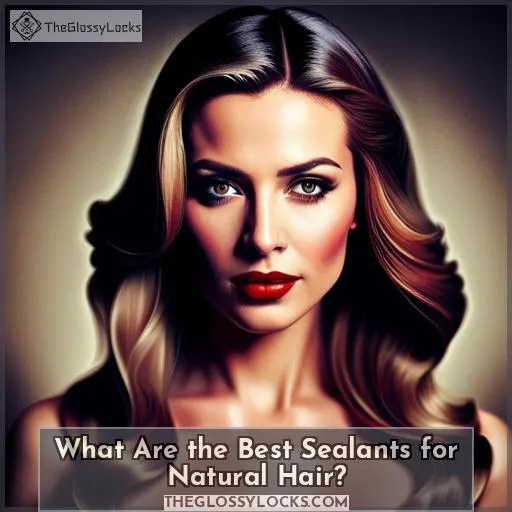 Are you searching for the perfect sealant to maintain the health and nourishment of your natural hair? There are numerous options available, such as Organic Jojoba Oil Moisturizer, Organic Almond Oil, 100% Pure Avocado Oil, Grape Seed oil from La Tourangelle, Tropic Isle Jamaican Black Castor oil, and Apricot Castor oil.
Each of these sealants offers unique benefits that can assist you in achieving locks that are rich in moisture and have a soft sheen.
Jojoba Oil

Try using Organic Jojoba Oil Moisturizer to give your hair the hydration it needs and keep it looking healthy! Rich in essential fatty acids, this oil is perfect for all skin types. Use it as a serum or carrier oil with aromatherapy to achieve maximum benefits. Its lightweight texture helps deeply nourish the scalp while taming frizz and promoting growth.
Sweet Almond Oil
Organic Almond Oil for Skin Care is a luxurious and versatile natural sealant packed with antioxidants. Studies suggest it may even stimulate growth up to 39% thicker strands in six months! Rich in monounsaturated fats, sweet almond oil contains oleic acid for an exquisite aroma that will make your hair shine.
This nourishing oil works well when combined with Jamaican black castor or extra virgin olive oils; just mix and apply as desired! Use almond recipes to maximize nutritional benefits while also creating a healthier scalp environment.
Avocado Oil

Treat your hair to the luxurious goodness of 100% Pure Avocado Oil for Keto! Formulating oils with fatty acids, like avocado oil, can provide nourishing benefits. It's ideal for DIY blends and offers a variety of oily benefits such as hair nutrition, protection from heat sources, and reduced risk of hair loss.
Its high-fat content is perfect for the types of oils used in styling or moisturizing, while also providing an extra boost to the scalp and strands.
Grape Seed Oil

Experience the nourishing benefits of organic grape seed oil for your hair! Loaded with antioxidants and essential fatty acids, it helps to protect against damage from heat, reduces breakage, and repairs split ends.
It's suitable for all types of hair—curly or straight—and is one of the most popular oils used in styling and moisturizing.
Grape Seed Benefits:
Moisturizes
Repairs Split Ends
Protection Against Heat Damage
Light Texture
Quality Ingredients
Usage: Styling & Moisturizing
Hair Types: Curly & Straight
Most Popular Oils: Avocado Oil, Coconut Oil, & Shea Butter.
Get ready to indulge in luxuriously soft locks with this natural ingredient powerhouse that will help take care of your tresses like no other product can!
Mango Butter and Shea Butter
Pamper your locks with the rich and creamy combination of Mango Butter and Shea Butter! Moisturize, protect from heat damage, and repair split ends – all while adding silky softness for gorgeous hair. Perfectly blended with a selection of carrier oils to provide maximum sealing benefits.
Jamaican Black Castor Oil and Apricot Castor Oil
Replenish and restore your hair with Jamaican Black Castor Oil (JBCO) and Apricot Castor Oil! JBCO stimulates growth, thickens locks, and adds shine. Apricot oil seals in moisture while promoting healthy hair types. Both make great ingredients for customized oil blends; vitamin E-rich oils like these are the best sealants for natural hair.
Why Not Coconut Oil?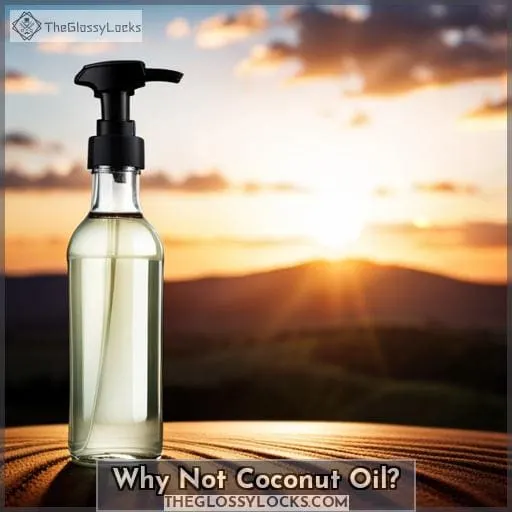 Discover how coconut oil can benefit your natural hair; it's been known to reduce protein loss in hair by an impressive 45%! This versatile and good oil is ideal for deep conditioning, scalp care, moisture retention, and heat protection.
Coconut oil is suitable for all types of natural hair as a hot-oil treatment or even room temperature for regular use. Its properties penetrate the shaft and nourish the follicles, which helps promote healthy growth while protecting from damage due to styling tools such as blow dryers or flat irons.
Regular application will also help retain moisture levels within each strand, ensuring that your strands remain hydrated throughout the day. Additionally, using coconut oil provides a rich source of antioxidants that protect against environmental factors like pollution, which can cause dullness in our locks over time.
So go ahead, give your mane some TLC with this amazing elixir today!
Using Natural Oils in Your Hair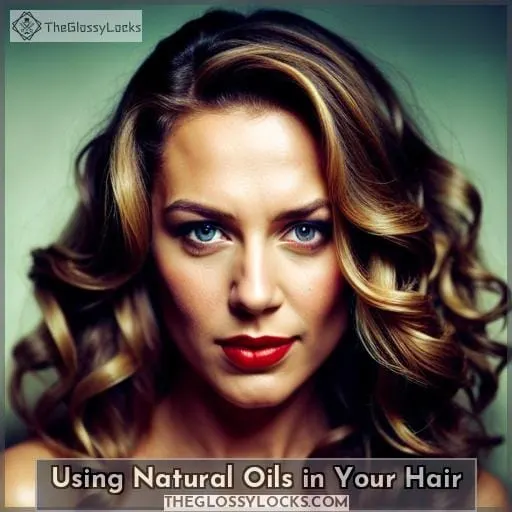 Give your hair a natural boost with oils like Organic Jojoba Oil, Almond Oil, or Extra Virgin Olive Oil – each designed to nourish and protect! When it comes to oil blends for sealing in moisture, essential oils play an important role.
The most popular brands of the best moisturizing oils include Coconut oil and Shea Butter; both are great choices when looking for something that won't leave your hair feeling greasy. For those dealing with dryness or frizz control, Jamaican Black Castor Oil is also gaining popularity.
For maximum hydration, you can create a customized blend using carrier oils such as olive oil combined with castor oil or vegan-friendly shea butter mixed together with any other essential oil of choice, depending on what type of results you want from this combination.
Whether it's softening split ends, preventing breakage due to styling tools such as blow-drying hot irons, promoting shine and glossiness, etc.
Whipped shea butter is a preferred sealant because not only does it make sure all strands become well-lubricated but also gives them a smooth silky feel without making them appear overly greasy. So go ahead, give yourself some TLC today by selecting one of these miracle ingredients used across many cultures around the world, including India, the Middle East, Africa, and the Caribbean regions since ancient times.
Now, they are becoming increasingly popular worldwide, so why wait? Get ready to pamper your tresses' health right away. These super beneficial powerful natural products offer even more benefits than just mentioned above.
How to Use Oils as Sealants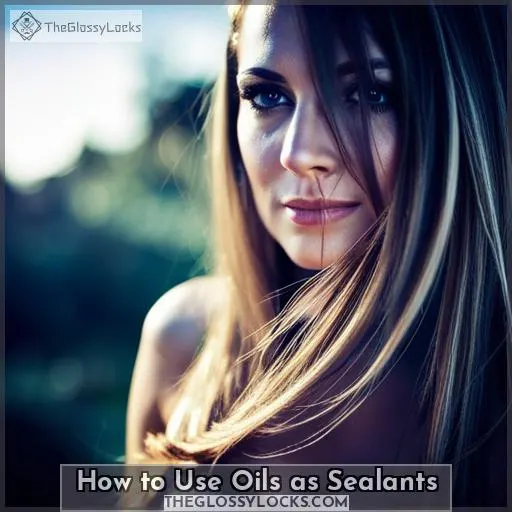 Looking for a way to seal in moisture and protect your hair? You may want to consider using natural oils as moisturizers or sealants. Depending on your porosity, you can use different types of oil blends that will help nourish and strengthen each strand.
Moisturizers With Oils
Experience the nourishing power of natural oils like Organic Jojoba Oil, Almond Oil, and Extra Virgin Olive Oil by creating your own custom blend for maximum hydration. Oils offer a variety of benefits for all hair types, including nutrition that can help to strengthen and protect strands from damage.
Different oil types contain different fatty acids, which provide an even higher amount of monounsaturated fat than artificial oils.
Shea butter is usually a go-to sealant due to its emollient properties. It softens and smooths out without leaving behind a greasy residue on strands or skin after application.
So whether you have curly, straight, or natural locks, let these amazing products give your mane an extra boost today!
Sealing Hair Based on Porosity
Unlock the secret to soft, lustrous locks with oils designed to perfectly meet your hair's porosity needs. For coily hair, a sealing routine is essential for lasting hydration and nutrition. Start by creating custom oil blends that include carrier oils like Jojoba or Sweet Almond Oil, as well as Jamaican Black Castor Oil for an extra dose of nourishment.
Next step: use these beneficial products when wetting your strands before styling! Not only will this help lock in moisture, but it will also provide an essential nutrient boost throughout each day.
Finally, avoid overusing any oil blend – too much can lead to buildup on the scalp and scalp discomfort – so keep it light-handed! With the right mixture of natural ingredients tailored specifically towards hair porosity needs, you'll be sure to achieve beautiful results every time – guaranteed!
Whipped Shea Butter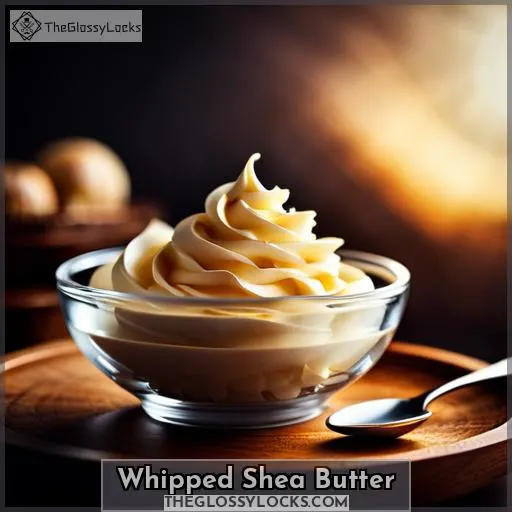 Treat yourself to the luxurious feel of whipped shea butter, a natural sealant that'll leave your hair feeling soft and nourished. Shea butter is a rich source of vitamins A, E, and F, which help promote scalp health for fewer chances of breakage or shedding.
It's also an excellent emollient that helps keep moisture locked in without leaving you with greasy-looking strands.
The addition of carrier oils, such as castor oil, can provide additional benefits like increased shine and protection from environmental factors like sun damage or changes in humidity.
With so many potential advantages available when combining these ingredients together into one customized mix, there's no denying why this has become such a popular solution for achieving healthy tresses all year round!
Jamaican Black Castor Oil (JBCO)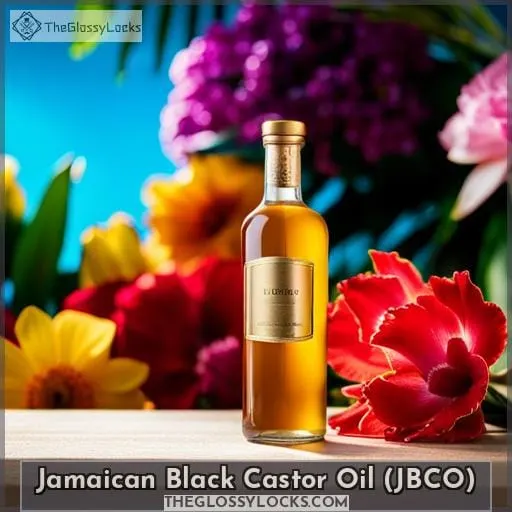 Uncover the hidden power of Jamaican Black Castor Oil (JBCO) and let it work its magic on your hair – you won't believe how amazing it feels! JBCO is a nutrient-rich oil made from traditional hand-processed methods that helps to seal in moisture and promote healthy hair growth.
Its benefits include:
Increased shine
Thickening of the strands
Reduction in breakage or shedding
Moisturization for dry ends
Healing scars or stretch marks
When used regularly with an appropriate recipe – such as mixing castor oil with olive oil and other carrier oils for maximum sealing properties – results are seen quickly.
The type of JBCO best suited to one's needs can vary depending on desired outcomes; unrefined organic offers deeply nourishing effects while cold-pressed has been known to yield more intense hydration levels than hot-press varieties.
With so many options available, there's sure to be something perfect for every user! Give this miracle product a try today – you won't regret it!
Oil Blend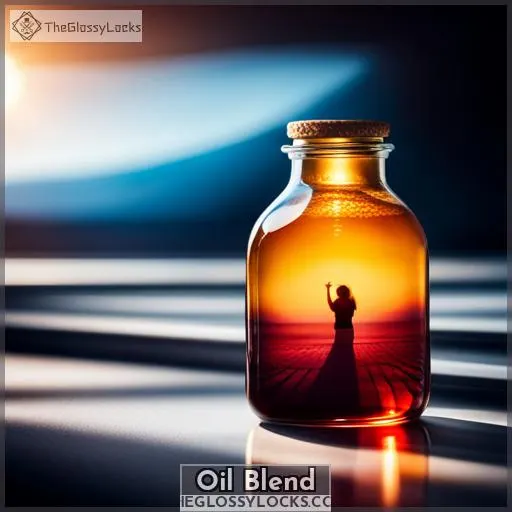 Discover the power of an oil blend and let it transform your hair! Oil blending is a great way to customize your haircare routine, depending on your hair type. Carrier oils such as coconut, olive, or jojoba are combined with essential oils like lavender or rosemary for a unique product tailored specifically for you.
Natural-haired folks especially love this method because they can create recipes that really nourish their strands while providing maximum sealing properties.
Here's what oil blends offer:
Moisturizing – carrier oils help seal in moisture and keep dryness at bay.
Lubrication – helps avoid knots & tangles.
Hair Growth Stimulation – many essential oils have been known to stimulate follicles leading to thicker locks.
Shine Enhancer – adding shine without looking greasy when mixed properly with other ingredients.
Conditioning – adds texture back into limp strands leaving them feeling soft & manageable after use.
When creating an oil blend, experiment by mixing various combinations of these components until you find something that works best for you—the possibilities are endless! Once perfected, make sure to store it in airtight containers so that its potency will remain intact over time.
And remember: just one application won't give you miraculous results overnight, but consistent use over time will definitely show improvements in both the health and appearance of your beautiful crowning glory!
Coconut Oil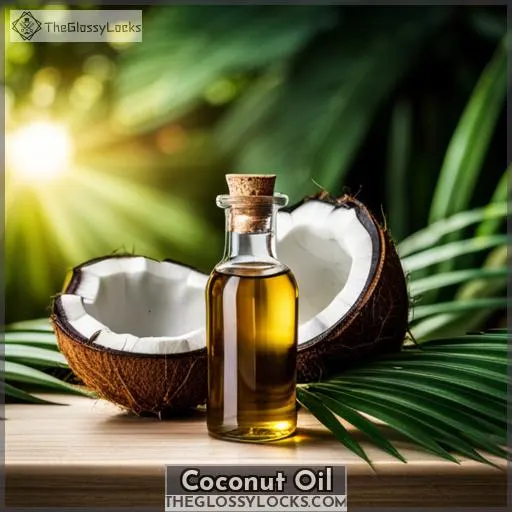 Combine the natural benefits of coconut oil with other oils in your own custom blend to experience improved shine and texture, while still avoiding a greasy feeling. Coconut oil is an effective moisturizer for dry hair, which helps promote healthy growth by providing nourishment and sealing in moisture.
It also offers sealant properties, making it ideal for preventing split ends, taming frizziness, and protecting from heat damage during styling sessions.
Additionally, it has great styling benefits that can be used to create glossy looks with lightweight hold without leaving any residue on the scalp or strands.
Moisturizing Benefits
Sealant Properties
Styling Benefits
Heat Protection
Glossy Shine
When paired correctly with carrier oils such as avocado or almond seed oils, alongside essential fragrances like lavender or rosemary, you'll have yourself a perfect concoction ripe for personalization – allowing you to reap all these amazing rewards!
So go ahead – give your locks some love by creating an exquisite combination catered just for them; even if it takes several attempts before finding something truly special.
Frequently Asked Questions (FAQs)
How often should I use a sealant for my hair?
How often should you use a sealant? It depends on your hair type, but usually applying it once or twice a week is enough to keep locks lush and healthy. To maximize moisture retention, try alternating with an almond oil treatment for smoothness and shine.
Does using a sealant on my hair damage it?
No, using a sealant on your hair won't damage it. Instead, it helps to lock in moisture and nourish strands for healthier growth.
Is it better to use natural oils or store-bought products as a sealant?
Both natural oils and store-bought products can be used as a sealant, depending on your hair type. Natural oils are generally more nourishing, while store-bought products offer convenience. Consider what works best for you when choosing the right product to protect and maintain your hair's health and shine.
How long does a sealant last for?
How long a sealant lasts depends on the type and quality of the product you use. Generally, high-quality products last longer than store-bought ones. Natural oils may offer more lasting protection due to their nourishing properties.
Does using a sealant make my hair look greasy?
No, using a sealant will not make your hair look greasy. It helps to lock in moisture and create a healthy shine without the oily appearance.
Conclusion
In conclusion, sealants for hair have come a long way. From ancient oils such as jojoba, almond, and olive, to the modern-day wonders of avocado, grape seed, and mango butter, the right sealant can make all the difference in achieving healthy, manageable hair.
Jamaican black castor oil is a tried-and-true favorite, while coconut oil is great for finer hair. But whatever your hair type, natural oils can be a great way to seal in moisture, protect hair from breakage, and keep it looking smooth and shiny.
With a little bit of research and experimentation, you can find the perfect combination of oils and sealants to make your hair look and feel its best.