This site is supported by our readers. We may earn a commission, at no cost to you, if you purchase through links.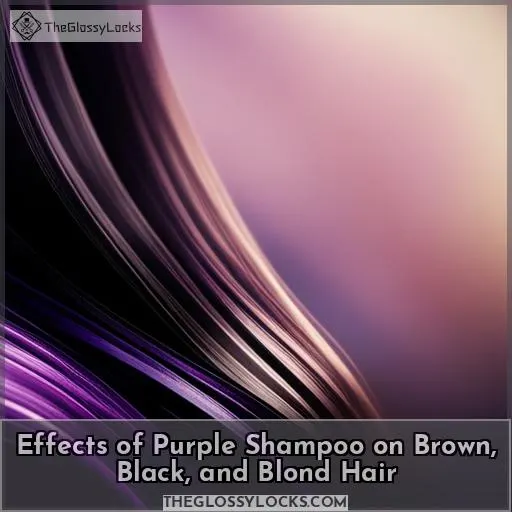 You may be wondering if purple shampoo is really worth the hype. Sure, it's specifically designed for blonde hair – but can a color-correcting product work on brown locks too? The answer is yes! Purple shampoo isn't just for blondes, and with the right routine you can achieve brighter and healthier-looking strands regardless of your natural or dyed hue.
We'll break down everything you need to know about using this toning treatment on brown hair so that no matter what shade your tresses are in, you can get salon-level results at home.
Used correctly, purple shampoos help cancel out any yellow or orange tones caused by chemical treatments like bleaching.
To use them properly on brunette locks, simply swap out regular shampoo for a purple option every few washes – usually 1-2 times per week depending on how often you wash your hair. Leave the purple shampoo in place between three to ten minutes before rinsing off thoroughly with cool water, as hot temperatures will only make brassy tones more noticeable over time.
Key Takeaways
Purple shampoo neutralizes yellow and orange tones in brown, black, and blonde hair.
It cancels out brassiness caused by chemical treatments and refreshes highlights.
Purple shampoo seals the cuticle, enhancing shine and preventing brassiness in brown hair.
It is important to use purple shampoo sparingly and follow up with a color-safe conditioner for optimal results.
What Does Purple Shampoo Do?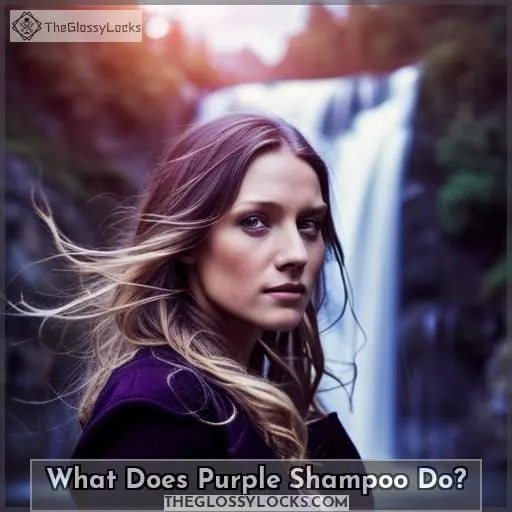 You'll discover the tons of gorgeous hues purple shampoo can reveal in your hair! Purple shampoo is a haircare gamechanger, working its color-correcting magic to eliminate brassiness and revitalize your locks.
By depositing cool, violet pigments, it neutralizes unwanted warm yellow and orange tones that can occur naturally or from environmental factors.
You'll see it transform dingy highlights, balance out uneven color, and brighten dull blondes and brunettes alike. Contrary to myth, purple shampoo benefits all hair colors. While optimal for blondes and color-treated hair that easily turns brassy, brunettes can use it to refresh highlights or balayage, and revive fade.
For best results, apply thoroughly on wet hair, leaving it on anywhere from a few minutes for darker shades to 10-15 minutes for pale hues. Expect a radiant, smooth color without a hint of brass. Your hair will look its vibrant best.
How Does Purple Shampoo Work on Brown Hair?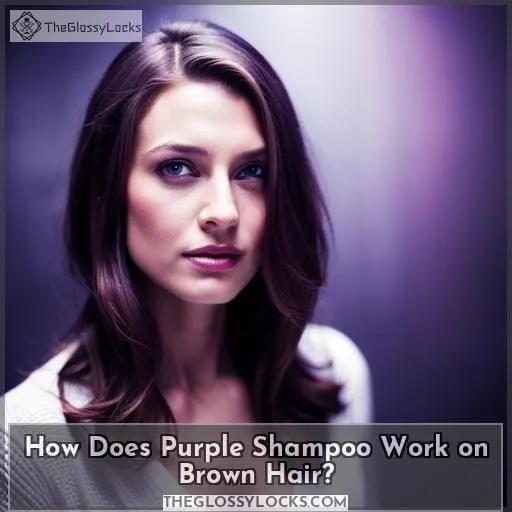 Because purple shampoo contains violet pigments, it can help neutralize brassy yellow and orange tones that can develop in highlighted or lightened brown hair over time.
It neutralizes unwanted warm, brassy tones by depositing cool, violet pigments into the hair strands.
It prevents further fading by refreshing the highlights and keeping color looking vibrant.
It enhances shine and texture by sealing the cuticle. Your brown hair will look and feel smoother.
However, overuse can result in an ashy, dull appearance. Start by using it only once a week, gradually increasing frequency based on your hair's needs.
While purple shampoo works well on highlighted or balayage brown hair, it has minimal effects on naturally brunette hair without highlights. Maintain hair health by using nourishing hair masks weekly and minimizing heat styling.
How Often Should I Use Purple Shampoo?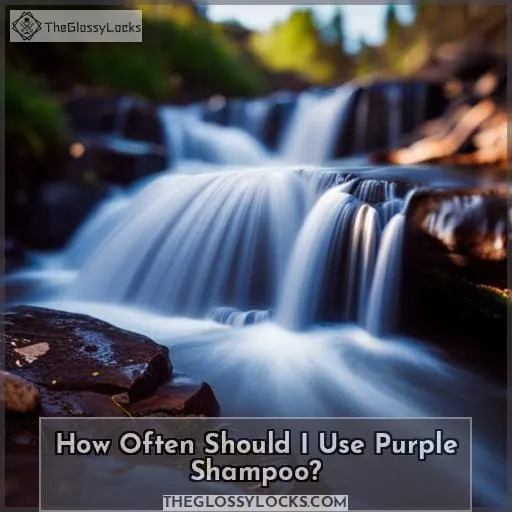 To keep your hair looking its best, use purple shampoo a few times a week.
For blonde or highlighted hair, aim for 2-3 times per week. Start with once a week, gradually increasing frequency as needed.
For light brown hair with subtle highlights, 1-2 times per week should be enough.
On darker brunette hair, purple shampoo isn't as effective. Try a blue toner or gloss instead.
Avoid overusing purple shampoo as it can result in dry, brittle hair. Only use as often as needed to counteract brassiness.
Choose the right purple shampoo for your hair color and needs. Opt for a darker pigmented formula on lightened blonde and a lighter purple for subtle brightening on brunette hair. While purple shampoo works wonders on brassy highlights, it won't drastically alter your underlying base color.
Use sparingly and alternate with hydrating shampoos and masks to keep hair healthy and vibrant.
How Long Do I Leave Purple Shampoo in For?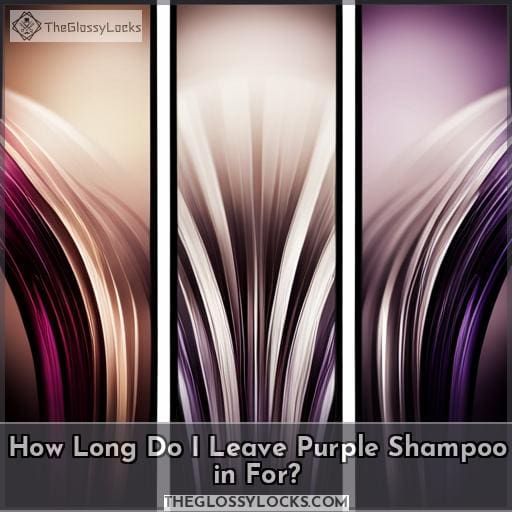 The optimal time to leave purple shampoo in depends on your hair color. For brown hair, limit purple shampoo to 2-3 minutes to avoid unwanted tones; for black hair, it won't lighten but can enhance shine if left for 1 minute.
With blonde hair, leave purple shampoo for 3-5 minutes to thoroughly neutralize brassiness before rinsing.
Effects on Brown Hair
Tone up your tresses without a toner – use purple shampoo for brown hair to counter brassy hues!
Benefits include balancing tones, enhancing shine, and preventing brassiness. Purple is ideal for balayage and ombre styles where warm tones may develop over time.
Use 1-3 minutes if you have a warm hair tone; 3-5 minutes for neutral; 5-15 minutes for cool. Rinse with lukewarm or cool water, then follow up with color-treated conditioner as needed.
For optimum care, consider using stimulating shampoos and weekly masks too! Keep in mind that blue shampoo works better on darker shades while purple helps lightened areas – don't mix them together though, or you could end up with an unwanted hue!
Effects on Black Hair
You can trust purple shampoo to work its magic on black hair, restoring vibrancy and countering brassiness. Purple shampoo is an effective toning solution for balancing out brassy tones in dark hair without lightening the color.
It helps maintain a natural-looking grow-out by neutralizing yellowish hues that may appear as your roots start to show.
With regular use of this toning shampoo, you can keep your brunette locks looking freshly colored and vibrant all year round! The effects of purple shampoo are subtle but noticeable. It won't drastically change the shade of black hair but will add radiance while keeping brassiness at bay.
To get maximum results from using purple shampoo on black hair, follow up with conditioner after rinsing off the product so strands stay hydrated and nourished!
Effects on Blond Hair
Act quickly when a purple-toned shampoo, like a raging river, flows through golden locks, lest you stain strands an undesired lavender hue. Bring out brilliance in blond tresses, combat yellowing, and restore icy tones. Doused in violet pigment, this magic elixir keeps color vibrant and saves your 'do from drab.
Yet wield with care – too long leaves lavender streaks. 3-5 minutes suffices; gently smooth through lengths. Rinse thoroughly, condition generously, style, and shine on. Sparkling strands await – just the right timing creates platinum perfection.
What Products Should I Use With Purple Shampoo for Healthy Hair?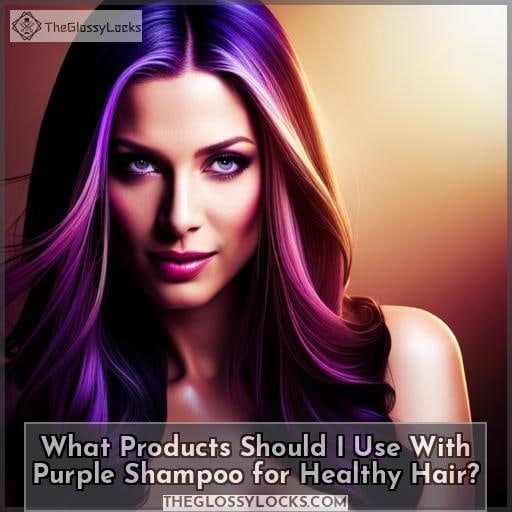 After using purple shampoo, natural oils replenish strands.
Your mane will look and feel rejuvenated with disciplined TLC between purple shampoo sessions. Consistent care is key for getting the most out of those toning benefits while maintaining strength and softness.
Can You Use Purple Shampoo on Brown Hair?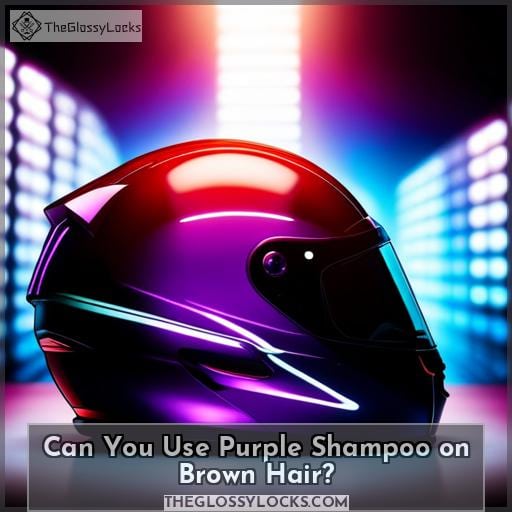 Yes, applying the solution to brown hair neutralizes brassy tones, especially in highlighted styles, restoring softness and shine. Even if your brown locks don't have blonde highlights, over time the sun's rays can still cause the emergence of unwanted brassy tones.
Focus the purple product on the lengths rather than roots to target the most lightened areas first. Allow it to soak in for 2-5 minutes depending on the intensity of brassiness before rinsing thoroughly.
The violet pigments in purple shampoo cancel out the yellow and orange hues that turn brown hair brassy over time. It brings out the cool, neutral undertones for refreshed, salon-worthy chocolate and caramel brown strands without using bleach.
What is the Right Way to Use Purple Shampoo?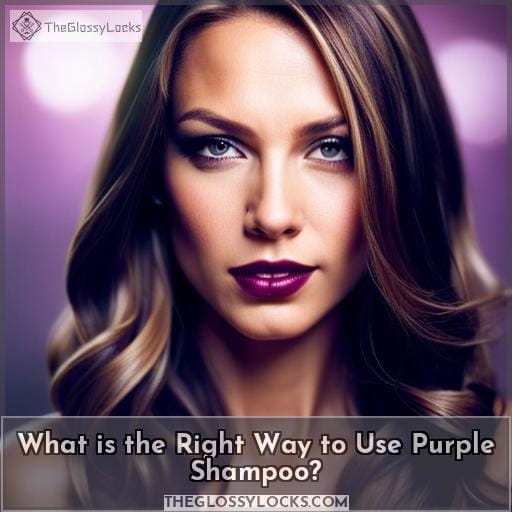 Now that you know whether or not purple shampoo can be used on brown hair, let's discuss the proper way to use it.
To start off, wet your hair with slightly warm water before applying the purple shampoo. Once wet, massage it thoroughly from roots to ends for even distribution of product.
Depending on how brassy your hair is will determine how long you should leave it in. Typically, leave it in for 1-3 minutes for a warmer tone and 5-15 minutes if looking for a cooler one.
Also, take into account what type of hair color compatibility works best with purple shampoo. Blonde locks are usually ideal, but if highlighting brunette shades, then using both blue and purple shampoos may work better together than either alone since they target different levels of brassiness.
However, avoid using them daily as too much pigmentation can result in an undesired light lilac hue which fades after just one wash!
Lastly, remember that when dealing with colored black or brunette tresses, neither should be used at all. Instead, look into other professional-grade products specifically designed for those types of strands.
These products will keep their natural shine intact while maintaining desired tones throughout multiple washes without fading away like bleaching would do by itself.
How Long Should I Leave Purple Shampoo on Brown Hair?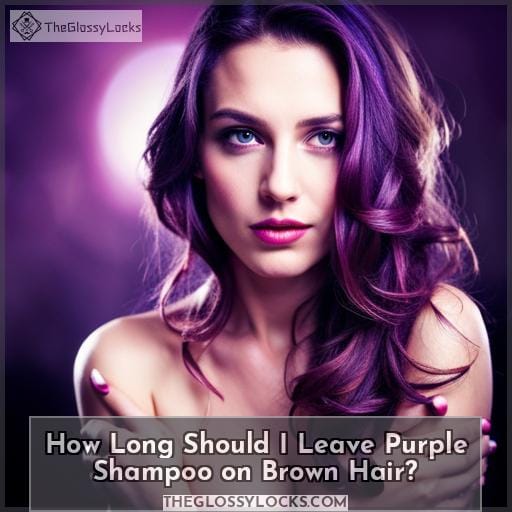 For optimal results, you should leave purple shampoo on brown hair for 3-5 minutes. When using purple shampoo to neutralize brassiness in your brown hair, the duration of the leave-in time is essential.
Depending on the level of warmth or coolness in your locks, this may vary from 1 to 15 minutes; however, for most tones, a period between 3 and 5 minutes will yield the best results.
To properly apply it:
Wet your strands with lukewarm water prior to applying a generous portion of the product throughout them.
Massage thoroughly from roots until ends before rinsing out completely with cool water after reaching the optimum tone adjustment duration (3 – 5 min).
Follow up with a conditioner specifically formulated for colored tresses like Davines Naturaltech line that hydrates without damaging their quality and color vibrancy over time.
Lastly, if left too long, it can cause an undesired light lilac hue that fades away after one wash, so do not hesitate when setting the timer! With proper use, you will achieve the desired look while maintaining the healthy state of those gorgeous manes!
Is Purple Shampoo the Solution to Get Rid of Brass in Brown Hair?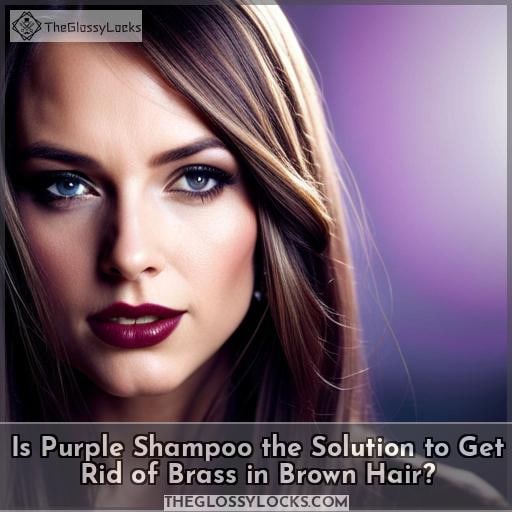 If you're looking for a way to banish brass tones in your brown hair, purple shampoo could be the answer. Purple shampoo is designed specifically to neutralize yellow and brassy tones in lightened hair, making it an ideal choice for those with balayage or ombre locks.
It works by depositing pigments into each strand that counteract unwanted hues; this keeps color vibrant and prevents fading due to environmental factors such as UV rays or chlorine exposure.
When choosing a product tailored specifically for brunettes, purple vs blue shampoos should be considered.
On average, leave purple shampoo on the strands between one and five minutes depending on the desired effect.
Does Purple Shampoo Damage Hair?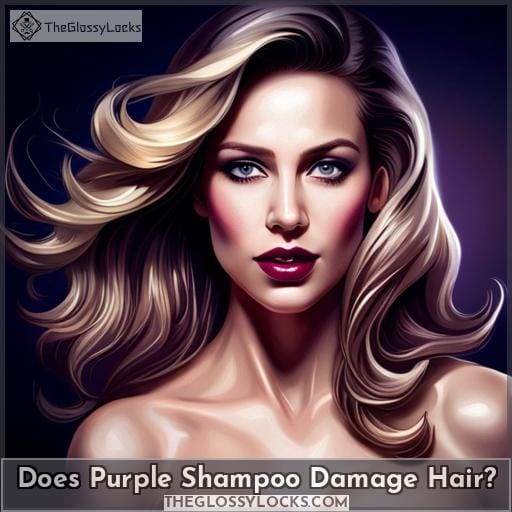 Although purple shampoo is effective in neutralizing brassy hues, it's important to know if the product could harm your hair. In general, purple shampoo is not damaging, but there are a few things you should consider.
Purple shampoo deposits pigment, which can be too intense when left on for too long. This can cause dryness and dullness of hair color. It may take some trial-and-error to determine the right duration for each individual's needs.
Overuse of any type of toning or color maintenance products will lead to overprocessing and damage eventually. So it's best practice not to use them more than necessary. Typically, once every third wash would suffice, depending on how often your hair gets washed or exposed to environmental elements that contribute to brassiness, such as UV rays and chlorine.
Plus, regular usage also depends on one's own unique circumstances like texture and level of lightening.
Incorporating stimulating shampoos for growth and hydrating conditioners into one's weekly routine keeps colored strands healthy while maximizing results from using purple shampoos specifically designed for maintaining desired tones in brown, black, blonde hairs without causing damage.
Ultimately, whether you have cool blonde shades, warm brunette tones, silver gray highlights, or white platinum locks, use caution when selecting a particular brand or type suited towards preserving the original hue while avoiding possible adverse effects.
Conclusion
With the right approach, purple shampoo can work wonders for your hair! Whether you have brown, black, or blond hair, purple shampoo can be a powerful tool in combating brassiness and restoring vibrancy.
Start with using it once a week and adjust the frequency based on the intensity of brassiness. For maximum toning benefit, always leave the shampoo on for the recommended time. Typically, warm tones require 1-3 minutes, neutral tones need 3-5 minutes, and cool tones should be left on for 5-15 minutes.
After using the purple shampoo, make sure to use a conditioner specifically designed for color-treated hair to seal in moisture. Additionally, don't forget to incorporate stimulating shampoos and hydrating products into your hair care routine to keep your hair healthy.
By using purple shampoo, you can maintain the vibrancy of your brown, black, or blond hair for a longer period of time!