This site is supported by our readers. We may earn a commission, at no cost to you, if you purchase through links.
Are your hands usually dry or cracked? Fortunately, lotions are specially formulated to solve the problem: the best hand lotion for men to help you relieve these symptoms.
Did you know that our hands are one of the most undervalued and vulnerable parts of our body? From carrying the wrath of burning heat to surviving in the cruel winters, our hands are the most exposed area in constant contact with the environment.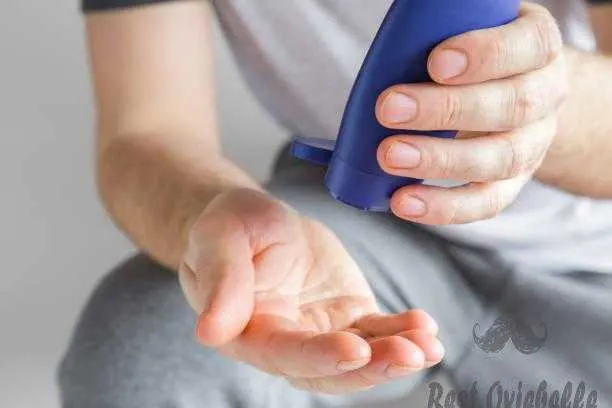 It is even desirable to take care of yourself, especially your face and hands – they are always visible, and nobody likes a rough and crispy handshake!
If you've never thought about using hand lotion, you've come to the right place.
A high-quality hand lotion should not only make your hands feel smoother but should also be designed to prevent future moisture loss, not feel greasy or sticky after application, work with your skin type.
We take you through some of the best hand lotions for men on the market and explain what makes each of them a viable solution to the problems of your dry hand.
Not only will we review the best hand lotion currently available for men, but we will also discuss the most important considerations that you want to keep in mind when buying your next hand lotion, along with some tips on how to get it to get the most out of your next hand lotion.
A Few Important Considerations Before You Buy A Hand Lotion
But before we go into detail about all our favorite best hand lotions for men, let's explain what important factors we have seen that helped us draw our conclusions.
We discovered that specific standard product features made objective comparison possible when we looked at different hand lotions.
When you find the perfect hand lotions for men, it is essential to understand these functions and their operation. It can vary between one hand lotion and the other.
If you keep these aspects in mind, you can limit your favorite lotion.
1. Key ingredients
What makes a hand lotion better (or worse) than others, of course, are the ingredients.
We found that many of the best hand lotions relied on only a few key ingredients to achieve strong results during our research.
Shea butter: Shea butter is an important moisturizing substance that occurs in various skincare products. Shea butter is a fat extracted from an African shea tree and is an essential ingredient to soften the skin.
Cocoa Butter: Derived from a cocoa bean, this unique butter has a shallow melting point, making it completely liquid when rubbed on your hands. Cocoa butter has important soothing properties to soften both dry and cracked skin.
Carrier oils are usually derived from seeds and nuts, and carrier oils double as a moisturizing agent and various homeopathic remedies.
Fatty alcohols: Often found in many larger brands, fatty alcohols are fundamentally different from drinks with a short-chain (such as rubbing alcohol) and do not dry out your skin.
Essential oils: Like carrier oils, essential oils can be found in various homeopathic remedies. Their role in hand lotions is more for scent than anything else. If you want masculine hand cream, go with essential oil with pine, cedar, or sandalwood in it.
2. Quantity
The amount of lotion you receive per purchase determines how generous you can use the cream and how careful you are with each pump or syringe.
For smaller bottles, you need to buy more lotion quickly, while larger containers naturally extend the time before you have to buy more.
View the price and amount of lotion with each favorite choice to help you decide if that particular lotion is worth it.
3. Skin type
As with lotions, when choosing the best hand lotion for men, you must diagnose your skin type yourself.
Whether you have a dry, cracked, sensitive, combination, or just skin type, you want to get a hand lotion focused on you.
This gives much better results in both the feel and appearance of your hands after application.
4. Odor
The scent of the hand lotion is also essential.
Why is this important?
A distracting odor can be frustrating at best or, at worst, clash with your natural body odor or selected odor.
Some hand lotions have no odor, while others can be a bit overwhelming.
Consider whether or not you rely on scent for your daily aesthetic to determine whether the smell of the hand lotion is an essential factor for you.
5. Price
Prices of hand lotions can vary considerably. However, after examining all available options, we see that you don't have to pay more than $ 30 for a hand cream that delivers quality results.
Those who cost less than $ 10 often compromise both the size of the bottle and the quality of the ingredients. If you decide to buy a cheap hand lotion, you should, therefore, find one that ticks all the boxes as described above.
10 Best Hand Lotion For Men 2023
Depending on your skin type, there are many great options for men's hand lotions on the market that help you keep your hands hydrated and soft. Each hand cream differs in ingredients used, recording capacity, odor, packaging, consistency, etc.
1. Gold Bond Men's Everyday Essentials Hand Lotion

View On Amazon
lotion combines all three significant effects of hand lotions in a very affordable and quick-drying formula.
This is a great lotion that is both affordable and effective for multiple different problems.
You can use this lotion for three different needs: hydrate, repair, and soften.
The moisturizing aspect helps you take care of your hands if they dry quickly or work in the winter.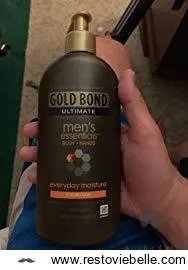 After only a few, your hands will feel healthier and smoother for minutes.
The cream also has healing effects.
Although this is not immediately apparent, applying the lotion for a few weeks will eventually lead to skin that dries out less often and retains a healthy color.
The lotion also feels great to use, which has a calming effect when you apply it.
This lotion is not too thick or thick, meaning it is enjoyable to spread it over your hands.
It is also not sticky; it even dries reasonably quickly and starts working immediately.
Lotion that starts working immediately or dries quickly allows you to get back to work and participate in every project or task you have worked on.
Male hand lotion needs to continue to work after application because men often use their hands for manual work, even after applying lotion, while women usually don't.
The lotion has a definite odor that is labeled as (fresh) on the package.
Also, the bottle cap tends to leak, especially if you turn it upside down while the lotion starts to touch.
But in general, these small shortcomings can be overlooked because the lotion is affordable and can have value in one bottle.
Easy to use one lotion for multiple needs
Very affordable
Dries quickly
Not too thick
The smell is unclear/strange
Cap is not tight
2. Duke Cannon Hand Balm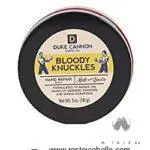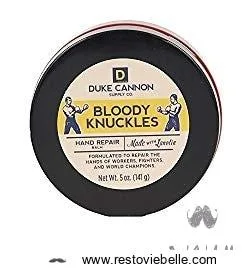 View On Amazon
Duke Cannon is highly sought after due to the wide variety of men's care products, including soap and lip balm, and still offers an excellent product in their Bloody Knuckles hand balm.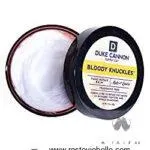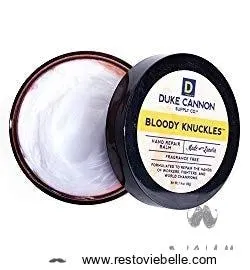 Designed for men who use their hands heavily, including fighters, workers, nurses, and more. Once applied, this hand balm will not leave your skin feeling greasy, sticky, or greasy.
This unscented hand balm relies mainly on both lanolin and shea butter and the dense lifting ingredients.
The reviews from other men about this product were excellent.
Many of them liked that it had no odor and could repair intensely dry and cracked hands.
Like all Duke Cannon products, part of the proceeds goes to the US with every purchase.
If you are looking for a hand balm that can withstand a harsh environment, you cannot go wrong with this offer from Duke Cannon. It is unscented and does a great job of hydrating your dry and cracked hands.
Will repair hands that see heavy activity
It does not feel greasy, sticky, or greasy after application
Made in the USA and supports American veterans
3. Jack Black Industrial Strength Hand Healer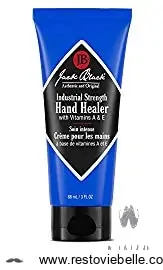 View On Amazon
Jack Black is a renowned healthcare brand that we appreciate here at Manliness Kit. They produce superior care solutions for men. Every man who works a lot with his hands and is looking for the best hand care product will appreciate the Jack Black Industrial Strength Hand Healer.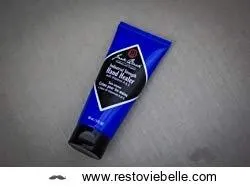 Thanks to the rich, non-greasy formula that is easily absorbed through the skin. The cream helps heal dry, insensitive skin and cracked hands. Golfers, carpenters, and chefs have tested it.
The cream is derived from certified active ingredients, including vitamin A and vitamin E that invade the skin cells and soften the skin and cuticles; Allantoin and glycerin lubricate and soften dry skin; Eucalyptus that works as a natural antiseptic and Macadamia nut oil that hydrates the hand skin.
The specific product was named the best hand cream in 2013 and 2015 by the winner of the DETAIL Award.
The cream is beneficial for working outside with harsh environmental conditions, chemicals, and harsh temperatures. Because the skin of the hand has the smallest sebaceous glands, this cream absorbs quickly and makes your hand thoroughly extinguished.
Apply a small amount of Jack Black Hand Cream on the palms and the back of your hands. It also works well on the feet, knees, and elbow. This hand cream is suitable for all skin types.
The cream is supplied in a blue tube and is secured with a black flip-top dispenser. Finally, this is probably one of the best creams for a man in this price range. It's not cheap, but in this case, you get what you pay for.

It helps heal small callouses
It can also be used on feet
Not oil/greasy
Leaves minimal residue
4. O'Keeffe's Working Hands Hand Cream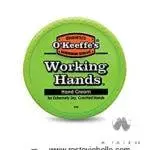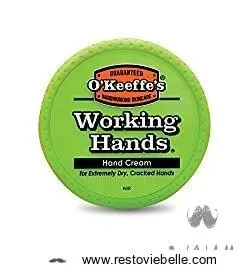 View On Amazon
As the name suggests, the O'Keeffe hand cream is a perfect choice for hard-working hands. This essential hand cream has been tested and has been on the market for years.
Thousands of men have successfully used it with cracking skin, dehydrated skin, and other skin conditions. It not only relieves and heals your skin, but it also helps to repair existing cuts and cracks in your hands.
This cream works effectively by creating a protective layer around your skin to retain moisture and prevent more moisture loss. Amazingly, it does this important role without greasing your hands.
Always remove dust or dirt from your hands before applying this cream so that it can absorb well.

Protects your hands without making them greasy
Heals and repairs mild moderately and severely cracked hands
Great for everyone, including those with diabetes
It doesn't provide deep moisturization
5. NIVEA Men Maximum Hydration 3-in-1 Nourishing Lotion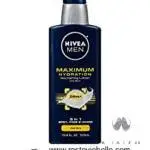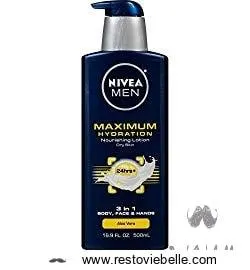 View On Amazon
This lotion focuses on one duty above all others: moisturizing.
Because of this focus, the lotion is exceptional in restoring your skin's hydration, even if you have chronically dry hands from daily work or a skin condition.
The lotion is absorbed in your hands and skin in seconds and starts working immediately.
Our testers could see a difference immediately after rubbing the lotion. So it's fine if you need relief from your dry hands or push between tasks during a busy day.
The lotion also lasts quite a long time.
The lotion has a 24-hour effect.
This makes it very handy for men who don't need their lotion to work; you can apply it in the morning before you leave, and you are ready for the rest of the day.
You can use this lotion on your face, hands, or body, so it's an excellent solution for dry skin wherever you can experience it, not just your hands.
For face-specific lotion, we have already created a comprehensive guide to the best face lotion for men.
However, there is a slight drawback that this lotion has a strange fresh scent that we discussed earlier.
It is difficult to determine, but it is also not particularly attractive.
The cap is also very poor to use because only a small amount is pressed with each pressure.
This means that you have to squeeze several times before getting the right amount of lotion on your hands.
But all in all, despite the minor flaws, this is still a pretty solid moisturizing lotion that is a good choice for men who want to hydrate their skin orally.

Long-lasting
Rapid absorption
Suitable for body, face, and hands
No greasy after-feel
Abstract fresh scent
Bad bottle cap
6. Anthony Hand Cream

View On Amazon
Perfect for men who are starting to show signs of aging, this hand cream from Anthony is based on a unique blend of an Alpha Hydroxy Acid (AHA) along with the wheat protein that not only reduces the appearance of fine lines and wrinkles but also to get complexion and tighten your skin on your hands so that they feel healthy and look healthy.
Anthony is marketed as a premium skincare product for men and is regularly found in luxury barbershops because they deliver uncompromising performance and an appropriate price tag.
Although this bottle of hand cream is still affordable, given the quality of the ingredients and the premium name to which it is associated, the small size of 3 oz is perfect for carrying in your favorite bag or when you per plane travel because it meets the TSA size restrictions.
This is a premium hand cream that works excellent for dissolving dry and cracked hands. Perfect for men who are a bit older in years, this hand cream will also reduce the appearance of fine lines and wrinkles.
Men who used this hand cream, especially those with dry, cracked hands, achieved great results with repeated application.
In addition to the rich ingredients, the biggest striking feature that men loved this cream was the light, non-greasy feeling after application.

Designer cream at an affordable price
Repairs dry skin
Travel-friendly
Non-greasy after application
The smaller size will require constant restocking
7. Brickell Men's Hand Lotion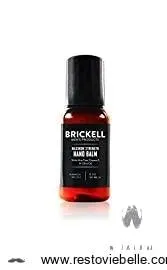 View On Amazon
Brickell Hand Lotion with maximum strength for men is specially designed for excessively involved outdoor activities.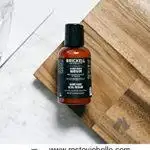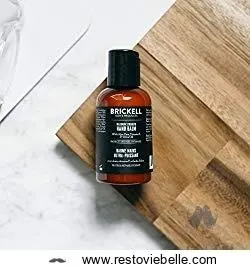 It is a fast-absorbing and non-greasy balm that is powerfully formulated to protect and nourish your skin against tears, dryness, and cracks.
This all-natural hand cream keeps your hands hydrated. This lightweight hand lotion for men is packed with organic ingredients such as vitamin E, Jojoba Oil, and shea butter.
Vitamin E restores dry skin and prevents signs of aging. Shea butter is a natural fat packed with vitamins that nourish the surface of the hands. Jojoba oil creates a protective layer on the skin of your hand and helps to retain the skin's moisturizer. It is 99% natural and 80% organic.
Free from parabens, silicones, sulfates, PEGs, artificial scents, and gluten can be harmful to your skin, cruelty-free, and uses 100% certified organic ingredients.
Men of any age can use this hand lotion to keep their hands hydrated and skin tight. It is supplied in a travel-friendly transparent bottle of 2 oz.
Depending on your preference, you can choose between unscented and scented hand lotion available in a refreshing essential oil mix of lemongrass, peppermint, and eucalyptus.
Smells invigorating
Works for men of all ages
Packed with moisturizers
Absorbs quickly
8. Pre de Provence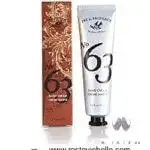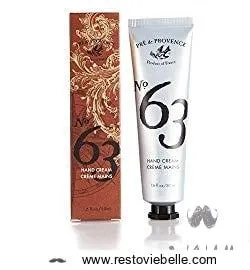 View On Amazon
Give your hands some care and love with the great Pre de Provence Hand Cream. This product does not disappoint because shea butter is enriched to heal, relieve, and protect your hands like no other cream.
It provides deep hydration by creating a protective layer on your skin surface.
By doing this, the cream helps prevent moisture loss and, at the same time, improves your hands to retain the available moisture.
Also, it is completely non-greasy but still retains moisture without showing the smooth texture of regular lotions. The scent is a perfect balance between warm, aromatic, and spicy.
Easy to use
Protects and nourishes the skin
Fragrance is refreshing
The bottle may harden and crack
9. Burt's Bees Ultimate Hand Cream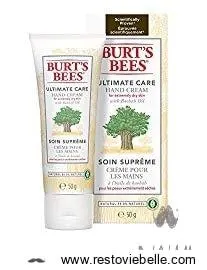 View On Amazon
This hand lotion works exceptionally well when hydrating your skin, even if your hands are naturally dry or cracked.
It uses an entirely natural ingredient formula, so no chemicals or other odors are sent to overwhelm your natural body odor, deodorant, or perfume.
The natural ingredients also give the lotion various soothing effects; our experts reported that the cream felt good initially, no doubt because of the natural extracts in the formula.
This makes it an excellent choice for a daily lotion that you can apply before you go to work or the night before you go to bed.
Exfoliation involves the removal of dried or dead skin cells.
This allows your hands to naturally hydrate themselves more easily and look healthier and younger than before.
You also reduce how greasy your hands feel due to removing dust and debris that would otherwise be trapped in the pores of your skin by dead or dry skin cells.
It may be that this specific formula for hand cream feels a bit sticky; this is due to the absence of any type of fat-based ingredients.
Although it prevents greasy after-effects, it does mean that the cream feels a bit sticky after application and is applied to your skin.
However, this feeling should disappear after a few hours because the cream is completely absorbed into your skin to do its long-term work.
The small bottle is useful if you have to put your hand cream in hand luggage, for example, during a flight or for other journeys.
Uses natural ingredients
Gently exfoliates in addition to hydration properties
No greasy after-effects
Lasts for 24-hours
Low amount in bottle for the price
It can feel a bit sticky
10. AHAVA Hand Cream For Men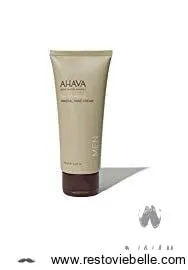 View On Amazon
Complete your skincare regimen with AHAVA Time to Energize Mineral Hand Cream. It is a light moisturizer specially developed for men's hands. It is enriched with nourishing Dead Sea minerals that give the cream the ability to improve the moisture content in the skin immediately.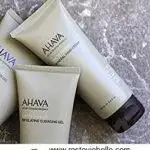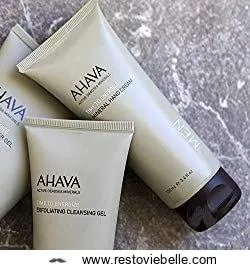 The cream also contains witch hazel extract and allantoin that softens the cracks and aging spots on the skin. It also creates a protective layer on the surface to prevent drought damage and gives a silky touch to your hands.
AHAVA Time to Energize Mineral Hand Cream comes with a masculine scent that feels pleasant and lasts longer. The cream absorbs so quickly and leaves no signs of greasiness.
It is an excellent product of all toughness when it comes to your hands. Simply apply the cream to your skin and massage it until it is completely absorbed.
This hand cream comes in a fantastic brownish tube with a flip-top dispenser that can be applied quickly and hygienically.
AHAVA's mineral hand cream has radiant ratings because it is packed with ingredients that work in different ways to improve skin and combat dryness.
Witch hazel is present as a kind of astringent to reduce inflammation, while minerals from the Dead Sea, ginger root extract, jojoba oil, and ginkgo Biloba work to restore skin health and form a basis for your fresh, repaired skin.
Even with all the beneficial ingredients, the scent remains masculine and clean and hydrates the formula without leaving your hands oily. The 3.4 oz bottle is well priced, considering the benefits and popularity.
Absorbs instantly
Scented in a masculine fragrance
It won't leave a residue
It contains Dead Sea minerals
Hand Lotion Versus Body Lotion Versus Foot Lotion
When it comes to skincare products, men naturally want one product that does everything.
Through this way of laziness to look for efficiency that 3-in-1 products such as body washes can also be used as shampoo and face wash.
Now you may be wondering if a hand lotion is worth buying, especially if you have a body or foot lotion.
In short, you can use them interchangeably, but you have to do not do that.
This is how each of them is fundamentally different:
Hand Lotion: Usually made in a much thinner consistency than body or foot lotion, hand lotions are designed to quickly apply and absorb into your skin. Without feeling too greasy or greasy, hand lotions are drier than a lotion and do not spread on anything you touch, such as a keyboard, telephone, etc.
Body Lotion: Designed for full-body coverage. Body lotions are soothing and are made to penetrate deeper into your skin and stay a little longer on the surface. With a slightly thicker consistency, body lotions are often applied once or twice a day.
Foot Lotion: Because the skin on your feet is much thicker than the rest of your body (including hands), the lotion formulated here is also much more viscous. Foot lotions can penetrate deeper and are designed for the once-daily application. They are often odorless and are intended to repair cracked heels.
How to applying and using a hand lotion
Utilizing a hand lotion is a reasonably simple process. However, we wanted to share a few tips so that you can get the most out of your new hand lotion.
1. The Correct Amount
When applying hand lotion, you must use only a small amount. Just like face cream, a little can go a long way.
That's why you want to use nickel for a quarter. Of course, you want to vary this depending on the size of your hands and the severity of your skin condition.
2. Rub In Quadrants
Although it may seem intuitive just to say you're done. Make it a habit to apply the hand lotion in parts. This ensures adequate coverage of your entire hand.
A routine can look like this:
From hand to knuckles
Around every finger from thumb to little finger
Massage between fingers
Palm
around the wrist
Doing this with a significant other person is not only a great bond, but applying someone else with two hands can allow deeper penetration of the hand lotion into your skin.
3. Don't Overdo It
We want immediate satisfaction when we apply hand lotion. However, if you have dry, cracked hands, expect it to take a few days to see softer and healthier-looking hands.
Try it only two or three times a day when applying hand lotion.
Excessive application can cause the hand lotion to feel sticky and oily after use, as your skin simply cannot absorb any more.
FAQs About Hand Lotion
Are body lotions and hand lotions the same?
As we explained earlier, lotions for the body and hand are fundamentally different.
Not only is the consistency of the lotion the most striking difference because body lotions are thicker than hand lotions, but body lotions are a bit heavier on the softening and moisturizing properties because the skin is the rest of your body is fatter.
Can I wash my hands after the application?
Yes, although you may have to wait a few minutes or time before the bottle does this.
This gives the lotion time to work on your skin as intended and to unwind.
A few minutes after application, it is safe to wash your hands, and you can eat and work usually. In particular, you do not want to
wash your hands after use because you can stop the ongoing hydrating or repair efforts.
Can I use hand lotion on my feet?
Of course, you do, but it won't be that effective.
If you want to repair a cracked heel or shell on the underside of your feet and you don't have a good foot lotion, a body lotion is your best replacement.
Because hand lotions are much thinner, you waste many products while using them on your feet.
Final words
It is our hands that first show the signs of aging. Our hands are exposed to aggressive elements and, over time, make them look dry and unattractive.
Your skin is the largest organ of the body. Having healthy and hydrated skin is not one of the first things you will probably think of when asked to consider masculinity and first impressions, but it is undoubtedly a talented player.
Treat your hands with one of the best hand lotions for men to maintain their natural softness.
Fortunately, there is a broad market of hand lotions to keep your hands healthy and ready for all that life has to offer.